By Lambert Strether of Corrente.
Bird Song of the Day
* * *
#COVID19
At reader request, I've added these daily charts from 91-DIVOC. The data is the Johns Hopkins CSSE data. Here is the site. I feel I'm engaging in a macabre form of tape-watching. I think it's time to do some tinkering with the charts. I want to improve the vaccination area, if I can, to distinguish between first, second, and ideally booster shots, and give a total. The original purpose of the chart was to see if the advent of the "adults in the room" boosted the vaccination rate at all, and it did not. (Hence, kudos to the heroic efforts of people on the ground.) I also need to look at positivity and see if the data problems (hat tip, Lou Anton) can be overcome, of indeed if the chart is even useful, given the advent of commercial test kits whose data is untrackable, CDC, good job. However, as Arya would say, "Not today!", with so much going on over on Capitol Hill.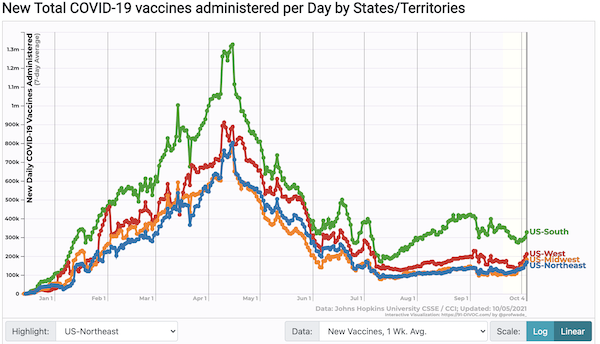 Universal rise. So, coercion works? As exhortation, Biden's speech had no impact at all.
56% of the US is fully vaccinated (mediocre by world standards, being just below Czech Republic, and just above Saudi Arabia). We are back to the stately 0.1% rise per day. I would bet that the stately rise = word of mouth from actual cases. However, as readers point out, every day those vaccinated become less protected, especially the earliest. So we are trying to outrun the virus… (I have also not said, because it's too obvious, that if by Bubba we mean The South, then Bubba has done pretty well.)
Case count by United States regions: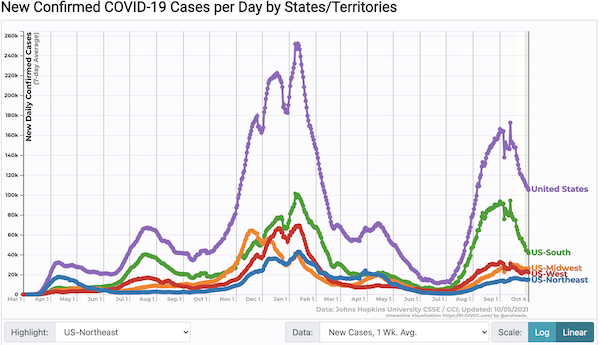 Simply tape-watching, this descent is as steep as any of the three peaks in November–January. It's also longer than the descent from any previous peak. The question is whether we will ascend to a second (or third) peak, as in last December-January, or not, as in last August. Note also that the regions diverge: The South, which drove the peak, is finally dropping. The West was choppy too, and is now falling. Ditto the Midwest. And now the Northeast is falling as well.
We could get lucky, as we did with the steep drop after the second week in January, which nobody knows the reasons for, then or now. Today's populations are different, though. This population is more vaccinated, and I would bet — I've never seen a study — that many small habits developed over the last year (not just masking). Speculating freely: There is the possibility that natural immunity is much, much greater than we have thought, although because this is America, our data is so bad we don't know. Also, if the dosage from aerosols drops off by something like the inverse square law, not linearly, even an extra foot of distance could be significant if adopted habitually by a large number of people. And if you believe in fomites, there's a lot more hand-washing being done. On the other hand, Delta is much more transmissible. And although readers will recall that I have cautioned against cross-country comparisons, I'm still not understanding why we're not seeing the same aggregates in schools that we've see in Canada and especially the UK, despite anecdotes. Nothing I've read suggests that the schools, nation-wide, have handled Covid restrictions with any consistency at all.
NEW From CDC: "Community Profile Report October 1, 2021" (PDF), "Rapid Riser" counties, this release: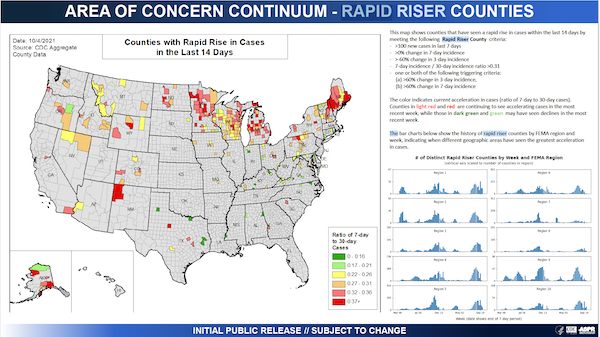 Status quo, except for individual counties scattered here, some in the Southwest and California worse. Speculating freely: One thing the consider is where the red is. If air travel hubs like New York City or Los Angeles (or Houston or Miami) go red that could mean (a) international travel and (b) the rest of the country goes red, as in April 2020 and following. But Minnesota is not a hub. If Minnesota goes red, who else does? Well, Wisconsin. As we see. Remember, however, that this chart is about acceleration, not absolute numbers. This map, too, blows the "Blame Bubba" narrative out of the water. Not a (Deliverance-style) banjo to be heard. Previous release: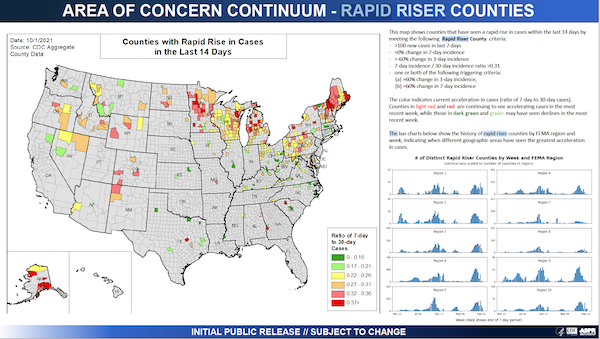 (Red means getting worse, green means bad but getting better.)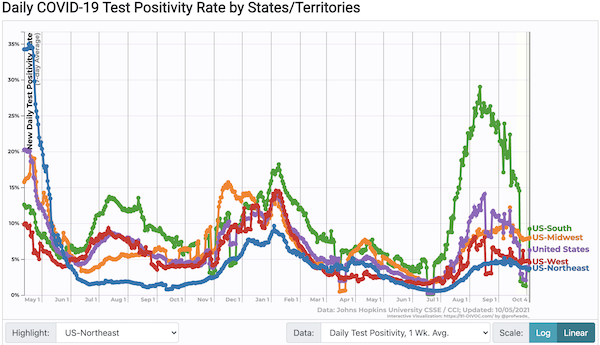 Waiting for the rebound from missing data from Alabama and Florida (go figure).
Hospitalization (CDC). Pop-up unresponsive today, much like the CDC itself: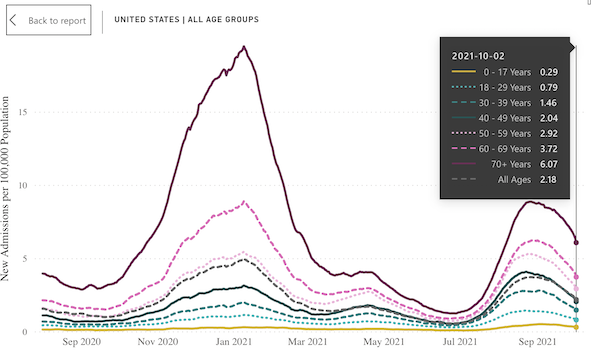 From this chart, pediatric hospitalization, in the aggregate, is down. I should dig out some regional or better yet county data.Here the CDC's hospitalization visualization, from the "Community Profile" report above: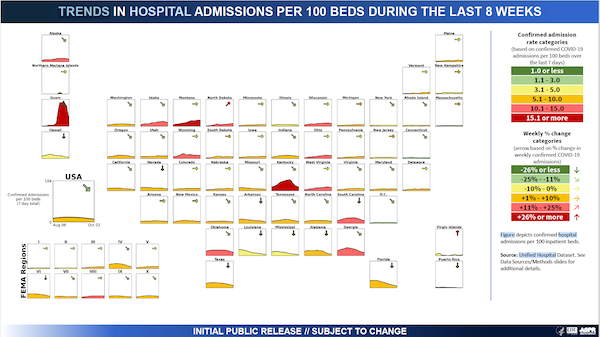 Mountain states still stubbornly high Tennessee's long ordeal seems to be ending.
Death rate (Our World in Data):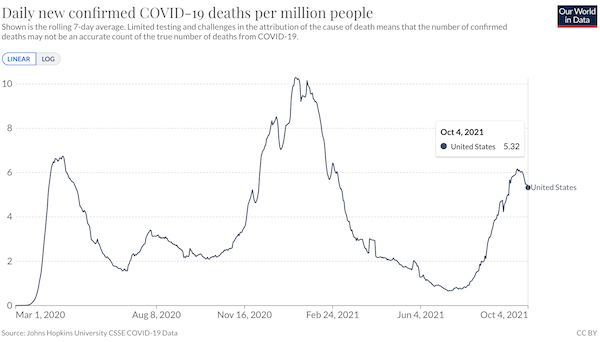 Total: 722,439 719,945. Looks like a downward trend, mercifully. We approached the same death rate as our first peak last year. Which I found more than a little disturbing. (Adding: I know the data is bad. This is the United States. But according to The Narrative, deaths shouldn't have been going up at all. Directionally, this is quite concerning. Needless to see, this is a public health debacle. It's the public health establishment to take care of public health, not the health of certain favored political factions.) (Also adding: I like a death rate because it gives me a rough indication of my risk should I, heaven forfend, end up in a hospital. I should dig out the absolute numbers, too, now roughly 660,000, which is rather a lot.)
Covid cases worldwide: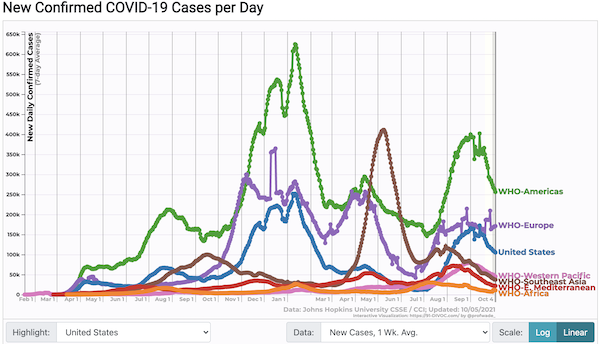 * * *
Politics
"But what is government itself, but the greatest of all reflections on human nature?" –James Madison, Federalist 51
"They had one weapon left and both knew it: treachery." –Frank Herbert, Dune
"They had learned nothing, and forgotten nothing." –Charles Maurice de Talleyrand-Périgord
Biden Administration
"Many cities and states have spent no American Rescue Plan funds: report" [The Hill]. "As of this summer, a majority of large cities and states had yet to use any of the funding they received as part of the Biden administration's American Rescue Plan, according to The Associated Press. More specifically, no initial spending was reported by over half of the states and two-thirds of the 90 largest cities, the AP said. After reviewing spending reports required by the law, the AP found that states had spent 2.5 percent of the funds they initially received, and large cities spent 8.5 percent of the money." • Pushing a string… .

"Broken Promises: HBCU Funding Cut By $30 Billion In Biden Budget, Some Black Democrats Are Not Having It" [The Moguldom Nation]. "Some Black Democrats are not here for the nearly $30 billion cut to HBCU funding in the latest version of President Joe Biden's $3.5 trillion budget reconciliation bill. One of them has even threatened to vote against it if the issue is not resolved. U.S. Rep. Alma Adams of North Carolina is the co-chair of the HBCU Caucus. She along with fellow Democrat and HBCU graduate Sen. Dr. Raphael Warnock, the first Black man elected to represent the state of Georgia in the senate, have publicly objected to how drastically the proposed funding to historically Black colleges and universities was cut. Initially, Biden proposed $55 billion in funding to HBCUs in his "Build Back Better" plan. However, when the bill went to Congress for reconciliation, it only allocated a total of $30.5 billion, BNC News reported."

UPDATE "Check Out These Exclusive Pics From Hunter Biden's Big LA Art Opening" [Mother Jones]. Photo of Hunter, who cleans up good. "At the pop-up, there was little grousing about the ethics of the moment, according to one attendee. As hors d'oeuvres and drinks were served, the art aficionados gazed at works that appeared mainly to be reproductions. (It's cheaper than shipping.) An animated projection displayed a host of Biden's in-progress paintings. Spotted among the assembled were artist Shepard Fairey (creator of the iconic Barack Obama/Hope poster), musician Moby, and Los Angeles Mayor Eric Garcetti, who was a national co-chair of Joe Biden's 2020 campaign and who was recently nominated by the president to serve as US ambassador to India. Though only a handful of the people present wore masks throughout the indoors event—vaccination proof was required for entry—Garcetti kept his on the entire time he was present, the attendee notes. A documentary crew roamed about filming everything, and there was a security presence greater than usual at an art event. Toward the end of the evening, a violinist began playing in front of the animated projection…. Coincidentally or not, the art market is notorious for facilitating under-the-table transactions, the hiding of assets, and money-laundering." • I don't see how that can be. All the attendees were perfectly comfortable.
Democrats en Deshabille
"Absolutely Confront Kyrsten Sinema Outside Of Her Bathroom Stall" [Jezebel]. "LUCHA's video shows a group of activists waiting outside Sinema's classroom. When she emerges, they ask if they could talk to her briefly about the importance of the Build Back Better plan. 'Actually, I'm heading out,' she says, scurrying away from them and heading to a large bathroom with multiple stalls. A couple of members follow her inside. 'We knocked on doors for you to get you elected,' says an activist named Blanca. 'And just how we got you elected, we can get you out of office if you don't support what you promised us.' Cue the sounds of toilets flushing." • Reconciliation is not a dinner party. (But Schumer and Sinema's DSCC campaign staff must be chuckling at "we knocked on doors for you.")

"Why Democrats' climate goals may test their Latino appeal" [Associated Press]. "Last year, Biden won Cameron County, which encompasses Brownsville and is about 90% Hispanic. But Trump's margin of the vote increased there by 20 percentage points over 2016. Farther north, Trump flipped oil- and gas-producing, but still heavily Hispanic, Jim Wells and Kleberg counties. 'We are very dependent on oil and gas. That's the reason you saw those numbers,' said [said Mayra Flores, a 35-year-old respiratory care practitioner and organizer for Donald Trump's 2020 presidential campaign], who was born in Mexico, came to the United State at age 6 and picked cotton every summer growing up after age 12. 'That's what people do. That's where they work.'"

"Matthew Dowd, former George W. Bush strategist, to run as Democrat for Texas lieutenant governor" [The Texas Tribune]. "Matthew Dowd, the chief strategist for George W. Bush's presidential reelection campaign who later split with the former president publicly, is running for lieutenant governor as a Democrat…. In a two-and-a-half minute campaign announcement video, Dowd said GOP politicians have failed the state, zeroing in on [Dan] Patrick, who he called 'cruel and craven' and denounced as a divisive figure who puts his political ambitions over the needs of everyday Texans." • Well, maybe the split wasn't that much of a split:

Just released. I am calling for a national moment of #NeverForgetJanuary6th at noon on January 6, 2022. This was greatest attack on our democracy since 1861. Let us never forget and fight for voting rights, truth and our constitution every day. pic.twitter.com/JvqayZLAbq

— Matthew Dowd (@matthewjdowd) October 4, 2021

Dowd, unsurprisingly, erases Florida 2000, an "attack on our [sic] democracy" that culminated in Bush v. Gore, where Bush was selected as President by the Supreme Court. (Personally, I believe that Scalia, who wrote the opinion, selected Bush because that would create a court Scalia found ideologically compatible. I regard every Supreme Court decision after ascension of the first post-Bush v. Gore justice as something like "fruit of the poisonous tree," illegitimate, and subject to being rolled back.)

"Progressives' mobilization delusion" [Matt Yglesias, Slow Boring]. "One of the biggest problems with mobilization theory is that in politics (and also other spheres of life), there are a lot of opportunists. And by moving from a straightforward question like 'is this popular?' to something harder to measure like 'does this mobilize voters?' a lot of people who have specific agendas can make up hazy reasons why you need to prioritize their issues."

"Churchill: Zephyr Teachout wants to be New York's attorney general" [Times-Union]. "If James, the state's attorney general, decides to challenge Kathy Hochul and run for governor, then Teachout will run for James' job. 'If there is an opportunity and an opening with the AG's office, I would seize it,' Teachout told me during a phone conversation Friday. 'If she does run for governor, I'll be running.' Consider this part of the continuing fallout from Andrew M. Cuomo's departure as governor, a seismic event that has New York's political class jostling like riders on a packed subway car. James, for one, seems ever more likely to take on Hochul, setting up a compelling primary race. 'Stay tuned,' James told Ulster County Democrats on Thursday night in Kingston, adding: 'The question for me really boils down to this: What is the best way that I can make transformational change in the state of New York?'"
Republican Funhouse
"Christie: 2020 Joe Biden 'is now officially dead and buried'" [The Hill]. "'It's the death of 2020 Joe Biden. When he went to the Hill, 2020 Joe Biden is now officially dead and buried,' Christie said on ABC's 'This Week.' 'The guy who ran against the progressives, ran against Bernie Sanders and Elizabeth Warren, ran to be a uniter in this country, ran saying he was going to force compromise. And he went up to Capitol Hill, and he capitulated to the progressives, the liberals in his party.' 'And why should we be surprised? He couldn't stand up to the Taliban. How could we expect him to stand up to AOC?' he added, referring to Rep. Alexandria Ocasio-Cortez (D-N.Y.), before 'This Week' co-anchor Jonathan Karl called his comments a 'partisan take.'" • Indeed!

"Advisers telling Trump to wait to announce 2024 campaign: report" [The Hill]. "Advisers are reportedly telling former President Trump to hold off on announcing his 2024 campaign for president, in part out of fear that he will be blamed if Republicans do not win back the House or Senate next year. The Washington Post reported Monday, citing people familiar with discussions, that advisers are telling the former president to remain patient regarding his 2024 plans, despite his eagerness to launch the campaign in August, when the country was watching the messy Afghanistan withdrawal. Sources told the Post that some of Trump's advisers were nervous that an early announcement from Trump could cause Democrats to focus their 2022 midterm campaigns around the former president, which could potentially lead to an increase in their turnout and an unfavorable finish for Republicans. The president, however, is still acting like a candidate even though he has not officially announced any plans to run again. He has held rallies around the country that evoke images of his campaign events and his team is spearheading an aggressive online campaigning effort. An informal poll taken among 13 of his current and former advisers, cited by the Post, found that a majority believe Trump will run again in 2024: 10 said they think he will wage another bid, two said it was just a public relations stunt and one other said he was unsure." • This is all claptrap I'm sure Trump isn't paying attention to any of it and is gaming anybody who quotes him. Recall Trump has one genius-level talent: Sensing weakness. If Harris is the 2024 candidate, Trump running is a mortal lock. I'm not sure that Trump has (what he conceives of as) Biden's number yet. Afghanistan is clearly not that weakness, because it's popular among voters, and Trump knows this, having made (in his own way) the same point in 2016.
Realignment and Legitimacy
"Lessons from the elusive backlash to vaccine mandates" [Janan Ganesh, Financial Times].

Vaccine mandates are not incurring a vicious public backlash, at least not yet. Almost a month has passed since President Joe Biden announced that most US workers would have to be vaccinated or frequently tested. Street protests are real but containable. Resignations from work are at modest levels. The governor of California even feels emboldened to require vaccines for school children….

If it holds, the public's grudging tolerance of mandates will have eye-opening lessons. For one, people are hopeless predictors of their own future behaviour. Surveys had suggested a rash of job-quitting in the event of employer mandates (just as they had implied that France, whose vaccination rate is pulling ahead of Britain's, would be a laggard). Public opinion data does not just inform the election predictions of speculative columnists. It is also an important basis of government policy. If the science has a systemic blind spot for the future, for what people think they would do in hypothetical scenarios, it has distorted governance.

Another conclusion is that partisanship has its uses… It is a sign of the most dire civic rot that people base even their approach to personal health on their tribal fealties. But it also means that Biden's mandate is mostly alienating those who were never going to vote for him anyway. The very bifurcation of America can empower as well as curb a leader.

Of all the inferences to be drawn from the elusive backlash, the last is the most far-reaching. In fact, after five years of anti-elite politics, from Brazil to the Philippines, it feels transgressive to express this thought:

A truism, possibly? Or something more unpleasant? More:

The public has already supplied an example of what we might call . Imagine being told in 2016 that, in four years, there would be vast support for a lockdown with no peacetime precedent, . Next to coercion of that scale and nature, the mandates are laissez-faire. I say all this with the jitters of a man carrying a vase in a greased hand across a stone floor.

No, not concerning at all! In a way, the whole process resembles the neoliberal playbook: (1) Degrade public health by underfunding and corruption, (2) watch it fail in a very public test, and (3) replace it with coercion. Best of all, in future you can go directly to coercion!
Stats Watch
Logistics: "United States LMI Logistics Managers Index Current" [Trading Economics]. "The Logistics Manager's Index fell to 72.2 in September of 2021 from 73.8 in August, pointing to the slowest growth in the logistics industry in four months, driven primarily by cost metrics (including an all-time high reading of 89.3 for Warehousing Prices), tempered somewhat by a decrease in the rate of growth for Inventory Levels. A decline which is likely due to a combination of inventory moving quickly due to high consumer demand, but also coming in slowly due to logistics delays. There were 73 ships at anchor or drifting in San Pedro Bay in mid-September. This bottleneck has led global schedule reliability to drop to an all-time low of 33.6% in August of 2021, down 30.1% from this time a year ago. The lack of space is confirmed in the Transportation Capacity metric, reading in at 37.2, down (-3.3) from August. Also, shippers are holding on to chassis for longer than normal because containers have nowhere else to go due to a lack of warehousing space." • Note the truck chassis. It's not just ships.
Manufacturing: "United States Composite PMI" [Trading Economics]. "The IHS Markit US Composite PMI was revised higher to 55 in September of 2021 from a preliminary of 54.5, still pointing to the slowest growth in private sector activity in a year, amid slower upturns in both manufacturing (60.7 vs 61.1) and services (54.9 vs 55.1). New business growth eased to the slowest in nine months. Manufacturers and service providers alike registered softer upticks in client demand. Goods producers reported a quicker rise in new export orders, which contrasted with a faster contraction in service sector foreign customer demand. Labour shortages continued to hamper output growth across the private sector. Although rates of job creation quickened in the individual sectors, employment growth was historically subdued. At the same time, constraints on capacity were reflected in a series-record expansion in backlogs of work."
Services: "United States Services PMI" [Trading Economics]. "The IHS Markit US Services PMI was revised higher to 54.9 in September of 2021 from a preliminary of 54.4, still pointing to the slowest growth in the services sector so far this year. New business rose the least in 13 months and labour shortages hampered output growth. Total sales were weighed down by the spread of COVID-19 and a faster decline in new export orders. At the same time, pressure on capacity was reflected in the sharpest rise in backlogs of work since data collection began almost 12 years ago. Challenges expanding workforce numbers reportedly exacerbated difficulties clearing incoming new business."
Services: "United States ISM Non Manufacturing PMI" [Trading Economics]. "The ISM Services PMI edged up to 61.9 in September of 2021 from 61.7 in August, beating forecasts of 60, and pointing to a robust growth in the services sector, although the ongoing challenges with labor resources, logistics, and materials are affecting the continuity of supply."
Exports: "United States Exports" [Trading Economics]. "Exports from the US edged up 0.5% mom to $213.7 billion in August of 2021, the highest since May of 2019, boosted by sales of nonmonetary gold and natural gas while shipments fell for autos and parts, civilian aircrafts, corn and travel."
Imports: "United States Imports" [Trading Economics]. "Imports to the US were up 1.4% mom to a new all-time high of $287 billion in August of 2021, namely pharmaceutical preparations, toys, games, organic chemicals, transport and travel. In contrast, purchases fell for passenger cars."
Economic Optimism: "United States IBD/TIPP Economic Optimism Index" [Trading Economics]. "The IBD/TIPP Economic Optimism Index in the US slipped deeper into pessimistic territory, falling 1.7 points to 46.8 in October of 2021, its lowest since September of 2020. Americans have grown more pessimistic about the outlook for the U.S. economy with the lapse of unemployment benefits even as the latest Covid wave has slowed the jobs recovery. "
* * *
UPDATE Tech: "Facebook: whistleblower allegations of misleading audience size should be taken seriously" [Financial Times]. "[T]here is one complaint that should give investors pause. Haugen has written to the Securities and Exchange Commission to claim Facebook 'misled investors and advertisers' about the accuracy of its user base count. This is the foundation of a business that accounts for 98 per cent of Facebook revenues. Haugen's claim that Facebook knows young US user numbers are falling tallies with the rising popularity of rivals such as TikTok. The trend could deter advertisers. But the allegation does not appear to include Facebook-owned Instagram, which has more cachet with young adults. She is right that Facebook should stop promoting user numbers clouded by doubts. Facebook's own estimates suggest 16 per cent of accounts may be duplicates or false. This figure creates a huge discrepancy. Yet Facebook does not adjust important metrics such as average revenue per user (Arpu). Arpu is a crucial number in social media. For Facebook, the figure was $10.12 in the last quarter. There are further discrepancies. While Facebook includes all sources of revenue, it limits users to Facebook and Messenger. Last year, it created a figure for its 'family' of apps, including WhatsApp and Instagram. Using this, Arpu in the last quarter was very different at $8.36. Unless advertisers reject these figures or revenues fall, investors must put up with them." • I find $10.12 exceedingly hard to believe. If I understand the business, $10.12 is what Facebook is paid, and must therefore be some fraction of revenues to clients from Facebook ads, say a ~$30.00 spend per user. Do you know anybody who would spend $30 on products from a Facebook advertiser, even in a year? I certainly don't. In fact, I regard advertising on Facebook as a negative. And why would anybody buy a product on Facebook instead of Amazon? So, perhaps Facebook advertising is primarily services. If so, what kind? Professional services? Restaurants? All tuned to the user with Facebook's famous social graph? Perhaps. However, I know I would only purchase services based on a personal recommendation (doctor, plumber, whatever). So why would anyone click through on Facebook when they could deal direct? I honestly don't get it. Perhaps a social media maven, or a reader who actually uses Facebook can weigh in.
Tech: "Amazon Makes a Robot Bet That Apple Wouldn't—But Consumers Aren't Ready" [Bloomberg]. • Here's a photo: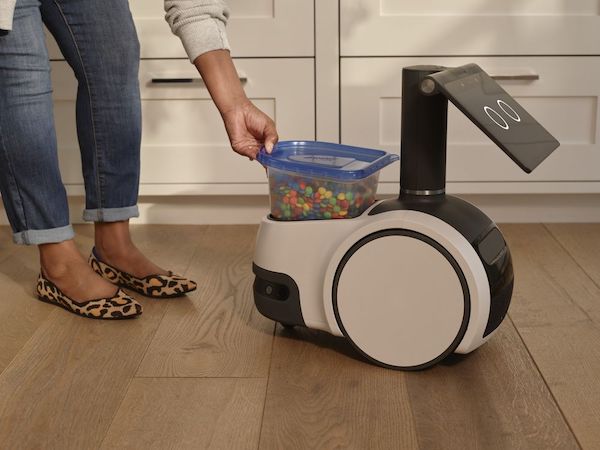 Stick a screen on the front of it. What could be more appealing? (To be fair, kawai robots, especially humanoid ones, don't appeal to me either.)
Today's Fear & Greed Index: 27 Fear (previous close: 25 Extreme Fear) [CNN]. One week ago: 28 (Fear). (0 is Extreme Fear; 100 is Extreme Greed). Last updated Oct 5 at 2:00pm.
Health Care
"Sweeteners hurt the ability of gut bacteria to keep us well: Israeli study" [Times of Israel]. "Artificial sweeteners cause a "breakdown in communication" among gut bacteria, changing the microbiome and potentially increasing the risk of disease, Israeli scientists say. Gut bacteria keep people healthy, but to do so they need to be present in the right balance. This is maintained in part by a communication mechanism that bacteria use, called quorum sensing, which enables bacteria to detect and respond to cell population density by regulating their own genes, affecting their behavior. 'Artificial sweeteners disrupt that communication, which indicates that artificial sweeteners may be problematic in the long run,' said Dr. Karina Golberg, who led the peer-reviewed study published in the International Journal of Molecular Sciences."
"The role of thrifty genes in the origin of alcoholism: A narrative review and hypothesis" [Alcoholism]. "In this narrative review, we present the hypothesis that key mutations in two genes, occurring 15 and 10 million years ago (MYA), were individually and then collectively adaptive for ancestral humans during periods of starvation, but are maladaptive in modern civilization (i.e., 'thrifty genes'), with the consequence that these genes not only increase our risk today for obesity, but also for alcoholism. Both mutations occurred when ancestral apes were experiencing loss of fruit availability during periods of profound climate change or environmental upheaval…. By aiding survival, these mutations would have allowed our ancestors to generate more fat, primarily from fructose, to survive changing habitats due to the Middle Miocene disruption and also during the late-Miocene aridification of East Africa. Unfortunately, the enhanced ability to metabolize and utilize EtOH may now be acting to increase our risk for alcoholism, which may be yet another consequence of once-adaptive thrifty genes." • Sounds like we've got Jackpot-compliant genes, ready and waiting!
The 420
"Nurses See New Career Opportunities in Medical Cannabis Space" [MedPage Today]. "In 2015, Manus founded Cannabis Nurses Network, a national organization that helps nursing professionals work within the medical cannabis space, mirroring a suddenly surging trend. Some treat patients, others counsel them and liaison with their providers, and still others — such as Manus — have carved out advocacy and leadership roles. More and more nursing professionals are turning to cannabis work, especially over the last few years, sources told MedPage Today. And while they were doing so before COVID-19, their burgeoning burnout, and frustration with traditional healthcare settings and employers during the pandemic, have caused even more to consider this career change. 'COVID has changed a lot of the landscape of what nurses want our profession to look like,' said Ashley Wynn-Grimes, RN, who runs a medical cannabis consultancy in the Baltimore area. 'People go in [to a dispensary] and have no idea what they're doing, no idea how these products work, and could really use that support,' said Laura Barrett-Nutting, RN, who also runs a Maryland-based consultancy."
"The 'Psychedelic Renaissance' Is Entirely About Corporate Greed" [Caitlin Johnstone]. "new mainstream article or news segment about the latest study showing the undeniable mental health benefits of this or that psychedelic substance for this or that psychological ailment. So what changed? The situation changed. Global capitalist institutions are acutely aware that western civilization is in the midst of a mental health crisis that only looks likely to get worse, with depression, anxiety disorders and substance abuse skyrocketing on myriad fronts for years. The increasingly widespread use of antidepressants has not led to an overall decline in symptoms and prevalence of mood disorders in the US, Australia, Canada, England and other wealthy countries. In America young people have been growing progressively more depressed and anxious for over 80 years, and no one knows why… So desperate measures have been called in. Give the gear-turners tightly controlled doses of psychedelics, enough to get them functional but not enough to awaken them to the reality of their enslavement, and hopefully you've built some systemic scaffolding which enables their minds to put up with the relentless mass-scale psychological abuse that the status quo requires." • Then throw in the Metaverse…
Sports Desk
"Feds Searched Washington Football Facility, Vermillion on Leave" [NBC Washington]. "Federal investigators executed a search warrant at the Washington Football Team's training facility and the home of Head Athletic Trainer Ryan Vermillion on Friday, law enforcement sources told News4. Vermillion is on leave because of an investigation, the team said. 'Ryan Vermillion has been placed on administrative leave due to an ongoing criminal investigation that is unrelated to the team,' the team said in a brief statement Monday." • Oh.
Guillotine Watch
"Episode 188: The Busch Family" (podcast) [TrueAnon]. • From The Busch Brood: "Behind closed doors, Busch III was a petty hard-ass. The Fourth tried living up to his father's expectations but was rewarded with Donald Trump Jr.-style degradation. As [William] Knoedelseder writes in Bitter Brew, "[The Fourth] showed up for a meeting with A-B's California wholesalers at the Los Angeles brewery one afternoon, sporting a pair of pointy-toed lizard-skin cowboy boots, and his father immediately bawled him out in front of a subordinate. 'When the fuck are you going to learn to dress like a business person?' he barked. The Fourth pointed to his father's feet and said, 'Well, what do you call those?' August III looked down at his hand-tooled Lucchese dress boots with tastefully rounded toes and said, 'These are aristocrat boots.' Pointing at his son's feet, he declared, 'Those are shit-kickers.'" Lovely people!
Class Warfare
"The Left Case Against the 1619 Project — James Oakes (Full Interview)" (YouTube) [Jacobin (jr)]:
Well worth a listen. I love the idea of William Tecumseh Sherman attending one of Robin DiAngelo's shindigs on whiteness.
UPDATE "During Civil Rights Era, Native American Communities in the South Armed Themselves Against the Klan" [Scalawag]. "Cole did not heed the sheriff's warnings. That night, about 50 Klan members drove to Hayes Pond and circled their cars; Cole set up a small generator, a PA system, and a lamp. Most of Robeson County's Klan members stayed home; the 50 Klan members, women, and children at the rally were part of Cole's following from South Carolina. Soon they were surrounded by 500 Indian men, many of whom were U.S. military veterans, and about 50 Indian women. Many were armed with rifles, shotguns, pistols, and knives." • You'll have to read the article for the rest. I always enjoy Scalawag; the United States is so enormous and various.
News of the Wired
"The Geographical Oddity of Null Island" [Library of Congress]. "It doesn't seem like much of a place to visit. Granted, I've never actually been there, but I think I can imagine it: the vastness of ocean, overcast skies, a heavy humidity in the air. No land in sight, with the only distinguishing feature being a lonely buoy, bobbing up and down in the water. It almost seems like a "non-place," but it may surprise you to learn that this site is far from anonymous. This spot is a hive of activity in the world of geographic information systems (GIS). As far as digital geospatial data is concerned, it may be one of the most visited places on Earth! This is Null Island…. Null Island is an imaginary island located at 0°N 0°E (hence "Null") in the South Atlantic Ocean. This point is where the Equator meets the Prime Meridian. The concept of the island originated in The exact origins of "Null Island" are a bit murky, but it did reach a wide audience no later than in 2011 when it was drawn into Natural Earth, a public domain map dataset developed by volunteer cartographers and GIS analysts. In creating a one-square meter plot of land at 0°N 0°E in the digital dataset, Null Island was intended to help analysts flag errors in a process known as "geocoding." • From comment 18:
No idea why this 2016 article just popped up in my news feed in 2021. I had a pretty interesting experience at 0N / 0E. We crossed the equator there in 2007. That buoy wasn't there then. As we approached this mystical point in the ocean in the middle of the night, I was surprised to see DOZENS of vessels there on my AIS display. I was looking with my own eyes and didn't see the lights from any ships, so I didn't understand at first why this party of ships was supposedly happening at 0N/0E. As I continued to watch, I noticed ships kept popping up there (on the AIS display)… and then disappearing. New ships kept popping up there… and then disappearing. It finally dawned on us that anytime someone in Los Angeles or Hong Kong or Dubai or anywhere else in the world first turned on their AIS system, before it obtained its first GPS fix, it defaulted to reporting its position as "00-00N / 00-00E" and showed up on our AIS display in the Gulf of Guinea. After they got a GPS fix, their position suddenly updated to wherever they really were in the world and disappeared from the Gulf of Guinea. It was a pretty interesting phenomenon to watch.
I think Borges would have loved Null Island.
* * *
Readers, feel free to contact me at lambert [UNDERSCORE] strether [DOT] corrente [AT] yahoo [DOT] com, with (a) links, and even better (b) sources I should curate regularly, (c) how to send me a check if you are allergic to PayPal, and (d) to find out how to send me images of plants. Vegetables are fine! Fungi and coral are deemed to be honorary plants! If you want your handle to appear as a credit, please place it at the start of your mail in parentheses: (thus). Otherwise, I will anonymize by using your initials. See the previous Water Cooler (with plant) here. Today's plant (Copeland):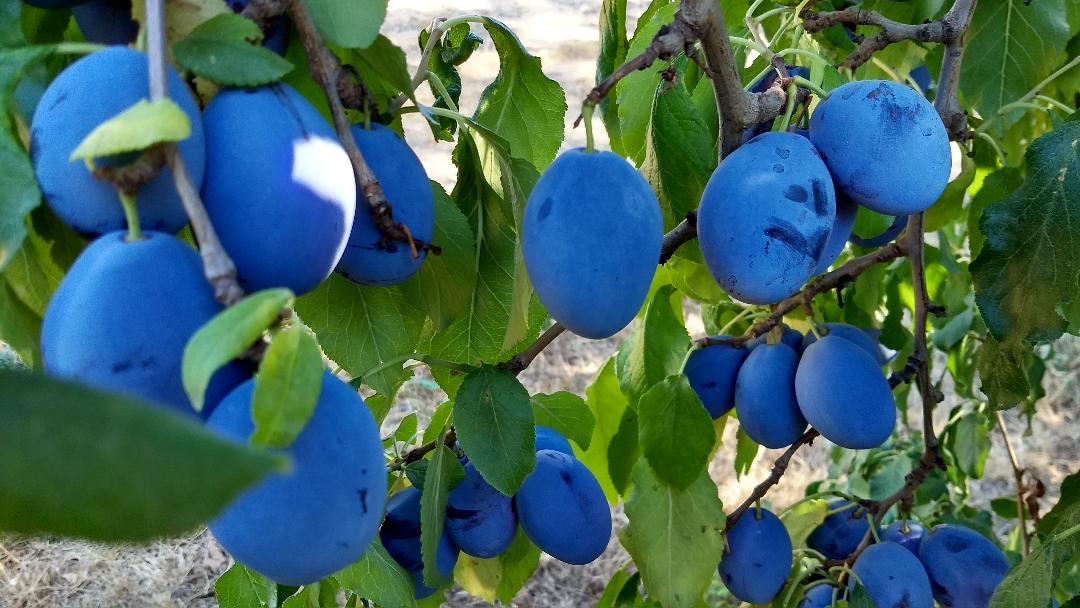 Copeland writes: "Went to our local you-pick orchard again the other day, this time plums."
* * *
Readers: Water Cooler is a standalone entity not covered by the recently concluded and — thank you! — successful annual NC fundraiser. So if you see a link you especially like, or an item you wouldn't see anywhere else, please do not hesitate to express your appreciation in tangible form. Remember, a tip jar is for tipping! Regular positive feedback both makes me feel good and lets me know I'm on the right track with coverage. When I get no donations for five or ten days I get worried. More tangibly, a constant trickle of donations helps me with expenses, and I factor in that trickle when setting fundraising goals:
Here is the screen that will appear, which I have helpfully annotated.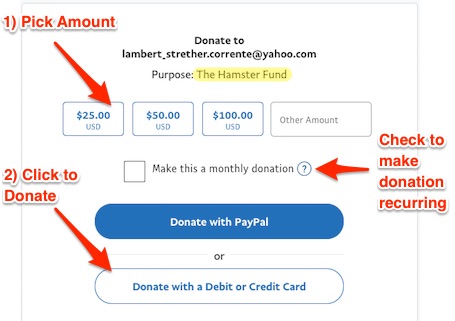 If you hate PayPal, you can email me at lambert [UNDERSCORE] strether [DOT] corrente [AT] yahoo [DOT] com, and I will give you directions on how to send a check. Thank you!2:00PM Water Cooler 6/8/2021