By Kenny Stancil, staff writer at Common Dreams. Originally published at Common Dreams
The National Oceanic and Atmospheric Administration announced Tuesday in its latest monthly report that the United States endured 18 "billion-dollar weather and climate disasters" through the first nine months of 2021, putting this year on pace to be among the worst for such catastrophes.
For decades, scientists have sounded the alarm that extreme weather would become more frequent and intense amid the fossil fuel-driven climate emergency. With 18 calamities costing at least $1 billion already on the books and three months to go, 2021 is second only to 2020, when there were 22 such events.
Before it was surpassed last year, the previous annual record for billion-dollar disasters was 16—reached in 2011 and matched in 2017. While last year saw a greater number of billion-dollar disasters, 2021 is outpacing 2020 through September.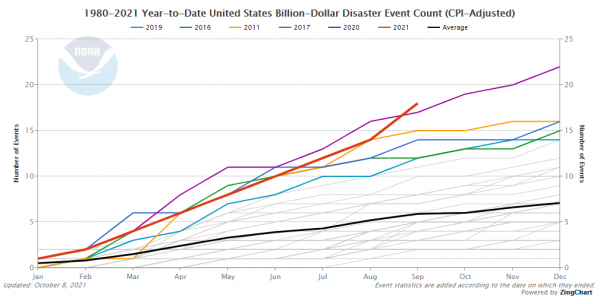 Furthermore, although not all of the destruction has been calculated, this year's events have already proven more expensive, causing $104.8 billion in damages compared with $100.4 billion in 2020. The costliest years to date are 2017 and 2005, when Hurricanes Harvey and Katrina devastated Houston and New Orleans, respectively.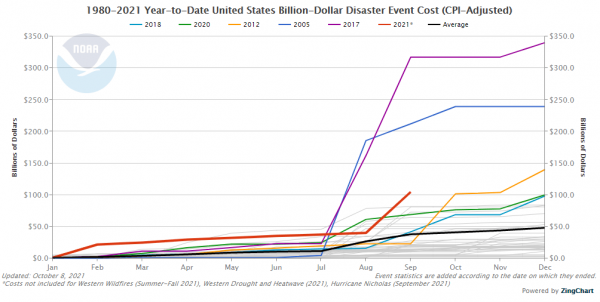 Communities across the nation have been ravaged by a variety of extreme weather events in 2021, which have resulted in the deaths of 538 people.
Some of the most notable billion-dollar disasters that occurred between January and September include the winter storm that wrecked Texas' isolated, deregulated, and fossil fuel-dependent power grid, causing dozens to freeze to death; relentless Western drought, heatwaves, and wildfires that have burned nearly 6.5 million acres to date and killed over two hundred people; and the highly destructive Hurricane Ida, which barreled into the Gulf Coast's extensive petrochemical infrastructure, leaving dozens of oil spills in its wake, and also pummeled the Northeast, adding more casualties.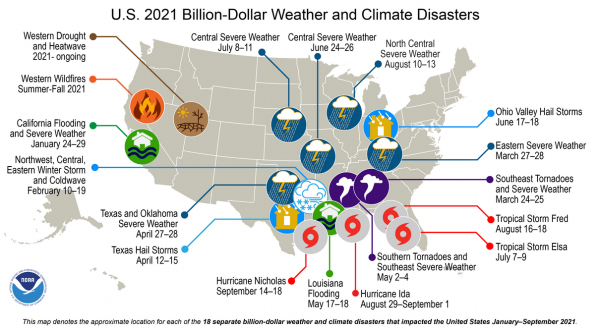 Just as climate scientists have warned it would, unmitigated greenhouse gas pollution is producing higher temperatures and more extreme weather—leading to more and more catastrophic events.
Since NOAA started keeping such records in 1980, the U.S. has been hammered by 308 billion-dollar disasters, claiming 15,030 lives and costing roughly $2.1 trillion—with annual averages of just over seven events, 358 deaths, and approximately $50 billion in damages.
The average number of annual billion-dollar disasters has skyrocketed from about three events nationwide per year in the 1980s to more than 12 events per year in the 2010s. The average number of annual deaths has also increased over the decades, from 287 per year in the 1980s to 522 per year in the 2010s.
From 2016 to 2020—the five hottest years on record—there were more than 16 separate billion-dollar disasters per year, on average. Combined, the 81 events killed nearly 4,000 people, or more than a quarter of the death toll since 1980, and cost $640.3 billion, accounting for over 30% of the 40-year financial toll.
Researchers at Climate Central recently pointed out that the growing frequency of calamitous events "can strain the resources available for communities to recover quickly and manage future risks."
According to their new analysis, the average time between billion-dollar disasters has declined from 82 days in the 1980s to just 18 days on average in the past five years (2016-2020).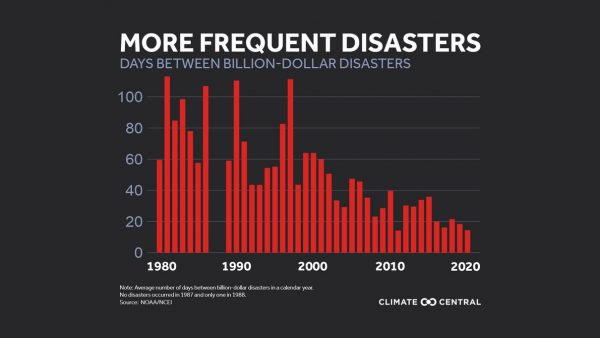 Climate Central argued that NOAA's "staggering figures primarily reflect direct impacts on assets (including damage to homes, crops, and critical infrastructure) and therefore don't reflect the full toll of disasters—including on human health and well-being, displacement, food and water supplies, as well as loss of cultural heritage, biodiversity, and habitats."
"Nor do these figures convey the disproportionate impacts of disasters on people in poverty or the need for equitable allocation of federal disaster assistance in accordance with social vulnerability," the group added.
And the U.S. is far from alone in experiencing an uptick in extreme weather events, which are also decimating impoverished nations around the globe.