This is Naked Capitalism fundraising week. 746 donors have already invested in our efforts to combat corruption and predatory conduct, particularly in the financial realm. Please join us and participate via our donation page, which shows how to give via check, credit card, debit card, or PayPal. Read about why we're doing this fundraiser, what we've accomplished in the last year, and our current goal, bonuses for our guest writers.
A row over Line 5, an oil pipeline running from Superior, Wisconsin to Sarina, Ontario, is the biggest US climate fight you almost certainly haven't heard of. Doomberg has an excellent post on its role and the stakes, which we are mining liberally.
We're featuring this pipeline fight not just for its own importance but also because it illustrates several issues that climate change activists and politicians don't seem willing to consider. First, as we have said repeatedly, that plans serious enough to prevent the worst climate outcome will have to include radical conservation. Second is an unwillingness to look hard at existing conditions and figure out where and to what extent it makes sense to create new "green" infrastructure, which may be green in carbon cost terms but not necessarily in terms of other environmental costs. Third is that some elements of modern lifestyles like suburbs with detached single family homes, are untenably bad for the environment (even if their energy needs can be met with solar panels, the people who live in them need to provision their houses, drive to doctors and schools and often to work, and a lot more than if they were housed differently) but no one is willing to say bad things about this American mainstay.
For instance, yesterday, OilPrice highlighted Biden's climate hypocrisy:
But what happens when Americans aren't ready to move on from oil, and new domestic supplies aren't meeting demand?

That's the position we currently find ourselves in. The Biden Administration could respond in one of two ways.

They could say "High oil prices will speed up the transition to renewable energy" — which is certainly how they feel privately. After all, U.S. officials attended the COP26 U.N. Climate Summit in Glasgow this week, where they discussed plans to reduce carbon emissions. They could tell Americans to take their medicine, live with higher gas prices, and then privately hope that hastens the transition to green energy.

But people don't like paying higher gasoline prices. So, the first irony is that the Biden Administration asked OPEC to pump more oil, undermining its COP26 messaging of reducing fossil fuel consumption. At the G-20 meeting in Rome, President Biden complained:

The idea that Russia and Saudi Arabia and other major producers are not going to pump more oil so people can have gasoline to get to and from work, for example, is not right.
Now to the Line 5 case study. Line 5 delivers 540,000 barrels of oil daily, versus US consumption of 18 million barrels a day. It has operated for 70 years with an excellent safety record.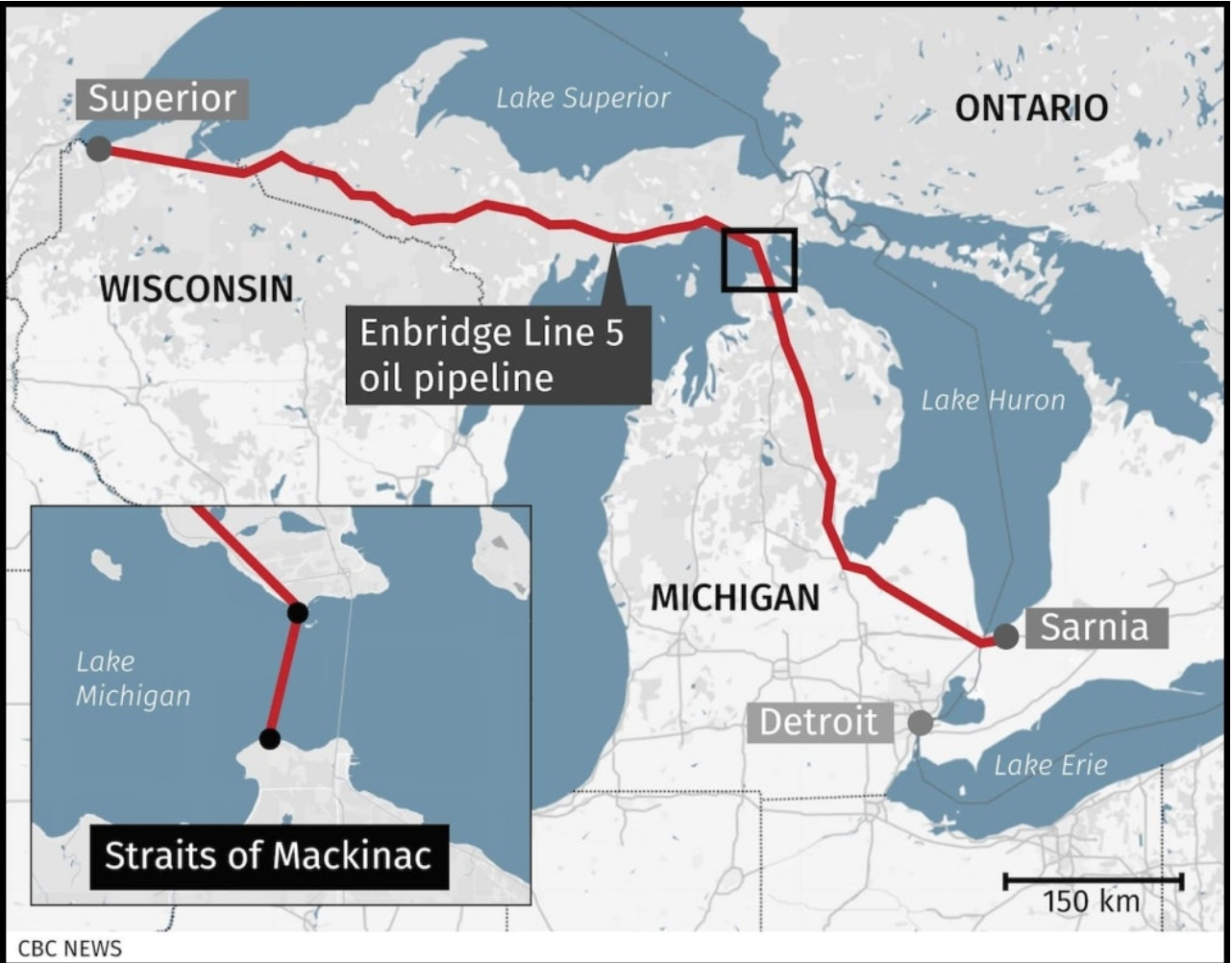 As Doomberg explains:
There are two main problems with Line 5. The first is that for a four-mile stretch it runs under the Straits of Mackinac, which connect Lake Michigan to Lake Huron. Should a catastrophic leak occur, the pipeline could contaminate priceless shorelines and potentially threaten the Great Lakes themselves, which hold some 20% of the total freshwater on earth. The second is that [current operator] Enbridge had a significant (but unrelated) pipeline spill in Michigan back in 2010. Known as the Kalamazoo River oil spill, the incident resulted in significant local environmental damage. For a period of 17 hours, the company struggled to understand that a leak was even occurring, unwilling to believe what its own sensors were indicating. This slow response exacerbated the damage and crushed Enbridge's credibility with local authorities.

There's a direct line from that incident to the major push by environmentalists to proactively shutter Line 5 today. Unlike opposition to the Keystone Pipeline, a project which was never completed, Line 5 is a preexisting critical artery of the North American energy infrastructure. This seems like an important precedent in the making.
Doomberg also published Enbridge's defense, which is that the pipeline has never had a spill, was built by Bechtel, and was overengineered as well as sited so as to minimize corrosion risk and is intensively monitored.
The wee problem is that even if you initially come down on the side of thinking the pipeline is too risky to be allowed to continue, you are then faced with the fact that the alternatives are worse. People in that part of the world, including Canada, need that oil and related products. If the pipeline were decommissioned, that huge volume of oil would need to be hauled via railroad or truck. Remember the Lac-Mégantic rail car explosion, which killed 47? And that's before the fact that delivering oil via an existing pipeline is also greener than running trucks and trains around.
Doomberg uses the Upper Peninsula of Michigan to illustrate the problem. Doomberg has noticed that it has really serious winters, although he uses photos of lake effect snow on the south side of Lake Superior to make the point. They aren't quite as bad as Rochester, New York, but most mere mortals would be impressed.
However, having lived a mere 60 miles south of Marquette (the biggest town, on Lake Superior) in Escanaba, on Lake Michigan, that lake effect snow tails off pretty quickly. The real issue is the Upper Peninsula is mighty cold. One January in Escanaba, the temperature never got above zero and the low was 27 below. I learned then that at 5 below, you feel your nose hairs freeze and unfreeze with each breath, and at 15 below, you feel the cold bite in your windpipe. Oh, and most of the winter, we plugged the car in to keep the engine block from freezing overnight.
We still had it soft compared to people in more remote areas. Remember the Upper Peninsula has only 300,000 people and is very low density. Note the white propane tank in the photo below. That's for heat.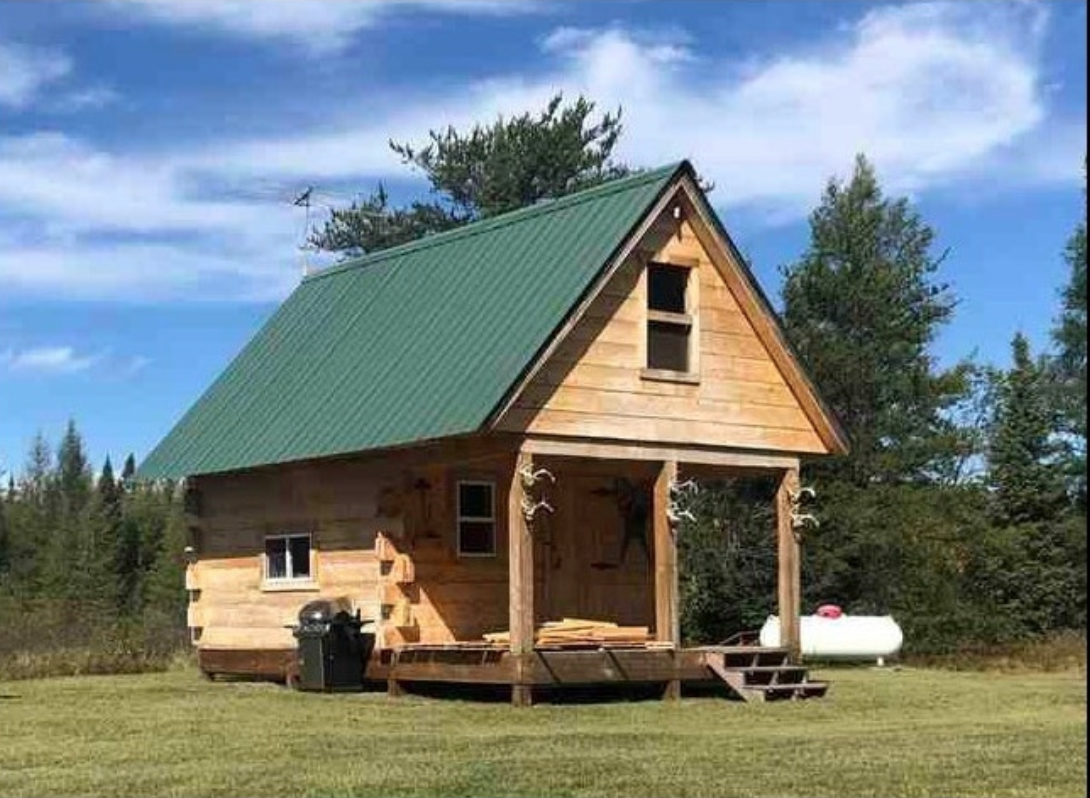 Michigan has a higher proportion of homes using propane for heating than any other state. Doomberg's graphic shows use levels across the Upper Peninsula: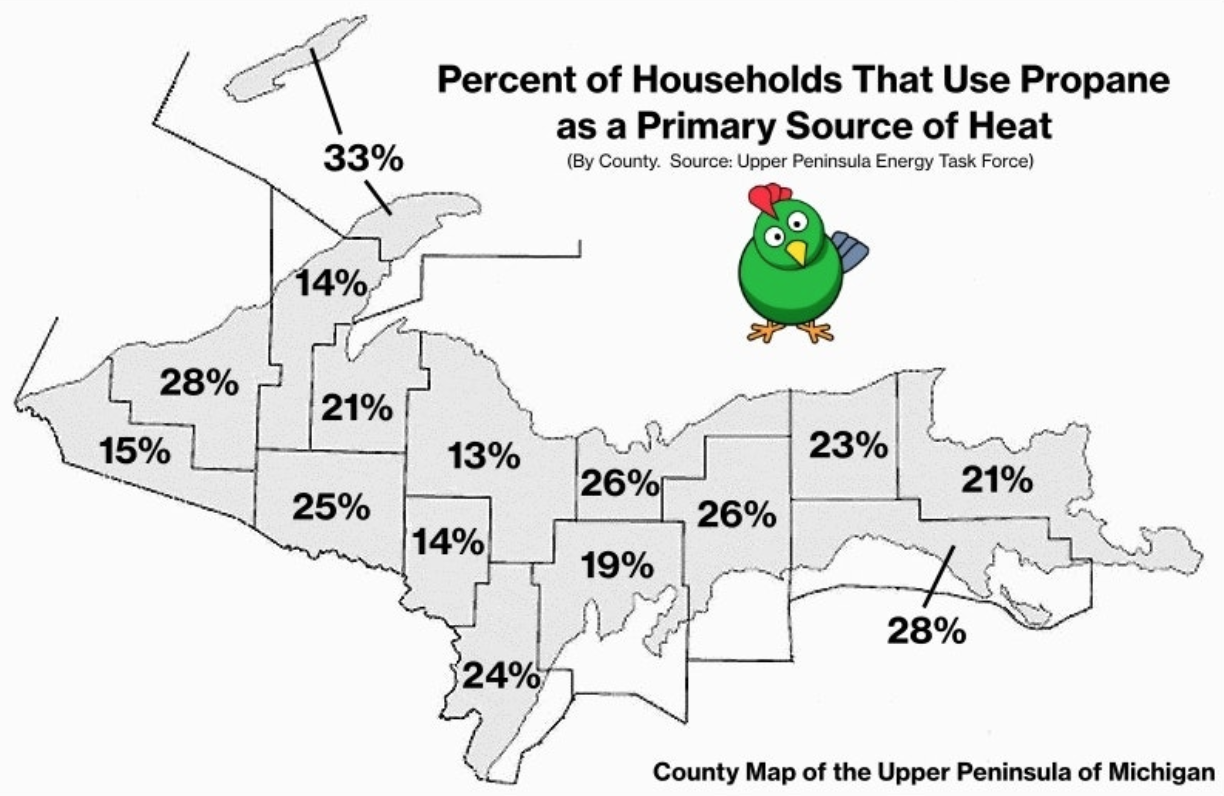 And Line 5 supplies half of the material for downstate's propane and 2/3 of the Upper Peninsula's supply.
Governor Gretchen Whitmer, who won by 10 points in 2018, promised to close Line 5 as part of her campaign. Jointly with the Department of Natural Resources, she tried cracking down on the pipeline in November 2020 by revoking its easement to operate under the Straits of Mackinac. Operator Enbridge has not acted on the order and had gotten the Government of Canada to go to bat for them. Again from Doomberg:
The Line 5 story is huge in Canada – but not for reasons you might think, especially not after listening to Trudeau's high-minded speech at COP26. Instead, even Canada is alarmed at the prospect of shuttering the pipeline. Trudeau has gone as far as to invoke Canada's treaty rights under a deal signed with the United States in 1977.
And from a Detroit News story in early October:
The Canadian government on Monday formally invoked a 1977 treaty that the country's officials say prevents the U.S. government or Michigan from disrupting the operation of Enbridge's Line 5 oil pipeline, effectively pulling the Biden administration into the dispute over the pipeline's future…

Gordon Giffin, a former U.S. ambassador to Canada under President Bill Clinton who is now acting ascounsel for the government of Canada, informed U.S. District Judge Janet Neff of the rare invocation of the 1977 transit pipeline treaty in a Monday court filing. Giffin asked the Western District of Michigan judge to pause her consideration of the case during treaty negotiations.

In the filing, Canada said it had invoked the treaty provisions "through diplomatic channels" earlier in the day and made a formal request to begin negotiations with the U.S. The U.S. State Department did not return a request seeking comment.

The 1977 agreement between President Jimmy Carter and Trudeau's father, former Prime Minister Pierre Trudeau, put limits on transit pipeline actions that may harm the energy supply in either country. Monday marks the first invocation of the treaty since it was signed.

Canada's letter to the judge comes more than two weeks after court filings indicated mediation talks between the state and Line 5 owner Enbridge over the future of Line 5 are largely at a dead end…

In March, Canada's natural resources minister Seamus O'Regan told a parliamentary panel that the continued operation of the pipeline was "non-negotiable."
A statement by Enbridge, a Canadian company, thanked "Team Canada" which is understood to include the provinces of Alberta, Ontario, and Quebec to pressure Whitmer.
This treaty ju-jitsu came as Enbridge had gotten the case against it move from state to Federal court and Michigan was trying to get it back in state court.
Needless to say, it is over my pay grade to assess the remote but clearly disastrous possibility of a pipeline break into the Great Lakes (versus what would seem to be more probable, a break elsewhere that would contaminate groundwater and potentially contributory streams and rivers) versus the ongoing climate costs of shipping the oil above ground.
But as Doomberg indicates, if the Line 5 shutdown advocates prevail, it would represent a major precedent. And just as Biden revealed he's only willing to protect the environment if it won't cost him too many votes, Line 5 opponents can make the same case against Trudeau.