By Lambert Strether of Corrente.
Patient readers, I had to focus on beating up on Zeints, Walensky, and Fauci, and so I got a late start. Here is a skeletal version. I will break my rule on UPDATEs, and add more material in an hour or so. –lambert UPDATE I added a Politics section, since that seems to be today's energy vortex. Tomorrow I will return to the regular order.
Bird Song of the Day
I'm having a good time with migratory birds because their songs are so various.
* * *
#COVID19
I've started adding "NOT UPDATED" in front of the charts (mostly CDC) that were not updated by the time of this posting. —lambert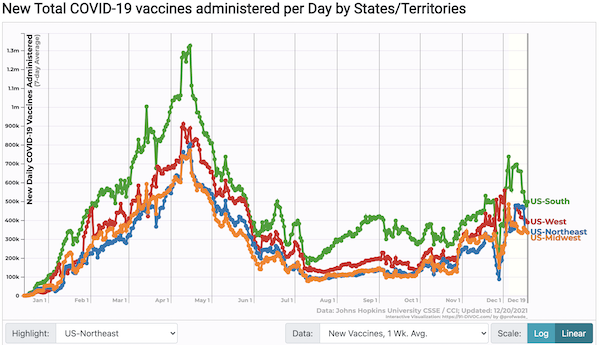 The South and the Northeast plunge. Could be reporting. (If by Bubba we mean The South, then Bubba had been doing pretty well on vax, despite all the sturm und drang in the press.
61.4% of the US is fully (doubly) vaccinated (CDC data, such as it is, as of December 19. The stately 0.1% rise per day returns. We have broken the important 61% psychological barrier! Mediocre by world standards, being just below Hungary, and just above Turkey in the Financial Times league tables as of this Monday).
Case count by United States regions: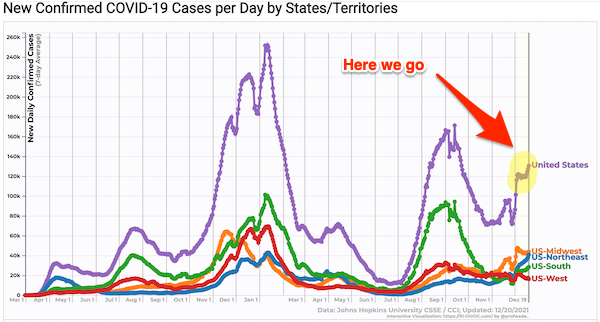 The fiddling and diddling abruptly ends. Also, as happened in 2020, I would expect a second, higher peak, from Omicron if for no other reason.
At a minimum, the official narrative that "Covid is behind us," or that the pandemic will be "over by January" (Gottlieb), or "I know some people seem to not want to give up on the wonderful pandemic, but you know what? It's over" (Bill Maher) is clearly problematic. (This chart is a seven-day average, so changes in direction only show up when a train is really rolling.)
NOT UPDATED One of the sources of the idea that Covid is on the way out, I would speculate, is the CDC's modeling hub (whose projections also seem to have been used to justify school re-opening). Here is the current version of the chart from the CDC modeling hub, which aggregates the results of eight models in four scenarios, with the last run ("Round 9") having taken place on 2021-08-30, and plots current case data (black dotted line) against the aggregated model predictions (grey area), including the average of the aggregated model predictions (black line). I have helpfully highlighted the case data discussed above. Not updated: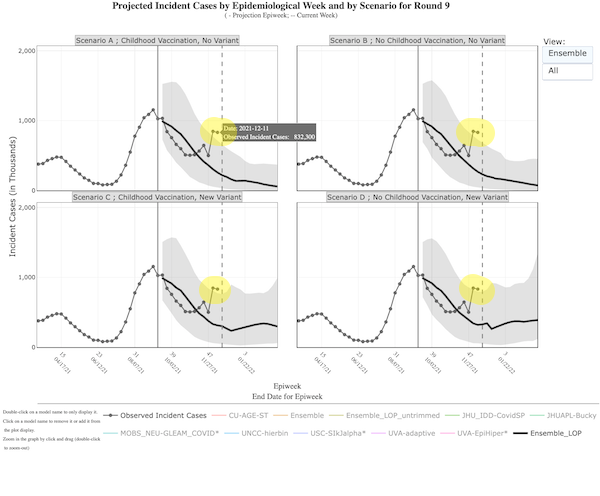 Case data (black dotted line) has been within the tolerance of the models; it does not conform to the models' average (black line), but it stays within aggregated predictions (the grey area).
I wrote: "It's too early to say 'Dammit, CDC, your models were broken'; but it's not too soon to consider the possibility that they might be. The case data still looks like it's trying to break out of the grey area. We shall see." The case data has now broken out of the grey area (see at "Oopsie!"). Since the models are aggregated conventional wisdom, it's not fair to call them propaganda, exactly. Nevertheless. conventional wisdom is looking a little shaky, and anybody who relied on them to predict that we would be "back to normal" by early next year should be taking another look at their assumptions. And this is — I assume — before Omicron!
MWRA (Boston-area) wastewater detection: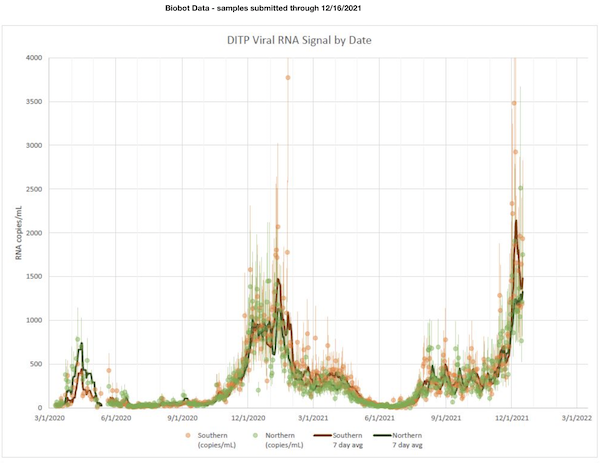 I wrote: "We'll see if gets choppy again, or not." This blip upward is the first sign of choppiness.
The Massachusetts Water Resources Authority (MWRA) service area includes 43 municipalities in and around Boston, including not only multiple school systems but several large universities. Since Boston is so very education-heavy, then, I think it could be a good leading indicator for Covid spread in schools generally.
NOT UPDATED From CDC: "Community Profile Report" (PDF), "Rapid Riser" counties: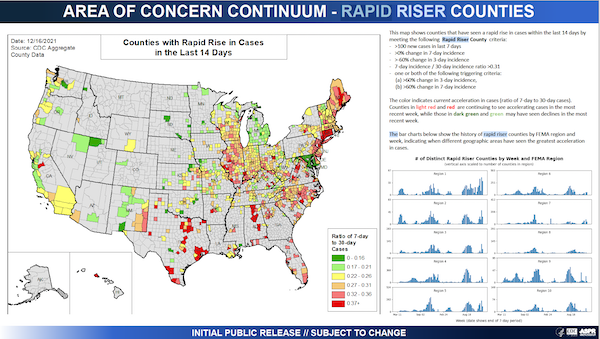 Maine improved. Upper Midwest improved. Acela corridor sketchy. More flecks of red, especially in Texas. Weird flare-ups, like flying coals in a forest fire. They land, catch, but — one hopes — sputter out. The fleck of red in the middle of New York near the Pennsylvania border is, I think, Ithaca (i.e., Cornell).
The previous release: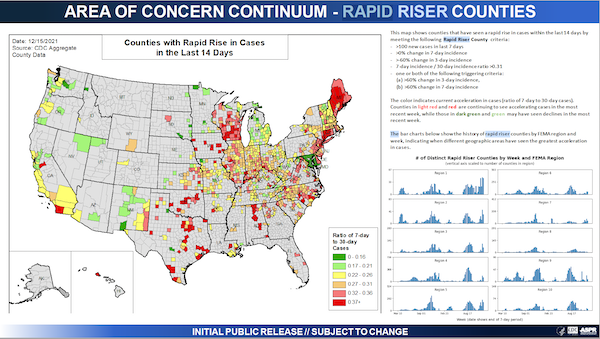 NOT UPDATED Hospitalization (CDC Community Profile):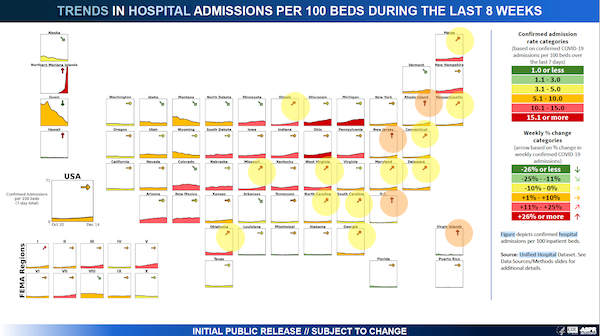 I have helpfully highlighted the states where the "trend" arrow points up in yellow, and where it is vertical, in orange. (Note trend, whether up or down, is marked by the arrow, at top. Admissions are presented in the graph, at the bottom. So it's possible to have an upward trend, but from a very low baseline.)
Death rate (Our World in Data):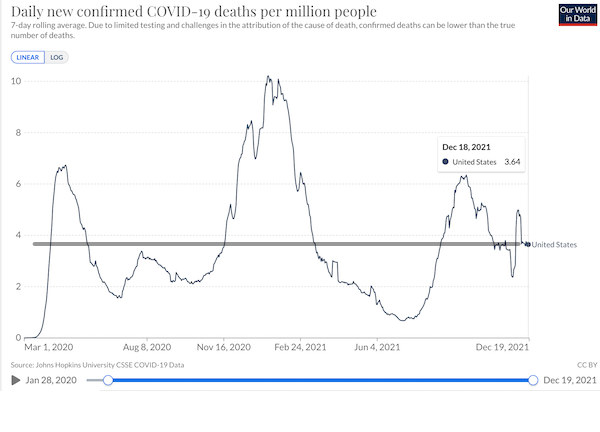 Total: 827,323 824,520. At this rate, I don't think we'll hit the million mark by New Year's. I have drawn an anti-triumphalist "Fauci Line" to demonstrate that the "new normal" for deaths is quite high, even before Omicron has hit.
NOT UPDATED. Excess deaths (total, not only from Covid).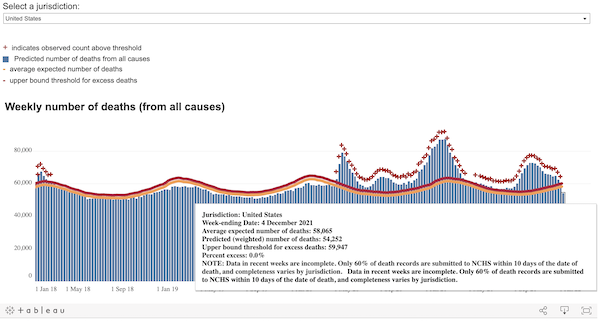 Hard to believe we have no excess deaths now, but very fortunate if so. (CDC explains there are data lags).
Covid cases in historic variant sources, with additions from the Brain Trust: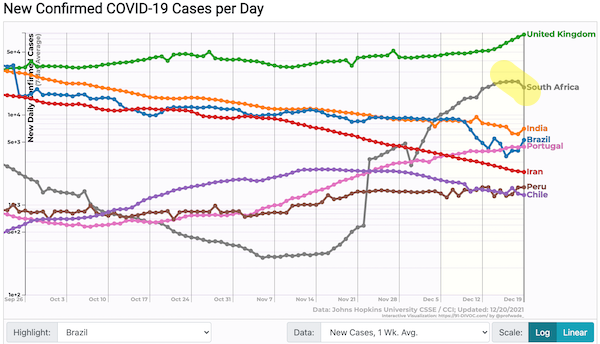 South Africa is looking better (I highlighted them) but I think that's a reporting artifact. Gauteng empties out in the holiday season, I am told; some go to the beach, others up-country. So it's really too soon to declare victory. Look at the UK, too. This is a log scale. Sorry for the kerfuffle at the left. No matter how I tinker, it doesn't go away.
* * *
Politics
"But what is government itself, but the greatest of all reflections on human nature?" –James Madison, Federalist 51
"They had one weapon left and both knew it: treachery." –Frank Herbert, Dune
"They had learned nothing, and forgotten nothing." –Charles Maurice de Talleyrand-Périgord
Capitol Seizure
""A Punishing American Zeitgeist"​ | An Interview with Nikhil Pal Singh" [The Drift]. I linked to this when it first ran, back in February. Pretty good call: "One of the strongest arguments against Trump as a harbinger of the death of our already anemic democracy is the one that points to his fundamental weakness and laziness: Trump was not ultimately interested in staffing the government with the kind of personnel who could pull the many levers that you would need to pull in order to pull off a coup. Even the judges that have been put into place by conservatives, including by Trump himself, over these last four years shot down every gambit he put before them to try and overturn the election. We still have to think about what it means to get a crowd of that size willing to do what they did, which is a serious thing. I don't want to minimize what happened. In relative terms, however, there was no significant mass mobilization against Trump's defeat. This suggests that Trumpism remains civically thin, lacking durable associational force. By contrast, every powerful institution — from Congress to the Chamber of Commerce to Twitter and Facebook and the big financial donors and the big corporations — closed ranks very quickly and harshly against the rioters and the people who incited them. "

"The Paperwork Coup" [The Atlantic]. " Evidence about the insurrection suggests that although the mob was an obvious threat to human life, it was never an especially serious one to American democracy. Coordination within the crowd seems to have been sporadic, and if White House officials were in touch with organizers, they weren't likely directing them. Moreover, it's not clear how the insurrection might have successfully kept Trump in office, even if it had managed to prevent certification that day." But on a separate track: "That left Trump with one last gambit: keeping Congress from certifying the election on January 6. Most legal scholars agreed that the day's proceedings were meant to be a formality, but Trump's kitchen Cabinet had decided they were a place to make a stand. One prong was a bid to get the Justice Department to simply say the election was corrupt "+ leave the rest to me and the R[epublican] Congressmen" (as a DOJ official recorded Trump saying). It's still not entirely clear what Trump hoped to do once he'd received that declaration, but in any case it came up short. Rosen refused, and Trump's attempt to replace him with a loyalist atop the department crashed at a January 3 meeting, where Cipollone and top Justice Department officials threatened to resign en masse. The second prong was to persuade Pence to block or delay certification on January 6."
Biden Administration
"Biden Concerned Ambitious Agenda Could Be Stalled By Him Not Really Caring If It Happens Or Not" [The Onion]. • From May. The Onion nails it again. Cf. Stoller:

A rule of thumb for Democrats is that it's important not just to lose but to be thoroughly humiliated.

— Matt Stoller (@matthewstoller) December 19, 2021

This is another view of the mentality I've labeled auto-Kinbaku-bi…. The trick handcuffs are, indeed, humiliating, especially when its obvious you could have removed them at any time.

"Why you shouldn't expect a Biden shake-up" [The Hill]. • I don't think they can get better people than they already have. Best part of this article: "The White House is also dealing with a nagging pandemic…." A "nagging pandemic"? Really?

"Manchin hits back at White House pressure on Biden plan" [The Hill]. "Sen. Joe Manchin (D-W.Va.) hit back at White House staff Monday and warned that Democrats had miscalculated by thinking that they could pressure him into backing President Biden's spending plan. 'They figured surely to God we can move one person. We surely can badger and beat one person up. Surely we can get enough protesters to make that person uncomfortable enough that they'll just say, 'OK I'll vote for anything," he said in a local radio interview. 'Well, guess what? I'm from West Virginia. I'm not from where they're from and they can just beat the living crap out of people and think they'll be submissive, period,' Manchin added." • Clad in the armor of a righteous cause, yadda yadda yadda…

"White House Calls Out Manchin for 'Inexplicable Reversal' on Build Back Better" [Rolling Stone]. "According to Psaki, Manchin met with Biden at the president's Wilmington, Del., home 'weeks ago,' where he 'committed … to support the Build Back Better framework that the president then subsequently announced.' Manchin then 'pledged repeatedly to negotiate on finalizing that framework 'in good faith."… The president and Manchin then spoke again this week on Tuesday. The White House said Manchin 'submitted—to the president, in person, directly—a written outline for a Build Back Better bill that was the same size and scope as the president's framework, and covered many of the same priorities.'" • As we know, Manchin does like to write down these things; that's what he did with Schumer. And if the story is true — are there recordings? — I can see Biden being ticked off about being lied to in his own home. On Capitol Hill, surely. But not at his home.

"White House blasts Manchin's "inexplicable reversal" on Build Back Better Act" [CBS]. "Whether Manchin's comments Sunday morning represent an outright end to talks over the Build Back Better Act or were simply a negotiating maneuver remains to be seen. People familiar with his thinking told CBS News that he remains committed to working on provisions in the bill with more targeted legislation through regular legislative order." • With plenty of means testing! And no dental for the good people of West Virginia, gawd forbid.

On testing, from Michael Mina, who is very sound on that topic:

Let's give credit where credit is due – the last administration (particularly @DrGiroir) made massive strides on tests. We went from no rapid tests to distributing hundreds of millions – and created @NIH RADx!!!

The Current admin spent 8 months mostly neglecting them. https://t.co/XUK983crF7

— Michael Mina (@michaelmina_lab) December 18, 2021

In retrospect (and no, I don't love Trump), Trump left Biden with a not entirely bad hand to play. The former guy gave Biden the vaccines that Biden subsequently put all his chips on. Not only that, the former guy gave Biden the business model: Operation Warp Speed. Why in the name of all that is Holy didn't Biden apply the same model to tests? And masks? And treatments?
Democrats en Deshabille
Lambert here: Obviously, the Democrat Party is a rotting corpse that can't bury itself. Why is that? First, the Democrat Party is the political expression of the class power of PMC, their base (lucidly explained by Thomas Frank in Listen, Liberal!). ; if the Democrat Party did not exist, the PMC would have to invent it. . ("PMC" modulo "class expatriates," of course.) Second, all the working parts of the Party reinforce each other. Leave aside characterizing the relationships between elements of the Party (ka-ching, but not entirely) those elements comprise a network — a Flex Net? An iron octagon? — of funders, vendors, apparatchiks, electeds, NGOs, and miscellaneous mercenaries, with assets in the press and the intelligence community. (Note that voters do not appear within this structure. That's because, unlike say UK Labour or DSA, the Democrat Party is not a membership organization. Dull normals may "identify" with the Democrat Party, but they cannot join it, except as apparatchiks at whatever level.) Whatever, if anything, that is to replace the Democrat Party needs to demonstrate the operational capability to contend with all this. Sadly, I see nothing of the requisite scale and scope on the horizon, though I would love to be wrong. (If Sanders had leaped nimbly from the electoral train to the strike wave train after losing in 2020, instead of that weak charity sh*t he went with, things might be different today. I am not sure that was in him to do, and I'm not sure he had the staff to do it, although I believe such a pivot to a "war of movement" would have been very popular with his small donors. What a shame the app wasn't two-way.) Ah well, nevertheless.

For an example of the class power that the PMC can wield, look no further than RussiaGate. All the working parts of the Democrat Party fired on all cylinders to cripple an elected President; it was very effective, and went on for years. Now imagine that the same Party had worked, during Covid, to create an alternative narrative — see Ferguson et al., supra, to see what such a narrative might have looked like, and with the unions (especially teachers) involved. At the very least, the Biden Administration would have had a plan, and the ground prepared for it. At the best, a "parallel government" (Gene Sharp #198) would have emerged, ready to take power in 2020. Instead, all we got was [genuflects] Tony Fauci. And Cuomo and Newsom butchering their respective Blue States, of course. The difference? With RussiaGate, Democrats were preventing governance. In my alternative scenario, they would have been preparing for it.

And while we're at it: Think of the left's programs, and lay them against the PMC's interests. (1) Free College, even community college. Could devalue PMC credentials. Na ga happen. (2) MedicareForAll. Ends jobs guarantee for means-testing gatekeepers in government, profit-through-denial-of-care gatekeepers in the health insurance business, not to mention opposition from some medical guilds. Na ga happen. (3) Ending the empire (and reining in the national security state). The lights would go out all over Fairfax and Loudon counties. Na ga happen. These are all excellent policy goals. But let's be clear that it's not only billionaires who oppose them.

Showing the PMC's inability to govern, as a class they seem unable to expand their scope of operations into new fields. Consider the possibilities of the "Swiss Cheese Model." Layered defenses include extensive testing, contact tracing, ventilation systems (not merely blue collar HVAC work, but design and evaluation), and quarantines. If we look at each layer as a jobs guarantee for credentialed professionals and managers, like ObamaCare, the opportunities are tremendous (and that's before we get to all the training and consulting). And yet the PMC hasn't advocated for this model at all. Instead, we get authoritarian followership (Fauci) and a totalizing and tribalizing faith in an extremely risky vax-only solution. Why? It's almost as if they're "acting against their own self-interest," and I don't pretend to understand it.

And I'm not the only one who's puzzled. "Even if you…

already did suspend the filibuster for specific reasons in the past and would now for SC nominees. It has razor-thin margins yet can still pass massive spending bills. Invoking Manchin or Sinema doesn't really explain the puzzle; it just re-describes it.

— corey robin (@CoreyRobin) December 2, 2021

A second example of the PMC's inability to govern comes under the rubric of "our democracy." Of the various components of the Democrat party, NGOs, miscellaneous mercenaries, assets in the press, and the intelligence community all believe — or at least repeat vociferously — that "our democracy" is under threat, whether from election integrity issues, or from fascism. But other components — funders, vendors, apparatchiks, and electeds — don't believe this at all. On election integrity, HR 1 has not passed. Gerrymandering continues apace (also a sign that Republicans take their politics much more seriously than Democrats do). On fascism, I suppose we have Pelosi's January 6 Commission. But nothing unlawful took place, or we would have Merrick Garland's January Investigation. The combination of hysterical yammering from some Democrats and blithe indifference from others is extremely unsettling. (This leaves aside the question of whether Democrats, as a party, have the standing to whinge about either the erosion of democracy or the imminence of fascism. I say no.) Of course, there is a solution to the problems with "our democracy":

Prediction

Democrats will solve the problem of minoritarian tyranny by losing the popular vote. https://t.co/hdw4IxTu2b

— Alice in Winter (@AliceFromQueens) November 18, 2021

NEW It is said, I believe by Thomas Frank, that the Democrats are the Party of Betrayal. Certainly the "Build Back Better" debacle provides many examples of combinatorial betrayal. Manchin betrayed Biden (by lying to Biden at his house). Biden betrayed everybody (by believing, I am persuaded, and acting as if he had Manchin's vote in his pocket*). Schumer betrayed everybody (by keeping Manchin's written request a secret). Pelosi betrayed Jayapal (by splitting BIF and BBB into two bills and by relying on Republican votes). The Democrat leadership betrayed the Progressive Caucus (by explicitly and verbally making the face-to-face promise that BBB would be passed, and then not delivering). And, though this is harsh, Sanders betrayed his voters with his 2020 turn toward electoralism (by personally liking Biden, and relying on his deal-making ability, now shown to be a sham). I don't think the Squad betrayed anybody, unless you regard participating in the process as a betrayal, so there's that. NOTE * I believe Biden's top line was Manchin's from the beginning, and nowhere near Sanders'.

* * *

"Liberals disappointed after Biden's first year" [The Hill]. "'Biden deserves high marks on how his team has navigated a national health crisis," said Michael Ceraso, a progressive strategist and former campaign worker for Sanders. 'But that doesn't give his administration or congressional Democrats a pass on not reforming the criminal justice system, watching voting rights erode and the right to protest stripped, and allowing reproductive health to be under siege.'" • Lol no, Biden doesn't deserve high marks when his death count is higher than Trumps. (And now we don't just have "Democratic strategists," we have "progressive strategists." Oh, good.)

"Pretending Problems Don't Exist Won't Make Them Disappear" [Ross Barkan, Political Currents]. "The real shock, for Democrats and left-leaning observers at least, came in a select few neighborhoods of New York City. For the second November in a row, a nonwhite demographic swung hard toward the Republican Party. In 2020, Latinos nationally voted in greater numbers for Trump than they did in 2016. The story was no different in the five boroughs, where Spanish-speaking neighborhoods cast votes for Trump at a much higher rate than four years prior. What came to the fore last month was how Asian voters, particularly Chinese and Korean voters, had migrated to the Republican Party. Though Sliwa lost the race, he won areas that had in earlier elections backed the Democratic standard bearer. In the 40th Assembly District, which ropes in the Asian-majority Queens neighborhood of Flushing, Sliwa beat Adams outright. A year ago, Biden had won almost 62 percent of the vote there. Hillary Clinton, in 2016, broke 67 percent. De Blasio won Flushing too. Sliwa's performance there got some media attention, given Flushing's position as one of the largest hubs for Asian immigrants in the United States. The improved Republican performance was not limited to Flushing. In the nearby 25th Assembly District, which takes in several eastern Queens neighborhoods with large Asian populations, Sliwa won 51 percent of the vote to Adams' 45 percent. In the 26th Assembly District, which ropes in both whiter suburban neighborhoods like Douglaston and the increasingly Asian Bayside, Sliwa ran up the score, netting about 58 percent of the vote. All of this was notable—Biden won 57 percent of the vote in the 26th AD and a whopping 62 percent in the 25th. Another place where the Asian movement to the GOP was pronounced was in my own backyard in southern Brooklyn." • If only Jebbie had run in 2016….
2022
I'll file this under 2022, on the hopeful assumption that by 2024, we will have forgotten all about the pandemic:

The political emergency of Covid is over everywhere but among public health nerds and the increasingly fringe group for which The Pandemic gives them purpose. https://t.co/b9pix07uOV

— Matt Stoller (@matthewstoller) December 18, 2021

NC readers are disproportionately public health nerds, so we may be in a bit of an echo chamber, but I'm not sure Stoller's correct. Surely one way Biden was going to be "not Trump" was solving Covid? Which he has not done? And there's been plenty of work on the ground by dull normals, not Beltway nerds: Every non-pharmaceutical intervention you can think of, school fights and collective action over ventilation and Corsi boxes, etc.
Republican Funhouse
"GOP maps Biden probes, prelude to 2024 culture war" [Axios]. "House Republicans have begun mapping aggressive probes of the Biden administration if they win back the majority — including inquiries into the origins of COVID, a leak of IRS data about billionaires, and accusations the NSA spied on Tucker Carlson." • What fun. Seems like pretty minor stuff. Why don't they just impeach Biden for butchering Trump's vaccine?

"Kanye West's 'Independent' Campaign Was Secretly Run by GOP Elites" [The Daily Beast]. "New documents show Kanye West's doomed White House campaign—styled as an "independent" third-party effort—appears to have disguised potentially millions of dollars in services it received from a secretive network of Republican Party operatives, including advisers to the GOP elite and a managing partner at one of the top conservative political firms in the country. Potentially even more alarming? The Kanye 2020 campaign committee did not even report paying some of these advisers, and used an odd abbreviation for another—moves which campaign finance experts say appear designed to mask the association between known GOP operatives and the campaign, and could constitute a violation of federal laws. At the heart of Kanye's political operation was Holtzman Vogel, one of the most powerful and well-connected law firms serving major Republican political and nonprofit organizations today. And weaved throughout his campaign, whether the multi-platinum rapper realized it or not, were Republican operatives who may have been less interested in seeing a President West than in re-electing President Donald Trump."

A land war in Asia:

"we need men "who want to sit on a throne of Chinese skulls" 😡😡😡 https://t.co/Yk29kf3dg2

— CM – Zero Covidista (@xuchuanmei) December 19, 2021

That's not who we need at all. We need people who know what to do when an enormous fleet of Chinese drones appears from the mainland and heads for our carriers. That has little to do with piling up skulls (unless we go nuclear, of course).
Realignment and Legitimacy
John Adams on Sparta:

John Adams had thoughts on Sparta. He really…. *hated* it. " Human nature perished under this system of frigid national pride," writes he: pic.twitter.com/z0bAoQhBfD

— T. Greer (@Scholars_Stage) December 19, 2021
* * *
Contact information for plants: Readers, feel free to contact me at lambert [UNDERSCORE] strether [DOT] corrente [AT] yahoo [DOT] com, to (a) find out how to send me a check if you are allergic to PayPal and (b) to find out how to send me images of plants. Vegetables are fine! Fungi and coral are deemed to be honorary plants! If you want your handle to appear as a credit, please place it at the start of your mail in parentheses: (thus). Otherwise, I will anonymize by using your initials. See the previous Water Cooler (with plant) here. Today's plant (AG):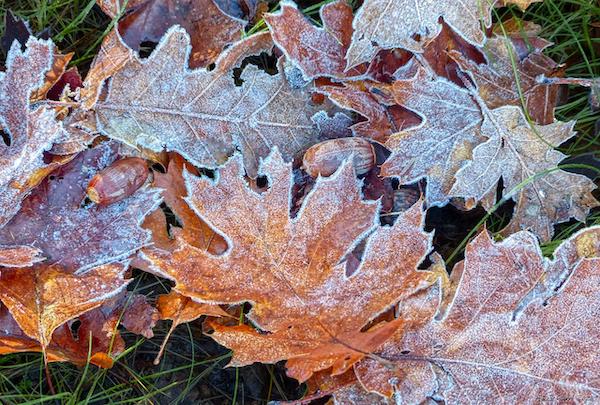 AG writes: "Last Thursday night, we got our first freeze of the year here in the Sierra foothills of CA, 2700' elevation. So, still in a daze before coffee kicked in, I went out to see what I could see, hoping for some frost patterns.
The native Black Oak leaves (and acorns) that had fallen looked very interesting, just as the sun peeped over the hill and lit them softly. Especially the ice crystals along the edges of each leaf. I had about five minutes before this very delicate frost melted entirely. As I'm sure any physicist will tell you, the edges or corners of any body will experience the greatest delta transfer of energy, so the crystals along the edges of these leaves will get colder (and most likely bigger, if sufficient water is available from the leaves and air—think dew point— to support their growth) and will also melt first when the sun arrives—relative to the crystals on the surface of the leaves.
The green shoots are the first shoots of the (unfortunately, non–native, meaning European annual, and most unwelcome invader) grasses stimulated by the first rains a couple of weeks ago, and already four inches or more long."
Gorgeous!
* * *
Readers: Water Cooler is a standalone entity not covered by the recently concluded and — thank you! — successful annual NC fundraiser. So if you see a link you especially like, or an item you wouldn't see anywhere else, please do not hesitate to express your appreciation in tangible form. Remember, a tip jar is for tipping! Regular positive feedback both makes me feel good and lets me know I'm on the right track with coverage. When I get no donations for five or ten days I get worried. More tangibly, a constant trickle of donations helps me with expenses, and I factor in that trickle when setting fundraising goals:
Here is the screen that will appear, which I have helpfully annotated.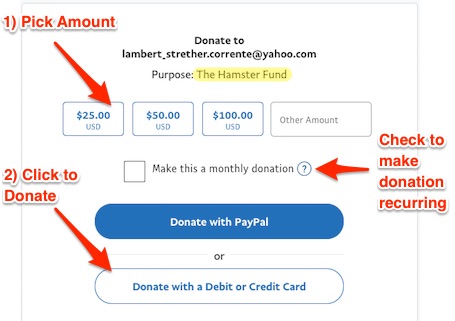 If you hate PayPal, you can email me at lambert [UNDERSCORE] strether [DOT] corrente [AT] yahoo [DOT] com, and I will give you directions on how to send a check. Thank you!