Dear patient readers,
Big big thanks for your thoughtful and moving words about my mother's death, both on the site and via e-mail. It means a lot to me.
Yesterday in Water Cooler, some of you converged on the idea of having "an NC mini-fundraiser in honor of Yves' mom." That is not only exceedingly generous, but also a way to help preserve the health of this community. The drift of the thread was that this would be for the site, but if some/most of you were thinking instead of giving to a charity in her name, please pipe up, because I don't want to offend based on a difference of understanding about what seemed to be a largely shared view in that discussion.
This week I am already sleep deprived due to having to make a lot of decisions (including managing relatives), so it is also becoming clear that even with what ought to be a simple estate, the moving parts I have to deal are going to require a lot of greasing. So a fundraiser would help support having Lambert, Jerri, and Nick step up as needed when I face estate crunches. In other words, I am inclined to take readers up on this very sporting suggestion, but I hope you can give me a few days….since this is yet another decision. :-)
Climate change: Lapland reindeer gone astray in search for food BBC :-(
Why the lake growls on a winter's night Twin Cities (Chuck L)
How to Survive a Killer Asteroid Wired (Dr. Kevin). Duck and cover?
Tree of Life Explorer OneZoom (resilc)
Amazing Maps (Kevin W)
First, do no harm: An argument for a radical new paradigm for treating addiction ars technica (Chuck L)
Study finds abrupt decline in the prevalence of cognitive impairment among older Americans News-medical.net (Kevin W). Yours truly has long had the theory that Alzheimers must have a significant environmental component. If you look at historical descriptions of senility, they show poor memory, not the eventual erasure of personality found with Alzheimers.
#COVID-19
A Swedish Firm Has Created an Under-Skin Microchip for COVID Vaccine Passport The Insider (furzy). This is not quite as alarming as it sounds. Sweden has had bizarrely had some enthusiasm for microchipping for yet more consumer convenience.
Science/Technology
Pfizer Covid pills for Covid symptoms may be risky with other drugs NBC. Resilc: "This will leave out 75% of USA USA."
New Omicron variant fills up children's hospitals CNN (Kevin W)
Forecasting the Omicron winter: Experts envision various scenarios STAT
Brace Yourself — Omicron's Going to Be Worse Than You Probably Think Umair Haque (Dr. Kevin). From a week ago but has some key history.
Myth debunking:
After reading more misleading takes in the media, I'm going to try to explain this again- overall, omicron causes *more* and not less severe disease than delta – even at an individual level for most people. Why? ?

— Deepti Gurdasani (@dgurdasani1) December 26, 2021
Here is a paper that just wanted to follow a cohort of people and see how their reinfections were.

reinfections were more severe on average.

i blocked a few people that said reinfections don't happen https://t.co/gvOf1Xxnaj

— Anthony J Leonardi, PhD, MS (@fitterhappierAJ) December 26, 2021
A Myth is Born: How CDC, FDA, and Media Wove a Web of Ivermectin Lies That Outlives The Truth Rescue (Chuck L)
Asia
Hhhm:

WATCH: China's Xi'an, which is currently on lockdown, launches city-wide disinfection as COVID cases continue to rise (Video: 北京头条) pic.twitter.com/MZQzZobhJs

— BNO Newsroom (@BNODesk) December 27, 2021

Hong Kong is clinging to 'zero covid' and extreme quarantine. Talent is leaving in droves. Washington Post. We would say that now, now wouldn't we? GM independently had to clear his throat:

Hong Kong isn't budging for now (and probably never will as long as the mainland sticks to its guns)

https://www.scmp.com/news/hong-kong/health-environment/article/3161244/coronavirus-hong-kong-mandate-hotel-quarantine

And I actually don't think they will suffer.

I have watched how academic research is falling apart in slow motion over the last two years with increasing desperation and silent horror. Many people still don't notice it, but if you are actually paying attention it is inescapable. Many labs just disintegrated during the lockdown and have not been able to reconstitute themselves because it has been wave after wave of disruption ever since, collaboration networks have been disrupted, there is little of the vibrant exchange of ideas that happened in the hallways back in the days because people are scattered, etc. The place essentially stopped being what it once was prior to March 2020 — it is now a collection of fancy shiny buildings and (some of) the people are still there, but that intangible factor that made it great is no longer present.

Really, really depressing.

I can imagine that R&D in the tech companies has been hit hard too from all the WFH but that too is not being widely understood yet. There is no substitute for two or more very smart people brainstorming in front of the whiteboard around midnight. You only understand that once you have been at that board past midnight and have seen the fruits of such exchanges.

Meanwhile I see all the time papers from China that do things we had planned to do at some point but could not because of the whole disruption.

And they are actually attracting talent, exactly the opposite of what is claimed — a lot of world class Chinese researchers who worked in US universities just went back home and they will stay there. Loss for the US, gain for China.

I am starting to see even non-Chinese people going there. For now it is cases of people who have some connection, e.g. a Chinese wife is a typical cases, but expect that to change over time as the realization slowly sets in about what the future holds and especially if the Chinese make some efforts to make the process of cultural adjustment smoother.

Of course it matters what kind of "talent" you care about — do you want to attract actually productive scientists and engineers, or does your definition of "talent" center on financial parasites?

GM added:

And this the "scientific establishment"'s position:

The CDC cuts isolation period for positive people to 5 days

(with 5 more days of masking when around others)

This is terrific — consistent with the evidence and data for contagiousness

And exactly what our country needs right now https://t.co/JNFtKRCoRw

— Ashish K. Jha, MD, MPH (@ashishkjha) December 27, 2021

Lambert's response:

When they say "our country," that is exactly what they mean, just like "our democracy." The dude is a Dean. Of a School of Public Health. Naturally, and naturally.
US
China?
India
India freezes accounts of Mother Teresa's charity Bangkok Post (furzy)
Brexit
Brexit Impact Tracker – 26 12 2021 – Year II of Actually Existing Brexit: Détente or Deregulation? Gerhard Schnyder (guurst)

Read the entire tweetstorm:

The cost of transport by vans up to 3500kgs is going to significantly increase . Reg numbers must match the import documents – and you have to specify your route into the U.K. . Co-loading is as good as dead . It's suddenly become a bit more specialised now .

— ciaran the euro courier ???? (@donnyc1975) December 26, 2021
New Cold War
2022 — Year of Major Power Conflict Over Ukraine Scott Ritter, Consortium News (Chuck L)

THE MISQUOTATION Russia Observer (guurst)

Clouds on the horizon (OPEN THREAD) The Saker (Chuck L)
Imperial Collapse Watch
The U.S. Military Is a Machine of Impunity Intercept (resilc)

How Strange It Feels to Watch Your Country Die Jacobin (Chuck L). Not ours but instructive.

US Space Force reveals recruiting ad (Watch it here) YouTube (resilc)
Big Brother is Watching You Watch
#WLDragnet Part 1. Social Media Mercenaries: CIA & DoD-connected Organizations Mapping WikiLeaks Supporters Talk Liberation (Chuck L)
Trump
Trump Advisor Lays Out How He and Bannon Planned to Overturn Biden's Electoral Win Daily Beast (David L)
Biden
Federal judiciary: The remarkable speed with which Joe Biden is seating judges. Slate (furzy)
Border wait times swell as staffing shortages plague inspections booths San Diego Union-Tribune
Our Famously Free Press
Outlets hurt by dwindling public interest in news in 2021 Associated Press (resilc)
Declassified FBI records connect dots about Saudi government ties to 9/11 Florida Bulldog (Chuck L). Quelle surprise!
2021 Bye Bye
Best Op-eds of 2021: Teen Vogue's Favorite Opinion Pieces Teen Vogue (Dr. Kevin)

The 10 Worst Americans of 2021 Intercept (resilc)
Ever-expanding list of banned words at Quebec's National Assembly offers a portrait of a distinct province Globe and Mail (Dr. Kevin)
Record Beef Prices, but Ranchers Aren't Cashing In New York Times. Resilc: "Same with logging. Logs are near worthless, lumber is dear."
Bitcoin's Volatility Is on Display Again in Slide Below $50,000 Bloomberg
Bankruptcy Filing Rate Is Lowest Since Bankruptcy Code's Enactment–The Question Is Why Credit Slips
Burdened by Books The Baffler (Anthony L)
Remembering When Mrs. Claus Cracked the North Pole's Glass Ceiling Atlas Obscura (Dr. Kevin)
Class Warfare
"This used to be a great job': US truckers driven down by long hours and low pay Guardian (resilc)

Desmond Tutu, Fierce Opponent of South African and Israeli Apartheid, Dies at 90 Defend Democracy

It's a Wonderful Life: The Lost Ending – SNL YouTube (furzy). The awesome. And William Shatner too!
Antidote du jour. Stephen H: "Best wishes to everyone from Dashiell on Christmas Day."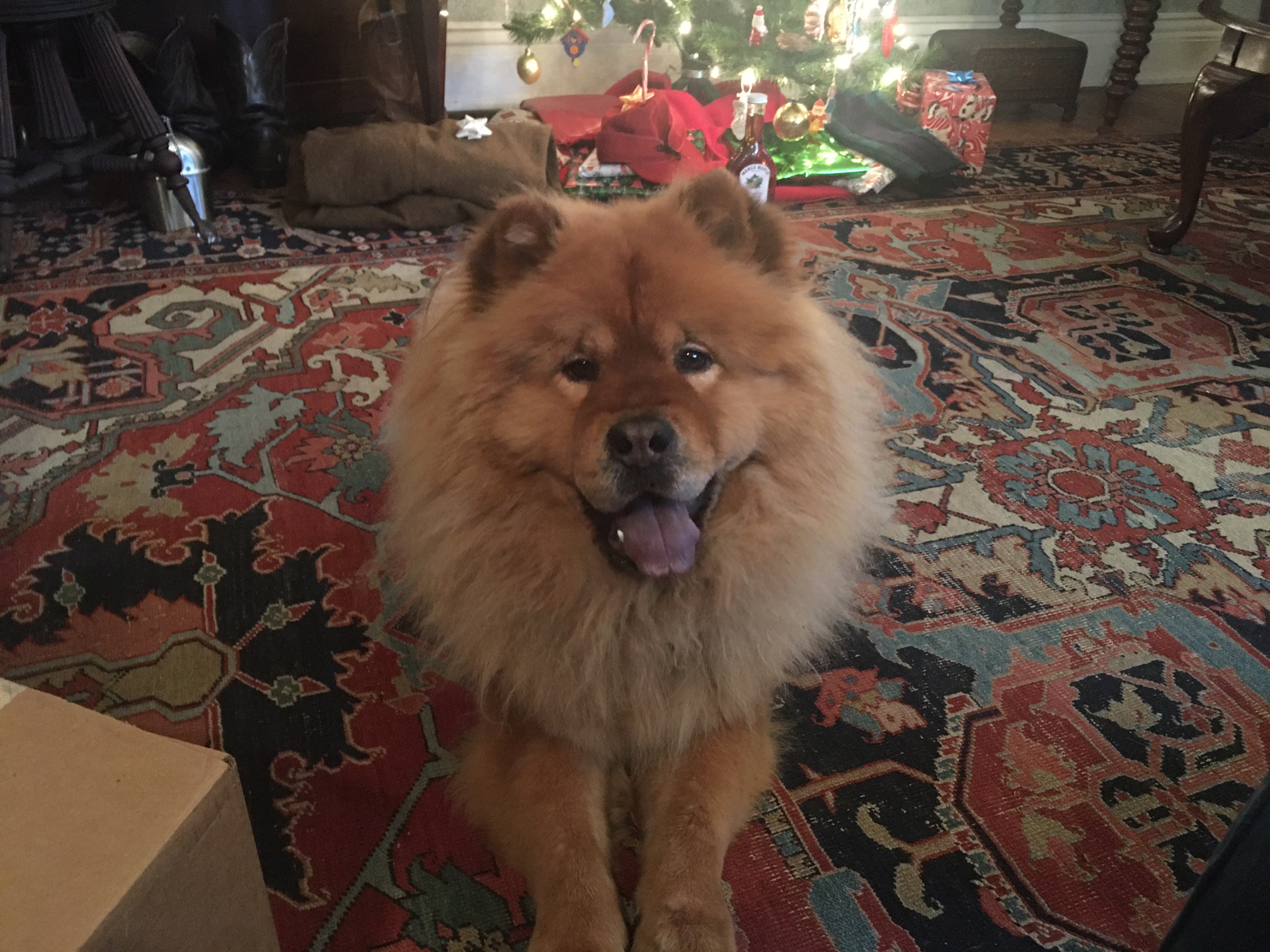 And a bonus (guurst):
— HourlyFops (@FopsHourly) December 23, 2021
And a second bonus (Kevin W):
Moose are fast, even in deep snow.. pic.twitter.com/Lp7JvAgrQd

— Buitengebieden (@buitengebieden_) December 24, 2021
See yesterday's Links and Antidote du Jour here.