Yves here. Nassim Nicholas Taleb shreds the misguided logic behind Covid age-ism. And that's before getting to the fact that in South Africa, the notion that the old are more likely to get really sick is simply not true: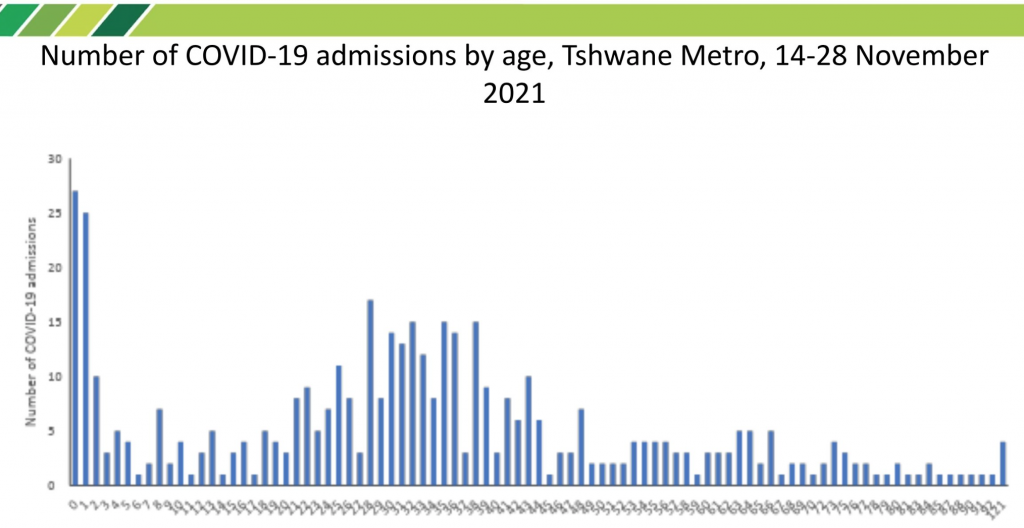 The newscaster starts by describing an "exponential" rise in cases, then interviews the head of ICU in the in Gauteng's (and entire Southern Hemisphere's) largest hospital. Prof. Mathivha gives a grim front line view, and confirms that the number of Covid admissions in the last week has increased "exponentially" and a sharp shift towards hospitalization among the young, even toddlers and babies.
However, the problem with her interview is that it is clear she has no idea how many of her patients have Omicron versus Delta. In addition, she's not an epidemiologist or virologist, so you have to discount for when she is speculating and not clearly saying so versus conveying what she is seeing. She points out that some and maybe most of the skew towards hospitalizations among the young is due to their extremely low vaccination rates, as contrasted with older adults and vulnerable groups. As she explains, there is a great deal of vax resistance in the youth due to a successful anti-vax lobby, while the vaccination campaign that targeted at risk groups did well. This picture was made worse by near-total abandonment of precautions after the last Covid wave receded.
Another caveat, regarding the emphasis that this interview puts on the discovery of Omnicron cases in the Netherlands before the sequencing in South Africa: our GM, presumably following the thinking of other scientists, said at the time of the initial finding that it meant that the then unnamed variant had been circulating in RSA in October. And B.1.1X was observed in Africa in mid-2020 and then not sighted again until the Guateng cluster. So it is way too early to rule out RSA as the incubator.
By Nassim Nicholas Taleb. Originally published at Medium
Clearly Covid affects the old, disproportionately. But so do practically almost all other ailments. A simple fact of life, in a population, it is the old that die disproportionally of all causes.
If you look at the force of mortality of the population, you would notice that Covid reduces life expectancy across the board in proportion to people's mortality, an effect at starts before middle age.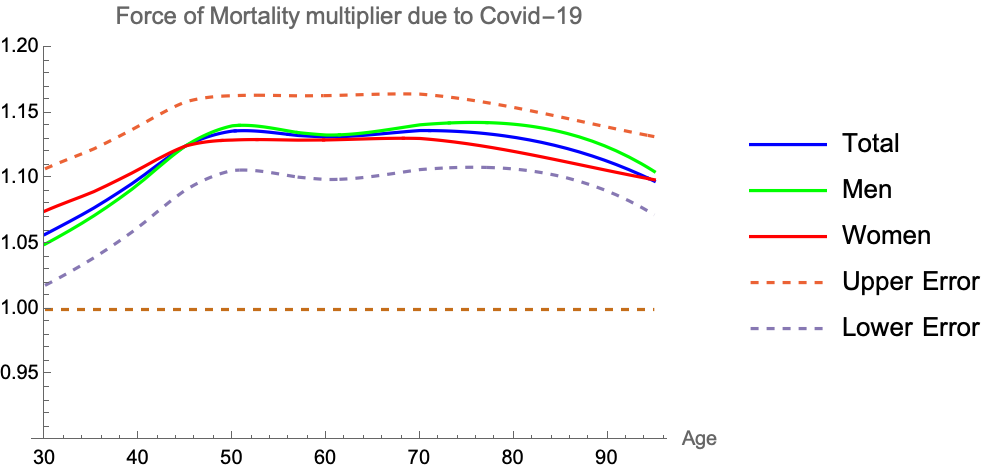 Fig 1- Multiplier of the Force of Mortality Across Age Groups >30, Nov. 2021. For the youth the ratio is both lower and much more unstable owing the rarity of both death and death from COVID.
Now the numbers in the graph represent the boost in mortality for all citizens over the period concerned (U.S. fatalities represents about 800K and counting, not taking into account a potential underestimation by ~200K). Now this represents the mortality boost after all mitigating measures, which includes travel restrictions, quarantines, lockdowns, vaccines, isolation, masks, etc. Nor does the graph above show the delayed effects of morbidity. Recall that only 48 million U.S. citizens have been reportedly affected so far. Should the entire population be infected (what some ignorant idiots call "herd immunity"), the effect would potentially be multiplied by >5 (or, taking into account the underestimation of cases, perhaps >3).
Now if we were to compute the effect on life expectancy, note that the effect acts across the board: a 30 year old loses more than 50 years of life, an 80 y.o. loses about a decade, etc
Unconditional Eugenics
The inconsistency is as follows
If Covid is an old person problem, deserving to be ignored on that account, let's treat cardiology, oncology, urology, and most of internal medicine in the same manner.
The "old person problem" related to Covid becomes effectively an argument of unconditional eugenics, unconditional senicide/geronticide. The main trait in civilized society is to protect the weak: Ancient Mediterraneans gave a higher status to the elderly (senators). The same with almost every society that is not decaying.
The same people who advocate senicide fail to get counterfactuals right. For instance, just as one legislator one day announced that airplane checks were redundant (and costly) because there had been no recent terrorist incidents, many are arguing about mitigating measures on ground that fewer people have been dying on Covid.
Golden Rule (Ergodic) Argument
Another problem young psychopaths don't get is that the way society is built is via dynamic not static reasoning. As I keep writing in the Incerto, a certain class of people (usually involved in technology) affected with Black Swan blindness have a mental disorder making them ignore that things move. A 30 y.o. is not going to be frozen in complete youth and (civilized) societies have been organized around intergenerational commitments: you treat the current elderly the way you would like to be treated when you grow older. For even psychopaths will be older some day.
It is not about a single event (this pandemic) but all future pandemics, including the one that will hit when you are older. Why is it so difficult to grasp that by killing seniors, you reduce your own life expectancy ?