Yves here. Even though Richard Murphy discusses how British voters have a dim view of nearly everything the Government is doing, the same broad-based dissatisfaction holds in the US. However, as political scientist Tom Ferguson has documented, government policy reflects the pet wishes of well-funded interest groups, and not the general public, so the failure to represent public interest is baked in here.
However, the response in the US to decaying government performance, and with it, legitimacy, are centrifugal impulses. Hard core libertarians like Milton Friedman are closeted anarchists; the real deal i the left are getting more vocal, and both camps are also becoming more interested in survivalism (along with people who are not ideologically driven but see more self-sufficiency as a hedge). What is worrisome is that our putative Democratic party elites are becoming more and more authoritarian when they aren't good at it, in terms both of strategy and execution.
By Richard Murphy, a chartered accountant and a political economist. He has been described by the Guardian newspaper as an "anti-poverty campaigner and tax expert". He is Professor of Practice in International Political Economy at City University, London and Director of Tax Research UK. He is a non-executive director of Cambridge Econometrics. He is a member of the Progressive Economy Forum. Originally published at Tax Research UK
I had not previously noticed an opinion poll brought out by Ipsos Mori in mid-December. They asked people over a range of ten indicators whether they thought that the government was doing a good or bad job. These were the findings: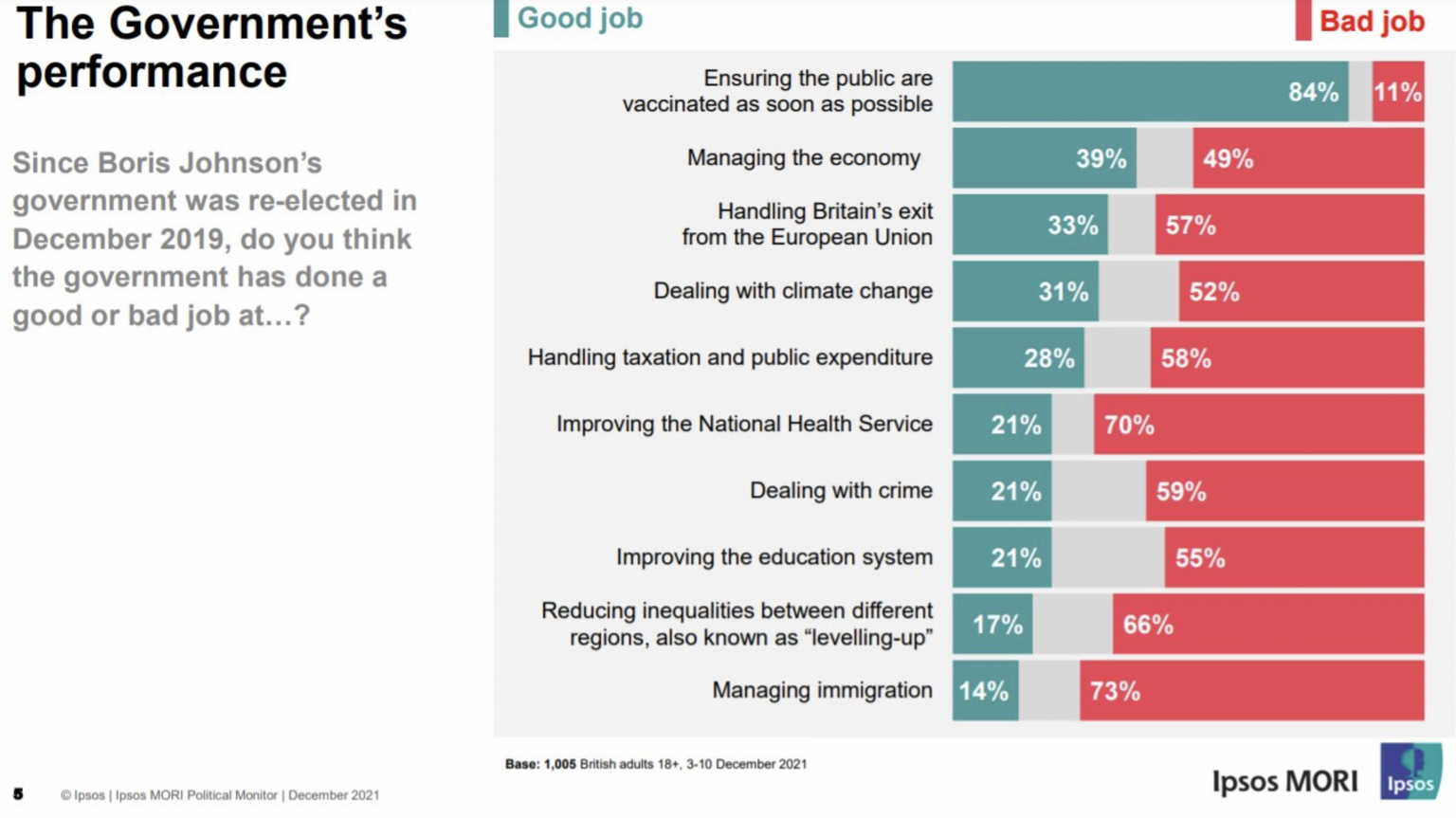 That's a negative score on everything bar vaccines. Even in a usually strong area for the Tories, like the economy, there was a significant negative ranking. On many issues the scoring was dire.
I do, of course, know all the weaknesses in polling. But, that being said this is a grim set of data for the government, and as 2022 begins it can only get worse. They are not managing the omicron variant well, and most people will know it.
None of this does, of course, say that people think Labour would necessarily do better. Although their poll ranking has risen significantly that is more a measure of the frustration that this poll indicates than positive support. But, that said, I do take a positive from this. It is that people in this country have yet to embrace the idea that the role of the government is to see a problem and then walk away from it, which is what this government does.
They expect initiative and not inaction.
They demand that issues be addressed, rather than verbiage be offered.
They think that a government should deliver on promises, like levelling up, even if no one really knows what it is.
This is important. There is evidence that some people now despise government for simply being in existence. This appears to be the motive for much of the anti-vax lobby. For reasons that they seem to find very hard to explain they loathe the idea of government, and associate it with the idea of expertise, which they detest with equal venom, although what they would out in the place of either is very hard to work out.
What I read into this poll data is that this is not a comm0n-place view. The framing of the questions is about action e.g. 'improving the NHS' rather than simply 'is the NHS doing a good job?' Asking the questions in that way gives very poor results. If that is the case then. it is reasonable to conclude that people want pro-active government still.
So do I. But we're not going to get it with the Tories in office. Those seeking power should take note. The Tory way of 'leaving things to the market to sort out' is no longer an option that people want.