By Lambert Strether of Corrente
Happy Valentine's Day, patient readers!
Bird Song of the Day
More wintry birds.
* * *
Politics
"But what is government itself, but the greatest of all reflections on human nature?" –James Madison, Federalist 51
"They had learned nothing, and forgotten nothing." –Charles Maurice de Talleyrand-Périgord
"When the going gets weird, the weird turn pro." –Hunter Thompson
Biden Adminstration
"Inside Schumer's frayed relationship with Manchin" [Axios]. "Schumer-world views Manchin as a slippery-on-detail attention addict who's impossible to pin down, will change his mind numerous times and negotiate in public, Axios is told." Karma: "In 2018, Schumer all but begged Manchin to run for re-election, knowing his victory in West Virginia could one day make him leader. During the Obama era, Schumer was the protector of the so-called Big Five, a group of centrist Democrats from red states. He also leaned on Manchin for his advice on hot-button cultural issues, including gun control." • Lie down with Blue Dogs….

"Senior Biden communications adviser to depart the White House" [CNN]. "Mariel Saez, the White House director of broadcast media, will leave government for the private sector after serving as the administration's point person on a critical component of its wide-ranging messaging strategy: television. Saez, who was well known on Capitol Hill as a constant presence by the side of House Majority Leader Steny Hoyer during her 10 years working for the Maryland Democrat, had roles on Biden's presidential campaign and in the Presidential Inaugural Committee before taking over the broadcast role on Inauguration Day in 2021….. The Biden administration is now firmly in the window when senior officials in past administrations have started to depart or shift to other jobs within the administration. It's a reality driven by the fast-paced, high-stress environment of the West Wing — one only exacerbated by the Covid-19 pandemic, which has been central to Biden's first year in office. Several White House officials have told CNN there's an expectation there will be more departures in the weeks ahead, likely after Biden's State of the Union address on March 1. Still, with key agenda items still hanging in the balance and officials keen on securing more progress on Covid-19 and the economy, there's no indication members of Biden's senior team are on their way out…. The staff turnover in Biden's first year marked "one of the lowest of the past six administrations," wrote Kathryn Dunn Tenpas, a non-resident senior fellow at the Brookings Institution."
Democrats en Déshabillé
I have moved my standing remarks on the Democrat Party ("the Democrat Party is a rotting corpse that can't bury itself") to a separate, back-dated post, to which I will periodically add material, summarizing the addition here in a "live" Water Cooler. (Hopefully, some Bourdieu.) It turns out that defining the Democrat Party is, in fact, a hard problem. I do think the paragraph that follows is on point all the way back to 2016, if not before:

The Democrat Party is the political expression of the class power of PMC, their base (lucidly explained by Thomas Frank in Listen, Liberal!). ; if the Democrat Party did not exist, the PMC would have to invent it. . ("PMC" modulo "class expatriates," of course.) Second, all the working parts of the Party reinforce each other. Leave aside characterizing the relationships between elements of the Party (ka-ching, but not entirely) those elements comprise a network — a Flex Net? An iron octagon? — of funders, vendors, apparatchiks, electeds, NGOs, and miscellaneous mercenaries, with assets in the press and the intelligence community.

Note, of course, that the class power of the PMC both expresses and is limited by other classes; oligarchs and American gentry (see 'industrial model' of Ferguson, Jorgensen, and Jie) and the working class spring to mind. Suck up, kick down.

* * *
2022
* * *

"Inside McConnell's Campaign to Take Back the Senate and Thwart Trump" [New York Times]. "As Mr. Trump works to retain his hold on the Republican Party, elevating a slate of friendly candidates in midterm elections, Mr. McConnell and his allies are quietly, desperately maneuvering to try to thwart him. The loose alliance, which was once thought of as the G.O.P. establishment, for months has been engaged in a high-stakes candidate recruitment campaign, full of phone calls, meetings, polling memos and promises of millions of dollars. It's all aimed at recapturing the Senate majority, but the election also represents what could be Republicans' last chance to reverse the spread of Trumpism before it fully consumes their party. Mr. McConnell for years pushed Mr. Trump's agenda and only rarely opposed him in public. But the message that he delivers privately now is unsparing, if debatable: Mr. Trump is losing political altitude and need not be feared in a primary…. History doesn't bode well for such behind-the-scene efforts to challenge Mr. Trump, and Mr. McConnell's hard sell is so far yielding mixed results….. Mr. Trump is backing primary opponents to incumbent governors in Georgia and Idaho, encouraged an ally to take on the Alabama governor and helped drive Gov. Charlie Baker of Massachusetts into retirement by supporting a rival."
2024
"How Trump's Vaccine Support Is Splitting His Base" [Time]. "Trump's vocal backing of COVID-19 vaccines puts the former President in a new, and possibly vulnerable, political position. While his support for the vaccine puts him in line with a majority of conservatives—57% have been willing to get at least one shot, according to a December Monmouth University poll—it also lands him squarely in the crosshairs of his most ardent base, many of whom see the federal government's vaccination campaign as overreach. Thirty percent of Republicans say they 'likely will never get' a COVID-19 vaccine shot, according to the Monmouth poll. According to data analysis by the KFF COVID-19 Vaccine Monitor, Republicans also make up an increasingly large share of the unvaccinated, comprising 60% of the unvaccinated in October, up from 51% in July. 'He's out of touch on the vaccine,' one user wrote on a pro-Trump forum that was a staging ground for the Jan. 6 insurrection after Trump appeared on OAN. Another asked 'Why lose half your base over a faulty vaccine actively being used to take away rights?' Someone else responded, 'I love Trump but this shit is getting intolerable.' At a rally in Cullman, Alabama in August, Trump was booed when he told the crowd he recommended getting vaccinated. As he angles for a possible run for the White House in 2024, Trump finds himself in a tight spot, caught between highlighting his Administration's significant achievement of working with pharmaceutical companies to jumpstart vaccine development and production and an evermore outspoken anti-vax Republican base." • Hmm.

"From Playmakers: NFL general counsel Jeff Pash ordered expungement of 2015 air-pressure measurements" [Pro Football Talk]. "So there's the last word on Deflategate, as harvested in the process of drafting Playmakers. The effort to test the operation of air pressure in footballs in the season played after the game in question (an effort the NFL had never before undertaken) resulted in numbers that were inconveniently similar to the numbers haphazardly collected in a game of "gotcha" that was instigated against the Patriots. Thus, those numbers never saw — and never will see — the light of day. The NFL made sure of that." • Laying down a marker on potential oppo for Tom Brady's 2024 Senate run against Elizabeth Warren (an idea so brilliant I've got to track it).

"The Spectacle of Eric Adams" [Ross Barkan, Political Currents]. "Has Adams had a good or bad first month as mayor? It depends on your metric. Adams has been embroiled in a mix of perplexing scandals. He badly wanted to pay his own brother more than $200,000 to oversee his police security, inevitably failing to win approval from the Conflicts of Interest Board. He hired a deputy mayor for public safety—someone who may actually call the shots at the NYPD—who was an unindicted co-conspirator in a corruption scandal. He tried to hire an actual bigot to oversee a mental health initiative. He has extolled the virtue of his plant-based, vegan-like diet—so central to his identity—while apparently dining out, fairly often, on fish. I am most sympathetic to Adams here, in that it's mostly a non-story and he is an adult in excellent physical condition who can eat what he wants. The scandal has only persisted because he long refused to say, outright, he's eaten fish. Fishgate, or whatever you want to call it, dominated the Monday event at the hospital. Adams, though, has not had what you would call a bad month as mayor if your metric is performance. He understands, innately, the aesthetic demands of the office, that the media and certain voters want something of an urban caretaker or superhero, a man to watch over them and promise better days. He rushes to the scenes of fires and murders and has made containing crime, something largely beyond his power, a top priority—sometimes, it seems it's the only priority—of his administration. It's inarguable that the rise in shootings and murders—national in scope—is a pressing concern and Adams is correct that his working-class base cares about the issue greatly. Progressives sometimes make the mistake of being too blithe about murder. What this all will add up to remains to be seen. Already clear, though, is that Adams evinces energy not seen in the last mayor and it's something that will take him far with the media and even public. He loves a good spectacle." • Plus that million-watt smile, so different from the doughy Deblasio.
RussiaGate
"Clinton's campaign paid tech firm to 'infiltrate' Trump servers" [Daily Mail]. Sorry, but this is the best exposition. "Durham's filings revealed how Hillary Clinton's election campaign paid money to a tech firm to 'infiltrate' servers that were at Trump Tower, . According to a filing from Special Counsel John Durham, the aim was to try and smear Trump by linking him to Russia, which had been accused of meddling in the 2016 U.S. Presidential Election." The executive of the tech from is said to be Rodney Joffe, 'founder of UltraDNS, the first cloud-based company to market 'domain name services…. The filing also reveals how [Joffe] worked with Sussman at the instruction of the Clinton campaign to 'assemble the purported data and white papers' – essentially to gather information that would tie Trump to Russia. Durham tells how [Joffe] said he was which is said to have been a reference to the Clinton campaign." • Trump was to be tied to Russia, apparently, through Internet traffic with Russia's Alfa Bank (a dry hole, IIRC). Joffe accumulated the data, and then had connections at Georgia Tech analyze it. Here is Durham's filing.

"Biden Security Adviser Jake Sullivan Tied to Alleged 2016 Clinton Scheme to Co-Opt the CIA and FBI to Tar Trump" [RealClearInvestigations]. From September 2021. "As a senior foreign policy adviser to Clinton, Sullivan spearheaded what was known inside her campaign as a "confidential project" to link Trump to the Kremlin through dubious email-server records provided to the agencies, said the sources, who spoke on condition of anonymity." • This project, although some details differ and Joffee is not named, sounds a lot like the project Durham is describing, including the university involvement.

"Rep. Jordan: Durham filing shows Trump was right about being spied on" [New York Post]. "Rep. Michael Turner ​(R-Ohio) ​said Sunday that Durham's investigation uncovered a 'whole new level of corruption and is of grave concern. I mean, this is a threat to itself,' Turner said on Fox News' 'Sunday Morning Futures.'​ 'It doesn't matter really which political campaign this is or which political party this is. This is so wrong and allegations of such ​a ​level of illegal activity that goes directly to our faith in our own government that the truth must be found​.'"

"Trump Suggests Clinton Operatives Deserve Death for 'Spying Operation'" [Newsweek]. • This isn't news, but Trump just can't keep his big yap shut and has to be the story (although he's correct that death is the penalty for treason, assuming the operation was in fact treason).

Lambert here: The Washington Post and the New York Times have maintained complete radio silence on this story for 48 hours. This could simply signal a new and yet more impermeable degree of embubblement; however, Special Prosecutor John Durham, after all, previously buried investigations into the CIA destroying tapes and torturing detainees, so liberal Democrats should think of him as one of their own. Biden allowed him to remain. Or it could signal factional infighting among the Democrats, as they attempt to figure out who to heave over the side. Seems to me that if a private firm is sniffing the Internet traffic of the Executive Office of the President, that's newsworthy, whether the Democrats hired them or not.
Clinton Legacy
"Hillary Clinton Debuts New Hat To Mock Donald Trump's Document Shredding" [HuffPo]. "The recent reports that Donald Trump 'never stopped ripping' up documents while he was president, flushed some down the toilet, and absconded with at least 15 boxes of White House papers (including pages marked as classified) when he left office, made Hillary Clinton tip her new, hilarious hat while trolling her old rival. Clinton highlighted the latest merchandise being offered by her nonprofit Onward Together — a cap sporting the phrase 'But Her Emails' — in an Instagram post and tweet on Friday. They're described as 'black unstructured dad hats' that are union-made in America." • Hillary would never, ever nuke all those emails about Chelsea's wedding. She'd have her lawyers do it.

"The Hillary Clinton Master Class Part 1 w/special guests Amber A'Lee Frost and Catherine Liu" (podcast) [The West Wing Thing]. • Starts out with a good discussion of Biden and Covid (and Rogan).
Realignment and Legitimacy
Seeing Like a State: An Autobiography. This is very, very painful:

Anarchist sociologist James C. Scott admitted to gathering intelligence for the CIA on student movements in numerous countries including Indonesia – he casually mentions that many of the Communist student leaders he met "were killed after '65" pic.twitter.com/J6bimDVYhW

— Aegg (@alp1111112) February 13, 2022

The original source, James C. Scott: Agrarian Studies and Over 50 Years of Pioneering Work in the Social Sciences (Oral History Center University of California The Bancroft Library, Berkeley):

So I had also, not knowing what to do, I applied to join the CIA. I had applied to Harvard Law School and had been accepted, and on a kind of flash of Oral History Center, The Bancroft Library, University of California, Berkeley daring, I applied for a Rotary Fellowship to Burma, and I got the Rotary Fellowship to Burma. I thought to myself, I can postpone Harvard Law School, I can always go to law school, but when am I going to get a chance to go to Burma? And so, I decided to go to Burma and spent a year there, and in the meantime—this is not in a lot of my stuff— and so on, which I did.

And further on:

So, it's an experience that many people didn't have. And then, I actually went to Jakarta to interview students for a fellowship program that the National Student Association had. I went to Jakarta and Bandung, so I had a little Indonesian experience, and then I went to what was then East Pakistan, Dhaka, and I went to Singapore. In Singapore, I got to know the Socialist student union people, the sort of so-called Dunham Road Hostel, many of whom became very important politicians later on, and personal friends in some cases. So at the end of my Burma year, I saw, if you like, student politics in three or four different places, and including—we're talking '60, and so I met the sort of Communist leaders of the CGMI, which was the Communist student union in Indonesia, most of whom were killed after '65, and so on.

Oy. Maybe everybody knew this but me?

* * *
#COVID19
Case count by United States regions: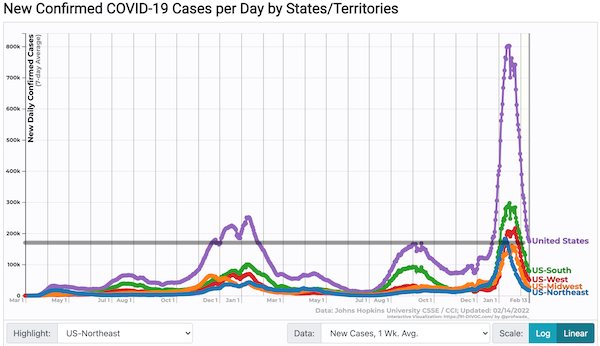 I have again added a "Fauci Line" to congratulate Biden and his team — Klain, Zeints, Fauci, Walensky — for finally falling below their own second-highest peak. (Rise like a rocket, and fall like a stick; the slope of the downward curve is more or less the same as the upward curve. Previous peaks — how small the early ones look now — have been roughly symmetrical on either side. But the scale of this peak, and the penetration into the population, is unprecedented.) I wonder if there will be plateau when BA.2 takes hold. Since the Northeast has form, that is probably the region to watch for this behavior first.
The official narrative was "Covid is behind us," and that the pandemic will be "over by January" (Gottlieb), and "I know some people seem to not want to give up on the wonderful pandemic, but you know what? It's over" (Bill Maher) was completely exploded. What a surprise! This time, it may be different. But who knows?
I'm not the only tapewatcher!
We need to find a name for this pattern.

Suggestions?

I think we might see it more often. pic.twitter.com/qWS0POxBUW

— Gabriel Hébert-Mild™ ⓥ (@Gab_H_R) February 13, 2022
MWRA (Boston-area) wastewater detection: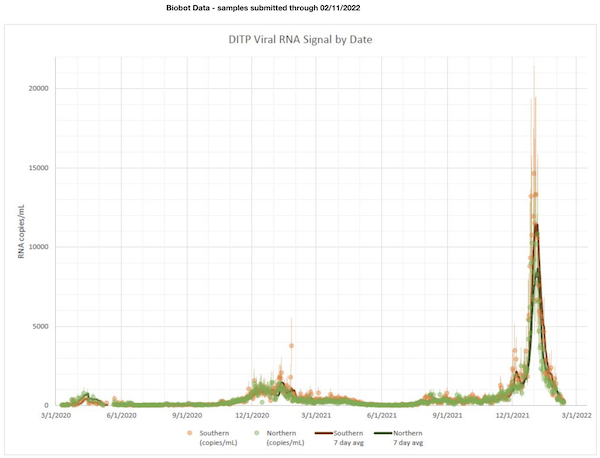 Continues encouraging. No jump from the return of the students yet, which is even more encouraging, especially if you're in "Waiting for BA.2" mode.
The Massachusetts Water Resources Authority (MWRA) service area includes 43 municipalities in and around Boston, including not only multiple school systems but several large universities. Since Boston is so very education-heavy, then, I think it could be a good leading indicator for Covid spread in schools generally.
From CDC Community Profile Reports (PDFs), "Rapid Riser" counties: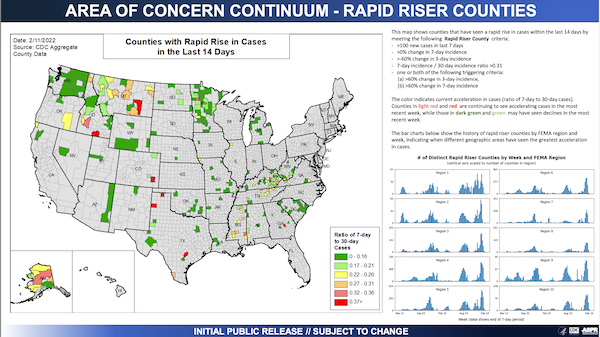 Continued improvement. Tennesse reports weekly, and has cleared up. (Remember that these are rapid riser counties. A county that moves from red to green is not covid-free; the case count just isnt, well, rising rapidly.)
The previous release: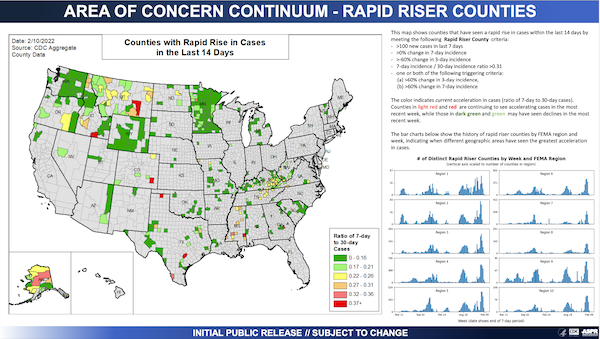 Not to pour cold water on this improvement, but to underline that "a county that moves from red to green is not covid-free," here is CDC's interactive map by county set to community transmission: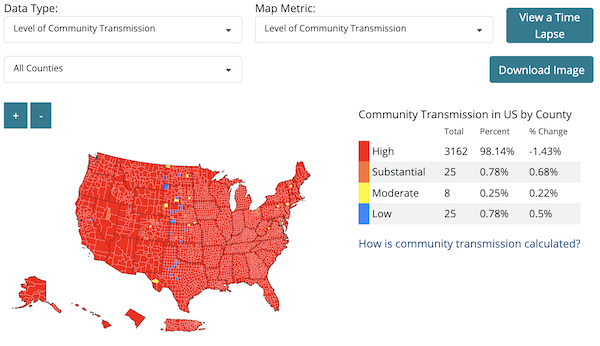 Hospitalization (CDC Community Profile):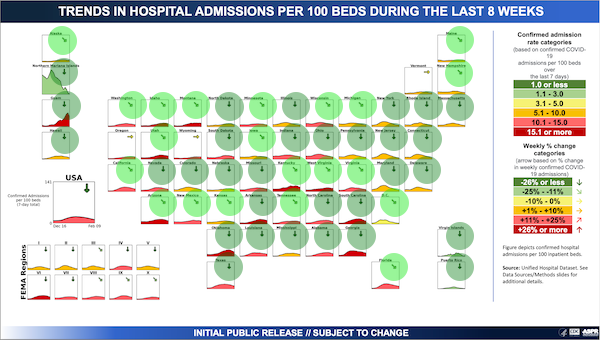 Sea of green! From the point of view of our hospital-centric health care system, green everywhere means the emergency is over (and to be fair, this is reinforced by case count and wastewater). However, community transmission is still pervasive, which means that long Covid, plus continuing vascular damage, are not over. (Note trend, whether up or down, is marked by the arrow, at top. Admissions are presented in the graph, at the bottom. So it's possible to have an upward trend, but from a very low baseline.)
Just a reminder:
As with everything else, because the United States is not a serious country, our hospitalization data is bad. Here the baseilne is off:
Hospital trick: patients admitted with covid in 10-12 days become post-covid & no longer counted as hospitalized covid patients. ICU is full of post-covid patients that are here for 30, 40, 50 & more days. Not counted in the official stats.

— Dr. Natalia 💉😷 (@SolNataMD) January 24, 2022
Death rate (Our World in Data):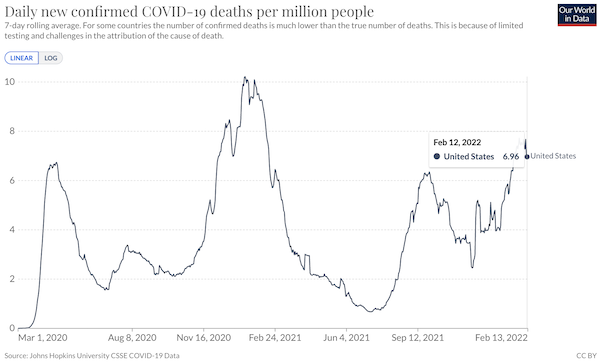 Total: 943,411 939,427. A dip, fortunately. I sure hope we break a million before Biden's State of the Union speech. There's still time.
Covid cases in top us travel destinations (Statista):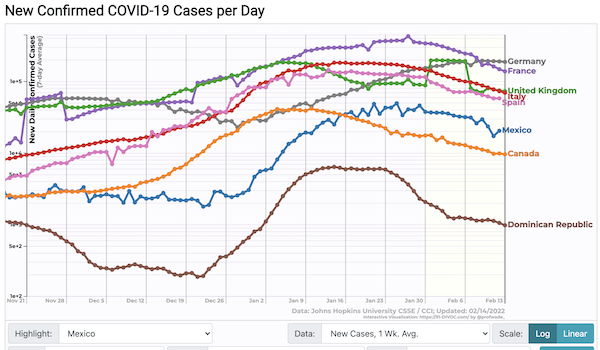 Good news here too.
Stats Watch
There are no officials statistics of note today.
* * *
Commodities: "Not a Rare to Spare" [Doomberg]. Starts with a discussion of the periodic table. Then: "Lanthanides are mission critical to the global economy. Without getting too technical, lanthanides have unpaired electrons in their ground state configurations making them excellent candidates for use as magnets in anything with an electric motor. As efforts are made to move away from fossil fuels and to decarbonize our energy sector, the efficiency of electric motors in converting electricity to useful work becomes supremely attractive. Magnets are at the core of electric motor technology. There aren't many scenarios in which our future work won't be strongly dependent on motors, and therefore magnets, and therefore lanthanides. There are few viable alternatives. And therein lies the rub: everybody wants them but getting them is tough. Lanthanides form the bulk of what are colloquially known as the rare earth elements, although they aren't all that rare. Rather, they are assigned that descriptor because economically feasible deposits of lanthanides are difficult to come by – when the elements are discovered in high enough concentrations to be mined, they are found together in complex mixtures that require substantial effort to further purify." And: "In a story arc that will be all too familiar to Doomberg readers, for decades the US had a near monopoly on the mining and refining of rare earth elements, only to cede control over most of the value chain to China." • Imagine that!
Commodities: "Coal Is Still Raising Trillions of Dollars Despite Green Shift" [Bloomberg]. "The dirtiest fossil fuel is still raising trillions of dollars of funding, despite finance industry pledges to back net zero carbon targets by the middle of the century. Commercial banks have channeled more than $1.5 trillion across the coal supply chain since the start of 2019, according to a report from German researcher Urgewald and its partners. The findings come just over three months after dozens of banks joined Mark Carney's global alliance to achieve net-zero emissions from finance. Most agree it's necessary to fight rising temperatures, yet few major global banks are willing to shun profitable fossil-fuel clients. The biggest coal lenders included Mizuho Financial Group Inc., Barclays Plc, Citigroup Inc. and JPMorgan Chase & Co., the study showed. Chinese banks dominated underwriting of capital raised by the coal industry. 'What we're seeing is the tip of the iceberg,' said Heffa Schuecking, founder of Urgewald, in an interview. 'This is a clear sign that companies aren't transitioning.'"
Transportation: "'It's Going to End Up Like Boeing': How Freight Rail Is Courting Catastrophe" [Vice]. About precision railroading, which readers have mentioned, so still germane though from 2021. Starts with a discussion of a derailment: "To be sure, even on well-run freight railways or rigorously regulated airlines, accidents still happen. And at first glance, the derailment in Hyndman appeared to be just another accident. NTSB investigators found the train derailed largely because of a combination of improper braking procedures and the empty cars being in the front of the train. Long trains have an accordion effect where they expand and contract as they brake and accelerate." The recent derailment at Sante Fe junction (which got me watching their live webcam religiously) looks like it was caused by empty cars too. More: "According to interviews with current and former rail workers, union officials, and independent experts, the Hyndman derailment and others like it are the all-too-predictable result of nearly all the major freight rail companies adopting a business approach called Precision Scheduled Railroading (PSR). Proponents of PSR say it is about leveraging modern technology to improve efficiency. But those who work on the railroads every day say it is little more than a euphemism for draconian cost-cutting in order to achieve an arbitrary metric that pleases shareholders. That metric, called an "operating ratio," must get below 60 percent, which means only 60 percent of every dollar earned goes towards actually running the railroads. The rest can go towards executive pay and shareholder dividends." • Can readers comment further on Precision Scheduled Railroading? This sounds like something we should keep an eye on.
* * *
Today's Fear & Greed Index: 31 Fear (previous close: 34 Fear) [CNN]. One week ago: 34 (Fear). (0 is Extreme Fear; 100 is Extreme Greed). Last updated Feb 14 at 1:29pm. No longer flirting with Neutral.
Rapture Index: Closes up one on Gog (Russia). "Putin is getting closer to invading Ukraine" [Rapture Ready]. Record High, October 10, 2016: 189. Current: 186. (Remember that bringing on the rapture is a good thing, so higher is better.)
The Gallery
I had Blake mentally filed with the Romantics… but that seems to be correct:
William Blake, When the Morning Stars Sang Together, & the Sons of God Shouted for Joy, from Illustrations of the Book of Job, 1825 https://t.co/ICmKFQCZ8u #brooklynmuseum #museumarchive pic.twitter.com/fje7BcOIZj

— William Blake (@artist_blake) February 7, 2022
Blake scholars, please stage an intervention if necessary.
The Conservatory
"Songs for a South underwater" [Scalawag]. "Almost 100 years ago, the United States saw one of the worst flood events in its history. In spring of 1927, unprecedented rains fed a swollen Mississippi River, causing widespread levee failure from Indiana all the way to the Gulf of Mexico. Some 27,000 square miles were flooded. Hundreds died, and 700,000 people were displaced from their homes. The impact of the disaster fell disproportionately among the poorest Black Americans of the Delta region. Stranded in flood zones, they were left to fend for themselves without food, exposed to the bitter elements. In the wake of callous and indifferent government response to the devastation facing them, Black musicians from the Delta produced their own deluge: An outpouring of songs testifying to the destruction wrought up and down the Mississippi. Some songs were eyewitness accounts, some secondhand, but nearly all were connected to the pain they described. Blues singers, capturing not just the events but the emotion behind them, penned perhaps the truest record of that era's deadly flood." • Worth reading in full.
Sports Desk
Congratulations to Los Angeles, but:
How does it happen that SoFI, a student loan re-financing company, could spend $625 million to put its name on the LA Rams football stadium when 45 million Americans are drowning in $1.8 trillion in student debt? Today would be a good day for the President to cancel student debt.

— Bernie Sanders (@SenSanders) February 13, 2022
The Agony Column
"How Covid-19 Has Affected Dating, Marriages and Relationships" [Wall Street Journal]. "Most relationships thrived during the pandemic, providing all sorts of material and emotional support, and reminding us of the healing power of love. According to research we did at the Kinsey Institute at Indiana University, some 74% of married couples surveyed in late 2020 felt the pandemic strengthened their marriage, and 82% said it made them feel more committed. That shouldn't be surprising. In my research, I've argued that one of the main reasons humans evolved the tendency to form such intense romantic bonds was to allow us to master uncertainty, to respond to an unknown, complex, dangerous and opportunity-filled world. For romantic partners, this past year became a time to lean into our relationships. It was the ultimate test. Of course, we always have some interpersonal struggles, and many of us have seen increased tensions and need for compromise and communication during the pandemic. But that wasn't a death blow to our relationships. Rather, it was a little bit of 'what doesn't kill us makes us stronger.' In fact, a study from researchers at York University in Canada, found that the top three things that couples said promoted growth in their relationships during the pandemic were 'disclosure,' 'being outdoors/in nature' and 'discussing/planning for the future.'"
Class Warfare
Speaking of railroading:
Family members of BNSF railroad workers are staging a silent action to demonstrate against the gag order that's keeping 17,000 workers from speaking to press or striking. pic.twitter.com/89Qs5WUBuN

— More Perfect Union (@MorePerfectUS) February 11, 2022
Are any readers familiar with this gag order?
About time:
So Starbucks has finally released an anti union website of it's own! Have fun checking it out today https://t.co/JR7cWNg8rh

— Brian (@brianmurrray1) February 14, 2022
"The committee behind a Massachusetts app-based driver initiative reported over $17.8 million in contributions" [Ballotpedia]. "Massachusetts voters could decide on an initiative in November to classify app-based drivers as independent contractors similar to California's 2020 Proposition 22. Flexibility and Benefits for Massachusetts Drivers, the committee registered to support the app-based driver initiative, reported receiving $17.8 million in 2021. The committee's largest donor was Lyft, which contributed nearly $14.4 million in cash and in-kind contributions. Other contributors included Instacart ($1.2 million), Door Dash ($1.2 million), and Uber ($1 million). The campaign submitted over 200,000 signatures for two versions of the initiative in early December and was certified to the legislature by the secretary of state late last month. Both versions of the Massachusetts initiative would classify app-based drivers as independent contractors and enact several labor policies. The versions are identical except Version A would require paid occupational safety training before drivers could access a company's platform or mobile application. On Jan. 18, opponents of the Massachusetts initiative filed a lawsuit with the Massachusetts ​​Supreme Judicial Court arguing that the initiative violates the state's constitutional requirement that subjects of an initiative are "mutually dependent," and therefore it should not appear on the 2022 ballot. The initiative is modeled after California Proposition 22, which was approved by ​​58.63% of voters in 2020. However, it was ruled unconstitutional by an Alameda County Superior Court judge in 2021. The judge ruled that Proposition 22 unconstitutionally limited the power of the legislature and that it violated the state's single-subject rule."
News of the Wired
"Why Scientists Are Sticking Microphones Underground" [The Atlantic]. "We humans might be among the last to discover this underground soundtrack. Birds can often be seen hopping across lawns with their heads cocked. Researchers believe that they do this because they're listening for worms below. Often, they peck at the soil at just the right moment to pull up their unsuspecting quarry. The North American wood turtle, for its part, capitalizes on the attention that worms pay to vibrations from the patter of rain. The turtle stomps its feet on the ground to mimic that patter so the worms come to the surface, providing a juicy snack. Subterranean vibrations can also be key for what appear to be intended signals. Mole rats, living in underground burrows, are thought to communicate with other mole rats in the vicinity by banging their heads or feet against the walls of their tunnels. Leafcutter ants have been observed to create noises when they get buried during nest cave-ins. Other worker ants rush to the spot and start to dig to rescue their nestmate. Some of these underground sounds are audible to the human ear, but many are too high or too low in frequency (as well as in volume)."
* * *
Contact information for plants: Readers, feel free to contact me at lambert [UNDERSCORE] strether [DOT] corrente [AT] yahoo [DOT] com, to (a) find out how to send me a check if you are allergic to PayPal and (b) to find out how to send me images of plants. Vegetables are fine! Fungi and coral are deemed to be honorary plants! If you want your handle to appear as a credit, please place it at the start of your mail in parentheses: (thus). Otherwise, I will anonymize by using your initials. See the previous Water Cooler (with plant) here. Today's plant (Hepativore):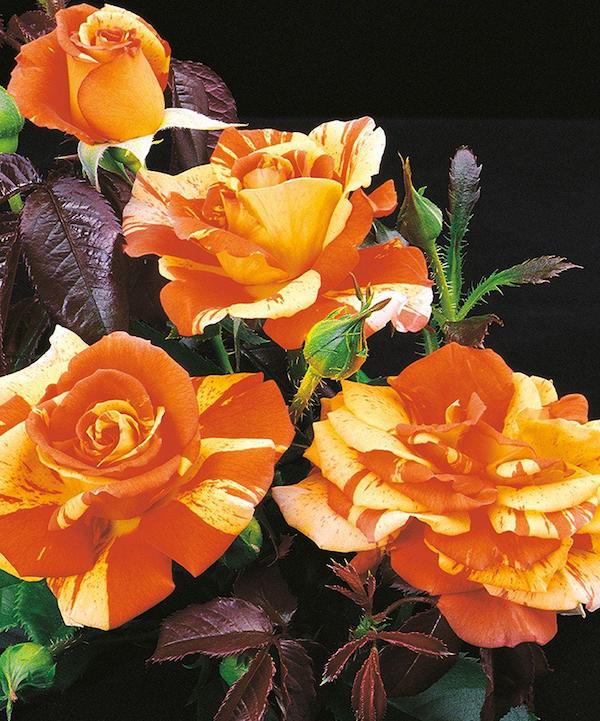 Hepativore writes: "Attached is a picture of a floribunda rose I used to have called Oranges N' Lemons. It is a bright orange and yellow bicolored rose, and orange and yellow happen to be my favorite colors. They are very hardy and can grow in zones 4-9. Here in Minnesota, you can plant and ignore them most of the time as they do not need winter protection and are not bothered by many diseases. As it is a floribunda, it blooms repeatedly all summer long. Sadly, I cannot grow anything anymore where I live now as my landlord forbids tenants from digging up his lot for gardening plots."
* * *
Readers: Water Cooler is a standalone entity not covered by the recently concluded and — thank you! — successful annual NC fundraiser. So if you see a link you especially like, or an item you wouldn't see anywhere else, please do not hesitate to express your appreciation in tangible form. Remember, a tip jar is for tipping! Regular positive feedback both makes me feel good and lets me know I'm on the right track with coverage. When I get no donations for five or ten days I get worried. More tangibly, a constant trickle of donations helps me with expenses, and I factor in that trickle when setting fundraising goals:
Here is the screen that will appear, which I have helpfully annotated.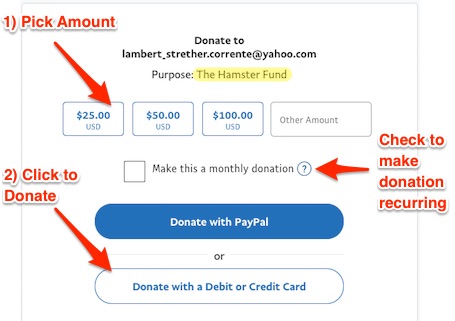 If you hate PayPal, you can email me at lambert [UNDERSCORE] strether [DOT] corrente [AT] yahoo [DOT] com, and I will give you directions on how to send a check. Thank you!