By Lambert Strether of Corrente
Bird Song of the Day
Imagine having a back yard with such a variety of birdcalls!
* * *
Politics
"But what is government itself, but the greatest of all reflections on human nature?" –James Madison, Federalist 51
"They had learned nothing, and forgotten nothing." –Charles Maurice de Talleyrand-Périgord
"When the going gets weird, the weird turn pro." –Hunter Thompson
Capitol Seizure
"Revisiting Pennsylvanians' roles in the Jan. 6 insurrection" [Axios]. "Pennsylvania had the second-highest number of individuals charged in the insurrection, trailing just Florida (76) and tying with Texas…. Philadelphia has the most cases in the state, at seven. It narrowly beats nearby Bucks County's six cases." • Handy map:

"A Virginia Man Reviewed 'Civics' And 'American Government' Online For His Jan. 6 Community Service" [Buzzfeed]. • Perhaps because that's that the offense warranted?
Biden Adminstration
"The Empathy Factor" [Amy Cook, Cook Political Report]. "There's evidence that despite the drop in his job approval ratings, Biden still gets credit for being, well, a likable guy. He has lost a lot of ground since 2021 on issues of competency, but his empathetic credibility is mostly intact. In the most recent Quinnipiac poll, 34 percent said they liked Biden as a person and they liked his policies, while another 21 percent said they liked him personally but weren't always happy with his policies. In other words, 55 percent of Americans like Biden personally, even if just 34 percent like his policies too. In fact, according to the cross-tabs Quinnipiac ran for me, almost a third (27 percent) of those who said they disapproved of the job the president was doing said they liked him personally. …[M]any Democrats want to see Biden mimic at least one of Trump's traits; his relentless focus on selling himself, his brand, and his accomplishments. But Biden can't pull that off as well as Trump did. Before he ran for president, Trump had spent years building his brand as a successful business mogul. And, as Democrats learned the hard way in 2016, no amount of advertising about Trump's bankruptcies or questionable financial dealings was able to dislodge the perception of Trump's superior business acumen. Instead of trying to imitate his predecessor's 'salesman-in-chief' persona, Biden would be better off leaning into his brand of the authentic empath. Doing so isn't going to magically turn perceptions of the economy around. But, it will be a more believable and credible approach." • Empathy is what a lot of pundits thought was Biden's strength in 2020 (probably because in the small circle that is the political class in the Beltway, they had experienced it at first or second hand, and Biden is good at it). I'm not so sure that Biden has a lot of empathy-based good will left on the balance sheet, though; cf. James 2:14-17.

"The White House Is Going After One of Climate Change's Thorniest Problems" [The Atlantic]. "A set of recent announcements shows that Biden's biggest ambitions for the climate and the economy are not quite dead yet. Yesterday, the White House unveiled a slew of policies aimed at overhauling the U.S. industrial sector in order to reduce its planet-warming carbon pollution. Many of the policies have bipartisan backing—they were authorized in last year's infrastructure bill. These policies are a big deal because they could help solve one of decarbonization's thorniest problems: how to make steel, concrete, chemicals, and other major industrial products in a zero-carbon way. These products typically rely on fossil fuels to generate intense heat or provide a raw-material input, which is part of why the industrial sector is responsible for more than 20 percent of global emissions. However crucial these policies are for the planet, they are arguably even more important as a matter of political economy. They signal a profound and bipartisan change in how the federal government presides over the economy: In order to bring new technologies to market, Washington is willing to act as an investor, matchmaker, and consumer for fledgling innovations. It will design markets to serve public needs, cut loans that banks won't write, and ensure competition among linchpin firms. The government, in short, is ready to care about stuff again, the real-world economy of flesh and steel. That it is furthering its climate and China goals at the same time is exactly the point." Hydrogen production. Hydrogen electrolysis. "A 'Buy Clean' task force that will use the government's power to help bring low-carbon steel, concrete, and asphalt to the market." • Interestingly, the Biden adminsitration contemplates not just plans or [gag] tax incentives, but the construction of actual factories. Not uninteresting;

"Joe Biden Is Quietly Pursuing the Creeping Privatization of Medicare" [Jacobin (Carla)]. "Over the past year, seniors around the country have been getting letters from the Centers for Medicare and Medicaid Services (CMS) informing them that they needn't worry, but their doctor was now part of something called a direct contracting entity (DCE). "Your Medicare Benefits have not changed," the letters stress no less than twice. 'NO ACTION NEEDED,' they blare. If you take it from CMS, DCEs are simply a collection of different health care providers 'who agree to work together to keep you healthy' — an innovative new payment model to keep health care costs down and raise the quality of care up. For its critics, the initiative is something far less benign. 'What direct contracting does is turn the public side of Medicare into a corporate goldmine,' says Diane Archer, president of Just Care USA. Under traditional Medicare, when a beneficiary gets care from a doctor, a hospital or any other health care provider, the program reimburses that provider directly at a set rate. Direct contracting adds a third party into the mix: Medicare makes a monthly payment to a DCE, which then decides what care a beneficiary will get, and uses that money to cover a specified part of their medical expenses — pocketing whatever they don't spend as profit. While making cost-saving efficiencies usually means cutting out the middleman, direct contracting adds one in. While making cost-saving efficiencies usually means cutting out the middleman, direct contracting adds one in. Critics like PNHP warn that the program comes with the same kinds of pitfalls as Medicare Advantage, the program that for the first time carved out a role of private insurers in the public Medicare system, when it was passed as part of a Reagan-era deficit reduction bill forty years ago. One is 'upcoding,' the notorious practice where Medicare Advantage insurers make their patients appear less healthy than they really are, the better to drive up the payments they get from Medicare." • On DIrect Contracting Entities, see NC here. On upcoding, see NC here.
Democrats en Déshabillé
I have moved my standing remarks on the Democrat Party ("the Democrat Party is a rotting corpse that can't bury itself") to a separate, back-dated post, to which I will periodically add material, summarizing the addition here in a "live" Water Cooler. (Hopefully, some Bourdieu.) It turns out that defining the Democrat Party is, in fact, a hard problem. I do think the paragraph that follows is on point all the way back to 2016, if not before:

The Democrat Party is the political expression of the class power of PMC, their base (lucidly explained by Thomas Frank in Listen, Liberal!). ; if the Democrat Party did not exist, the PMC would have to invent it. . ("PMC" modulo "class expatriates," of course.) Second, all the working parts of the Party reinforce each other. Leave aside characterizing the relationships between elements of the Party (ka-ching, but not entirely) those elements comprise a network — a Flex Net? An iron octagon? — of funders, vendors, apparatchiks, electeds, NGOs, and miscellaneous mercenaries, with assets in the press and the intelligence community.

Note, of course, that the class power of the PMC both expresses and is limited by other classes; oligarchs and American gentry (see 'industrial model' of Ferguson, Jorgensen, and Jie) and the working class spring to mind. Suck up, kick down.

–>

* * *

Profound lassitude:

once you notice the profound lack of initiative from democratic leaders — note how we are still waiting on a supreme court nomination from biden — it's hard not to notice it everywhere

— b-boy bouiebaisse (@jbouie) February 17, 2022

At last, another Grant fan:

i will never miss an opportunity to highlight this passage from grant's memoirs

some generals spend their time being afraid of what the enemy will do

others spend their time making the enemy afraid of what we will do to them

guess which ones win wars?https://t.co/2TvHRKV7a6

— Dr. Samantha Hancox-Li (@perdricof) February 17, 2022

So go do something about it:

It's so refreshing to have at least one politician who sounds like a human being. pic.twitter.com/6SmLlc6JQ0

— Dan Miller (@meelar) February 18, 2022

AOC is a very talented politician. Does she really want people saying those sad words "She was blessed with unlimited potential"?
Republican Funhouse
"The latest conservative to join the resistance? Ted Cruz's mentor" [Los Angeles Times]. "Two days before Jan. 6, 2021, then-Vice President Mike Pence sought Luttig's counsel to counter Trump's demands that Pence, in presiding over Congress' count of Biden's electoral votes, reject the votes of six states. Pence, in his letter to Congress ahead of the proceedings, name-checked Luttig to argue that a vice president has no such power. For Pence, the opinion of a jurist so revered on the right was "armor" against the inevitable slings and arrows from the MAGA army, as conservative lawyer George Conway put it to me. Luttig told me he's testified behind closed doors about his role to investigators for the House committee probing the Jan. 6 insurrection. Lately, however, events have provoked him to go public about his concerns about 'the existential threat' to the Republican Party, and by extension our democracy. … The final straws for Luttig were the Republican National Committee's recent resolution that censured Republican Reps. Liz Cheney and Adam Kinzinger for participating on the Jan. 6 committee and called the insurrection 'legitimate political discourse,' and Trump's attacks on Senate Republican leader Mitch McConnell for criticizing the RNC and of Pence for publicly stating 'Trump is wrong' to say Pence could overturn the election. Luttig elaborated by email: 'This feels like a seminal moment in America when all of what the country has witnessed and endured for these years seems to be building to volcanic crescendo…. We are in political war to the death — with each other,' and 'American democracy hangs in the balance.' That more Republicans aren't standing up to 'this nonsense, this utter madness,' he said, is 'the definition of failed leadership.' That brings us back to [Senator Ted] Cruz and [Trump lawyer John C. ] Eastman. They not only haven't stood up to the madness, but they also exemplify it — Cruz by leading a cabal of Republicans who opposed certification of Biden votes on Jan. 6, and by his general Trump toadyism, and Eastman by his authorship of the memo giving a false constitutional gloss to Trump's coup strategy…. Luttig is now working with members of Congress and their aides to rewrite the flawed 1887 Electoral Count Act to prevent demagogues like Cruz and Eastman from potentially using it again to threaten democracy after the 2024 election."
2022
* * *

"White House chief of staff tries to pump up worried Senate Democrats" [The Hill]. "White House chief of staff Ron Klain promised Senate Democrats that President Biden will deliver an uplifting and inspiring State of the Union address that will highlight and respond to rising costs. Klain's goal in addressing the Senate Democratic Caucus in person on Capitol Hill appeared to be to give lawmakers something positive to focus on instead of the president's sagging poll numbers….. Klain told senators that Biden's speech to a joint session of Congress next month will tout the president's accomplishments from last year, which many Democrats believe are being undersold, and set a clear agenda for the rest of the year. But the conversation, while very positive, was also very general and seemed designed not to make any big news before Biden's moment in the national spotlight on March 1." • Always fighting, never winning.

"Governors' races in 'blue wall' states carry high stakes for voting rights" [Reuters]. "Republican victories in the three states could have profound implications for the 2024 presidential election. Nicknamed the "blue wall" after helping President Joe Biden defeat Donald Trump in 2020, they also were home to challenges from Republican officials trying to overturn the election's results…. A Democratic super PAC, American Bridge, said on Wednesday it would spend $10 million in a new effort to target Republican candidates in races for governor, secretary of state and other local offices who it believes will undermine the fair administration of elections. The 'blue wall' states will be part of the push."
2024
"Black Protestants' approval of Biden is plummeting: Pew poll" [Christian Post]. "African American Protestant approval of President Joe Biden's job performance has plummeted by nearly 30 percentage points since March 2021, according to a recent report by the Pew Research Center. According to a Pew survey conducted in January, 65% of black Protestants approve of the job that Biden has done, marking a sharp decline from the 92% reported in March 2021. Pew research assistant Justin Nortey wrote in an analysis last week that "there have been sizable declines in positive ratings from black Protestants and the religiously unaffiliated — two groups that are among the Democratic Party's most loyal constituencies.""
Trump Legacy
"Judge orders Trump to sit for deposition in New York investigation" [Politico]. "A state judge has ordered Donald Trump, his son Donald Trump Jr. and his daughter Ivanka Trump to sit for depositions within three weeks in New York Attorney General Letitia James' ongoing investigation of alleged financial improprieties at the Trump Organization. In a ruling Thursday, New York Supreme Court Justice Arthur Engoron roundly rejected bids by the Trumps to dodge giving testimony on grounds of James' alleged bias and that her office is conducting parallel criminal and civil investigations. Engoron said all three Trumps have the option of showing up for the depositions and refusing to answer the questions based on their constitutional right not to testify against themselves. 'They have an absolute right to refuse to answer questions that they claim may incriminate them,' the judge wrote in an eight-page order. 'Indeed, respondent Eric Trump invoked his right against self-incrimination in response to more than 500 questions during his one-day deposition arising out of the instant proceeding.' The former president reacted angrily to the judge's decision."
Realignment and Legitimacy
"There's No Such Thing as 'the Latino Vote'' [The Atlantic]. The Deck: "Why can't America see that?" America didn't see or not see. The PMC, who often confuse themselves with America, saw, because Ruy Teixeira's "coalition of the ascendant" — transmogrified in our time by the Republicans' funhouse mirror of reaction into "replacement theory" — was their theory of change (until it wasn't, and they decided to appeal to wealthy suburbanites). From the text: "The conventional wisdom that Latinos are reliable members of a liberal coalition of people of color has never been exactly right: Between a quarter and a third of Latinos have voted Republican in almost every presidential election for the past half century. Donald Trump grew his share of the Latino vote in 2020 compared with 2016, and he may be growing his share still. A November Wall Street Journal poll found that Hispanic voters would be evenly split if Trump ran against Joe Biden in 2024. They were also evenly split when asked whether they would vote for Democrats or Republicans if the midterm elections were held that day. The survey pool was admittedly a small one, but the possibility of a continued rightward shift is shaking Democrats' confidence." • And rightly, given 2020 results.

"The number of LGBTQ-identifying adults is soaring" [Axios]. "One in five Gen Z adults identify as LGBTQ — and that number is only expected to go up, according to a Gallup poll released Thursday. The percentage of U.S. adults who identify as LGBTQ has doubled over the past decade, from 3.5% in 2012 to 7.1% in 2021. Gen Z adults who identify as LGBTQ has increased from 10.5% in 2017 to 20.8% in 2021." • "Identity as."

"Election officials are on the frontlines of defending democracy. They didn't sign up for this." [Politico]. "In interviews with 10 state chief election officials — along with conversations with staffers, current and former local officials and other election experts — many described how they have had to refocus their positions to battle a constant rolling boil of mis- and disinformation about election processes…. Election officials said they have increasingly been leaning on national partnerships — both with other secretaries and federal agencies like the Cybersecurity and Infrastructure Security Agency, the FBI and the Department of Homeland Security — to help prepare local election workers." • I warned back in 2016 of the dangers of "making intelligence agencies the guarantors of "the institutional order of the Republic." We seem to be insensibly slipping toward that point.

The slow death of the Christian right?

New: The share of Americans who say they "know God really exists" and have "no doubts about it" has fallen below 50 percent for the first time in General Social Survey polling. https://t.co/feppk4SuyB pic.twitter.com/KvXHn8rFAf

— Christopher Ingraham (@_cingraham) February 18, 2022

This is what I get for not having a television:

Take Trump out of the equation & the core idea of QAnon (mass arrests of the "Cabal" aided by the military) is the exact same crap that the History Channel's Ancient Aliens regular David Wilcock has been pushing since at least 2012. pic.twitter.com/qYzZ6WMREX

— The Rabbit Hole Cartographic Society (@QuacksAnonymous) February 17, 2022

Readers, is this true? Are "History Channel" (!) viewers really on a steady diet of CT?
#COVID19
Case count by United States regions: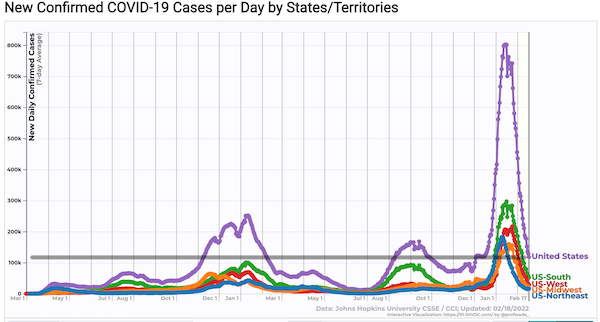 I have again added a "Fauci Line" to congratulate Biden and his team — Klain, Zeints, Fauci, Walensky — for finally falling below their own second-highest peak, although still comfortably above the first peak achieved by the former guy. (Rise like a rocket, and fall like a stick; the slope of the downward curve is more or less the same as the upward curve. Previous peaks — how small the early ones look now — have been roughly symmetrical on either side. But the scale of this peak, and the penetration into the population, is unprecedented.) I wonder if there will be plateau when BA.2 takes hold. Since the Northeast has form, that is probably the region to watch for this behavior first.
The official narrative was "Covid is behind us," and that the pandemic will be "over by January" (Gottlieb), and "I know some people seem to not want to give up on the wonderful pandemic, but you know what? It's over" (Bill Maher) was completely exploded. What a surprise! This time, it may be different. But who knows?
* * *
"BA.2 Lineage Report" [Outbreak.info]. Data from GISAID Initiative. Handy chart: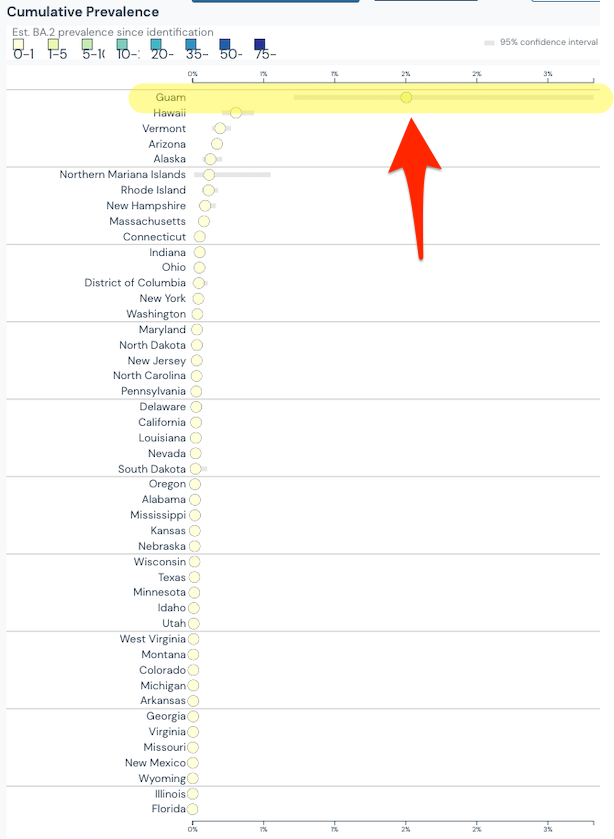 So far, BA.2 is not prevalent (though this could change fast, especially under the "Let 'er rip" policy the Biden Administration has adopted, as Yves points out). However, readers will recall that in the Hospitalization section, Guam remained stubbornly and exceptionally high. And here we see that Guam is #1 for BA.2 prevalence in the United States. Coincidence?
MWRA (Boston-area) wastewater detection: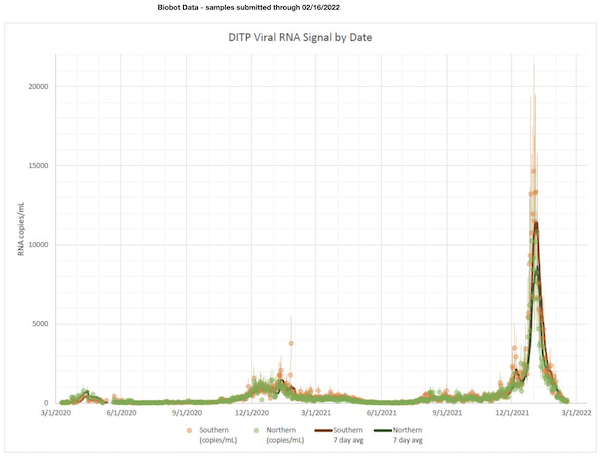 Continues encouraging. No jump from the return of the students yet, which is even more encouraging, especially if you're in "Waiting for BA.2" mode.
The Massachusetts Water Resources Authority (MWRA) service area includes 43 municipalities in and around Boston, including not only multiple school systems but several large universities. Since Boston is so very education-heavy, then, I think it could be a good leading indicator for Covid spread in schools generally.
* * *
"Wastewater network infrastructure in public health: Applications and learnings from the COVID-19 pandemic" [PLOS Global Public Health]. "Wastewater based epidemiology (WBE) leverages sewer infrastructure to provide insights on rates of infection by measuring viral concentrations in wastewater. By accessing the sewer network at various junctures, important insights regarding COVID-19 disease activity can be gained. The analysis of sewage at the wastewater treatment plant level enables population-level surveillance of disease trends and virus mutations. At the neighborhood level, WBE can be used to describe trends in infection rates in the community thereby facilitating local efforts at targeted disease mitigation. Finally, at the building level, WBE can suggest the presence of infections and prompt individual testing. In this critical review, we describe the types of data that can be obtained through varying levels of WBE analysis, concrete plans for implementation, and public health actions that can be taken based on WBE surveillance data of infectious diseases, using recent and successful applications of WBE during the COVID-19 pandemic for illustration." • Useful round-up.
From CDC Community Profile Reports (PDFs), "Rapid Riser" counties: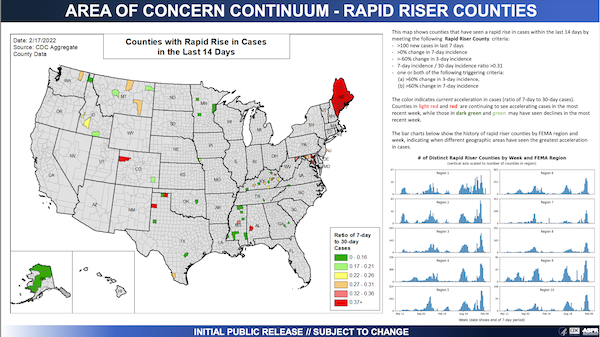 Looking good, though what's that little cluster around DC doing? Maine is a data problem. (Remember that these are rapid riser counties. A county that moves from red to green is not covid-free; the case count just isnt, well, rising rapidly.)
The previous release: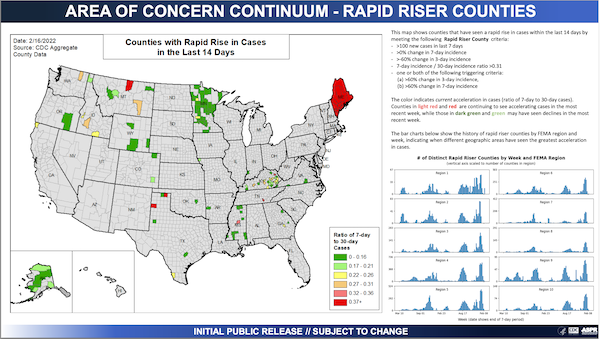 Here is CDC's interactive map by county set to community transmission: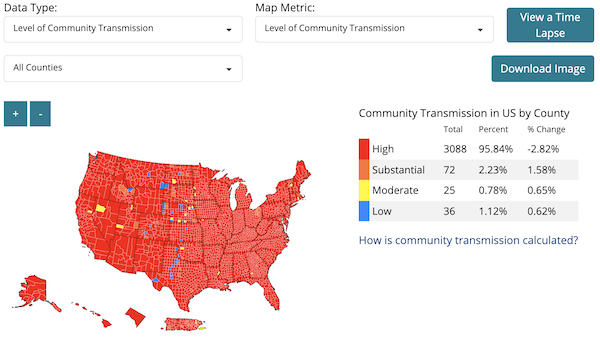 Hospitalization (CDC Community Profile):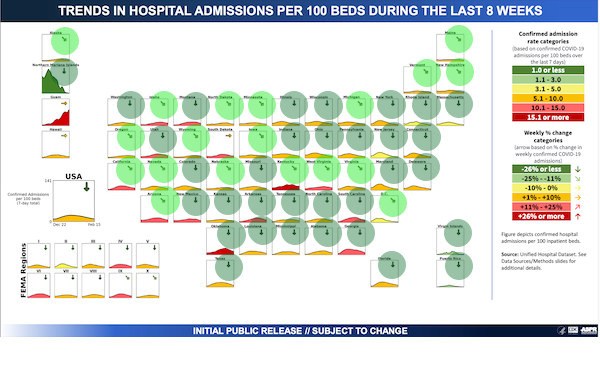 Sea of green once more. From the point of view of our hospital-centric health care system, green everywhere means the emergency is over (and to be fair, this is reinforced by case count and wastewater). However, community transmission is still pervasive, which means that long Covid, plus continuing vascular damage, are not over. (Note trend, whether up or down, is marked by the arrow, at top. Admissions are presented in the graph, at the bottom. So it's possible to have an upward trend, but from a very low baseline.)
Just a reminder:
As with everything else, because the United States is not a serious country, our hospitalization data is bad. Here the baseilne is off:
Hospital trick: patients admitted with covid in 10-12 days become post-covid & no longer counted as hospitalized covid patients. ICU is full of post-covid patients that are here for 30, 40, 50 & more days. Not counted in the official stats.

— Dr. Natalia 💉😷 (@SolNataMD) January 24, 2022
Death rate (Our World in Data):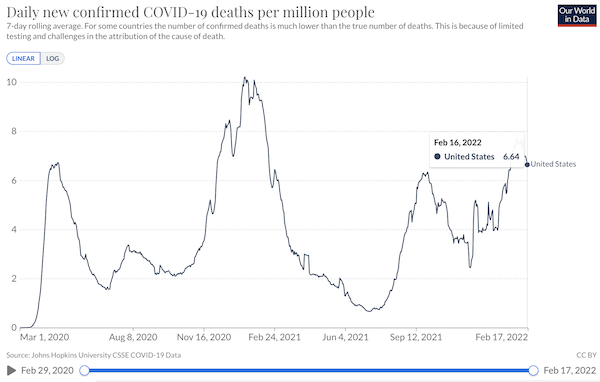 Total: 955,497 949,269. A dip, fortunately. sure hope we break a million before Biden's State of the Union speech. There's still time.
Covid cases in top us travel destinations (Statista):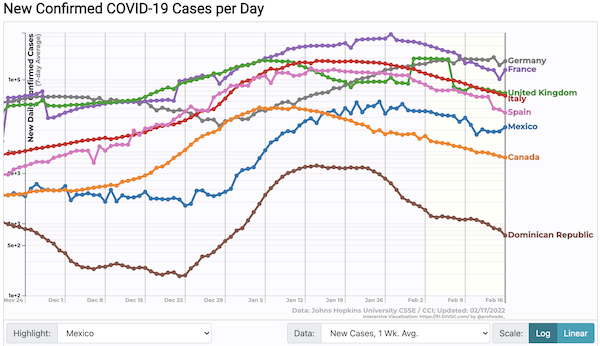 Good news here too.
The excess deaths chart appears weekly, on Friday.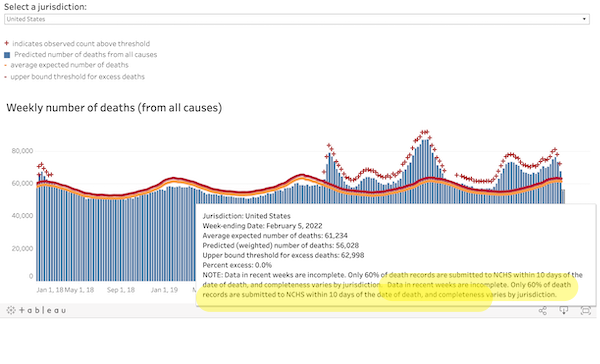 Look at the qualifications in that drop-down. And the enormous typo, helpfully highlighted, has been there for weeks. I know the CDC copy editing process is slow, but this is ridiculous. Is nobody checking the outputs?
Stats Watch
There are no official statistics of note today.
* * *
The Bezzle: "Audible Royalties Ain't Royalties – by Colleen Cross" [#Audiblegate (dblogger)]. "What, exactly, does Audible do to earn near 50% right off the top, before even calculating the split between you and them? Audible didn't produce the audiobook. They didn't pay the narrator. They certainly didn't write the book. One could even argue there has been no investment in the ACX interface since the launch of the ACX platform back in 2011. So, no author tech investment, either. No explanation has been given on the necessity to deduct almost half the retail price to arrive at this 'Net Sales' amount." • This is from 2021, so Audible could possibly have changed its ways….
The Bezzle: "I Found The Tech Angle On The Vibe Shift" [The Atlantic]. "The difference I've personally experienced with many Web3 projects is that, while I have experienced vague pangs of FOMO, I haven't yet experienced that sensation of anything (digital or physical) futuristic dropping into my hands. I know boosters will vehemently disagree with me, but I feel that much of the crypto conversation and hype is a reversal of the usual cycle. Instead of a technology achieving mass adoption and creating a culture in its wake, much of the crypto movement is a durable culture that is waiting for its mass-adoption product and trying to spin up technologies that augment the culture. Now, I realize that one can make a compelling and true argument that the wealth generated by and the popularity of bitcoin and Ethereum can be classified as mass adoption** of a technology (blockchains) and that the culture surrounding crypto is proof of the cycle behaving normally. But once again, the language coming from Web3 boosters suggests that the digital currencies are just the building blocks for something even more revolutionary that will upend our lives and economies. Here's where I see Web3 as a culture in search of its killer technological application." • I wonder if there's a science fiction novel about an entire planet organized around Ponzi schemes.
* * *
Today's Fear & Greed Index: 35 Fear (previous close: 38 Fear) [CNN]. One week ago: 34 (Fear). (0 is Extreme Fear; 100 is Extreme Greed). Last updated Feb 18 at 1:22pm. Back to flirting with Neutral!
Zeitgeist Watch
Because freedom (1):
I get that all the time. I'm a blue dot in a red state and immunocompromised with a child who is immunocompromised. People are constantly yelling at us to take our masks off. Excuse me, but how is that any of their business. It boggles the mind.

— Persistent Penelope AKA #bannedbookmama (@PenelopesBooks) February 18, 2022
Because freedom (2):
That moment at the flea market, when you realize you're looking at a vampire killing kit. pic.twitter.com/ktwuDGFX6q

— John Moffitt 🌊🌊🧢🧢 (@JohnRMoffitt) February 18, 2022
I don't dare to check Amazon:
Groves of Academe
The destruction of public education:
Really says something about the bleakness of ALEC's view of the future that their essential education policy idea of 2022 is that we don't need licensed teachers or actual schools pic.twitter.com/W2qgiIaTKE

— Jennifer Berkshire (@BisforBerkshire) February 14, 2022
More on Carson v. Makin (from Maine. You can bet that if the Roberts Court were presented a case where Lewiston Somalis wanted to find a way to use state funding for madrassas, they'd find a way to rule against them).
Our Famously Free Press
"The Mainstream Media Is Getting Academia Wrong. Still." [Esquire]. "First, the media routinely favors voices of Ivy League and other elite university faculty as representative of academia at large. The experiences of faculty and graduates of wealthy institutions are regularly presented and promoted as the norm in academia instead of the exceptions that they are. Second, because no academic speaks for all of academia—as the writer of the Atlantic piece was presuming to do—the conclusions of such pieces can be misleading or, in the case of discussions about Covid, dangerous…. Just this week, the Atlantic published another op-ed, this one called "Open Everything: The time to end pandemic restrictions is now," by Yascha Mounk, a Harvard graduate who teaches at the elite Johns Hopkins University. Normal course loads at elite schools can be as low as two courses per year. … I enjoy teaching. What I don't enjoy is people assuming I only teach a course or two, like those luxurious course loads at elite schools. In recent years my teaching load has been 3/3, which means I teach three courses in the fall and three in the spring. And while at many universities 3/3 is standard for full-time tenured and tenure track faculty, my six courses a year are actually less than normal, because I've been awarded course reduction to work on research and publications. The standard teaching load at my university is 4/4. At community colleges it's common for full-time faculty to teach 5/5." • So, a lot more contacts with students, hence a much greater risk of infection under Let 'er rip> "Open Everything."
Guillotine Watch
"The Education of a Libertarian" [Peter Thiel, Cato Institute]. From 2009, still germane: "The 1920s were the last decade in American history during which one could be genuinely optimistic about politics. Since 1920, the vast increase in welfare beneficiaries and the extension of the franchise to women — two constituencies that are notoriously tough for libertarians — have rendered the notion of 'capitalist democracy' into an oxymoron. In the face of these realities, one would despair if one limited one's horizon to the world of politics. I do not despair because I no longer believe that politics encompasses all possible futures of our world. In our time, the great task for libertarians is to find an escape from politics in all its forms — from the totalitarian and fundamentalist catastrophes to the unthinking demos that guides so-called 'social democracy.' The critical question then becomes one of means, of how to escape not via politics but beyond it. Because there are no truly free places left in our world, I suspect that the mode for escape must involve some sort of new and hitherto untried process that leads us to some undiscovered country; and for this reason I have focused my efforts on new technologies that may create a new space for freedom. Let me briefly speak to three such technological frontiers: (1) Cyberspace…. (2) Outer space… (3) Seasteading…." • They actually believe this stuff….
AM writes: "We just came back from Paris. I saw the guillotine earrings in the Musee Carnavalet. Impossible to photograph due to reflections. But I totally agree that they are very stylish!!! The museum has a big section dedicated to the Revolution." Photos: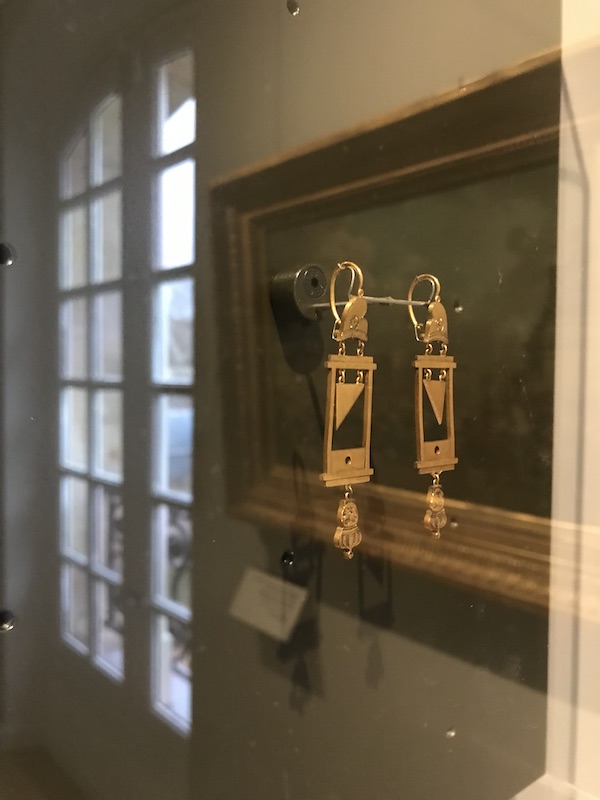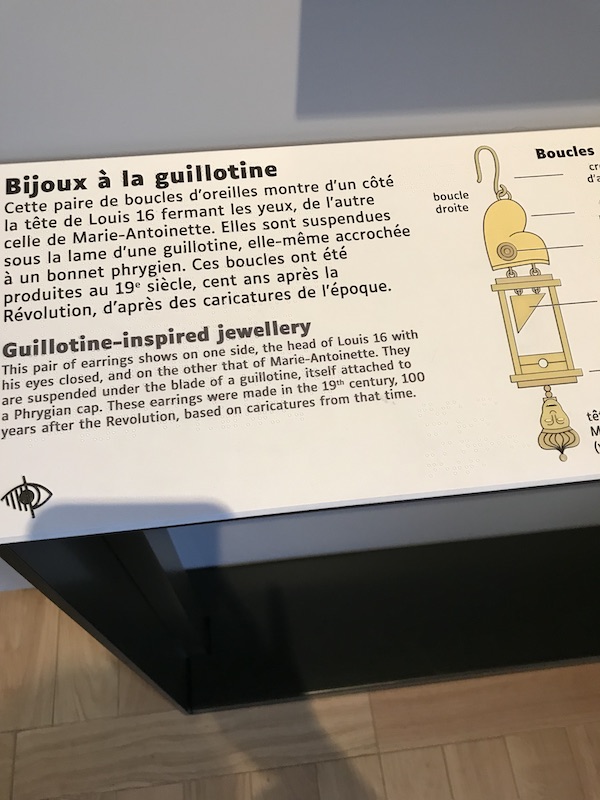 Class Warfare
"Starbucks union vote count in Arizona postponed, ballots impounded" [The Counter]. "Starbucks employees at a Mesa, Arizona, location were awaiting the tally of their votes on whether to unionize Wednesday—instead, the count was delayed and the ballots impounded by the National Labor Relations Board (NLRB), the result of an ongoing request for review from the Starbucks corporation. The votes will be held for an unspecified future vote, an NLRB spokesman told The Counter via email. The news was a minor setback for workers at the store, who had started casting their ballots in January on whether to organize with Starbucks Workers United (SWU), a branch of the Service Employees International Union affiliate Workers United. The hold was the result of a procedural delay: In early January, a regional NLRB director in Phoenix, Arizona, ruled that Starbucks workers at the Mesa location could vote to unionize as a store, rather than being required to vote as part of a larger regional unit. Starbucks subsequently requested a review of this ruling. Because the NLRB hadn't issued a decision on that request for review by Wednesday, the scheduled vote count was postponed."
Meanwhile, Starbucks is hiring:
Holy shit, look at this Starbucks job posting (+ALT text) pic.twitter.com/2FyeKDWdnP

— Jorts (and Jean) (@JortsTheCat) February 18, 2022
* * *
Servant trouble:
new york times writer: get back to smiling while you serve me pic.twitter.com/iOTbvwdY24

— David Parsons (@davidlparsons) February 17, 2022
"Erik Prince and an Army of Spies Keep Meddling in US Politics" [Jacobin]. "his is what happens when a political economy allows people to endlessly and unproductively hoard wealth. Project Veritas, like the entire galaxy of right-wing think tanks, organizations, media outlets, and advocacy groups out there, largely exists by the grace of piles and piles of oligarchic cash sitting around, as the Times' reporting makes clear. It's hard to conceptualize, but when so many people have quantities of money so far in excess of what they need to meet their basic needs and lead a comfortable, carefree life, they'll find other outlets to throw all this idle cash into — organizations like Project Vertitas being one of them. Note, too, that political corruption is also part of the reason why Project Veritas was able to succeed with this scheme. In a separate report last year, the Times detailed how the group's operatives were able to infiltrate Democratic Party circles and work to sabotage what they considered threats to Trump's agenda by using campaign donations as a lever. The undercover operatives gave hundreds, sometimes thousands of dollars to candidates, state parties, and other Democratic entities, and as a result gained access to exclusive party events, the candidates themselves, as well as a pro-Democratic initiative run by wealthy liberal donors meant to back moderate Republicans in Wyoming, gathering valuable information all the while. The parties' reliance on big donors directly opens them up to such shenanigans."
News of the Wired
"Assessment of a Smartphone-Based Loop-Mediated Isothermal Amplification Assay for Detection of SARS-CoV-2 and Influenza Viruses" [Nature]. "For centuries, writers have mused on the heart as the core of humanity's passion, its morals, its valour. The head, by contrast, was the seat of cold, hard rationality. In 1898, US poet John Godfrey Saxe wrote of such differences, but concluded his verses arguing that the heart and head are interdependent. 'Each is best when both unite,' he wrote. 'What were the heat without the light?' At that time, however, Saxe could not have known that the head and the heart share a deep biological connection. n the past 15 years, scientists have uncovered a developmental link between the two. In 2010, for example, researchers revealed that the same small pool of cells that divides and differentiates to form the heart in mouse embryos also gives way to muscles in their throats and lower heads1. Key components of the two are cut from the same cloth. Even more surprising is that the embryonic head–heart connection pre-dates the evolutionary origin of vertebrates, and perhaps even of the head itself. Researchers stumbled on the link while studying sea squirts, blobby, sedentary marine creatures, found affixed to the sea floor, that have two openings — one for sucking water in and the other for squirting it out — hence the name." • I should have run this on Valentine's Day, but oh well….
* * *
Contact information for plants: Readers, feel free to contact me at lambert [UNDERSCORE] strether [DOT] corrente [AT] yahoo [DOT] com, to (a) find out how to send me a check if you are allergic to PayPal and (b) to find out how to send me images of plants. Vegetables are fine! Fungi and coral are deemed to be honorary plants! If you want your handle to appear as a credit, please place it at the start of your mail in parentheses: (thus). Otherwise, I will anonymize by using your initials. See the previous Water Cooler (with plant) here. Today's plant (RH):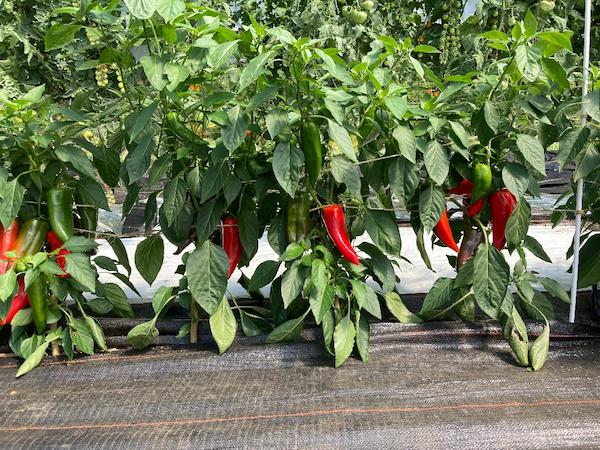 RH writes: "You published another picture of this hoop house a few months ago." So if you want to build a hoop house in the coming year, now is the time to plan for one, in between perusals of the seed catalogs.
* * *
Readers: Water Cooler is a standalone entity not covered by the recently concluded and — thank you! — successful annual NC fundraiser. So if you see a link you especially like, or an item you wouldn't see anywhere else, please do not hesitate to express your appreciation in tangible form. Remember, a tip jar is for tipping! Regular positive feedback both makes me feel good and lets me know I'm on the right track with coverage. When I get no donations for five or ten days I get worried. More tangibly, a constant trickle of donations helps me with expenses, and I factor in that trickle when setting fundraising goals:
Here is the screen that will appear, which I have helpfully annotated.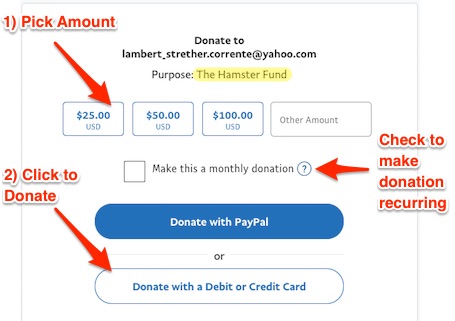 If you hate PayPal, you can email me at lambert [UNDERSCORE] strether [DOT] corrente [AT] yahoo [DOT] com, and I will give you directions on how to send a check. Thank you!