By Lambert Strether of Corrente
Bird Song of the Day
Familiar.
* * *
Politics
"But what is government itself, but the greatest of all reflections on human nature?" –James Madison, Federalist 51
"They had learned nothing, and forgotten nothing." –Charles Maurice de Talleyrand-Périgord
"When the going gets weird, the weird turn pro." –Hunter Thompson
Biden Adminstration
"On cusp of Biden speech, a state of disunity, funk and peril" [Associated Press]. "Biden will step up to the House speaker's rostrum to address a nation in conflict with itself. The country is litigating how to keep kids safe and what to teach them, weary over orders to wear masks, bruised over an ignominious end to one war, in Afghanistan, and suddenly plenty worried about Russian expansionism. A speech designed to discuss the commonwealth will be delivered to a nation that is having increasing difficulty finding much of anything in common." • Come on. 56% of the country supports mask mandates; it's the PMC that's "weary," because they disproportionately don't suffer Covid's harms. Ditto Afghanistan. The press is "bruised" over Afghanistan because every Afghan in their collective Rolodex called them to get out when we finally admitted we lost the war, and they felt bad because they couldn't do anything. And if the heartland cares about Ukraine, they sure aren't willing to send their bodies over their to deal with the matter. This story isn't really about the nation at all. It's about AP's right to prescribe the nation's mood, by describing it (as Bourdieu would urge). There's plenty of disunity to be had, not always along the lines AP draws, and some disunity is good anyhow. Is it good for their to be "unity" between Starbucks workers and management? How about between health care "consumers" and health insurance company executives? But AP never bleats about that….

"Biden finally ditches Build Back Better to unveil new Made in America economic plan during his State of the Union address as White House declines to say if he'll wear a face mask" [Daily Mail]. • All I can say is that I hope this time he checked with President Manchin.

"Why Has Biden's Approval Rating Crashed?" [Peter Daou, Direct Left]. "Biden promised rich donors that 'nothing would fundamentally change.' He's paying the price at the polls. And leftists predicted every bit of this…. Perhaps worst of all, Biden and Democratic leaders have been abject failures on the COVID-19 pandemic, opting for a negligent vaccine-only strategy and presiding over more deaths than Trump." • Plus., Joe Biden owes me six hundred bucks.

From the White House press team:

Two nauseating, fearful pigs who hate what America stands for and whose every action is driven by their their own weakness and insecurity, rubbing their snouts together and celebrating as innocent people lose their lives. https://t.co/GrZcOzXJ8g

— Andrew Bates (@AndrewJBates46) February 24, 2022

I suppose, if there are peace talks, this dude will be on the plane and at the podium?

"How a High School Debate Team Shaped Ketanji Brown Jackson" [New York Times]. "Judge Jackson competed in two disciplines that were more speech than debate: oratory, where contestants write and deliver original speeches, and interpretation, where they perform dramatic or humorous parts from existing material. She was a national champion in oratory." • Feh!

* * *

On CDC guidance:

Time for some new CDC guidelines pic.twitter.com/0Pmq4EUqnb

— Dr. Glaucomflecken (@DGlaucomflecken) February 28, 2022

(If I'd encountered this before I wrote this post, I would have included it….)

"IMPACT COVID Positioning Strategy Memo – Taking The Win Over Covid-19" [Impact Research (antidlc]. Biden's pollster: "Declare the crisis phase of COVID over and push for feeling and actingmore normal. . Democrats have a tremendous opportunity to claim an incredible, historic success – they vaccinated hundreds of millions of people,prevented the economy from going into freefall, kept small businesses from going under, and got people back to work safely. Because of President Biden andDemocrats, we CAN safely return to life feeling much more normal – and theyshould claim that proudly." • Whether the metric is cases or deaths, "we are nowhere near where we were two years, or even one year ago" is an outright lie. Shocking, I know.

"Biden wants to declare a new chapter in the Covid fight. He's trigger shy." [Politico]. "The president on Tuesday is expected to stop well short of the mission accomplished moment on Covid that many members of his own party would like to see, stressing instead the need to remain vigilant against the virus, even as the nation enters what many people hope will be a pandemic endgame. Biden's remarks will emphasize that the nation has made significant progress toward reining in the pandemic, five people familiar with the planning of the speech said. Yet even as he touts how far the U.S. has come, Biden is likely to warn that it may still be a bumpy path back to normalcy. 'If you're waiting to rip off your masks, this is not it,' said one of the people familiar with the planning." • Amazing how much the Democrat inner circle hates masks; Walensky was right in the mainstream of the Party apparatchiks with her "Scarlet Letter" remark. Of course, as the party of betrayal, liberal Democrats need to smile a lot. It's how they move in on their pray.
Democrats en Déshabillé
I have moved my standing remarks on the Democrat Party ("the Democrat Party is a rotting corpse that can't bury itself") to a separate, back-dated post, to which I will periodically add material, summarizing the addition here in a "live" Water Cooler. (Hopefully, some Bourdieu.) It turns out that defining the Democrat Party is, in fact, a hard problem. I do think the paragraph that follows is on point all the way back to 2016, if not before:

The Democrat Party is the political expression of the class power of PMC, their base (lucidly explained by Thomas Frank in Listen, Liberal!). ; if the Democrat Party did not exist, the PMC would have to invent it. . ("PMC" modulo "class expatriates," of course.) Second, all the working parts of the Party reinforce each other. Leave aside characterizing the relationships between elements of the Party (ka-ching, but not entirely) those elements comprise a network — a Flex Net? An iron octagon? — of funders, vendors, apparatchiks, electeds, NGOs, and miscellaneous mercenaries, with assets in the press and the intelligence community.

Note, of course, that the class power of the PMC both expresses and is limited by other classes; oligarchs and American gentry (see 'industrial model' of Ferguson, Jorgensen, and Jie) and the working class spring to mind. Suck up, kick down.

* * *

Remember when liberal Democrats were naming their dogs after Mueller? Have they started naming their dogs after David Frum?

Russiagate single-handedly rehabilitated them all, and when they re-migrated back to the Democratic Party, their reputation was completely rehabilitated. They also have millions of new admirers who either don't know their history or don't care. Neocons are stronger than ever: https://t.co/eOha5FqRr3

— Glenn Greenwald (@ggreenwald) February 27, 2022

I wish it were "incredible":

It's incredible how you can get liberals to devote their entire lives to a cause they hadn't even previously spent a single second thinking about as long as you convince them this is the newest and best way to signal that they are on The Good People team.

— Shant Mesrobian (@ShantMM) February 26, 2022

Two Democrats:

The DSA and @TuckerCarlson have joined forces to form a pro-Putin axis in American politics, an alliance of useful idiots. https://t.co/TW36LmGnNV

— Ritchie Torres (@RitchieTorres) February 27, 2022

With tripolar politics — liberals, conservatives, left — each pole converts tripolarity into a binary. Liberals think conservatives and the left are one thing, conservatives think liberals and the left are one thing, and the left thinks conservatives and liberals are one thing.

Eric, good job:

NYC (idiot Adams) just lifted vaccine and mask requirements for indoors. We spent millions of dollars rolling out what had become an efficient and frictionless pandemic safeguard and 🗑 it. All to appease the same fringe of substack 🧠'd radicalists about to supercharge Ba.2 🦠

— Evon (@knowmiun) February 28, 2022

The worst of it is that Adams will be probably get good press coverage for this nove.
2022
* * *

Please, no:

Here's the ad buy Cuomo is doing, per a buyer: Broadcast – $273k in Albany, Binghamton, Buffalo, Elmira, NYC, Rochester, Syracuse, Utica, and Watertown

— Maggie Haberman (@maggieNYT) February 25, 2022
2024
"Trump wins CPAC straw poll as DeSantis's support grows" [The Hill]. "Former President Trump emerged as the clear winner in the Conservative Political Action Conference's (CPAC) highly anticipated presidential straw poll, capturing a solid majority of support in a hypothetical primary match-up and cementing his status as the heavy favorite for the 2024 GOP nomination among the most devoted conservatives. The straw poll, which received responses from more than 2,500 conference attendees, found that 59 percent back Trump for the 2024 Republican nod, a slight increase over last year's poll, which showed him with 55 percent support. Florida Gov. Ron DeSantis (R) finished in a distant second with 28 percent support, making him the only other prospective candidate to notch double-digit support. In last year's straw poll, DeSantis notched 21 percent support. Former Secretary of State Mike Pompeo finished in third place, with just 2 percent support." •

"DeSantis Readies For The National Stage" [The American Conservative]. "Talking fast and hardly looking at his notes (guests I spoke with afterward said his speed made him sound intelligent), DeSantis spent his hour in front of a friendly audience drawing distinctions—between conservatism and libertarianism, between himself and the broader GOP, and, most carefully, between himself and former president Donald Trump. Using phrases like 'military industrial complex' and his now-favorite 'biomedical security state,' and shifting the conversation from keywords like 'freedom' and 'liberty' to courage, justice, and the positive project of government, DeSantis seemed to be using the talk not just to float his presidential prospects, but also to demonstrate his alignment with major goalposts of the new right. 'Freedom is not enough of a condition to secure a just society,' DeSantis said. 'It's essential, but you need more. You can't just say private companies can do whatever the hell they want to. They are not the friend of conservatives right now, they are not the friend of freedom. They are using these harmful ideologies and we have a responsibility to stand up and fight against it.' The elites and Big Tech 'regime enforcers' need to be taken down a few notches, he said—whether through Section 230 reform or other means was unclear—because 'you can't have a free society if the majority of the discourse is controlled by a half dozen leftists in Silicon Valley.' These are bold words for an audience of conservative donors, many of whom made their success in business, but a lot has changed in the last few decades. Regardless, the audience was enthusiastic, interrupting frequently with cheers and calls of 'Freedom!'" • Are any readers familiar with DeSantis? Does he have any charisma or gravitas at all? Or is he like Scott Walker, totally owning the libs at the state level, but all the dynamism of a potato, on the national stage?
2018 Post Mortem
"Volume 24: The 2018 Election, Who Projected It Best?" [Lobby Seven]. • Larry Sabato, and not narrowly. Looks like combining quantitative and qualitative analysis is a good idea. (The article is based on a statistical concept called "log loss," which is beyond me. Perhaps a reader can explain.
Clinton Legacy
I assume it's obvious that this is not from Clinton's MasterClass series:

i'm totally not losing my mind watching this for multiple reasons https://t.co/71KDRjabks

— Web3 Henry Dubb (@bombsfall) March 1, 2022
Realignment and Legitimacy
"Election conspiracy theories flutter around Cross Village break-in case" [Traverse City Record-Eagle]. "Township Clerk Diana Keller was in office for two months last year when she said three men — one wearing a gun on his hip and a bulletproof vest over his sweatshirt — walked into the township hall asking for election equipment." • Then it gets wilder. Traverse City is "a township of fewer than 300 year-round residents and a $100,000 annual budget." I don't know why it even needs a "tabulating machine."
#COVID19
Case count by United States regions: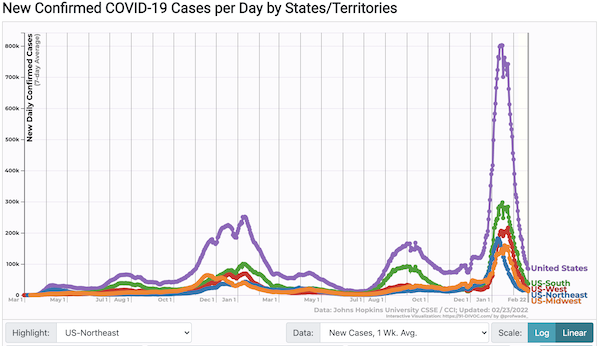 I have added a Fauci Line that shows how the current, totally non-problematic case count of Covid, achieved under the wise leadership of President Biden And His Team, is identical to a case count considered crisis-level under the former guy. (I could be wrong, but I think that's when the Times printed the names of the dead on the front page. Nothing like that now, of course.)
NOTE I shall most certainly not be using the CDC's new "Community Level" metric. Because CDC has combined a leading indicator (cases) with a lagging one (hospitalization) their new metric is a poor warning sign of a surge, and a poor way to assess personal risk. In addition, Covid is a disease you don't want to get. Even if you are not hospitalized, you can suffer from Long Covid, vascular issues, and neurological issues. For these reasons, case counts — known to be underestimated, due to home test kits — deserve to stand alone as a number to be tracked, no matter how much the political operatives in CDC leadership would like to obfuscate it.
Fellow tapewatchers will note that "up like a rocket, down like a stick" phase is done with, and the case count is now leveling out. A chart going back to January shows this clearly: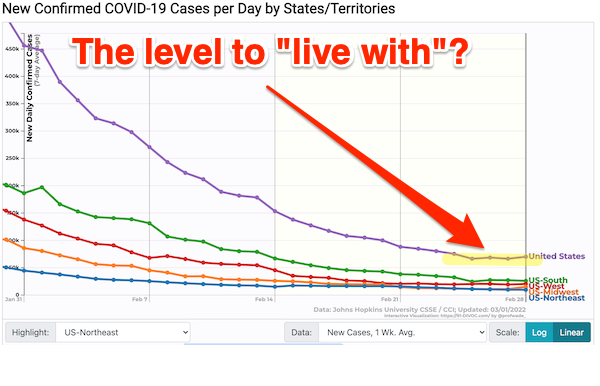 The decline has flattened. Perhaps the "new normal" will settle in at 65,000 cases a day. Certainly if we wish the United States to be a Covid reservoir for the rest of the world, and make sure that no other country achieves Zero Covid, that is the way to proceed..
The official narrative was "Covid is behind us," and that the pandemic will be "over by January" (Gottlieb), and "I know some people seem to not want to give up on the wonderful pandemic, but you know what? It's over" (Bill Maher) was completely exploded. What a surprise! This time, it may be different. But who knows?
MWRA (Boston-area) wastewater detection: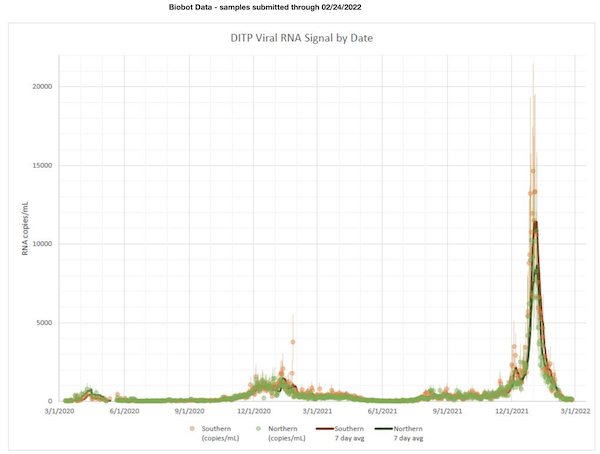 Continues encouraging (and independent from the CDC).
The Massachusetts Water Resources Authority (MWRA) service area includes 43 municipalities in and around Boston, including not only multiple school systems but several large universities. Since Boston is so very education-heavy, then, I think it could be a good leading indicator for Covid spread in schools generally.
From CDC Community Profile Reports (PDFs), "Rapid Riser" counties: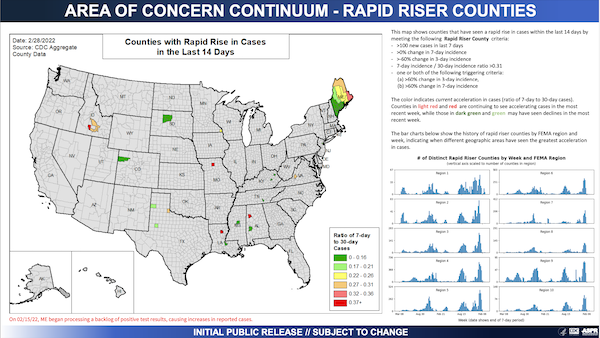 Idaho down, Maine getting caught up with its data. Remember that these are rapid riser counties. A county that moves from red to green is not covid-free; the case count just isnt, well, rising rapidly.)
The previous release: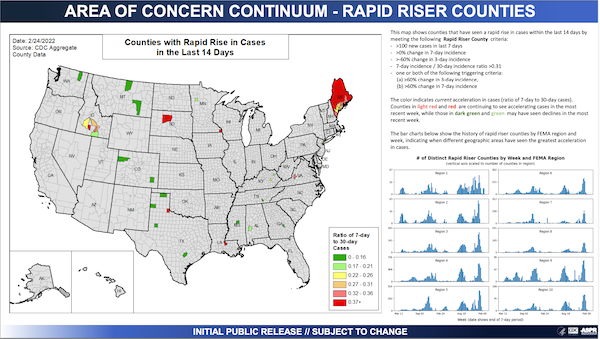 Here is CDC's interactive map by county set to community transmission: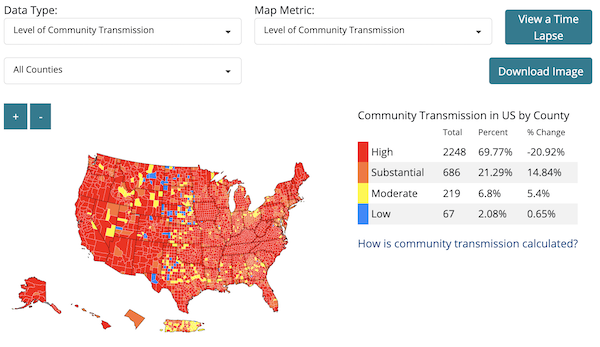 Continuing slow improvement.
Hospitalization (CDC Community Profile):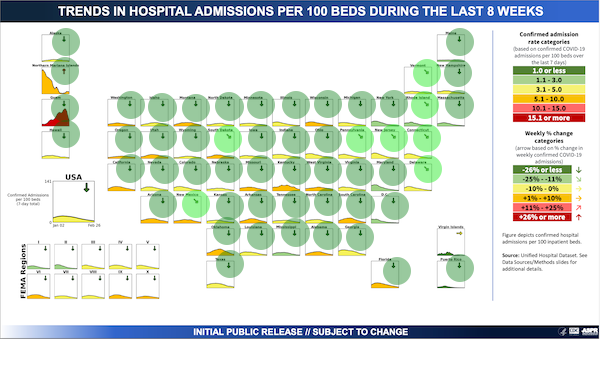 Sea of green once more, including the Northern Marianas. From the point of view of our hospital-centric health care system, green everywhere means the emergency is over (and to be fair, this is reinforced by case count and wastewater). However, community transmission is still pervasive, which means that long Covid, plus continuing vascular damage, are not over. (Note trend, whether up or down, is marked by the arrow, at top. Admissions are presented in the graph, at the bottom. So it's possible to have an upward trend, but from a very low baseline.)
Death rate (Our World in Data):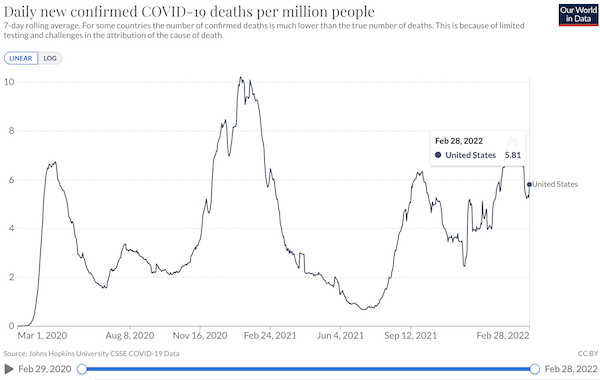 Total: 975,150 969,602. An uptick. But it looks like we won't break a million for Biden's SOTU. I was hoping for a ribbon cutting ceremony of some kind. Maybe the West Wing staff could have staged a photo op with funny hats and noisemakers. Walensky's staff could have joined in by Zoom. Ah well, nevertheless.
Covid cases in top us travel destinations (Statista):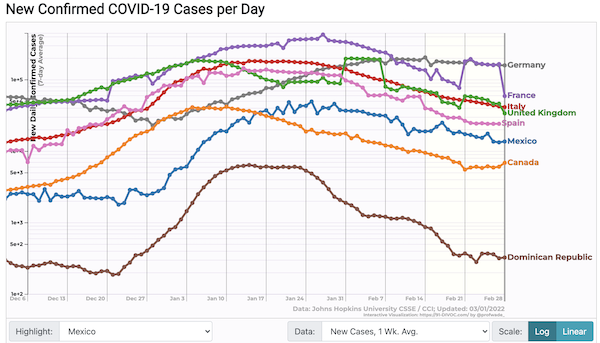 Stats Watch
Logistics: "United States LMI Logistics Managers Index Current" [Trading Economics]. "The Logistics Manager's Index in the US increased to 75.2 in February of 2022, up from January's reading of 71.9, largely driven by the unseasonal spike in inventories, continued growth in price, and the lack of available capacity. The Inventory Level value is 80.2, the highest value ever for the index as a combination of over-ordering to avoid shortages, late-arriving goods due to supply chain congestion, and a softening of consumer spending has created a logjam. Meanwhile, warehousing capacity is once again down, to 43.4, the lowest level since the start of the Q4 inventory buildup in August 2021. This also marks 18 consecutive months of contraction, incentivizing many firms to aggressively explore alternative."
Manufacturing: "United States Manufacturing PMI" [Trading Economics]. "The IHS Markit US Manufacturing PMI was revised lower to 57.3 in February of 2022, from a preliminary estimate of 57.5 but above the previous month's final reading of 55.5. The headline figure was below the peaks seen in 2021, but signalled a stronger upturn in the health of the manufacturing sector, with sharper output and new order expansions contributing to overall growth. Stronger new sales growth spurred manufacturers to increase staffing numbers and boost stocks of purchases. Pressure on capacity softened as backlogs rose at the slowest pace in a year as material shortages eased. Although input costs increased at the slowest pace for nine months, selling prices ticked higher at the sharpest rate since last November. Finally, output expectations for the coming year were the strongest since November 2020, as firms were buoyed by hopes of a reduction in supply-chain disruption and a greater ability to retain employees"
Manufacturing: "United States ISM Purchasing Managers Index (PMI)" [Trading Economics]. "The ISM Manufacturing PMI for the US rose for a second straight month to 58.6 in February of 2022 from 57.6 in January and compared to market forecasts of 58. This latest reading showed that the overall economy expanded for the 21st consecutive month. New orders and production continued to increase at a solid pace as COVID-19 infections subsided, though hiring at factories slowed, contributing to keeping supply chains snarled and prices for inputs high."
* * *
Inflation: "Z Inflation Problem" [Stephanie Kelton, The Lens]. "[W]hen it comes to explaining our current bout of high inflation, there's no dearth of right answers. There are many forces at work. To bring inflation back down, we need more than a catalogue of everything that matters. As I keep saying, the policy response to fighting inflation should be tailored to the diagnosis. There is no one-size-fits-all solution to the inflation problem. There are things we can do to enhance price stability in the short-term—getting past the pandemic, eliminating non-strategic tariffs, unclogging ports, licensing more truck drivers, negotiating prescription drug costs and moving to Medicare for All, to name just a few. Longer term—by which I mean years, not decades—we need to restore domestic manufacturing capacity and move away from fossil fuels. We need to build millions of units of affordable and sustainable housing and invest heavily in mass transit. We must start now."
Banking:
never seen weaponization of money on this scale before…you only get to play the card once. china will make it a priority to need no USD before going for Taiwan. it's a turning point in monetary history: the end of USD hegemony & the acceleration towards a bipolar monetary order

— Dylan Grice (@dylangrice) February 27, 2022
I always thought it was bipolar disorder, but what do I know?
The Bezzle: "Gaming has led the metaverse, but NFTs pose new ethical challenges. The DICE Summit discussions" [Los Angeles Times]. "Studio health was a prime topic at D.I.C.E., where a talk centered on what a return to the office looked like with worker habits having been forever altered by the pandemic. Even a conversation on NFTs (or non-fungible tokens) and how the online certificates that allow for the ownership of digital goods and so-called 'play-to-earn' models could transform games, fell heavily on why the topic has been met with such resistance among developers at gaming studios. 'Disdain,' is how moderator Min Kim of Bonfire Studios summarized the early developer reaction to developing games enabling NFT functionality on the blockchain. The panelists attempted to take a measured approach, noting there hasn't been a hit game yet that can show a mass audience why player ownership will create a better gaming experience, while also conceding that many of the early adopters have what is perceived as questionable ethics, as initial games in the space are built around money-making or collectible schemes first and foremost. D.I.C.E. speakers compared it to the beginning of free-to-play mobile games, which introduced a number of controversial mechanics, including loot boxes and their gambling-like nature as well as endless microtransactions that can still today occasionally be contentious subjects. 'We haven't seen that blockbuster game that changes the perspective of a developer,' said John Linden, CEO of Mythical Games. Linden used collectible card game 'Hearthstone' as an example of a work that showed new possibilities for a specific genre, arguing that NFTs are in need of such a game.'"
Tech: "Here Comes the Full Amazonification of Whole Foods" [New York Times]. "In less than a minute, I scanned both hands on a kiosk and linked them to my Amazon account. Then I hovered my right palm over the turnstile reader to enter the nation's most technologically sophisticated grocery store." • So awesome. I assume that when the reporters biometric data is hacked, they can simply purchase a new hand. I smell business model!
Tech: "The Quiet Way Advertisers Are Tracking Your Browsing" [Wired]. "The exact configuration of lines and swirls that make up your fingerprints are thought to be unique to you. Similarly, your browser fingerprint is a set of information that's collected from your phone or laptop each time you use it that advertisers can eventually link back to you. 'It takes information about your browser, your network, your device and combines it together to create a set of characteristics that is mostly unique to you,' says Tanvi Vyas, a principal engineer at Firefox. The data that makes up your fingerprint can include the language you use, keyboard layout, your timezone, whether you have cookies turned on, the version of the operating system your device runs, and much more. By combining all this information into a fingerprint, it's possible for advertisers to recognize you as you move from one website to the next. Multiple studies looking at fingerprinting have found that around 80 to 90 percent of browser fingerprints are unique. Fingerprinting is often done by advertising technology companies that insert their code onto websites. Fingerprinting code—which comes in the form of a variety of scripts, such as the FingerprintJS library—is deployed by dozens of ad tech firms to collect data about your online activity."
* * *
Today's Fear & Greed Index: 18 Extreme Fear (previous close: 24 Extreme Fear) [CNN]. One week ago: 35 (Fear). (0 is Extreme Fear; 100 is Extreme Greed). Last updated Mar 1 at 1:22pm. Looks like Putin still has Mr. Market's attention.
Rapture Index: Closes unchanged [Rapture Ready]. Record High, October 10, 2016: 189. Current: 186. (Remember that bringing on the rapture is a good thing, so higher is better.)
Naked Capitalism Cooking Community™
"How to Defrost Meat Safely" [Good Housekeeping]. "The best and safest way to defrost meat is overnight in the refrigerator, until it is completely thawed. After thawing, ground meat, poultry, and seafood should keep well in the refrigerator for an extra day or two, while red meat (beef, pork, lamb, and steak) stays good for 3 to 5 more days. Plus, if you thaw meat in the refrigerator, you can freeze it again safely." • Not exactly Jackpot-ready, let alone Jackpot-compliant.
Games
Some readers will be happy to know I bought my very first video game: Night in the Woods, from Scott Benson's studio, now that it's on the iPad. Benson is on Sid and Fern's staff:
we're in the process of trying to adopt some cats and i'm not getting my hopes up too much but check these two out. apparently the one on the left lacks confidence unless the one on the right is with him pic.twitter.com/pNJEve8xE5

— Web3 Henry Dubb (@bombsfall) June 20, 2020
I haven't had time to play more than a few minutes, though.
Class Warfare
"A New Union, At Last? Mexican Auto Parts Workers Get to Vote, Three Years After Strike Wave" [Labor Notes]. "UPDATE, March 1: Workers at Mexico's Tridonex auto parts plant in the border city of Matamoros overwhelmingly voted for an independent union on February 28. Workers cast 1,126 votes for the National Independent Union of Industry and Service Workers, 20/32 Movement (SNITIS), while 176 voted for the incumbent Industrial Union of Workers in Maquiladora and Assembly Plants (SITPME), which is affiliated with the Confederation of Mexican Workers (CTM). The election victory in Matamoros comes on the heels of a landmark victory at the beginning of February for another independent union among General Motors workers in Silao, Guanajuato. The vote for SNITIS is another step forward for Mexican workers' efforts to free themselves from so-called "protection unions," and provides further evidence that organized workers can defeat unions affiliated with the corrupt CTM."
"Walmart Supercenters and Monopsony Power: How a Large, Low-Wage Employer Impacts Local Labor Markets" (PDF) [Justin C. Wiltshire]. "Crucially, I construct the pools of synthetic control donor counties from novel observations of counties where Walmart tried to open a Supercenter but was blocked by local efforts. I find Supercenter entry caused significant reductions in local aggregate employment and earnings. Retail employment concentration grew, as retail employment initially jumped up before reverting to pre-entry levels. In counties with a Supercenter, subsequent exogenous minimum wage increases led to significant growth in aggregate and retail employment. These results run counter to predictions for competitive labor markets, and indicate Walmart Supercenters gradually accumulated and exercised monopsony power in their local markets for labor, with negative consequences for workers." • I can't speak to the method, but the result is interesting.
"Engaging Federici on Marx, Capitalism, and Social Reproduction" (review) [Monthly Review Online]. In Patriarchy of the Wage, Sylvia "Federici considers two types of explanation for why Marx was not a feminist, one taking stock of his socio-historical positioning, the other of his theoretical concepts and analysis. Regarding the former, Federici informs readers that her thinking has changed over time (38-39). In early essays, she writes, she accepted that Marx was writing at a moment when the patriarchal proletarian family was not yet consolidated. Since working-class women and children were, initially, swept into formal waged labor, his neglect of domestic labor is, if not forgivable, perhaps understandable. Today, however, Federici no longer buys this, and what flows from her skepticism is a thoughtful, if not always fair, appraisal of Marx's social and political milieu. As early as the 1830s, Federici points out, feminist utopian socialists were debating and experimenting with the socialization of housework, while by mid-nineteenth century, women comprised just 20 to 30 percent of factory workers, as many exited waged work upon childbirth. Those who remained struggled for reduced working hours—allowing them to shift domestic work from evenings onto a Saturday afternoon (38-39). So, domestic work was an issue for women workers in Marx's time. Moreover, Federici notes, while Marx laments both the harsh conditions of female factory workers and the fact that male heads of households controlled the wages of their wives' labor, he does not attempt to explain these gendered power imbalances. Had he done so, she writes, he "would have recognized the existence of a fundamental anomaly in capitalist relations," (85)—namely that juridical "freedom" is not a universal condition of all waged workers. This leads Federici to a series of speculations. She submits that perhaps Marx was a creature of his time, after all, pointing out that increasingly after 1830, in the state and popular imaginary, "worker" meant "laborious, honest wage worker" (82)—an ethical and rights-bearing figure distinct from more precarious, less trustworthy members of the underclasses. From here Federici moves on to another, less tenable, speculation: Marx's neglect of domestic labor was a matter of "political expedience" (86). As a leader of the First International Workingmen's Association, Marx, in 1872, supported the ousting of Section 12, led by American feminist Victoria Woodhull. He did so by urging a resolution insisting that two-thirds of the membership of any IWA section be wage earners, thereby precluding any section's domination by unwaged housewives…. As for Marx's support for the expulsion of Section 12, one should (but Federici doesn't) at least take into account his overt justification, which has to do with fears of middle-class reformers swamping IWA sections, fears that, according to Hal Draper, informed Marx's politics from the 1840s onward." • The past is not dead……
"Peter Kropotkin" (podcast) [In Our Time]. "Melvyn Bragg and guests discuss the Russian prince who became a leading anarchist and famous scientist. Kropotkin (1842 – 1921) was born into privilege, very much in the highest circle of Russian society as a pageboy for the Tsar, before he became a republican in childhood and dropped the title 'Prince'. While working in Siberia, he started reading about anarchism and that radicalised him further, as did his observations of Siberian villagers supporting each other without (or despite) a role for the State. He made a name for himself as a geographer but soon his politics landed him in jail in St Petersburg, from which he escaped to exile in England where he was fêted, with growing fame leading to lecture tours in the USA. His time in Siberia also inspired his ideas on the importance of mutual aid in evolution, a counter to the dominant idea from Darwin and Huxley that life was a gladiatorial combat in which only the fittest survived. Kropotkin became such a towering figure in public life that, returning to Russia, he was able to challenge Lenin without reprisal, and Lenin in turn permitted his enormous public funeral there, attended by 20,000 mourners."
News of the Wired
Some threads on "Living with Covid" (translation: "We give up, why don't you?"):
"Living with Covid" (1):
As much as we hate externally imposed rules, they do make things easier. As masking mandates are lifted even in blue states, those of us who have been cautious will have to answer a new question. Not "must I mask?" but "should I?" Today, a 🧵on how I'm thinking about this. (1/25)

— Bob Wachter (@Bob_Wachter) February 19, 2022
"Living with Covid" (2):
Thankfully Covid hasn't touched my family yet. In the absence of any advice from the authorities, these are some tips on how you can minimize your exposure while living a life as close to normal as possible. I'll expand in more detail in this 🧵 pic.twitter.com/Yxg4I6cisb

— Kashif Pirzada, MD (@KashPrime) February 19, 2022
"Living with Covid" (3):
1/ A thread on COVID safety in Queensland schools, clean air interventions, and independent schools…

#covidschools #brisbane pic.twitter.com/0PU5eBd2mJ

— Jez Roff (@JezRoff) February 7, 2022
"Living with Covid" (4):
Talked to an extended family member tonight whose immediate family got over Covid last week. 4 of them were sick, but they wore N95S inside and used ventilation and air filtration.

Their 93 year old mother didn't catch it.

MASKS WORK.

THEY WORK.

— laurie allee (@laurieallee) February 23, 2022
* * *
Contact information for plants: Readers, feel free to contact me at lambert [UNDERSCORE] strether [DOT] corrente [AT] yahoo [DOT] com, to (a) find out how to send me a check if you are allergic to PayPal and (b) to find out how to send me images of plants. Vegetables are fine! Fungi and coral are deemed to be honorary plants! If you want your handle to appear as a credit, please place it at the start of your mail in parentheses: (thus). Otherwise, I will anonymize by using your initials. See the previous Water Cooler (with plant) here. Today's plant (EM):
EM writes: "I think this is a really nice tree. I saw it here. A very exposed place."
* * *
Readers: Water Cooler is a standalone entity not covered by the recently concluded and — thank you! — successful annual NC fundraiser. So if you see a link you especially like, or an item you wouldn't see anywhere else, please do not hesitate to express your appreciation in tangible form. Remember, a tip jar is for tipping! Regular positive feedback both makes me feel good and lets me know I'm on the right track with coverage. When I get no donations for five or ten days I get worried. More tangibly, a constant trickle of donations helps me with expenses, and I factor in that trickle when setting fundraising goals:
Here is the screen that will appear, which I have helpfully annotated.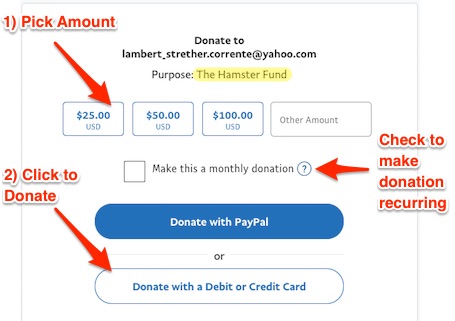 If you hate PayPal, you can email me at lambert [UNDERSCORE] strether [DOT] corrente [AT] yahoo [DOT] com, and I will give you directions on how to send a check. Thank you!