By Lambert Strether of Corrente
Bird Song of the Day
Six solid minutes of peents. And on the other hand, this, from 1953 (!):
Has lots of interesting chirps and calls before we get to the peents, including commentary.
This concludes American Woodcock week at Naked Capitalism. Readers, do you have another bird you'd like me to curate? I was amazed the American Woodcock had so many fans!
* * *
Politics
"But what is government itself, but the greatest of all reflections on human nature?" –James Madison, Federalist 51
"They had learned nothing, and forgotten nothing." –Charles Maurice de Talleyrand-Périgord
"When the going gets weird, the weird turn pro." –Hunter Thompson
Capitol Seizure
"Ginni Thomas sent Mark Meadows texts urging efforts to overturn election: report" [The Hill]. "In one of the 29 texts exchanged between Ginni Thomas and [then-White House chief of staff [Mark] Meadows, sent on Nov. 10, she wrote: 'Help This Great President stand firm, Mark!!!…You are the leader, with him, who is standing for America's constitutional governance at the precipice. The majority knows Biden and the Left is attempting the greatest Heist of our History," according to the Post. The text was sent shortly after many media outlets began projecting then-nominee Joe Biden as the country's next president. 'This is a fight of good versus evil,' Meadows wrote to Thomas on Nov. 24, per the Post. 'Evil always looks like the victor until the King of Kings triumphs. Do not grow weary in well doing. The fight continues. I have staked my career [bathos!] on it. Well at least my time in DC on it." • Woo woo. Commentary:

That it's a non-credential credential, ie a discursive signal of material that won't challenge reader's worldview. Pol comm people have found that far from being a mistake, pols use it deliberately to attract disaffected extremists and fringe

— Tressie McMillan Cottom (@tressiemcphd) March 24, 2022

It may be that the Democrats are working themselves up to impeach Thomas. Which would be ironic. Impeachment summer fun!
Biden Adminstration
"1 big thing: Scoop – Manchin spells out BBB deal" [Axios]. "Sen. Joe Manchin (D-W.Va.) told a group of climate activists and energy executives he's open to supporting revised Build Back Better legislation narrowly addressing three issues: climate change, prescription drug prices and deficit reduction…. He's talked about a deal that includes roughly $500 billion for climate and $1 trillion in new revenue….. And Manchin's insisting on reducing the deficit with at least half of the revenue from new corporate taxes, as well as the estimated savings from allowing Medicare to directly negotiate the cost of prescription drugs."

"Biden Administration Drafting Order To Invoke Defense Production Act For Green Energy Storage Technology" [The Intercept]. "The Biden Administration is drafting an executive order invoking the Defense Production Act to alleviate shortages of key minerals needed for the technology to store clean energy. The act, which would bolster the manufacturing capacity of electric vehicle producers in particular, indicates that the administration is open to using executive power to achieve progressive policy goals as Congress remains reluctant to pass key parts of his green energy agenda. The order would declare that 'ensuring robust, resilient, and sustainable domestic industrial base to meet the requirements of the clean energy economy is essential to our national security,' according to a draft of the document that remains in the 'pre-decisional' phase. That reasoning follows a renewed push from the administration on its climate change priorities in light of shocks in the oil and gas market following Russia's invasion of Ukraine. The order would specifically says 'domestic mining, beneficiation, and value-added processing of strategic and critical materials from sustainable sources for the production of large capacity batteries for the automotive, e-mobility, and stationary storage sectors is essential to national defense.'"

"Student loan forbearance is set to end … or is it?" [MarketPlace]. "Payments were paused more than two years ago at the start of the pandemic as part of the CARES Act; they are scheduled to start again on May 1, although there are hints it may be extended further. 'This is a monumental task to restart payments for 37 million borrowers,' said Daniel Mangrum, an economist at the New York Fed and one of the authors of the new report. 'Millions of them have never made a payment because they graduated during the pandemic and have never had to make a payment before.' Easing people into that will be hard, but if you look at this as a game hot potato — the potato being the debt — it's the government that is losing. 'Eighty-five percent of all outstanding balances are owned by the federal government. So essentially, this is kind of increasing the cost of the federal student loan program,' Mangrum said."

"Private Medicare make windfall for senior care" [Axios]. "Health insurers that sell private Medicare plans collected $12 billion more caring for seniors in 2020 than it would have cost in traditional Medicare, according to a report from the Medicare Payment Advisory Commission. Details: MedPAC laid blame on aggressive medical record coding, specifically 'risk scores' that insurers assign to members based on the medical conditions they have. The higher the risk score, the more conditions, and the more money the insurer gets for covering them." • Ah, coding. I'm starting to think that coding = gaming. In all contexts.

"Seniors' Medicare Benefits Are Being Privatized Without Consent" [Lever News]. "A new Medicare privatization scheme developed under President Donald Trump and now being expanded under President Joe Biden is forcing hundreds of thousands of seniors onto new private Medicare plans without their consent…. The new Direct Contracting Entity (DCE) program similarly adds a private-sector third party between patients and Medicare services. Medicare allows these intermediary companies to offer unique benefits, like gym membership coverage. But as for-profit operations ranging from private insurers to publicly traded companies to private equity firms, these intermediaries are incentivized to limit the care that patients receive, especially when they are very sick. While Medicare Advantage patients choose to sign up for private insurance plans, patients are being enrolled in these DCE health care plans without their informed consent." • See NC on DCEs, last September.

"MI Workers: USPS Reform Bill Would Create Opportunity for Postal Banking" [WXPR]. "Congress has passed a bill to help shore up the U.S. Postal Service, and it's now on to President Joe Biden for a signature…. [Roscoe Woods, legislative director for the Michigan Postal Workers Union] pointed out the bill allows the Postal Service to partner with state, local or tribal governments to provide property and nonpostal services to the public such as banking, or selling hunting or fishing licenses or public transit passes. He said postal banking in particular would be a major boost for rural America; he noted some small towns do not have any banks or credit unions."

"There is a lot to monitor at the USPS, with the Postal Reform Act looking to make changes" [Logistics Management]. "[The plan] calls for the USPS to continue its universal six-day mail delivery, as well as expanding seven-day package delivery, with the latter being a major revenue source for the organization. A key part of the plan stated that the USPS will generate $24 billion in net revenue, partly from enhanced package delivery services for business customers, including same-day, one-day, and two-day delivery offerings. Other key objectives outlined in the plan include: improving cash flow for the investment of $40 billion in workforce, new vehicles, improved Post Offices, technology improvements, and infrastructure upgrades; a move to an electric vehicle delivery fleet with Congressional support; adjusting select delivery standards to improve efficiency and reliability; enhancing customer experience through a new suite of consumer and small business tools; stabilizing the workforce with a goal of cutting non-career employee turnover in half, and creating more opportunity for growth, including more predictable progression into career workforce; aligning pricing to reflect market dynamics; and ask for bipartisan legislation in Congress to repeal retiree health benefit pre-funding mandate and to maximize future retiree participation in Medicare."

"The White House can't just wash away the stink of Hunter Biden's laptop" [New York Post]. "[A]s a grand jury in Delaware moves closer to potentially indicting Hunter, 52, over alleged tax evasion, money laundering and violations of the Foreign Agents Registration Act, pressure is mounting on the president finally to explain his role in the international influence-peddling scheme run by his son and his brother Jim Biden while he was vice president. The laptop, along with evidence provided by Hunter's former business partner Tony Bobulinski, and Treasury documents provided to a Senate inquiry, reveal millions of dollars flowing to the Biden family and associates from dubious foreign sources, including three flashpoint countries vital to US national security: Russia, Ukraine and China. Evidence also exists showing that Joe Biden financially benefited from his then-drug-addicted son's overseas business dealings — perhaps by several million dollars. White House press secretary Jen Psaki played dumb last week and refused to answer questions from The Post's Steven Nelson about how the president is navigating conflicts of interest during the Ukraine-Russia war when it comes to sanctioning people who have done business with his family. Specifically, Nelson asked about Russian oligarch Yelena Baturina, who has not been sanctioned, but who allegedly wired $3.5 million on Feb. 14, 2014, to a firm associated with Hunter's former business partner Devon Archer. That wire was flagged in a suspicious activity report provided by the Treasury Department to a Senate Republican inquiry, chaired by Sens. Chuck Grassley and Ron Johnson. Now, new evidence has emerged via the laptop showing that Baturina wired as much as $118 million to various offshoots of Rosemont Seneca Partners, the consulting firm co-founded by Hunter, Archer and John Kerry's stepson, Chris Heinz." • Hmm. I haven't followed the detail on this. However, I believe The Bidens would say that the Biden family has form, and this is what it is. Readers?

"Biden's Own Goals" [The American Conservative]. "Whatever the future of progressivism, Joe Biden has clearly become its greatest present liability. We may never know the real reason for his abrupt turn from a campaigning moderate to a committed leftist—his debt to Bernie Sanders's supporters or genuine conviction—but the president has politically damaged the progressive brand in a way that no other public figure could." • Who knows, the writer may actually believe this.
Democrats en Déshabillé
I have moved my standing remarks on the Democrat Party ("the Democrat Party is a rotting corpse that can't bury itself") to a separate, back-dated post, to which I will periodically add material, summarizing the addition here in a "live" Water Cooler. (Hopefully, some Bourdieu.) It turns out that defining the Democrat Party is, in fact, a hard problem. I do think the paragraph that follows is on point all the way back to 2016, if not before:

The Democrat Party is the political expression of the class power of PMC, their base (lucidly explained by Thomas Frank in Listen, Liberal!). ; if the Democrat Party did not exist, the PMC would have to invent it. . ("PMC" modulo "class expatriates," of course.) Second, all the working parts of the Party reinforce each other. Leave aside characterizing the relationships between elements of the Party (ka-ching, but not entirely) those elements comprise a network — a Flex Net? An iron octagon? — of funders, vendors, apparatchiks, electeds, NGOs, and miscellaneous mercenaries, with assets in the press and the intelligence community.

Note, of course, that the class power of the PMC both expresses and is limited by other classes; oligarchs and American gentry (see 'industrial model' of Ferguson, Jorgensen, and Jie) and the working class spring to mind. Suck up, kick down.

* * *
Trump Legacy
"Donald Trump sues Hillary Clinton and allies over Russia claims" [Politico]. "'In the run-up to the 2016 Presidential Election, Hillary Clinton and her cohorts orchestrated an unthinkable plot – one that shocks the conscience and is an affront to this nation's democracy,' the complaint says. 'Acting in concert, the Defendants maliciously conspired to weave a false narrative that their Republican opponent, Donald J. Trump, was colluding with a hostile foreign sovereignty.'" • True so far! Here is the complaint. I read about twenty pages in, and it seemed like a coherent narrative and common knowledge to me, as it worked methodically through the cut-outs that the Clinton campaign used to fire up RussiaGate. (I didn't examine questions of standing, however, or go into detail.) I think the key point is the lawyers and the venue: "The suit was filed by Alina Habba, a Bedminster, N.J.,-based attorney Trump tapped last year after dismissing other more prominent lawyers who had been handling much of the wide range of litigation he faces in various courts. A Deerfield Beach, Fla.,-based lawyer, Peter Ticktin, is serving as the lead local counsel…. The suit was assigned on Thursday to U.S. District Court Judge Donald Middlebrooks, who is based in West Palm Beach, Fla., and was appointed by former President Bill Clinton. In 2015, Middlebrooks tossed out a civil racketeering suit filed against Hillary Clinton over her practice of using a private email account and server while she served as secretary of State." • So, not looking good. In fact, looking exactly like Trump's election theft lawsuits, where he couldn't get decent lawyering either. It's so hard to find good help these days!
Realignment and Legitimacy
Those were the days:

William Howard Taft campaign poster. (1908) pic.twitter.com/8Dwc8GRQ86

— crazy ass moments in american politics (@ampol_moment) March 24, 2022
#COVID19
Case count by United States regions: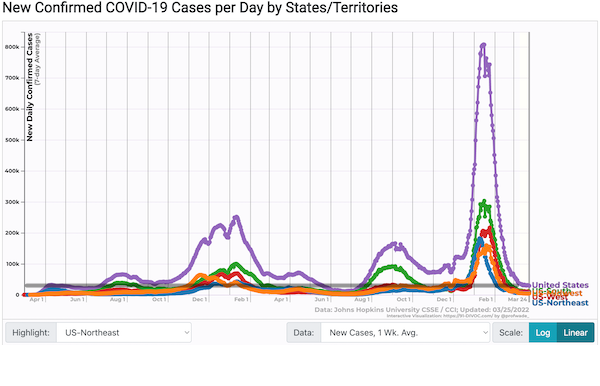 Fellow tapewatchers will note that "up like a rocket, down like a stick" phase is done with, and the case count is now leveling out. At a level that, a year ago, was considered a crisis, but we're "over" Covid now, so I suppose not. I have added a Fauci Line.
Here are four big states: New York, California, Texas, Florida: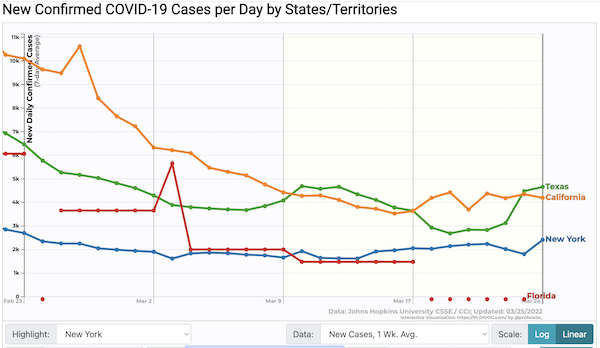 You could call this leveling out (hat tip, Florida, for really following through on your conviction that "Covid is over"). I dunno… Perhaps this says more about my temperament than it does about the data, but occasionally I watch Japanese tsusami videos. The first signs, at least in the videos I've watched, are not roaring sounds or giant waves, but strange ripples in the water, boats rocking when they should not, and so on. And so, for those inclined to pick up on creepy little signals, we seem to be getting rather a lot of them, even leaving Europe out of the equation.
The official narrative is "Covid is Over." In the fall, the official narrative was "Covid is behind us," and that the pandemic will be "over by January" (Gottlieb), and "I know some people seem to not want to give up on the wonderful pandemic, but you know what? It's over" (Bill Maher). That narrative was completely exploded. What a surprise! This time, it may be different. But who knows?
NOTE I shall most certainly not be using the CDC's new "Community Level" metric. Because CDC has combined a leading indicator (cases) with a lagging one (hospitalization) their new metric is a poor warning sign of a surge, and a poor way to assess personal risk. In addition, Covid is a disease you don't want to get. Even if you are not hospitalized, you can suffer from Long Covid, vascular issues, and neurological issues. For these reasons, case counts — known to be underestimated, due to home test kits — deserve to stand alone as a number to be tracked, no matter how much the political operatives in CDC leadership would like to obfuscate it.
For grins, here is the Walgreens tracker on variants: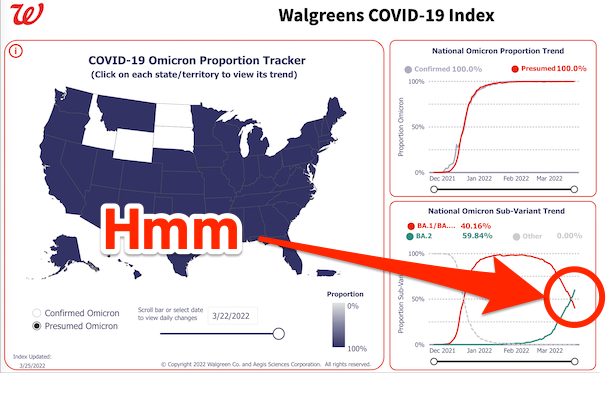 Hat tip, ChrisRUEcon:
Walgreens has a COVID-19 Tracker (via walgreens.com) complete with BA.2 variant info.

Looks like it's based on data from PCR testing done at Walgreen's based on what is said here (via news.walgreens.com):

"Data will be updated frequently and provide a rolling snapshot of the previous 7 days' data based on analysis of positive tests at more than 5,000 Walgreens testing locations."
What a terrible situation to be in, when us tapewatchers scream with joy because we get a new tracker from a private source, like Walgreens or Biobot Analytics, because the United States is not a serious country, and the government can't get the data together, and if it does, games it, as with CDC's "Community Levels" farrago.
MWRA (Boston-area) wastewater detection: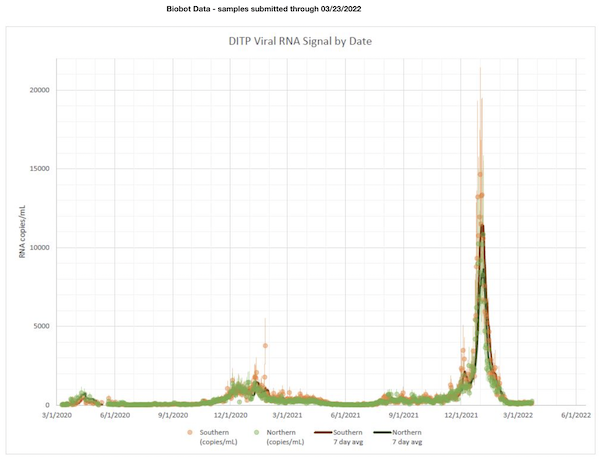 The MRWA is divided into two sections, North and South. North is rising, South is falling. The rise has visibly affected this chart, which aggregates them. The aggregate of the enormous Omicron spike conceals change, but change there is. Of course, it's a very small rise. Maybe this time the movie will end differently.
The Massachusetts Water Resources Authority (MWRA) service area includes 43 municipalities in and around Boston, including not only multiple school systems but several large universities. Since Boston is so very education-heavy, then, I think it could be a good leading indicator for Covid spread in schools generally.
From CDC Community Profile Reports (PDFs), "Rapid Riser" counties: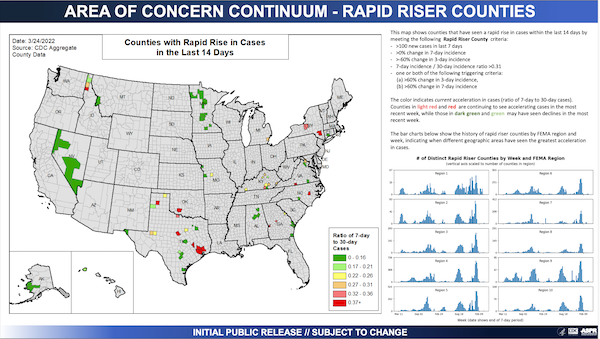 Every so often I think of doing away with this chart. Then something like Nevada happens. Or Colorado, which momentarily flashed red. (Remember that these are rapid riser counties. A county that moves from red to green is not covid-free; the case count just isnt, well, rising rapidly.)
The previous release: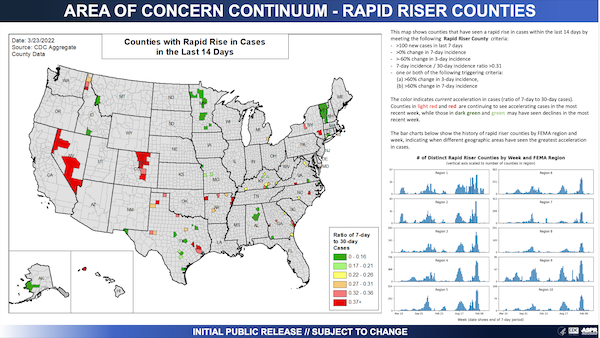 Here is CDC's interactive map by county set to community transmission: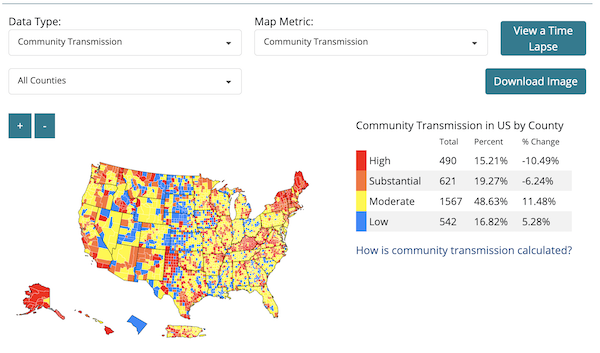 Continuing slow improvement, assuming the numbers aren't jiggered.
Hospitalization (CDC Community Profile):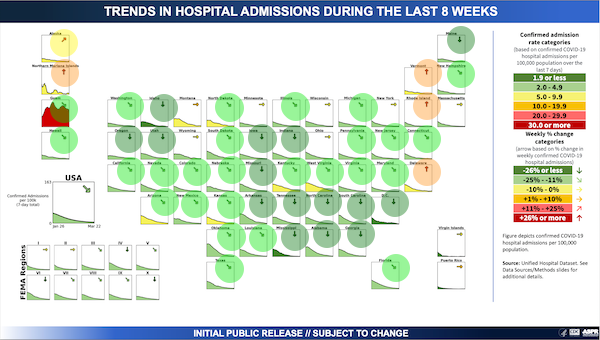 Again, I don't like the sudden effloresence of yellow and orange. I don't care that the baseline is low. From the point of view of our hospital-centric health care system, green everywhere means the emergency is over (and to be fair, this is reinforced by case count and wastewater). However, community transmission is still pervasive, which means that long Covid, plus continuing vascular damage, are not over. (Note trend, whether up or down, is marked by the arrow, at top. Admissions are presented in the graph, at the bottom. So it's possible to have an upward trend, but from a very low baseline.)
Death rate (Our World in Data):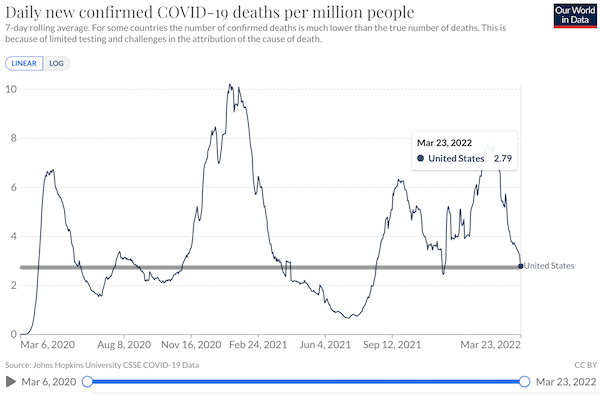 Total: 1,002,259 1,001,175 . We did it. Break out the Victory Gin. Fortunately, the numbers are headed downward. I have added an anti-triumphalist Fauci Line.
Covid cases in top us travel destinations (Statista):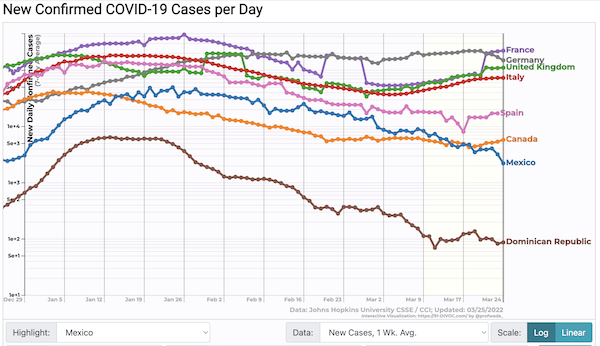 The excess deaths chart appears weekly, on Friday: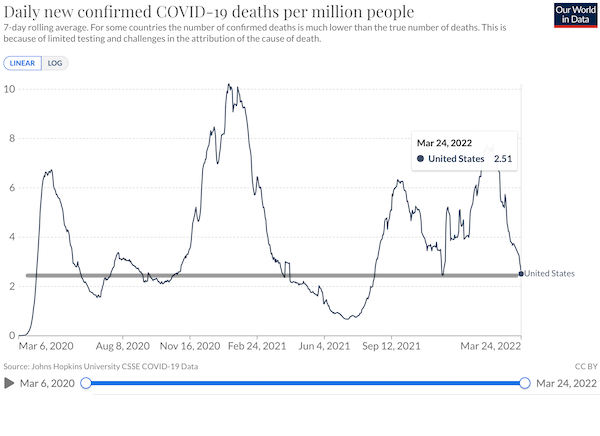 Look at the qualifications in that drop-down. And the ginormous typo, helpfully highlighted, has been there for weeks. CDC, if you're reading this, please send a signal by getting this fixed. And then throw some documents over the transom. In complete confidentiality! Obviously, nobody at CDC is checking the excess deaths chart, because otherwise the typo would be fixed. One can only wonder why.
Stats Watch
Consumer Sentiment: "United States Michigan Consumer Sentiment" [Trading Economics]. "The University of Michigan consumer sentiment for the US was revised slightly lower to 59.4 in March of 2022 from a preliminary of 59.7, the lowest reading since August of 2011. The subindexes for both current conditions (67.2 vs preliminary of 67.8) and expectations (54.3 vs 54.4) were both revised down. Inflation has been the primary cause of rising pessimism, with an expected year-ahead inflation rate at 5.4%, the highest since November 1981. More consumers mentioned reduced living standards due to rising inflation than any other time except during the two worst recessions in the past fifty years: from March 1979 to April 1981, and from May to October 2008. Also, half of all consumers unfavorably assessed current policies, more than three times the 16% who rated them favorably." • Not good news for Biden.
* * *
The Bezzle: "Exxon Considering Expanding Bitcoin Mining Pilot to 4 Countries: Report" [Vice]. "The oil giant, which launched a pilot program in January, 2021 that uses excess natural gas that would otherwise be flared or vented generated by the Bakken oil field in North Dakota—the site of fervent protest in 2016 near the Standing Rock Sioux reservation—to mine the Bitcoin blockchain, is thinking about recreating the project in Alaska and four other countries: Nigeria, Argentina, Guyana, and Germany…. Mining has recently become desirable among energy producers, especially in fossil fuels, where gas that would otherwise be vented into the atmosphere can be captured and turned into energy." • Not sure why it wasn't "desirable" before?
Supply Chain: "Why the U.S. Can't Quickly Wean Europe From Russian Gas" [New York Times]. "President Biden announced Friday that the United States would send more natural gas to Europe to help it break its dependence on Russian energy. But that plan will largely be symbolic, at least in the short run, because the United States doesn't have enough capacity to export more gas and Europe doesn't have the capacity to import significantly more. In recent months, American exporters, with President Biden's encouragement, have already maximized the output of terminals that turn natural gas into a liquid easily shipped on large tankers. And they have diverted shipments originally bound for Asia to Europe. But energy experts said that building enough terminals on both sides of the Atlantic to significantly expand U.S. exports of liquefied natural gas, or L.N.G., to Europe could take two to five years. That reality is likely to limit the scope of the natural gas supply announcement that Mr. Biden and the European Commission president, Ursula von der Leyen, announced on Friday. 'In the near term there are really no good options, other than begging an Asian buyer or two to give up their L.N.G. tanker for Europe,' said Robert McNally, who was an energy adviser to former President George W. Bush. But he added that once sufficient gas terminals were built, the United States could become the 'arsenal for energy' that helps Europe break its dependence on Russia." • Oh, so that's what this is all about. A pipeline war?! In the near term, of course, the oil supply chain is optimized, like all our supply chains. Why on earth would anybody think there's enough slack in it so that removing a major player would make no difference?
* * *
Today's Fear & Greed Index: 45 Neutral (previous close: 46 Neutral) [CNN]. One week ago: 37 (Fear). (0 is Extreme Fear; 100 is Extreme Greed). Last updated Mar 25 at 1:36pm. Not sure what's in Mr. Market's mind, here. Settling in for the long haul in Ukraine? Weapons stocks?
The Conservatory
"Classical station WDAV recently made US radio history. Why that means a lot to me" [Charlotte Observer]. "n January, WDAV made radio history by topping the Charlotte market and becoming the first ever classical music radio station to be No. 1 in any market in the country. The station averaged 102,900 listeners per week in January — a 36 percent increase over the same time last year, WDAV said in a news release…. Before I was a journalist, I worked at my local library in Fort Mill, S.C. The closing shift ended at 7 p.m., and during the spring and summer evenings, I'd spend my commute home with the windows down and WDAV 89.9 playing as the sky entered into golden hour…. The most recent Nielsen data shattered my illusion. It seems as though the moments I shared with myself, the station, and the music did not just belong to me after all. There are a number of possible explanations for the unexpected growth. The last two years of pandemic madness, natural disasters and civil unrest could have sent people in search of music that calms the spirit. The early days of quarantine were a time of deep reflection and introspection for many…. Dominguez, the general manager, credits the station's success to a combination of community efforts and its reputation as a place of refuge. 'We provide pleasant companionship and an oasis during troubled times,' Dominguez said in an interview. 'But we're also involved actively in the well-being of our community by donating recorders to young music students, and celebrating the diversity of our audience in our programming. 'I think this engenders real loyalty on the part of our listeners, and so they gladly spend more time with us.' • Encouraging!
Groves of Academe
"USC pulls education school out of annual rankings due to 'history of inaccuracies' in data" [Los Angeles Times]. • Well, it was an ed school.
News of the Wired
Dad.
"The importance of punctuation"

art: Dan Piraro#Literature #cartoon pic.twitter.com/WqMJhHhQzL

— TheBossRoss 🇪🇺 🧶 ❄ 📷 💉💉💉 (@BettinaSRoss1) March 25, 2022
(More on Ishmael.)
Dad!
— Sox the waving cat (@Soxthewavingcat) March 25, 2022
* * *
Contact information for plants: Readers, feel free to contact me at lambert [UNDERSCORE] strether [DOT] corrente [AT] yahoo [DOT] com, to (a) find out how to send me a check if you are allergic to PayPal and (b) to find out how to send me images of plants. Vegetables are fine! Fungi and coral are deemed to be honorary plants! If you want your handle to appear as a credit, please place it at the start of your mail in parentheses: (thus). Otherwise, I will anonymize by using your initials. See the previous Water Cooler (with plant) here. Via TH: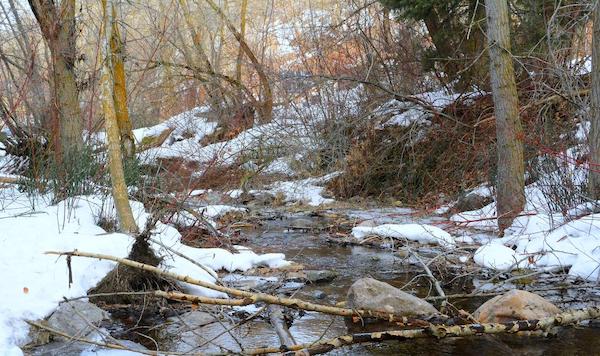 TH writes: "Lichen refuses to let the monotones of Winter rule. (Mueller Park Trail, Bountiful, Utah)"
* * *
Readers: Water Cooler is a standalone entity not covered by the recently concluded and — thank you! — successful annual NC fundraiser. So if you see a link you especially like, or an item you wouldn't see anywhere else, please do not hesitate to express your appreciation in tangible form. Remember, a tip jar is for tipping! Regular positive feedback both makes me feel good and lets me know I'm on the right track with coverage. When I get no donations for five or ten days I get worried. More tangibly, a constant trickle of donations helps me with expenses, and I factor in that trickle when setting fundraising goals:
Here is the screen that will appear, which I have helpfully annotated.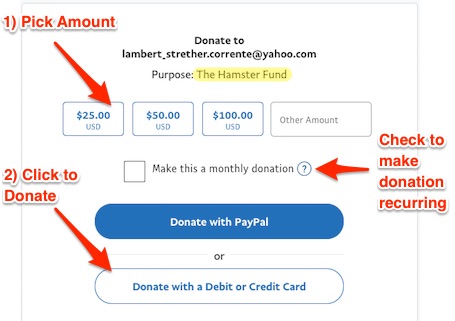 If you hate PayPal, you can email me at lambert [UNDERSCORE] strether [DOT] corrente [AT] yahoo [DOT] com, and I will give you directions on how to send a check. Thank you!