Only a few days ago, the Western press was almost preening over the idea that first the big Covid wave in Hong Kong and then a Covid spike in Shanghai which was initially met only limited, building-level lockdowns in Shanghai meant that China was falling in with the rest of the world's "learning to live with Covid" approach, which is tantamount to "putting commerce over lives".
China had already locked down Shenzhen, a tech center of 17.5 million people, for six days starting March 14. The Shenzhen action was successful, with the city getting its cases down to a mere four, small enough to be handled by contact tracing. Even so, while manufacturing plants reopened on the 21st, many restrictions remain.
In Shanghai, the local government attempted to avoid large-scale lockdowns via subjecting clusters of building complexes to 48 hour lockdowns with two mandatory tests for everyone, but that apparently exposed that infection levels were what China deemed to be unacceptably high. From the South China Morning Post:
Despite previous assurances Shanghai would not be locked down, zones east and west of the Huangpu River will be restricted separately in two-stage plan

On Monday, China logged 1,219 local confirmed cases and 4,996 local asymptomatic infections
To give a frame of reference, Alabama has just under 5 million people and so is less than 1/5 the size of Shanghai. Compare Shanghai with our winter Covid peak: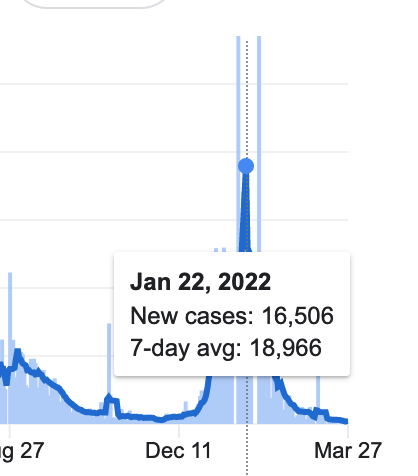 The real level in Alabama was almost certainly higher since home tests were getting traction prevalent, and those results not often reported to the officialdom.
Scientist GM explained in mid 2021, by e-mail, why China has a much lower tolerance for Covid than capitalist economies:
I wrote a number of articles since the start of the pandemic, explaining how the old Soviet system — both the healthcare one as designed by N.S. Semashko in the 1920s, the foundational principle of which was prevention of disease and infection, and the overall societal one too — would never have allowed things to unfold as they did over the last 16 months. Transmission would have been stopped at all cost. The residual influence of that is probably a major reason why countries like China, Vietnam and Laos went for elimination from the start (and Cuba too, though they have not been able to control it recently).
I would imagine that the reason Russia and the former Warsaw Pact members are not observing their former priorities is that the horrific conditions after the Soviet Union collapsed set a new, very low baseline, for public health standards. Please read "The Death of a Nation," embedded at the end of this post, if you haven't already.
Let us not forget that lockdowns in China make the Western version pale:
People are restricted to their residence. The Republic video suggests they will be allowed out to neighborhood sites to pick up provisions. I would hazard that it applies only to limited areas:
Right now, the hashtag "Pudong Supermarket" is up to 130 million views on Weibo. This video shared on socials shows chaotic scenes (local supermarkets stayed open until 24:00). pic.twitter.com/4sQXwUnHn1

— Manya Koetse (@manyapan) March 27, 2022
Additional detail from the Financial Times:
Shanghai pushed ahead with a stringent lockdown on Monday that will divide China's biggest city into two zones, as authorities struggled to stem record coronavirus cases in the country's most important financial centre.

The government will shut down public transport this week as it conducts mass testing across Pudong, the city's financial district, located east of the Huangpu river. Similar restrictions will apply from April 1 to the district of Puxi, west of the river.

The measures, which marked the first time authorities in Shanghai have imposed a lockdown that confined residents to their homes, sparked panic-buying across the city as shoppers rushed to stock up on vegetables.
Notice this reversal happened in a mere 48 hours. Shanghai officials had just reaffirmed its plan to stay largely open. From the Guardian:
Shanghai has recorded a sharp rise in Covid-19 cases, but officials have ruled out a full lockdown over the damage it would do to the economy…

Shanghai, however, has aimed to ease disruption with a more targeted approach marked by rolling 48-hour lockdowns of individual neighbourhoods and large-scale testing while largely keeping the metropolis of 25 million people running.

At a daily Shanghai press conference on Saturday, officials alluded to the importance of avoiding a full lockdown of the huge port city.

"If Shanghai, this city of ours, came to a complete halt, there would be many international cargo ships floating in the East China Sea," said Wu Fan, a medical expert with the city's pandemic taskforce.

"This would impact the entire national economy and the global economy."
Shanghai is keeping the port out of full shutdown, but it's not clear that partial relief there will make much difference to shipping volumes. From Splash 247:
For shipping, congestion at the port – already very high – is expected to increase in the coming days, while overseas, terminals in Europe and North America will have to brace for an even larger whiplash effect when the city regains normal productivity – and comes as global supply chains absorb the fallout from a seven-day lockdown in Shenzhen to the south earlier this month.

The authorities have decided to split Shanghai in half using the Huangpu River for the new two-part lockdown. The city recorded 2,631 new asymptomatic cases on Saturday, which accounted for nearly 60% of China's total new asymptomatic cases that day, plus 47 new cases with symptoms.

Pudong, the eastern part of the city, is in lockdown from today through to Friday as mass testing gets underway, while the western area, Puxi, will lock down between April 1 and 5.

Public transport will be suspended as will work at most factories. However, essential workers, including port labour, will be exempt from the stay-at-home order.
The Financial Times suggested that President Xi backed favoring the economy more:
President Xi Jinping this month emphasised the need to "minimise the impact" of the virus on the country's economy after southern tech hub Shenzhen was locked down. In Shanghai, authorities had indicated that a full-scale lockdown was not necessary a few weeks ago, although buildings with positive cases were often sealed off.
However, the Western press has been attacking the China "zero Covid" strategy because it shows that the West's claims of There Is No Alternative to be hollow. So it's not clear that one remark by Xi has not been given too much weight. As GM noted:
Regarding the pandemic, not being able to read primary sources, I have had to rely on odds sources here and there for such things, and the resulting very primitive understanding I have is that the Shanghai local powers are somewhat of an opposition to Beijing, probably the largest such center given the importance of Shanghai, and more closely connected to the West too, so in a way it would make sense for them to try to sabotage containment given that Xi has to be reelected later this year and rampant COVID all throughout China is supposed to hurt him big time. And when I think about, most of the local Chinese experts that do talk about letting it rip have been from Shanghai too, which fits such an interpretation. What doesn't make that much sense is the central government allowing this to happen so readily, and there is of course the alternative interpretation that at this point continuing containment efforts might be seen as a bigger political price to pay, so Xi himself will abandon them. But then there will be at least a million dead in the coming months…

Unfortunately it's basically impossible to figure out what is going on from English-language sources — most of those outlets are Western-aligned and spent more than a year pressuring Hong Kong to commit mass murder against its elderly, eventually with success, the rest are propaganda outlets who do no reveal anything of substance. And I somehow, despite so many years doing what I do, have never worked sufficiently closely with anyone Chinese to a level where such issues could be discussed, they all immediately deflect any attempts to steer the conversation away from talking about anything internal to China…
The flip side is that Twitter has made much of anti-lockdown protest in Shenzhen:
This video appears to show a protest in Shenzhen from two days ago in which residents are demanding an end to the lockdown.

前两天在深圳某区市民要求解封的抗议 https://t.co/LYiqgy8rBr

— Kevin Slaten (@KevinSlaten) March 24, 2022
However, all I have seen so far is two clips, posted many times each, of what may be two separate events. Even so, one shows at most 100 people, for the other the crowd size is bigger but still looks shy of 1000. In other words, the video evidence, which is usually good at over-selling, does not support the claims of large-scale protests.
But if there really is a lot of unhappiness, that's the result of a messaging failure. How many people in China know that male life expectancy in the US has fallen by over two years during Covid? Or about the prevalence and severity of long Covid and other forms of damage, even from asymptomatic and mild cases? How about the danger of T-cell exhaustion and resulting increased odds of getting cancer? Or that reinfections appear to be more severe?
Michael Pettis, citing the South China Morning Post, highlighted the notion that the big business centers have some ability to defy the central government:
2/2
"For local authorities in poorer cities," SCMP adds, "economic costs may be nothing compared with the political implications of a runaway outbreak."

— Michael Pettis (@michaelxpettis) March 18, 2022
We might have a better guess down the road if the sudden volte face was the result of Xi refining his ideas of the proper tradeoff between public safety and commerce, or if this was a raw power struggle, that Shanghai tried defying Beijing and was slapped down as case counts were discovered to be what the central government thought was unacceptably high.
Either way, this development indicates that China isn't on board with "Let 'er rip" and even if it does relax its zero Covid line a bit, its tolerance for contagion will be far lower than what the rest of the world has come to accept.