Dear patient readers,
Lambert and I, and many readers, agree that Ukraine has prompted the worst informational environment ever. We hope readers will collaborate in mitigating the fog of war — both real fog and stage fog — in comments. None of us need more cheerleading and link-free repetition of memes; there are platforms for that. Low-value, link-free pom pom-wavers will be summarily whacked.
And for those who are new here, this is not a mere polite request. We have written site Policies and those who comment have accepted those terms. To prevent having to resort to the nuclear option of shutting comments down entirely until more sanity prevails, as we did during the 2015 Greek bailout negotiations and shortly after the 2020 election, we are going to be ruthless about moderating and blacklisting offenders.
–Yves
P.S. Also, before further stressing our already stressed moderators, read our site policies:
Please do not write us to ask why a comment has not appeared. We do not have the bandwidth to investigate and reply. Using the comments section to complain about moderation decisions/tripwires earns that commenter troll points. Please don't do it. Those comments will also be removed if we encounter them.
* * *
'Cats on Glass Tables' Reddit has the internet purring NY Post (NL).
The King of Block Trades Is Entangled in a U.S. Probe of Morgan Stanley Bloomberg
John Podhoretz, You Suck Matt Taibbi, TK News
Climate
Navy orders 'supplemental investigation' of Red Hill Star-Adviser. Contaminated groundwater.
#COVID
Meet the hard-core maskers who never leave home without an N95 Boston Globe (KLG25). The propaganda campaign against masking — whose whole point is to protect the air, a commons used by all, from contamination by a lethal pathogen — is so unspeakably vile. (I also don't know where this "face covering" locution came in. It sounds technical — or rather, bureaucratic — but it's wrong. Eyes, last I checked, were part of the face. Masks don't cover the eyes. The stupid, it b-u-r-r-r-n-n-n-n-s-s-s-s!!!!!)

With mask mandates easing, experts say choosing to wear one may be seen as making a statement CTV
China?
Is China the New Russia? The Big Picture

Coronavirus: officials in Chinese cities including Shenzhen sacked for falling short in fight against Omicron South China Morning Post. It can't happen here.
Vietnam and the Russian ties that bind them Globe_
India
Why India Is Losing Faith in the West Bloomberg

The Democracy Turning Its Back on Ukraine The Atlantic
UK/EU
Londongrad must fall – or the US could raze it to the ground OpenDemocracy

How Brexit squashed the UK's edible bug industry Sifted

Macron unveils re-election manifesto, vows stronger France in time of crisis France24
New Not-So-Cold War
Biden and Xi to talk on phone as US presses China over Russia Al Jazeera 1300 GMT, or 9:00PM EST. Late for Biden, who I'm sure would rather be in Wilmington. But in time for the talk shows.

Joe Biden to warn Xi Jinping of US retaliation if China actively supports Russia FT

Ukraine war: Biden will tell Xi any support of Russia comes with 'costs', top US diplomat says South China Morning Post. From the photo of their last call, Biden at least had a three-ring binder.

* * *

Russian Offensive Campaign Assessment, March 17 Institute for the Study of War

"Pentagon Estimates Putin Has Committed 75% of Forces to Ukraine" Turcopelier

How Does the Ukraine War End? Foreign Policy

For Washington, War Never Ends Diana Johnstone, Consortium News

UK could be Ukraine's 'protector' against future Russian attacks: Peace talks may result in West agreeing to MILITARY response if Putin invades again – as MoD buys £500m defence system to detect missiles fired at Britain and Putin reveals his 'endgame' Daily Mail. It seems to me that having Western countries — like, heaven help us, BoJo's little US satrapy — as guarantors of Ukrainian neutrality draws the tripwires even tighter than NATO membership would. Why not neutral nations as guarantors?

* * *

Ukrainian news anchor quotes Adolf Eichmann, calls for genocide against Russians (video) WSWS (dk).

* * *

Symbol Manipulation (1): How Stepan, Ukraine's most famous cat, escaped the war to safety Taylor Lorenz, WaPo. Stepan, eh? Serious normalization going on. Here's hoping we don't get a lot of PMC kids and animal companions named "Stepan." Dogs, too:

This is a 2-year old dog nicknamed Patron. It, along with other animals, helps Ukraine to deal with war threats the country is facing now. The dog is the soul and mascot of Chernihiv pyrotechnicians. Illustration – Dmytro Zinchuk. pic.twitter.com/fTdgjDLxBv

— UkraineWorld (@ukraine_world) March 17, 2022

Original:

Original pic.twitter.com/aaa4nJocAK

— SatoshiWho? (@quangvuzsu) March 17, 2022

My goodness, this image certainly did appear all over the place instantly!

No babies!!!!!! today. Sorry.

Symbol Manipulation (2): Ukrainian Disinformation? 'Destroyed' Russian Warship Vasily Bykov Seen Unscathed In Crimean Port International Business Times

The influencers behind the Ukrainian PR machine Politico

Propaganda war rages as Russians face huge pressure to back invasion FT. I've always admired clever Brits for their sense of irony. I guess that's gone too.

Why Journalists Love War Politico. The media employees who love war are stunted, vicious little children who like to pull the wings off flies and get weepy at the suffering. Institutional incentives, yes, but this is what those incentives have brought us to:

Psaki just noted she's answered the question about the planes "167 times."

Welker: "Well here's the 168th."

— Ryan Grim (@ryangrim) March 16, 2022

* * *

Big Tobacco's future in Russia goes up in smoke FT. That's a damn shame.

The Effect of the War Against Ukraine on Luxury Brands in China Jing Daily

Feedback From My Contacts In Russia Natylie's Place: Understanding Russia
Biden Administration
Supreme Court Clerk Hiring Watch: Family Ties Original Jurisdiction
Democrats en Déshabillé
Please send help (1):

Speaker Pelosi reads #StPatricksDay poem by Bono, which reads in part:

"Ireland's sorrow and pain
Is now the Ukraine
And Saint Patrick's name now Zelenskyy."

She then introduces Riverdance. pic.twitter.com/NzPY1VP2bN

— CSPAN (@cspan) March 17, 2022

Please send help (2):

Speaker Pelosi: "This will be your third time."

Reporter: "My third time what, asking about Covid relief? Well, it's substantive, you like substantive questions."

Pelosi: "Well while people are dying in Ukraine and all of that."

Reporter: "People are dying of Covid, too." pic.twitter.com/G1G0IE0Nc9

— The Hill (@thehill) March 17, 2022

I hate to descend into Thersites-level vituperation — which increasingly seems to be the only style of discourse where objective correlatives are to be found — but surely our political class can grovel and eat sh*t at the same time?

House leaders want to take up daylight saving time bill — later The Hill.

Dems search for next steps on Covid aid as headaches pile up Politico

Opinion: Memo to Democrats: If there's another covid surge, you'll get the blame Greg Sargent, WaPo. Democrats: "The buck stops over there."
Supply Chain
Health Care
Massive digital health system for veterans plagued by patient safety risks, watchdog finds WaPo. A digital system? Surely not.
Police State Watch
Justice Department Admits: We Don't Even Know How Many Predictive Policing Tools We've Funded Gizmodo
Gunz
Imperial Collapse Watch
Anglican Church Abuse Investigation: Some Alleged Victims Support Bishop The Roys Report. These episodes keep happening. And in institutions that are, to many, deeply meaningful, even spiritually nourishing.
Everyday Magic in the Middle Ages Medievalists
Zeitgeist Watch
A Con Artist's Artist: Anna Delvey Teamed Up With a Basquiat Forger to Stage a Show of Her Prison Drawings in New York ArtNet
How Bones Communicate With the Rest of the Body Smithsonian
A List of Foods with the Highest GABA LiveStrong.com (dk).
Determining Exactly Which Word Is Musically Stressed In the First Line of the James Brown Song 'I Feel Good' Laughing Squid. Holy moley, the dance moves:
It's Friday. Enjoy your weekend!
Antidote du jour (via):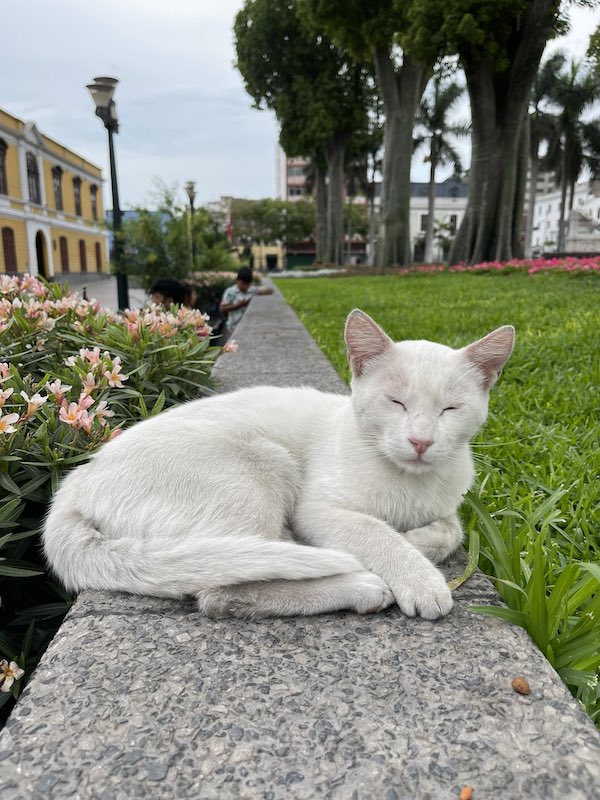 The image comes from Chris Arnade in Lima, Peru. (He seems to be talking walking tours of cities around the world.) I like Arnade's photography a lot. He has a real eye for the median. Which isn't all that normal.
See yesterday's Links and Antidote du Jour here