Even though we aspire to give a decent overview of the Ukraine-Russia state of play in Links, I thought to highlight some topics here. I'm being a bit terse today.
Shortages Starting to Bite'
The Financial Times alone provides two new stories on shortages. One, which just broke, is Vitol chief warns of diesel rationing following Russian supply disruption:
The head of Vitol, the world's largest independent oil trader, has warned of a "systemic" shortage of diesel in Europe stemming from potential disruption to Russian supplies, which could lead to fuel rationing.

Speaking at the FT Commodities Global Summit on Tuesday, Russell Hardy said that the shift to more diesel consumption over petrol on the continent had helped to create shortages of the fuel.

"The thing that everybody's concerned about will be diesel supplies. Europe imports about half of its diesel from Russia and about half of its diesel from the Middle East," said the chief of Switzerland-based Vitol. "That systemic shortfall of diesel is there."
Note that we have been warning of diesel shortages. The rest of the story suggests refineries could produce more diesel at the cost of lowering the amount of other products generated; shipbrokers remain optimistic that other refiners will fill the gap. But that does not fully solve the problem of diesel demand, when filling that need is effectively diverting supply from other uses.
The Financial Times also warns of food shortages in the Middle East. These if anything seem to be coming faster than expected:
Russia's invasion of Ukraine has made life even harder for Fadia Hamieh, a Lebanese university lecturer who was already struggling to make ends meet in a country with a failing economy.

Since the start of March, flour has disappeared from the shops and the price of bread has increased by 70 per cent. "Supermarkets are hoarding basic goods, then selling them at higher prices," said Hamieh.

Even before the Ukraine crisis, Lebanon was in the grip of a financial meltdown; its currency has lost more than 90 per cent of its value since 2019. With more than 70 per cent of its wheat imports coming from Ukraine, consumers have been dealt a further blow.
As a discerning reader can tell, Lebanon is such a train wreck that it can't serve as a poster child for the Middle East as a whole; I've heard horror stories from a Lebanese friend. And Ukraine separately was the most exposed: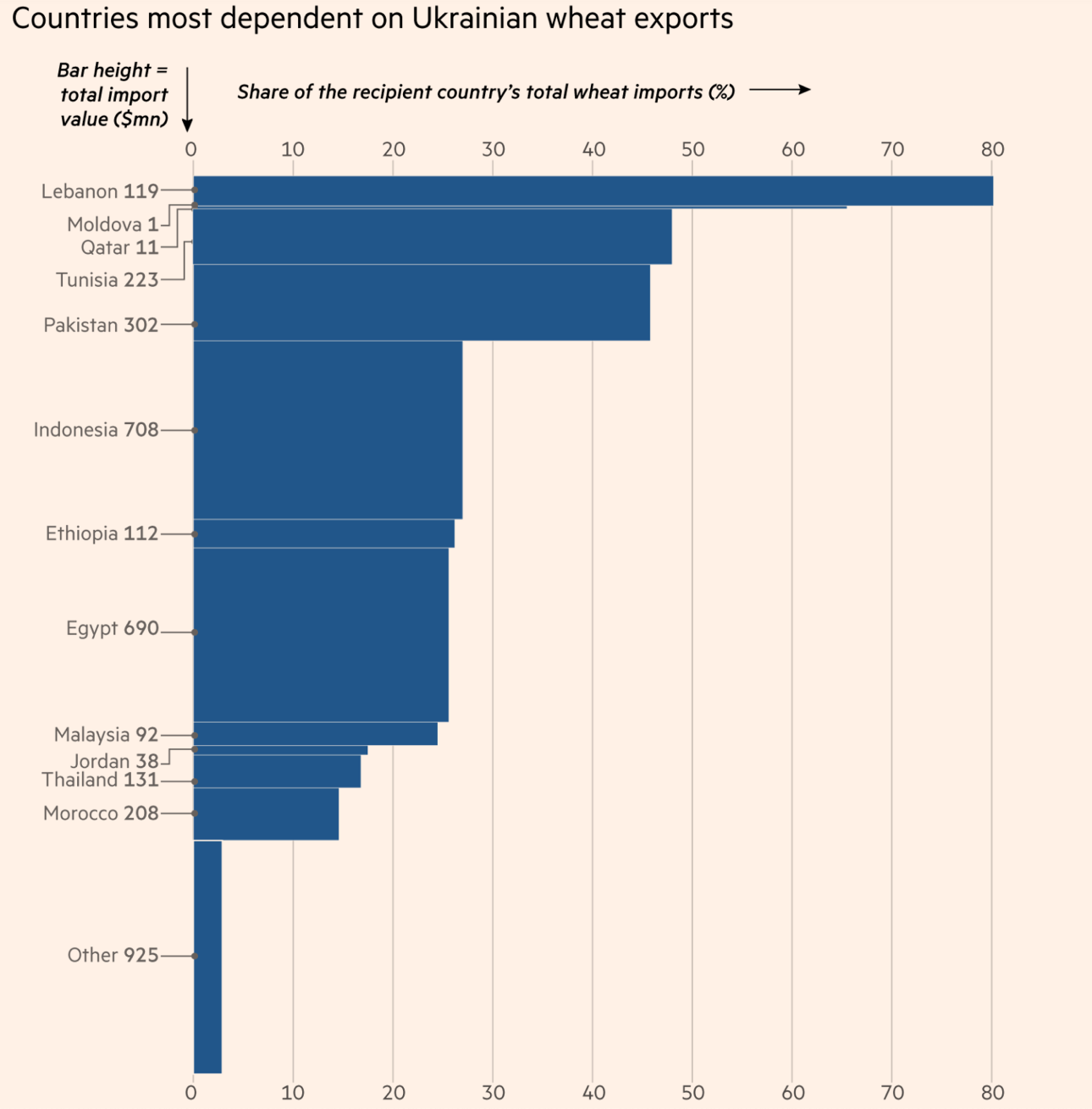 But distress is on the march in the region. Again from the Financial Times:
The UN International Fund for Agricultural Development said the impact of rising food prices and crop shortages was already being felt in the Middle East and north Africa….

With the exception of the oil-exporting Gulf states, most Arab countries have weak economies, wide budget deficits and rely on subsidised food and energy….

Governments across the region have sought to contain the knock-on effect by attempting to procure more food supplies from other producers in Europe, rationing and imposing export bans on staples including flour, pasta and lentils. Lebanon has allocated all its flour supplies to bread production, and the government has also increased the price.

Grain and energy importers such as Egypt, Tunisia and Morocco will find their budgets under bigger strain as they spend more on imports and subsidies, say economists.

Kristalina Georgieva, managing director of the IMF, warned earlier this month that countries in the Middle East and north Africa that relied on energy and food imports would feel the effects of the war "quite severely".
Another potential issue is steel. The southeast area of Ukraine is industrialized. Reader Dave in Austin pointed out that steel production in particular was more important than many might assume:
Just east of the river is the Azov Steel plant now owned by Arcelor Mittel. Before the revolution Mariupol was a village. The city grew up around the Azovstal steel plant built in the 1930s, apparently the first such plant in the USSR. The plant took iron billets from further north in the Donetsk, remelted them in one of six coal-fired blast furnaces, and produced steel plate and sheet. The Kalmius River provided the water. Arcelor Mittel purchased the plant after the Soviet era. The company website https://gmk.center/en/, Wikipedia and the Google space pictures suggest that the plant was small, old and produced things like rebar. See Google: https://www.google.com/maps/search/mariopol',+Zaporizhia+Oblast,+Ukraine,+72300/@47.1286284,37.4898779,24519m/data=!3m1!1e3 .

I'm no expert on the steel industry, but this looks like the Pittsburgh plants along the Monongahela or River Rouge near the end; old-style coal-fired reheat blast furnaces outmoded by modern electrical melting systems. The NYT headline that the plant was "Destroyed" seems to be the usual Uk-Hysteria.

The big news is buried in the company's website. The Ukraine produces 34% of the iron slab and 50% of the iron billet remelted in western Europe to make EU steel. How much of that is Russian raw material processed in the Ukraine I don't know. The prices have skyrocketed. See:
https://gmk.center/wp-content/uploads/2022/03/Economy-War_01.pdfand associated pages.

One of the major hurdles holding-up a ceasefire is the Russian demand that the embargoes be eased along with the steps ending the conflict. The US says "No way"; western Europe is more amenable. So if Russia holds on to the gains during a protracted post-ceasefire period leading to the end of the trade embargo, a serious fault line will develop between the US and Western Europe and the iron and steel exports of the old USSR may become more integrated- and more Russian. Also the chances of a Russian advance to the Don [actually Dnieper] River before a cease fire to take control of the whole, largely Russian-speaking, iron and steel region post-Mariupol becomes more likely.
Dave considered the idea that if the US refused to relent and relax sanctions on Russia, that it holding these steel operations could become another pain point for Europe and add to the tensions between the two camps.
But as we pointed out in Links, per BNE, one of the steel operations in Mariupol has become damaged. The article quoted Ukrainians blaming the Russians….which by itself is not dispositive, since Russia hasn't taken out much more accessible and strategically important infrastructure that also supports civilians, such as the electrical grid. But Louis Frye in comments below reports that the Azov Battalion was using the plant as a base of operations, and Lex (in comments to Links) says that footage of the blast suggests it was hit by a TOS-1, a Russian thermobaric rocket.
However, the story appears to discuss the oldest plant, the Azovstal plant proper, and not the newer plants around it. So the situation may not be as dire as the only sources claiming to depict the scale of damage, Twitter and Facebook accounts by two Ukrainian "lawmakers" indicate.
Misunderstanding Russian Strategy?
Alexander Mercouris got excited by a Financial Times story, Military briefing: Russian losses mask Ukraine's vulnerabilities, which he read as the UK press beginning to sow the ground for Ukraine losing the war. I'd hazard that most readers would see that as going a bit far, but this piece, despite its headline, does have some admissions of the sort we haven't seen so far. Note that Mercouris objected strenuously to the framing, saying that the he knows the history of the "winter war" against Finland in the 1940s well, and the popular understanding of it is all wet. So skip over that section if you read the story at the pink paper.
One striking bit is that about halfway into the piece, experts admit that they've relied completely, as in over-much, on what passes as intel from Ukraine. It seems to be occurring to then only now that they should have treated it as a hermeneutic, given Ukraine's need to present itself as winning, both to win Western support and to prevent troop desertions. From the Financial Times:
Ukraine's information dominance has masked its losses: thousands of open-source images of exploded Russian armour have been taken by Ukrainian civilians, who are unlikely to post similar pictures of their own side's losses. This has led to a natural bias in the online content being scrutinised by many analysts.
Ahem. My understanding is that the validity of these images is questionable. There are claims, at least some backed by actual supporting images, that purported kills of Russian equipment are often if not mainly shots from earlier in the Donbass conflict that have been recycled, or more important, Ukraine equipment losses depicted as Russian (remember most Ukrainian armaments are of Russian origin).
To put it more bluntly, this is the worst sort of visual evidence and too questionable to serve as a source for reaching conclusions about operational results….yet the Financial Times suggests it was not vetted.
Yet before that came a discussion of Russian versus Ukrainian military losses. The Financial Times makes clear the Ukrainians have considerably understated their losses:
Kyiv says it has lost 1,300 troops compared with an estimated 7,000 killed, wounded or imprisoned for Russia, according to US estimates. But western officials and analysts said the Ukrainian losses were probably far higher: most agreed that an equivalent loss rate to Russia was plausible, equating to about 10 per cent of Ukraine's troops.
Keep in mind there is a bit of an apples and oranges issue when taking about losses; in the Scott Ritter video yesterday, he meant deaths. We'll return to that in a bit.
Per Ritter, Ukraine has over 260,000 regular forces and 310,000 reservists, plus additional specialized teams. Even if you assume 10% fo 260,000, that's 26,000.
Ritter from the outset has estimated Ukrainian losses as a large multiple of those of Russia, with losses for him being the death count. Ritter has maintained based on his work for years with the Russian military that they do not understate their own fatalities. And so far they are not much over 1000. Admittedly, in a modern war injuries are now more common than deaths. But the Financial Times and Western sources take the Ukrainian estimates of Russian losses at face value, when it's well known in war that combatants routinely and greatly overstate the harm they are doing to their opponent.
The Financial Times also admits that Ukraine is having supply issues, but they aren't admitting to the potential biggie, the way Russia has been destroying fuel depots:
Hundreds of Ukrainian tanks and vehicles had also been destroyed, said one Nato official. "I can tell you that western arms supplies to Ukraine are absolutely critical at this point," he said….

Even the level of supply may be insufficient.

"Senior [Ukrainian] officials have told me that supplies of anti-tank and anti-aircraft weapons have slowed to a trickle and stocks are running low," said Paul Grod, head of the Ukrainian World Congress, a non-governmental organisation. "This needs to be addressed as soon as possible — otherwise Ukrainian fighters will be confronting Russian tanks with just machine guns."

Recent air strikes have hit the Antonov aircraft works and Artem arms factory near Kyiv and an aircraft repair plant near Lviv, indicating that Russia intends to cripple Ukraine's munitions manufacturing capacity.
Finally, the article admits Russia is pursuing the same battle plan as it has from the outset, that it has not regrouped or fallen back to a Plan B:
The Kremlin has nevertheless repeatedly insisted its operations are going to plan. "I have seen no evidence that its overall intent has changed," said one western defence official.
Why is this potentially significant? US commentators have depicted that the campaign has gone slowly because Russia didn't bomb Ukraine into the stone age as we would have done on the first day. Another template being applied is map based: gee, there is a lot of open territory and cities not captured, so the Russians must not have gotten far. The press, for instance, depicts the Russian failure to capture Kiev as a sign of weakness, and does not pay much attention to Russia's operations in the east (save for upset about allegations as to what is happening to civilians in Mariupol).
But again that assumes the objective is to take terrain. That was never a Russian goal. They wanted to destroy Ukraine's warmaking capability, "denazify" and secure a commitment to no NATO and neutrality.
As Mercouris has maintained, and the Financial Times also mentions, Russian military uses Clasewitz as its strategy guru. Clausewitz argues the shortest path to success in combat was to subdue armies, not cities.
And Russia has, for instance, pointedly not been interested in taking Kiev. It's parked enough troops around it that it could encircle and isolate Kiev if the Ukrainian soldiers were to abandon it to support the campaign in the east. It's become clear for at least a week that the Russian intent for Kiev is to keep the Ukrainian troops there pinned down.
As the Financial Times mentions late in its story:
Perhaps Ukraine's biggest tactical vulnerability is its Joint Forces Operation (JFO), where the bulk of Ukraine's military assets are deployed just west of Donetsk and Luhansk. Russia was seeking to encircle Ukraine's troops, western officials said, cutting them off from Kyiv and drawing them into open combined-arms combat, which plays to its battle groups' superiority.

Crushing Ukraine's forces in such a way would be as much of a victory as capturing Kyiv, some analysts said, invoking Carl von Clausewitz, the military theorist who saw the destruction of armies rather than the capture of cities as the fastest route to victory.
The Western press seems regularly to be painting happy faces on how Ukraine is doing in the east. Mariupol is lost, it's just a mopping up operation now. The other main forces in Donbass are sufficiently well encircled that they can't retreat and they are being divided into smaller cauldrons. Some sources claim they are also low on supplies; there's no way to know but by all appearances, they are pretty well cut off.
Yet the press keep obsessing over cities, as a new over the fold story at the Financial Times attests: Military briefing: how the battle for Ukraine became a battle for its cities.
This vantage, which is not flattering to Russia, increasingly looks off base. Avoiding cities reduces civilian costs. If Russians can eliminate the Ukrainian army with Mariupol the only significant city it had to contest, that will serve the aim of sparing civilians.
It will be instructive to see what happens as Russia tightens the noose in the east. A win there would be hard for the West to dismiss, since it would represent at least half of Ukraine's active forces and likely the majority of its seasoned ones.