By Lambert Strether of Corrente
Bird Song of the Day
Hawaiian Bird Week at Naked Capitalism continues. Ambient sounds include bees and a railroad.
* * *
Politics
"But what is government itself, but the greatest of all reflections on human nature?" –James Madison, Federalist 51
"They had learned nothing, and forgotten nothing." –Charles Maurice de Talleyrand-Périgord
"When the going gets weird, the weird turn pro." –Hunter Thompson
Capitol Seizure
If these "dyadic relationships" are not typed, this is just a big yarn diagram, and useful for more grants only:

A while ago, I started what I thought would be a quick exercise to confirm the narrative of J6 defendants as "ordinary" people with few links to extremists, extremist groups/movements. I began work on a network visualization and now I no longer find this narrative convincing. 1/ pic.twitter.com/TE3XsAThrT

— Michael Jensen (@MikeAJensen) April 14, 2022
Biden Adminstration
"How the Test-to-Treat Pillar of the US Covid Strategy Is Failing Patients" [Kaiser Health News]. "Pfizer's Paxlovid and Merck's Lagevrio are both designed to be started within five days of someone's first symptoms. They're for people who are at high risk of developing severe illness but are not currently hospitalized because of covid-19. Millions of chronically ill, disabled, and older Americans are eligible for the treatments, and Dr. Anthony Fauci of the National Institutes of Health said April 11 that more people may qualify soon. The program allows people with covid symptoms to get tested, be prescribed antiviral pills, and fill the prescription all in one visit. The federal government and many state and local health departments direct residents to an online national map where people can find test-to-treat sites and other pharmacies where they can fill prescriptions. But large swaths of the country had no test-to-treat pharmacies or health centers listed as of April 14. And the website of the largest participant, CVS, has significant technical issues that make booking an appointment difficult. KHN aimed to find out how easy or hard booking a test-to-treat appointment at a CVS would be. Reporters searched online and in person for covid testing and treatment appointments in April. It took a KHN reporter in the Washington, D.C., area three hours driving between stores to figure out whether testing was available and antivirals in stock across four MinuteClinic locations — time that few people can afford in general, let alone when they're sick. Each store provided test-to-treat services, which could be booked through a kiosk. But three of the stores either didn't have same-day appointments available or didn't have the antiviral pills in stock that day. A KHN reporter also tried to book appointments online at clinics in several states, listing upper respiratory symptoms. After the reporter marked a positive covid test on the screening form, a message appeared — "For the safety of our patients and staff, we can't allow you into the clinic at this time" — and the patient was then directed to book a telehealth visit." • We learn nothing. This is just like the ObamaCare launch (except worse, because the consequences are worse).
Democrats en Déshabillé
I have moved my standing remarks on the Democrat Party ("the Democrat Party is a rotting corpse that can't bury itself") to a separate, back-dated post, to which I will periodically add material, summarizing the addition here in a "live" Water Cooler. (Hopefully, some Bourdieu.) It turns out that defining the Democrat Party is, in fact, a hard problem. I do think the paragraph that follows is on point all the way back to 2016, if not before:

The Democrat Party is the political expression of the class power of PMC, their base (lucidly explained by Thomas Frank in Listen, Liberal!). ; if the Democrat Party did not exist, the PMC would have to invent it. . ("PMC" modulo "class expatriates," of course.) Second, all the working parts of the Party reinforce each other. Leave aside characterizing the relationships between elements of the Party (ka-ching, but not entirely) those elements comprise a network — a Flex Net? An iron octagon? — of funders, vendors, apparatchiks, electeds, NGOs, and miscellaneous mercenaries, with assets in the press and the intelligence community.

Note, of course, that the class power of the PMC both expresses and is limited by other classes; oligarchs and American gentry (see 'industrial model' of Ferguson, Jorgensen, and Jie) and the working class spring to mind. Suck up, kick down.

* * *
2022
* * *

GA: "Does Trump's endorsement matter in Georgia? It depends, says UGA poll" [Atlanta-Journal Constitution]. "The results of the poll, conducted by UGA's School of Public and International Affairs, showed Trump's blessing didn't significantly influence the race for governor or U.S. Senate. But it could bring a dramatic boost to down-ticket candidates. Let's start with the premier contests. Gov. Brian Kemp led former U.S. Sen. David Perdue, his Trump-backed challenger, 48-37, among the group of voters not informed of the former president's pick. Perdue's numbers only ticked up slightly – to 39% – with the group that knew about Trump's backing. Former football standout Herschel Walker tallied 64% of the vote among voters not told which candidate Trump endorsed compared with 76% in the group that was informed. While the 12-point gap was noticeable, Walker was already far ahead of GOP rivals who lagged in the single digits. It's a different tale down the ticket. Support for Burt Jones was nearly 30 percentage points higher among the group told about Trump's endorsement of his bid for lieutenant governor. Likewise for U.S. Rep. Jody Hice's campaign for secretary of state. And Patrick Witt, a little-known contender for insurance commissioner, tallied just 8% among the group not told about Trump's blessing. But his support soared to 52% among the respondents who were made aware of Trump's support."

GA: "Stacey Abrams loses bid to use same Georgia fundraising law that benefits Gov. Brian Kemp" [CNN]. "Abrams and One Georgia, the leadership committee she registered in March, filed a lawsuit earlier this year against Georgia Attorney General Chris Carr and other state officials arguing that a state law passed by the Republican-controlled state legislature and signed by Republican Gov. Brian Kemp last year afforded the incumbent an exclusive and unconstitutional fundraising advantage. Kemp, who defeated Abrams in the 2018 governor's race, is seeking a second term this fall The law lets the governor, the lieutenant governor, party nominees for those positions and the majority and minority caucuses in the state House and state Senate to form committees that can raise unlimited cash, including during legislative sessions. Abrams is not yet her party's nominee for governor." • What a terrible law. But the judge is right.

OH: "Ohio Supreme Court tosses fourth legislative map in chaotic redistricting process" [NBC]. "The Ohio Supreme Court invalidated a fourth legislative redistricting plan Thursday, saying the commission that drew the maps barely altered the previously rejected version and failed to comply with the state's new anti-gerrymandering rules. In a 4-3 decision, the court ordered the Ohio Redistricting Commission to produce yet another map by May 6, three days after the state was initially supposed to hold its legislative primaries. Election officials have said approved maps must be in place by Wednesday to hold a state legislative primary by the latest possible date — Aug. 2. But the justices argued that the timeline was 'speculative' and said it wouldn't force their hand to approve new maps. Ohio will still hold a May 3 primary for congressional and statewide races, which aren't affected by the redistricting debate over seats in the Legislature. The back-and-forth is the latest setback in a protracted battle between Republicans who control the Redistricting Commission and the state's high court, which has positioned itself as determined to enforce the state's redistricting reforms. The Supreme Court consists of four Republicans and three Democrats."

PA: "New Pa. U.S. Senate poll: John Fetterman pulling ahead as Democratic favorite; GOP race still wide open" [Post-Gazette]. "Mr. Fetterman now leads the Democratic primary with 41% of registered Democrats saying they'd support him in the upcoming May 17 election and 26% who are still undecided, according to the poll. Approximately 17% of voters said they'd support Mr. Lamb, while only 4% said they'd support state Rep. Malcolm Kenyatta. 'If you are a candidate, you want to be in Fetterman's position,' said Berwood Yost, the director of Franklin & Marshall College's Center for Opinion Research, based in Lancaster. "[Fetterman] seemed to solidify his advantage. It doesn't seem like Lamb is making any inroads in his name recognition.'" • Meanwhile:

The James Carville-linked PAC supporting Conor Lamb raised $1.8 million in the first quarter. Donations of $250,000 each from Bain Capital executive Joshua Beckenstein, billionaire real estate magnate Thomas Hagen and hedge fund billionaire Stephen Mandel https://t.co/WovjmFwiD1

— Chuck Ross (@ChuckRossDC) April 14, 2022

Wowsers, that's vile in every way, isn't it? Hopefully, they're going to light the money on fire and throw it up in the air.
2024
"RNC votes to withdraw from the Commission on Presidential Debates" [Y'all Politics]. "On Thursday, the Republican National Committee (RNC) voted unanimously to withdraw from the Commission on Presidential Debates (CPD), which is responsible for organizing presidential debates. The decision will prevent its presidential nominees from participating in events organized by the CPD." • I'd shed a tear, if only the Presidential debates hadn't become so awful.
Clinton Legacy
"Enough!"

Hillary: "If you don't want to support democrats, then go somewhere else."

When @TheDemocrats blame the left and independent socialists for their upcoming election losses please send them this video of @HillaryClinton telling us they don't want our votes.pic.twitter.com/sCH1pDxnRg

— Ryan Knight ☭ (@ProudSocialist) April 14, 2022

I'll say.
Realignment and Legitimacy
Well, er….

On the Blue Line:

"Dating is so hard in DC because all the fuckboys are smart enough to pretend to be a feminist at first. They just can't keep it up for very long."

— Overheard District (@OverheardWDC) April 15, 2022

I'm sending some contradictions here.
#COVID19
At the risk of further coarsening our discourse MR SUBLIMINAL But what the heck I had too much fun inventing this new feature (suitable for framing):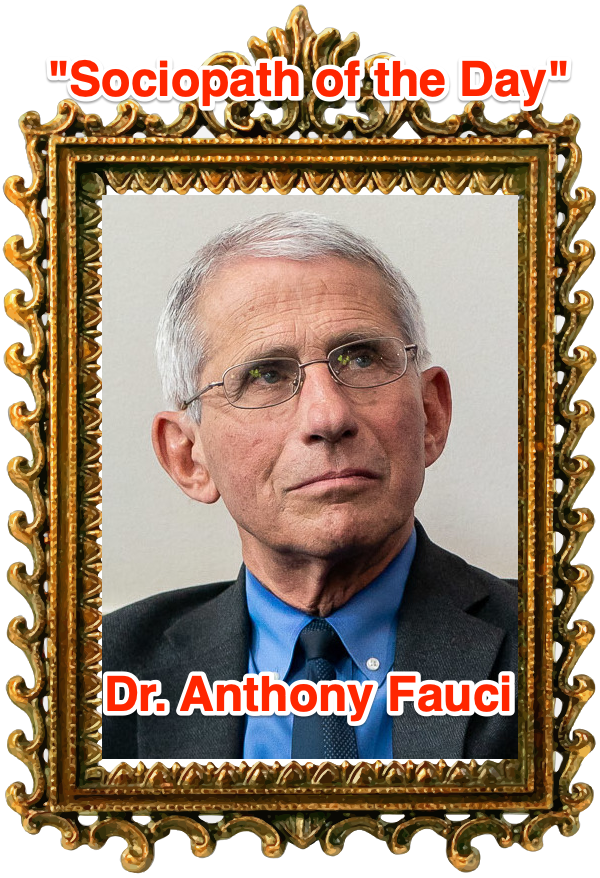 Congratulations, Tony! The field is very, very crowded, and Leanna Wen is working overtime to get our attention, but the judges felt that the following event might give people the opportunity to destribute a few posters:
"Holy Cross, Fauci's alma mater, to name building after him" [Eagle-Tribune (Timotheus)]. "The Integrated Science Complex will officially be dedicated as the Anthony S. Fauci Integrated Science Complex on June 11, during Fauci's 60th Holy Cross class reunion weekend."
* * *
If you missed it, here last week's post on my queasiiness with CDC numbers, especially case count, which I (still) consider most important, despite what Walensky's psychos at CDC who invented "community levels" think. But these are the numbers we have.
* * *
Case count by United States regions: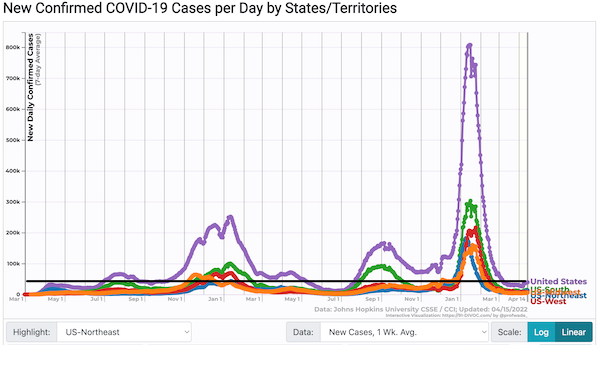 Uh oh. Remember, it's 100% certain the cases numbers are significantly understated. They've always been gamed, but it's worse than before. One source said they though cases might be undercounted by a factor of six. Yikes. But how do we know? Here are the cases for the last four weeks: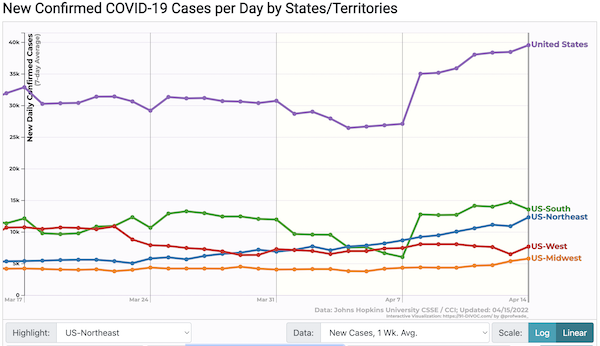 NOTE I shall most certainly not be using the CDC's new "Community Level" metric. Because CDC has combined a leading indicator (cases) with a lagging one (hospitalization) their new metric is a poor warning sign of a surge, and a poor way to assess personal risk. In addition, Covid is a disease you don't want to get. Even if you are not hospitalized, you can suffer from Long Covid, vascular issues, and neurological issues. For these reasons, case counts — known to be underestimated, due to home test kits — deserve to stand alone as a number to be tracked, no matter how much the political operatives in CDC leadership would like to obfuscate it.
MWRA (Boston-area) wastewater detection: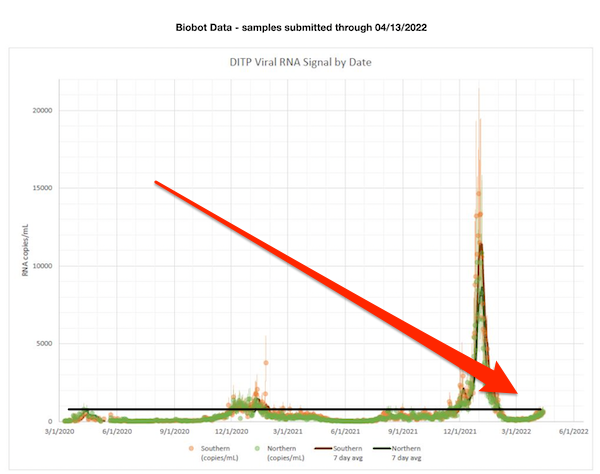 As usual, the crisis of the past is the normal of the present.
The Massachusetts Water Resources Authority (MWRA) service area includes 43 municipalities in and around Boston, including not only multiple school systems but several large universities. Since Boston is so very education-heavy, then, I think it could be a good leading indicator for Covid spread in schools generally.
Cases lag wastewater data.
From CDC Community Profile Reports (PDFs), "Rapid Riser" counties: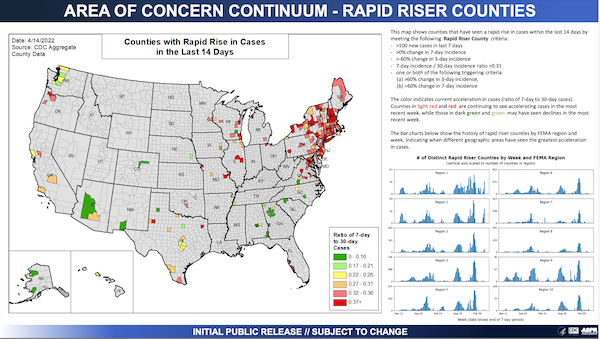 The Northeast isn't looking too good, now confirmed by hospital data. I wonder how many Gridiron Club attendees took the Acela home the following morning? (Remember that these are rapid riser counties. A county that moves from red to green is not covid-free; the case count just isnt, well, rising rapidly.)
The previous release: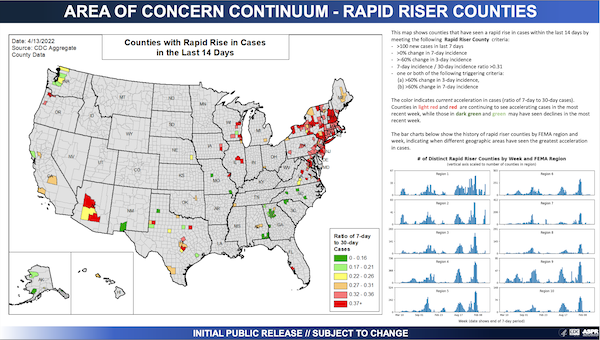 Here is CDC's interactive map by county set to community transmission. This is the map CDC wants only hospitals to look at, not you: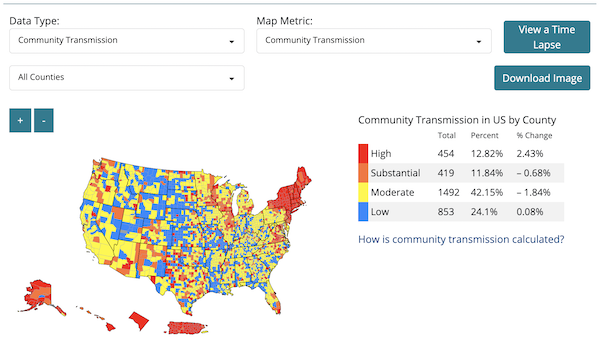 Continuing slow improvement as the map shifts from mostly red to mostly yellow (assuming the numbers aren't jiggered). However, look at the Northeast, which remains stubbornly and solidly red.
Hospitalization (CDC Community Profile):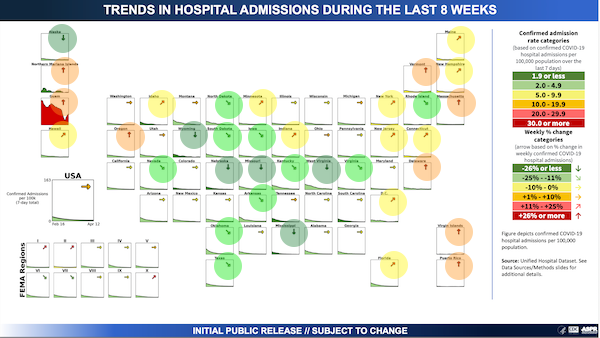 Suddenly, the Northeast isn't looking good. Of course, absolute levels are still low, so CDC can argue that nothing should be done. Again, I don't like these sudden effloresences of yellow and orange. I don't care that the baseline is low. From the point of view of our hospital-centric health care system, green everywhere means the emergency is over (and to be fair, this is reinforced by case count and wastewater). However, community transmission is still pervasive, which means that long Covid, plus continuing vascular damage, are not over. (Note trend, whether up or down, is marked by the arrow, at top. Admissions are presented in the graph, at the bottom. So it's possible to have an upward trend, but from a very low baseline.) Oh, and if anybody tells you hospitaliztion is down, tell them "No, it very isn't."
Death rate (Our World in Data):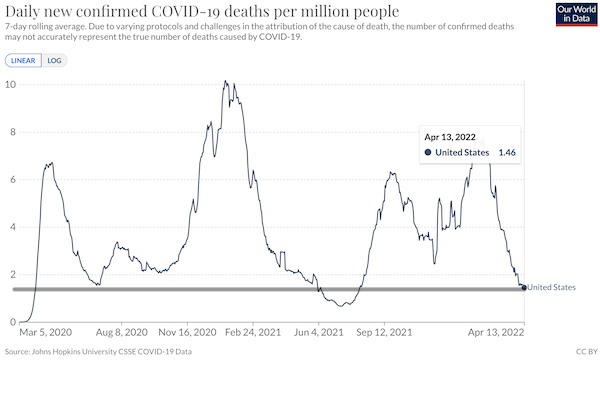 Total: 1,014,902 1,014,114. We did it. Break out the Victory Gin. have added an anti-triumphalist Fauci Line. The numbers have been level for the past few days, and they're still democidally high.
Covid cases in top us travel destinations (Statista):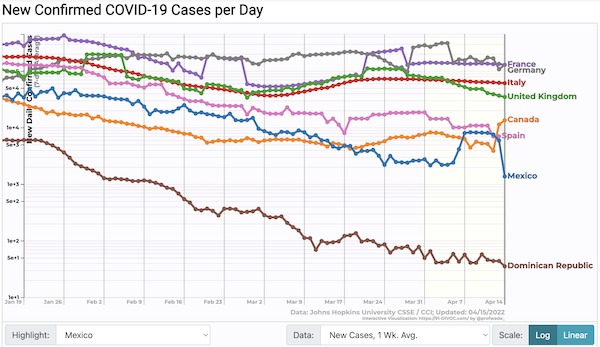 The excess deaths chart appears weekly, on Friday: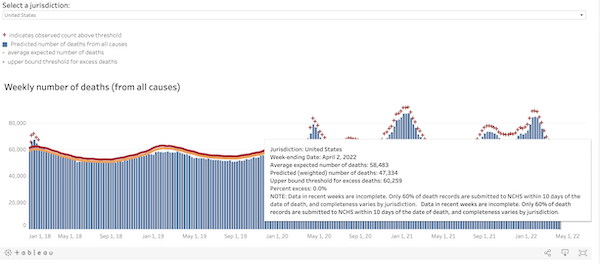 Look at the qualifications in that drop-down. And the ginormous typo, helpfully highlighted, has been there for weeks. CDC, if you're reading this, please send a signal by getting this fixed. And then throw some documents over the transom. In complete confidentiality! Obviously, nobody at CDC is checking the excess deaths chart, because otherwise the typo would be fixed. I certainly hope there are no "coding errors" in the algo.
Stats Watch
Manufacturing: "United States NY Empire State Manufacturing Index" [Trading Economics]. "The New York Empire State Manufacturing Index jumped to 24.6 in April of 2022, rebounding from a 22-month low of -11.8 in March, and easily beating market forecasts of 0.5."
Manufacturing: "United States Industrial Production" [Trading Economics]. "Industrial production in the US increased 5.5% year-on-year in March of 2022, easing from a 7.5% jump in February. Manufacturing increased 4.9%, mining 7% and utilities output 7.5%. Considering the first quarter of the year, industrial output rose at an annual rate of 8.1%."
Manufacturing: "United States Manufacturing Production MoM" [Trading Economics]. "Production in US factories rose 0.9% from a month earlier in March of 2022, more than forecasts of a 0.6% gain but slowing from February's 4-month high of 1.2%. The indexes for durable and nondurable manufacturing increased 1.3% and 0.4%, respectively, while the output of other manufacturing (publishing and logging) moved up 0.2%. Excluding the large gain in motor vehicles and parts, the output of durable goods increased 0.4% in March, with most industries posting gains; only nonmetallic mineral products, primary metals, and furniture and related products recorded decreases."
* * *
Shipping: "How Amazon plans to fix its massive returns problem" [CNBC]. "Amazon wouldn't share its overall returns numbers, but in 2021, the National Retail Federation estimates 16.6% of all merchandise sold during the holiday season was returned, up more than 56% from the year before. For online purchases, the average rate of return was even higher, at nearly 21%, up from 18% in 2020. With $469 billion of net sales revenue last year, Amazon's returns numbers are likely staggering. U.S. returns generate 16 million metric tons of carbon emissions during their complicated reverse journey and up to 5.8 billion pounds of landfill waste each year, according to returns solution provider Optoro. 'We're talking about billions, billions, and billions of [dollars of] waste that's a byproduct of consumerism run amok,' said Mark Cohen, director of retail studies at Columbia Business School and former CEO of Sears Canada. 'The reverse logistics are always going to be nasty because the merchandise, in most cases, cannot be resold as it was originally,' Cohen said. 'The most expedient pathway is into a dumpster, into a landfill.' Amazon has told CNBC it sends no items to landfills but relies on 'energy recovery' as a last resort." • "Energy recovery" sounds like a euphemism for a landfill, to me. What happens to the ash?
Shipping: "Cass reports 'freight slowdown' in March" [Freight Waves]. "Freight shipments advanced in March but at a slower pace, according to data released Wednesday from Cass Information Systems. Freight expenditures, however, continued upward at a blistering pace…..'The threat of freight recession has risen recently as services reopen, inflation presses up interest rates and — though war-related effects are likely to be modest in the near-term — higher energy prices have an increasingly negative effect over time,' [ACT Research's Tim Denoyer] added. 'We're certainly seeing a freight slowdown and spot market correction, but in our view, it is too early to call it a freight recession.'"
* * *
Today's Fear & Greed Index: 42 Fear (previous close: 46 Neutral) [CNN]. One week ago: 48 (Neutral). (0 is Extreme Fear; 100 is Extreme Greed). Last updated Apr 14 at 4:48pm.
Groves of Academe
The successor ideology?
"The time has come to decenter book reading and essay writing as the pinnacles of English language arts education." — National Council of Teachers of English

So reading and writing are overrated. 🤔@libsoftiktok @catturd2 @mtaibbi @realchrisrufo
https://t.co/v231Z39pV3

— James (@James07910075) April 15, 2022
"Decenter."
Black Injustice Tipping Point
Crooks:
Every nonprofit that is a 501c3 with receipts of more than $25,000 is required to file a 990. This is nonprofit 100. How exactly is this triggering?? I've been an executive director for 14 years, you get a trusted bookkeeper and CPA, you keep good records. https://t.co/WFbmT0pNCw

— Shay Stewart Bouley (@blackgirlinmain) April 14, 2022
Class Warfare
I understand there's some pissing and moating in Brooklyn because Smalls went on Tucker Carlson. Smalls has already done more for the working class than any of the pissers and moaners, so kwitchyerbellyacnin'.
Chris Smalls did a great job with this interview. Tucker briefly tried to do an anti-AOC thing, but Smalls did not take the bait and most of the interview was about the organizing campaign with Tucker saying he's for it. If you want to organize a nationwide company, this was good https://t.co/DvobWy1I8T

— Matt Bruenig (@MattBruenig) April 15, 2022
News of the Wired
The checkerboard pattern is very interesting. Read the whole thread:
What's perhaps most immediately striking about this tract is the checkerboard pattern of land ownership here. The West's terrain-agnostic land grid was one of the great rationalist instruments of settler colonial expansion (it made the commoditization/distribution of land easy)

— Uday Schultz🚰 (@A320Lga) April 14, 2022
* * *
Contact information for plants: Readers, feel free to contact me at lambert [UNDERSCORE] strether [DOT] corrente [AT] yahoo [DOT] com, to (a) find out how to send me a check if you are allergic to PayPal and (b) to find out how to send me images of plants. Vegetables are fine! Fungi and coral are deemed to be honorary plants! If you want your handle to appear as a credit, please place it at the start of your mail in parentheses: (thus). Otherwise, I will anonymize by using your initials. See the previous Water Cooler (with plant) here. Via JU: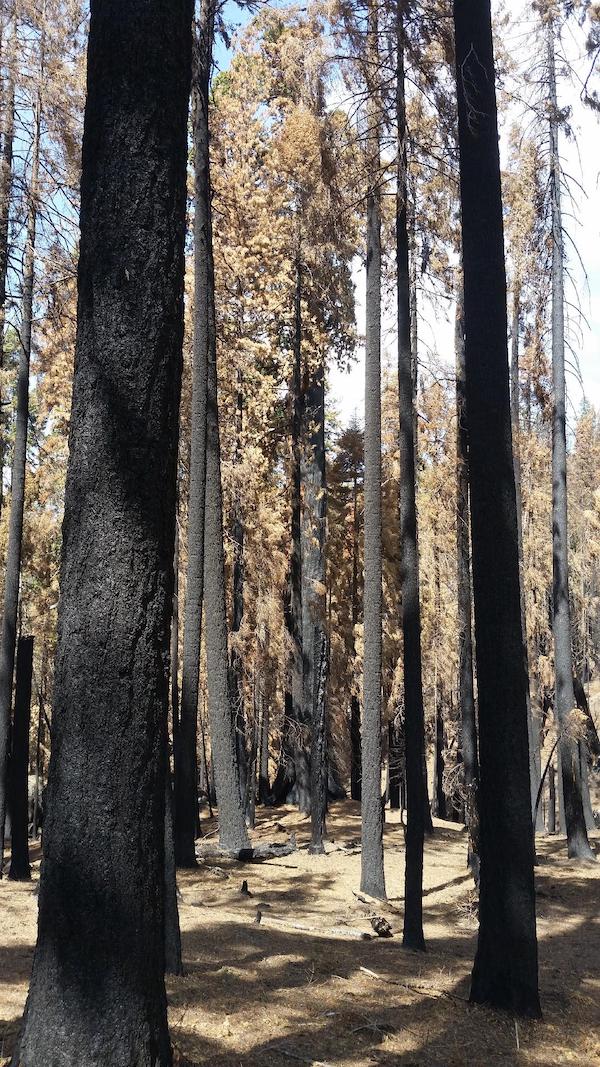 JU writes: "Oriole Grove. A 12 foot wide Giant Sequoia in the background with 40 foot high scorch marks, and still green up top. Around 1,000 years old. Most everything around it burned up in the KNP Fire."
* * *
Readers: Water Cooler is a standalone entity not covered by the recently concluded and — thank you! — successful annual NC fundraiser. So if you see a link you especially like, or an item you wouldn't see anywhere else, please do not hesitate to express your appreciation in tangible form. Remember, a tip jar is for tipping! Regular positive feedback both makes me feel good and lets me know I'm on the right track with coverage. When I get no donations for five or ten days I get worried. More tangibly, a constant trickle of donations helps me with expenses, and I factor in that trickle when setting fundraising goals:
Here is the screen that will appear, which I have helpfully annotated.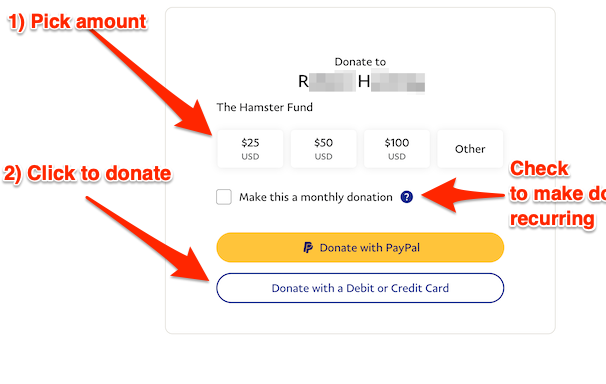 If you hate PayPal, you can email me at lambert [UNDERSCORE] strether [DOT] corrente [AT] yahoo [DOT] com, and I will give you directions on how to send a check. Thank you!