By Lambert Strether of Corrente
Bird Song of the Day
This is Lyre Bird week at Naked Capitalism. Only nine minutes of lyrebird drama today. Amazingly, Vicki Powys, who recorded this lyrebird, is known the commentariat. Here is her site, which includes information on recording equipment, in case any of you wish to get over-ambitions and send in sound recordings to Macaulay (or even to us).
* * *
Politics
"But what is government itself, but the greatest of all reflections on human nature?" –James Madison, Federalist 51
"They had learned nothing, and forgotten nothing." –Charles Maurice de Talleyrand-Périgord
"When the going gets weird, the weird turn pro." –Hunter Thompson
Biden Adminstration
"How Biden Can Help the Climate on Earth Day—Without Congress" [The New Republic]. "There's plenty to be done internationally, too. As Olufemi Taiwo and Patrick Bigger point out, the United States could easily write off the bilateral debt of countries around the world to which it serves as a creditor. It's the least the administration could do to open up fiscal space for countries to respond, adapt to and mitigate the climate crisis as promised Fed interest rate hikes threaten to throw much of the Global South into a catastrophic debt crisis. The U.S. could use its outsized power in the Bretton Woods Institutions to push the International Monetary Fund to issue $650 million Special Drawing Rights, a currency governed by the Fund. It could push hard at the World Trade Organization to tear up archaic intellectual property protections that could allow companies to charge extortionary rents to countries that attempt to deploy life-saving clean energy technologies." • Of all the executive actions the article recommends, this one seems least easy for a Republican administration to roll back.

"Biden rips GOP for targeting Disney" [The Hill]. "The Florida House of Representatives voted Thursday to around its Florida theme parks." • Seems like a good outcome, no matter how unhappy the cause.

"'I Have 100 Percent, and I Intend to Keep It That Way': Kamala Harris Breaks Down Her Daily Wordle Habit" [The Ringer]. "Does the staff get competitive with whoever you've gotten over into the Wordle camp? [HARRIS:] I think they do. You know, . But they're all very competitive because they're all super smart. And they love games, when you can play and have fun with each other." • Hmm.

"Psaki to Chris Wallace: 'Normal' to 'engage' next career stop while still in government" [The Hill]. "White House press secretary Jen Psaki told CNN host Chris Wallace this week it is perfectly normal for her to pursue future employment opportunities while serving in government. 'What I will tell you, Chris, and you know this from covering White Houses in the past, there are certain requirements of anybody who's serving. If you are talking to or engaging, thinking about any future employment, which is normal. That's a — what nearly everybody does who at some point will leave the White House,' Psaki said." • What did your Mom tell you? Just because everybody's doing it doesn't make it right!
2022
* * *

MI: "Sen. Mallory McMorrow gave fiery speech that lit up Twitter: What to know about her" [Detroit Free Press]. "The Michigan lawmaker took to the Senate floor to defend herself against a completely unfounded allegation from another legislator that she wants to "groom and sexualize kindergartners." McMorrow decried the political attack by Sen. Lana Theis, a Brighton Republican who made the accusation in a recent campaign fundraising email without evidence." • "You've done enough. Have you no sense of decency, sir, at long last? Have you left no sense of decency?" • McMorrow's speech:

Senator Lana Theis accused me by name of grooming and sexualizing children in an attempt to marginalize me for standing up against her marginalizing the LGBTQ community…in a fundraising email, for herself.

Hate wins when people like me stand by and let it happen. I won't. pic.twitter.com/jL5GU42bTv

— Mallory McMorrow (@MalloryMcMorrow) April 19, 2022

MI: " young Democrat's viral takedown demands a 'wokeness' rethink" [Greg Sargent, WaPo]. Of McMorrow: "'Enormously effective piece of communication,' [James] Carville told me. 'There's really no comeback to it.' Carville's endorsement of this approach suggests how this McMorrow moment might push the stale 'wokeness' debate in a more salutary direction. It might prod Democrats to rethink their responses to GOP attacks along these lines. The 35-year-old McMorrow's ire was triggered by a Republican colleague's fundraising pitch describing McMorrow as a "groomer." …. You'll note that McMorrow didn't sound defensive or offer mealy-mouthed, hairsplitting fact-checks. She didn't capitulate to the Republican framing of these matters for a second. Instead, McMorrow laid bare her deepest convictions and explained how they lead her to her positions on gay and trans rights, and why basic human decency demands them. Importantly, she made this about what Republicans are doing. Many Democrats do profess outrage about the GOP's use of the 'groomer' slander. But you rarely hear Democrats go beyond casting themselves as mere victims of a vile smear, and instead hammering those pushing it for their rhetorical degeneracy, phony piety about protecting children, profound lack of rectitude, and all around sleazy and debased public conduct. McMorrow's description of herself as a White, Christian, suburban mom — one who wants her children to respect and empathize with non-Christian, non-White, gay and trans kids and families — gets at this. It turns the 'identity politics' debate on its head."

NV: "Nevada Democrats lean on Harry Reid's political machine as warning lights flash" [NBC]. "For the first time in more than three decades, however, Nevada Democrats have to take on such political battles without Reid, the tactician who offered a steady hand and helped bridge alliances. The organizational machine he left behind is still churning — and dominating Nevada Democratic politics. That's even after the Democratic Party here ruptured last year after a slate backed by the Democratic Socialists of America took over the party structure, vaulting Judith Whitmer, a Bernie Sanders supporter, to the state party chairmanship. That rattled national Democrats, fearing volatility and a divided party in a pivotal battleground state. But expectations that the newcomers would shake up the establishment never materialized. Instead, the shadow party the Reid machine launched — Nevada Democratic Victory, or NDV — has grown into the de facto party handling the top-of-the-ticket races. NDV set up shop in the swing county of Washoe, home of Reno, and money, a powerful bloc of politicians, aides and strategists followed. 'So many of the people who work in politics worked with or for him on his staff or as organizers,' said Nicole Cannizzaro, the state Senate majority leader. 'There are a lot of us that are very committed to making sure that that legacy lives on.' Yet a split remains. Interviews with more than a dozen party members, elected officials, activists and longtime operatives reveal a still-divided Democratic Party that has spawned a new era of functional dysfunction, one in which two entities are still figuring out how to co-exist after having overcome initial clashes over money and voter data. That's an ominous sign for 2024, when Democrats can't afford to have divisions. While the Reid machine has helped turn statewide seats blue, it was Sanders, the candidate backed by the Democratic Socialists of America, who decidedly won the caucuses in 2020." • So, if I have this straight, when the Sanders slate won, the regular Democrats emptied the cupboards and sent all the money to Washington, and then set up a parallel party, all the while getting soppy about "legacy." And people wonder why liberals aren't trusted.

PA: "5 takeaways from Thursday's Pennsylvania Democratic Senate debate" [Inquirer]. "Fetterman, joining Lamb and Kenyatta on a debate stage for the first time just weeks before the May 17 primary, appeared less polished than his rivals and uncomfortable with their frequent criticism. But he didn't make any missteps likely to change the dynamics of a contest he's been winning from the start." And then there's the 2013 gun incident:

One question Fetterman knew was coming his way was about a 2013 incident that has loomed over his campaign, in which Fetterman, then the mayor of Braddock, pulled a shotgun on a Black jogger whom he had wrongly suspected of a shooting.

Fetterman defended his actions that day the same exact way he has time and again. When asked by the moderator if he'd do anything differently, he said, "It's certainly not a situation anyone would want to be in."

While the incident has been rehashed numerous times during the campaign, this was likely the first time many voters had heard about it — and the first time Fetterman addressed it while taking criticism from his rivals face-to-face. And while Fetterman has maintained he did nothing wrong that day, his refusal to apologize was highlighted center stage when Kenyatta, the only Black candidate in the Democratic field, turned to him and asked him directly if he would:

"For somebody who has cut an image of an incredibly tough guy, you're so afraid of two little words, 'I'm sorry.' "

Fetterman looked straight ahead and said, "There was no profiling or anything involved." As he has many times, he held up his reelection in Braddock, a majority-Black city, as a kind of exoneration. "I never pointed the weapon at the individual, and everyone in Braddock knows," he said.

"," Kenyatta said. "The question is… are you gonna say I'm sorry today?"

That from Kenyatta sticks in my craw. Fetterman doesn't have "a Black friend." He has Black constituents, who elected him repeatedly, and who Kenyatta just insulted. Kenyatta is an obvious regular Democrat straw whose role is to make sure Fetterman loses the general by depressing the vote in Philly, after which he will no doubt be rewarded with a lucrative sinecure at a "progressive NGO."

* * *

"The billionaires cutting huge checks for the 2022 midterms" [Yahoo Finance]. "The richest Americans are quickly coming off of the sidelines as the 2022 midterm elections heat up, according to newly released filings from the Federal Election Commission. An analysis by Yahoo Finance of the data running through March 31 finds that super PACs (Political Action Committees) have received over 30 checks so far this year of at least $1 million each. And Blackstone CEO Stephen Schwarzman and Oracle co-founder Larry Ellison each gave eight-figure donations to Republican causes. Across the political landscape, Senate campaigns are building up their back accounts. At the same time, so-called dark money groups have added money into the system anonymously while Donald Trump has built an enormous war chest of his own. But it's super PACs — which can receive unlimited donations — that get the eye-popping checks. Here are some of the biggest donations revealed in the latest filings."

"Andrew Cuomo, a man searching for a plan" [Politico]. "A Siena College poll last month showed 67 percent of registered voters did not want him to run for governor, and 56 percent believed that he sexually harassed women. A Siena poll in February found 80 percent of voters said he made the right decision to resign. Not numbers that instill hope of a successful comeback after he quit rather than face a likely impeachment by the state Legislature…. Cuomo's last hope this year to enter the race for governor? A quixotic run as an independent — a move that even technically would be hard to pull off with the number of petition signatures required by the end of May. And even if he does run, he would likely just split the vote among Democrats and could hand the election to Republicans — who haven't won a statewide race in New York since 2002."

"California Pandemic Early Detection and Prevention Institute Initiative (2022)" [BallotPedia]. May appear on the ballot November 8, 2022. "Increases tax on personal income over $5 million by 0.75% for 10 years, and allocates new tax revenues as follows: 50% to the California Institute for Pandemic Prevention (established by this measure), to award grants for research and development of technologies to detect and prevent future pandemics; 25% for public health programs for pandemic preparedness; and 25% for improvements to school facilities to limit disease transmission. Creates Independent Scientific Governing Board to administer the Institute; requires board members have specified medical, technological, or public-health expertise." • Not unconstructive. How odd we don't have anything like this at the Federal level.

"Inbox Warriors" [The Baffler]. "Last November, I received an email advertising a "Pro-Science, Pro-Health, Pro-Vaccine" cardholder—Keep your vaccine card safe with this free cardholder! Another email describes it as 'a unique way to spread the message' and 'share your values.' I've received other messages reminding me that 'Republican politicians like Marjorie Taylor Greene have compared mask wearing to the Holocaust' and dangling an ever so tempting offer: Can we send you a pouch for your masks? Out of everything sitting in my inbox from MoveOn.org, it's these emails that most illuminate the pitfalls of liberal righteousness and fill me with the greatest dread. Hesitancy around vaccines and masks isn't solely the fault of charlatans spreading misinformation, and it's not just a matter of having the right 'values' you can flex with ugly tchotchkes. Our low vaccination rate is also a product of our dysfunctional, privatized health care system, which the Democratic Party can't fix because they are enmeshed with the corporate sector. Instead of using this moment as an opportunity to reflect on societal failure, these tit-for-tats exacerbate the problem by relishing the fact that 'science,' 'health,' and the 'vaccine' have become partisan signifiers. As we remain unprepared for the next pandemic and impending environmental crises, one of the biggest progressive organizations is hawking plastic cardholders in exchange for your data. And if you're looking for any actual solutions, shut up and Move On. Didn't you get that alert about the coup?"
2024
"Trump Easter messages skewer Democrats" [The Hill]. "'Happy Easter to failed gubernatorial candidate and racist Attorney General Letitia James,' Trump said in a message sent via his Save America PAC. 'May she remain healthy despite the fact that she will continue to drive business out of New York while at the same time keeping crime, death, and destruction in New York!'… In another message on Sunday directed at Democrats, the former president said 'Radical Left Maniacs' are 'doing everything possible to destroy our Country.' 'May they not succeed, but let them, nevertheless, be happy, healthy, wealthy, and well!' he added." • The man's style is inimitable….

"Youngkin prepares to wade into national politics" [Politico]. "Virginia Gov. Glenn Youngkin is preparing to take a step into national politics by launching a pair of new political groups ahead of the midterm election. Youngkin's new operation will allow him to wade into gubernatorial races across the country on behalf of GOP candidates. Youngkin can also use the apparatus to target a pair of Democratic House members in Virginia whom Republicans are looking to unseat. Those close to Youngkin — who is limited to a single term as governor by Virginia's constitution — say he has been solely focused on pushing forward his policy agenda since taking office, turning away Republicans who have been eager for him to engage in other states following his nationally watched victory. After his November win, the governor received invitations to appear at out-of-state political dinners and other functions, including in New Hampshire — a key early state on the presidential nominating calendar. The 55-year-old Youngkin, who was formerly an executive at the Carlyle Group, a prominent private equity firm, has neither teased a prospective 2024 campaign nor explicitly closed the door on one."
Democrats en Déshabillé
I have moved my standing remarks on the Democrat Party ("the Democrat Party is a rotting corpse that can't bury itself") to a separate, back-dated post, to which I will periodically add material, summarizing the addition here in a "live" Water Cooler. (Hopefully, some Bourdieu.) It turns out that defining the Democrat Party is, in fact, a hard problem. I do think the paragraph that follows is on point all the way back to 2016, if not before:

The Democrat Party is the political expression of the class power of PMC, their base (lucidly explained by Thomas Frank in Listen, Liberal!). ; if the Democrat Party did not exist, the PMC would have to invent it. . ("PMC" modulo "class expatriates," of course.) Second, all the working parts of the Party reinforce each other. Leave aside characterizing the relationships between elements of the Party (ka-ching, but not entirely) those elements comprise a network — a Flex Net? An iron octagon? — of funders, vendors, apparatchiks, electeds, NGOs, and miscellaneous mercenaries, with assets in the press and the intelligence community.

Note, of course, that the class power of the PMC both expresses and is limited by other classes; oligarchs and American gentry (see 'industrial model' of Ferguson, Jorgensen, and Jie) and the working class spring to mind. Suck up, kick down.

* * *
Republican Funhouse
"'Quietly moving on': Trump's mojo may be waning out West" [Seattle Times]. "Campaign finance reports released last week show that Trump's patented 'Complete and Total Endorsement!' is actually doing surprisingly little to drive money and enthusiasm to some of his favored candidates. Example: Congressional candidate Loren Culp, who was the Washington state GOP's previous nominee for governor. ….. They appear to be turning their backs on Culp — his intake rate of campaign money actually slowed a bit post-endorsement, with only about $19,000 after Feb. 9, according to federal records of itemized contributions. This despite flying down to Mar-a-Lago Club in late February to kiss the ring at a "MAGApalooza" candidate forum. The Culp campaign also spent more money than it brought in….. Trump's pick down in southwest Washington's 3rd District, Joe Kent, is doing far better. But even there, Trump's influence seems a little tenuous. A conservative GOP rival to Kent, Heidi St. John, had originally made a kind of tribal loyalty oath that she would drop out if she didn't win Trump's favor. She then refused to bend the knee and stayed in the race anyway. The news is that it hasn't seemed to hurt her that much…. The catch here is that all these GOP candidates competing for Trump's fickle gaze are simultaneously renting out Trump consultants and Trump properties. For example, Kent's campaign paid Mar-a-Lago Club $16,370 for event-hosting and fundraising fees, as well as nearly $300,000 to a former Trump campaign worker's company for consulting services. Nationwide, dozens of GOP candidates, like "crabs in a bucket to be lifted out by him," have paid nearly $1.3 million to Trump to hold events at Mar-a-Lago, the Times reported. Whether they rise or fall, he's already made out like a bandit. I continue to be amazed that grown politicians can't see they are being played for marks by an obvious charlatan." • This is terrible about Mar-a-Lago. Why on earth don't any of our Democratic strategists buy a hotel? They're leaving money on the table!

"Inside The New Right, Where Peter Thiel Is Placing His Biggest Bets" [Vanity Fair]. "[M]ost of the media attention that the conference attracts focuses on a cohort of rosy young blazer-wearing activists and writers—a crop of people representing the American right's "radical young intellectuals," as a headline in The New Republic would soon put it, or conservatism's "terrifying future," as David Brooks called them in The Atlantic. But the people these pieces describe, who made up most of the partygoers around me, were only the most buttoned-up seam of a much larger and stranger political ferment, burbling up mainly within America's young and well-educated elite, part of an intra-media class info-war. The podcasters, bro-ish anonymous Twitter posters, online philosophers, artists, and amorphous scenesters in this world are variously known as "dissidents," "neo-reactionaries," "post-leftists," or the "heterodox" fringe—though they're all often grouped for convenience under the heading of America's New Right. They have a wildly diverse set of political backgrounds, with influences ranging from 17th-century Jacobite royalists to Marxist cultural critics to so-called reactionary feminists to the Unabomber, Ted Kaczynski, whom they sometimes refer to with semi-ironic affection as Uncle Ted. Which is to say that this New Right is not a part of the conservative movement as most people in America would understand it. It's better described as a tangled set of frameworks for critiquing the systems of power and propaganda that most people reading this probably think of as "the way the world is." And one point shapes all of it: It is a project to overthrow the thrust of progress, at least such as liberals understand the word." • Interesting article. Every so often the press decides to try to make a bunch of young conservatives cool. It never succeeds, because they never are. Lots of noodling about Curtis Yarvin. And Peter Thiel, who is pumping money into the milieu (and, hopefully, not extracting blood).

"Idaho extremists target judges, prosecutors, health workers in doxxing campaigns" [Idaho Capitol Sun]. "Ammon Bundy did not complete 40 hours of community service — his sentence for a conviction of trespassing and resisting arrest, stemming from Bundy's refusal to leave a closed area at the Idaho Statehouse in 2020. Instead of performing community service, though, Bundy reported 40 hours of time spent on his political campaign for Idaho governor. McDevitt on April 7 ordered Bundy to spend 10 days in jail and pay a $3,000 fine for disobeying the court. 'You didn't just blow it off. Rather, you took the time and effort to blatantly disrespect the court's order, making a mockery of the sentence you received,' McDevitt told Bundy, according to the Idaho Statesman. 'You were given an opportunity to go complete public service — you could have done it.' The flier left in the Boise neighborhood [doxxing a judge and prosecutor assigned to one of Ammon Bundy's criminal cases] did not acknowledge the legal basis for Bundy's new jail sentence. This is an edited version of a photo of the flier distributed to Boise residents. 'He is now being held, a political prisoner, in solitary confinement, at the Ada County Jail, causing a hardship on his family,' the flier said. 'TELL THESE JUDICIAL EXTREMISTS TO STOP TORMENTING THE GOOD PEOPLE OF IDAHO!'"
Realignment and Legitimacy
"One in Three Churches Will Be Victims of Embezzlement, Experts Say" [The Roys Report]. "Trust is important to religious organizations. But misplaced trust can lead to financial fraud, and churches need to take steps to protect themselves from people who will take advantage of their good will, said the co-director of the Center for the Study of Global Christianity. Embezzlement will cost churches $170 billion in the year 2050 if current trends continue, Todd Johnson told Christianity Today. He said that although financial fraud would ideally be less prevalent within the religious community, giving is part of the church model — and where there's money, there are thieves."

"Black Lives Matter Secretly Bought a $6 Million House" [New York Magazine]. We posted the champagne class-clinking video yesterday. "On March 30, I asked the organization questions about the house, which is known internally as "Campus." Afterward, leaders circulated an internal strategy memo with possible responses, ranging from 'Can we kill the story?' to 'Our angle — needs to be to deflate ownership of the property.' The memo includes bullet points explaining that 'Campus is part of cultural arm of the org — potentially as an 'influencer house,' where abolition+ based content is produced by artists & creatives.' Another bullet is headed Accounting/990 modifications' and reads in part: 'need to first make sure it's legally okay to use as we plan to use it.' The memo also describes the property as a 'safehouse' for leaders whose safety has been threatened. The two notions — that the house is simultaneously a confidential refuge and a place for broadcasting to the widest possible audience — are somewhat in tension. The memo notes: 'Holes in security story: Use in public YT videos.'" • "influencer house." Absolutely shameless!
#COVID19
If you missed it, here's a post on my queasiness with CDC numbers, especially case count, which I (still) consider most important, despite what Walensky's psychos at CDC who invented "community levels" think. But these are the numbers we have.
* * *
Case count by United States regions: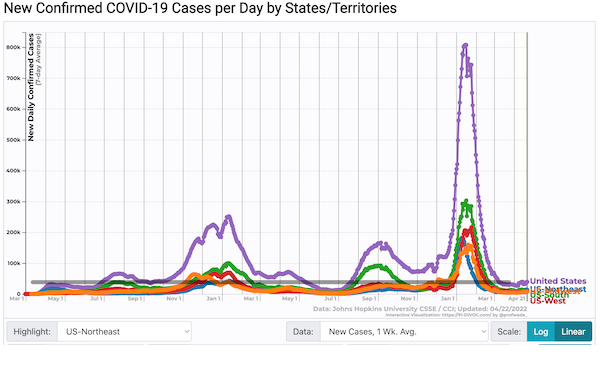 Fiddling and diddling. Remember, it's 100% certain the cases numbers are significantly understated. They've always been gamed, but it's worse than before. One source said they though cases might be undercounted by a factor of six. Gottlieb thinks we only pick up one in seven or eight. Yikes. But how do we know? Here are the cases for the last four weeks: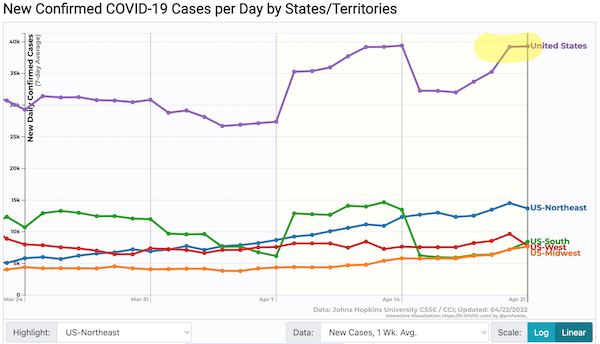 A little encouraging! (I do have priors, and worries, but even I wouldn't wish a pandemic on a population to prove a point.)
NOTE I shall most certainly not be using the CDC's new "Community Level" metric. Because CDC has combined a leading indicator (cases) with a lagging one (hospitalization) their new metric is a poor warning sign of a surge, and a poor way to assess personal risk. In addition, Covid is a disease you don't want to get. Even if you are not hospitalized, you can suffer from Long Covid, vascular issues, and neurological issues. For these reasons, case counts — known to be underestimated, due to home test kits — deserve to stand alone as a number to be tracked, no matter how much the political operatives in CDC leadership would like to obfuscate it.
From the Walgreen's test positivity tracker: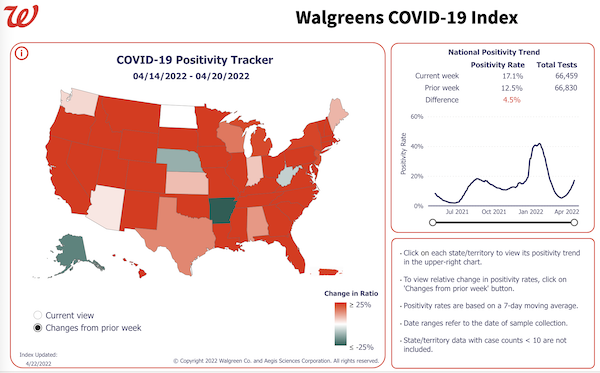 I'm leaving the corporate logo on as a slap to the goons at CDC.
MWRA (Boston-area) wastewater detection: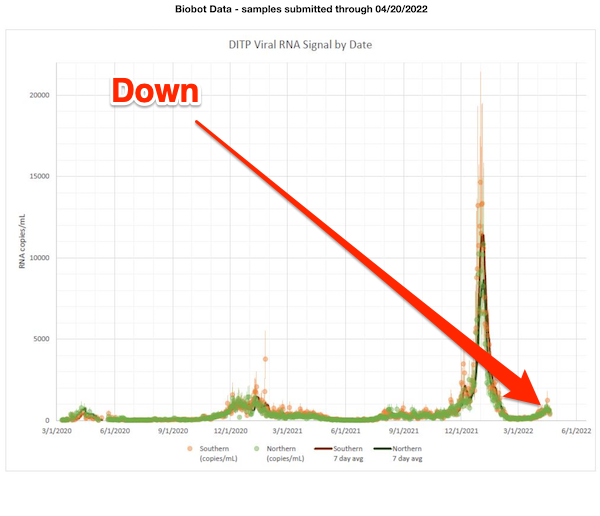 Encouraging! (Both service areas turned down; I don't think this is because the college semester has ended, either; readers please correct me.)
The Massachusetts Water Resources Authority (MWRA) service area includes 43 municipalities in and around Boston, including not only multiple school systems but several large universities. Since Boston is so very education-heavy, then, I think it could be a good leading indicator for Covid spread in schools generally.
From Biobot Analytics: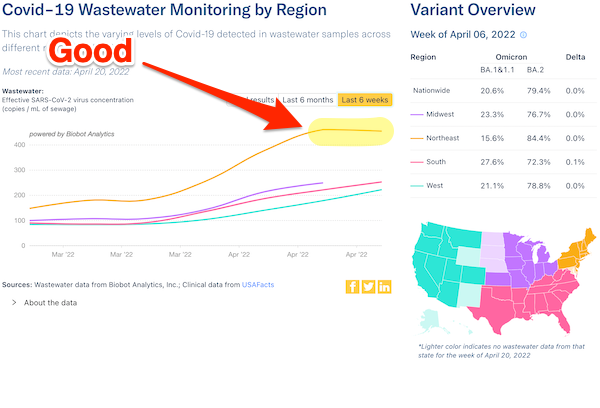 Also encouraging!
Cases lag wastewater data.
From CDC Community Profile Reports (PDFs), "Rapid Riser" counties: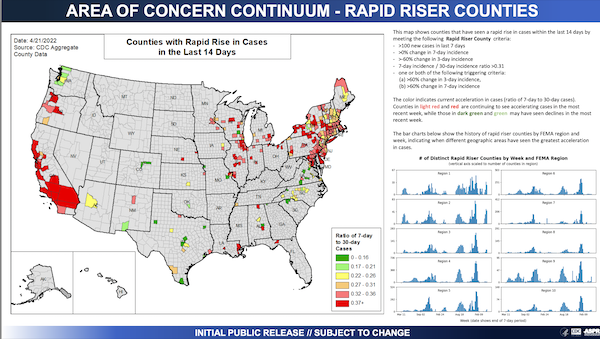 Now California is aflame, as well as Chicago. The Northeast is improving, as confirmed by wastewater. (Remember that these are rapid riser counties. A county that moves from red to green is not covid-free; the case count just isnt, well, rising rapidly.)
The previous release: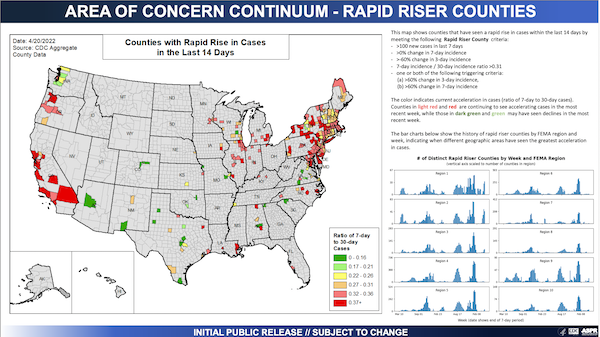 Here is CDC's interactive map by county set to community transmission. This is the map CDC wants only hospitals to look at, not you: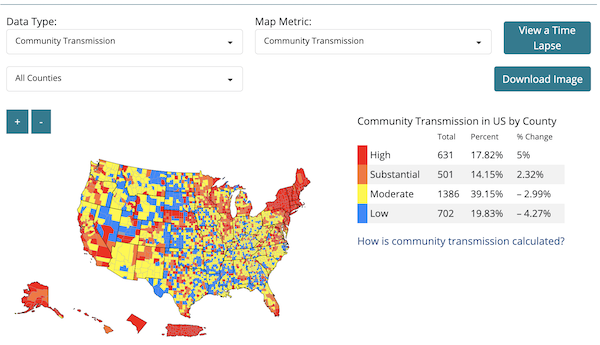 The Northeast remains stubbornly and solidly red. Now California is red as well.
Hospitalization (CDC Community Profile):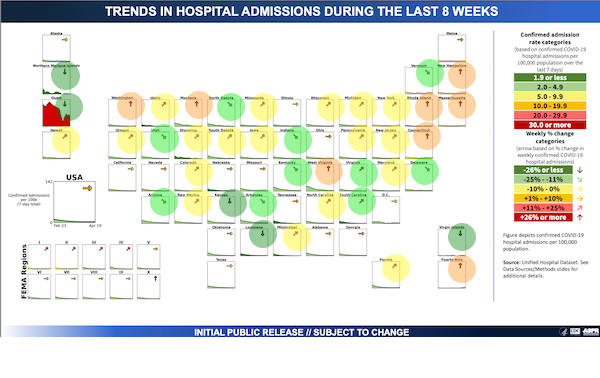 if anybody tells you hospitalization is down, tell them "No, it very isn't," as today's chart shows even more emphatically than yesterday's. (Note trend, whether up or down, is marked by the arrow, at top. Admissions are presented in the graph, at the bottom. So it's possible to have an upward trend, but from a very low baseline.) Oh, and
Death rate (Our World in Data):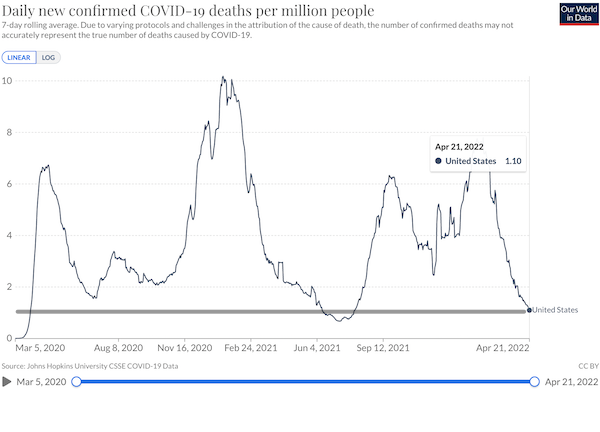 Total: 1,017,609 1,017,093. I have added an anti-triumphalist Fauci Line. Numbers still going down, still democidally high.
Covid cases in top us travel destinations (Statista):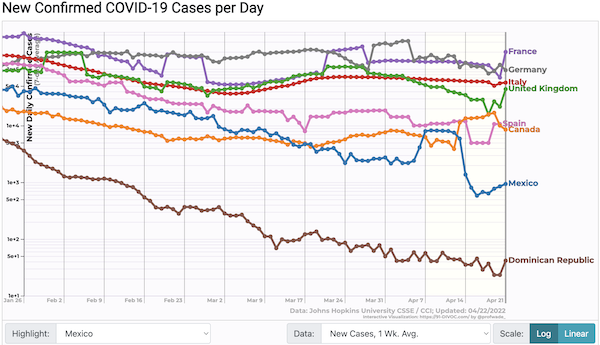 Bumpy ride….
Stats Watch
There are no official statistics of interest today.
* * *
Tech: "The Tech Bubble That Never Burst" [New York Times]. "The venture capitalists are sounding the alarm. At posh conferences, they buzz about falling valuations for start-ups. On CNBC, they bemoan the sudden lack of initial public offerings. On Twitter, they warn of a coming downturn. It is a familiar refrain. For the past decade, such warnings have cropped up repeatedly in start-up land. The industry is in another bubble, investors and commentators caution, conjuring the 1999 dot-com era and the dramatic collapse and recession that followed. Jobs disappeared, fortunes vaporized, and reputations were tarnished. The message since has carried those scars: The boom times are ending. Buckle in for a rough ride. Yet every time, more money has flooded into start-ups. Instead of a collapse, things got bubblier."
* * *
Today's Fear & Greed Index: 43 Fear (previous close: 46 Fear) [CNN]. One week ago: 45 (Neutral). (0 is Extreme Fear; 100 is Extreme Greed). Last updated Apr 22 at 1:33 PM EDT. ZOMG they changed the artwork!
The Gallery
Never seen this one:
Bon dia
Fumées dans le brouillard, impression, 1902
Claude Monet pic.twitter.com/mguvuKe6UH

— Anna Gener (@agenersurrell) April 22, 2022
Class Warfare
At a moment where there doesn't seem to be a lot to be encouraged about, I'm very encouraged by the Amazon and Starbucks unionizing efforts. –lambert.
Christian Smalls (1):
Amazon Labor Union's Chris Smalls on The Daily Show

"We want to represent all people, whether left, right, middle, red, yellow, green. We don't care. We want to make sure it's all inclusive. Putting workers in the driver's seat–that's the ultimate power" https://t.co/j1VXyce8Zc

— Steven Greenhouse (@greenhousenyt) April 21, 2022
Christian Smalls (2):
🗣 NYC I'm happy to announce that @AOC will be coming to visit @amazonlabor This Sunday ‼️ for the twitter fingers Solidarity is about accountability and second chances the only narrative that should matter is bringing people together ✊🏽 #ALUfortheWin x 2 #LDJ5 #VoteYes

— Christian Smalls (@Shut_downAmazon) April 22, 2022
"'It's bigger than us': How partners at a Denton Starbucks are leading the fight for unionization in North Texas" [Denton Record-Chronicle]. "Less than a month after the termination of seven union organizers at a Memphis Starbucks made headlines in February, Denton baristas Moo Amassyali and Carson Lane drafted an email to Workers United announcing their intention to unionize. The union, which staff at more than 230 Starbucks stores throughout the U.S. have announced intentions to join, told Amassyali and Lane, along with other members of the organizing committee during a meeting, that they would need 30% of employees at the Rayzor Ranch store to sign cards showing their support to move forward with an election. In an at-will state — and without any other Starbucks in North Texas publicly unionizing — the organizers began seeking out sympathetic co-workers, careful to only mention it around those they believed would be discreet. They announced their intention to unionize in an open letter to CEO Howard Schultz on March 29. 'There was definitely a lot of tension during that time before we went public because we didn't have that protection,' Lane told the Denton Record-Chronicle. 'It was a concern between us and the people we were talking to who were scared to be associated with it because they thought they could be fired at any time.' Some partners revoked their union cards after signing them out of fear for their jobs, organizers said. But stronger than the fear, they said, was the desire for change…. But in Denton, organizers remain hopeful. They've gotten encouragement from customers and fellow baristas, and they are confident their store will achieve majority support during the election, which hasn't been scheduled yet. Though they could be a year — or a lifetime — away from tangible change, for employees on the precipice of an industry-defining movement, victory already feels close. 'There's this giant labor movement going on right now, and I think companies are just scared we're going to win,' barista and organizing committee member Vince Martinez said. 'It's bigger than Starbucks,' Amassyali added."
"Staff at Starbucks flagship store vote to unionize in major victory for nationwide campaign" [Independent]. "Starbucks workers at the company's flagship Seattle Roastery in the coffee giant's hometown have voted to unionise, marking the union effort's biggest victory yet as workers at corporate-run stores across the US launch a nationwide organised labour campaign. The cafe is the 26th corporate-run store and second of three roasteries in the US to win a union election within the last few months. More than 200 stores have filed petitions for union elections, according to Starbucks Workers United, which is organising the campaign. A ballot count and vote tally from the National Labor Relations Board on 21 April confirmed 38 votes in favour of unionising to 27 votes against. Starbucks has opposed the campaign and repeatedly denied engaging in union-busting efforts, while workers and union organisers have alleged that the company has staged meetings, sent anti-union messages and relied on interference from management to discourage workers from joining a union. The union campaign has filed nearly 80 complaints with the government labour board."
"Bernie Sanders to visit unionizing workers at Amazon and Starbucks" [Axios]. "Sen. Bernie Sanders (I-Vt.) will make two stops to meet unionizing workers on Sunday, visiting Amazon workers fighting to unionize in New York City and Starbucks employees in Richmond, Virginia."
"The Shame Deficit" [Richard Reeves, The Atlantic]. "It's odd. The United Kingdom has a hereditary monarchy and a hereditary aristocracy, but strong norms against nepotism in education and the workplace. The U.S. is a republic, a nation founded on anti-hereditary principles, where nepotism is not only permitted but codified—most obviously in the practice of legacy preferences in college admissions…. What's needed here is a change in social norms. Many upper-middle-class parents feel little compunction about pulling every string possible to get their offspring a place at a prestigious college, even if that means elbowing out a more qualified but less fortunate applicant. The prevailing norm in the U.S. is that parents should do everything possible to help their children get ahead of others. This doesn't have to be ethical. It just has to be legal. The only mistake made by the parents caught in Operation Varsity Blues was to cross that line, a line that Andrew Lelling, the Massachusetts U.S. district attorney prosecuting the case, helpfully drew for us. ',' he said. 'We're talking about deception and fraud, fake test scores, fake athletic credentials, fake photographs, and bribed college officials.'"
"Does toxic masculinity explain why men kill women? Perhaps not as much as we thought" [The Conversation]. "We looked at this question using data from the Australian Homicide Project. This is a unique dataset that contains in-depth interviews with over 300 convicted homicide offenders in Australia….. A considerable proportion in each group had not completed high school, and were under financial stress and/or unemployed in the year before the homicide."
News of the Wired
"How to delete all the junk using up storage in your iPhone's Photos app" [Input]. Deck: "Your iPhone's Photos app is bloated with old videos, screenshots, Live Photos, deleted stuff still in "recently deleted" — here's how to clear it all out!"
Feed me:
OPENING UP: A corpse flower—known for its putrid odor—begins its rare bloom at Grand Valley State University in Michigan. https://t.co/2oU3CBWbjV pic.twitter.com/8MHg6XOx08

— ABC News (@ABC) April 22, 2022
* * *
Contact information for plants: Readers, feel free to contact me at lambert [UNDERSCORE] strether [DOT] corrente [AT] yahoo [DOT] com, to (a) find out how to send me a check if you are allergic to PayPal and (b) to find out how to send me images of plants. Vegetables are fine! Fungi and coral are deemed to be honorary plants! If you want your handle to appear as a credit, please place it at the start of your mail in parentheses: (thus). Otherwise, I will anonymize by using your initials. See the previous Water Cooler (with plant) here. From Maggie: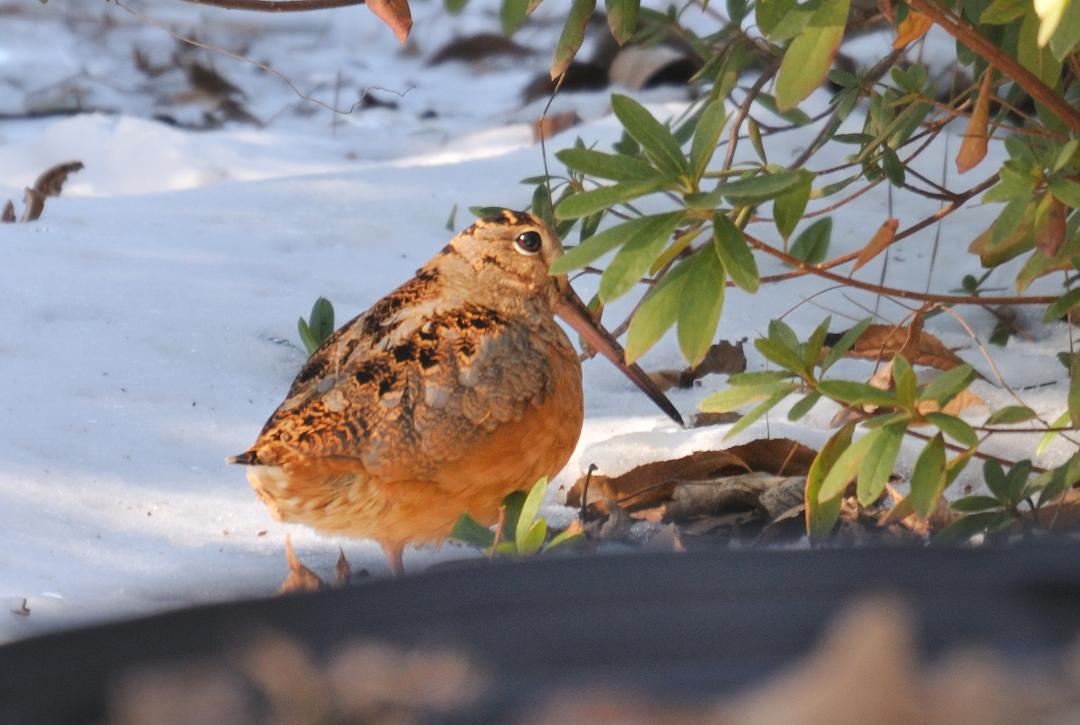 Maggie writes: "Consider this as a 'bonus' bird with plants" for the Water Cooler…. Once again I send along a bird picture… In this case a January 2018 Polar Vortex caught a number of American Woodcock in flight ..sending them to coastal SE North Carolina. Had the pleasure of observing the 'dance' while Mr. or Ms. Bird searched for bugs close to our tidal creek." "Bird with Plants sounds like a nice title for a Monet painting…
Readers: Water Cooler is a standalone entity not covered by the recently concluded and — thank you! — successful annual NC fundraiser. So if you see a link you especially like, or an item you wouldn't see anywhere else, please do not hesitate to express your appreciation in tangible form. Remember, a tip jar is for tipping! Regular positive feedback both makes me feel good and lets me know I'm on the right track with coverage. When I get no donations for five or ten days I get worried. More tangibly, a constant trickle of donations helps me with expenses, and I factor in that trickle when setting fundraising goals:
Here is the screen that will appear, which I have helpfully annotated: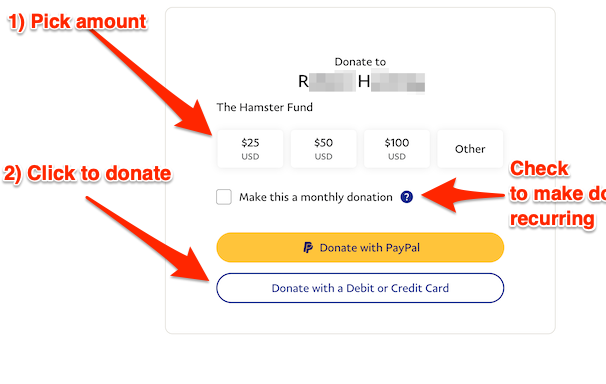 If you hate PayPal, you can email me at lambert [UNDERSCORE] strether [DOT] corrente [AT] yahoo [DOT] com, and I will give you directions on how to send a check. Thank you!