By Lambert Strether of Corrente
Bird Song of the Day
From Texas. "There is a second Prothonotary singing twice in the background. Territorial sin…."
From alert reader MS, here is an open source bird song identifier! Sadly, it's built for the Raspberry PI, but that's a neat, Jackpot-compliant machine (to the extent any electronic circuitry is Jackpot-compliant).
* * *
Politics
"But what is government itself, but the greatest of all reflections on human nature?" –James Madison, Federalist 51
"They had learned nothing, and forgotten nothing." –Charles Maurice de Talleyrand-Périgord
"When the going gets weird, the weird turn pro." –Hunter Thompson
Capitol Seizure
"Text messages reveal Trump's chief of staff orchestrated January 6 coup attempt" [WSWS]. "On Monday, CNN published excerpts from 2,319 text messages sent and received by Donald Trump's former Chief of Staff Mark Meadows which confirm beyond a shadow of a doubt that the executive branch and a substantial portion of the Republican Party were scheming for months with fascists to block the certification of the election on January 6, 2021 and establish a dictatorship. The texts expose the already threadbare lie that what took place during the attack on the Capitol was unplanned, spontaneous and unserious." • Unserious? Does this look serious to you:

Readers, I hope I haven't been remiss in not tracking the 1/6 story closely. I confess I have priors, since these are basically "The walls are closing in!" crowd, and they have form (which is, of course, the genetic fallacy). Then too, the liberal Democrats staged a coup against the Trump administration in all but name, so it's hard for me to get worked up about "our democracy" coming from these guys. That said, at some point — one assumes before the summer and in time for the midterms — a solid, coherent, non-screechy narrative, with a timeline and evidence, will emerge and we'll have to evaluate it. Here's an example that caught my eye:

That was a key moment. Trump's people had installed a loyalist (Ornato) to manage Pence's detail that day. He was tasked with removing Pence from the Capitol and they planned to take him to Andrews AFB, for his "safety." This would have prevented certification of the election. pic.twitter.com/lRzf3jkaGI

— Karen Hansen 🇺🇸🗽🌊 🇺🇦 (@knhansenmd) April 23, 2022

Pence, who emerges as a heroic albeit stolid figure, says "I'm not getting in the car." Yikes! My problems with the Tweet are two-fold. Trivially, I can't come up with a hit on "the Vice President refused to be driven to safety," so I don't know the sourcing. Less trivially, it's well-known that conspiracies expand in scale, as new actors are added to make the narrative work. In this one, Trump seems to have suborned the Secret Service. Really? All that said, we await the 1/6 Commitee's report with interest. Perhaps it will be as interesting as the Durham report.
Biden Adminstration
"A crystal-clear issue: The White House is in desperate need of new glassware" [CNN] • Why? Has Kamala been throwing it?
2022
* * *

"'It's Time to Head for the Lifeboats': Democratic Fatalism Intensifies" [New York Times]. "One sign of the alarm rippling through the party: Some Democratic politicians have begun creating distance between themselves and the president. Senate candidates are stampeding to break with the administration's immigration policies, for instance. Other moves are more subtle, such as those of Gov. Gretchen Whitmer of Michigan, who quietly removed the president's name from news releases about federally funded infrastructure projects. 'What you're seeing is people feeling like it's time to head for the lifeboats rather than trying to steer the ship, 'said Robert Gibbs, a former White House press secretary who worked under Barack Obama. A sense of fatalism is setting in among many, with discussions centering increasingly on how to limit the party's expected losses rather than how to gain new seats." • Ronald Klain comments:

An interesting observation, just FYI.

President Macron appears to have secured a double-digit victory over LePen, at a time when his approval rating is 36%. Hmmm….https://t.co/N50u8He5gW

— Ronald Klain (@WHCOS) April 24, 2022

Most of me gleefully awaits Democrats getting a good, old-fashioned beatdown come November; they have certainly earned it! On the other hand, liberal Democrats were hysterical about redistricting for a long time, and it worked out well for them. So all the hysteria is making me feel counter-suggestible. If Biden could actually deliver on something — student loans for the alienated youth vote? Become a serious wartime leader? — things might be less bad for Democrats than we imagine today. There is also consideration to be given to 1/6, if Democrats could somehow manage to create a coherent narrative about "our democracy," and possibly save some House seats because of it. (Sadly, if in fact the Democrats get creamed, the leadership will retain its grip on power.)

"Democrats ring alarm bells over young voters and the 2022 election as Biden's ratings slip" [NBC]. "Mary Collins voted for President Joe Biden in 2020. A year and a half later, Collins, 25, of Raleigh, North Carolina, gives the White House and the Democratic-led Congress a 4 out of 10 on performance. 'It just doesn't seem like there's a lot of progress," she said. "You hear some good things the Biden administration has done, but otherwise it is very underwhelming.'…. Scores of Americans like Collins — young, liberal-leaning, economically anxious and disappointed that Democratic-controlled Washington hasn't done more to improve their lives — hold substantial power in the 2022 elections. Democrats need Gen Z and millennial voters to turn out to have any hope of keeping the House or the Senate. And they don't habitually vote in midterms. Collins said she does plan to vote this fall —'unfortunately' for Democrats. A registered independent, she's open to alternatives but turned off by the GOP's opposition to abortion rights, dismissal of climate change and denigrating of migrants and non-Christians. After youth turnout soared to record levels in 2020, fueled by Biden's progressive agenda and a desire to send President Donald Trump home to Florida, Democratic strategists are sounding the alarm about the lack of enthusiasm among young voters. They fear it could cause dissatisfied younger Americans to sit out the 2022 elections and deliver a walloping for the party. Preventing that, they say, will require more investment and outreach, as well as policy wins or evidence that Democrats are fighting for issues they care about." • No, not "fighting for." Delivering. This is not hard!

"Republicans are more than capable of blowing the 2022 midterms" [The Hill]. "At least three factors could reverse the predicted fortune for the GOP. The first would be voter apathy by traditional Republicans, conservatives and people of faith. The second would be — drum roll, please — potential fallout from anything Donald Trump says, does or hints. And the third would be a full-court press by Democrats, aided by some in the mainstream media, to come across as suddenly moderate while metaphorically throwing Joe Biden and Kamala Harris as far overboard as possible. All three factors will happen to some extent. The question is, will some combination of them be enough to hold the Democratic majority in Congress after November? Apparently Senate Minority Leader Mitch McConnell's (R-Ky.) main strategy for winning is to avoid mentioning anything that Republicans would do if they regained majority control. The quote sometimes attributed to Napoleon — 'Never interfere with an enemy while he's in the process of destroying himself' — makes sense if one believes the Democrats are failing across the board, but many Republican voters who have been burned before by the GOP leadership still want to hear a plan." • Heave Biden and Harris over the side why? Because they're too far left?

"The Squad could grow stronger even if Dems lose big" [Axios]. "The Squad is poised for big gains in November despite the Democrats' likely loss of the House. The progressive politics that mainstream Democrats blame for their decline stand to take center stage if both trendlines hold. And the Squad-Plus would be positioned to push the diluted ranks of its rivals into backing some of its agenda — impacting the 2024 presidential race. As many as six staunchly progressive candidates have viable chances to win House seats this cycle." Greg Casar (TX), Jessica Cisneros (TX), Summer Lee (PA), Erica Smith (NC), Becca Balint (VT), and Amy Vilela (NV). More: "Reps. Ocasio-Cortez, Omar, Tlaib and Pressley easily defeated primary challengers in 2020 and seem on glide paths for reelection this cycle."

OR: "Mystery candidate shakes up Oregon House contest" [The Hill]. When Oregon formally won a new U.S. House seat in the decennial redistricting process last year, it set off a scramble among ambitious politicians who saw a rare chance to advance their careers. Three state representatives, a former county commissioner and the chairwoman of the Oregon Medical Board quickly jumped in the race. But the conversation in the new district has been dominated by a 35-year-old newcomer making his first run for office who has raised more money than any other contender and who has been bolstered by an unprecedented onslaught of millions of dollars in television advertising paid for by several political action committees. Now, in a state ordinarily controlled by the Democratic establishment, party insiders are asking one question: Who is Carrick Flynn? Protect Our Future PAC, a group backed by crypto billionaire Sam Bankman-Fried, has already spent $6.2 million on television, digital and radio ads and another $500,000 introducing Flynn by mail. It is an incredible amount of money in a primary contest, especially on behalf of a candidate who has never sought office before. And it has angered Flynn's rivals who point out that the top Democratic super PAC has opted to weigh in on behalf of a straight white male in a contest that features three women of color…. Many of Flynn's donors are involved in an online forum called Effective Altruism, a group that analyzes how best to spend money on philanthropic efforts. Their conclusion, according to some of the posts backing Flynn, has been that spending a few million on a congressional race could result in billions in spending on pandemic preparedness by the federal government. Flynn is 'the first person to ever run for US congress on a platform of preventing future pandemics,' wrote one user, Andrew Snyder-Beattie, who called his donation to Flynn "the best $5,800 I've ever donated (to pandemic prevention)." • This seems to be the Effective Altruism forum; the funding is not clear to me.

PA: "Senate front-runner in Pennsylvania embraces Biden and progressive agenda amid Democrats' midterm dilemma" [CNN]. "Lt. Gov. John Fetterman swung by the heart of Republican country in Southwestern Pennsylvania, in the reddest of red districts, where then-President Donald Trump trounced Joe Biden by more than 55 points and MAGA signs are still apparent on seemingly every other street corner. But rather than moderate, Fetterman leaned into his progressive views.

As he worked a few dozen voters at the Flyin' Lion watering hole, while wearing a hooded sweatshirt, basketball shorts and gym shoes on a snowy spring day, Fetterman renewed his push for marijuana to be legalized nationwide, touted the role of immigrants in the US, called for the transgender community to be treated equally, decried efforts to pare back abortion access and backed calls for stricter gun laws, including a ban on semi-automatic rifles. In an interview with CNN, Fetterman didn't hide his palpable frustration with Democratic senators, saying, 'I am disappointed in our caucus' for not increasing the $7.25 federal minimum wage, and he blamed West Virginia Sen. Joe Manchin for blocking the Biden agenda, leaving his party 'floundering.' When asked about calls for more bipartisanship, Fetterman didn't flinch, asserting there's little common ground in working with Republicans who undermined the legitimacy of Biden's 2020 victory and tried to outlaw abortion. 'I also want a full head of hair,' said the bald, 6-foot-8 Democrat. 'But realistically that's not going to happen right now.'"

UT: "Utah Democrats back independent as US Senate candidate" [ABC]. "Utah Democrats pulling hard to defeat Republican Sen. Mike Lee took the unusual step Saturday of spurning a party hopeful to instead get behind an independent, former presidential candidate Evan McMullin. Democrats were swayed by calls from prominent members who said McMullin, a conservative who captured a significant share of the vote in Utah in 2016, was the best chance to beat Lee in the deeply conservative state that hasn't elected a Democratic U.S. senator for more than 50 years. 'I want to represent you. I'm committed to that. I will maintain my independence,' McMullin told Democratic delegates."
2024
"Kamala Harris' chief of staff heading for the exit" [CNN]. "Flournoy is the latest in a long string of departures from the vice president's office, which has been shaken up multiple times in recent months. Flournoy's deputy Michael Fuchs earlier this month announced that he would be leaving the administration. The White House confirmed recently that national security adviser Nancy McEldowney would step down, to be replaced by her deputy Phil Gordon. And Harris' communication's team received a nearly full makeover in recent months, after her communications directory Ashley Etienne, chief spokesperson and senior adviser Symone Sanders and deputy press secretary Sabrina Singh all left the office within months of one another other. Flournoy, who joined the team at the start of the operation, led the office through a rocky summer for the vice president, during which Harris drew criticism after several messaging missteps and staffing issues. Republicans have seized on any apparent missteps, targeting the vice president relentlessly. One of the toughest moments for Flournoy came after myriad reports of dysfunction overtook the office's message, many centered on the chief of staff's leadership — and by extension Harris' leadership. Voles was hired in the middle of those summertime reports. In a statement Thursday, Harris commended her exiting staffer." • This episode of The West Wing Thing includes an incident in Poland. where Harris responded with inappropriate laughter to a reasonably question on refugees from Ukraine. "A friend in need is a friend in need [laughter]." The laughter, apparently, went on for some time.

Yes, your work is done:

SEN. WARREN on @MeetThePress: "I'm not running for president in 2024, I'm running for senate."

— Gary Grumbach (@GaryGrumbach) April 24, 2022
Democrats en Déshabillé
I have moved my standing remarks on the Democrat Party ("the Democrat Party is a rotting corpse that can't bury itself") to a separate, back-dated post, to which I will periodically add material, summarizing the addition here in a "live" Water Cooler. (Hopefully, some Bourdieu.) It turns out that defining the Democrat Party is, in fact, a hard problem. I do think the paragraph that follows is on point all the way back to 2016, if not before:

The Democrat Party is the political expression of the class power of PMC, their base (lucidly explained by Thomas Frank in Listen, Liberal!). ; if the Democrat Party did not exist, the PMC would have to invent it. . ("PMC" modulo "class expatriates," of course.) Second, all the working parts of the Party reinforce each other. Leave aside characterizing the relationships between elements of the Party (ka-ching, but not entirely) those elements comprise a network — a Flex Net? An iron octagon? — of funders, vendors, apparatchiks, electeds, NGOs, and miscellaneous mercenaries, with assets in the press and the intelligence community.

Note, of course, that the class power of the PMC both expresses and is limited by other classes; oligarchs and American gentry (see 'industrial model' of Ferguson, Jorgensen, and Jie) and the working class spring to mind. Suck up, kick down.

* * *
Republican Funhouse
"EXCLUSIVE: Trump's company to rumble with Twitter from Sarasota County" [USA Today]. "Rumble is a video platform company, and its controversial move to Sarasota County recently caused just that: a rumble. Now for something far more seismic, that should really rattle the dishes in the cupboards of conservatives and critics alike: Donald Trump's media company is only 11 miles away from Rumble. The details of how Trump's company wound up on North Cattlemen Road, in an industrial part of Sarasota, are unknown, but indeed it's here, according to state business records, and suddenly we have become a ring girl in the fight between Trump, Big Tech, Twitter and Elon Musk. On April 18, state records show that Trump Media & Technology Group Corp. registered as a business in Florida and used an office building on North Cattlemen Road in Sarasota as its address. The eight officers in the company – including Donald Trump, Donald Trump, Jr. and former California Congressman Devin Nunes – also list the Sarasota address, though there is no indication any of the officers have any connection locally, well, aside from the fact Trump was farcically honored as "Statesman of the Year" by Joe Gruters and the Sarasota County GOP, ahem, twice. So why is this such a big deal? Because Trump Media & Technology Group owns a social media app called Truth Social, which is Trump's antagonistic answer to Twitter…. On April 22, a press release stated that Rumble had 'successfully migrated Truth Social's website and mobile applications to Rumble's Cloud infrastructure,' and that 'Truth Social's move marks the first significant customer to come on board with Rumble."

"The Slime Machine Targeting Dozens of Biden Nominees" [The New Yorker]. "But the fierce campaign against [Ketanji Brown Jackson] was concerning, in part because it was spearheaded by a new conservative dark-money group that was created in 2020: the American Accountability Foundation. An explicit purpose of the A.A.F.—a politically active, tax-exempt nonprofit charity that doesn't disclose its backers—is to prevent the approval of all Biden Administration nominees." • I'm in aghastitude. As usual, Republicans are more serious about their politics than liberal Democrats. Why haven't Democrats already done this?

"Exclusive: Madison Cawthorn photos reveal him wearing women's lingerie in public setting" [Politico]. • This is why conservatives have better sex. The thrill of transgression! I hate this kind of story. Who cares? I mean, after Teddy Kennedy? The Big Dog? Cuomo?
Realignment and Legitimacy
Maybe so:

They're coming for lgbtq marriages https://t.co/N9pOVcqCG9

— Molly Jong-Fast (@MollyJongFast) April 24, 2022

If so, liberal Democrats failed on this the same way they failed on abortion: They didn't embody "judge-made law" in legislation when they had the power to do so.
#COVID19
Lambert here: If some trusting, non-realist soul tells you that "Covid is over," you can tell them that cases are up, transmission is up, test positivity is up, hospitalization is up, rapid riser counties are up, and wastewater is up, too. And this is all from data designed to support the narrative, and gamed within an inch of its life. So, if signals like that are flashing red, consider what the real signal must be like. (Note also this is all with BA.2 only, and with what the establishment considers an "immune wall" made from vaccination and prior infection. Since semper aliquid novi Africam adferre, and we've let 'er rip at the airports…. Well, I just hope we get lucky. "God has a special providence for fools, drunkards, and the United States of America." –Otto von Bismarck.
Meanwhile, Fauci seems confused:
HEADSPINNING—

📌Fauci: "we are out of the pandemic phase"

📌Fauci: "global pandemic is ongoing"

📌Fauci: "We are still experiencing a pandemic".

📌Fauci: Will not be attending the WH Correspondent's Dinner out of concern for "individual risk". #COVID19https://t.co/fK6F53UQzU pic.twitter.com/gr3IARpdtt

— Eric Feigl-Ding (@DrEricDing) April 27, 2022
Commentary on scientific communication from the Biden Administration and our public health establishment:
The Confusion of Tongues, 1868 #romanticism #dore pic.twitter.com/zesbnKbLDd

— Gustave Doré (@artistdore) April 19, 2022
* * *
If you missed it, here's a post on my queasiness with CDC numbers, especially case count, which I (still) consider most important, despite what Walensky's psychos at CDC who invented "community levels" think. But these are the numbers we have.
"We're Fighting Covid With Faulty Data" [Bloomberg]. No sh*t, Sherlock. " [There is a] pattern at the agency, which has sometimes backed away from data collection that would have provided a clearer view. A few months into the vaccination effort, in 2021, the CDC decided to stop counting mild vaccine breakthrough infections, describing them as expected and a distraction. It was a decision that left the agency unable to see clearly when vaccine efficacy began to fade. (The CDC is taking steps to do better: It's pushed for more authority to collect local data, and on April 19 the agency launched its new Center for Forecasting and Outbreak Analytics, promising that it would help modernize efforts to better understand and predict infectious diseases.)" • As I show here, the Center for Forecasting and Outbreak Analytics won't make its data public, and it's operations are run by a spook, oh well.
* * *
Case count by United States regions: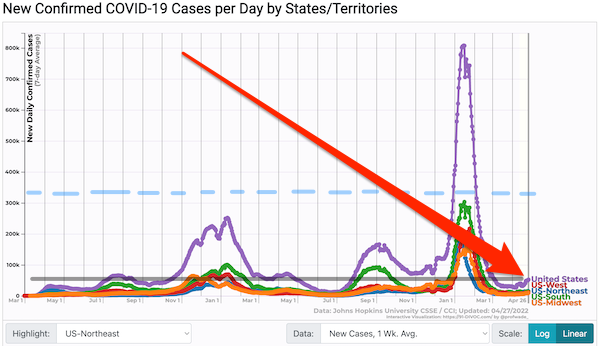 First decisive upward turn, so we'll see how it goes. Remember, it's 100% certain the cases numbers are significantly understated. They've always been gamed, but it's worse than before. One source said they though cases might be undercounted by a factor of six. Gottlieb thinks we only pick up one in seven or eight. In addition to the Fauci line, I have added a Democrat-blue dotted line for what the case count would be if it were 57,000 * 6 = 342,000. Here are the cases for the last four weeks: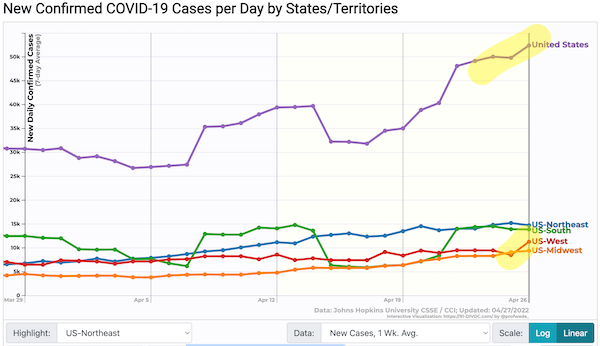 Looks like the Northeast has passed the torch to the West.
NOTE I shall most certainly not be using the CDC's new "Community Level" metric. Because CDC has combined a leading indicator (cases) with a lagging one (hospitalization) their new metric is a poor warning sign of a surge, and a poor way to assess personal risk. In addition, Covid is a disease you don't want to get. Even if you are not hospitalized, you can suffer from Long Covid, vascular issues, and neurological issues. For these reasons, case counts — known to be underestimated, due to home test kits — deserve to stand alone as a number to be tracked, no matter how much the political operatives in CDC leadership would like to obfuscate it.
From the Walgreen's test positivity tracker: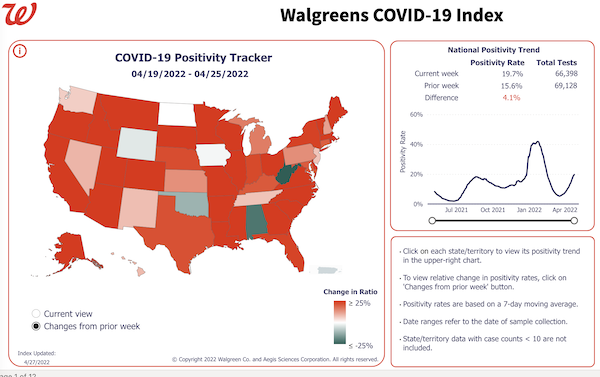 I'm leaving the corporate logo on as a slap to the goons at CDC.
NOT UPDATED MWRA (Boston-area) wastewater detection: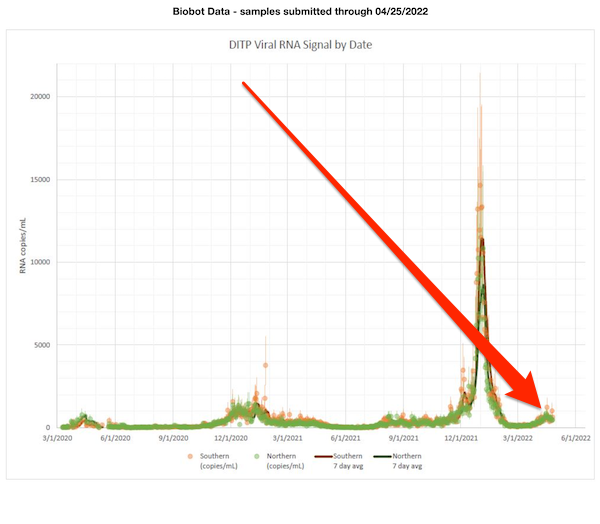 We'll need to wait to week for the universitities and Easter weekend to unkink the data. (Both service areas turned down; I don't think this is because the college semester has ended, either; readers please correct me.)
The Massachusetts Water Resources Authority (MWRA) service area includes 43 municipalities in and around Boston, including not only multiple school systems but several large universities. Since Boston is so very education-heavy, then, I think it could be a good leading indicator for Covid spread in schools generally.
From Biobot Analytics: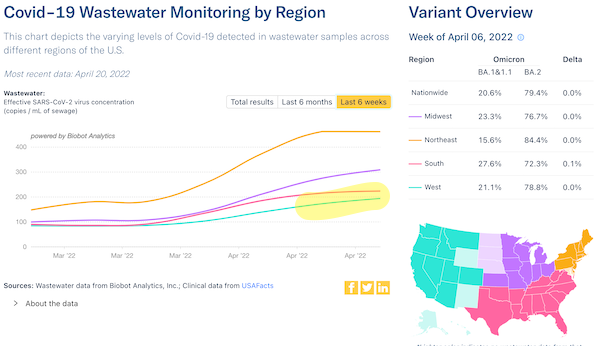 Also encouraging, in that the Northeast is flattening. Not encouraging, in that the West is not. (See also case counts and rapid riser counties.)
Cases lag wastewater data.
"The National Fight Against COVID-19 Isn't Ready To Go To The Sewers" [FiveThirtyEight]. "The Documenting COVID-19 project surveyed 19 state and local health agencies, as well as scientists who work on wastewater sampling, to learn about the challenges they're facing. We found that many states are months away, if not longer, from being able to use wastewater data to guide public health decisions, even as the rise of an omicron subvariant, BA.2, looms. Meanwhile, the CDC's highly shared wastewater surveillance dashboard is a work in progress, and is difficult to interpret for users who might hope to follow the trends in their areas."
From CDC Community Profile Reports (PDFs), "Rapid Riser" counties: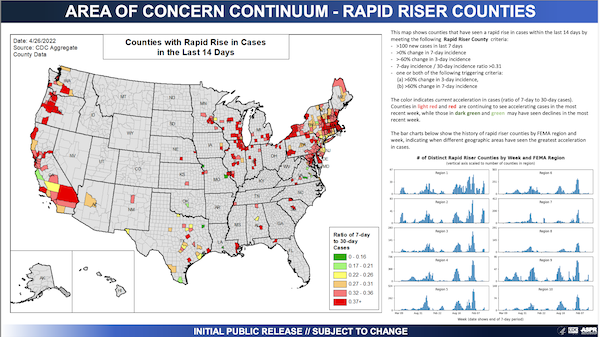 California is no better, ChicagoLand is worse, the Northeast looks no better. (Remember that these are rapid riser counties. A county that moves from red to green is not covid-free; the case count just isnt, well, rising rapidly.)
The previous release: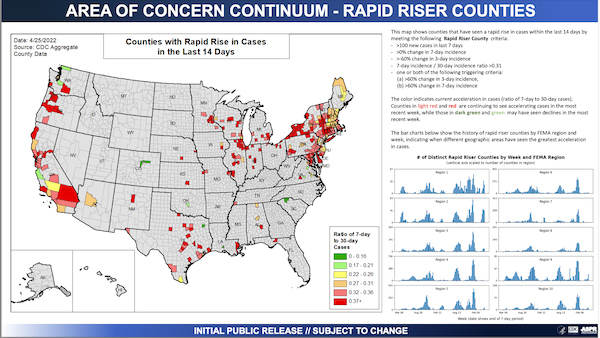 Here is CDC's interactive map by county set to community transmission. This is the map CDC wants only hospitals to look at, not you. In fact, every day I go to the same URL. Yesterday, at the usual URL, I found this disgrace to humanity:

Fortunately, CDC only moved the transmissibility data to a new URL. So here again is the map CDC doesn't want you to look at: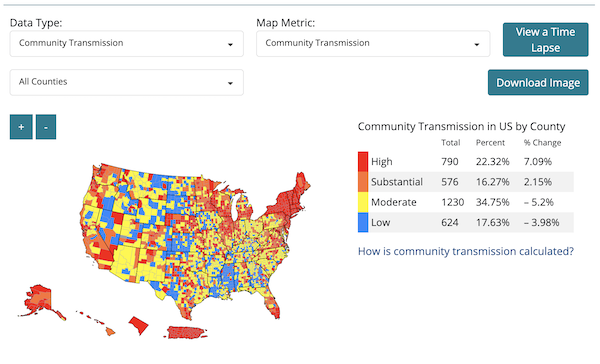 The Northeast remains stubbornly and solidly red. Now California is red as well. (It looks like portions of Maine went from High (red) to Substantial (orange), but that part of Maine is the Unorganized Territories, where virtually nobody lives.
Hospitalization (CDC Community Profile):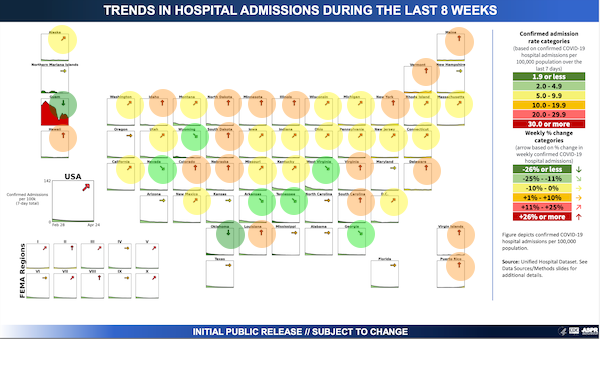 The baseline is still low. But hospitalization is most definitely up. (Note trend, whether up or down, is marked by the arrow, at top. Admissions are presented in the graph, at the bottom. So it's possible to have an upward trend, but from a very low baseline.)
A new way for hospitals to game the data:
Covid hospitalizations are only counted in Massachusetts if the patient is given Dexamethasone, which is only recommended for those on oxygen. I feel the death & hospitalization criteria will extend across other states soon 😣 pic.twitter.com/J6ykG56Zrz

— MayasMommy2 #NotMeUs (@SheriD17536431) April 1, 2022
IM Doc writes: "I would guess with Omicron about 60% of the patients were on Dexamethasone – so no – not an adequate proxy" for hospitalization.
Just a reminder:
As with everything else, because the United States is not a serious country, our hospitalization data is bad. Here the baseilne is off:
Hospital trick: patients admitted with covid in 10-12 days become post-covid & no longer counted as hospitalized covid patients. ICU is full of post-covid patients that are here for 30, 40, 50 & more days. Not counted in the official stats.

— Dr. Natalia 💉😷 (@SolNataMD) January 24, 2022
Death rate (Our World in Data):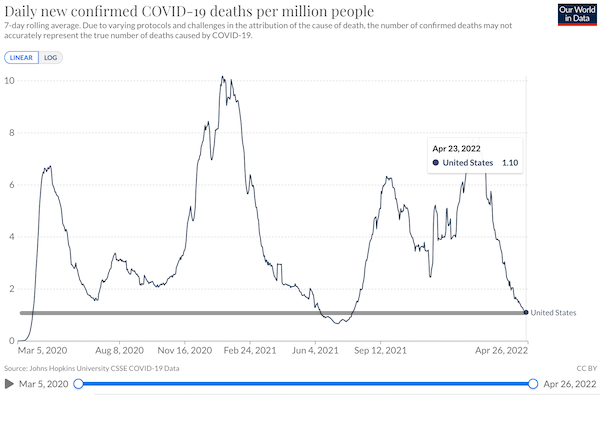 Total: 1,019,008 1,018,582. I have added an anti-triumphalist Fauci Line. Numbers still going down, still democidally high.
Covid cases in top us travel destinations (Statista):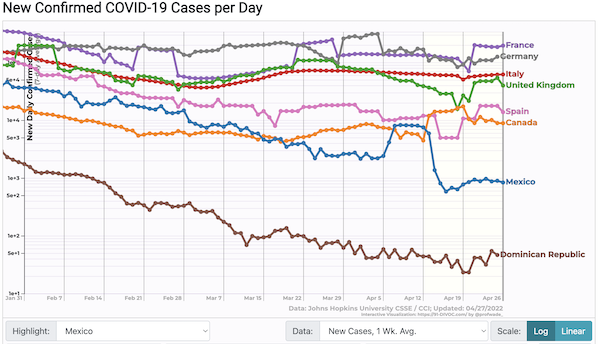 Still a bumpy ride…. (Note the quality of these numbers varies wildly. The UK is awful, France and Germany are better.)
Stats Watch
There are no official statistics of interest today.
* * *
Manufacturing: Hmm:
INSIDE A CHINESE SMARTPHONE | AMERICAN HONOR

U.S. parts account for 40% of the product's manufacturing cost, a sharp rise versus the previous model. https://t.co/CjSrZFAXdR #Huawei

— Nikkei Asia (@NikkeiAsia) April 25, 2022
I can't bust Nikkei's paywall, but the key point is in the Tweet.
Labor Market: "Delta Air Lines to start paying flight attendants during boarding" [Al Jazeera]. "Delta Air Lines, which has narrowly fought off several attempts to unionise its flight attendants, will begin paying cabin crews during boarding, a change that is expected to increase their wages by several thousand dollars a year. It is a notable change for United States airlines, where pay for flight attendants starts when all the passengers are seated and the plane's doors close." • That's ridiculous! I thought flight attendants had a union!
* * *
Today's Fear & Greed Index: 31 Fear (previous close: 27 Fear) [CNN]. One week ago: 48 (Neutral). (0 is Extreme Fear; 100 is Extreme Greed). Last updated Apr 27 at 10:00 AM EDT. ZOMG they changed the artwork!
Rapture Index: Closes unchanged [Rapture Ready]. Record High, October 10, 2016: 189. Current: 188. (Remember that bringing on the Rapture is good.)
The Gallery
Sunset:
Venetian Scene, 1879 #tonalism #jamesmcneillwhistler pic.twitter.com/hCEorv6gDX

— James Whistler (@artist_whistler) April 25, 2022
Heck, more orange:
Claude Monet
Peupliers au bord de l'Epte, automne, 1891
oil on canvas
101 x 65.7 cm
Private collection pic.twitter.com/xBMnyyCaFJ

— Olga Tuleninova 🦋 (@olgatuleninova) April 25, 2022
Class Warfare
Excellent. A very hopeful sign:
Breaking: Undergraduate students at Grinnell College just won the first wall-to-wall undergraduate union in the United State in a landslide 327 to 6 vote.

The union will cover every hourly student workplace, in dining halls & elsewhere on campus.https://t.co/gksSSipdc5

— Steven Greenhouse (@greenhousenyt) April 26, 2022
I remember this anecdote. Good to see it re-surface:
From a Dissent interview with Barbara Ehrenreich in 2019. pic.twitter.com/B5I2wvD5NO

— Sam Haselby (@samhaselby) April 17, 2022
Identity politics is death to solidarity. That's why it pays so well.
News of the Wired
I seem not to be wired today. Dang!
* * *
Contact information for plants: Readers, feel free to contact me at lambert [UNDERSCORE] strether [DOT] corrente [AT] yahoo [DOT] com, to (a) find out how to send me a check if you are allergic to PayPal and (b) to find out how to send me images of plants. Vegetables are fine! Fungi and coral are deemed to be honorary plants! If you want your handle to appear as a credit, please place it at the start of your mail in parentheses: (thus). Otherwise, I will anonymize by using your initials. See the previous Water Cooler (with plant) here. From JU: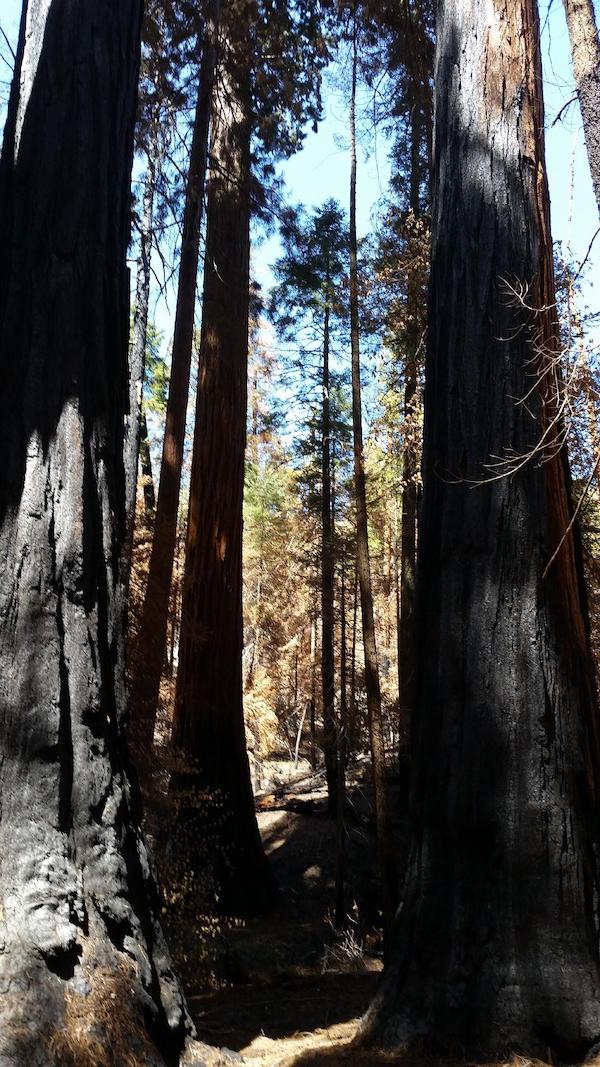 JU writes: "Every Sequoia had 10 to 20 foot tall scorch marks on them, an old school tattoo."
Readers: Water Cooler is a standalone entity not covered by the recently concluded and — thank you! — successful annual NC fundraiser. So if you see a link you especially like, or an item you wouldn't see anywhere else, please do not hesitate to express your appreciation in tangible form. Remember, a tip jar is for tipping! Regular positive feedback both makes me feel good and lets me know I'm on the right track with coverage. When I get no donations for five or ten days I get worried. More tangibly, a constant trickle of donations helps me with expenses, and I factor in that trickle when setting fundraising goals:
Here is the screen that will appear, which I have helpfully annotated: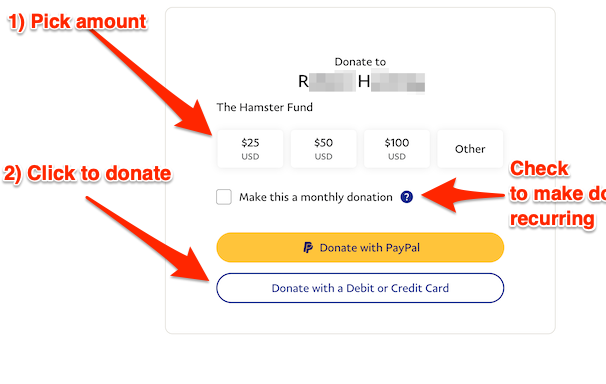 If you hate PayPal, you can email me at lambert [UNDERSCORE] strether [DOT] corrente [AT] yahoo [DOT] com, and I will give you directions on how to send a check. Thank you!