Lambert and I, and many readers, agree that Ukraine has prompted the worst informational environment ever. We hope readers will collaborate in mitigating the fog of war — both real fog and stage fog — in comments. None of us need more cheerleading and link-free repetition of memes; there are platforms for that. Low-value, link-free pom pom-wavers will be summarily whacked.
And for those who are new here, this is not a mere polite request. We have written site Policies and those who comment have accepted those terms. To prevent having to resort to the nuclear option of shutting comments down entirely until more sanity prevails, as we did during the 2015 Greek bailout negotiations and shortly after the 2020 election, we are going to be ruthless about moderating and blacklisting offenders.
–Yves
P.S. Also, before further stressing our already stressed moderators, read our site policies:
Please do not write us to ask why a comment has not appeared. We do not have the bandwidth to investigate and reply. Using the comments section to complain about moderation decisions/tripwires earns that commenter troll points. Please don't do it. Those comments will also be removed if we encounter them.
* * *
Jerusalem PR Firm, 33 AD ScheerPost (Bob H)
Secrets of the cat walk: why some pet owners are taking their feline friends out on a leash Guardian (David L). Hah, I was doing this in 1994 in Manhattan. My first cat, Winston, walked very well for a cat. We had a deal that walking was directional and he didn't go into doorways or lobbies or bushes or the street, but he got to go at his own pace. But due to a change in law (which was better for kittens and puppies), the earliest you could sell a kitten was 12 weeks. That was enough older that it was difficult to get my later cats comfortable with street noise (even with first carrying them inside my coat).
This Adorable Giant Rabbit Comforts Anxious Travelers at the San Francisco Airport MyModernMet (David L)
'He is a monster': Mississippi man catches mega catfish Guardian (resilc)
How a Lost Apollo Rocket Returned to Earth Discover Magazine (Chuck L)
Bacterial soundtracks revealed by graphene membrane PhysOrg (David L)
Quantum experiments add weight to a fringe theory of consciousness New Scientist (David L)
"Algorithmic Destruction" Policy Defangs Dodgy AI New regulatory tactic of deleting ill-gotten algorithms could have bite SpectrumIEEE (David L)
Microplastics permeate seafood across southern Australia PhysOrg (Robert M)
UCSC researcher completes human genome sequencing Santa Cruz Sentinel (David L)
Solitude is not loneliness. Here's the key philosophical difference. Big Think (David L)
#COVID-19
Science/Medicine

There is a theoretical risk that serial covid infections could predispose to a future more severe reinfection

It's very simple, no need to go wild

The recent VA paper lends this theory of decompensation credibility

— Anthony J Leonardi, PhD, MS (@fitterhappierAJ) April 18, 2022

She went to one doctor, then another and another Washington Post (Kevin W)

Coronavirus found in human feces up to 7 months after infection MedicalXpress (Robert M). n=110. But note possible long Covid clue.

U.Va. Health joins national study analyzing mild-to-moderate COVID-19 treatments Cavalier Daily (Li)

Randomised Clinical Trials of COVID-19 Vaccines: Do Adenovirus-Vector Vaccines Have Beneficial Non-Specific Effects? SSRN. Preprint.

UK/Europe

Jacob Rees-Mogg says civil servants must return to the office Guardian (Kevin W)

Asia

Shanghai lockdown: iPhone maker halts operations at China sites BBC (resilc)

US

Mask Mandate Ruling Scribd. IMHO, this outcome epitomizes the sloppiness and unseriousness of the Biden Administration. First, a rule without a proper rulemaking process, independent of the statutory reading as to the CDC jurisdiction, was clearly procedurally improper. Surprised it took this long to get here, but maybe the airline industry had trouble finding a cutout. The Biden Administration could have used an executive order as a placeholder during the rulemaking process. Rulemaking would also have flushed out all the contrary arguments and allowed the CDC to figure out how to deal with them. Second, if the Administration had been serious, the better way to go might have been an OSHA rule, to protect airplane, TSA, and other airport employees. Third, if the Dems were serious, they'd appeal, gin up an OSHA rule, and get either blue states or blue cities (airports are under municipal control) to impose a mask rule on inbound and outbound planes, as in plane doesn't land if there are unmasked passengers. A municipality could require an airport to suspend some of the gates if an airline violated the mask rule more than a certain # of times. You need the airlines to have skin in the game.

Trump-Appointed Judge Deemed 'Not Qualified' by Bar Association Voids Mask Mandate on Planes, Other Travel Rolling Stone (J-LS)

TSA not enforcing travel mask mandate after judge strikes it down The Hill
Climate/Environment
CO2 pipelines are coming. A pipeline safety expert says we're not ready. Grist (furzy)
China?
China's J-20 fighters begin South China Sea patrols Asia Times. Resilc: "If they can fly they are then way ahead of the F35."
India
Muslims Offer Water to Hindus, Hug Them During Ram Navami Procession The Wire (J-LS)

Extreme poverty in India declined by 12.3% points during 2011-19, says World Bank paper FirstPost (resilc)

How Privatisation Is Leading to Growing Inequality in India The Wire (J-LS)
Northern Ireland's dangerous future UnHerd (David)
Spain may cut electricity to France – media RT (Kevin W)
New Not-So-Cold War
Unasked, unanswered questions Gilbert Doctorow. Important, particularly re Russia loosening up on FX controls.

German unions and companies team up to oppose EU ban on Russian gas Business Insider (Kevin W)

The Ukraine Is Still Losing So What Is Its Plan? Moon of Alabama

Mr. Zelensky Goes to Washington Dennis Broe

It's Counterproductive For The EU To Comply With The US' Demands To "Do More" In Ukraine One World (Micael T)

Blinken Tells European Allies He Believes Ukraine War Will Last Through 2022 Antiwar (Li). Delusion. Weapons are barely getting in.

Telegram fun. Action in the euro on the Moscow Stock Exchange (recall Russian companies getting gas payments according to the new "gas for roubles" mechanism are required to do the FX on the Moscow Stock Exchange) suggests some European buyers are complying despite noises otherwise:

"It requires a non-standard approach": Elvira Nabiullina told how Russia will resist sanctions ePrimeFeed. Apologies for the far too cheery headline but this link seems to have the most complete detail on what Nabiullina said (the inability to get Russian transcripts and run them through a translator annoys me to no end). Short version is Nabiullina says Russia weathered the financial shock of the sanctions well but the real economy shocks are starting. She expects the worst period to be over the next six months.

* * *

British mercenaries urge PM Boris Johnson to exchange them for Putin's ally Medvedchuk Republic (J-LS). Russia has said Medvedchuk is not a Russian citizen and they are not exchanging anyone for him. Look like more effort to hammer in Medvedchuk as "Putin buddy" as opposed to "head of one of the biggest opposition parties".

Can't verify but for background: Russia MoD said over the weekend there had been about 8,100 Ukraine soldiers in Mariupol, way lower than previous independent guesstimates but in line with the # that defended Mosul, which took months to clear. MoD estimated remaining forces in the Azovstal factory at 2,100 tops. They were told to surrender by Sunday afternoon and if they left unarmed, they would not be killed. Ukraine did not comment. Russian side claims they intercepted many radio communications from inside asking to be allowed to surrender. Kiev allegedly said no and ordered Azov leaders to kill anyone who attempted to escape or even mentioned surrender. The started hitting the factory last evening with bombs, some of which observers thought might have included bunker busters.

Storming "Azovstal"⚡️The situation for the evening 18.04.22⚡️

Assault units of the DPR and the Russian Federation took control of the northern sector of the industrial zone of the Azovstal plant and are currently cleaning there, including underground communications. pic.twitter.com/5Laa3bh65C

— Chebureki Vibes (@PelmeniPusha) April 18, 2022

INTERVISTA DAL FRONTE_A CURA DI MAX BONELLI. l'Italia e il Mondo (lou strong). Translation: Interview from the front_ by Max Bonelli. Interesting detail on the identification of soldiers trying to flee as civilians.

* * *

Can't verify (hat tip integer) but not promising:

Alex Christoforu, who knows Lira, suggested contacting your local Chilean embassy or consulate and saying Chilean journalist Gonzala Lira was last seen in Kharkiv, Ukraine and has gone missing, can they make inquiries.

Scum. I've put a curse on her that all the evil she has done and is doing comes back on her tenfold in this lifetime, and some friends with way more mojo than me will be doing the same:
Old Blighty
The Churchill Cult, by Jingo, Tariq Ali New York Review of Books (J-LS)
Syraqistan
Captagon: Jordan's undeclared war against Syria drug traffickers Saudi Gazette (resilc)
Pakistan
Ousted Pakistani Leader, Imran Khan, Was Challenging Investment Treaties That Give Corporations Excessive Power CounterPunch (J-LS)

Aerial images show former Pakistani PM Imran Khan's supporters rallying in Karachi. pic.twitter.com/bstzQppKNR

— Press TV (@PressTV) April 16, 2022

How the Pakistani economy unravelled under Imran Khan Hindustan Times (J-LS)
Big Brother is Watching You Watch
Class-Action Lawsuit Targets Company that Harvests Location Data from 50 Million Cars Vice. From last week, still germane.

Scraping public data from the web still OK – US appeals court The Register (Kevin W)
Imperial Collapse Watch
Where's the Truth? How the CIA Shapes the Minds of Americans Antiwar (resilc)

First Air Force general to face court-martial won't stand before a jury Task and Purpose (BC)

The Navy Is Deputizing Doctors to Enforce Drug Rules Even for Those Seeking Mental Health Help Military.com (Kevin W)
Kamala Harris to announce US will no longer conduct anti-satellite tests The Verge (David L)
Democrats en déshabillé
Elizabeth Warren: Democrats Can Avoid Disaster in November New York Times (David L). Wowsers…..

Durham: Five Witnesses Connected to the Clinton Campaign's False Russian Claims Have Refused to Cooperate Under the Fifth Amendment Jonathan Turley (Chuck L). Clinton is running. She has a new haircut and a major facelift.

A Democrat in gym shorts tries to rally blue votes in Trump country MSN (resilc)
If Netflix is stumbling will Wall Street renew or cancel? Guardian (furzy)
Look like the battery fire ? in an electric bus??@BatteryFires pic.twitter.com/8RvdaBaw6P

— Xinyan (@Xinyan_Huang) April 17, 2022
Crypto Is Poised to Reshape Taxes – and Cities Wired (Robert M). The state of California tried issuing its own scrip after the financial crisis. Even with it being short term and paying interest, it still barely traded and then at a >20% discount.
How Bitcoin mining devastated this New York town MIT Technology Review (David L)
Sell-off in tech stocks spreads to private start-ups Financial Times (David L)
Class Warfare
Four More Starbucks Stores in New York to Hold Union Elections Eater NY (J-LS)

The Middle-Class Leviathan: Corona, the "Fascism" Blackmail, and the Defeat of the Working Class Crisis Critique (Micael T). Overwrought but correct to point out indifference to effects of lockdowns on the poor and the precariat.
Antidote du jour. A very oldie I missed in my inbox, from crh: "Detroit, aka, Troy and Mister Boots posing for the camera."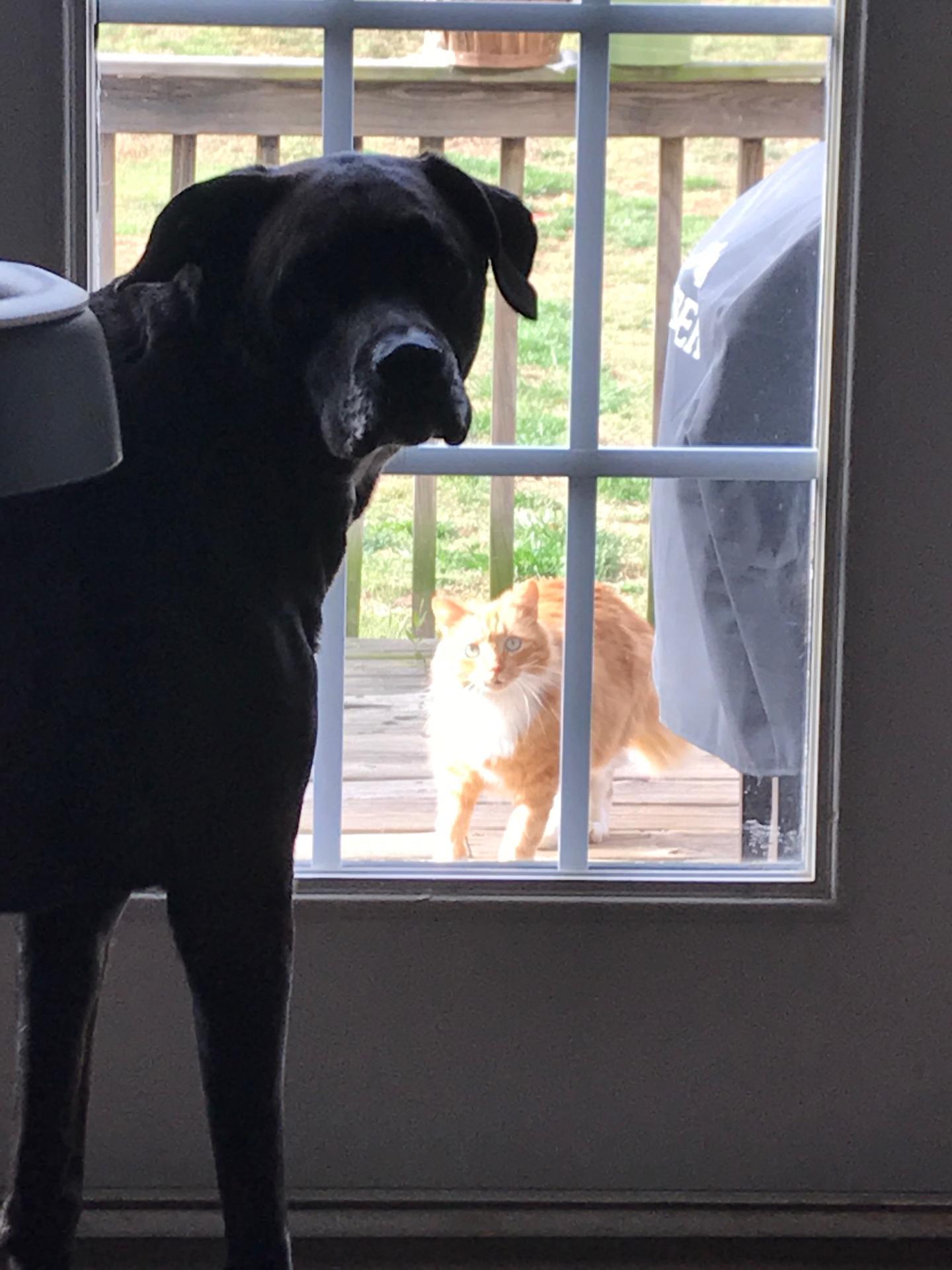 And a bonus (Kevin W)
TIMELINE CLEANSE

today i learned that skunks sound like muppets and this video will live forever in my heart pic.twitter.com/ZAF5nuvBmw

— Stu "Logical, Phallusy" Nugent (@ThatSexToyGuy) April 8, 2022
See yesterday's Links and Antidote du Jour here.