Lambert and I, and many readers, agree that Ukraine has prompted the worst informational environment ever. We hope readers will collaborate in mitigating the fog of war — both real fog and stage fog — in comments. None of us need more cheerleading and link-free repetition of memes; there are platforms for that. Low-value, link-free pom pom-wavers will be summarily whacked.
And for those who are new here, this is not a mere polite request. We have written site Policies and those who comment have accepted those terms. To prevent having to resort to the nuclear option of shutting comments down entirely until more sanity prevails, as we did during the 2015 Greek bailout negotiations and shortly after the 2020 election, we are going to be ruthless about moderating and blacklisting offenders.
–Yves
P.S. Also, before further stressing our already stressed moderators, read our site policies:
Please do not write us to ask why a comment has not appeared. We do not have the bandwidth to investigate and reply. Using the comments section to complain about moderation decisions/tripwires earns that commenter troll points. Please don't do it. Those comments will also be removed if we encounter them.
P.P.S. Our mod Jules is back from a repeatedly-Covid-postponed holiday in Norway. Had a great time and is sending aurora borealis vids.
* * *
Flamingo Spotted off Texas Coast, 17 Years After its Escape from a Zoo Sputnik (Kevin W)
The Crooked Forest: A Mystery Worth Exploring TheTravel (David L)
Brawn Before Brains: Mammals Bulked Up To Survive Post-Dinosaur World SciTechDaily (Kevin W)
Betty Reid Soskin, America's oldest active ranger, retires at the age of 100 Guardian (resilc)
Canada's Supreme Court upholds C$9m fine on maple syrup thief BBC (resilc)
AI-Directed Algae Blooms Boost Biofuel Prospects IEEE Spectrum (David L)
Timnit Gebru Is Building a Slow AI Movement IEEE Spectrum (David L)
#COVID-19
Science/Medicine

Groundbreaking collaborative work defines the risk of SARS-CoV-2 variants on immune protection News-medical.net (Kevin W)

There is now little doubt that SARS-CoV-2 is neurotrophic. It infects the brain: "neuroinflammation, microhemorrhages, brain hypoxia…including neuron degeneration and apoptosis [is] seen among animals that do not develop severe respiratory disease" https://t.co/GATm7WIwUn

— Dr Satoshi Akima FRACP 『秋間聰』 (@ToshiAkima) April 2, 2022

Highlighting COVID-19 racial disparities can reduce support for safety precautions among White U.S. residents Social Science & Medicine

I know several children in the UK that have had "Omicron" 3x since December. All healthy before December.

BA.1
BA.1
BA.2.x

— Alex Meshkin, GED (@alexmeshkin) April 1, 2022

Russian Health Ministry registers world's first nasal spray coronavirus vaccine TASS. Mind you, this is first to deploy, not first to develop. Scientist GM adds: "I would not be surprised if the troops were all given it before the invasion was launched, though it would have had to be an updated strain to be really effective against infection."

Asia

China reports 2,129 new COVID cases for April 1 vs 1,827 a day earlier Reuters

Robot dog with loudspeaker barks COVID instructions in China New York Post. Kill me now.

UK/Europe

And here's the position for the four nations, with
increases in E,W and NI, but a decrease in S which was the highest ever recorded in the 4 nations last week.

4.9m are estimated to be positive in the UK, another all time high.

— John Roberts (@john_actuary) April 1, 2022
Climate/Environment
California Snowpack Melts, Leaving State Desperate for Water Bloomberg

Chemical pollution: Surfing in toxic waters France24 (furzy)
Shortages
Nearly 1 in 3 food companies forced to reduce or shutdown production Brussels Times. From IM Doc, independent of above story, by e-mail:

2 interesting patient conversations this week…The other was the retired CEO of one of our big Ag corps. He told me in no uncertain terms to begin to do everything I could to prepare. All kinds of problems are brewing with the nation's food supplies and supply chains and the real pain will not start until later this summer or fall – but it is going to be really ugly. He rates the likelihood to be somewhere between "epic and biblical"

IM Doc is in deep flyover, and so his area by being at the end of supply chains is probably early to be hit (recall Jared Diamond on Montana). Still….

Powerless: Sri Lanka plunges into darkness amid fuel crisis FirstPost
China?
President Xi Jinping Holds a Virtual Summit with Leaders of France and Germany Ministry of Foreign Affairs of the People's Republic of China. Contrast that with the article below:

China-EU Summit Highlights Diverging Paths The Diplomat (RobertC). Hoo boy, presumptuous. The West, here the EU, keeps trying to pressure China to muscle Russia, which China has repeatedly made abundantly clear they will not do that. And to be crass, what leverage does the EU have over China? A buyers' strike is not a credible threat. Yes, it would hurt China but China's countersanctions would hurt more. This part is par for the obstinacy: "The overall impression was that China was desperately trying to turn back the clock, to a simpler time in China-EU relations." No, China is not desperate. This is likely the Chinese being polite because they regard the EU as hostage to the US (the readoout shows Xi made remarks to that effect, which of course EU officials denied).

Xi calls on EU to form independent China policy, encourages bloc to take primary role for Ukraine resolution Global Times. Global Times, a house organ, is a good register of the official reaction. A key bit comes late in the piece:

Hours before the China-EU leaders' meetings on Friday, Chinese analysts warned that China-EU relations cannot be kidnapped by the Ukraine crisis, and Europe should no longer be abducted by the US in foreign policy, as it will greatly undermine the EU's own interests, making it difficult to ensure economic recovery and people's livelihood, and runs counter to Europe's aim of pursuing strategic independence.

More evidence that pushing China is counterproductive: China Calls U.S. 'Leading Instigator' of Russia, Ukraine Conflict Newsweek (furzy). I assume this was after the summit….

China sanctions US officials who 'concocted lies' on human rights Hong Kong Free Press. The US wants China's help with Russia and then imposed new sanctions after the war stated. Does anyone in the State Department have an operating brain cell?
G20 Summit a diplomatic minefield for host Indonesia Asia Times (Kevin W)
New Not-So-Cold War
Russian Oil Is Too Cheap To Resist For China And India OilPrice (reslic)

Russia's Gazprom exits German business amid crisis in energy ties Reuters (Kevin W). Follows a raid on Gazprom offices in Germany.

UK sanctions Alfa, Gazprombank and Lavrov's step daughter Reuters. Note this was as of March 24, the same day Putin made his announcement of his gas for roubles plan. The UK gets only 3% of its gas from Russia. Russian officials must have noticed this sanction and still chose to stipulate only Gazprombank and not something on the order of "a bank headquartered and licensed in Russia " as the recipient of the regular in by implication unsanctioned in the buyer's country. The former Royal Dutch Shell, now Shell, which once in the Hague but a registered office in London, is now a London-based company and eliminated its dual shares in January 2022. However, Shell seemed to be much more of a Russian oil than gas buyer (gas buyers are typically utilities). It was called out in a March 4 Wall Street Journal story for buying discounted Russian crude and announced March 8 that it was going to discontinue buying Russian oil and gas. So it's not clear the UK Gazprom sanction has much practical impact.

Russian firms will be able to pay for planes to foreign creditors in rubles RIA. Original: Российские фирмы смогут платить за самолеты иностранным кредиторам в рублях

Putin ally warns agriculture supplies could be limited to 'friends' Cyprus Mail (Kevin W)

Meet the New, Resource-Based Global Reserve Currency Pepe Escobar, The Saker. Way too triumphalist. Remember Gramsci:

The crisis consists precisely in the fact that the old is dying and the new cannot be born; in this interregnum a great variety of morbid symptoms appear.

Thousands of Russia-linked shipping containers are causing a 'nightmare' situation in the Port of Rotterdam Business Insider (Kevin W)

* * *

Don't back down, Britain urges Ukraine The Times (Li)

Russia, Ukraine and the Law of War: War Crimes Scott Ritter, Consortium News

Kyiv told London that it does not intend to comply with the Geneva Convention on prisoners of war TASS. Only available on Russian sites. Wonder if/when this will make it to the English version of TASS. From a translation:

The Kiev leadership informed the British Foreign Office that it did not intend to comply with the Geneva Convention in the treatment of Russian prisoners of war. This is stated in a message released on Friday by the press bureau of the Foreign Intelligence Service (SVR) of the Russian Federation.

* * *

Sweden 'needs the security of NATO membership': Leading Swedish MEP France24 (furzy)

NASA says Russia is still 'moving toward' extending the space station through 2030
The Verge (resilc)

University of Florida renames Karl Marx study room following Russian invasion of Ukraine Orlando Weekly (resilc)
UN: Violence in Colombia Registers a 621% Increase This Year Telesur (guurst)
Big Brother is Watching You Watch
Fake Emergency Search Warrants Draw Scrutiny from Capitol Hill – Krebs on Security Brian Krebs (BC)

Apple rushes out patches for two zero-days threatening iOS and macOS users ars technica (David L)
Imperial Collapse Watch
Why 40 African armies met at a Fort Benning summit — and why some didn't Military Times

The military isn't tracking US-trained officers in Africa Responsible Statecraft. Kevin W flags the subhead: t with sub-title 'AFRICOM says it promotes human rights and rule of law but doesn't know why trainees are overthrowing their own governments.'
Biden
If Biden Continues Massive Oil Release, How Long Would Reserves Last? Newsweek. Not the right question. The US uses about 20 million barrels a day, v. the one million n a day the Administration will release for six months. This is a bit more than the amount imported from Russia. So on paper, all good. However, the sanctions and self-sanctioning are keeping global oil markets tight, and therefore prices high. Plus Russian fuel was medium-heavy, very well suited to making diesel and home heating fuel. We've not been willing/able to get heavy sour grades from Iran or Venezuela to mix with the light sweet crude we make and we buy from the Saudis and is presumably what we have stored. Oil mavens speak up. I understand diesel can be made from lighter grades, but diesel is more energy dense, so it takes more lighter-grade oil to make a gallon of diesel than a gallon of gas.

Biden Mulls Lifting Ethanol Caps In A Bid To Lower Gasoline Prices OilPrice

"Jettison the Animals!" James Howard Kunstler. On that laptop
Missouri Democrats' New Senate Candidate Was Queen of Whites-Only Ball Intercept
Judicial Watch Victory: Court Declares Unconstitutional California's Racial, Ethnic, LGBT Quota for Corporate Boards Judicial Watch. Note that Judicial Watch is conservative but not cray cray. They won in a motion for summary judgment. Ouch. I did a bit of poking around, but so far, the media seems to be ignoring this ruling.
Judge Tosses N.Y. District Lines, Citing Democrats' 'Bias' New York Times (resilc)
Our Famously Free Press
"Disappeared": Chris Hedges Responds to YouTube Deleting His 6-Year Archive of RT America Shows DemocracyNow!
L'affaire Jeffrey Epstein
US judge denies Ghislaine Maxwell request for new trial Agence France-Presse
Supply Chain
Overflowing Inventories and the Supply Chain Crisis Dean Baker, Counterpunch
Young women earn more than young men in several U.S. cities Pew (resilc)
Class Warfare
The moment Amazon workers at the JFK8 warehouse declared victory in their vote to form the first Amazon union in the United States pic.twitter.com/Fr92Wz1LIN

— Kei Pritsker (@KeiPritsker) April 1, 2022

We've all been through enough. Do. Not. Fuck. With. People. pic.twitter.com/ycZCLrNIGk

— Fuck You I Quit (@fuckyouiquit) April 1, 2022

Yale administrator stole $40-million in $10k increments, to avoid detection. That means she stole $10k twice a day for 8 years, and no one caught on: https://t.co/EFAEtuxFIU

— Graeme Wood (@gcaw) March 31, 2022

Positive Drug Tests Among U.S. Workers Hit Two-Decade High Wall Street Journal
Antidote du jour (CV). I miss having a cat.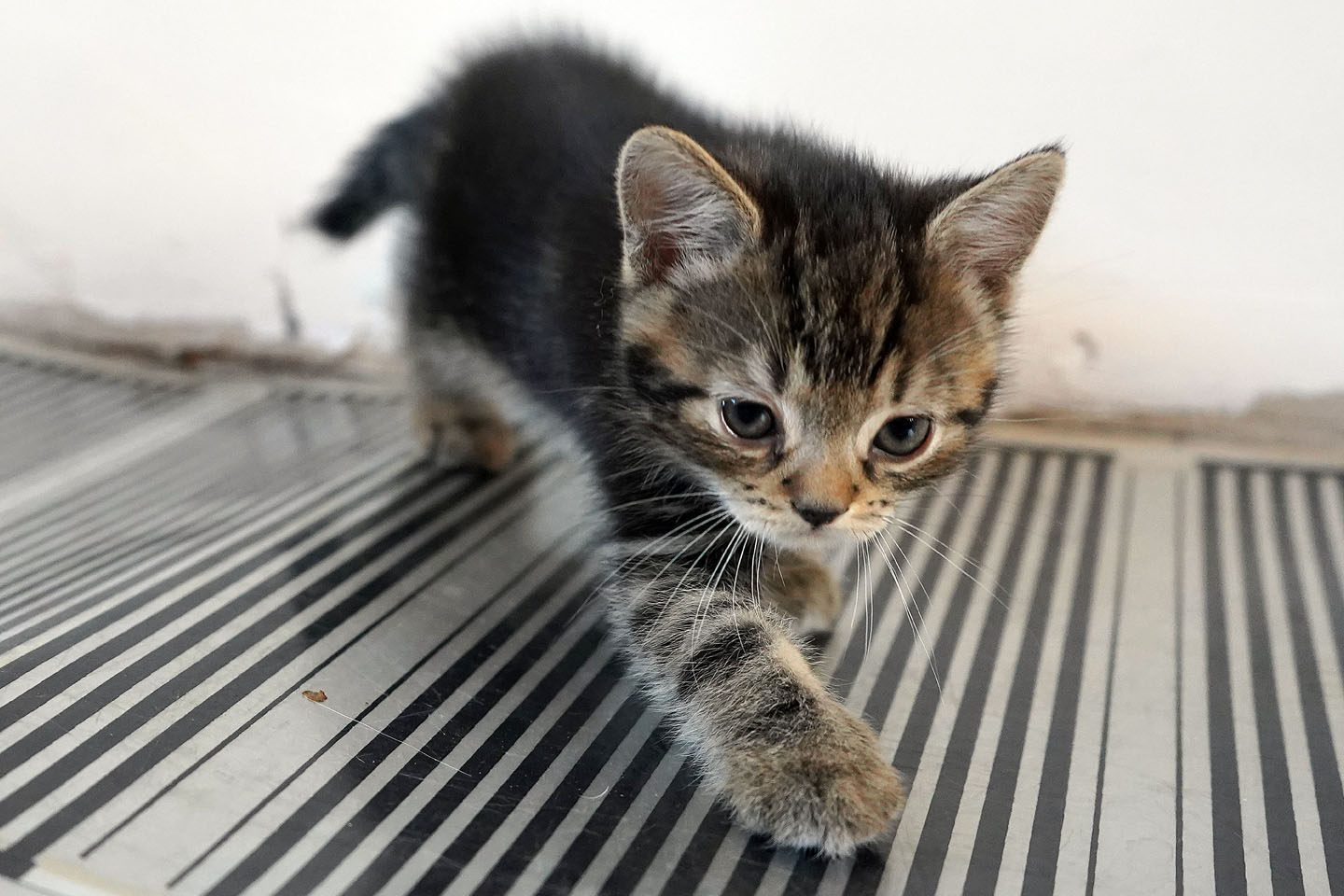 See yesterday's Links and Antidote du Jour here.