Lambert and I, and many readers, agree that Ukraine has prompted the worst informational environment ever. We hope readers will collaborate in mitigating the fog of war — both real fog and stage fog — in comments. None of us need more cheerleading and link-free repetition of memes; there are platforms for that. Low-value, link-free pom pom-wavers will be summarily whacked.
And for those who are new here, this is not a mere polite request. We have written site Policies and those who comment have accepted those terms. To prevent having to resort to the nuclear option of shutting comments down entirely until more sanity prevails, as we did during the 2015 Greek bailout negotiations and shortly after the 2020 election, we are going to be ruthless about moderating and blacklisting offenders.
–Yves
P.S. Also, before further stressing our already stressed moderators, read our site policies:
Please do not write us to ask why a comment has not appeared. We do not have the bandwidth to investigate and reply. Using the comments section to complain about moderation decisions/tripwires earns that commenter troll points. Please don't do it. Those comments will also be removed if we encounter them.
* * *
Hooray!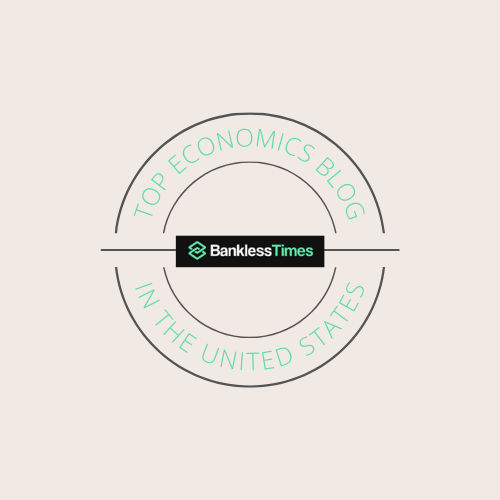 Source: BanklessTimes.com
I Can't Stop Watching This Teensy Dachshund Carry Around Extremely Large Sticks Daily Paws (David L)
The hidden world of octopus cities and culture shows why it's wrong to farm them The Conversation
Ted Polumbaum's photos of MLK, Jackie O and more shine off the page in new book NPR (David L)
Alzheimer's Study Finds 42 More Genes Linked To Higher Risk of Disease Guardian
Almost all the world's population breathes harmful air, says WHO Financial Times
Why virtue signalling is not just a vice, but an evolved tool Aeon Essays (David L)
#COVID-19
Science/Medicine

Projecting COVID-19 Mortality as States Relax Nonpharmacologic Interventions JAMA

Glasses and risk of COVID-19 transmission – analysis of the Virus Watch Community Cohort study. MedRxIv

High rate of BA.1, BA.1.1 and BA.2 in triple vaccinated MedRxIv. n=375, monitored closely.

New study shows COVID-19 can cause brain inflammation and small bleeds NewAtlas (David L)

Please see thread, not pretty:

T cell and cytokine mediated disease
Cranial nerve and spinal root involvement
Lots of macrophages in the vessels
Persistence of activated macrophages (due to fibrinogen)
Lymphocytes in perivascular regions
Dedifferentiated monocytes in CSF
Evidence of T cell exhaustion

— IleneRuhoyMDPhD (@RuhoyMD) April 2, 2022

Asia

Shanghai completes city-wide COVID sampling for 25 million residents in toughest Omicron battle Global Times. An impressive demonstration of operational capacity.

Hyderabad-based manufacturer to get mRNA technology from WHO to produce COVID-19 vaccines FirstPost (J-LS)

US

Google's former HR chief says your boss wants to boil you slowly like a frog to get you back in the office, and it will be terrible for morale and productivity Yahoo! News (Kevin W)
Climate/Environment
China?
China plans to remove hurdle to Sino-U.S. audit cooperation Reuters (resilc)

GT Voice: Canberra's new plan against Chinese firm's leasing of Darwin port self-destructive Global Times
India
How India showcased its diplomatic maturity while handling Russian and Chinese foreign ministers FirstPost. Ouch, no mention of pushy US and UK emissaries in the headline! But interesting discussion of protocols.
Old Blighty
The government which Rees-Mogg is part of chose a hard Brexit with the EU. It is profoundly dishonest to blame the consequences of that choice upon the EU. https://t.co/9fO7YRkG20

— Steve Peers (@StevePeers) April 4, 2022

Rishi Sunak asks Royal Mint to create NFT Guardian (Kevin W)
Macron's far-right rival, Le Pen, reaches all-time high in presidential second-round vote poll Reuters
New Not-So-Cold War
No Bodies! Touring Bucha With the Ukrainian Police, After Russians Left, Before the Massacre (vital/damning) Veterans Today

Questions Abound About Bucha Massacre Consortium News (furzy). Paging Aaron Mate…

The world is flat: Alleged atrocities in the city of Bucha as latest US-UK-Ukrainian "false flag" operation Gilbert Doctorow

Global lies over Bucha: How people's minds are manipulated War on Fakes (Chuck L)

Satellite images show bodies in Bucha for weeks, rebutting Moscow claim IBTimes. Furzy: "But no such images in the link!" She finds one that did but noted, "Here's the Maxar photo said to show the bodies in Bucha on March 19….I enlarged it….can see a few dark spots that might be bodies…..? . Note also that the infamous video shows by very very very fresh bodies. Now we are told there were dead bodies out for weeks, with no one burying them or taking shots and putting them on social media contemporaneously or sending them to the press, which knows how to protect sources…and no contemporaneous local photos from "weeks ago" surfacing now? Seriously? Plus Sibiryak in comments:

Lambert: Satellite photos are digital evidence. Therefore I view them as having little authority.

But don't these photos come from Maxar Technologies, a highly-reputed US company with close ties to the US DoD and, allegedly, the CIA?

"As a Maxar customer, the Department of Defense isn't just a passive consumer of Maxar images; it is, in a way, a co-producer of those images."

https://newrepublic.com/article/165910/maxar-ukraine-russia-satellite-images-war-propaganda

Bucha mourns at mass graves in wreck of Russian retreat AFP (furzy). The notion that some died in shelling is more plausible but civilians as collateral damage in a military operation is not a war crime. And why would the Russians disrespect the dead by leaving them out and remind locals of civilian casualties, when the directives from Moscow were to spare civilians so as to minimize ill will?

Russia to insist on UN Security Council meeting on Bucha situation on April 4 — envoy TASS. The headline is crappy but basically Russia demanded a meeting on the 4th, to which was entitled, procedurally, and the UK as the current chair scuttled it. And earlier story: Russia to demand convening UN SC session over Bucha provocation again TASS

* * *

LIVE — Ukraine warns of full-scale Russian attack in east DW. Those of you who have been following this story will not be surprised.

Russian Flag Raised In Center Mariupol (Exclusive Special Report) Patrick Lancaster, YouTube. Alexander Mercouris reports (wish he'd cite his sources) that there are still Ukrainian soldiers in the steelworks and at the port. Also worth watching: Asking Mariupol Residents About Russian Attacks On Civilian areas

HOW TO READ THE WAR IN REVERSE WITHOUT OUTSMARTING YOURSELF John Helmer. This idea is key: "The Ukrainian plan of land attack was the feint; the sanctions war was the main thrust at Moscow." While not provable, it is consistent with the failure of the West to shore up Ukraine operationally, which they ought to have been prepared to do once the fighting started, and with the report that Victoria Nuland last October threatened Sergei Lavrov to his fact in the Kremlin that unless the Russians let the Ukrainians take Donbass, she would destroy their economy.

The first casualty of War is Truth (Live w/Scott Ritter, YouTube. Particularly see starting at 1:01:55. But think he has missed some fine points. Apparently at least two mayors did agree to let Russian tanks and troops transit through their towns, but they were quickly murdered.

Pundits Who Advocate Hot War With Russia Are Enemies Of Humanity Caitlin Johnstone

* * *

U.S. stops Russian bond payments in bid to raise pressure on Moscow Reuters (Kevin W)

Germany is under pressure to ban Russian natural gas, but Deutsche Bank's CEO says cutting supply would send the country into a 'virtually unavoidable' recession Business Insider

Germany takes control of Gazprom unit to ensure energy supply Al Jazeera (Kevin W)

Marine Fuel Suppliers Stop Serving Russian Ships in the Med -Sources Reuters. From last week, still germane.

Why Renewables Can't Solve Europe's Energy Crisis OilPrice. Resilc: "Loads of little cars with diesels."

Climate Collaborations in the Arctic Are Frozen Amid War Undark
Syraqistan
Israel charges Palestinian journalists with incitement — for doing their jobs +972 (guurst)
Big Brother is Watching You Watch
Wyze Camera Vulnerability Bruce Schneier
Imperial Collapse Watch
The Army's suicide rate in 2021 was the worst it's been since before WWII Task & Purpose (BC)
Trump
Biden
Biden doing more harm to renewables than Trump, says solar boss Financial Times

Hunter Biden grand jury witness was asked about deal with Chinese firm – and 'the big guy' New York Post. I know Twitter is not the real world, but when I put in "Biden" to see if there was anything new I might have missed, there were >5X as many tweets on matters Hunter as on Ukraine. And no, I follow Covid and finance and some bona fide lefty types.
Efforts To Ban Books Jumped an 'Unprecedented' Four-Fold In 2021 NPR
A Spot of Bother for Bitcoin Doomsberg. Important if you are interested in crypto.
Mercedes-Benz Puts 5,600 Workers On Vacation In Brazil Due To Chips Shortage Reuters
New Vehicle Sales Plunge as Chip Shortages, Production Cuts, Low Inventories Drag On. Back Where They'd Been in 1979 Wolf Richter
Class Warfare
Antidote du jour. Tracie H:
I'm not sure what gender this little squirrel is, but I believe s/he's a Belding's Ground Squirrel. S/he lives near the Kern river along Hwy 178 (California). When it first spotted me it jumped off its rock into these brambles, but when I didn't go away, it came out for a better look.

Later, after about 5 minutes of following it from perch to perch, it finally decided I was harmless and came all the way up to me. I felt bad that I had nothing to offer as reward for its bravery, so went to the car and brought back the only thing I had to offer, a strawberry. S/he ran up to me, grabbed it from my hand, and darted away.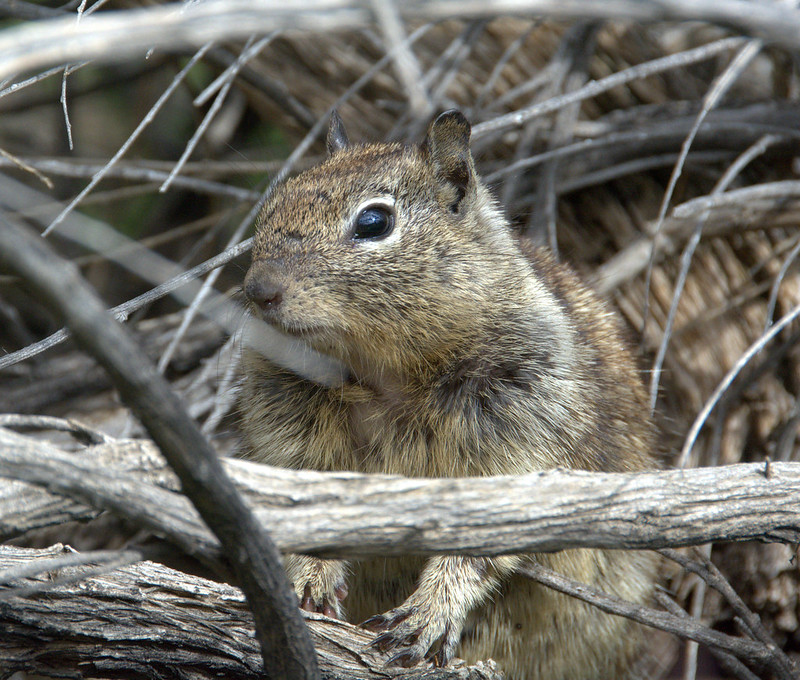 And a bonus (furzy). I think we've run this clip before, but still fun:
this dog knows how to have fun in all kinds of weather
(jukin media) pic.twitter.com/CUEUkoAeQC

— theworldofdog (@theworldofdog) April 4, 2022
See yesterday's Links and Antidote du Jour here.