By Lambert Strether of Corrente
Bird Song of the Day
This is Hermit Thrush Week at Naked Capitalism (hat tip Noone from Nowheresville). Dawn song.
* * *
Politics
"But what is government itself, but the greatest of all reflections on human nature?" –James Madison, Federalist 51
"They had learned nothing, and forgotten nothing." –Charles Maurice de Talleyrand-Périgord
"When the going gets weird, the weird turn pro." –Hunter Thompson
Biden Adminstration
"Biden Can Fight Inflation by Repealing Trump's Tariffs. Why Hasn't He?" [Jonathan Chait, New York Magazine]. "Inflation is, by far, President Biden's gravest problem." A million dead in a pandemic? War with a nuclear power? Move along people, move along. There's no story here. More: "One recent study finds that rescinding the Trump tariffs would reduce prices 1.3 percent. With inflation currently running over 8 percent, that would hardly resolve the crisis, but it would do more to alleviate it than any other step Biden could take on his own." • Whatever's going to prevent a midterms debacle for the Democrats, this is obviously not it.

"COVID-19 cases climb after White House media dinner" [The Hill]. "COVID-19 cases among attendees at the White House correspondents' dinner last weekend are mounting, highlighting the continued threat of the virus as cases rise nationally…. There is no exact count, and it is not clear which dinner attendees contracted the virus at the dinner itself or at one of the many parties last weekend surrounding it. But the string of reported cases does emphasize the point that even as the country seeks to move on from the virus, large indoor gatherings do carry some risk. 'I'm yet another [White House Correspondents' Association] weekend casualty,' tweeted Julia Ioffe, a correspondent at Puck News. '!'" • Ioffe lights up a cigarette, blows the smoke in your face. "I knew I was taking a risk." Yeah, for both of us! Can't these people practice their death cult rituals in the privacy of their own homes?

"Biden disinformation chCief Nina Jankowicz pushed Trump-Russia collusion claims" [Washington Examiner]. • Yes, that's the point.

Correct:

This is bearish. https://t.co/l43pEo5NpN

— Yakov Feygin 🏗🌹🧦🇺🇦 (@BuddyYakov) May 9, 2022
2022
* * *

GA: "Democratic megadonor Soros puts $1 million into Abrams' campaign" [Atlanta Journal Constitution]. • That's nice.

PA: "'Ultra-MAGA' longshot roars into contention in key Senate race" [Politico]. "Kathy Barnette has been outspent 358-to-1 on TV in Pennsylvania's GOP primary for the Senate. She hasn't run for statewide office before. She doesn't have former President Donald Trump's endorsement. But the ultra-MAGA commentator is surging in the polls anyway in the final weeks of one of the most expensive and closely watched races in the country. Barnette's unlikely — and, to some, unbelievable — rise has turned heads in political circles across the state because it defies political logic. Just two years ago, she lost a House bid in the Philadelphia suburbs by a wide margin…. Barnette has a purist's zeal, a compelling life story, and the ability to tell it to Republican grassroots voters. And, according to Republican strategists and officials across the state, Barnette is likely benefiting from a smashmouth primary that features Oz and McCormick going nuclear on each other on TV… Barnette has used forums and debates to talk about her striking biography: She has described herself as a "product of a rape," whose mother was only 11 years old when she was conceived. As a child, she lived on a pig farm without insulation. She went on to become a veteran, adjunct professor of corporate finance, and author of "Nothing to Lose, Everything to Gain: Being Black and Conservative in America.'" • Listen to Black women! (Her bio reminds me a little of J.D. Vance.)

PA: "Pro-Israel Lobby Spends Big to Defeat Progressive Summer Lee" [ReadSludge]. "Democratic Majority for Israel (DMFI), fresh off its victory in helping defeat progressive Democratic challenger Nina Turner in Ohio, has begun throwing money behind corporate attorney and former Republican congressional staffer Steve Irwin in Pennsylvania. Irwin is facing progressive State House Rep. Summer Lee in the Democratic primary for the state's 12th Congressional District, a solidly Democratic seat that is being vacated by retiring Democratic Rep. Mike Doyle. The group's super PAC recently put $305,000 behind TV ads and $95,000 behind internet ads backing Irwin, according to new FEC filings. DMFI is closely tied to the pro-Israel lobbying group American Israel Public Affairs Committee (AIPAC). It was founded in 2019 by Mark Mellman, a Democratic pollster and former AIPAC consultant, and several of its board members have recently held positions with AIPAC and its affiliated groups. Many of its donors have also been affiliated to AIPAC. For example, Stacy Schusterman, the chairman of oil and gas company Samson Energy who is DMFI PAC's top donor this year with $2.5 million given, is a former AIPAC board member. Irwin co-leads the government relations and securities groups as a partner with the Pittsburgh, Pennsylvania-based Leech Tishman Fuscaldo & Lampl law firm."
Democrats en Déshabillé
I have moved my standing remarks on the Democrat Party ("the Democrat Party is a rotting corpse that can't bury itself") to a separate, back-dated post, to which I will periodically add material, summarizing the addition here in a "live" Water Cooler. (Hopefully, some Bourdieu.) It turns out that defining the Democrat Party is, in fact, a hard problem. I do think the paragraph that follows is on point all the way back to 2016, if not before:

The Democrat Party is the political expression of the class power of PMC, their base (lucidly explained by Thomas Frank in Listen, Liberal!). ; if the Democrat Party did not exist, the PMC would have to invent it. . ("PMC" modulo "class expatriates," of course.) Second, all the working parts of the Party reinforce each other. Leave aside characterizing the relationships between elements of the Party (ka-ching, but not entirely) those elements comprise a network — a Flex Net? An iron octagon? — of funders, vendors, apparatchiks, electeds, NGOs, and miscellaneous mercenaries, with assets in the press and the intelligence community.

Note, of course, that the class power of the PMC both expresses and is limited by other classes; oligarchs and American gentry (see 'industrial model' of Ferguson, Jorgensen, and Jie) and the working class spring to mind. Suck up, kick down.

* * *

"The Scourge of Sentimentality Politics" [John Ganz, Gawker]. "For 50 years, conservatives have worked tirelessly towards the repeal of Roe v. Wade. While calling for 'strict constructivism,' 'judicial restraint,' and denouncing 'judicial activism,' they trained and deployed cadres of lawyers as right-wing activists. They gradually took over institutions and then the key institution: the Supreme Court. This required them to adopt Machiavellian means: most of the justices in question swore up and down at their confirmation hearings that they had no designs on Roe, that it was the settled precedent. They were lying. In a certain way it's a brilliant feat of political will and organization that should be studied. But while the conservative movement has pumped out loyal foot soldiers who understood that the cause was the main thing, liberals have gotten caught up in the hagiography of their leading functionaries, making everyone involved forget that they are part of a larger movement and not the ends in themselves. A perfect example of this is the pathetic and embarrassing cult of Ruth Bader Ginsberg — the "Notorious RBG" T-shirts, the inane interest in the details of her workout regimen, the literal votive candles — part of that political tribe's tendency to worship bureaucrats and officials as saviors, a process replicated in Comeyism (his trashing of Clinton's electoral chances was quickly forgotten after he became a vocal Trump critic), Muellerism, and Faucism…. . They are no respecters of persons. When they got the sense that they were being cheated by their establishment who would just collect checks, pal around in Washington D.C., and not deliver anything, they unleashed Trump to menace them. Their entire apparatus is a kind of grotesque vision of ideal democracy: an unruly mob terrifying and disciplining the elite. 'Don't get out of line, we will come for you.'"
Republican Funhouse
"Pro-abortion chalk message appears on Susan Collins' Bangor sidewalk" [Bangor Daily News]. "Sen. Susan Collins was confronted with a pro-abortion rights message Saturday night when an unknown person or persons wrote in chalk on the sidewalk outside her West Broadway home in Bangor, prompting a police response. 'Susie, please, Mainers want WHPA —–> vote yes, clean up your mess,' the message read, according to a Bangor police report. WHPA refers to the Women's Health Protection Act, which would codify the right to abortion into law and ban restrictions on abortion access. Bangor police responded to West Broadway at 9:20 p.m. Saturday to investigate a message written in chalk on a sidewalk, Bangor police spokesperson Wade Betters said."
RussiaGate
"Three Friends Chatting: How the Steele Dossier Was Created" [Wall Street Journal]. In Links, but worth rehoisting for the yarn diagrams: "[A] Wall Street Journal review found [that] many of the dossier's key details originated with a few people gossiping after they had been brought together over a minor corporate publicity contract." And here is how the contract came to be: "Mr. Danchenko [Steele's "source"] had spent most of his professional life in the U.S., including several years as a researcher for the . By 2016 he was doing research for Mr. Steele. When Ms. Galkina asked him to suggest a publicist for her employer, Mr. Danchenko emailed his former boss at Brookings, . 'I have an URGENT small favour to ask you,' Mr. Danchenko wrote, relaying that a 'very good old friend of 25 years' was seeking help from a public relations firm with Russia experience and would be in Washington the following week. Ms. Hill, who later became a top National Security Council Russia expert—and later still a witness at Mr. Trump's first impeachment hearings—forwarded the email to Mr. Dolan, the PR executive. After Ms. Galkina arrived in Washington, Mr. Danchenko took her shopping and to a restaurant, say FBI notes of a later interview with the researcher." • As I experienced Trump's second impeachment, it was The Blob, in the person of Fiona Hill, whipping Trump into line (to, as we now may assume, move a proxy war in Ukraine with Russia forward).
Realignment and Legitimacy
Smiles (1):

Principal of our school went on about how great it was going to be to see maskless faces, to see the kids' smiles (I pleaded with her to no avail to keep masks on, then kept my kid home), weeks later she was pleading with parents to mask their kids as covid cases exploded.

— Pickle & Son (@PickleVermont) April 24, 2022

Smiles (2):

I cannot express how much happier the world is without mask mandates. My kids bounce out of bed, excited for school. Strangers greet each other kindly. Smiles and laughter everywhere.

We can never go back.

— Sarah Beth Burwick (@sarahbeth345) April 25, 2022

Smiles (3):

Flew domestic 10 days ago. Wore KN95 mask onboard. A few coughed non stop. Plane was full of frail elderly and infants. I'm 2xboosted (4shots). And to that guy who said to me "finally no need for masks let's see your face and your smile," pfffffttttt.

— Julie A (@julieander68) May 9, 2022

Smiles (4):

WOW! First flight with NO MASK! So happy to see the smiles 🥰 #nomask #MondayMorning pic.twitter.com/JUznh9JbxL

— Sharon Kay Dobbins McCray (@skmccray272) May 2, 2022

"Eyes Are Windows to the Chinese Soul: Evidence from the Detection of Real and Fake Smiles" [PLoS One]. "In Western cultures, the mouth is crucial in identifying and interpreting facial expressions, especially with regard to happiness and smiles. A rich body of literature supports this idea…. However, interpreting the meaning of a smile also depends on the information conveyed by the eyes, especially for distinguishing between real and fake smiles…. Williams, Senior, Loughland, and Gordon [15] further proposed that the distinction between real and fake smiles is so important that, when a smiling face is detected, attention is automatically directed towards eyes and eye corners to evaluate the authenticity of the smile. In support of this hypothesis, they demonstrated that observers make more fixations to eye corners (crow's-feet wrinkles) for smiling compared to neutral or sad faces." • So, it's not just that the anti-maskers want to optimize for smiles. It's that they want to optimize for fake smiles (i.e., for people who can be conned because they look only at the mouth, not the eyes). I suppose, in today's America, that is not unsurprising.

* * *

There's science, and then there's "science" and then there are scientists:

Extreme polarization on "trust in science" is a recent and very troubling trend. pic.twitter.com/jgtYbiqVo7

— Alec Stapp (@AlecStapp) May 8, 2022

I wonder how many of those pro-science Democrats have confused science with scientist-celebrities, like Fauci; or with the work of demonstrably democidal institutions, like CDC. I woiuld bet many.
#COVID19
Just in case these people think nobody's paying attention: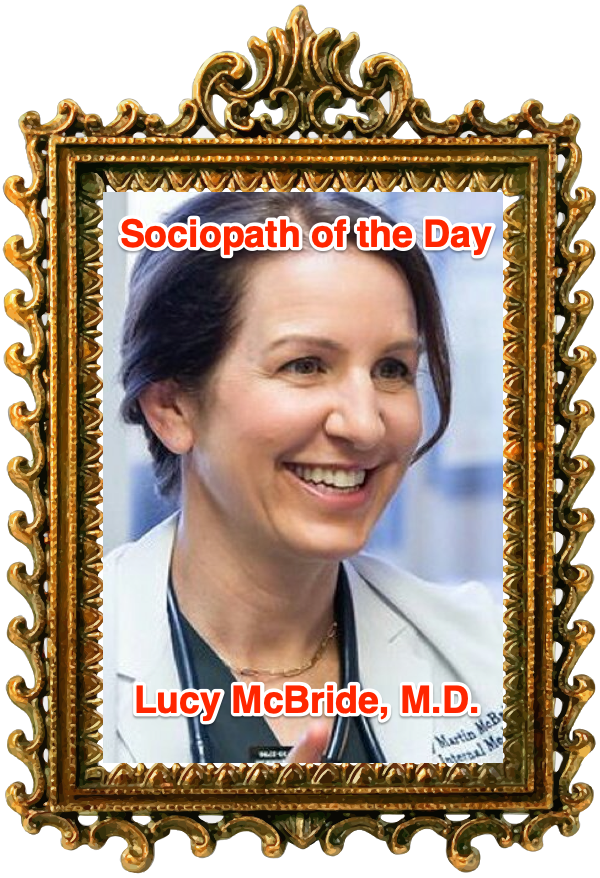 (Yes, I've got to get around to Leana Wen, but McBride is Wen's mini-me.) I felt McBride deserved a place in the pantheon when I read this:
"The next COVID mandate? Focus less on masks and more on those behind them" [Lucy McBride, The Hill]. "In other words, . It's time to graduate [!!] from a one-size-fits-all [for masks, and indeed mask-wearing, this is literally untrue] to a more nuanced approach to risk mitigation. The problem? Not everyone has access to information and proper medical guidance to do so. In fact, approximately 80 million Americans don't have access to a primary care provider. As we face this next chapter of the pandemic, it's time to arm people with and the tools they need to protect themselves against COVID — plus the myriad non-COVID health threats all around us. This starts with giving people unfettered access to a trusted guide. " A professional, in other words. More: "The common thread between countries who successfully navigated the pandemic was surprisingly not GDP, smoking, cancer rates, population density or even health insurance coverage; it was trust. A Lancet study concluded that higher levels of trust in public health measures were the most predictive factors of lower COVID infection rates. Sixty-three percent of Americans trust their medical providers, many of whom are members of their own communities…. As we transition to the "that's up to them" phase of COVID, we must meet the moment and invest in the unmet needs of millions of Americans. Primary care medical providers, if well-funded and scaled up, are the best line of defense against our most insidious health problems and the vacuum of trust." • McBride seems to believe that population-level public health measures are best delivered at the patient level; in other words, she confused public health with medicine. I'm all for scaling up primary care medical providers, but McBride's reason for doing so is bad. (Imagine Snow leaving the pump handle on, and then asking the people in his cholera-infested district to talk to their primary medical care provider about whether they should keep going to the pump, or boil water, and what "assessing their personal risk" meant.)
And we welcome a previous winner, Ashish Jha:
"Press Briefing by Press Secretary Jen Psaki and White House COVID-⁠19 Response Coordinator Dr. Ashish Jha" [White House]. "So I want to take a minute to talk about where we are with the pandemic. We are — I believe we are at an inflection point." • Wait, what? I thought Covid was over. We don't need no steekin' inflection points! Jha then goes on to sell Paxlovid. Hard.
* * *
Lambert here: I am but a humble tape-watcher, but if some trusting, non-realist soul tells you that "Covid is over," you can tell them that cases are up, transmission is up, test positivity is up, hospitalization is up, rapid riser counties are up, and wastewater is up, too. And this is all from data designed to support the narrative that "Covid is over," and gamed within an inch of its life. So, if signals like that are flashing red, consider what the real signal must be like. (Note also this is all with BA.2 only, and with what the establishment considers an "immune wall" made from vaccination and prior infection. Since semper aliquid novi Africam adferre, and we've let 'er rip at the airports…. Well, I just hope we get lucky with BA.4 and BA.5. "God has a special providence for fools, drunkards, and the United States of America." –Otto von Bismarck.
* * *
If you missed it, here's a post on my queasiness with CDC numbers, especially case count, which I (still) consider most important, despite what Walensky's psychos at CDC who invented "community levels" think. But these are the numbers we have.
* * *
Case count by United States regions: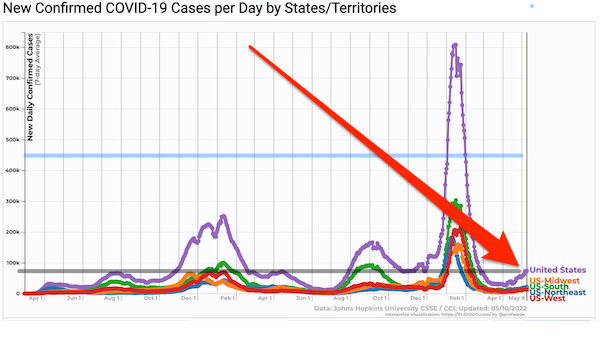 Looks like the train is rolling, now. Remember these data points are weekly averages, so daily fluctuations are smoothed out. Also remember, it's 100% certain the cases numbers are significantly understated. They've always been gamed, but it's worse than before. One source said they though cases might be undercounted by a factor of six. Gottlieb thinks we only pick up one in seven or eight. The black "Fauci Line" is a counter to triumphalism, since it compares current levels to past crises. The blue "Biden Line" shows what the case count would be if it were 73,000 * 6 = 438,000, i.e. not gamed. (I changed the Biden Line from dotted to solid because the dotted line was too hard to draw properly in my crude tool.)
Here are cases for the last four weeks: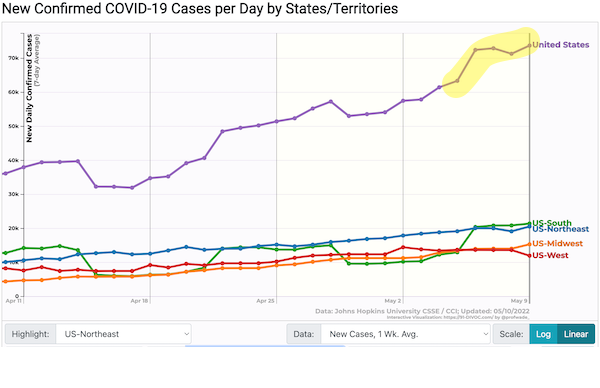 Worth noting that cases have nearly doubled in four weeks.
NOTE I shall most certainly not be using the CDC's new "Community Level" metric. Because CDC has combined a leading indicator (cases) with a lagging one (hospitalization) their new metric is a poor warning sign of a surge, and a poor way to assess personal risk. In addition, Covid is a disease you don't want to get. Even if you are not hospitalized, you can suffer from Long Covid, vascular issues, and neurological issues. For these reasons, case counts — known to be underestimated, due to home test kits — deserve to stand alone as a number to be tracked, no matter how much the political operatives in CDC leadership would like to obfuscate it.
However, and astonishingly, it looks like CDC is gaming "the green map" is well. Thread:
Much has been said about how the CDC's green map is a disinformation tool, and I wholly agree with that. What I'm adding is that, at least for Puerto Rico, its hospitalization numbers are at completely at odds with the HHS dataset.https://t.co/g0rfjLXFCJ pic.twitter.com/wVszXxl74l

— midnucas #FueraLUMA 🇵🇷 (@midnucas) April 28, 2022
Do we have any SQL mavens in the house who would like to replicate this work?
From the Walgreen's test positivity tracker: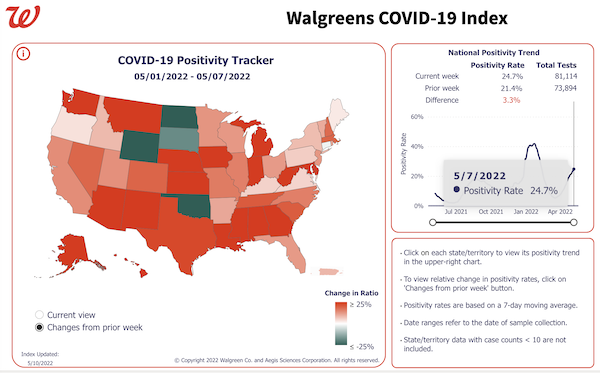 I'm leaving the corporate logo on as a slap to the goons at CDC.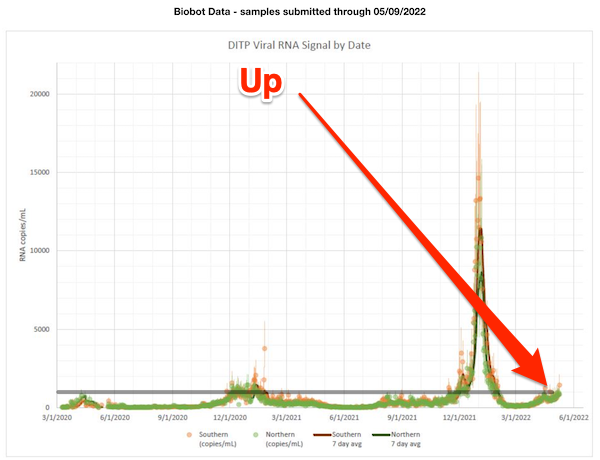 The Massachusetts Water Resources Authority (MWRA) service area includes 43 municipalities in and around Boston, including not only multiple school systems but several large universities. Since Boston is so very education-heavy, then, I think it could be a good leading indicator for Covid spread in schools generally.
From Biobot Analytics: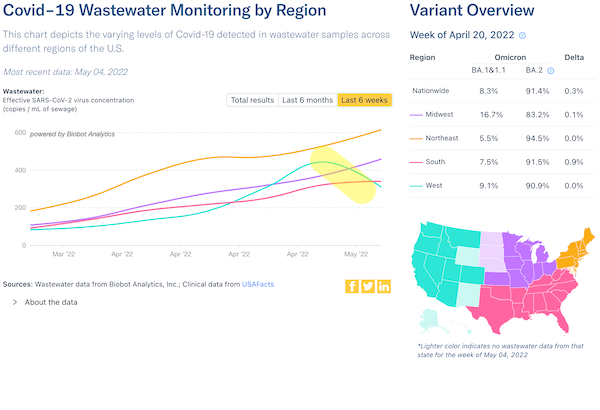 Northeast unflattened, and — hat tip to readers for pointing to this — it looks like past aggregation was adjusted up. But that drop in the West looks like an adjustment, too. Do we have any readers who track non-biobot wastewater in the West?
"U.S. Centers for Disease Control and Prevention Selects Biobot Analytics to Expand National Wastewater Monitoring" [PR Newswire]. " The U.S. Centers for Disease Control (CDC) has selected Biobot Analytics to expand the agency's National Wastewater Surveillance System (NWSS), an integral part of President Biden's plan to fight Covid-19 and prepare the country for future pandemics. NWSS works with public health departments across the country to track SARS-CoV-2 levels in wastewater so communities can act quickly to prevent the spread of Covid-19. The Biden Administration recognizes wastewater monitoring as a predictive indicator of new cases as well as an inclusive public health tool. Dr. Ashish Jha, the White House Covid-19 Response Coordinator, wrote that wastewater monitoring 'can give us early insights into rising case rates and help us track infections in the community.' 'This program will allow hundreds of local communities to benefit from this novel technology.' Over the next year, the CDC will work with Biobot to collect and analyze wastewater samples from 500 communities across the country to gather SARS-CoV-2 data." • 500? That's all? Seems unlikely to help me do my personal risk assessment homework.
Cases lag wastewater data.
From CDC Community Profile Reports (PDFs), "Rapid Riser" counties: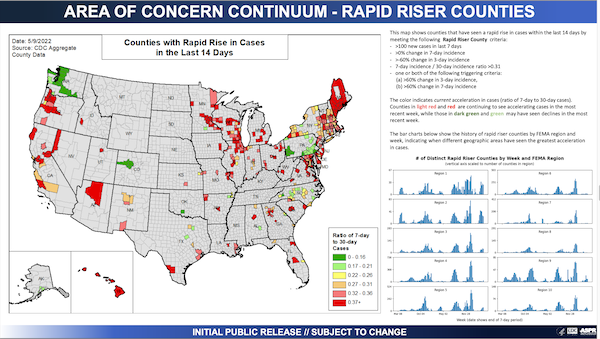 Major improvements on the West Coast. Pennsylvania improves in the Northeast. (Remember that these are rapid riser counties. A county that moves from red to green is not covid-free; the case count just isnt, well, rising rapidly.) It would be nice if the falling wastewater measures in California presaged a drop in cases. (OTOH, the Biobot data is only as good as the non-representative sample it uses, so…).
The previous release: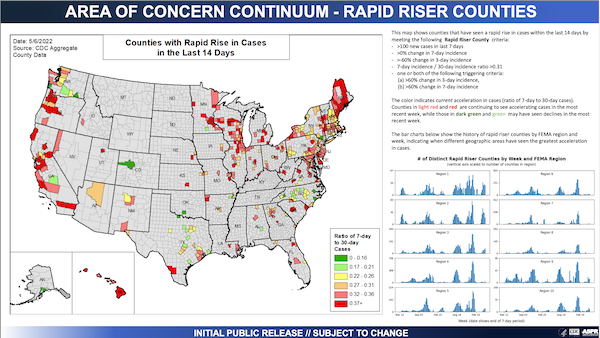 Here is CDC's interactive map by county set to community transmission. This is the map CDC wants only hospitals to look at, not you: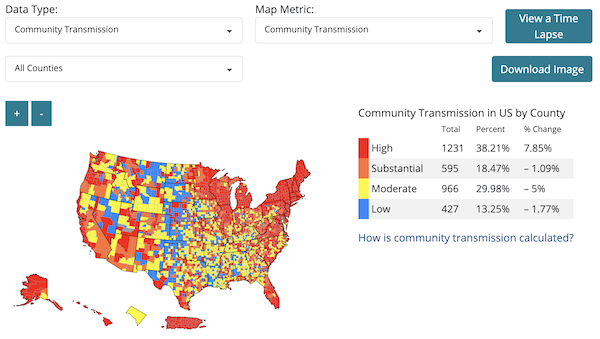 The Northeast remains stubbornly and solidly red. Now California is red as well. The Upper Midwest is moving that way, too. (The Unorganized Territories in Maine are back to red, good job.)
Hospitalization (CDC Community Profile):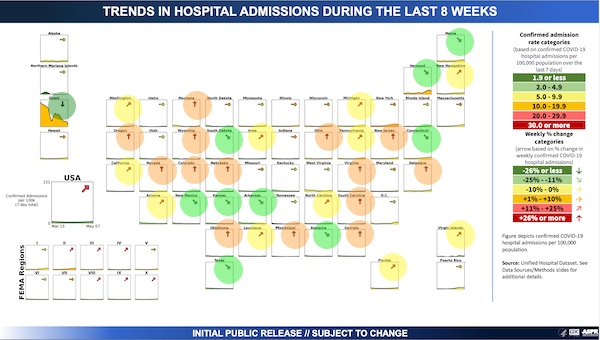 This map is very dynamic! Now the orangization has moved from the Northeast to the Midwest and the Mountain states. (Note trend, whether up or down, is marked by the arrow, at top. Admissions are presented in the graph, at the bottom. So it's possible to have an upward trend, but from a very low baseline.)
Death rate (Our World in Data):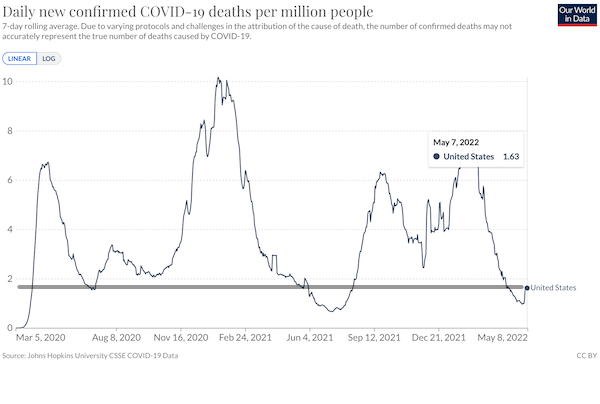 Total: 1,024,752 1,024,546. Now even the death rate is up. By a lot. Did CDC discover a bunch of death certificates stuffed in a drawer? I have added an anti-triumphalist Fauci Line.
"Spring Breakers Arrange Scattered Corpses To Spell Out YOLO" [Babylon Bee]. • Onion-class, but I think the Bee thinks they're owning me. Theyr'e not.
Covid cases in top us travel destinations (Statista):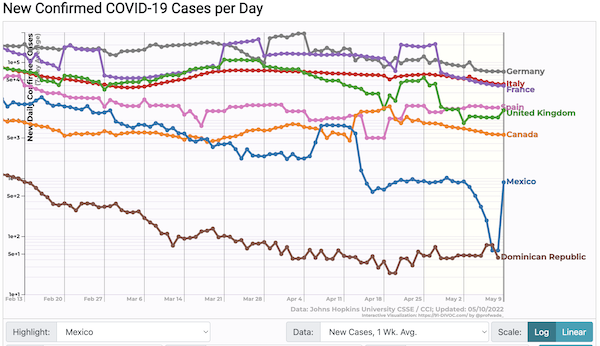 Broadly down. (Note the quality of these numbers varies wildly. For example, the UK is cutting back on testing data.
Stats Watch
Inflation: "United States Inflation Rate" [Trading Economics]. "The annual inflation rate in the US accelerated to 8.5% in March of 2022, the highest since December of 1981 from 7.9% in February and compared with market forecasts of 8.4%. Energy prices increased 32%, namely gasoline (48%) and fuel oil (70.1%) as Russia's invasion of Ukraine pushed crude oil prices higher. Also, food prices jumped 8.8%, the most since May 1981."
Small Business Optimism: "United States Nfib Business Optimism Index" [Trading Economics]. "The NFIB Small Business Optimism Index in the United States was unchanged at 93.2 in April of 2022, the same as in March, and remaining at levels not seen in two years. More business owners expect business conditions to worsen over the next six months but the share of those raising selling prices eased from a record high in March and more expect real sales to be higher in the short-term."
* * *
Shipping: "Contract talks due to start this week between West Coast dockworkers and cargo-handling companies carry high stakes for U.S. supply chains. The negotiations covering 29 ports have proven highly contentious and disruptive in years past…." [Wall Street Journal]. "The risks are even greater this year with freight networks still backed up and the American economy looking increasingly fragile. Leaders of the International Longshore and Warehouse Union and the Pacific Maritime Association both are expressing optimism they can reach an agreement. The early start to talks to replace a contract expiring this summer suggests there is some urgency backing up the public statements, partly because importers are already looking for alternatives to the congested Southern California ports. Automation on the docks is shaping up as the biggest issue, with big questions that were pushed back in earlier contracts now growing more pressing.
The Bezzle: "Crypto's Audacious Algorithmic Stablecoin Experiment Crumbles" [Bloomberg]. "Algorithmic stablecoins, like their more 'traditional' counterparts, are supposed to provide calm in the chaos of crypto. Instead, as investors in one such token are rapidly finding out, they can serve as lightning rods for volatility. Rather than trading at $1, as designed, the TerraUSD coin, or UST, slipped over the weekend to around 99 cents. By Monday evening in New York, it had plunged to 60 cents, obliterating its previous low of 92 cents in May 2021. It clawed back losses on Tuesday and is fluctuating between around 90 cents and $1 — a sign of trouble. What caused Terra's coin to become untethered is a topic of intense internet debate. The disconnect happened alongside a sharp selloff in cryptoassets — including a plunge in Bitcoin to below $30,000 — and a broader retreat from risk assets including stocks. Whatever the catalyst, it's no small thing: There are around 18.5 billion of UST in circulation, according to CoinMarketCap, a big enough presence that its swings could have systemic implications for other coins and protocols. And Do Kwon, the crypto upstart behind UST, has previously committed to buying as much as $10 billion worth of Bitcoin as part of his support of the coin, further entwining the project with the core of the digital-asset market. 'It's fairly clear that there is a crisis of confidence,' said Kyle Samani of Multicoin Capital. He added that it was not certain whether UST would survive. That raises the prospect of the current turbulence snowballing into one of the biggest crypto blowups in recent memory."
The Bezzle: "The Tech Industry's Epic Two-Year Run Sputters" [Wall Street Journal]. "The technology industry, which powered the U.S. economy during the pandemic and grew at tremendous scale during a decade of ultralow interest rates, is confronting one of the most punishing stretches in years. Global powerhouses and fledgling startups are feeling pain from a variety of economic, industry and market factors, spawning postpandemic turbulence in e-commerce, digital advertising, electric vehicles, ride-hailing and other segments. Companies that emerged as job-creating juggernauts in the past two years—collectively adding hundreds of thousands of workers to their payrolls in engineering, warehouse and delivery jobs—have begun to freeze hiring or even lay off employees."
Tech: "REVEALED: Elon Musk plans to FIRE 1,000 Twitter staff, quintuple revenue, get 69 million users paying $3 a month and cut reliance on advertising income, presentation to investors shows" [Daily Mail]. "Musk is said to favor a subscription-based model over advertiser funding, as it would make Twitter less beholden to advertiser pressure. He has even suggested users could pay with cryptocurrency, including joke currency Dogecoin which Musk has long had an affection for…. Among his other goals, Musk expects the social media company to bring in $15 million from a payments business in 2023 that will grow to about $1.3 billion by 2028. As one of the founders of PayPal, Musk is familiar with the world of digital payments. Twitter's payments business today, which includes tipping and shopping, is negligible. It's believed Musk may also want to introduce payment abilities to Twitter." • That would be interesting….
* * *
Today's Fear & Greed Index: 21 Extreme Fear (previous close: 22 Extreme Fear) [CNN]. One week ago: 32 (Fear). (0 is Extreme Fear; 100 is Extreme Greed). Last updated May 10 at 1:12 PM EDT.
Games
Not sure quite where to file this:
— Jake Tapper (@jaketapper) May 7, 2022
The Avengers universe (R.I.P. George Pérez).
Sports Desk
Probably a little late, but for those who missed it, this from the Kentucky Derby is extraordinary:
The overhead view makes Rich Strike's comeback for the upset @KentuckyDerby win look even more incredible. 😮 #KyDerby | @ChurchillDowns pic.twitter.com/iDfkGVZS0O

— NBC Sports (@NBCSports) May 8, 2022
The Gallery
Elites have gone cray cray* before:
Art Young pic.twitter.com/EnlKQlRjLJ

— ben schwartz (@benschwartz_) November 16, 2021
But not always with a good outcome:
George Grosz – The Pillars of Society, 1926 pic.twitter.com/pqZ136w2jL

— Rose Thorns #GTTO (@AprilAubade) May 1, 2022
NOTE * I mean, they're literally holding superspreading events and infecting each other.
Zeitgeist Watch
"Exposed By A Strava Kom: The Many Lives Of A Fake Pro Cyclist" [Cycling Tips]. "On the quiet Leigh Mill climb segment, not far from Falls Church, the road rises from Difficult Run River and punches upwards for half a mile (~800 m). When Clark logged his ride to Strava at day's end, his speed up the climb – an apparent 33 mph (53 km/h) on a climb that peaks at 8.5% – suggested an absurdly strong set of legs, or a digital glitch. Maybe both; stranger things have happened, both in cycling and on the internet. But among some observers – one of whom thought a Strava KOM might've been sniped via motor-doping, digital-doping, or just plain old 'doping' – it stretched plausibility just a bit too much. So, some people started digging." • And dig they did…..
Black Injustice Tipping Point
All amazing, if true:
Fewer still know Brown and his companions were taught leadership skills in Black churches by Black clergy, fewer still know that Harriet Tubman intended to go to Harper's Ferry and was stopped only by sickness. 2/3

— Internationalist Anarcho Maoist (@gravebabe1917) May 9, 2022
News of the Wired
Not a bad idea:
Or this. (Stolen from elsewhere) pic.twitter.com/nwfwIzOlnv

— Leslie Cracraft (@lcracraft) May 6, 2022
This picture reminds me that I believe I forgot to issue my seasonal warning: When you go out for a walk, make sure you look up up up into the light. Not down at your feet:
Current view
It almost seems like spring or something? Probably just an aberration pic.twitter.com/9LWyk5gTLE

— David Fisman (@DFisman) May 7, 2022
* * *
Contact information for plants: Readers, feel free to contact me at lambert [UNDERSCORE] strether [DOT] corrente [AT] yahoo [DOT] com, to (a) find out how to send me a check if you are allergic to PayPal and (b) to find out how to send me images of plants. Vegetables are fine! Fungi and coral are deemed to be honorary plants! If you want your handle to appear as a credit, please place it at the start of your mail in parentheses: (thus). Otherwise, I will anonymize by using your initials. See the previous Water Cooler (with plant) here. From AM: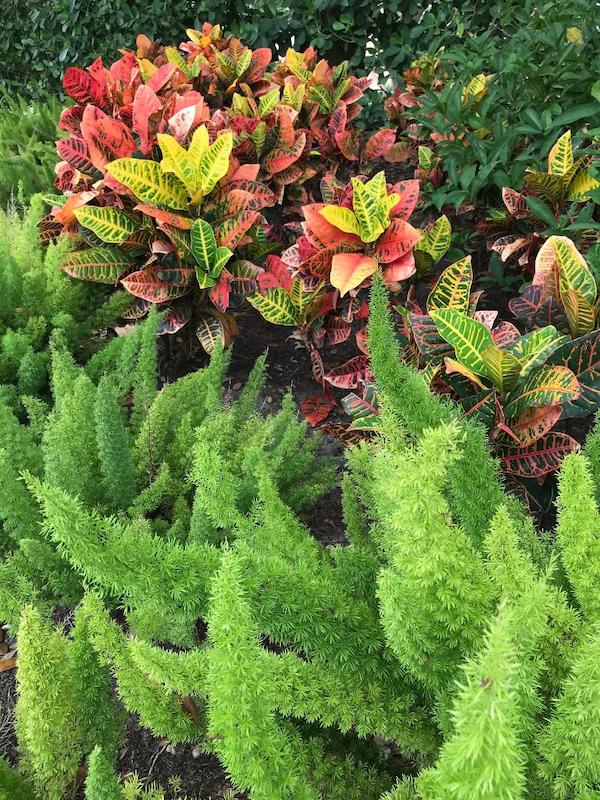 AM writes: "Fuzzy green fern-like plants juxtaposed with the classic shiny leaved style of Florida plant – near Naples FL. Not a huge fan of FL but the vegetation is a trip."
* * *
NOTE ON PAYPAL: As some readers may know, PayPal whacked Consortium News's account, for no justification that I can see. It's to be hoped that Consortium News has its account completely restored, and that NC doesn't come under the same ban hammer. In the meantime, until I/we can come up with an alternative, I must continue to rely on PayPal (and rely I do). I will be cleaning out the account daily, and PayPal does give a heads-up, so your risk is minimal. Please carry on as before, or, if you feel you must, write me and I will send you directions for sending a check. Please put "PayPal" in the subject line. Thank you for your support! It is much appreciated, and helps me with responsibilities. –lambert
Readers: Water Cooler is a standalone entity not covered by the recently concluded and — thank you! — successful annual NC fundraiser. So if you see a link you especially like, or an item you wouldn't see anywhere else, please do not hesitate to express your appreciation in tangible form. Remember, a tip jar is for tipping! Regular positive feedback both makes me feel good and lets me know I'm on the right track with coverage. When I get no donations for five or ten days I get worried. More tangibly, a constant trickle of donations helps me with expenses, and I factor in that trickle when setting fundraising goals:
Here is the screen that will appear, which I have helpfully annotated: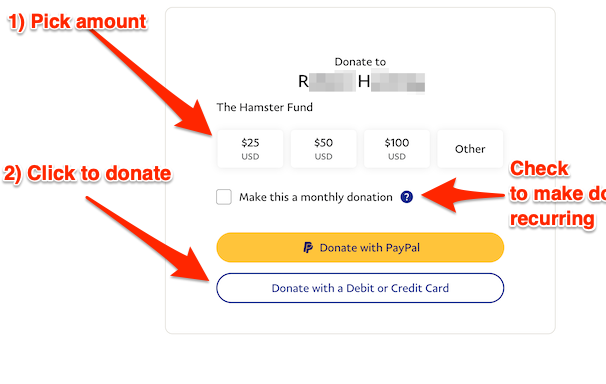 If you hate PayPal, you can email me at lambert [UNDERSCORE] strether [DOT] corrente [AT] yahoo [DOT] com, and I will give you directions on how to send a check. Thank you!