Lambert and I, and many readers, agree that Ukraine has prompted the worst informational environment ever. We hope readers will collaborate in mitigating the fog of war — both real fog and stage fog — in comments. None of us need more cheerleading and link-free repetition of memes; there are platforms for that. Low-value, link-free pom pom-wavers will be summarily whacked.
And for those who are new here, this is not a mere polite request. We have written site Policies and those who comment have accepted those terms. To prevent having to resort to the nuclear option of shutting comments down entirely until more sanity prevails, as we did during the 2015 Greek bailout negotiations and shortly after the 2020 election, we are going to be ruthless about moderating and blacklisting offenders.
–Yves
P.S. Also, before further stressing our already stressed moderators, read our site policies:
Please do not write us to ask why a comment has not appeared. We do not have the bandwidth to investigate and reply. Using the comments section to complain about moderation decisions/tripwires earns that commenter troll points. Please don't do it. Those comments will also be removed if we encounter them.
* * *
'Fantastic giant tortoise,' believed extinct, confirmed alive in the Galápagos PhysOrg (furzy). Handsome!
Polar Bears and Grizzlies Keep Mating and Could Evolve Into New Species Newsweek (resilc)
Light Pollution Can Interfere With Butterfly Migration Treehugger (resilc)
The Earth moves far under our feet: A new study shows that the inner core oscillates PhysOrg (Kevin W)
Japan Is Dropping a Gargantuan Turbine Into The Ocean to Harness 'Limitless' Energy Science Alert (Chuck L, David L)
AI Trained on 4Chan Becomes 'Hate Speech Machine' Vice
Professors Warn That Creeps Might Start Stealing DNA From Celebs For Dark Purposes Futurism
Superworms Capable Of Munching Through Plastic Waste Eurasia Review
The age of outbreaks: Experts warn of more animal disease threats France24 (resilc)
#COVID-19
Science/Medicine
The effects of contracting Covid-19 on cognitive failures at work: implications for task performance and turnover intentions Nature (Dr. Kevin)

A Negative COVID Test Has Never Been So Meaningless Atlantic (resilc)

BA5 has switched tropism again to use TMPRSS2. It's like a viral yo-yo. Here's what Delta, BA1 and BA5 look like in cells with TMPRSS2 when exposed to positives samples and left for three days. pic.twitter.com/Hr3Hcu7FUC

— Stuart Turville (@StuartTurville) June 10, 2022

So to recap: 20% of the airline industry's workforce being too fatigued to work and pilots being pressured to fly while fatigued is the new 🤩normal🤩. And hey, at least masks are optional on flights and that's clearly our biggest and most important priority. 🤡

Godspeed all.

— Dr. Lisa Iannattone (@lisa_iannattone) June 10, 2022

Long Covid is around 10-25% or more of infections

Therefore the T cell dysfunction is HUGELY relevant

Far more than just the 3% give or take that have severe illness with clear t cell mediated harm

— Anthony J Leonardi, PhD, MS (@fitterhappierAJ) June 9, 2022

A comparison of SARS-CoV-2 and influenza cytokine storms News-medical.net (Kevin W)
US
U.S. death rates show how politics are affecting public health STAT

U.S. to drop COVID testing for incoming international air travelers Reuters (BC)
Climate/Environment
China?
China draws security red line to US at defense ministers' longer-than-expected first meeting Global Times

Patrick Lawrence: Will Biden Provoke War with China? ScheerPost (fk)
Brexit
With the NI Protocol row about to re-ignite, I've updated my 'Brexiter excuses, myths and lies about the NIP' page: https://t.co/H7UVT4xYy6 https://t.co/8mYVr3KPHx

— Chris Grey 🇺🇦 (@chrisgreybrexit) June 10, 2022

The odd and worrying situation of the legal advice on the Northern Ireland Protocol David Allan Green (guurst)

And there are further potential problems coming in January 2023, from when holders of EASA pilot and maintenance engineer licenses will no longer be permitted to work for UK companies or operate UK-registered aircraft: https://t.co/u8o0Xo73sc https://t.co/ObRh6JoAVQ

— Chris Grey 🇺🇦 (@chrisgreybrexit) June 10, 2022
Old Blighty
'Worse than half-baked': Johnson's food strategy fails to tackle cost or climate Guardian (Kevin W)
New Not-So-Cold War
Ukraine's high casualty rate could bring war to tipping point Guardian

Washington Starts Blame Game Over Defeat In Ukraine Moon of Alabama. From mid week, but includes some very revealing excerpts from remarks by former Deputy Commander of the United States European Command Stephen M. Twitty at a panel at the Council of Foreign Relations. Also a nice shout out to NC!

Since everyone asks "what's the Russian air force doing?" Jacob Dreizin. Important discussion of cruise missiles late in the post.

Russian Defense Minister Shoigu says land bridge complete, which may signal phase 3 Odessa The Duran. Good overview. However, one caveat. Both Mercouris and Christaforu are convinced of the necessity of Russia taking Odessa to satisfy domestic expectations. The problem is Russia very much depends on the continued willingness of China, India, Turkey, Saudi Arabia, and the Global South to see Russia as the less bad guys up against hypocritical colonialists and ignore various threats from the US and EU, like secondary sanctions. If Russia looks like it is engaging in a war of territorial acquisition, as opposed to defense of the DPR and LPR and maybe populations in Ukraine at risk because friendlies, it's going to be harder to enlist support in the UN. Admittedly Ukraine has done things that bolster Russia's case, like continuing to shell civilian areas of Donetsk (the excuse it to turn the locals against Russia) and having cut off the fresh water supply to Crimea (arguing for Russia needing control the sources). I'm not sure how Russia makes a case to the wider world for capturing Odessa.

* * *

Briefing by Foreign Ministry Spokeswoman Maria Zakharova, Moscow, June 8, 2022 Ministry of Foreign Affairs of the Russian Federation. Search for "mercenaries" or click on "Foreign mercenaries in Ukraine" for the Q&A where Zakharova responds to questions about the death sentences (with appeals exepcted) for three mercenaries in the DPR. "Ukraine update" has some broader background material.

Izvestia: Can foreign mercenaries facing death penalty in Donbass appeal verdict. English summary of the story per TASS.

Whether one agrees with this assessment or not, it has been the unchanged position of the Russian government since the very beginning of the war: https://t.co/awASXOgrEe

— Russians With Attitude (@RWApodcast) June 10, 2022

Ukraine's silence on the topic of these mercs is noteworthy. They obviously do not want to engage with the DPR/LPR governments, since that would serve to recognize them. But if these mercs had any claim to being regular soldiers, the trial would have made for a perfect bona fide PR, as opposed to propaganda, opportunity. Ukraine could have presented actual or even fake documents publicly and let the defense team make use of them. John Helmer concurs with my take that the bigger fish will be prosecuted in the expected war crimes trials:

The propaganda perspective that counts at this stage is the domestic one — to demonstrate in the Donbass and at home in Russia that these British are indeed small fry, defeated and demoralized ones. Depending on what officers have been captured and what they are saying, yes, I agree — they will be put on war crimes trial in Moscow. The indictment will be planning the attack on Russia for the past several years strategically, and tactically, the operation they intended before Feb 24.

By opening and closing the cases against Aislin and Pinner so swiftly, the Russians and DPR are doing Her Britannic Majesty, the Cabinet Office and MI6 the favour of not producing (yet) all the evidence they have given in their interrogations — how they were recruited, by whom, how they were paid, what they signed, what contacts they had with British officials, agents, active-duty military, what they did in action, where, when, against whom, etc. The Dutch law grounds for the murder indictments of Pulatov, Girkin et al. in the MH17 case are not forgotten by the Donetsk and Lugansk coroners, prosecutors and others involved in the recovery of the victims and the subsequent falsification of all the evidence, including the postmortem evidence. Then there is the legality of the British handling of the two Skripals — denial of consular access, fabrication of evidence, etc. Quite a rules-based disorder.

* * *

How Monsters Who Beat Jews To Death in 1944 Became America's Favorite "Freedom Fighters" in 1945—with a Little Help from their Friends at CIA CoverAction. Scott Ritter has discussed this sordid history, but only at the 3-4 minute of detail level. Good to see this laid out in gory detail.

Russian propaganda efforts aided by pro-Kremlin content creators, research finds NBC. Lambert: "Research my ass." Whacks Eva Bartlett, Patrick Lancaster, and Gonzalo Lira.

Meeting with young entrepreneurs, engineers and scientists Kremlin. The Putin talk where his mention of Peter the Great (following his much longer discussion of national sovereignity) looks to have been mightily distorted by the Western media.

* * *

Russia's central bank cuts interest rates to prewar level Associated Press (Kevin W)

Russia's new McDonald's reveals logo before relaunch AlJazeera (resilc)

Actually not quite since Ukraine's wheat is not enough to make a dent in global food shortages, and it can be exported just fine by rail. Still:

#Banderastan #Ukraine will not demine Odessa Port to export grain
All you need to know about the "food crisis" pic.twitter.com/4htlcRwWnK

— amin dada Trần Hưng Đạo Up yourz (@kambrone64) June 9, 2022

'I'm trying to keep my @*#% together': Being a surrogate mum in Ukraine Sydney Morning Herald (skippy)

* * *

Russian Foreign Minister Lavrov: "We are still open to dialogue, but it takes two to tango, and so far our Western partners have been doing breakdancing, alone." pic.twitter.com/jjRePZrXsT

— Russians With Attitude (@RWApodcast) June 10, 2022

Russia's Duma mulls revoking recognition of Lithuanian independence LRT (Dr. Kevin). Not that I have been keeping close tabs on Lithuania, but this likely contributed: https://www.npr.org/2022/05/10/1097911440/lithuania-russia-terrorism-genocide-ukraine
Syraqistan
The Settler-Protection Law No Israeli Government Can Survive Without — a deeper look into at the regulations that Israeli is seeking to renew – & expand – to maintain & deepen de facto annexation of West Bank & apartheid regimehttps://t.co/4CD5T9cFIv

— Lara Friedman (@LaraFriedmanDC) June 9, 2022
Imperial Collapse Watch
Washington's Failed Push for Anti-Russian Global Consensus American Conservative (Kevin W)

Congress Ramps Up Efforts to Increase $813 Billion Military Budget for 2023 AntiWar

Recent string of deadly military crashes is no accident Responsible Statecraft (resilc)
1/6
6 takeaways from the Jan. 6 committee's first prime-time hearing Seattle Times (furzy)
'Comes Across as a Cult Guy': The Pennsylvania Candidate Freaking Out Both the Left and the Right Politico (resilc)
Our No Longer Free Press
It's been over two days since I appealed my completely random and inexplicable Youtube suspension for unknown violations under bracket of "spam/deceptive practices". I have still not heard anything back & am still locked out @Google_Comms @youtube @YouTubeCreators @teamyoutube

— Izabella Kaminska (@izakaminska) June 11, 2022
Gunz
Facebook allows 10 strikes before booting gun sellers from platform: report The Hill

What Growing Up in Rural Germany Taught Me about Guns ReasontobeCheerful. Resilc: "But we live in USA USA. We like killin' injuns, runaway slaves and 5th graderzzzzz."
Supply Chain/Inflation
Meta Scrutinizing Sheryl Sandberg's Use of Facebook Resources Over Several Years Wall Street Journal
Class Warfare
Why Farmers Are Getting Priced Out of the Hudson Valley New York Times (resilc)

Cooking Robots Can Replicate Your Recipes, Provide "Restaurant-as-a-Service" Core77 (resilc)
Antidote du jour. How I often feel! From Steve C:
This image was captured by Tyler Bronstein who currently resides on Haight Street in SF. Considering that it/'s an "officially western banned" Russian Blue Feline (that may very well have clandestine ties with its 'mother' country), I thought that this image might well have a bit of satirical political content as well as just being a great cat photo.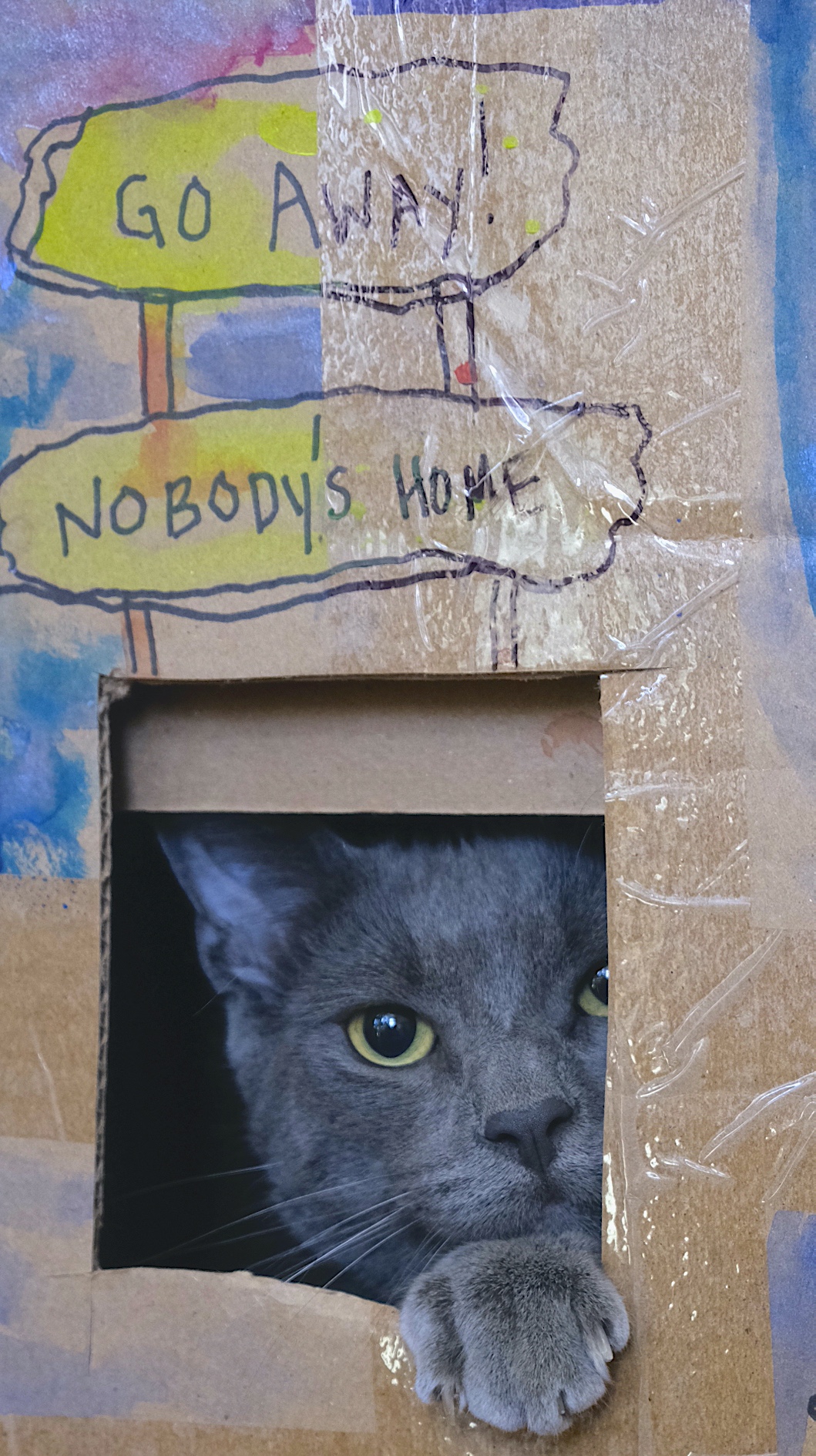 And a bonus (Wayne W):
Sisterly Licks from Sidney Weinstein on Vimeo.
See yesterday's Links and Antidote du Jour here.