By Lambert Strether of Corrente
Patient readers, today it was ProtonVPN. More soon! –lambert UPDATE All done.
Flutist Wren, La Escalera, Venezuela. Earning its name!
* * *
Politics
Lambert here: One reader suggested changing these quotes; I don't think it's a bad idea, but I need to think about it. I don't want to be too doomy — we are not short of inventory in that department — but I don't want to go all chipped and Pollyanna-esque, either.
"But what is government itself, but the greatest of all reflections on human nature?" –James Madison, Federalist 51
"They had learned nothing, and forgotten nothing." –Charles Maurice de Talleyrand-Périgord
"When the going gets weird, the weird turn pro." –Hunter Thompson
Capitol Seizure
UPDATE "Jan. 6 committee to connect Oath Keepers, Proud Boys and QAnon to Trump allies" [Los Angeles Times]. "Connect." With more yarn? " The committee investigating the Capitol insurrection will focus for the first time this week on the relationship between people in former President Trump's orbit and the extremist groups that planned and orchestrated the violence on Jan. 6, 2021." Who doesn't love an illegal parade? More: "Rep. Jamie Raskin (D-Md.), who will lead the hearing with Rep. Stephanie Murphy (D-Fla.), has made clear the committee won't present smoking-gun evidence." • Well, I'm glad that's settled.

UPDATE "The January 6 Committee Moves the Needle" [Political Wire].

A new Politico/Morning Consult poll suggests the January 6 Committee could be changing the public's understanding of that day's events:

• 66% of voters say Donald Trump attempted to overturn the 2020 election.

• 66% say he claimed the election was fraudulent without evidence.

• 59% say he misled the public about the outcome of the election.

Also interesting: 44% of Republicans say Trump lied about the election results. That's up seven points since the end of June.
Abortion
UPDATE "Two long weeks: Inside Biden's struggle to respond to abortion ruling" (not paywalled) [WaPo]. "For Jennifer Palmieri, a White House communications director under Obama, the criticism [of Biden's initial response] was never fair to begin with. 'Republicans gamed the system, and they got two Supreme Court justices they shouldn't have, and those people had a 40-year plan to overturn Roe and they did it. And to continue to blame Biden for the fact that more Americans didn't vote for Democrats is an epic example of missing the forest,' she said. 'We are in such a bigger fight than what the president of the United States can deliver, and if you're thinking that it can be solved by a president taking any action in the course of the two weeks after the decision, then you're not appreciating what a big fight it is and what a precarious moment it is,' Palmieri added." • So, just to be clear, Democrats let Republicans game the system (Obama, for example, did not put Garland on the Supreme Court as a recess appointment, because that would have been playing hardball, or sumpin'. And whatever planning horizon Democrats have, it's not — I'm being kind here — forty years out. Finally, when Democrats lose elections, they blame voters (being entirely without a capacity for self-reflection). I'd say Palmieri's statement is stunning, but it's only stunning because she's so open about it.

UPDATE "White House Privately Signaling It's Moving Forward With Anti-Abortion Court Pick" [HuffPo]. "It might have seemed like the White House has been backing off Meredith's potential nomination given its silence in response to the Democratic outcry. But behind the scenes, the White House is apparently signaling that it still plans to move forward with his nomination. 'They're defending it,' the source briefed last week on the White House's plan told HuffPost, after requesting anonymity in order to speak freely about private conversations. This source also believes that Meredith would likely be announced as part of a large package of judicial nominees that would include many picks that Democrats do like.""

UPDATE "Minnesota judge strikes down numerous state abortion restrictions" [NBC]. "A judge in Minnesota struck down several state laws restricting access to abortions Monday, finding they violated the state's constitution. In a 140-page ruling, state District Judge Thomas Gilligan of Ramsey County issued a permanent injunction blocking a variety of restrictions, including a 24-hour waiting period and a requirement that only doctors perform the procedure. He said they run afoul of a 1995 state Supreme Court ruling that abortion is protected under the Minnesota Constitution. Gilligan, who has presided over the case for three years, wrote that "this court concludes that Minnesota abortion laws relating to mandated physician care, hospitalization, criminalization, parental notification, and informed consent are unconstitutional." • So, states' rights, mkay?
Biden Administration
"'We are not tacos': Latin community slams Jill Biden for saying they are as unique as 'breakfast tacos' as she refers to bodegas as 'bogedas' at 'Latinx Luncheon' in San Antonio" [Daily Mail]. • Well, at least she didn't try to speak Spanish.
2022
* * *

"House Math and History" [The Cook Political Report]. "Just about every election analyst and handicapper agrees that the House is all-but-certain to flip. The only disagreement these days is how many seats Republicans will gain. On paper, the grim political environment suggests the kind of wave election that rivals the wipeouts of 1994 and 2010, when the party in power lost more than 50 seats. However, our current forecast, as analyzed by House editor David Wasserman, is for GOP gains in the 20-35 seat range. Why don't we foresee 50-60 seat sweep?" • Handy chart:

More: "Under the high-end scenario, the GOP would gain 41 seats. The lower-end scenario shows Republicans picking up 19 seats. Remember, this is not the net, as we haven't factored in GOP seats that may flip to Democrats. Right now, we list 10 GOP-held seats as vulnerable. Bottom line: if Republicans are going to pick up the 50-60 seats they did in 1994 or 2010, they are going to need to win a significantly higher percentage of districts that Biden carried by more than 10 points. In the 'old days', many of the incumbents in those 'safe seats' would scoff at any suggestion that they could be in danger. But, after four straight wave elections, most of those members have (or at least should have) learned to take these warnings seriously."

UPDATE "Doomsday political scenario takes shape for Democrats" [The Hill]. "'They're not just losing Independents or you know, Never-Trump Republicans,' said [Reinish, managing director at the political strategy firm Mercury], referencing two blocs that helped Biden establish a diverse coalition in 2020. 'They're losing their own voters. Democrats' own voters don't feel as if their leaders hear their concerns.'" And: "[S]ome prominent centrists have appeared to be moving away from Biden in recent weeks. The latest came from [CIA Democrat] Rep. Abigail Spanberger (D-Va.), who is typically outspoken about the dangers of moving too far to the left ahead of election time. She recently gave a speech in Woodbridge where she failed to offer even a tacit nod to the commander-in-chief. And Rep. Tim Ryan (D-Ohio), one of Biden's close personal friends who is running for the Senate, also decided not to show up for an event the president held in Cleveland." • I wonder who the centrists want to run…..
2024
"Education divide":


Pretty interesting. Huge education divide between Trump backers and DeSantis backers in a hypothetical primary matchup. Non college voters still overwhelmingly w Trump. https://t.co/907CwerVjp https://t.co/XRvep7QuX3 pic.twitter.com/OLDok86pc4

— Krystal Ball (@krystalball) July 12, 2022

UPDATE "Joe Biden Is Too Old to Be President Again" [Michelle Goldberg, New York Times]. "As a recent New York Times/Siena College poll found, 64 percent of Democrats want a different presidential nominee in 2024. Those Democrats cite Biden's age more than any other factor, though job performance is close behind." • But remember: That poll shows — and Goldberg erases — that it's the old who think Biden's too old. The young think his performance is lousy, and so it is.
Democrats en Déshabillé
I have moved my standing remarks on the Democrat Party ("the Democrat Party is a rotting corpse that can't bury itself") to a separate, back-dated post, to which I will periodically add material, summarizing the addition here in a "live" Water Cooler. (Hopefully, some Bourdieu.) It turns out that defining the Democrat Party is, in fact, a hard problem. I do think the paragraph that follows is on point all the way back to 2016, if not before:

The Democrat Party is the political expression of the class power of PMC, their base (lucidly explained by Thomas Frank in Listen, Liberal!). ; if the Democrat Party did not exist, the PMC would have to invent it. . ("PMC" modulo "class expatriates," of course.) Second, all the working parts of the Party reinforce each other. Leave aside characterizing the relationships between elements of the Party (ka-ching, but not entirely) those elements comprise a network — a Flex Net? An iron octagon? — of funders, vendors, apparatchiks, electeds, NGOs, and miscellaneous mercenaries, with assets in the press and the intelligence community.

Note, of course, that the class power of the PMC both expresses and is limited by other classes; oligarchs and American gentry (see 'industrial model' of Ferguson, Jorgensen, and Jie) and the working class spring to mind. Suck up, kick down.

* * *

Democrat psychology:

"why bother doing X b/c republicans will reverse it when they are in power" is like clinical depression logic. this is a commercial where there's a lady in black and white looking through a window at her kids playing outside in color. this is laundry never getting put away shit

— Summer Of The Shark Truther (@bombsfall) May 25, 2022

UPDATE "The Never-Ending War on the Woke" [Alex Pareene, Forum]. "For my entire life, white moderates have been complaining about how difficult the people on the side of multiracial democracy are making it for them to win their idealized suburban voters. I would ask Marshall and From—and Carville and Teixera and the heavy-breathing authors of Politico's Playbook—only to acknowledge that they won. They got what they wanted. Barack Hussein Obama may have temporarily disrupted the natural order [for about thirty seconds, probably by accident], but the 'special interests' were routed, and the white suburban voter granted pride of place in the scrum for electoral power. Union membership is down to single-digits in the private-sector workforce. The communities of color that Clinton-era Democrats made such a performative point of rebuffing on the principle that they were securely captive constituencies have grown disenchanted, and in some cases started to edge rightward. The president's approval among young people in particular is shockingly dismal. Joe Biden is the president of the United States. Bill Clinton's "PC" cabinet lost the 1994 midterms. Congratulations to the anti-PC brigade. You have gotten what you've wanted, over and over again, for many years. How's it going?" • Indeed….
#COVID19
* * *
Lambert here: I am but a humble tape-watcher, but I never thought it would come to this: The most timely and reliable tools for making personal risk assessments turn out to be the Walgreens positivity chart, anecdotes on the Twitter, and the "Community Transmission" chart that CDC deprecates. All of these signals have been flashing red for weeks. Meanwhile, case counts are at best helpful to intuit the regional situations, "Community Profile" data (rapid riser counties and hospitalization) has been cut to twice a week, variant data is absurdly slow and dated, and I can't get CDC's spandy new wastewater page to load [bangs head on desk]. This is the situation "the adults in the room" have created. As it turns out, Ron Klain, Pandemic Czar, shouldn't be put in charge of a lemonade stand. Nor any of 'em. Another anecdote:
I talked with someone last week – a conscientious, educated adult – who was genuinely surprised to learn that COVID disease is surging. As a doc, I'm seeing as much now as I did pre-vaccine, and more than ever among our staff. It's so very, very prevalent.

— R. Liu MD 🩺🛼🌻🌲🏳️‍🌈 (@rliumd) July 10, 2022
Propaganda works (and this "conscientious, educated adult hasn't been reading NC).
UPDATE "Is BA.5 the 'Reinfection Wave'?" [Ed Yong, The Atlantic]. The final paragraph: "The stakes of that game depend on a very simple question: Should we still care about preventing infections? If the answer is 'not so much,' which is the implicit and sometimes explicit posture that America's leaders have adopted, then BA.5 changes little. But if the answer is 'yes,' as I and most of the experts I talk to still believe, then BA.5 is a problem." • This is about as close to "'Democidal elites' is a parsimonious explanation" as the very measured Ed Yong is likely to come….
"Fact Sheet: Biden Administration Outlines Strategy to Manage BA.5" [The White House]. I could be too jaded and cynical, but I'm not seeing much new here. On masks:
Making free high-quality masks widely available and communicate clear recommendations about when people should consider masking: Experts agree that masking in indoor, public spaces is an important tool to control the spread of COVID-19. The . As BA.5 drives an increase in cases, the Administration continues to encourage Americans to visit COVID.gov to find the level of COVID-19 in their community and follow CDC's recommendations on wearing masks in public, indoor settings.
First, "people should consider masking" is weak tea; what's wrong with "people should"? Second, I'm not at all amazed or stunned that the White House continues to recommend CDC's discredited "Community Levels" metric (see NOTE below in the Transmission section). This recommendation is not only wrong, but potentially lethal, since it will cause people to mask up too late. Third, what about indoor, private spaces? I've seen anecdote after anecdote about households with a single member infected with Covid, where isolation, masking, and Corsi boxes protected the rest of the family.
And so the propaganda line shifts on a dime. CNN:
Media: @JReinerMD to @AnaCabrera: "#COVID19 is surging all across the country. This virus is as active as it's ever been, whether we want that or not. What people need to do is personally implement mitigation strategies. Avoid crowded places. Wear a mask if you go into a store." pic.twitter.com/bbjCEuRzJi

— Porter Anderson (@Porter_Anderson) July 11, 2022
Yes, there's no such thing as a mandate, or even collective action; what needs to happen is that a mass of atomized individuals need to "personally implement mitigation strategies" because some CNN talking heads decided they should. Not that the advice is all that bad, although 3Cs (closed spaces, crowded places, close-contact settings) is better; CNN left out "close-contact settings."
CBS:
I joined @CBSNews yesterday to discuss the new #COVID19 BA.5 variant, the reality of pandemic fatigue and the subsequent implications on public health policy and response. We can be diligent and lead full lives, but we must be willing to get vaccinated/boosted and #MaskUp indoors pic.twitter.com/odKrsxys1R

— Mati Hlatshwayo Davis, MD, MPH (@MatiH_ID) July 12, 2022
So, after a year-and-a-half trashing non-pharmaceutical interventions, the party line has changed to support them.
"Omicron-Specific COVID Boosters Are Coming" [Scientific American]. A little late, it would seem. "Existing vaccines target the ancestral form of SARS-CoV-2, the virus that causes COVID, which first surfaced in Wuhan, China. But although these shots still broadly protect against severe disease, "their effectiveness does appear to wane with time," said Peter Marks, director of the FDA's Center for Biologics Evaluation and Research, during the late June VRBPAC meeting. Each new variant has been successively more contagious than its predecessor. And throughout the world, Omicron subvariants have been fueling increased infections and hospitalizations—the latter especially among older people. The planned updates are currently limited to mRNA vaccine boosters developed by Moderna and the Pfizer-BioNTech collaboration." • Oh, swell. mRNA only.
"Newest Omicron subvariants can evade boosters, antibody therapies" [Center for Infectious Disease Research and Policy]. "The latest Omicron subvariants behind new COVID-19 surges in the United States and abroad have an enhanced ability to escape immunity conferred by three vaccine doses and all but one antibody therapy tested, finds a laboratory study published yesterday in Nature. Omicron BA.2.12.1, BA.4, and BA.5, the latter two of which now make up more than 70% of US COVID-19 infections, are highly transmissible and evasive owing to new mutations in the virus's spike proteins…. Relative to BA.2, the BA.2.12.1 subvariant was about 80% more resistant (1.8-fold) after three vaccine doses, but BA.4 and BA.5 were at least 4.2 times more resistant, increasing the likelihood of breakthrough infections. When the researchers also evaluated the ability of 19 monoclonal antibody therapies to neutralize the subvariants, they found that only one—Eli Lilly's intravenous bebtelovimab—retained its full efficacy against these strains."
* * *
If you missed it, here's a post on my queasiness with CDC numbers, especially case count, which I (still) consider most important, despite what Walensky's psychos at CDC who invented "community levels" think. But these are the numbers we have.
* * *
Case Count
Case count for the United States: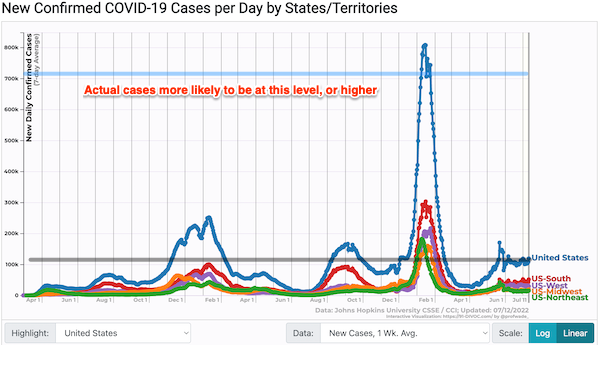 Continuing rise. There was a weird, plateau-like "fiddling and diddling" stage before the Omicron explosion, too. This conjuncture feels the same. Under the hood the BA.4/BA.5 are making up a greater and greater proportion of cases. Remember that cases are undercounted, one source saying by a factor of six, Gottlieb thinking we only pick up one in seven or eight.) Hence, I take the case count and multiply it by six to approximate the real level of cases, and draw the DNC-blue "Biden Line" at that point. The previous count was ~107,200. Today, it's ~119,000 and 107,200 * 6 = a Biden line at 714,000 per day. That's rather a lot of cases per day, when you think about it. At least we have confirmation that the extraordinary mass of case anecdotes had a basis in reality. (Remember these data points are weekly averages, so daily fluctuations are smoothed out.) The black "Fauci Line" is a counter to triumphalism, since it compares current levels to past crises.
Regional case count for four weeks:
Mostly the South.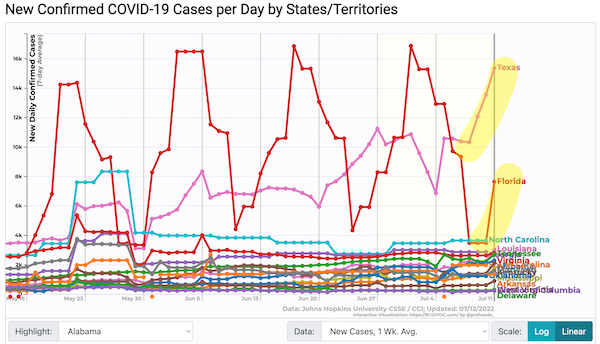 Florida and Texas. Dudes!
Positivity
From the Walgreen's test positivity tracker: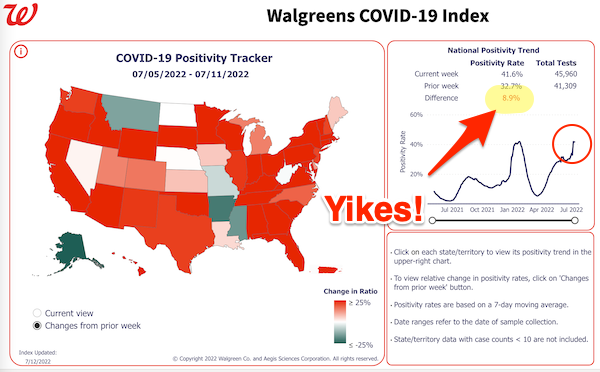 8.9%. Hoo boy. Looks like a lot of people came back from the Fourth of July barbecue hacking and wheezing. The Covid train always leaves on time! (I also wonder if there's a Keynesian Beauty Contest effect, here; that is, if people encounter a sympotomatic person, whether in their social circle or in normal activity, they are more likely to get a test, because they believe (correctly) that it's more likely they will be infected. What we are seeing here is the steepest and largest acceleration of positivity on Walgreen's chart.
Transmission
NOTE: I shall most certainly not be using the CDC's new "Community Level" metric. Because CDC has combined a leading indicator (cases) with a lagging one (hospitalization) their new metric is a poor warning sign of a surge, and a poor way to assess personal risk. In addition, Covid is a disease you don't want to get. Even if you are not hospitalized, you can suffer from Long Covid, vascular issues, and neurological issues. For these reasons, case counts — known to be underestimated, due to home test kits — deserve to stand alone as a number to be tracked, no matter how much the political operatives in CDC leadership would like to obfuscate it. That the "green map" (which Topol calls a "capitulation" and a "deception") is still up and being taken seriously verges on the criminal. Use the community transmission immediately below.
• For grins, here is "Community Levels," the CDC map I only track after I'm put on my rubber gloves: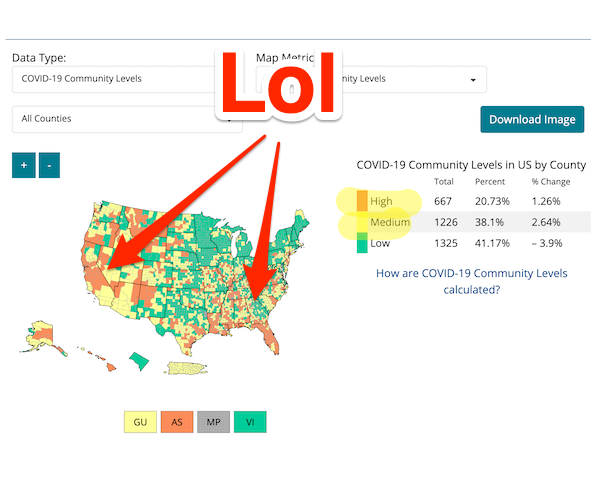 Even CDC's obfuscatory map shows we're in trouble. Hold onto your hats.
Here is CDC's interactive map by county set to community transmission. This is the map CDC wants only hospitals to look at, not you. For June 30 – July 6: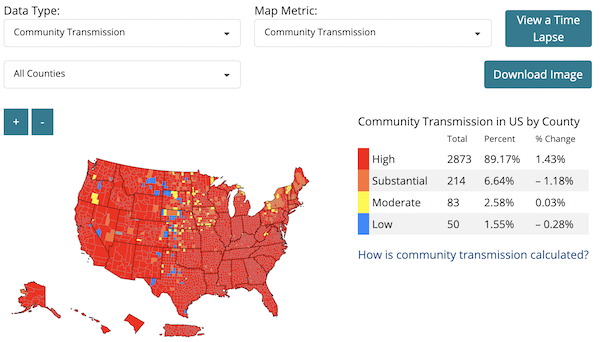 Status quo, i.e. it's a not-over pandemic.
Lambert here: After the move from the CDC to the laughingly named 'https://healthdata.gov," this notice appeared: "Effective June 22, 2022, the Community Profile Report will only be updated twice a week, on Wednesdays and Fridays." Hence, the "NOT UPDATED"s; my bad. So now the administration has belatedly come to the realization that we're in a BA.5 surge, and yet essential data for making our personal risk assessment is only available twice a week. What's the over/under on whether they actually deliver tomorrow?
NOT UPDATED Rapid Riser data, by county (CDC), July 7: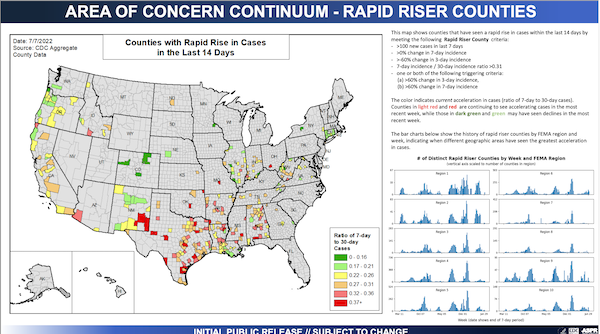 Good job. Since the report moved over to healthdata.gov, everything has gone swimmingly. Just get the effing reports out on time. How hard is this?
NOT UPDATED Hospitalization data, by state (CDC), July 7: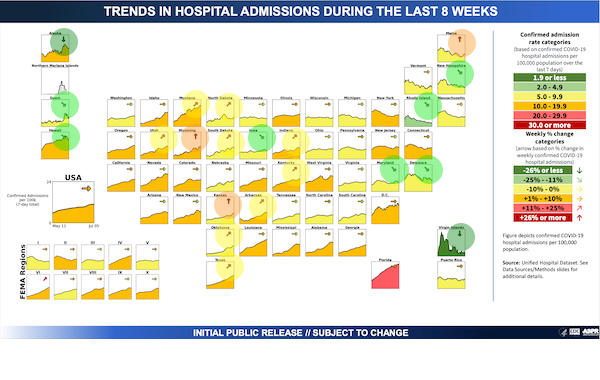 Very volatile.
Variants
Lambert here: It's beyond frustrating how slow the variant data is. I looked for more charts: California doesn't to a BA.4/BA.5 breakdown. New York does but it, too, is on a molasses-like two-week cycle. Does nobody in the public health establishment get a promotion for tracking variants? Are there no grants? Is there a single lab that does this work, and everybody gets the results from them? Additional sources from readers welcome [grinds teeth, bangs head on desk].
NOT UPDATED Variant data, national (Walgreens), June 18: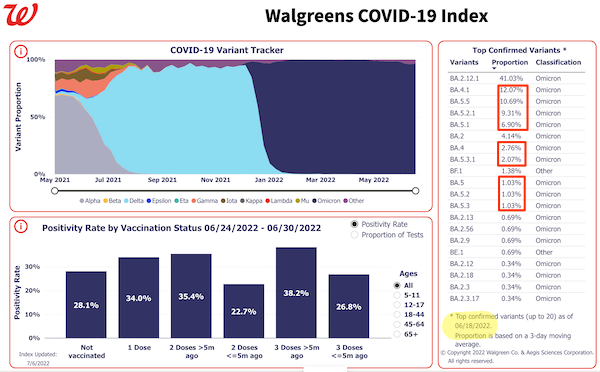 Variant data, national (CDC), June 25: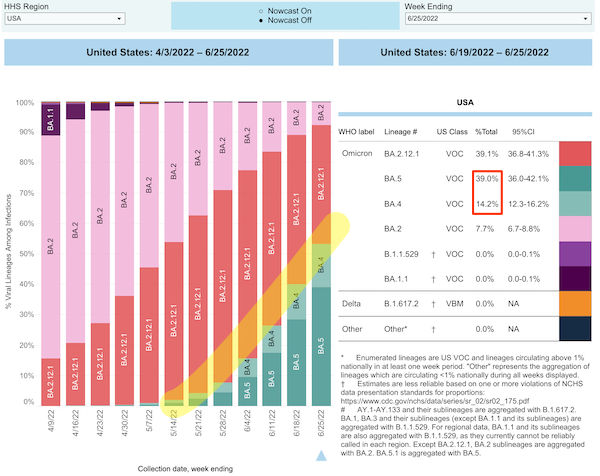 BA.5 moving along nicely.
• "Omicron subvariants threaten COVID-19 resurgence across US" [ABC]. "Health officials are once again raising the alarm about the threat of a resurgence of COVID-19 infections across the country, as concerns grow about the new omicron subvariant, BA.5, which is now the dominant viral strain in the U.S… As BA.5 spreads, a growing proportion of U.S. counties are seeing increases in infections and related hospital admissions." • Wait. You're telling me Covid is not over?
Wastewater
Wastewater data (CDC), Jun 19, 2022 – Jul 03, 2022: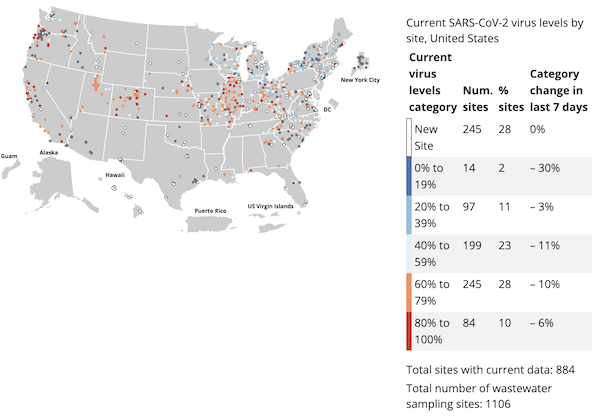 Lots of orange, some red. Not good. This chart works a bit like rapid riser counties: "This metric shows whether SARS-CoV-2 levels at a site are currently higher or lower than past historical levels at the same site. 0% means levels are the lowest they have been at the site; 100% means levels are the highest they have been at the site." So, there's a bunch of red dots on the West Coast. That's 100%, so that means "levels are the highest they've ever been." Not broken down by variant, CDC, good job.
Lambert here: I waited five minutes for this page to load. That's enough. Maybe I'll have better luck at the world's premier public health agency tomorrow!
Deaths
Death rate (Our World in Data):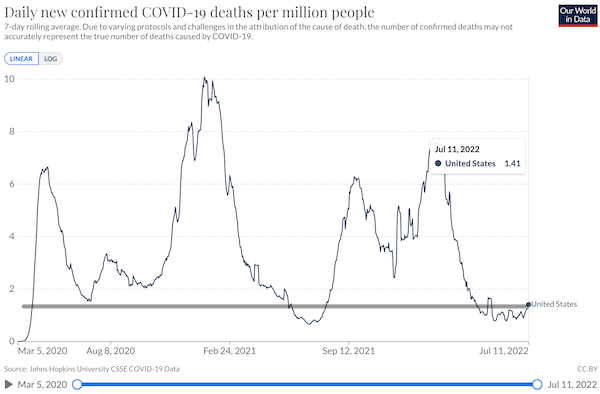 Total: 1,046,232 1,045,792. I have added an anti-triumphalist Fauci Line. It's nice that for deaths I have a nice, simple, daily chart that just keeps chugging along, unlike everything else CDC and the White House are screwing up or letting go dark, good job.
Stats Watch
Inflation: "United States Consumer Inflation Expectations" [Trading Economics]. "US consumer inflation expectations for the year ahead jumped to a new record of 6.8 percent in June 2022 from 6.6 percent in May. Expectations about year-ahead price changes increased for gas (5.6 percent), rent (10.3 percent), medical care (9.5 percent), and college education (8.7 percent), while households' assessments of their current financial situation deteriorated. On the other hand, the median expected one-year-ahead change in home prices dropped sharply to 4.4 percent, from 5.8 percent in May, the lowest level since February 2021.
Optimism: "United States NFIB Business Optimism Index" [Trading Economics]. "The NFIB Small Business Optimism Index in the United States decreased to 89.5 in June of 2022, the lowest since January 2013, and compared to 93.1 in May. A net negative 61% of small business owners expect better business conditions over the next six month, the lowest level recorded in the 48-year survey." • That's small business–
Optimism: "United States IBD/TIPP Economic Optimism Index" [Trading Economics]. "The IBD/TIPP Economic Optimism Index in the US increased to 38.5 in July of 2022 but still remained close to an 11-year low of 38.1 hit in June. The household's financial outlook for the next six months deteriorated further to a record low of 45.3. Meanwhile, a measure of how consumers feel about the economy's prospects in the next six months rose to 32.2 from June's mark of 30.6. At the same time, confidence in federal economic policies improved to 38.0 in July from 37.4 in the previous month." • IBD = Investors Business Daily. TIPP = TechnoMetrica Institute of Policy and Politics.
* * *
UPDATE Tech: Big if true:
In lieu of @ElonMusk walking away from @Twitter's transaction, my team did an analysis on Twitter's user base as of this morning. The last two stats are the most "telling." pic.twitter.com/oKlJB5GDpT

— Gurbaksh Singh Chahal (@gchahal) July 9, 2022
Unfortunately, you have to click to expand the full table, but when you do, you'll se that there are 70,198 verified profiles ("Blue Checks") in the United States. That, then, is a pretty good approximation of the size of the political class, within which I include the press. There are not very many of the Shing.
Intellectual Property: "Lawsuit over online book lending could bankrupt Internet Archive" [Ars Technica]. "Four of the nation's leading book publishers have sued the Internet Archive, the online library best known for maintaining the Internet Wayback Machine. The Internet Archive makes scanned copies of books—both public domain and under copyright—available to the public on a site called the Open Library. 'Despite the Open Library moniker, IA's actions grossly exceed legitimate library services, do violence to the Copyright Act, and constitute willful digital piracy on an industrial scale,' write publishers Hachette, HarperCollins, Wiley, and Penguin Random House in their complaint. The lawsuit was filed in New York federal court on Monday. For almost a decade, the Open Library has offered users the ability to 'borrow' scans of in-copyright books via the Internet. Until recently, the service was based on a concept called 'controlled digital lending' that mimicked the constraints of a conventional library. The library would only 'lend' as many digital copies of a book as it had physical copies in its warehouse. If all copies of a book were 'checked out' by other patrons, you'd have to join a waiting list. In March, as the coronavirus pandemic was gaining steam, the Internet Archive announced it was dispensing with this waiting-list system. Under a program it called the National Emergency Library, IA began allowing an unlimited number of people to check out the same book at the same time—even if IA only owned one physical copy. Before this change, publishers largely looked the other way as IA and a few other libraries experimented with the digital lending concept. Some publishers' groups condemned the practice, but no one filed a lawsuit over it. Perhaps the publishers feared setting an adverse precedent if the courts ruled that CDL was legal. But the IA's emergency lending program was harder for publishers to ignore. So this week, as a number of states have been lifting quarantine restrictions, the publishers sued the Internet Archive." • Hmm.
* * *
Today's Fear & Greed Index: 27 Fear (previous close: 27 Fear) [CNN]. One week ago: 23 (Extreme Fear). (0 is Extreme Fear; 100 is Extreme Greed). Last updated Jul 12 at 12:53 PM EDT.
Book Nook
An extremely neat book, Frank Adams's Writing Tables. The whole thread is worth a read:
The book is known commonly as Frank Adams's Writing Tables, as can be seen on the title page here. This copy is in the Houghton Library, and it's especially famous for two things: its erasable pages and the survival of its original stylus. /2 pic.twitter.com/uHynXSYpBi

— 𝕊onja Drimmer (@Sonja_Drimmer) May 18, 2022
So, when Hamlet says (Act I, scene 5): "My ,–meet it is I set it down, That one may smile, and smile, and be a villain," perhaps he had in his pocket a copy of Frank Adams's Writing Tables, or something similar, and was using its "erasable pages" feature to make a note. (Using the word "feature" deliberately here; see the thread.)
The Gallery
Greek statuary was gaudy:
"If ever a person from antiquity would enter a modern museum, he would feel like entering a world of ghosts."

Vinzenz and Ulrike Koch Brinkmann have spent 40 years studying #polychromy in ancient sculpture—combating the misconception of white purity in ancient Greece and Rome. pic.twitter.com/YWJxhrbsDK

— The Metropolitan Museum of Art (@metmuseum) July 11, 2022
It always astonishes me what the human hand and eye can do:
Lion Resting, 1652 #rembrandt #baroque https://t.co/4M6acfwkn0 pic.twitter.com/BqASvdWCcb

— Rembrandt (@artistrembrandt) July 12, 2022
Zeitgeist Watch
"A Theory of Vibe" [Glass-Bead]. "What gives a vibe 'authenticity' is its ability to evoke—using a small number of disparate elements—a certain time, place and milieu; a certain nexus of historic, geographic and cultural forces.' … we might speculate that a dense vibe in the imaginative landscape associated with a work of art potentially acts as a structural representation of a loose vibe of the collective objects and phenomena of a real-world domain. I would offer, similarly, that the 'dense aesthetic structure' in question thus potentially provides a schema for interpreting the objects and phenomena of a real-world domain in accordance with a 'systemic gestalt' given through the imaginative landscape of the literary work." • I don't think this is bullshit. In fact, "vibe authenticity" thus described is a lot like the cultural markers that evoke class.
Guillotine Watch
I'd put this under "Sports Watch," but no:
"luau and beach yoga at sunset in Hawaii. A guided snorkeling tour in Puerto Rico. Ax throwing in Texas. Tickets to Disney World and Broadway shows. Luxury hotels in Paris and London…Even as Rutgers athletics continues to run up tens of millions of dollars in annual deficits"

— Hannah Groch-Begley (@grouchybagels) July 11, 2022
And:
I want a full @RutgersU response to this story. I want them to explain why our football team, which loses more games than it wins, gets $30,000 steak dinners, while the history department TA-office had a dangerous mold problem for YEARS pic.twitter.com/b69hzJar9i

— Hannah Groch-Begley (@grouchybagels) July 11, 2022
And Rutgers isn't even a top-rank school. One wonders what's going with other Division 1 "schools."
Class Warfare
Amazon:
Due to #PrimeDay, Amazon warehouse workers will be working mandatory overtime all week, 50-60 hours in dangerous conditions.

If you're gonna buy something on Amazon today, first sign the petition to demand safer conditions and better pay for workers. https://t.co/JJVcupCczv https://t.co/qfivnnxjCf

— Jordan Zakarin (@jordanzakarin) July 12, 2022
News of the Wired
"Primatologist Jane Goodall gets Barbie doll in her likeness" [Channel News Asia]. "Dressed in a khaki shirt and shorts and holding a notebook, Goodall's doll has a pair of binoculars around her neck and David Greybeard by her side, a replica of the first chimpanzee to trust the primatologist as she conducted her research at Gombe National Park, in what is now Tanzania in east Africa. 'I wanted a doll to be me even before this idea came up. I've seen…little girls playing with Barbie dolls and certainly at the beginning, they were all very girly girly and I thought little girls need…some choice,' Goodall told Reuters." • Good, I think.
* * *
Contact information for plants: Readers, feel free to contact me at lambert [UNDERSCORE] strether [DOT] corrente [AT] yahoo [DOT] com, to (a) find out how to send me a check if you are allergic to PayPal and (b) to find out how to send me images of plants. Vegetables are fine! Fungi and coral are deemed to be honorary plants! If you want your handle to appear as a credit, please place it at the start of your mail in parentheses: (thus). Otherwise, I will anonymize by using your initials. See the previous Water Cooler (with plant) here. From MG: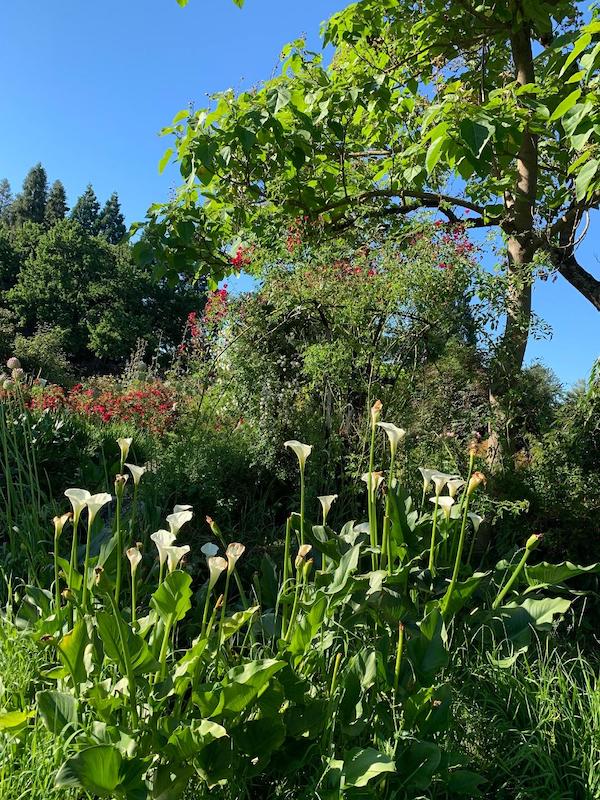 MG writes: "Today was one of those afternoons where the sky is a blue dome, the temperature is lovely, gentle breeze . .. not enough to completely blow away the smell of the blooms. This is a part the Owen Rose Garden in Eugene, Oregon. I like to come to this part to calm and center, or as best I can do that." MG sent me several very nice photos, but I picked this one, even though the roses are in the background, because I like what I think are called "Peace Plants" in the foreground.
* * *
Readers: Water Cooler is a standalone entity not covered by the recently concluded and — thank you! — successful annual NC fundraiser. So if you see a link you especially like, or an item you wouldn't see anywhere else, please do not hesitate to express your appreciation in tangible form. Remember, a tip jar is for tipping! Regular positive feedback both makes me feel good and lets me know I'm on the right track with coverage. When I get no donations for five or ten days I get worried. More tangibly, a constant trickle of donations helps me with expenses, and I factor in that trickle when setting fundraising goals:
Here is the screen that will appear, which I have helpfully annotated: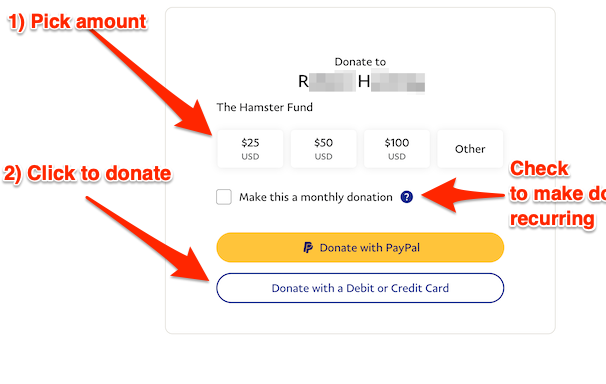 If you hate PayPal, you can email me at lambert [UNDERSCORE] strether [DOT] corrente [AT] yahoo [DOT] com, and I will give you directions on how to send a check. Thank you!