By Lambert Strether of Corrente
Bird Song of the Day
Desert Lark, HaDarom, Israel. With droning prop airplane?
* * *
Politics
"But what is government itself, but the greatest of all reflections on human nature?" –James Madison, Federalist 51
"They had learned nothing, and forgotten nothing." –Charles Maurice de Talleyrand-Périgord
"When the going gets weird, the weird turn pro." –Hunter Thompson
Capitol Seizure
"'It's the accumulation': The Jan. 6 hearings are wounding Trump, after all" [Politico]. "The conventional wisdom about the Jan. 6 committee hearings was that no single revelation was going to change Republican minds about Donald Trump. What happened instead, a slow drip of negative coverage, may be just as damaging to the former president. Six weeks into the committee's public hearing schedule, an emerging consensus is forming in Republican Party circles — including in Trump's orbit — that a significant portion of the rank-and-file may be tiring of the non-stop series of revelations about Trump. The fatigue is evident in public polling and in focus groups that suggest growing Republican openness to an alternative presidential nominee in 2024. The cumulative effect of the hearings, according to interviews with more than 20 Republican strategists, party officials and pollsters in recent days, has been to at least marginally weaken his support. 'It is definitely kind of this wet drip of, do you really want to debate the 2020 election again? Do you really want to debate what happened on Jan. 6?' said Bob Vander Plaats, the evangelical leader in Iowa who is influential in primary politics in the first-in-the-nation caucus state. 'Frankly, I think what I sense a little bit, even among some deep, deep Trump supporters … there's a certain exhaustion to it.'" • I don't want to be cranky about this, but an "accumulation" is not a theory of the case…

"Last-chance hearing: Jan. 6 committee has yet to establish a criminal case against Trump" [Jonathan Turley, The Hill]. "At the start of the hearings, committee members promised they had the long-sought smoking-gun evidence — new material that would close the circle on Trump. Committee member Rep. Adam Schiff (D-Calif.) indicated he thought there was now 'credible evidence' to support a variety of criminal charges. His colleague, Rep. Jamie Raskin (D-Md.), said the committee would show that Trump organized a 'coup' on Jan. 6, 2021….. It is difficult to make a criminal case over what an official failed to do. Yet the last hearing seemed to focus on a number of things that did not occur, from a draft tweet that was not sent to an executive order that was never signed. There were discussions of appointing Trump attorney Sidney Powell as a special counsel, seizing voting machines or replacing the Justice Department's leadership. As unnerving as these proposals were, they also were not carried out. It is the type of evidence used to show mens rea — 'guilty mind.' However, crimes generally require both guilty minds and guilty acts. Building a criminal case on the failure to act to stop the violence is a notoriously difficult case to make. It has been raised in various contexts without success even when officials had direct law enforcement duties, as in Seattle with the CHOP zone in the summer of 2020. It is even more difficult when the House committee has blocked any serious investigation into the potentially contributing failure of Congress to take better precautions before the riot, another costly act of omission." • I will await the Committee's timeline with great interest. I'm perfectly willling to accept a theory of case, if one were to be presented.

"Secret Service Jan. 6 texts erased despite Congress' request" [Associated Press]. "Secret Service text messages from around the time of the attack on the U.S. Capitol were deleted despite requests from Congress and federal investigators that they be preserved, the agency confirmed Tuesday in response to a subpoena from the House Jan. 6 committee. Florida Rep. Stephanie Murphy, a Democratic member of the Jan 6. panel, said the Secret Service acknowledged the erasure in a letter Tuesday, detailing how agency phones were migrated to a new system in the weeks after the 2021 attack. Murphy said the agency left it up to individual agents to decide what electronic records to keep and what to delete during the process. 'Nobody along the way stopped and thought, 'well, maybe we shouldn't do the migration of data and of the devices until we are able to fulfill these four requests from Congress," Murphy said on MSNBC. The deletion of the messages has raised the prospect of lost evidence that could shed further light on then-President Donald Trump's actions during the insurrection, particularly after testimony about his confrontation with security as he tried to join supporters at the Capitol."

"Prosecutors seek 15-year sentence for armed Capitol rioter" [Associated Press]. "Federal prosecutors are seeking a 15-year prison sentence for a Texas man who was convicted of storming the U.S. Capitol with a holstered handgun, calling him a militia group member who took a central role in the pro-Trump mob's attack, according to a court filing Friday…. Reffitt drove to Washington, D.C., with Rocky Hardie, who said he and Reffitt were members of the Texas Three Percenters militia group. The Three Percenters militia movement refers to the myth that only 3% of Americans fought in the Revolutionary War against the British."

"Senate Bill Aims to Stop Future Attempts to Thwart Elections" [Bloomberg]. "Legislation drafted by GOP Senator Susan Collins of Maine and Democratic Senator Joe Manchin of West Virginia alters the Electoral Count Act of 1887 to make clear that the vice president has only a ministerial role in certifying presidential election results. It also raises the threshold for members of Congress to object to a state's presidential election results to 20% of lawmakers in each chamber, instead of just one lawmaker under current practice. The two senators also unveiled a separate measure that would increase penalties for individuals who threaten or intimidate election officials and poll workers, and to improve handling of mail-in ballots." • This is good, actually.
Abortion
"The Abortion Vote In Kansas Looks Like It's Going To Be Close" [FiveThirtyEight]. "On Aug. 2, Kansans will vote on a state constitutional amendment that would clarify that the state's bill of rights does not protect Kansans' right to an abortion. And even though the state leans Republican, new polling and fundraising numbers suggest it's a close race. The proposed amendment, as its supporters are quick to point out, wouldn't ban abortion, but it would remove one of the biggest obstacles to making abortion illegal in Kansas. In 2019, the state Supreme Court ruled that the right to bodily autonomy in the state's bill of rights includes the right to abortion — separate from any rights guaranteed (or not guaranteed) by the U.S. Constitution…. If the amendment passes, on the other hand, the Kansas constitution would no longer protect abortion and more restrictions are likely, particularly if Republicans take back the governor's mansion in the midterm elections. The vote will be an early bellwether for how Americans are thinking about abortion in the lead-up to the midterms….. Regardless of the outcome, the vote in Kansas will tell us something important about how the public is reacting to the U.S. Supreme Court's decision to overturn Americans' constitutional right to abortion. The court's decision wasn't popular — but now we'll get our first chance to see if the ruling will actually spur voters into action."
Biden Administration
"Ukraine's first lady visits White House to meet with Jill Biden" [Politico]. • Pricing real estate?

"House passes same-sex marriage bill in retort to high court" [Associated Press]. "The U.S. House overwhelmingly approved legislation Tuesday to protect same-sex and interracial marriages amid concerns that the Supreme Court ruling overturning Roe v. Wade abortion access could jeopardize other rights criticized by many conservatives. In a robust but lopsided debate, Democrats argued intensely and often personally in favor of enshrining marriage equality in federal law, while Republicans steered clear of openly rejecting gay marriage. Instead leading Republicans portrayed the bill as unnecessary amid other issues facing the nation. Tuesday's election-year roll call, 267-157, was partly political strategy, forcing all House members, Republicans and Democrats, to go on the record. It also reflected the legislative branch pushing back against an aggressive court that has raised questions about revisiting other apparently settled U.S. laws. Wary of political fallout, GOP leaders did not press their members to hold the party line against the bill, aides said. In all, 47 Republicans joined all Democrats in voting for passage."
2022
* * *

MD: "Glenn Ivey wins a Maryland Democratic House primary seen as a proxy fight over Israel" [New York Times]. "Glenn Ivey, a former state's attorney for Prince George's County, rode a wave of support from pro-Israel groups to win the Democratic nomination to represent a House district in the predominantly Black middle-class suburbs north and east of Washington, according to The Associated Press. Mr. Ivey defeated Donna Edwards, the first Black woman elected to the House from Maryland, who left the seat to run unsuccessfully for the Senate in 2016 and had hoped to return. The district is heavily Democratic, meaning Mr. Ivey will almost certainly win the general election this fall. The race, dominated by Mr. Ivey and Ms. Edwards, was not an ideological contest. Both candidates are progressive Democrats and Black lawyers. Instead, it became a proxy fight over Israel between the American-Israel Political Affairs Committee's new super PAC, the United Democracy Project, and progressive groups led by J Street, a liberal Jewish organization pushing for change in the static conflict between Israelis and Palestinians. The United Democracy Project and another group, the Democratic Majority for Israel, spent more than $6.3 million to defeat Ms. Edwards, over her early support for a nuclear deal between Iran and five industrial countries, including the United States, and votes she took in the House that were seen as critical of Israel." • Awesome. Maybe these lunactics can foment a war in the Middle East when Ukraine is no longer lucrative.

OH: "Tim Ryan's Ohio ad play: Run to the right" [Axios]. "Democrat Tim Ryan is using his big fundraising advantage over Republican J.D. Vance in Ohio's Senate race to define himself as conservative-friendly through TV ads targeting GOP audiences — while Vance's campaign remains silent." • I'm so glad President Manchin will finally have some help. It must have been lonely for him.
2024
"Biden's age isn't his problem" [CNN]. "Without doubt, Biden's age complicates his hopes of winning another term. It has nothing to do with his problems in this one…. Consider the problems, which began to mushroom a year ago when most Americans still approved his job performance.

The first hammer blow resulted from Biden's determination to withdraw American troops from Afghanistan, a popular goal he shared with his two immediate predecessors. It wasn't his age that caused the lightning collapse of the Afghan government and the damaging images of chaos that unfolded on live television thereafter…. Around the same time, the Delta variant triggered a resurgence of coronavirus infections. Biden's age didn't make the once-in-a-century pandemic unpredictable [which it wasn't –lambert]… More bad news arrived at year's end. After lengthy, torturous negotiations, the centerpiece of the President's economic agenda collapsed on Capitol Hill. Ever since Biden launched his third White House candidacy, progressive Democrats had fretted about the septuagenarian's outlook as well as physical stamina. Specifically, they feared he held outdated views about the value of negotiating with congressional Republicans. In reality, Biden has achieved a few bipartisan victories, from infrastructure spending in 2021 to gun safety legislation this year. He faltered on the objective he shares with progressives and nearly all other Democrats: major investments to ameliorate climate change and lift struggling families, financed by higher taxes on corporations and the wealthy.

The reason for that failure is simple. In an evenly divided Senate, Democrats can't afford to lose a single vote on party priorities. Joe Manchin of West Virginia, who represents a coal state that opposed Biden by a landslide margin, held out. In recent months, surging inflation has kept Biden gasping for political air. But price growth didn't reach an annualized 9.1% in last week's Bureau of Labor Statistics report because the President soon will enter his ninth decade. Inflation has surged, here and around the world, from the toxic combination of pandemic disruptions and overheated consumer demand." • Sounds like Democrats want to talk about Biden's age because they don't want to talk about their failures to govern (and that includes making the case for the Afghanistan withdrawal when the screeching began).

"Young voters flee Biden — but who is the alternative?" [The Hill]. "So, with many Democrats, and particularly Millennials, wanting to move on from Biden, who exactly could be an alternative? Former Sec. of State Hillary Clinton? Gov. Gavin Newsom (D-Calif.)? Sen. Bernie Sanders (I-Vt.)? Transportation Sec. Pete Buttigieg? Sen. Elizabeth Warren (D-Mass.)? History suggests it's too early to tell…. Time is not on Biden's side. But time is the one thing Democrats have. The question is whether a viable alternative to Biden will emerge in the next two years. Only time will tell." • Two years is a long time in politics, it is true. But it's a very short time for a candidate whose appeal is organic to build their voter base. Of course, anything can "emerge" from the PR vats of the Democratic strategists….

"California's low-cost insulin plans receive $100m manufacturing boost" [Pharmaceutical Technology]. "Insulin prices made the headlines again as California governor Gavin Newsom announced plans on 7 July for the state to manufacture low-cost insulin. In a budget change proposed in February and confirmed in May, California's Department of Health Care Access and Information (HCAI) requested a one-time investment of $100 million for Newsom's CalRx Biosimilar Insulin initiative. The state plans to work directly with a contract manufacturing organization (CMO) to manufacture low-cost insulin. The documents state that a partnership with a CMO would be cheaper than the state directly manufacturing insulin. 'Nothing epitomises market failures more than the cost of insulin,' Newsom said in a video posted on Twitter." • Good, but not enough. Not nearly enough.

What does this even mean:

Happening now: Transportation Sec. Pete Buttigieg kicks off Goldman Sachs 10,000 Small Businesses Advocacy Day from Nationals Park.

Buttigieg: "I have the best job in the federal government… I get to be at the leading edge of building the future." pic.twitter.com/o2KHoDbftD

— Punchbowl News (@PunchbowlNews) July 20, 2022
Republican Funhouse
"How conservatism conquered America — and corrupted itself" [Vox]. "With Trump's election, the conservative establishment succeeded in cementing its control over the Court. But this victory required that they cede control over their movement to an unstable demagogue. American conservatism is thus simultaneously ascendant and in crisis. The right has extraordinary political power, but its traditional leadership seems less capable than ever of imposing limits on how it is wielded. The GOP's future belongs to the radical forces represented by Trump and the members of the establishment most willing to cater to them. Those few Republicans in power willing to stand up to the rot of Trumpism — like Rep. Liz Cheney, Rep. Adam Kinzinger, and Sen. Mitt Romney — find themselves on the outside looking in. This state of affairs is perhaps the inevitable endpoint of the American right's decades-old strategy for attaining power. Conservative doctrine never truly captured the hearts of a mass audience; to attain power, the movement needed to ally itself with forces of far-right reaction who raged against . American conservatism was an attempt to tame the untamable: to domesticate this reactionary impulse and channel it into electoral politics in service of an elite-driven agenda. Its leaders managed to exercise some control over radicals in the specific context of Cold War America — but the effort was fated to fail eventually." • I'm not sure this thesis can give an account of formerly Democrat constituencies moving into the Republican column. I wish the Democrats were raging in favor of "the idea of equality at the heart of modern democracy." But given their PMC base, that seems unlikely.
Democrats en Déshabillé
I have moved my standing remarks on the Democrat Party ("the Democrat Party is a rotting corpse that can't bury itself") to a separate, back-dated post, to which I will periodically add material, summarizing the addition here in a "live" Water Cooler. (Hopefully, some Bourdieu.) It turns out that defining the Democrat Party is, in fact, a hard problem. I do think the paragraph that follows is on point all the way back to 2016, if not before:

The Democrat Party is the political expression of the class power of PMC, their base (lucidly explained by Thomas Frank in Listen, Liberal!). ; if the Democrat Party did not exist, the PMC would have to invent it. . ("PMC" modulo "class expatriates," of course.) Second, all the working parts of the Party reinforce each other. Leave aside characterizing the relationships between elements of the Party (ka-ching, but not entirely) those elements comprise a network — a Flex Net? An iron octagon? — of funders, vendors, apparatchiks, electeds, NGOs, and miscellaneous mercenaries, with assets in the press and the intelligence community.

Note, of course, that the class power of the PMC both expresses and is limited by other classes; oligarchs and American gentry (see 'industrial model' of Ferguson, Jorgensen, and Jie) and the working class spring to mind. Suck up, kick down.

* * *

"Many young Democrats are furious at Democrats. But they're pushing through" [WaPo]. The deck: "College liberals who helped elect President Biden face their own rage with a party they're urging peers to support." How nice for them. More: "In about half of states where reliable data is available, meanwhile, researchers at Tufts University flagged that the number of 18-to-24-year-olds who were registered to vote in June is lagging behind the 2018 pace, especially for freshly eligible ballot casters…. Neither wanted Biden to run again in 2024, even if they weren't sure who might have a better shot at the White House. Neither [activist] knew what to do about the growing divide between young Democrats and Washington. 'There's this feeling of mass helplessness,' Neville said. 'Mass uselessness.'" • For good reason. "Young Democrat" is such an odd category; ypu would think there's a life-cycle of being a Democrat: Middle-aged Democrat, Wise Elder Democrat…. Only some of the "young Democrats" quoted are College Democrats; some are simply Democrat-adjacent, or members of NGOs.

Ouch:

The political message from Democrats can be anything they want but their track record speaks loud and clear and that slogan is "We lie a lot and make your life worse. Vote for us."

— Matt Stoller (@matthewstoller) July 20, 2022

No lies detected.
Realignment and Legitimacy
Opportunity!

Americans are unhappy with everybody. Biden hits new approval low (31%). GOP in Congress even lower (23%). Ds in Congress at 30%. Supreme Court at new low too (37%). https://t.co/0bvEtviX6C

— Larry Sabato (@LarrySabato) July 20, 2022

"Voters of color are backing the GOP at historic levels" [CNN]. "The Times poll showed that Democrats were ahead by around 25 points among voters of color on the generic congressional ballot, which usually asks respondents some form of the following question: "If the elections for Congress were held today, would you vote for the Democratic or Republican party?" Democrats trailed among White voters on this same question by 10 points. A 35-point racial gap is minuscule by historical standards. I decided to investigate further by averaging polling data from CNN/SSRS, Fox, Marist College, Monmouth University and The New York Times. The average showed Democrats up by 30 points among voters of color and losing White voters by 14 points — a somewhat larger 44-point racial gap but still historically small. In fact, it's the smallest divide this century. … The big reason for this shrinking gap is that voters of color are supporting Republicans at very high levels. The previous low watermark for the Democratic edge among voters of color in House elections this century was 40 points in 2004. Republicans are currently doing 10 points better than their best year of 2004. Part of why that is occurring is the changing demographic makeup of voters of color. They're a lot more Hispanic than they used to be. At the same time, they're a lot less Black. Hispanic voters don't support Democrats as much as Black voters. But that's not all that's going on. Democratic support from Asian American, Black and Hispanic voters is much lower than it has usually been. The electorate is also less divided than it has been in recent years when you break down voting patterns by gender. I pointed out earlier this year that we were seeing a much smaller gender gap than we did four years ago at an equivalent point in the election cycle." • No wonder Teixeira jumped ship.

"C.I.A. Director Issues Warning After Possible Noose Is Found Near Facility" [New York Times]. "[W]hat appeared to be a noose was found outside a secret facility used by the agency in Virginia, according to people familiar with the matter…. Questions surround the incident. The object was found near a small agency facility located in a building that houses businesses and other organizations. Some people briefed on the incident said it was not entirely clear that the object was even meant to be a noose, or if whoever placed it there knew that the C.I.A. secretly operated in the building…. [T]he object was disturbing enough that an agency official reported it." • Odd. I suppose the noose had been a guillotine….
#COVID19
• Any school could do this:
Our 2021-22 academic year just ended yesterday.

We just finished our 3rd year without a single case of COVID-19 in the space. That means not a single person was exposed "at school." Doubly impressive given the transmissibility of the current variants.

How did we do it?

— Abrome (@AbromeEd) July 9, 2022
Remote learning, testing, masking, ventilation (outdoor classes; HEPA filters or Corsi-Rosenthal boxes), capacity limits, and not believing CDC's lies. Seems like discipline has a lot to do with their success too.
• "The CDC ends COVID reporting on cruise ships. Is this good for public health?' [Poynter Institute]. • Lol no. Now they're just trolling us. Or as the normally reserved Poynter Institute writes: "It is hard to make sense of why the CDC would pull back from a detailed monitoring program just as COVID-19 cases are again rising worldwide." • Well, I hate to think this way, but it makes sense if they're trying to kill us.
* * *
If you missed it, here's a post on my queasiness with CDC numbers, especially case count, which I (still) consider most important, despite what Walensky's psychos at CDC who invented "community levels" think. But these are the numbers we have.
* * *
Case Count
NOT UPDATED Case count for the United States: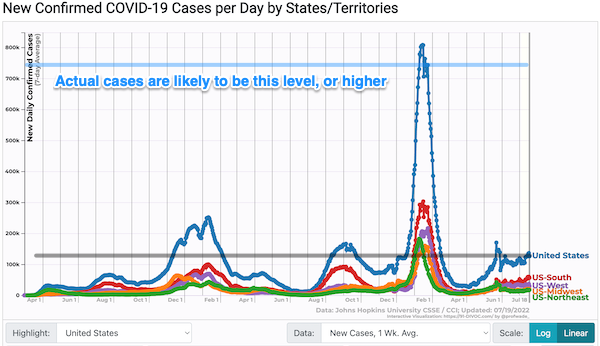 The train is still rolling. There was a weird, plateau-like "fiddling and diddling" stage before the Omicron explosion, too. This conjuncture feels the same. Under the hood the BA.4/BA.5 are making up a greater and greater proportion of cases. Remember that cases are undercounted, one source saying by a factor of six, Gottlieb thinking we only pick up one in seven or eight.) Hence, I take the case count and multiply it by six to approximate the real level of cases, and draw the DNC-blue "Biden Line" at that point. The previous count was ~135,400. Today, it's ~125,900 and 135,400 * 6 = a Biden line at 755,400 per day. That's rather a lot of cases per day, when you think about it. At least we have confirmation that the extraordinary mass of case anecdotes we've seen have a basis in reality. (Remember these data points are weekly averages, so daily fluctuations are smoothed out.) The black "Fauci Line" is a counter to triumphalism, since it compares current levels to past crises.
NOT UPDATED Regional case count for four weeks: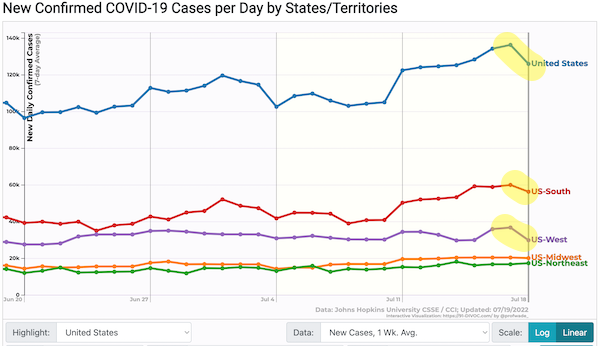 Now the South and West.
NOT UPDATED The South: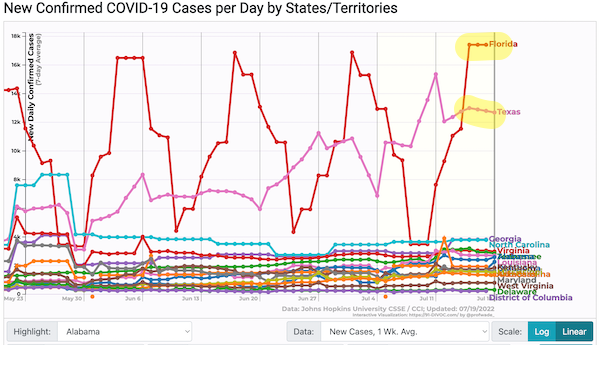 Florida and Texas, still neck and neck.
NOT UPDATED The West: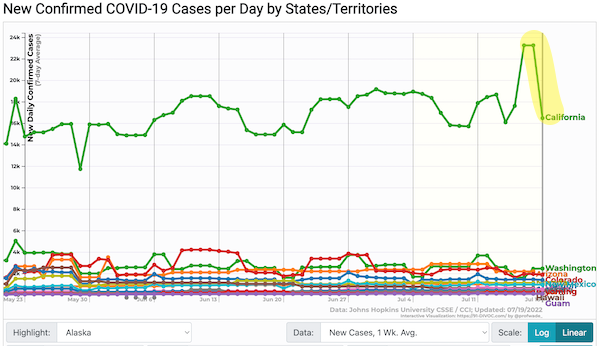 So, the national drop resolves to California.
Positivity
NOT UPDATED From the Walgreen's test positivity tracker: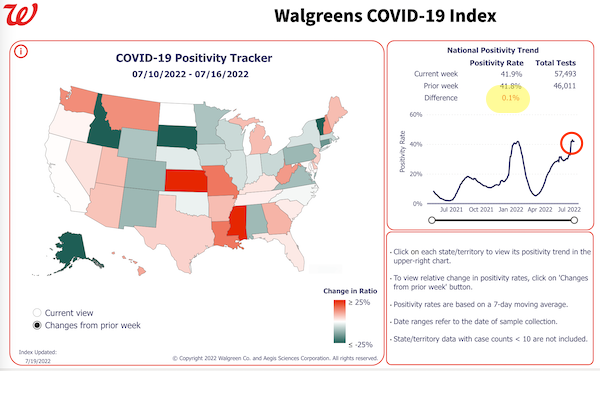 0.1%. Down! (I wonder if there's a Keynesian Beauty Contest effect, here; that is, if people encounter a sympotomatic person, whether in their social circle or in normal activity, they are more likely to get a test, because they believe, correctly, that it's more likely they will be infected.) What we are seeing here is the steepest and largest acceleration of positivity on Walgreen's chart.
Transmission
NOTE: I shall most certainly not be using the CDC's new "Community Level" metric. Because CDC has combined a leading indicator (cases) with a lagging one (hospitalization) their new metric is a poor warning sign of a surge, and a poor way to assess personal risk. In addition, Covid is a disease you don't want to get. Even if you are not hospitalized, you can suffer from Long Covid, vascular issues, and neurological issues. For these reasons, case counts — known to be underestimated, due to home test kits — deserve to stand alone as a number to be tracked, no matter how much the political operatives in CDC leadership would like to obfuscate it. That the "green map" (which Topol calls a "capitulation" and a "deception") is still up and being taken seriously verges on the criminal. Use the community transmission immediately below.
Here is CDC's interactive map by county set to community transmission. This is the map CDC wants only hospitals to look at, not you. For July 17, 2020: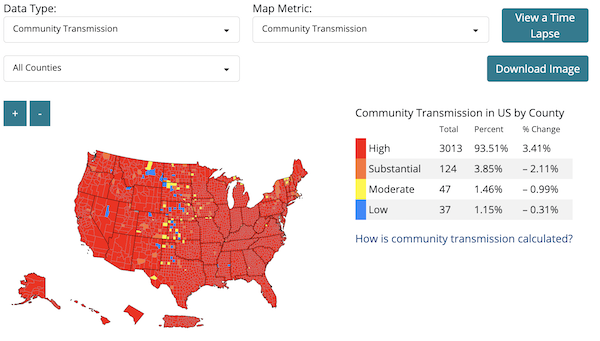 Status quo, i.e. it's a totally not-over pandemic.
Lambert here: After the move from the CDC to the laughingly named 'https://healthdata.gov," this notice appeared: "Effective June 22, 2022, the Community Profile Report will only be updated twice a week, on Wednesdays and Fridays." So now the administration has belatedly come to the realization that we're in a BA.5 surge, and yet essential data for making our personal risk assessment is only available twice a week. What's the over/under on whether they actually deliver tomorrow?
Rapid Riser data, by county (CDC), July 19: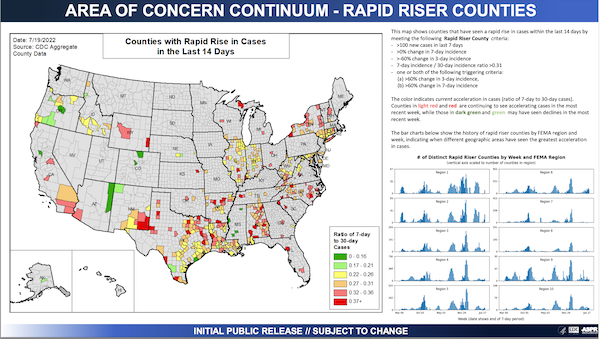 California worrse, Texas and Louisiana somewhat better, Illinois better, upstate New York worse.
Previous Rapid Riser data: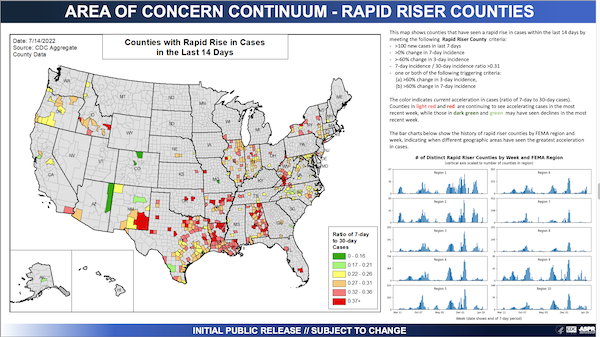 Hospitalization data, by state (CDC), July 19: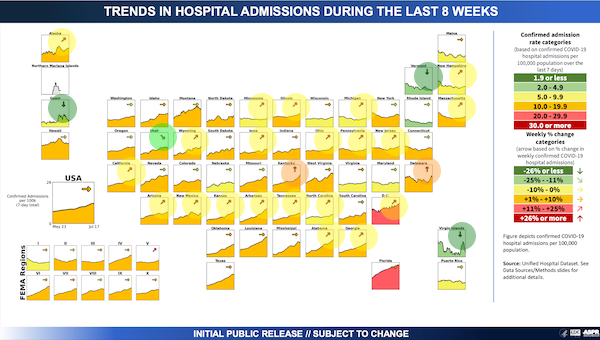 Lots of yellow. Haven't seen so little green (good) in quite some time.
Variants
Lambert here: It's beyond frustrating how slow the variant data is. I looked for more charts: California doesn't to a BA.4/BA.5 breakdown. New York does but it, too, is on a molasses-like two-week cycle. Does nobody in the public health establishment get a promotion for tracking variants? Are there no grants? Is there a single lab that does this work, and everybody gets the results from them? Additional sources from readers welcome [grinds teeth, bangs head on desk].
NOT UPDATED Variant data, national (Walgreens), June 30: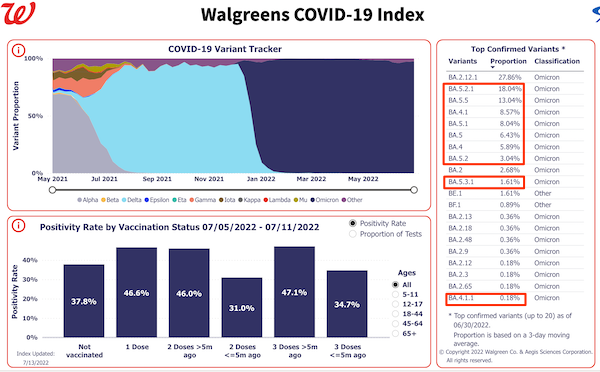 NOT UPDATED Variant data, national (CDC), July 2: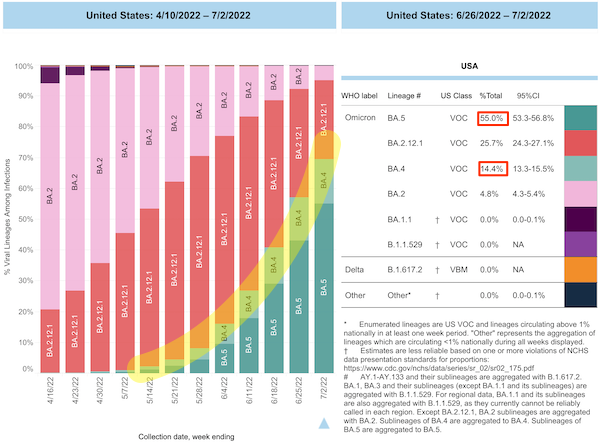 BA.5 moving along nicely.
Wastewater
Wastewater data (CDC), Jul 16: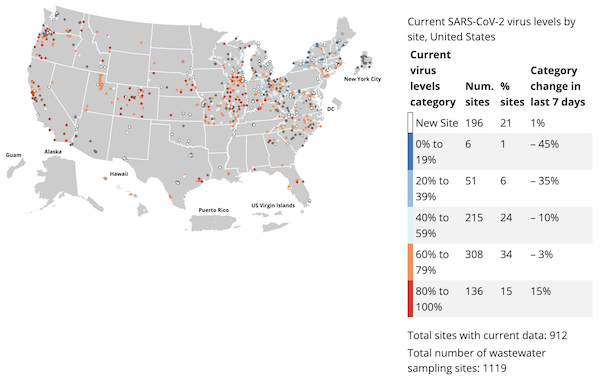 This chart works a bit like rapid riser counties: "This metric shows whether SARS-CoV-2 levels at a site are currently higher or lower than past historical levels at the same site. 0% means levels are the lowest they have been at the site; 100% means levels are the highest they have been at the site." So, there's a bunch of red dots on the West Coast. That's 100%, so that means "levels are the highest they've ever been." Not broken down by variant, CDC, good job.
Lambert here: This page was loading so slowly that I began to wonder if this is how CDC had chosen to sabotage wastewater efforts. However, after some experimentation, I find I must turn off my VPN to get this page to load. Good job, CDC.
• CA: "Fueled by rapid reinfections, California's soaring summer COVID wave could top winter surge" [Los Angeles Times]. "New coronavirus infections in parts of California may be surging even higher than winter's Omicron wave, potentially explaining why so many people seem to be infected simultaneously. The concentration of coronavirus levels in San Francisco's wastewater is at even higher levels than during the winter, according to data tweeted by Marlene Wolfe, an assistant professor in environmental health at Emory University. Wastewater data for much of L.A. County — Los Angeles city and a wide swath of eastern and southern L.A. County — have been . But county Public Health Director Barbara Ferrer said last week that steady increases have been noted as of late in the Las Virgenes Municipal Water District that serves areas in and around Calabasas and the L.A. County Sanitation Districts' treatment plant in Lancaster." • Oh ffs.
• CA: "This chart shows San Francisco COVID cases are wildly undercounted" [SFGATE]. "Marlene Wolfe, an assistant professor in environmental health at Emory University, shared a graph on Twitter last week that might explain why it seems like everyone you know has recently gotten COVID-19. Wolfe's graph, which compares official case counts in San Francisco with the volume of viral COVID-19 RNA in samples of county wastewater, clearly shows that the number of people with COVID in San Francisco is far higher than official case counts would suggest. In fact, judging by the volume of poop containing the virus now flowing through the county sewers, . Last week, the city recorded an average of 406 cases a day. But wastewater data suggests the real number could be much closer to the number of people infected during that January surge, when more than 2,300 people were testing positive for the virus every day on average."
• FL:
#COVID19 cases and hospitalizations in FL remain near very high levels. Cases may be easing in south FL but they are definitely still rising in central FL according to wastewater data from last week. pic.twitter.com/6wlyDxfmaO

— William Ku, Ph.D. (@DrWilliamKu) July 20, 2022
Deaths
Death rate (Our World in Data):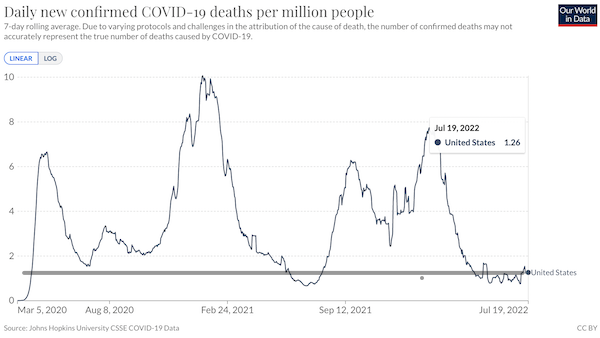 Total: 1,049,683 1,049,274. I have added an anti-triumphalist Fauci Line. It's nice that for deaths I have a nice, simple, daily chart that just keeps chugging along, unlike everything else CDC and the White House are screwing up or letting go dark, good job.
Stats Watch
There are no official statistics of note today.
* * *
Tech: "OpenAI expands access to DALL-E 2, its powerful image-generating AI system" [TechCrunch]. "Today, DALL-E 2, OpenAI's AI system that can generate images given a prompt or edit and refine existing images, is becoming more widely available. The company announced in a blog post that it will expedite access for customers on the waitlist with the goal of reaching roughly 1 million people within the next few weeks. With this 'beta' launch, DALL-E 2, which had been free to use, will move to a credit-based fee structure. First-time users will get a finite amount of credits that can be put toward generating or editing an image or creating a variation of an image. (Generations return four images, while edits and variations return three.) Credits will refill every month to the tune of 50 in the first month and 15 a month after that, or users can buy additional credits in increments of $15." • I hate that thing. Kill it with fire.
* * *
Today's Fear & Greed Index: 39 Fear (previous close: 33 Fear) [CNN]. One week ago: 23 (Extreme Fear). (0 is Extreme Fear; 100 is Extreme Greed). Last updated Jul 20 at 1:59 PM EDT.
The Gallery
Cubist landscape:
Landscape at Ceret, 1913 #juangris #syntheticcubism https://t.co/N4pjStHSXL pic.twitter.com/ELWN53zUNg

— Juan Gris (@artist_gris) July 20, 2022
Our Famously Free Press
The Archive Editor of The New Yorker would like a word:
The male colleague at the magazine who added these errors to my copy while I was under performance review is David Remnick, the @NewYorker's Editor-in-Chief. I don't pretend to understand why he did this. I do know that he has intimate knowledge of Malcolm's work & when she died.

— Erin Overbey (@erinoverbey) July 19, 2022
If this topplies the horrid Remnick, that would be great. Maybe Hertzberg would be next. Then they could bring back Seymour Hersh.
Groves of Academe
Yikes:
The interviewer said, "she's white and we asked for someone who is diverse." So I said, I don't think that a Jew in Nazi Germany in the 30s is not diverse. Her response was, "You did say Germany, which is a white country, and your pupils might not know about the holocaust."

— Izzy Posen (@PosenIzzy) July 20, 2022
Class Warfare
"America's Bus Driver Shortage Has Left Transit Systems in Crisis" [Bloomberg]. "The number of bus drivers across the US is declining as many retire or seek higher-paying private-sector jobs that require less in-person contact. The shortage is creating a major challenge for transportation agencies as they try to revive their systems and win riders back after taking steep losses throughout the pandemic, according to a report by TransitCenter, a public transportation advocacy group, released on Wednesday. …. In a recent American Public Transportation Association survey of 117 transit agencies, 71% reported that they have either had to cut service or delay service increases because of worker shortfalls, according to the report. More than nine out of 10 said they were having difficulty hiring new employees, with nearly two-thirds struggling to retain workers…. According to the report, the average American transit operator is nearly 53 years old — more than a decade older than the average worker. The report cites a 2015 federal government analysis which found that nearly 63% of US transit operators were over the age of 45, with 72% of the 2015 workforce projected to leave by 2022. That, coupled with regular increases in workforce needs, led researchers to forecast 200,000 job vacancies."
"Second Activision Blizzard Worker Group Launches Union Drive With CWA" [Hollywood Reporter]. "A new group of workers at video game behemoth Activision Blizzard is launching an attempt at unionization with the Communications Workers of America. Quality assurance (QA) testers at Blizzard Albany in New York have organized and are asking for voluntary recognition of their group from management, the workers tweeted on Tuesday. On Tuesday they additionally filed a petition for an election with the National Labor Relations Board. Twenty associate test analysts are involved in the effort, and according to the CWA, 19 out of 20 have signed union authorization cards. 'There are issues in the video game industry that often go unaddressed because our work is considered a passion instead of a job,' Blizzard Albany associate test analyst Amanda Laven said in a statement. 'Quality assurance workers deserve fair treatment and proper compensation for the work we do which is why we chose to form a union.'"
News of the Wired
I seem not to be wired today, either.
* * *
Contact information for plants: Readers, feel free to contact me at lambert [UNDERSCORE] strether [DOT] corrente [AT] yahoo [DOT] com, to (a) find out how to send me a check if you are allergic to PayPal and (b) to find out how to send me images of plants. Vegetables are fine! Fungi and coral are deemed to be honorary plants! If you want your handle to appear as a credit, please place it at the start of your mail in parentheses: (thus). Otherwise, I will anonymize by using your initials. See the previous Water Cooler (with plant) here. From TH: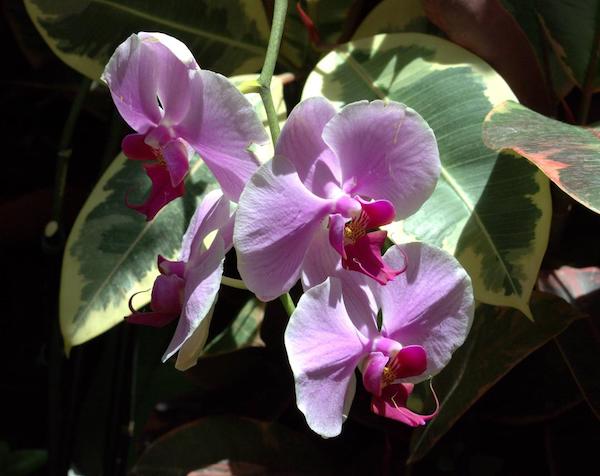 TH writes: "This Orchid was part of the Bellagio's Spring display in their Botanical Conservatory when we were there earlier this month (June) on the 12th. Orchids were quite the theme, but not the only one."
* * *
Readers: Water Cooler is a standalone entity not covered by the recently concluded and — thank you! — successful annual NC fundraiser. So if you see a link you especially like, or an item you wouldn't see anywhere else, please do not hesitate to express your appreciation in tangible form. Remember, a tip jar is for tipping! Regular positive feedback both makes me feel good and lets me know I'm on the right track with coverage. When I get no donations for five or ten days I get worried. More tangibly, a constant trickle of donations helps me with expenses, and I factor in that trickle when setting fundraising goals:
Here is the screen that will appear, which I have helpfully annotated: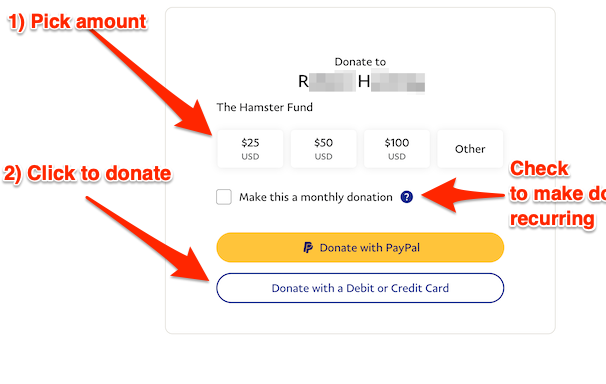 If you hate PayPal, you can email me at lambert [UNDERSCORE] strether [DOT] corrente [AT] yahoo [DOT] com, and I will give you directions on how to send a check. Thank you!