By Lambert Strether of Corrente
Patient readers, today was a bit of a debacle. I got started late, and then various Covid data changed or, in CDC's case, went pear-shaped or, in FDA's case, emerged. So I will break my rule and do some updates, so we have some faint hope of remaining current with the political news. –lambert UPDTATE Finished. Sorry I had to leave business news on the cutting room floor.
Bird Song of the Day
Pale-throated Wren-Babbler, Yen Bai, Vietnam. Busy insects sawing away in the background.
* * *
Politics
Lambert here: One reader suggested changing these quotes; I don't think it's a bad idea, but I need to think about it. I don't want to be too doomy — we are not short of inventory in that department — but I don't want to go all chipped and Pollyanna-esque, either.
"But what is government itself, but the greatest of all reflections on human nature?" –James Madison, Federalist 51
"They had learned nothing, and forgotten nothing." –Charles Maurice de Talleyrand-Périgord
"When the going gets weird, the weird turn pro." –Hunter Thompson
Capitol Seizure
"Cheney says it's possible Jan. 6 panel will make criminal referral against Trump" [The Hill]. "During the interview on ABC's 'This Week,' the network's chief Washington correspondent, Jonathan Karl, asked Cheney — who serves as the vice chairwoman of the committee — whether the panel's hearings have demonstrated that Trump should be prosecuted. 'Ultimately, the Justice Department will decide that,' Cheney responded. 'I think we may well as a committee have a view on that. And if you just think about it from the perspective of, what kind of man knows that a mob is armed and sends the mob to attack the Capitol and further incites that mob when his own vice president is under threat, when the Congress is under threat?' 'It's just very chilling. And I think certainly we will continue to present to the American people what we've found,' she added. When pressed by Karl, Cheney said that it is possible the committee will officially make a criminal referral. She also noted that the Department of Justice doesn't need to wait for the panel to make a decision in order for it to make its own criminal referral." • I say bring it. But note once again from June:

It's protected speech. Advocating to overthrow the Government is legal, unless all 4 elements are met:
1️⃣ the speech is intended to cause
2️⃣ and reasonably likely to cause
3️⃣ imminent
4️⃣ lawless action https://t.co/ugsWAytWmh

— T. Greg Doucette (@greg_doucette) June 16, 2022

Note especially the "imminent" test:

The problem is that the Ellipse is a half-hour from Congress if you're going on foot. Not really imminent in that scenario https://t.co/SGXd7PqzuY pic.twitter.com/vp8s1X04OT

— T. Greg Doucette (@greg_doucette) June 16, 2022
Biden Administration
"After string of Supreme Court setbacks, Democrats wonder whether Biden White House is capable of urgency moment demands" [CNN]. "Multiple Democratic politicians who have reached out to work with Biden — whether it's on specific bills, brainstorming or outreach — often don't hear anything back at all. Potential appointees have languished for months waiting to hear if they'll get jobs, or when they'll be done with vetting. Invitations to events are scarce, thank you calls barely happen. Even some aides within the White House wonder why Biden didn't fire anyone, from the West Wing or at the Food and Drug Administration, to demonstrate some accountability or at least anger over the baby formula debacle." Hey, how about the Covid debacle? More: "Inside the White House, aides are exhausted from feeling forever on red alert, batting at a swarm of crises that keeps growing — enough for White House press secretary Karine Jean-Pierre to make an offhand joke about the constant 'eleventh hour' decision-making in the building when under fire at a recent daily briefing.

Several officials say when he's displeased with how a situation is being handled or when events go off poorly has trickled down the ranks in the West Wing, leaving several mid-level aides feeling blamed for failings despite lacking any real ability to influence the building's decision-making. That's contributed to some of the recent staff departures, according to people familiar." Interesting… More: "Democrats worry the lack of decisions and authority are deepening their own midterm problems and feeding a sense that the President couldn't truly handle the extra complications of a run for reelection in 2024 — and along the way, reinforcing narratives that he's an old man not fit for the moment." But: "Fundamentally, Biden and his aides are operating from a very different sense of the presidency. He's being realistic, they believe, and responsible — not just because his options are truly limited, but specifically because he's trying to restore the structural integrity of the government and of democracy after four years of Trump." • I think it's unfair to say Biden hasn't accomplished anything. He's knocked 500,000 people off future Social Security rolls, destroyed public health institutionally and politically, and started a proxy war with a nuclear power over a country voters don't care about. Pretty good for somebody I labeled "molasses-brained."

"A time of war":

My message to the companies running gas stations and setting prices at the pump is simple: this is a time of war and global peril.

Bring down the price you are charging at the pump to reflect the cost you're paying for the product. And do it now.

— President Biden (@POTUS) July 2, 2022

The last time I heard that phrase was during the Iraq War; from George W. Bush. "A time of war" was used as a justification for literally anything. And if Biden wants to make Ukraine into a real war, instead of a proxy war, he should tell somebody about it.

"Ending Pandemic Aid Created A Disaster" [Lever News]. "New government data show that after the government terminated pandemic relief programs, millions more Americans began struggling to survive. In all, roughly four in ten Americans say they are having difficulty paying their bills — a nearly 50 percent increase since last spring, according to a Lever review of data from the U.S. Census Bureau's Household Pulse Survey. As the suffering has increased, Washington policymakers, Beltway economists, and corporate media personalities have started pressing an austerity agenda, demanding even more pain in the name of taming inflation — even though data suggest inflation is largely being driven by corporate profiteering and supply chain blockages rather than wages or consumer spending." • If only the Democrats had been in charge, instead of Trump, we could have had a decade-long "recovery," just like Obama. I applaud Biden's efforts to bring us back to those good old days.

* * *

"EXCLUSIVE: 'I think you're clear': VOICEMAIL from Joe Biden to Hunter about NY Times report on his Chinese business dealings proves he DID speak to his son about his relationship with criminal dubbed the 'spy chief of China'" [Daily Mail]. I missed this one. Apologies! "President Joe Biden spoke with Hunter about his business dealings with a Chinese criminal his son dubbed the 'spy chief of China,' a voicemail to his son reveals. The president has repeatedly denied personally and through his press secretary that he ever talked about Hunter's foreign business with his Hunter – despite overwhelming evidence to the contrary. Now, in a voicemail left on Hunter's iPhone, the evidence has come from POTUS' own mouth. Joe called Hunter on December 12, 2018 saying that he wanted to talk to him after reading a New York Times story about Hunter's dealings with the Chinese oil giant CEFC. Files on Hunter's abandoned laptop previously disclosed by DailyMail.com show that he struck a deal with the Chinese company worth millions of dollars after touting his family connections. The Times' 2018 story pointed out CEFC's chairman Ye Jianming had been arrested in China and his top lieutenant Patrick Ho had been convicted in the US for bribing African officials to help Iran evade oil sanctions…. A copy of a FISA warrant obtained by DailyMail.com reveals that federal agents were monitoring Ho as a potential spy for China. And while holed up in a hotel room on a bender with a prostitute filming amateur sex tapes, Hunter accidentally recorded himself referring to Ho as the 'spy chief of China'. 'I have another New York Times reporter calling about my representation of the, literally, Dr. Patrick Ho — the f***ing spy chief of China who started the company that my partner [Jianming], who is worth $323 billion, founded and is now missing,' Hunter told his female friend in the May 11, 2018 recording…. After Ho was arrested [in China for bribery], he contacted Hunter and paid the president's son a $1million retainer to represent him as his attorney." • Oh. Imagine if this story was about Ivanka or Jared. Dear Hunter!
2022
* * *

Frustrated youth:

we are at a basic problem here, at every level: you cannot budge democratic leadership to do *anything* different. not strategy. not policy. not even rhetoric. absolutely nothing will budge them. not a goddamn thing. fucking nearly getting 86'd didn't budge them!

— Colin Spacetwinks (@spacetwinks) July 5, 2022

"Vote!" (1):

"You all heard about what happened today … We are reminded there's nothing guaranteed about our democracy, nothing guaranteed about our way of life. You have to fight for it, defend it and earn it by voting." – Biden pic.twitter.com/60ByU4Yfrc

— philip lewis (@Phil_Lewis_) July 4, 2022

I love how "fight for" has merged with "vote" here, in a sort of heaving, oleaginous mass. Anyhow, first, in a democracy, voters don't need to "earn" anything. Second, in a democracy, electeds need to earn votes by delivering. For example:

"I support universal healthcare."
—@POTUS

Never forget how he has lied to seniors. pic.twitter.com/w5xRcglViG

— March for Medicare for All (@M4M4ALL) July 4, 2022

"With pressures mounting, Biden thinks GOP will make his midterm case for him" [Yahoo News]. "Inside the White House, though, advisers grasp that what's required aren't just plans, but votes. The 50-50 split in the Senate between the parties has proved an insurmountable obstacle for Biden's grandest ambitions — to expand the social safety net in ways that insulate the most vulnerable Americans from economic shocks." • As I repeat ad nauseum: This is the party Pelosi and Schumer built: Fundraisingmax + Deliverymin = "Fighting for." Biden-world sees an opening to defy the historical trends, springing from some of the same setbacks that have so angered the Democratic base. Republicans are overreaching in ways that will alienate voters, White House allies contend. 'I can tell you that on the street, what you hear is a bubbling, seething cauldron of anger at the Republican Party for putting in these antediluvian judges who think they can take us back to the 18th century,' said Jay Inslee, the Democratic governor of Washington state. 'My spidey sense and the polling indicate it's going to help people decide not to vote for the red team.' Biden and other administration officials intend to draw a stark contrast between the parties in the coming months in hopes of awakening voters to how their personal rights will be imperiled if Republicans seize control of Congress." • Let me know how that works out:

Biggest concern via Monmouth poll:

33% inflation
15% gas prices
9% economy
6% bills/groceries
5% abortion
3% guns
3% health care
3% unemployment
2% tuition costs
2% housing/rent
2% safety/crime
1% civil rights
1% climate change
1% coronavirus
1% education
1% illness

— Ryan Struyk (@ryanstruyk) July 5, 2022

Then again–

"Democrats see post-Roe campaign cash surge" [Axios]. "Democratic House campaigns in battleground districts across the country have seen a surge of donations — and new donors — in the wake of the Supreme Court's decision last month overturning Roe v. Wade. The sudden influx is a bright spot for Democrats in what has otherwise been a difficult campaign marked by rising inflation and costs, potentially validating a strategy of focusing more heavily on abortion on the campaign trail. New York House candidate Pat Ryan raised over $1 million in the six weeks since announcing his campaign, nearly 40% of which came in the week following the ruling, Axios has learned. Ryan, who is running in the August special election in New York's 19th District, told Axios his race is 'the first competitive congressional election in a post-Roe world' and that he plans to put abortion at 'the center' of his campaign. His best fundraising day of the campaign was June 26, the day after the ruling, followed by June 29 and 30. Incumbent Democrats defending swing districts have seen similar surges, driven by increased digital engagement from grassroots donors." • Interesting.
2024
"Americans Discuss Whether Biden Should Run Again" [The Onion]. Slide 9: "Besides his first term, I can't think of a single reason why Biden shouldn't run again."

The frontrunner if Biden comes up lame:

Vice President Kamala Harris just spoke at the scene of the Highland Park mass shooting.

"We have to take this stuff seriously, as seriously as you are because you have been forced to take this seriously," she said. pic.twitter.com/vpLSydpJM0

— Jake Sheridan (@JakeSheridan_) July 6, 2022

The other frontrunner:

Airlines may offer you points or miles as compensation for a canceled flight. When deciding whether to accept (miles are worth about 1-2 cents), remember that my department enforces a REQUIREMENT that they offer cash refunds when you can't travel due to a cancellation.

— Secretary Pete Buttigieg (@SecretaryPete) July 5, 2022

The comments are scathing.

So, the one frontrunner can't form a coherent sentence, and the other one thinks he's The Points Guy. That's where we are!

"Trump flirtation with 2024 run growing more serious" [The Hill]. "Former President Trump is holding discussions about announcing a 2024 campaign, sources told The Hill, with some current and former advisers believing it is a matter of when, not if, Trump will launch a third White House bid. Multiple sources told The Hill that a campaign announcement as early as this summer has already been discussed, but cautioned the situation remains fluid and it's unclear when the former president might actually jump into the race. 'I think there are people pulling him in that direction, and he's open to it,' one former adviser said of an announcement before the midterms. One source, who spoke on the condition of anonymity, argued there's no rush for Trump to declare his candidacy. Trump remains the most popular and influential figure in the Republican Party, the source said, and the former president could afford to wait until he has a clearer campaign infrastructure in place before throwing himself fully into a White House campaign. In the meantime, advisers close to the former president said Trump will continue holding rallies for his endorsed candidates across the country as a way to address his most ardent supporters and test out potential attack lines for a would-be campaign. Multiple outlets reported in recent days that Trump had mulled a campaign launch as early as this month. Such an announcement would be remarkably early for a presidential campaign, with Election Day more than two years away." • 852 days is a long time in politics. But it won't be dull!
Democrats en Déshabillé
I have moved my standing remarks on the Democrat Party ("the Democrat Party is a rotting corpse that can't bury itself") to a separate, back-dated post, to which I will periodically add material, summarizing the addition here in a "live" Water Cooler. (Hopefully, some Bourdieu.) It turns out that defining the Democrat Party is, in fact, a hard problem. I do think the paragraph that follows is on point all the way back to 2016, if not before:

The Democrat Party is the political expression of the class power of PMC, their base (lucidly explained by Thomas Frank in Listen, Liberal!). ; if the Democrat Party did not exist, the PMC would have to invent it. . ("PMC" modulo "class expatriates," of course.) Second, all the working parts of the Party reinforce each other. Leave aside characterizing the relationships between elements of the Party (ka-ching, but not entirely) those elements comprise a network — a Flex Net? An iron octagon? — of funders, vendors, apparatchiks, electeds, NGOs, and miscellaneous mercenaries, with assets in the press and the intelligence community.

Note, of course, that the class power of the PMC both expresses and is limited by other classes; oligarchs and American gentry (see 'industrial model' of Ferguson, Jorgensen, and Jie) and the working class spring to mind. Suck up, kick down.

* * *

"Why Democratic Appeals To The 'Working Class' Are Unlikely to Work" [FiveThirtyEight]. "These messages, though, are unlikely to work on their own because the dividing line in the American electorate is not economics; it's race and culture. Democratic strategists often point to Barack Obama's presidency and his response to the Great Recession as a turning point for the party's appeals to working-class white people. After all, Obama won many of the Rust Belt states partly on the strength of the white working-class vote, but after his presidency, many of those voters turned to Trump and the Republican Party. That's because Obama's presidency marked another big turning point in American society: a step toward greater racial equity. And on this issue, Democrats and Republicans could not be further apart. It's why Democratic appeals to win back the working class are unlikely to work, too." • Wait. Didn't…. something else happen during [genuflects] Obama's presidency? Something… economics? [bangs head on desk]. Give credit, though. Liberal Democrats are committed to the bit!
Realignment and Legitimacy
The Two Eyes:

Both the UK and the US are unraveling because, it turns out, the "one simply doesn't do that" crowd has no defense against "well, we're doing it anyway."

— Eric Rauchway (@rauchway) July 5, 2022

"Crowd" is doing an awful lot of work there. But as a quick way to describe the slowly diminishing power of the Norms Fairy, it works. (Of course, your typical Bullingdon Club member is probably more adept at "doing it anyway" than your typical Federalist Society lawyer, but the point remains.)

As opposed to the heartless people running the country:

It is well to be discontented, to have a heart hot with hatred of injustice, but it is also well to have a hopeful spirit, and to appreciate all manifestations of social activity, organised and unorganised, that indicate the stirring of the human conscience under capitalism.

— James Connolly (@ConnollyEbooks) July 5, 2022
#COVID19
Because freedom:
Wow! I just called for a friend who's trapped on a packed jet bridge without ventilation for an hour. @AmericanAir Conciege key rep said "sir COVID is over we don't care about those things anymore". @SecretaryPete why did we give billions to airlines to keep us flying safe?

— Eric Ortner (@eortner) July 3, 2022
Darwin Awards (or, to put this more optimistically, an opportunity to display adaptability, which "living with it" does not do):
->

Without adequate response from leadership, I think it will be about 2-5yrs further before most understand COVID-19?

— #MasksInSchools Dr Noor Bari (@NjbBari3) July 5, 2022
Just in time for 2024, in the optimistic calculation!
Maskstravaganza: Don't do it, Bob. Don't make me give you another award. I'm begging, here:
… protection.
At a policy level, I can't see mask mandates returning just because BA.5 case rates go way up. But if hospitals still filling up, particularly if we also have staff shortages, I think we'll see mandates return in Blue states. It would be the right call. (23/25)

— Bob Wachter (@Bob_Wachter) July 4, 2022
Hospitalization — how I wish I had a handy map (see below) — is, and follow me closely, here, Bob, a lagging indicator. If you use it as a signal to initiate a masking policy, you're too late to save a lot of people (and doubling behavior will have had time to do its evil work) [pounds head on desk].
* * *
If you missed it, here's a post on my queasiness with CDC numbers, especially case count, which I (still) consider most important, despite what Walensky's psychos at CDC who invented "community levels" think. But these are the numbers we have.
* * *
Case count for the United States: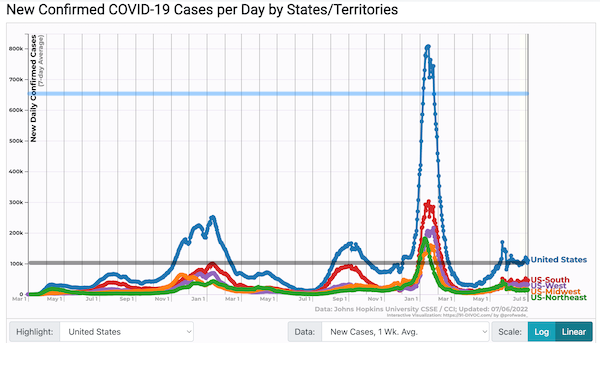 Looks like we're catching up on the weekend data. Under the hood the BA.4/BA.5 are making up a greater and greater proportion of cases. There was a weird, plateau-like "fiddling and diddling" stage before the Omicron explosion, too. This conjuncture feels the same. Remember that cases are undercounted, one source saying by a factor of six, Gottlieb thinking we only pick up one in seven or eight.) Hence, I take the case count and multiply it by six to approximate the real level of cases, and draw the DNC-blue "Biden Line" at that point. The previous count was ~102,400. Today, it's ~110,000, and 108,000 * 6 = a Biden line at 660,000. At least we have confirmation that the extraordinary mass of case anecdotes had a basis in reality. (Remember these data points are weekly averages, so daily fluctuations are smoothed out.) The black "Fauci Line" is a counter to triumphalism, since it compares current levels to past crises.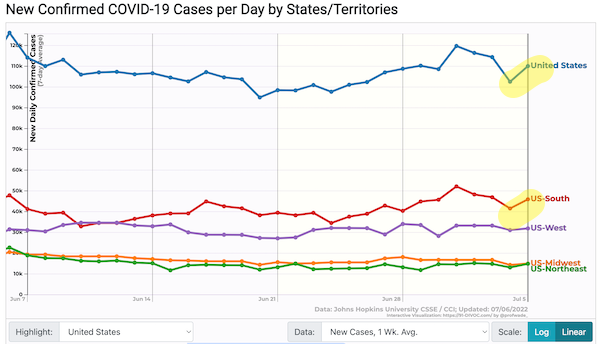 Still the South, so here is the South's breakdown: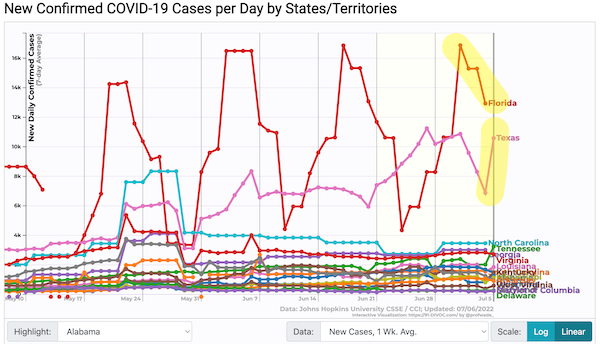 Whoa, Texas! Whoa, Florida!
From the Walgreen's test positivity tracker: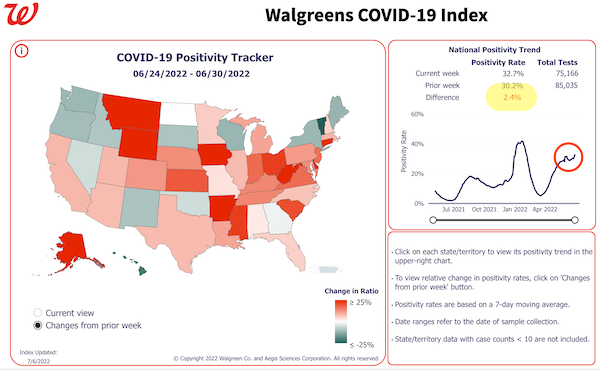 2.4%. (I'm leaving the corporate logo on as a slap to and check on the psychos at CDC.)
NOT UPDATED Wastewater data, regional (Biobot Analytics), June 29: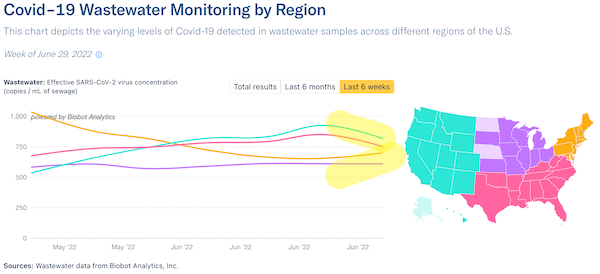 Wastewater data (CDC), Jun 14, 2022 – Jun 28, 2022: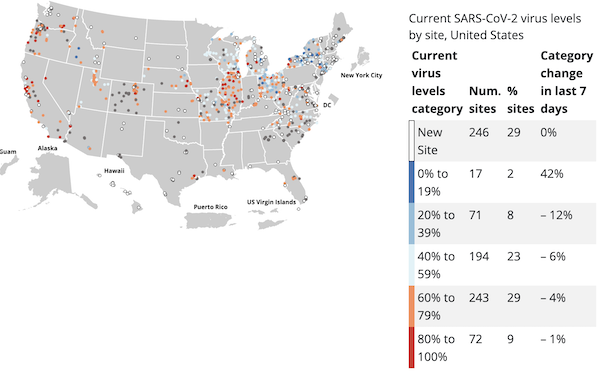 This chart works a bit like rapid riser counties: "This metric shows whether SARS-CoV-2 levels at a site are currently higher or lower than past historical levels at the same site. 0% means levels are the lowest they have been at the site; 100% means levels are the highest they have been at the site." So, there's a bunch of red dots on the West Coast. That's 100%, so that means "levels are the highest they've ever been." Not broken down by variant, CDC, good job.
NEW Wastewater variant data from FDA (!), June 29. Note this looks a lot like a pilot, and covers only WA, NV, AZ, AL, MS, VA, MS, OH, PA, and NJ: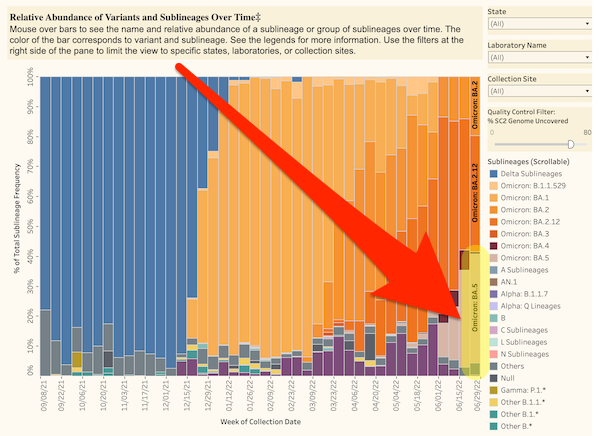 Same message as elsewhere: Dominance of BA.5.
NOT UPDATED Variant data, regional (Biobot), June 8: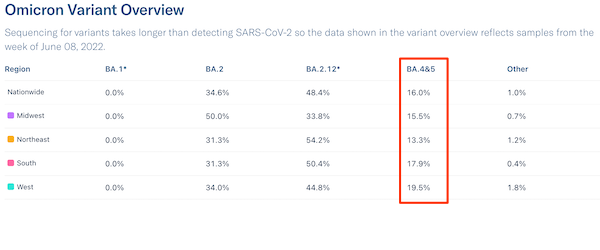 Out of date compared to Walgreens (below) but still showing doubling behavior.
Variant data, national (Walgreens), June 18: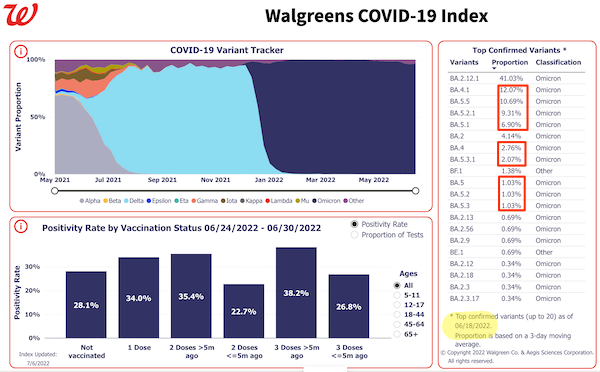 I'm a bit baffled by all the BA5.* and BA4.* Are these sublineages?
Variant data, national (CDC), June 18: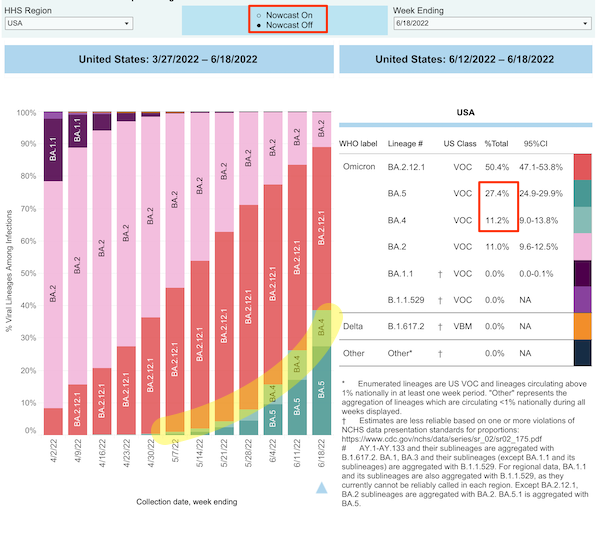 CDC has restored the button that lets me turn their NowCast button off. Doubling behavior moving along quite briskly, but I would rather calculate slash intuit the rise myself, and compare that to Walgreens, than use CDC's model, which is probably broken anyhow.
Just for grins, I thought I'd check to see if variant data was any different in the South: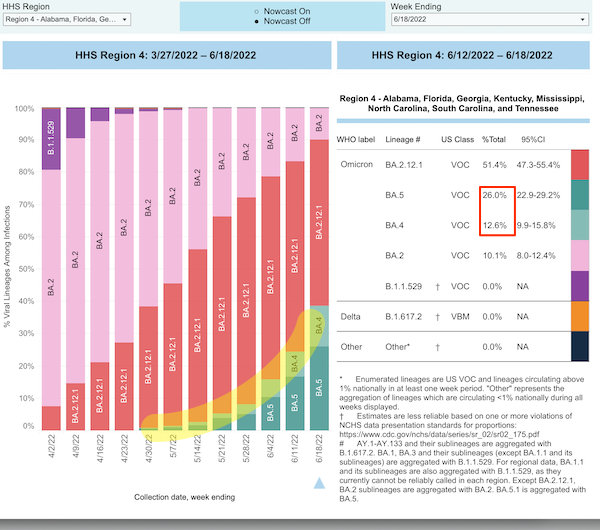 (No Texas, sadly). It isn't.
• "BA.4/5 COVID-19 variants now dominant in all US regions" [Center for Infectious Disease Research and Policy]. "The more transmissible Omicron BA.4 and BA.5 subvariants are now dominant in all parts of the United States, with BA.5 again steadily expanding its scope, the Centers for Disease Control (CDC) said today in its latest weekly estimates." • The "estimates" have the Nowcast model on, but this is the official call.
Lambert here: It's beyond frustrating how slow the variant data is. I looked for more charts: California doesn't to a BA.4/BA.5 breakdown. New York does but it, too, is on a molasses-like two-week cycle. Does nobody in the public health establishment get a promotion for tracking variants? Are there no grants? Is there a single lab that does this work, and everybody gets the results from them? Additional sources from readers welcome [grinds teeth, bangs head on desk].
The White House and the CDC gut "Community Proflle" report and redirect the old URL to https://healthdata.gov:
The Community Profile Report (CPR) is generated by the Data Strategy and Execution Workgroup in the Joint Coordination Cell, under the White House COVID-19 Team. It is managed by an interagency team with representatives from multiple agencies and offices (including the United States Department of Health and Human Services, the Centers for Disease Control and Prevention, the Assistant Secretary for Preparedness and Response, and the Indian Health Service)…. Effective June 22, 2021, the Community Profile Report will only be updated twice a week, on Tuesdays and Fridays.
There are no more Rapid Riser or Hospitalization maps. Those sociopathic, democidal shitheads have replaced the daily PDF with an effing spreadsheet. No more at-a-glance geographical knowledge to incorporate into our personal risk assessments. No more visualization that lets you drill down from the national level to the county level. No doubt some kind soul — at Walgreens? — will download the data and make something useful from it. In the midst of a new variant spike! Heavens to Betsy.
NOTE I shall most certainly not be using the CDC's new "Community Level" metric. Because CDC has combined a leading indicator (cases) with a lagging one (hospitalization) their new metric is a poor warning sign of a surge, and a poor way to assess personal risk. In addition, Covid is a disease you don't want to get. Even if you are not hospitalized, you can suffer from Long Covid, vascular issues, and neurological issues. For these reasons, case counts — known to be underestimated, due to home test kits — deserve to stand alone as a number to be tracked, no matter how much the political operatives in CDC leadership would like to obfuscate it. That the "green map" (which Topol calls a "capitulation" and a "deception") is still up and being taken seriously verges on the criminal. Use the community transmission immediately below.
Here is CDC's interactive map by county set to community transmission. This is the map CDC wants only hospitals to look at, not you: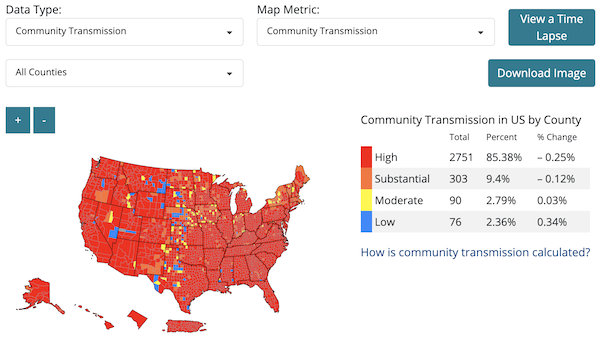 Status quo. I wonder how long it will be before this one disappears.
Death rate (Our World in Data):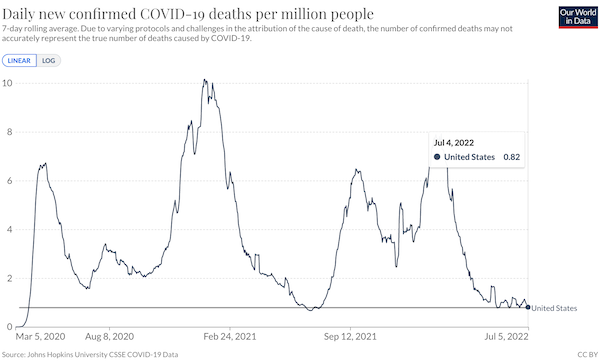 Total: 1,043,879 1,043,372. I have added an anti-triumphalist Fauci Line.
Rapture Index: Closes unchanged [Rapture Ready]. Record High, October 10, 2016: 189. Current: 189. (Remember that bringing on the Rapture is good.) I've been waiting for the Rapture Index to hit the all time high again. Now it has.
–>
Health Care
July 5 was the birthday of the NHS:
"There are no charges, except for a few special items. There are no insurance qualifications. But it is not a "charity". You are all paying for it, mainly as tax payers, and it will relieve your money worries in time of illness." pic.twitter.com/Z216SbefD6

— Marcus Barnett (@marcusbarnett_) July 5, 2022
(Nobody understood chartalism back in the day.) Of course, the Tories are working hard to privatize the NHS, and hand over the carcass to big consulting firms from the United States, because that's how they roll.
The Conservatory
"The Monitor: The Punk Album that Predicted Our Politics" [Tropics of Meta]. "One night soon after we moved to Atlanta, I was hanging out at the Graveyard Tavern, killing time before a show. I picked up the local indie music magazine and read a review of a new album by a band called Titus Andronicus. As a history professor, I was both intrigued and mortified. It seemed audacious on so many fronts: they were named after Shakespeare's most notoriously violent play, a punk band attempting a concept album about the Civil War. Yes, that Civil War. The one with Stonewall Jackson and ironclads. It sounds like a recipe for a prog-ish, pretentious disaster, right? The Monitor ended up being one of my favorite albums—one that I continually go back to and enjoy for its rage, anguish, grit, rawness, and ambition. In ten songs, the New Jersey-based band weaves in threads of Abraham Lincoln, William Lloyd Garrison, and John Brown into a ragged, rampacious epic about a nation divided against itself. Titus's debut effort, 2008's The Airing of Grievances, was a more straightforwardly noisy punk affair, but The Monitor marries the band's dissonant sound to an unabashed Springteenian streak. They update the pathos of the Boss's deindustrialized New Jersey, but in a new, angrier, more nihilistic register." • Readers?
Zeitgeist Watch
Since this has gone viral:
This is hateful. https://t.co/BLCgLPoYfe

— Alex Robertson Textor 🇺🇦 (@textorian) July 6, 2022
I believe this is a parody of the many "bushcraft" videos out there….
"The Thin Red Lines" [The Atlantic]. "[W]hen the red line showed up (after I developed a very sore throat), it was expected but surreal. This horrible pandemic has always felt very real to me, but the core of it—getting sick—had been an abstraction. Feeling my body's immune system kick in and seeing the red line appear was sobering. I don't mean to say that I wanted to get sick. But it feels momentous when the thing you've been preparing for for years happens to you. It's unnerving but also oddly grounding to add your name to a list that is 87 million Americans long (and that's a drastic undercount). I consider myself extremely lucky to have a healthy immune system, three vaccine shots, and the flexibility to get sick and not jeopardize my employment. But it sucked. I don't have any way to prove it, but I believe I got the reportedly now-dominant variant of Omicron, BA.5, which, according to one account, is 'the worst version of the virus that we've seen.' I was certainly the sickest I've been in more than a decade; it was a couple days of bad flu symptoms, followed by a relentless, bone-deep fatigue. I consider myself very fortunate, but this was not the 'light sniffles' version of the virus I'd heard so much about. But what surprised me most about this illness—despite mentally prepping for it for years—was how I developed a peculiar obsession with rapid tests. In a moment where I had to give up any notion of control and let the virus run its course, the tests were my only way to orient myself to this illness." • This, surprisingly, is pretty good. Sure, we have the self-regard, but it's not unintrospective.
Class Warfare
Has HR gone as cray cray as everything else?
2) Then we needed to fill out a long invasive psychological, work styles "exam" filled with ethical questions about whether you'd side with fellow employees over management, and whether you were "too much" of an independent thinker, I had to caution them about disclosure here 2/6

— Dr. Tanya Pobuda, Black Lives Matter (@PobudaTanya) July 3, 2022
This account is from Canada. Is the United States in the same sad shape?
"No More Fake Strikes" [Organizing Work]. "In recent years, middle-class activists with little relationship to unions, workers or workplaces have routinely called for general strikes. Over the last decade, there have been a dizzying number of general strikes announced. The ones that I can remember are: in the wake of the Wisconsin uprising, in San Francisco following the Occupy movement, on May Day for most of the last decade, a whole spate of general strikes in the wake of Trump's election, earlier this year around the TSA shutdown, and a recent call for a reproductive rights strike. There is also a call for a global climate strike, which may or may not be a call for a strike as opposed to a protest…. Most union constitutions have detailed rules and procedures for striking, including rules on when and how strike votes should be conducted. While some may dismiss this as mere bureaucracy, strike votes are taken seriously by most unions because the stakes are so high for the affected workers. By voting to strike, a group of workers commits themselves to a battle which has major repercussions for their individual and collective futures. A failed strike can mean the loss of a job, and even a winning strike may mean months of hardship—this is not a decision to be made lightly. As a democratic decision, once the decision to strike has been made, all workers, whether they voted yes, no, or did not vote, are expected to honor it. Everyone must honor the picket line and go on strike — or be deemed a scab. Most union constitutions call for fining or expelling strikebreakers, and back in the day scabs would be ostracized for years after the conclusion of a strike. Having been involved in many strike votes over the years, they usually involve lots of collective discussion in the workplace, answering questions and what-ifs. Legal strategy and possible repercussions are talked about, and strategy is debated. Striking is a collective decision, and typically the work group solidifies around the idea. When the group does decide to go on strike, folks began to act collectively and labor and management become polarized." • It seems that "General Strike!" is as empty an exhortation as "Vote!" At least now.
News of the Wired
Dad, dad:
I tried to sign up to a website the other day.

I put my password as BeefStew but it said password wasnt stroganoff.

— Doc🐕 (@DocAtCDI) July 5, 2022
* * *
Contact information for plants: Readers, feel free to contact me at lambert [UNDERSCORE] strether [DOT] corrente [AT] yahoo [DOT] com, to (a) find out how to send me a check if you are allergic to PayPal and (b) to find out how to send me images of plants. Vegetables are fine! Fungi and coral are deemed to be honorary plants! If you want your handle to appear as a credit, please place it at the start of your mail in parentheses: (thus). Otherwise, I will anonymize by using your initials. See the previous Water Cooler (with plant) here. From KatieBird: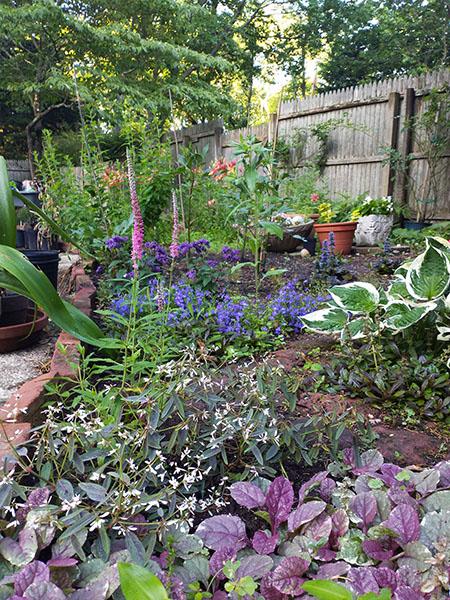 KatieBird writes: " My sister, B, sent me these photos of her garden. I like the combination of flowers and colorful leaves. Oh, and a variety of pots and sculptures. She says it's too small but it looks fine to me."
* * *
Readers: Water Cooler is a standalone entity not covered by the recently concluded and — thank you! — successful annual NC fundraiser. So if you see a link you especially like, or an item you wouldn't see anywhere else, please do not hesitate to express your appreciation in tangible form. Remember, a tip jar is for tipping! Regular positive feedback both makes me feel good and lets me know I'm on the right track with coverage. When I get no donations for five or ten days I get worried. More tangibly, a constant trickle of donations helps me with expenses, and I factor in that trickle when setting fundraising goals:
Here is the screen that will appear, which I have helpfully annotated: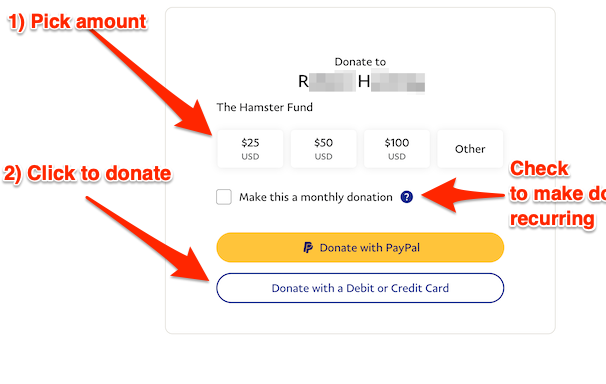 If you hate PayPal, you can email me at lambert [UNDERSCORE] strether [DOT] corrente [AT] yahoo [DOT] com, and I will give you directions on how to send a check. Thank you!