By Lambert Strether of Corrente
SAFARI USERS: It has come to our attention that some Safari users are having trouble with the Links page: It will not scroll, or react to clicks. We think it's a rogue Tweet, so turn off JavaScript. (MacOS: Preferences -> Security -> uncheck Enable JavaScript. iOS: Settings -> Safari -> Advanced -> Javascript -> disable (slide button so it's not green). When I do that, Links behaved as expected. It also helps to clear your browser cache. Opera (a Chrome clone), Firefox, and Brave work as normal. –lambert UPDATE In my testing, the post is acting as normal. Please mail if it does not work for you. After clearing your Safari cache.
Bird Song of the Day
Striated Wren-Babbler, Agusan del Sur, Philippines. Sounds more like whistling than babbling!
* * *
Politics
Lambert here: One reader suggested changing these quotes; I don't think it's a bad idea, but I need to think about it. I don't want to be too doomy — we are not short of inventory in that department — but I don't want to go all chipped and Pollyanna-esque, either.
"But what is government itself, but the greatest of all reflections on human nature?" –James Madison, Federalist 51
"They had learned nothing, and forgotten nothing." –Charles Maurice de Talleyrand-Périgord
"When the going gets weird, the weird turn pro." –Hunter Thompson
Capitol Seizure
"Justice Department subpoenas emails and texts from Arizona lawmakers in January 6 investigation" [CNN]. "Two Republican state senators in Arizona received subpoenas from the FBI in late June for text messages and emails as the Justice Department investigation into the events of January 6, 2021, has expanded to examine efforts to overturn the 2020 presidential election. Arizona Senate President Karen Fann, who led the partisan audit of ballots cast in Maricopa County, and state Sen. Kelly Townsend will comply with the subpoenas, according to Arizona Senate communications director Kim Quintero. The Justice Department has issued a number of subpoenas to people who served on fake slates of electors in seven battleground states that former President Donald Trump lost in 2020."
Abortion
"It's Been 12 Days Since Roe Was Revoked—and Biden Is Still MIA" [The Nation]. "Some might argue that 12 days is not enough time to develop a fully fleshed-out federal response to the revocation of the right to bodily autonomy for half the population. But I'd point out that it has been 65 days since the Supreme Court's draft opinion in Dobbs was leaked to Politico. Perhaps some people wanted to believe that the decision wasn't 'real' until it was announced, but the federal government should not be extended the luxury of sticking its head in the sand when it has forewarning of impending doom. Indeed, the revocation of abortion rights has been more than theoretical for at least 308 days. That's when Texas's infamous Senate Bill 8—the bounty-hunter bill that has effectively outlawed abortions—took effect. At the time, President Biden promised a 'whole of government' response to what he called the 'unconstitutional chaos' of the Texas bill. So far, we've seen a lawsuit filed by the Department of Justice that was dismissed by the Supreme Court before the ink was dry on it, and nothing else from the whole rest of government." • Or a big bucket of nothing is a "whole of government" response these days. Unless you're a Ukrainian arms dealer, of course.

"Senate Democrats slowly consider their options after Roe" [Vox]. "When the draft Supreme Court opinion on Dobbs v. Jackson Women's Health leaked in early May, Democratic lawmakers in the Senate scrambled to figure out a response. They settled on a vote on a bill that had already failed to pass in February, the Women's Health Protection Act — a bill that would both codify access to abortion and invalidate existing state restrictions on the procedure. But in the wake of the draft opinion, the bill, which the House passed last fall, failed again in the Senate, 49-51. Supporters of the legislation brushed off the failure, stressing the point was to galvanize voters behind a vision that could be realized by electing more Democrats and overturning the filibuster. Two months later, the Supreme Court has overturned Roe v. Wade. But Democrats in Congress are still negotiating their next move to protect abortion rights. Democratic senators, led by Patty Murray (WA) and Elizabeth Warren (MA), have been pushing for a bolder response from the executive branch. Aside from pressuring the administration, . If they do, Democrats could scrap the filibuster for abortion bills, surmounting both Republican opposition and resistance from Sens. Joe Manchin (D-WV) and Kyrsten Sinema (D-AZ). Behind the scenes, a debate among Democratic leaders, strategists, and reproductive rights groups that began with the draft opinion leak is still playing out." • How about we replace the current rotating villains, Manchin and Sinema, with two new rotating villains?

"Dianne Full On Team Cagey!" [Talking Points Memo]. "It looks like there may be only one senator standing between voters and passing a Roe law in January 2023. And it's of all people the senator from California: Dianne Feinstein! We mentioned this yesterday after a staffer in Feinstein's office told TPM Reader RM that the senator could only commit 'to discuss filibuster reform' to allow an up or down vote on the Roe bill in January 2023. Now Joe Garofoli of The San Francisco Chronicle got a more definitive not-at-all-definitive statement from Feinstein's spokesperson Adam Russell. 'Senator Feinstein voted for the Women's Health Protection Act in May that would have codified Roe and she voted to exempt voting rights from the Senate filibuster rules in January. It's unclear whether the Senate will take up filibuster reform in response to the court's decision but she will continue to work with her colleagues to pass legislation that protects abortion rights.' So to be clear, Feinstein supports the Roe law. And she voted for a carveout of the filibuster rules for voting rights, another extremely important piece of legislation. But she won't say whether she would do the same for the Roe law because apparently she's not sure anyone will want to. But of course, any effort to make the carveout depends on Democrats picking up two seats in November to have 50 votes to make the carveout. And there's really no chance that happens unless all 48 (non-Sinema/Manchin) senators give voters total clarity about what will happen in January 2023 if they manage to elect two more Democratic senators. "Give us two more Senate seats and we'll see what happens" probably won't get the job done."
Biden Administration
"Biden administration proposes changes to student loan programs" [NBC]. "The Biden administration on Wednesday proposed new steps to alleviate student loans, including a rule that would curb interest rates for nearly all of the more than 40 million borrowers in the U.S. In a statement, the Department of Education said it was proposing to remove interest capitalization where it isn't required by law, meaning that unpaid interest would not be added to the balance of the borrower's total debt. The proposal seeks to make it easier for students who were defrauded by for-profit colleges to get their debt forgiven, reversing a Trump administration restriction. Additionally, the proposal attempts to improve the troubled Public Service Loan Forgiveness Program by allowing more types of payments to count toward debt forgiveness, including partial or late payments. Under the new proposal, public service workers would also get credit for the months that their loans were deferred for service in the Peace Corps, AmeriCorps and National Guard." • My view is that, under current conditions, anybody who went into debt to get a college degree made a bad business decision, even those who are "successful" in paying the vigorish. If these individuals were businesses, they would long since have been permitted to write them off, or go bankrupt, or get a bailout. That's what we should do. I can't remember who said "What can't be paid back, won't be" but that is the case here. All the Biden administration is doing here is drawing out the agony.

"White House Communications Director Plans to Step Down" [New York Times]. "Kate Bedingfield, the White House communications director, will step down from her position this summer, White House aides said on Wednesday, marking the latest departure of a senior adviser from the Biden administration…. It will be the latest departure from a White House communications apparatus that has faced growing criticism from members of the president's own party…. The announcement comes just weeks after Jen Psaki left her job as the White House press secretary for an on-air role at MSNBC. A number of more junior press aides have also exited in recent weeks, as well as some higher-ranking staff members…. But Mr. Biden has also brought in longtime advisers, a sign that he is preparing his re-election campaign. Anita Dunn, a senior adviser, recently returned to the White House from her public affairs firm. Ian Sams, who had been a spokesman for the Department of Health and Human Services, has joined the White House staff as a spokesman for the counsel's office."
2022
* * *

PA: "John Fetterman signals he should be back 'on the campaign trail soon'" [Post-Gazette]. "In response to a series of Post-Gazette questions on Wednesday about the candidate's health status as the calendar continues into July, a campaign spokesman said Mr. Fetterman is 'feeling really well' and will be 'on the campaign trail soon.'… 'He is about 90% back to full strength and getting better,' spokesman Joe Calvello said…. Insiders expect the race to heat up soon. A Post-Gazette survey of various political advertisers last week found that Democratic and GOP powerhouses have already booked at least $67 million in advertising spots for the November election, with most of the reservations starting in the fall."
2024
"DeSantis takes the fight to school boards" [Axios]. "Florida's Ron DeSantis is blazing a new trail for GOP governors — putting his muscle behind conservative school board candidates who align with his agenda. School boards have become ground zero for political fights over COVID-19 restrictions, curricula involving racism and the rights of LGBTQ students and transgender athletes. DeSantis, who's running for re-election this year, is widely viewed as a rising force in the GOP and a 2024 presidential prospect. Groups with largely conservative views, including The 1776 Project and Moms for Liberty, are also engaged in school board contests in Florida. The country's third-most-populous state — which is also now home to former President Trump — appears to be attracting significant money and attention."

"Andrew Yang: My third party would be 'a natural home' for Elon Musk" [Yahoo Finance]. "Business magnate Elon Musk and Andrew Yang, the former candidate for both the U.S. presidency and New York City mayoral race, have some similarities. Both are entrepreneurs, both have bold visions for the future, and recently another commonality has emerged: Both men are done with the Democratic Party. Yang left the Democrats to start the Forward Party, currently a political action committee that offers an alternative to the Democratic and Republican parties. The 49-year-old businessman-turned-politician is now inviting Musk to join him… 'I'm someone who thinks that he's solving some of the biggest problems that our entire planet faces,' Yang told Yahoo Finance. 'And I'm excited to have that conversation with him. I think that the Forward Party is a natural home for Elon because he's a builder and entrepreneur. He wants to solve really important problems.'" • Oy.

"Newsom loves to bash red states. He's now vacationing in one." [Politico]. "The governor left town last week as state lawmakers scattered for a monthlong summer recess, but unlike previous trips, didn't at first announce his whereabouts. News of the governor's travels to Montana, first reported by CalMatters, immediately sparked backlash from his critics. Newsom did not violate any law, even if he traveled with a security detail, according to a California Highway Patrol official, and a Newsom spokesperson said the governor paid for the trip to visit family and noted the ban doesn't apply to personal travel. But the vacation presents unfortunate optics for a liberal firebrand. The governor has plenty of reasons to travel to Montana: His in-laws live there, and it's where he and First Partner Jennifer Siebel Newsom were married. The two went so far as to name their eldest daughter 'Montana.' At issue is a state law, signed in 2016 by former Gov. Jerry Brown, which prohibits state-funded travel to states with laws that California deems as discriminating based on sexual orientation or gender. Today that list includes 22 states with a combined population of around 135 million people." • I'm not sure who these "in-laws" might be, but I have a suspicion, at least of their class:

"Trump White House bid threatens GOP midterm strategy" [The Hill]. "Former President Trump's plans to announce his 2024 presidential campaign as early as this summer, well before what he previously indicated, throws a wrench into Republicans' strategy for winning back the Senate and House majorities in November. Senate Minority Leader Mitch McConnell (R-Ky.) and House Minority Leader Kevin McCarthy (R-Calif.) made clear they want the 2022 midterms to be a referendum on President Biden and his handling of inflation and the economy. But that strategy will run into trouble if Trump announces his plans to run for president again in 2022. An early Trump campaign kickoff would give plenty of opportunity for Senate Majority Leader Charles Schumer (D-N.Y.) and other Democrats to make November a referendum on Trump instead of Biden." • Perhaps Trump knows that?
Democrats en Déshabillé
I have moved my standing remarks on the Democrat Party ("the Democrat Party is a rotting corpse that can't bury itself") to a separate, back-dated post, to which I will periodically add material, summarizing the addition here in a "live" Water Cooler. (Hopefully, some Bourdieu.) It turns out that defining the Democrat Party is, in fact, a hard problem. I do think the paragraph that follows is on point all the way back to 2016, if not before:

The Democrat Party is the political expression of the class power of PMC, their base (lucidly explained by Thomas Frank in Listen, Liberal!). ; if the Democrat Party did not exist, the PMC would have to invent it. . ("PMC" modulo "class expatriates," of course.) Second, all the working parts of the Party reinforce each other. Leave aside characterizing the relationships between elements of the Party (ka-ching, but not entirely) those elements comprise a network — a Flex Net? An iron octagon? — of funders, vendors, apparatchiks, electeds, NGOs, and miscellaneous mercenaries, with assets in the press and the intelligence community.

Note, of course, that the class power of the PMC both expresses and is limited by other classes; oligarchs and American gentry (see 'industrial model' of Ferguson, Jorgensen, and Jie) and the working class spring to mind. Suck up, kick down.

* * *
Realignment and Legitimacy
#COVID19
Personal risk assessment data:
2. 5 minutes later, seeing if driving around improved air flow – still one person only, windows up and no fan = 2337 😳 pic.twitter.com/9YbKikxpAP

— Sue J (@SMpwrgr) July 7, 2022
Whether you drive your own car or take a cab: Open the windows!!!!!!
* * *
Maskstravaganza: This thread is a must-read, not just for plane travel but for state-of-the-art masking information:
1. I am hearing more and more stories of people catching COVID on a plane while wearing an N95 mask. There are numerous reasons for this and we'll go through them to help you avoid getting COVID https://t.co/RG571qI8gc

— Dr Satoshi Akima FRACP 『秋間聰』 (@ToshiAkima) June 29, 2022
Maskstravaganza:
If you, or anyone else, wants to do art on black masks, the metallic posca colours or sparkly ones show up pretty well on black surfaces and you can layer. It'd be cool to see more people painting them. This pandemic is pretty depressing.

— tiana loret (@tia_loret) July 7, 2022
Masks should be and should have been a fashion item.
Maskstravaganaza: Thank you, Professor Corsi:
Got my hair cut this eve. Small number in shop & no masks. Asked person who cut my hair if she could work around my N95. She had no problem w/ that or wearing her KN94 when I asked. Appreciate her willingness to work w/ me. pic.twitter.com/IytD8Yf1s4

— Richard Corsi, PhD, PE (Texas) (@CorsIAQ) July 6, 2022
Maskstravaganza:
Maskless pilgrims launch largest hajj of Covid erahttps://t.co/rAXAYGDBLn

— eNCA (@eNCA) July 7, 2022
United States: Let 'er rip!
Saudis: Hold my beer…..
* * *
For the people claiming SARS-COV-2 infection is inevitable, you understand the virus has 0 agency, right?
Every infection is an accident caused by human behavior.

So if infection is inevitable, it's because you made it inevitable.

— Josiah Grindrod is usually self limiting (@JT_Grindrod) July 6, 2022
I take the point, but at the same time, the virus seems exquisitely adapted to prey upon fundamental drives of our species. I joke that "extroverts are gonna kill us all," but it's also true that conviviality is (as the Slow Food movement has taught us) an important value, part of our common humanity. Operationally, however, conviviality often implies Japans's 3Cs: Closed spaces (with poor ventilation), Crowded places (with many people nearby), and Close-contact settings (such as close range conversations). One of the factors behind Japan's relative success at controlling Covid is that they engineered and social-engineered away from the 3Cs. When I think about actually existing conviviality in the United States — particularly in a public health environment that actually discourages and scorns non-pharmaceutical interventions — I think we have a long way to go to match Japan, and that collective, not individual human behavior is the bigger part of the problem.
A thread on the origins of the Great Barrington Declaration:
Reminder there were just four at the initial Great Barrington Declaration PR meeting put on by AIER:

Kuldorff,
Bhattacharya,
Gupta,
and Baral.

A _two hour_ film was made of the morning of drafting it (of course, because when people draft they bring a videographer). pic.twitter.com/z8wVX6kgPi

— Jonathan Mesiano-Crookston 🌬️🔅#COVIDisAirborne (@jmcrookston) June 27, 2022
* * *
If you missed it, here's a post on my queasiness with CDC numbers, especially case count, which I (still) consider most important, despite what Walensky's psychos at CDC who invented "community levels" think. But these are the numbers we have.
* * *
Lambert here: I stopped doing the Biobot site. We now have other wastewater sites, they don't update very often, and I never liked their weird backwater revisions. I'm also eliminating the CDC excess deaths chart. The legend has enormous typos which have gone unfixed forever. I don't think anybody at CDC checks it or cares about it.
Case Count
Case count for the United States: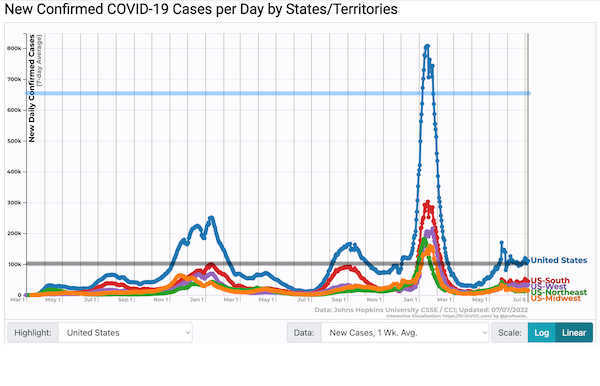 More or less flat. Under the hood the BA.4/BA.5 are making up a greater and greater proportion of cases. There was a weird, plateau-like "fiddling and diddling" stage before the Omicron explosion, too. This conjuncture feels the same. Remember that cases are undercounted, one source saying by a factor of six, Gottlieb thinking we only pick up one in seven or eight.) Hence, I take the case count and multiply it by six to approximate the real level of cases, and draw the DNC-blue "Biden Line" at that point. The previous count was ~110,000. Today, it's ~110,400, and 110,400 * 6 = a Biden line at 662,400. At least we have confirmation that the extraordinary mass of case anecdotes had a basis in reality. (Remember these data points are weekly averages, so daily fluctuations are smoothed out.) The black "Fauci Line" is a counter to triumphalism, since it compares current levels to past crises.
Regional case count for four weeks: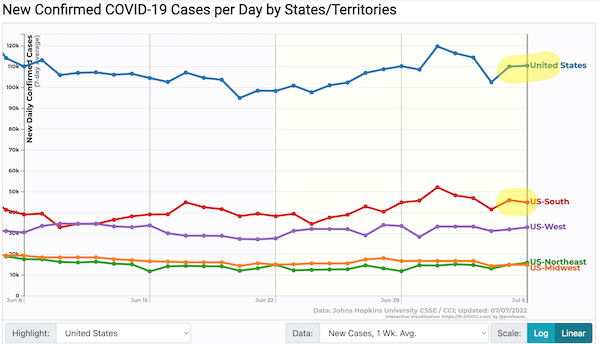 Still the South, so here is the South's breakdown: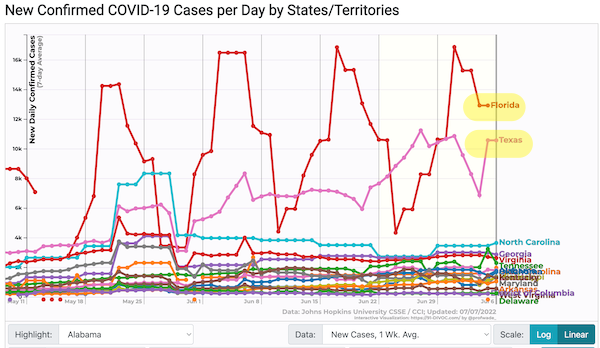 Now Texas and Florida are just trolling us:
Positivity
From the Walgreen's test positivity tracker: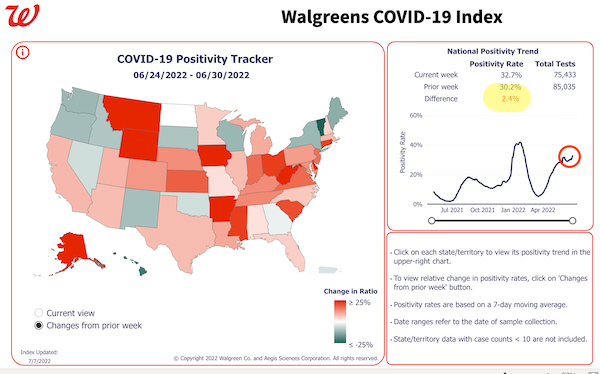 2.4%. (I'm leaving the corporate logo on as a slap to and check on the psychos at CDC.)
Wastewater
Wastewater data (CDC), Jun 18, 2022 – Jul 02, 2022: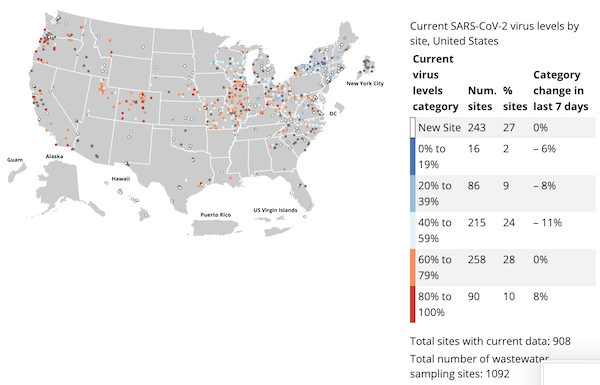 This chart works a bit like rapid riser counties: "This metric shows whether SARS-CoV-2 levels at a site are currently higher or lower than past historical levels at the same site. 0% means levels are the lowest they have been at the site; 100% means levels are the highest they have been at the site." So, there's a bunch of red dots on the West Coast. That's 100%, so that means "levels are the highest they've ever been." Not broken down by variant, CDC, good job.
Variants
Lambert here: It's beyond frustrating how slow the variant data is. I looked for more charts: California doesn't to a BA.4/BA.5 breakdown. New York does but it, too, is on a molasses-like two-week cycle. Does nobody in the public health establishment get a promotion for tracking variants? Are there no grants? Is there a single lab that does this work, and everybody gets the results from them? Additional sources from readers welcome [grinds teeth, bangs head on desk].
NOT UPDATED Variant data, national (Walgreens), June 18: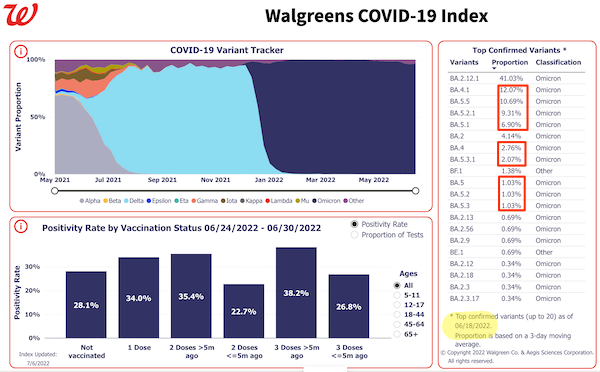 NOT UPDATED Variant data, national (CDC), June 18: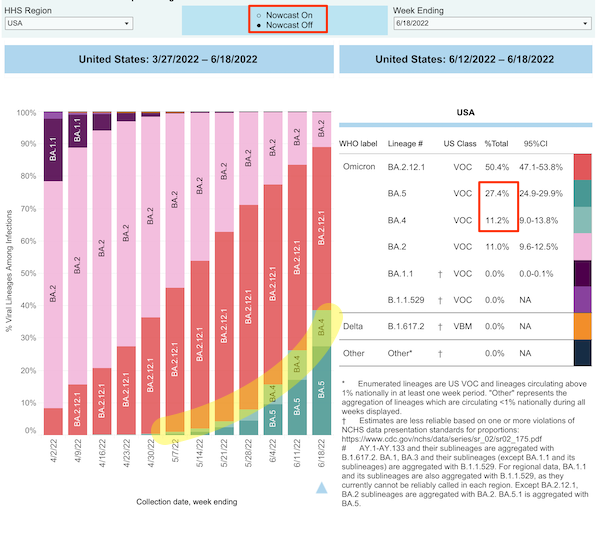 CDC has restored the button that lets me turn their NowCast button off. Doubling behavior moving along quite briskly, but I would rather calculate slash intuit the rise myself, and compare that to Walgreens, than use CDC's model, which is probably broken anyhow.
Transmission
NOTE I shall most certainly not be using the CDC's new "Community Level" metric. Because CDC has combined a leading indicator (cases) with a lagging one (hospitalization) their new metric is a poor warning sign of a surge, and a poor way to assess personal risk. In addition, Covid is a disease you don't want to get. Even if you are not hospitalized, you can suffer from Long Covid, vascular issues, and neurological issues. For these reasons, case counts — known to be underestimated, due to home test kits — deserve to stand alone as a number to be tracked, no matter how much the political operatives in CDC leadership would like to obfuscate it. That the "green map" (which Topol calls a "capitulation" and a "deception") is still up and being taken seriously verges on the criminal. Use the community transmission immediately below.
Here is CDC's interactive map by county set to community transmission. This is the map CDC wants only hospitals to look at, not you: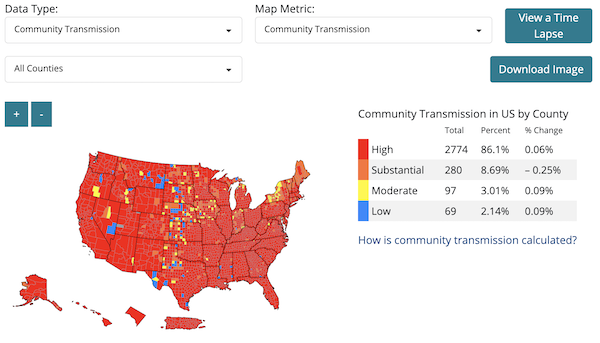 Status quo. I wonder how long it will be before this one disappears.
Lambert here: The White House and the CDC gutted the "Community Proflle" report and redirect the old URL to https://healthdata.gov:
The Community Profile Report (CPR) is generated by the Data Strategy and Execution Workgroup in the Joint Coordination Cell, under the White House COVID-19 Team. It is managed by an interagency team with representatives from multiple agencies and offices (including the United States Department of Health and Human Services, the Centers for Disease Control and Prevention, the Assistant Secretary for Preparedness and Response, and the Indian Health Service)…. Effective June 22, 2021, the Community Profile Report will only be updated twice a week, on Tuesdays and Fridays.
There are no more Rapid Riser or Hospitalization maps. Those sociopathic, democidal shitheads have replaced the daily PDF with an effing spreadsheet. No more at-a-glance geographical knowledge to incorporate into our personal risk assessments. No more visualization that lets you drill down from the national level to the county level. No doubt some kind soul — at Walgreens? — will download the data and make something useful from it. In the midst of a new variant spike! Heavens to Betsy.
Deaths
Death rate (Our World in Data):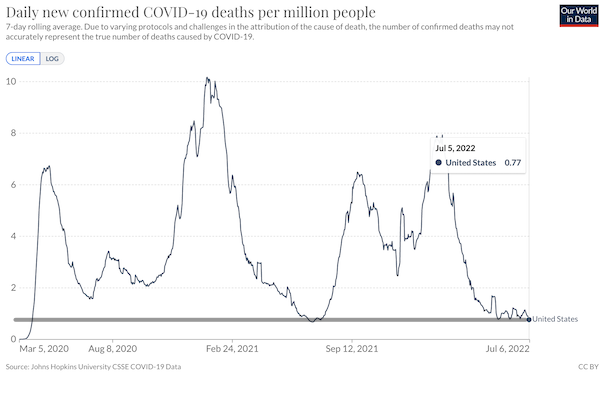 Total: 1,044,557 1,043,879. I have added an anti-triumphalist Fauci Line. It's nice that for deaths I have a nice, simple, daily chart that just keeps chugging along, unlike everything else CDC and the White House are screwing up or letting go dark, good job.
Stats Watch
Employment Situation: "United States Initial Jobless Claims" [Trading Economics]. "The number of Americans filing new claims for unemployment benefits rose by 4K to 235K in the week that ended July 2nd, compared to market expectations of 230K, suggesting labor market conditions could be moderating. With the increase, jobless claims increased to their highest since January of this year."
Employment Situation: "United States Challenger Job Cuts" [Trading Economics]. "US-based companies announced plans to cut 32,517 jobs from their payrolls in June of 2022, the highest reading since February last year, and a 58.8% increase from the 20,476 cuts announced in the same month last year…. 'While the labor market is still tight, that tightness may begin to ease in the next few months,' said Andrew Challenger, Senior Vice President of Challenger, Gray & Christmas, Inc." • In other words, this is not a high number.
* * *
The Bezzle: "Crypto's Free Rein May Be Coming to a Close" [Wired]. "On Thursday, EU institutions announced an agreement on two landmark pieces of regulation: the Market in Crypto-Asset Act (aka MiCA), regulating most providers of cryptocurrency services, and an anti-money-laundering package imposing robust checks on cryptocurrency transfers. In the US, several proposals have been put forward over the past few months. One notable example is the wide-ranging bipartisan bill sponsored by Republican senator Cynthia Lummis and Democratic senator Kirsten Gillibrand, which the crypto industry has saluted as beneficial, while others have condemned it as a capitulation to the crypto lobby's requests. On the other end of the spectrum is Democratic senator Elizabeth Warren, a fierce crypto critic who sponsored a bill calling for robust checks on cryptocurrency transactions in order to stop the evasion of sanctions against Russia." Oh, dear. More: "While none of these changes will come to pass in the immediate future, and some may never materialize, the age of untrammeled crypto experimentation (and bald-faced crypto scams) might be on the way out." • Seems pretty "light touch" to me, at least in the United States.
The Bezzle: "Cryptocurrencies are not the new monetary system we need" [Martin Wolf, Financial Times]. "In a good monetary system, the greater the number of users the lower the costs of transactions and so the greater its utility. But, as more people use a cryptocurrency, the greater the congestion and the more costly the transactions. This is because self-interested validators are responsible for recording transactions on the blockchain. The latter must be motivated by monetary rewards high enough to sustain the system of decentralised consensus. The way to reward validators is to limit the capacity of the blockchain and keep fees high: 'So, rather than the familiar monetary narrative of 'the more the merrier', crypto displays the property of 'the more the sorrier'.'"
The Bezzle: "China's tech giants promise speculation-free NFTs" [TechCrunch]. "The future of non-fungible tokens is getting more clarity in China as the country's tech giants come together to formulate standards for the nascent industry. The China Cultural Industry Association, along with Tencent, Ant Group, Baidu and others, jointly issued a 'self-disciplined development proposal' for the 'digital collectible industry,' a rebranded term for NFT in China to do away with the technology's financial aspects. While industry associations do not have regulatory power, they can be conducive to developing standards and best practices within an industry…. China's NFT industry may be a step closer to regulation with the country's largest platform operators taking a stance. Digital collectible platforms, according to the proposal issued by Tencent, Ant Group and others, should hold relevant regulatory permits, ensure the security of underlying blockchain technologies, enforce user real-identity checks, step up intellectual property protection, resolutely ban financial speculations and promote rational consumption among users." • By contrast, here in the land of the free:
deeply funny (and maybe unintentional?) indictment of NFTs from the "NFT GOD"

literally says that explaining how your project will work removes all of its speculative value

via @benbn https://t.co/oyJuMfXC4k

— rat king (@MikeIsaac) July 6, 2022
The whole thread is worth a read.
The Bezzle: "Why Bitcoin ATMs are Vexing Rulemakers" [Politico]. "cryptocurrency ATMs, also known as "BTMs" (the B is for Bitcoin), which have mushroomed in the past several years, even if most people don't understand exactly what they're for. The precise number of these machines in the United States seems to depend on who's counting, but most analyses put it at about 34,000. That's nearly 90 percent of the world's total tally. Canada ranks a distant second with an estimated 2,500…. But as they've proliferated, state regulators across the country, and even some federal officials, have started to raise concerns. Legitimate companies may run most of these machines, but some are set up by unlicensed operators. The regulators worry that crypto ATMs can too neatly serve the interests of money launderers and fraudsters, or could hide payments to sex and drug traffickers; even for honest brokers, their fees are considerably higher than normal bank transactions. , which is currently in the midst of one of its intermittent crashes." • Because of course they do.
The Bezzle: "Facebook Accessed Deleted User Data, Fired Screener Claims" [Bloomberg]. "A former Facebook content screener says he was fired for raising alarms about a new company protocol allowing employees to resurrect data that users deleted. Brennan Lawson sued Meta Platforms Inc., Facebook's parent, Tuesday in California claiming he was informed about the new protocol during a staff meeting in late 2018 and immediately questioned its legality. Soon after, he said he was fired and remained unemployed for 18 months. He's seeking more than $3 million in compensation plus punitive damages. The new protocol allowed members of the social network's Global Escalation Team 'to circumvent Facebook's normal privacy protocols' by retrieving data from the Messenger app 'that users had chosen to delete,' according to Lawson's complaint. The protocol appeared to violate European Union digital privacy rules and a Federal Trade Commission order that required Facebook to accurately inform users about its data retention policies, according to the complaint. Lawson said he realized he was on 'shaky ground' for questioning the legality of the practice and fearful he'd be fired if he pressed the issue." • Great company to work for.
The Bezzle: Amazon playing dirty, even for Amazon:
Grubhub and Doordash have gotten where they are by persuading investors to fund massive losses. It's a predatory pricing scheme aimed at monopolizing delivery in different metros. The idea is to become entrenched gatekeepers that can bleed restaurants even more in the future. 2/

— Stacy Mitchell (@stacyfmitchell) July 7, 2022
And:
And it adds new life to a predatory business model that really deserves to die. Grubhub has now been rolled into a much larger predatory pricing scheme (Prime) — one that actually succeeds in delivering massive profits by gatekeeping online commerce. 7/7

— Stacy Mitchell (@stacyfmitchell) July 7, 2022
You say "predatory business model" like that's a bad thing!
Manufacturing: "Tesla plays 'whack-a-mole' with snags as deliveries fall for first time in two years" [Reuters]. "Supply chain snarls at the company's newer facilities in Texas and Germany also hurt production, with analysts warning that these issues may crimp Tesla's profits. The world's largest electric-car maker's shares fell more than 3% but reversed course to close up 2.6%, benefiting from a rally in growth stocks. So far this year, the stock has lost about a third of its value… J.P Morgan analysts, who cut their PT on the company's shares by $10 to $385, said Tesla's production and financial results could be hurt by company-specific execution issues at the carmaker's new factories in Texas and Berlin. Tesla CEO Elon Musk recently described both factories as 'gigantic money furnaces' that are losing billions of dollars." • Well, that's encouraging! What did Musk do? Short his own stock?
* * *
Today's Fear & Greed Index: 28 Fear (previous close: 24 Extreme Fear) [CNN]. One week ago: 22 (Extreme Fear). (0 is Extreme Fear; 100 is Extreme Greed). Last updated Jul 7 at 12:45 PM EDT.
News of the Wired
I am not feeling wired today.
* * *
Contact information for plants: Readers, feel free to contact me at lambert [UNDERSCORE] strether [DOT] corrente [AT] yahoo [DOT] com, to (a) find out how to send me a check if you are allergic to PayPal and (b) to find out how to send me images of plants. Vegetables are fine! Fungi and coral are deemed to be honorary plants! If you want your handle to appear as a credit, please place it at the start of your mail in parentheses: (thus). Otherwise, I will anonymize by using your initials. See the previous Water Cooler (with plant) here.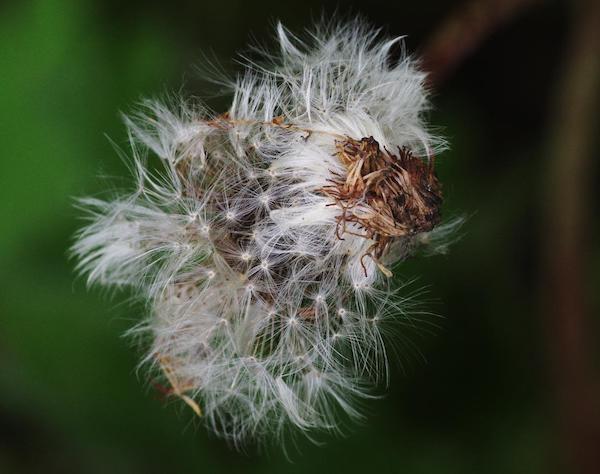 From ChetG: "This photo is the one I really wanted to send, something that I can only describe as a crazed dandelion, which also looks as if it might have been painted by Whistler."
* * *
Readers: Water Cooler is a standalone entity not covered by the recently concluded and — thank you! — successful annual NC fundraiser. So if you see a link you especially like, or an item you wouldn't see anywhere else, please do not hesitate to express your appreciation in tangible form. Remember, a tip jar is for tipping! Regular positive feedback both makes me feel good and lets me know I'm on the right track with coverage. When I get no donations for five or ten days I get worried. More tangibly, a constant trickle of donations helps me with expenses, and I factor in that trickle when setting fundraising goals:
Here is the screen that will appear, which I have helpfully annotated: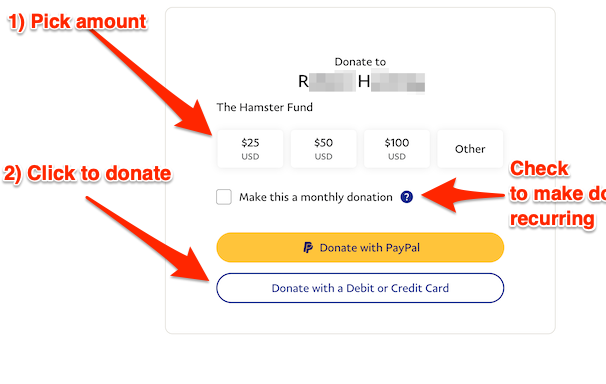 If you hate PayPal, you can email me at lambert [UNDERSCORE] strether [DOT] corrente [AT] yahoo [DOT] com, and I will give you directions on how to send a check. Thank you!