Lambert and I, and many readers, agree that Ukraine has prompted the worst informational environment ever. We hope readers will collaborate in mitigating the fog of war — both real fog and stage fog — in comments. None of us need more cheerleading and link-free repetition of memes; there are platforms for that. Low-value, link-free pom pom-wavers will be summarily whacked.
And for those who are new here, this is not a mere polite request. We have written site Policies and those who comment have accepted those terms. To prevent having to resort to the nuclear option of shutting comments down entirely until more sanity prevails, as we did during the 2015 Greek bailout negotiations and shortly after the 2020 election, we are going to be ruthless about moderating and blacklisting offenders.
–Yves
P.S. Also, before further stressing our already stressed moderators, read our site policies:
Please do not write us to ask why a comment has not appeared. We do not have the bandwidth to investigate and reply. Using the comments section to complain about moderation decisions/tripwires earns that commenter troll points. Please don't do it. Those comments will also be removed if we encounter them.
* * *
Stunning Photos Capture Great White Sharks Leaping High in the Air MyModernMet (David L)
Shark expert: Chill out. "If sharks wanted to eat us, they would" Grid (resilc)
I've had enough of hippo propaganda
stop slandering sharks pic.twitter.com/5WNHOFn8L9

— munky (@branzoles) June 26, 2022
This Company Has Developed Vegan Oysters — With Biodegradable 'Shells' to Come EcoWatch (furzy). Again showing my Luddite tendencies….but what is this about trying to make veggies taste like animal/seafood protein? Lentils and beans and tofu and all sorts of grains and starches are nice. Most of these meat/seafood fakery projects result in the product being highly processed and highly processed food is bad for you!
The unbelievable truth behind the Notre-Dame fire Telegraph
Foot mats mandatory for all travellers from Indonesia amid foot-and-mouth disease outbreak ABC Australia (Kevin W)
#COVID-19
Science/Medicine

7) Think #LongCovid can't happen to you? Think again. Study shows that almost everyone can be affected by Long COVID effects even if you are healthy with and have zero risk factors. "It spares no one". See thread 🧵 https://t.co/NgvKA3zYPN

— Eric Feigl-Ding (@DrEricDing) July 22, 2022

Covid-19 Linked To Increased Risk Of Developing Diabetes And Cardiovascular Disease, Study Finds Forbes

Asia

Xi's Strict Covid Zero Policy in China Pushes Wealthy to Leave Country Bloomberg (resilc)

China considers further easing quarantine rules as it seeks to reduce economic damage from Covid curbs South China Morning Post

US

Dr. Deborah Birx says she 'knew' COVID vaccines would not 'protect against infection' Fox. IM Doc:

She is a psychopath.

Just remember – wink,wink- she knew along the vaccine was not effective for transmission and we overrelied on them. She is now stating she knew this all along.

It makes one wonder what is going on. The whole thing is about to unspool before our eyes.

And now she is worried about the South. Seriously, I and many others are increasingly worried about the highly vaxxed areas.

SCOOP: Officials are reorganizing the federal health department, saying it will boost pandemic response.

Key change: The emergency-response office, @ASPRgov, is being elevated to be on par with CDC, FDA and others.https://t.co/ckWumvs5HM

— Dan Diamond (@ddiamond) July 20, 2022

'I'm over it.' Many in L.A. shrug off COVID-19 wave despite super-infectious subvariants Los Angeles Times
Monkeypox
Two Children Diagnosed With Monkeypox in US, Officials Say Associated Press

1. A #monkeypox 🧵
The US has surpassed the UK in #MPX cases, trailing only Spain at this point, I believe. Friday's tally from @CDCgov is 2891 cases. A couple of weeks ago the tally grew by about 50 cases a day. Now it's hundreds — nearly 400 today. pic.twitter.com/Q1L1zl93EG

— Helen Branswell 🇺🇦 (@HelenBranswell) July 23, 2022
Climate/Environment
The first Rio Grande drying here in 40 years comes not with a bang, but with a muddy whimper and a chorus of birds pic.twitter.com/L99uToAB31

— John Fleck (@jfleck) July 22, 2022
China?
Pelosi muddies the waters of the Taiwan Strait Asia Times (Kevin W)

1/10
"While it is not uncommon for local authorities to request more debt quota, many regions are facing growing financial strain, which raises questions about their ability to repay it."

This will be painful, but perhaps the right thing in the long run.https://t.co/741r1QyqFH

— Michael Pettis (@michaelxpettis) July 23, 2022

Some are concerned that the current Chinese debt crisis could be The Big One (for instance, see this paywalled Nikkei story: China's debt bomb looks ready to explode). But economists have predicted 20 of the last 0 big China debt crises. However….if Xi has reason to think The Big One finally is nigh, going after Taiwan would be a useful distraction. And here the US helpfully ginned it up!
India
Bollywood caught between hits and flops as moviegoers rate 'experience', story higher than stars Economic Times
Old Blighty
Its #followbackfriday say hi if you want a general election because regardless of which Tory becomes the next PM, they're going to be a gods awful human being that needs replacing pic.twitter.com/NVnHKJpXDS

— Claire #FBPE (@ClaireFbpe) July 22, 2022

Suffocating unreality Chris Grey

Truss vows to scrap remaining EU laws by end of 2023 risking 'bonfire of rights' Guardian (Kevin W)
New Not-So-Cold War
Servant of the Corrupt Consortium News. Important, but I am concerned when I see errors. In 2013, the EU offered an association deal to Ukraine. I believed Russia offered some sweeteners to its existing deal too. There likely were also private sticks and carrots applied to then Ukraine president Yanukovich. Yanukovich said he intended to sign the EU deal. However, Ukraine had an existing tariff-free deal with Russia. Having an EU association deal with the EU would mean EU goods could enter Russia tariff-free via Ukraine but Russian goods would not be able to go into the EU tariff-free. Putin told Yanukovich, "You are free to do whatever you want, but Russia isn't paying for it," as in he could kiss his existing trade deal with Russia good-bye because Russia. The existing trade between Russia and Ukraine was large, and tariff barriers between Russia and Ukraine would do more harm to Ukraine than the benefit of EU access, at least for quite a few years. Putin offered to have three way talks with the EU to try to find a solution but the EU refused. Yanukovich paused, not exited, the EU deal while he looked for a remedy.

The Consortium News piece incorrectly states: "But Yanukovych changed course and accepted a counteroffer from Moscow, a moment that became the flashpoint for a color revolution." As you can see, Putin made no "counteroffer" and Yanukovich did not "change course" but stopped in his tracks.

* * *

White House confirms plans to send US-NATO jets to fight Russia WSWS

White House announces new $270m military package for Ukraine Al Jazeera. Resilc: "Did this tiny sum fall off the table onto the floor?"

* * *

Blinken expects Ukrainian grain deal to be implemented smoothly TASS. Alexander Mercouris speculates that Ukraine was pressured, likely due to the US not liking the unhappiness of the Global South and Russia currying favor via deliveries of wheat and fertilizer. Ukraine had to at least partly de-mine the Odessa port.

Lithuanian railroads resume Kaliningrad-bound cargo transit on Friday Interfax

This Bloomberg article says it all 🔽: "US sanctions help China supercharge its chipmaking industry. [It] is growing faster than anywhere else in the world. 19 of the world's 20 fastest-growing chip industry firms [come from China]"

Thank you America 🤭https://t.co/u8DOb5olHp

— Arnaud Bertrand (@RnaudBertrand) July 21, 2022

Germany hands $15 bln bailout to Uniper after Russian gas hit Reuters

Russia says peace in Ukraine will be 'on our terms' – but what can the West accept and at what cost? Conversation (Kevin W). Gah. Russia is not and has never threatened EU gas supplies. Ukraine shut down one of the two trunks of Yamal Europe that ran through Lugansk. Poland then imposed sanctions on Russian gas and shut down the rest of the deliveries through Yamal Europe (although they get Russian gas bought by Germany backflowed on that pipeline). The world-traveling compressor part is still not back in St. Petersburg with the requested documentation. Russia says they need to test it given it was serviced in a hostile nation (not crazy given Stuxnet and other ways of causing trouble). Putin said Siemens has confirmed the lining is coming off another compressor and Gazprom has no replacement. So that needs to be repaired too. If you read what Putin said, he provides a fair bit of detail. Seems that if/when the Montreal-visiting part returns and is back in service, it still sounds like the volume will go back to the old normal on NS1 (it sounds like Putin whinging about the other sick part is to establish lack of backups). Putin also pointed out that he'd offered to Scholz 6-8 weeks to supply Europe via Nord Stream 2 and Scholz said he had bigger fish to fry. Putin said Russia could wait only so long, Russia would use the capacity domestically. So now only half of NS2 capacity is available for EU use….and they still have yet to ask.

Kremlin rejects report Nord Stream turbine is stuck in transit Reuters. A guess as to the out of character Putin whinging per above. Germany is now trying to claim (only now, which seems sus) that the globe-trotting part was supposed to be in service only as of Sept. If I have this right, Putin is saying there is another bum part (and where was Siemens who had the maintenance contract? Busy doing nothing because sanctions?) and that's why they needed the part that vacationed in Canada back pronto. If anyone has a better idea as to what is going on, please pipe up. The Western reporting is hopelessly muddied.

Russia slashes key interest rate by 150 basis points in shock move CNBC (Kevin W)

* * *

ASI forum Strong Ideas for a New Time Kremlin. A striking statement.
1/6
Steve Bannon found guilty of contempt of Congress for defying House January 6 committee Business Insider

Steve Bannon plans to appeal contempt of Congress conviction Yahoo
Trump
16 GOP lawmakers helped Trump try to overturn the 2020 election Grid (resilc)
Biden
What if he loses his sense of smell? pic.twitter.com/t4mQupIzla

— Thomas Massie (@RepThomasMassie) July 21, 2022

Instead of letting POTUS rest, they are trotting him out for live virtual meetings.

The results are predictably cringeworthy. https://t.co/rawCLLhqAq pic.twitter.com/hoKcDu4CEP

— Joe Friday (@justthefacts85) July 22, 2022

Versus Vigorous but coughing, COVID-postive Biden appears virtually at White House meeting Reuters (GM). Um, so "awake" now = "vigorous"?

Did Kamala Harris follow proper CDC guidance by not wearing a mask and hugging people today despite being defined as a "close contact" of Biden?

Biden COVID Coordinator Ashish Jha: Uh….. pic.twitter.com/VV2pOvfaSt

— RNC Research (@RNCResearch) July 22, 2022
When our leaders are invested in companies that profit from a new cold war, they have a vested interest in heightening this new cold war, thereby putting the American people in danger and undermining our actual national security interests for their own profit. This has to end pic.twitter.com/zvaNbOSKAn

— Tulsi Gabbard 🌺 (@TulsiGabbard) July 22, 2022
After STAT report, GOP lawmakers seek answers about defunct NIH oversight committee STAT
Two Senators Propose Ban On Data Caps, Blasting ISPs For 'Predatory' Limits ars technica.
Abortion
After Roe, Sex Ed Is Even More Vital New York Times (Dr. Kevin)

U.S. has world's highest rate of children living in single-parent households Pew Research Center (resilc)
Attacker on US congressman released without bail RT (Kevin W). In New York, the standard for bail v. remand is solely based on whether the accused is a flight risk. From the New Times:
In New York, bail is imposed solely to ensure that people return to court; judges are not supposed to set high bail for defendants who they think might be a public safety risk. New York is the only state without a so-called dangerousness standard.
And then the decision on whether to charge bail is based on whether the offense was violent. The article concedes that this "attempted assault" was non-violent under the law. So the judge was not discriminating against Republicans.
Police Departments Spend Vast Sums of Money Creating "Copaganda" Jacobin
Tesla Gets Its Own Crossing Lane at the Texas-Mexico Border Gizmodo (Dr. Kevin)
Tesla's Bitcoin Dump Leaves Accounting Mystery in Its Wake MSN (resilc)
What to do about the present inflation Lars P. Syll
Trickle down. Remember that. The evidence base continue to reject the notion as a scam Bill Mitchell
Guillotine Watch
Las Vegas Restricts Pool Sizes, Targeting the Super-Rich Gizomdo (Dr. Kevin)

Dr. Fauci's Retirement Pension ($414,667) Will Exceed President Joe Biden's Salary ($400,000) OpentheBooks (resilc)
Class Warfare
Beware the rise of corporate rituals designed to manipulate employees New Scientist

Exclusive: Hyundai subsidiary has used child labor at Alabama factory Reuters (resilc)

PhD students told to consider selling Avon products to make ends meet Guardian (Dr. Kevin)

UPS would rather have its workers collapse from heat stroke than install ACs in their vehicles like other delivery services. They even lie that it's literally impossible to install one. pic.twitter.com/stj7mHt7zy

— 🅹🅾️🅴🆈աrecκ ☭ (@joeywreck) July 20, 2022
Antidote du jour. Chet G:
The middle of July is the time when hummingbird (or clearwing) moths appear during summer in central PA. From a sequence of five photos of a snowberry (the smaller of the two such moths) who is hovering about and nectaring on my butterfly bushes.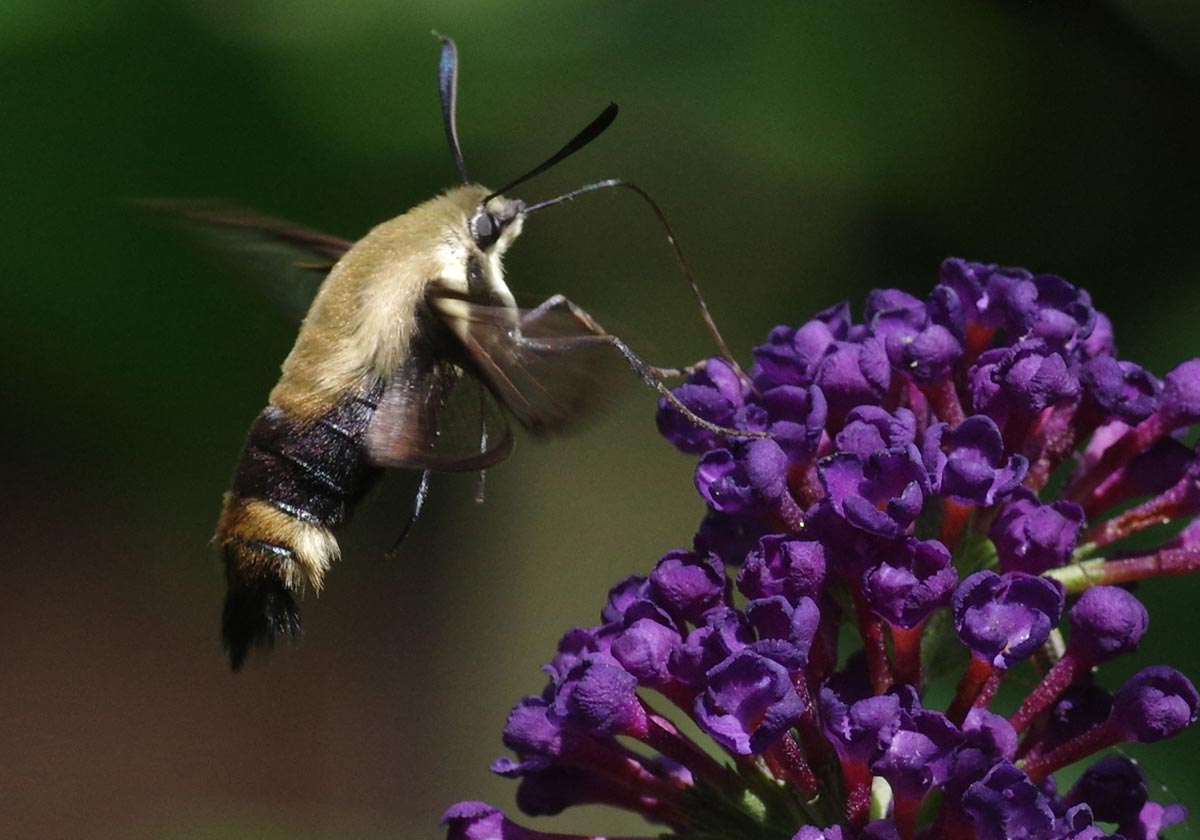 And a bonus (Chuck L)
I'm a cat. No one can stop me.. 😅 pic.twitter.com/XSgXxJAM3p

— Buitengebieden (@buitengebieden) July 21, 2022
See yesterday's Links and Antidote du Jour here.