By Lambert Strether of Corrente
Bird Song of the Day
Black-and-white Triller (Northern), Ilocos Norte, Philippines.
* * *
Politics
"But what is government itself, but the greatest of all reflections on human nature?" –James Madison, Federalist 51
"They had learned nothing, and forgotten nothing." –Charles Maurice de Talleyrand-Périgord
"Here's food for thought, had Ahab time to think; but Ahab never thinks; he only feels, feels, feels" –Herman Melville, Moby Dick
Biden Administration
Just in case you thought all those new IRS agents were going to go after the rich:

Crapo amendment to the Manchin bill to limit the bill's 87,000 new IRS agents to auditing comapnes and individuals with income of $400,000 or more FAILED 50-50.https://t.co/oPKr11BAYw pic.twitter.com/mH4wuMsmJ4

— Phil Kerpen (@kerpen) August 7, 2022

"Biden approval rises to 40%, highest in two months, Reuters/Ipsos shows" [Reuters]. "The two-day national poll found that 40% of Americans approve of Biden's job performance, a level of support that is historically low for a U.S. president. But the recent upward turn in Biden's approval rating – including gains in each of the last three weeks – could temper the concern among his Democrats that the party is poised to take a drubbing in the Nov. 8 midterm elections, when Republicans hope to seize control of the U.S. Congress."

"What is the 'Dark Brandon' meme that has taken the White House by storm?" [The Hill]. "But on Sunday, new imagery started to gain popularity on Twitter — one that was complimentary. Some shared images of Biden as 'Dark Brandon' — ominous, darkly lit, Terminator-esque images of the commander in chief with bright red eyes. 'Dark Brandon is crushing it,' tweeted deputy White House press secretary Andrew Bates, who shared a photo of Biden with laser red eyes that said: 'Your malarkey has been going on for long enough, kiddo.'"

Dark Brandon is crushing it pic.twitter.com/w0L8xCzIW8

— Andrew Bates (@AndrewJBates46) August 7, 2022

Who's "kiddo"? Nuclear-armed Putin, or nuclear-armed Xi? These people are so high on their own supply.
2022
* * *

MN: "Omar survives surprising nail-biter to win Democratic nomination for Minnesota's 5th Congressional District, CNN projects" [CNN]. "Omar beat back a well-funded primary rival in 2020, but Samuels, a moderate, entered the race with higher name recognition in the Minneapolis-based district and the support of a big-spending super PAC. Samuels had run as a pro-police critic of Omar's calls to 'defund the police.' He and his wife successfully sued the city of Minneapolis to force it to increase police staffing levels to the 741 officers required by the city's charter. Momentum built behind what had been widely seen as a long-shot challenge after Minneapolis Mayor Jacob Frey endorsed Samuels last week. He was also backed by building trades unions, several suburban mayors and more moderate DFL leaders. His close call could inspire another effort to oust Omar in 2024. Democrats currently control four out of the state's eight US House seats to three for the Republicans and one vacancy. Omar's victory comes the week after two other liberal members of the "squad," Missouri Rep. Cori Bush and Michigan Rep. Rashida Tlaib, also beat back primary challenges." • Wasn't Frey the dude who was shown on TV, sobbing over George Floyd's coffin? 50.3%/48.2%. I guess all that DNC help for an incumbent woman of color made all the difference. Commentary:

Lot of factors converged to make tonight as ugly as possible: well-known opponent who has been around decades (but whose decades of bizarre behavior went unmentioned), police politics factionalism, low turnout in a midterm, no ad spending by Ilhan despite huge cash advantage

— Will Stancil (@whstancil) August 10, 2022

VT: "Madden 'up in the air' about accepting GOP nomination for US House" [WCAX]. " Liam Madden, an Iraq War veteran turned antiwar advocate, won a three-way GOP contest for the U.S. House Tuesday night. But a day after winning, it's still not clear whether the self-proclaimed Independent plans to accept the nomination. Madden, who works in the solar industry, has said his real goal for running was to break Vermont's political mold and rethink the two-party system. 'It's a sacred responsibility to give Vermonters a choice between what we all know is a dysfunctional, corrupt, and war-like system of politics or the opportunity to have a renaissance of community and compassionate, civic-minded problem-solving,' he said earlier Tuesday. But Madden on Wednesday morning told WCAX that he would like to decline the nomination but does not want the GOP to choose a replacement for the November ballot. He said he is in talks with party leaders and that his decision is still 'up in the air.'" • Entryism… into the Republican Party!
2024
Lambert here: I'm not sure where to file all the material on the FBI "raid" on Mar-a-Lago, but this seems like the appropriate place. Frankly, the story seems like a way to keep "the narrative" alive until the House Committee reconvenes in September (though why the narrative requires constant re-animation is, well, an open question).

"FBI thunderbolt scrambles political predictions on Trump" [The Hill]. "One of the most high-profile remarks came from a former Trump and Pence staffer who has emerged as a major critic of Trump over his role in the Jan. 6 attack on the Capitol. 'This, I'm hoping, goes beyond simply not complying with some archiving laws, or DOJ [the Department of Justice] just handed Donald Trump the Republican nominee and potentially the presidency,' Alyssa Farah Griffin, the former official, said on CNN. 'If it's seen as some sort of massive overreach and not something incredibly serious, this is a very good day for Donald Trump,' she added. "

"Opinion: Trump should make the search warrant public" [Hugh Hewitt, WaPo]. "[T]he American public needs to see the warrant — all of it. The former president has a copy; he should make it public. It likely lists the items to be seized and the laws allegedly violated. The affidavit supporting the warrant is probably sealed, former prosecutors say, and Attorney General Merrick Garland can seek to unseal it." • Twitter is so full of bot-like entities repeating this line that search is useless; it really seems inorganic to me. First, I don't see why it's Trump's job to do this, any more than it's a responsibility anybody else served with a warrant should have. Second, there's no chain of custody for Trump's warrant. Suppose he releases the his copy of the warrant. Then Garland releases his, and there's a discrepancy. I can imagine the hysteria, but what then? And how to resolve it?

"The Trump Mar-A-Lago Raid: America Needs Some Answers" [1945]. "What you cannot dispute is that this is unprecedented. Such a raid on a former president — announced by Trump himself with little official comment from the federal government — is uncharted territory for the United States…. The FBI and Department of Justice have said basically nothing a full day later. The White House has said little more, denying President Joe Biden was briefed ahead of time…. It looks bad. Trump is not only a former president. He is actively considering another run for the office, a rematch against the man currently running the executive branch of the federal government, to whom these agents are accountable. What little we know about the search suggests it is separate from the Jan. 6 investigation. The FBI has arguably mishandled every election-adjacent inquiry it has conducted since Hillary Clinton's email scandal, including the origins of the Trump-Russia investigation."

"Why the Trump search warrant is nothing like Hillary's emails" [Politico]. "'People sling these cases around to suit their political agenda but every case has to stand on its own circumstances,' said David Laufman, who led the Justice Department's counterintelligence section until 2018 and is now a partner at the firm Wiggin and Dana. Laufman has the credentials to judge the severity of these matters. In addition to the Clinton case, he managed the investigation of David Petraeus, the former general and CIA director who pleaded guilty to a misdemeanor for mishandling classified material. CNN reported that one of the DOJ officials involved in the Trump investigation is his immediate successor. 'For the department to pursue a search warrant at Mar-a-Lago tells me that — in a search warrant and affidavit that an FBI agent swore to* — ,' he said. Twenty-four hours after it transpired, there remain few details about why the FBI raided Trump's private estate beyond months-old questions about the former president's handling of records that appear to have been relocated to Mar-a-Lago as he departed the Oval Office." • Well, that's quite a quote. But spooks are good with quotes. We've seen their work before, and it's always first-class. NOTE * Worked for the FISA Court with the Steele dossier!

"With the Trump Raid, Merrick Garland Draws a Line in the Sand" [Slate]. "Then last night, the sky broke open and it began to rain. A rain of joy, and of memes, and of hopes. There will be time for "a hundred visions and revisions." In the meantime, I'm singin' in the rain. What a glorious feeling. I'm happy again." • The author actually kept spreadsheets, plural, of the Mueller investigation. So, indeed.
Democrats en Déshabillé
I have moved my standing remarks on the Democrat Party ("the Democrat Party is a rotting corpse that can't bury itself") to a separate, back-dated post, to which I will periodically add material, summarizing the addition here in a "live" Water Cooler. (Hopefully, some Bourdieu.) It turns out that defining the Democrat Party is, in fact, a hard problem. I do think the paragraph that follows is on point all the way back to 2016, if not before:

The Democrat Party is the political expression of the class power of PMC, their base (lucidly explained by Thomas Frank in Listen, Liberal!). ; if the Democrat Party did not exist, the PMC would have to invent it. . ("PMC" modulo "class expatriates," of course.) Second, all the working parts of the Party reinforce each other. Leave aside characterizing the relationships between elements of the Party (ka-ching, but not entirely) those elements comprise a network — a Flex Net? An iron octagon? — of funders, vendors, apparatchiks, electeds, NGOs, and miscellaneous mercenaries, with assets in the press and the intelligence community.

Note, of course, that the class power of the PMC both expresses and is limited by other classes; oligarchs and American gentry (see 'industrial model' of Ferguson, Jorgensen, and Jie) and the working class spring to mind. Suck up, kick down.

* * *

"Hot mic catches Dem Sen. Sherrod Brown snap at Bernie Sanders' child tax credit bid" [New York Post]. "Sen. Sherrod Brown (D-OH) was caught on a hot mic snapping 'Come on, Bernie' early Sunday as tensions flared on the Senate floor over Vermont Independent Sen. Bernie Sanders' bid to replenish the child tax credit. Sanders offered the amendment, which would have raised the corporate tax rate from 21% to 28%, during the 'vote-a-rama' session where Democrats pushed to pass their massive tax, health care and climate bill, dubbed the 'Inflation Reduction Act.' 'This is the wealthiest nation on Earth, we should not have the highest rate of childhood poverty of almost any country,' Sanders said in remarks from the floor. anders' move to push for the tax credit of $300 per month for the next five years after it lapsed near the end of 2021, drew pushback from Democrats he caucuses with, who noted they couldn't support it as they focused on pushing through the full bill, which later passed 51-50, with Vice President Kamala Harris casting the tie-breaking vote. 'We know that this is a fragile arrangement, and we've got to pass it — as much as I'd like to do [a corporate tax increase],' Brown said. His time elapsed but he was caught saying "Come on, Bernie!" on his mic, according to Mediaite." • I think one reason all the liberal Democrat bleating about "our democracy" fails to get a lot of traction beyond loyalists is that plenty of people — many of them non-Democrats willing to vote for Sanders — remember perfectly well how Democrats took Sanders down, not once but twice. $300 bucks a month ffs? That's an issue?
#COVID19
• Maskstravaganza: Downgrading masks:
Disgraceful @MarkMcGowanMP @Mark_Butler_MP

HCW's who'd been required to wear N95 masks across all clinical areas will now only need to do so when caring for vulnerable patients or working in high-risk areas. Surgical masks must be worn elsewhere.https://t.co/hwKaJqGf7P

— Kate Pritchard (@KatePri14608408) August 9, 2022
I'm getting the impression that hospital administrators are actually worse than university administrators. Can this be true?
• Maskstravaganza:
Most people (70%) want mask policies in surges

They help people wear masks & protect self & others without judgement

When leaders don't implement mask policies, some point away from selves & at the people they lead

But accountability lies with leadershttps://t.co/vMijSLWUoZ pic.twitter.com/k21bPjgevw

— Julia Raifman (@JuliaRaifman) August 10, 2022
Anti-maskers are a noisy and obnoxious minority whose strength is that they reflect elite opinion, which the press both accepts (see the Gridiron Club superspreading event) and amplifies.
* * *
If you missed it, here's a post on my queasiness with CDC numbers, especially case count, which I (still) consider most important, despite what Walensky's psychos at CDC who invented "community levels" think. But these are the numbers we have.
* * *
Case Count
Case count for the United States: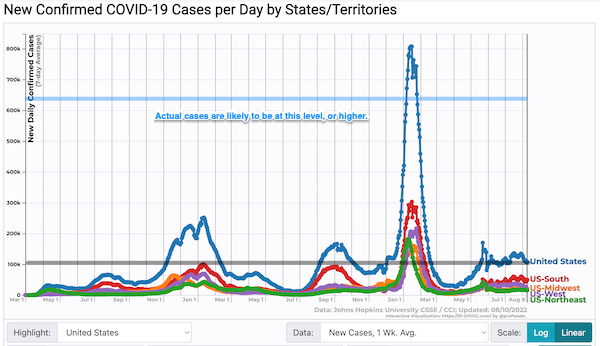 This looks hopeful, but again California is why the national curve is shaped as it is.
Cases are undercounted, one source saying by a factor of six, Gottlieb thinking we only pick up one in seven or eight.) Hence, I take the case count and multiply it by six to approximate the real level of cases, and draw the DNC-blue "Biden Line" at that point. The previous count was ~ 105,500. Today, it's ~107,500 and 107,500 * 6 = a Biden line at 645,000 per day. That's rather a lot of cases per day, when you think about it. (Remember these data points are weekly averages, so daily fluctuations are smoothed out.) The black "Fauci Line" is a counter to triumphalism, since it compares current levels to past crises. At least we have confirmation that the extraordinary mass of case anecdotes we've seen have a basis in reality. However, I'm not seeing the volume of anecdotes I did on the Twitter. What are readers experiencing?
• "The US is on a Covid plateau, and no one's sure what will happen next" [CNN]. "The United States seems to have hit a Covid-19 plateau, with more than 40,000 people hospitalized and more than 400 deaths a day consistently over the past month or so." Readers will recall I started muttering about a couple of weeks ago. Now it's mainstream. More: "And there are big question marks around what might happen next, as the coronavirus' evolution remains quite elusive 2½ years into the pandemic. 'We've never really cracked that: why these surges go up and down, how long it stays up and how fast it comes down,' said Dr. Eric Topol, a cardiologist and professor of molecular medicine at Scripps Research. 'All these things are still somewhat of a mystery.'" But: "[W]ith children going back to school, a change in seasons and other variants on the horizon, it's unclear when the plateau will drop — and by how much." And: 'Looking ahead, [William Hanage, an epidemiologist and associate professor at the Harvard T.H. Chan School of Public Health] says, 'there's likely to be one step forward, two steps back' when it comes to progress in the Covid-19 pandemic. And if deaths stay above 400 a day for a full year, that's more than twice as bad as the worst recent flu seasons, he said. 'So those are numbers we've got at the moment, at a point when things are, relatively speaking, good,' he said. 'This is something which I think a lot of people don't grasp.'" • So everything's going according to plan.
Regional case count for four weeks: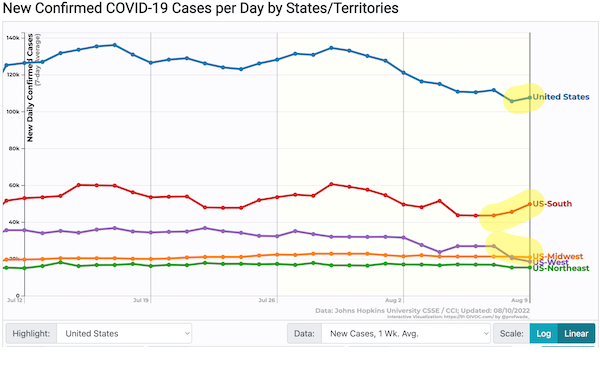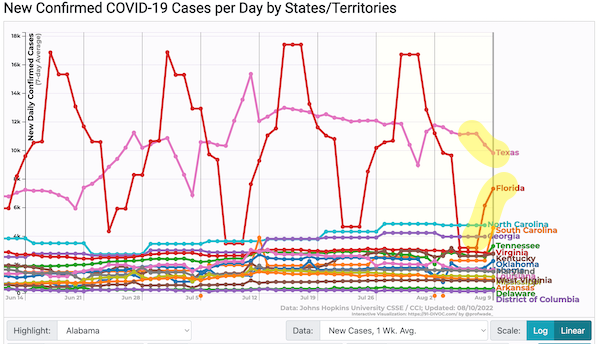 The South (minus Texas and Florida):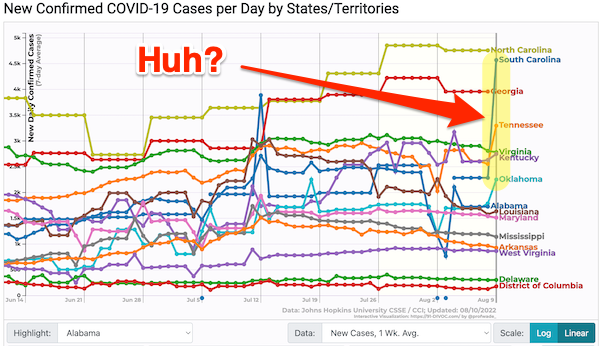 South Carolina found some cases in a drawer?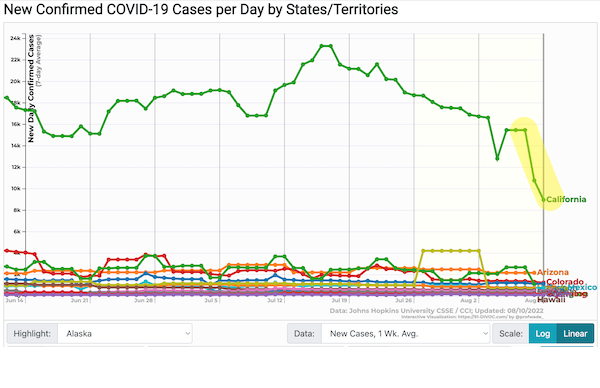 As a check on the California case data, here is San Diego wastewater as of August 2: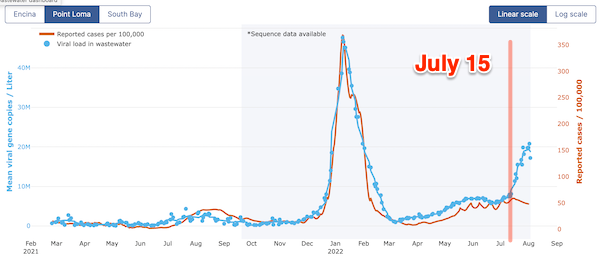 Last time I put up this chart, San Diego had not integrated the case counts with the wastewater data for Loma County,. (FWIW, San Diego is on the CDC wasteware chart; it's orange.) Now they have. We can see that case counts tracked wastewater nicely starting back in Fenruary 2021. As of ~July 15, 2022, they diverged. Why? (The same is also true for Encina and South Bay, although the curves are shaped differently.) Do we have any California wastewater mavens who can track down whether the same is happening in other cities? (We need the case count vs. wastewater comparison, not just wastewater.) Is this an interesting catch, or just a glitch?
Positivity
From the Walgreen's test positivity tracker, August 8: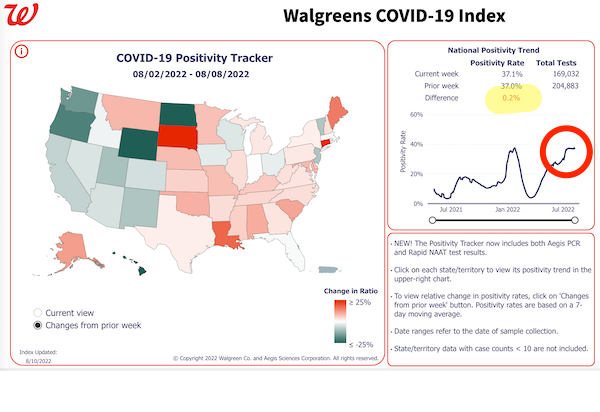 0.2%. (I wonder if there's a Keynesian Beauty Contest effect, here; that is, if people encounter a sympotomatic person, whether in their social circle or in normal activity, they are more likely to get a test, because they believe, correctly, that it's more likely they will be infected.) Starting to look like positivity has peaked, at least for Walgreen's test population.
Transmission
NOTE: I shall most certainly not be using the CDC's new "Community Level" metric. Because CDC has combined a leading indicator (cases) with a lagging one (hospitalization) their new metric is a poor warning sign of a surge, and a poor way to assess personal risk. In addition, Covid is a disease you don't want to get. Even if you are not hospitalized, you can suffer from Long Covid, vascular issues, and neurological issues. For these reasons, case counts — known to be underestimated, due to home test kits — deserve to stand alone as a number to be tracked, no matter how much the political operatives in CDC leadership would like to obfuscate it. That the "green map" (which Topol calls a "capitulation" and a "deception") is still up and being taken seriously verges on the criminal. Use the community transmission immediately below.
Here is CDC's interactive map by county set to community transmission. (This is the map CDC wants only hospitals to look at, not you.)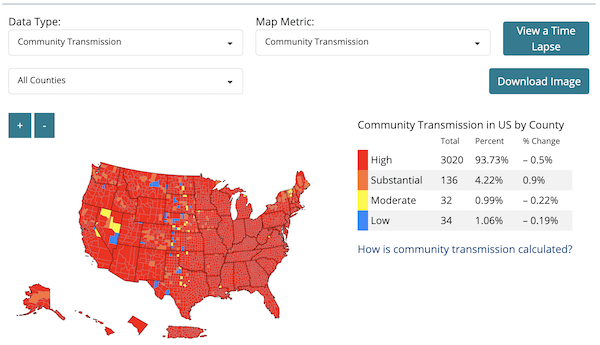 Some blue in flyover.
SITE DOWN Rapid Riser data, by county (CDC), August 3: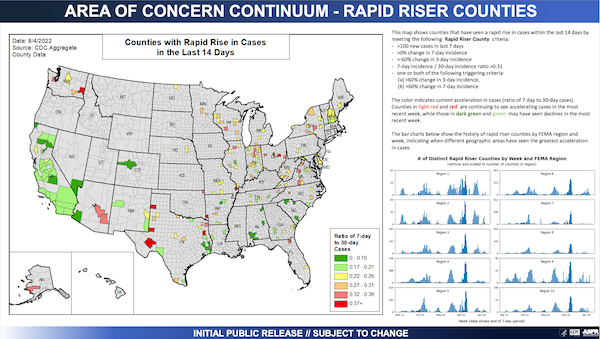 Improvements everywhere (except New Hampshire. Tourism?).
Previous Rapid Riser data: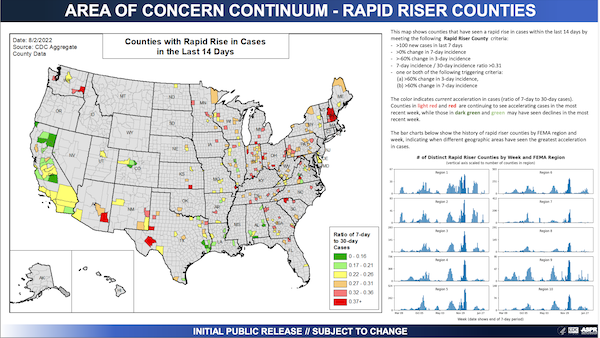 SITE DOWN Hospitalization data, by state (CDC), August 3: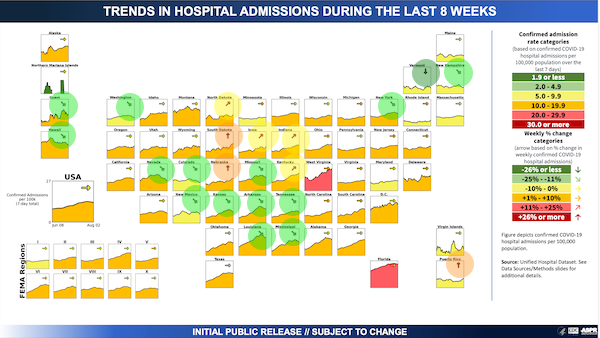 Volatile.
Variants
Lambert here: It's beyond frustrating how slow the variant data is. I looked for more charts: California doesn't to a BA.4/BA.5 breakdown. New York does but it, too, is on a molasses-like two-week cycle. Does nobody in the public health establishment get a promotion for tracking variants? Are there no grants? Is there a single lab that does this work, and everybody gets the results from them? Additional sources from readers welcome [grinds teeth, bangs head on desk].
NOT UPDATED Variant data, national (Walgreens), July 21: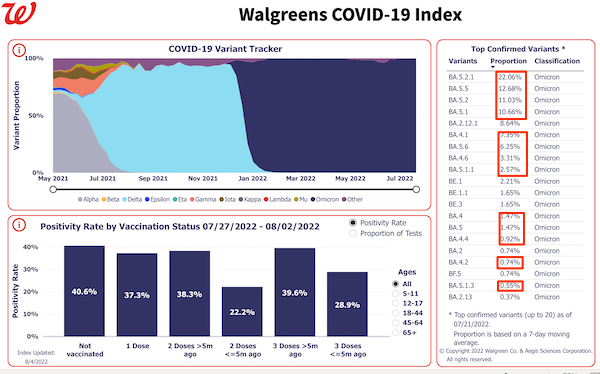 NOT UPDATED Variant data, national (CDC), July 23 (Nowcast off):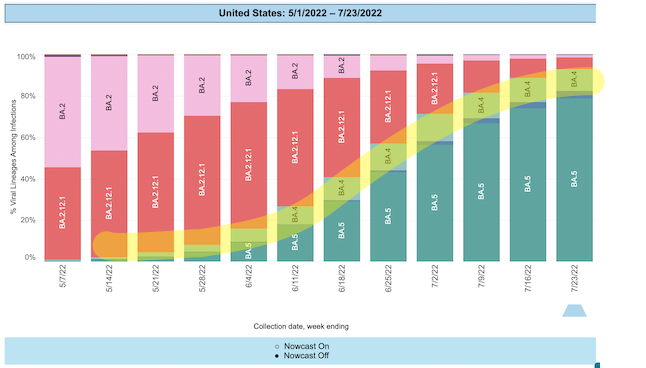 BA.5 moving along nicely.
Wastewater
Wastewater data (CDC), August 6: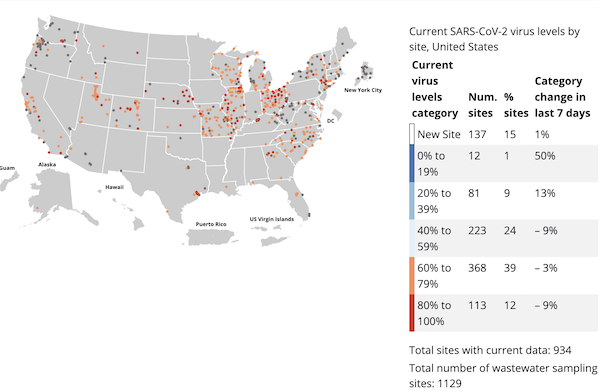 Red dots improved.
Lambert: I added grey. Grey, not on the legend at bottom right, is "No recent data." How is there no recent data for New York City, a major international hub and already the epicenter of at least one surge? How is there none for upstate New York, which only recently was full of rapid-riser counties? The same with West Virginia, Michigan, and Oregon. If I were the paranoid sort, I'd theorize that CDC moved in on the only accurate data source we've got, in order to corrupt and destroy it.
Deaths
Death rate (Our World in Data):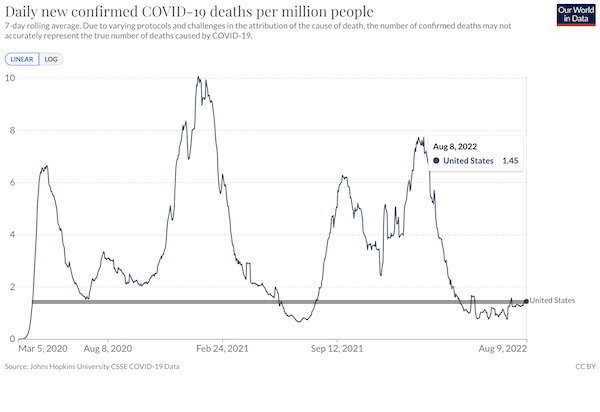 Total: 1,059,641 – 1,059,210 = 431 (365 * 431 = 157,315; the new normal. Fluctuates quite a bit, but even the low numbers are bad). I have added an anti-triumphalist black Fauci Line. It's nice that for deaths I have a simple, daily chart that just keeps chugging along, unlike everything else CDC and the White House are screwing up or letting go dark, good job.
Stats Watch
Consumer Prices: "United States Consumer Price Index (CPI)" [Trading Economics]. "The annual inflation rate in the US slowed more than expected to 8.5% in July of 2022 from an over 40-year high of 9.1% hit in June, and below market forecasts of 8.7%. Energy CPI rose by 32.9%, after hitting a 42-year high of 41.6% in June mainly due to a big slowdown in gasoline costs (44% vs 59.9%), fuel oil (75.6% vs 98.5%), and natural gas (30.5% vs 38.4%) while electricity prices accelerated (15.2%, the most since February 2006). "
Inflation: "United States Inflation Rate" [Trading Economics]. "Compared to the previous month, the CPI was unchanged, after hitting a 17-year high of 1.3% and also below forecasts of 0.2%. Core inflation was steady at 5.9%, beating expectations of 6.1%, and offering some support that inflation has finally peaked."
* * *
Tech:
I genuinely wonder if there are any designers still employed at Apple pic.twitter.com/YfJpTg7KKd

— Max Rovensky (@MaxRovensky) August 5, 2022
The Mac had the Human Interface Guidelines to enforce consistency. iOS does not, hence this UI/UX dogs breakfast. I'm not sure whether to blame Brain Genius Jony Ive for this, or Jobs himself.
* * *
Today's Fear & Greed Index: 51 Neutral (previous close: 48 Neutral) [CNN]. One week ago: 44 (Fear). (0 is Extreme Fear; 100 is Extreme Greed). Last updated Aug 10 at 2:17 PM EDT.
Adversity's Sweet Milk
@LastPositivist (winner of the Leverhulme Award, category Philosophy and Theology) is a fun account:
When Katy Perry said the line "You're going to hear me roar," what she really wants us to ask is — can one roar silently? In this essay I will

— Daniel Litt (@littmath) August 9, 2022
If you want philosophy in-jokes, this is the account for you.
Sports Desk
"The Real Dill: Powerful Texans Are Betting on Pickleball" [Texas Monthly]. Really shameless sucking up to billionaire sports investors. "[Klitch, another finance veteran turned pickleball godfather] said he can fit just about four pickleball courts in that same space [as a single tennis court] and that six people might show up per court. 'If you're trying to get people to eat and drink and hang around, do you want two people doing that or twenty-four people doing that?' he said. 'I like the numbers around pickleball.'" • Another way of putting that is that, all other things being equal, 3-Cs spaces will always be more profitable than spaces where less air is shared. Fortunately, the courts are outside. The principle remains the same.
"USC football vs. its own donors and fans? A fight develops for control of endorsements" [Los Angeles Times]. "When USC partnered with an outside media company to launch BLVD LLC, the hope was that its unique approach to facilitating name, image and likeness [(NIL)] endorsement deals for Trojans athletes would help stave off the rise of a donor-run collective — and keep USC out of the crosshairs of any future NCAA crackdowns. But less than two months later, The Times has learned that a group of deep-pocketed USC donors and diehard fans are proceeding with their own NIL operation against the school's wishes. The group plans to soon launch 'Student Body Right,' a third-party collective they say is essential for USC to properly compete with other top schools that feature collectives. They're hardly alone among Trojans football fans, especially those frustrated by BLVD. Within USC, however, the effort to start a collective outside of the university's reach is being viewed as an existential threat that could invite serious scrutiny if the NCAA opts to enforce its NIL policies…. Details regarding how payments will be distributed to players have yet to be finalized, but [Florida-based businessman and lifelong USC fan Dale] Rech said the collective's intent is to provide 'the equivalent of a base salary' for every member of USC's football team who is academically eligible. To receive those payments, players would perform community service and take part in charitable work with local organizations. How that charitable work will be valued or how payments would be divided among players is still up in the air. Student Body Right has filed for 501(c)(3) status as a charitable organization, which would make certain donations to the group tax-deductible. BLVD is not a 501(c)(3) charitable organization." • Why are universities in the football business at all? (And the definition of "collective" seems pretty hazy.)
Class Warfare
"The Money Is In All The Wrong Places" [Defector]. "Here is the crux of the issue: if Sydney Sweeney cannot afford to take six months off, it is a safe assumption to make that no one in Hollywood without family money can. That means that even one of the most famous and in-demand actresses working right now is less secure than every nepotism baby who sauntered into an audition because their dad had been the legal counsel for Warner Bros or whatever. It's easy to see how this makes the art those studios produce worse, but also easy to see how it persists. It's also not a world I want to live in. I don't want to exist in a place where the people who make the most money off art don't make it at all; I don't want to live in a country in which our best actresses can't afford to take a break and have a baby. I don't want anyone to have to live like that, as it happens, but even by the standards of this moment that fact seems both cruel and a waste. The whole of American society, at this moment, is a layer of various anxieties and resentments without any sincerely shared values pinning it all in place." • Well worth reading in full, even though, or perhaps because, the hook is actress Sydney Sweeney:
"Why Americans are increasingly dubious about going to college" [NBC]. "There are 4 million fewer students in college now than there were 10 years ago, a falloff many observers blame on Covid-19, a dip in the number of Americans under 18 and a strong labor market that is sucking young people straight into the workforce. But while the pandemic certainly made things worse, the downturn took hold well before it started. Demographics alone cannot explain the scale of this drop. And statistics belie the argument that recent high school graduates are getting jobs instead of going to college: Workforce participation for 16- to 24-year-olds is lower than it was before Covid hit, the Bureau of Labor Statistics, or BLS, reports. Focus groups and public opinion surveys point to other, less easily solved reasons for the sharp downward trend. These include widespread and fast-growing skepticism about the value of a degree, impatience with the time it takes to get one, and costs that have finally exceeded many people's ability or willingness to pay. There has been a significant and steady drop nationwide in the proportion of high school graduates enrolling in college in the fall after they finish school — from a high of 70% in 2016 to 63% in 2020, the most recent year for which the figure is available, according to the National Center for Education Statistics."
News of the Wired
Great metaphor:
Much of Wall Street is a small mining caterpillar. https://t.co/Q7aTHDcNHr

— Ben Hunt (@EpsilonTheory) August 10, 2022
* * *
Contact information for plants
: Readers, feel free to contact me at lambert [UNDERSCORE] strether [DOT] corrente [AT] yahoo [DOT] com, to (a) find out how to send me a check if you are allergic to PayPal and (b) to find out how to send me images of plants. Vegetables are fine! Fungi and coral are deemed to be honorary plants! If you want your handle to appear as a credit, please place it at the start of your mail in parentheses: (thus). Otherwise, I will anonymize by using your initials. See the previous Water Cooler (with plant)
here
. From IM: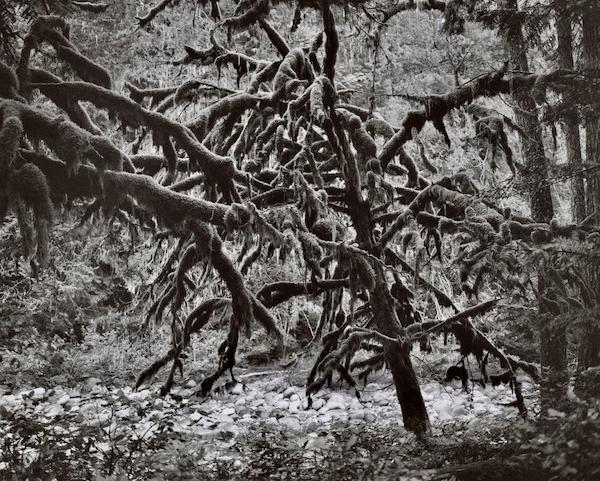 IM writes: "Bryophytzzzz!" The argument for black and white, if I recall it correctly, is that it reveals form and structure better than color can. Wow, this photo!
* * *
Readers
: Water Cooler is a standalone entity
not
covered by the annual NC fundraiser. So if you see a link you especially like, or an item you wouldn't see anywhere else, please do not hesitate to express your appreciation in tangible form. Remember, a tip jar is for tipping!
Regular positive feedback both makes me feel good and lets me know I'm on the right track with coverage
. When I get no donations for five or ten days I get worried. More tangibly, a constant trickle of donations helps me with expenses, and I factor in that trickle when setting fundraising goals:
Here is the screen that will appear, which I have helpfully annotated: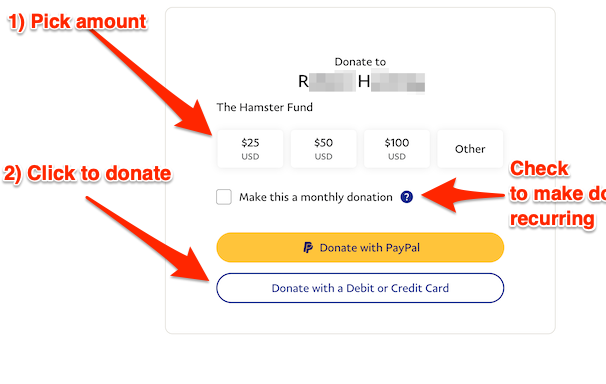 If you hate PayPal, you can email me at lambert [UNDERSCORE] strether [DOT] corrente [AT] yahoo [DOT] com, and I will give you directions on how to send a check. Thank you!