By Lambert Strether of Corrente
Patient readers, I have exorcised the demon from my iPad: Settings -> Accessibility -> VoiceOver is now OFF. What a relief! –lambert
Bird Song of the Day
\
Golden Bowerbird, Queensland, Australia.
* * *
Politics
"But what is government itself, but the greatest of all reflections on human nature?" –James Madison, Federalist 51
"Here's food for thought, had Ahab time to think; but Ahab never thinks; he only feels, feels, feels" –Herman Melville, Moby Dick
"You can't really dust for vomit." Nigel Tufnel, This is Spinal Tap
Abortion
Biden Administration
"Sen. Kyrsten Sinema Privately Blew Up Biden Nominee Needed to Enact Regulatory Agenda" [The Intercept]. "Arizona Sen. Kyrsten Sinema was the one to scuttle President Joe Biden's choice to head the obscure but all-important Office of Information and Regulatory Affairs, according to sources familiar with the standoff. The office was created to help speed — or, more accurately, make somewhat less torturous — the process of writing regulations, which requires input from the public, legal reviews, and coordination among a variety of agencies. The office will be crucial for implementing the Inflation Reduction Act, particularly its climate provisions, and with the House and Senate not guaranteed a Democratic majority come January, it could play an outsize role in carrying out Biden's agenda…. The Biden administration began vetting Ganesh Sitaraman, a law professor at Vanderbilt University, in 2021…. Months later, in late spring, Sinema informed the White House that she would oppose Sitaraman. … Sitaraman is a former aide to Sen. Elizabeth Warren, D-Mass., and the author of the book 'The Public Option: How to Expand Freedom, Increase Opportunity, and Promote Equality.' He's also a close friend of Transportation Secretary Pete Buttigieg." • Ah, the dreaded public option. I can't wait to see who 2022's Sinema is. Because the Democrats always seem to have one.

It's excellent the way that living a normal life has morphed into a return to debt slavery:

I think this answers the question about why they didn't claim their broader non-emergency powers under the Higher Education Act: they didn't want to admit they can and will do this over and over again. That's a serious mistake.
/1 https://t.co/AouBpFNXnj

— Marshall Steinbaum 🔥 (@Econ_Marshall) August 26, 2022
2022
* * *

* * *

"'The US could lose the right to vote': top official's democracy warning" [Guardian]. "Colorado's secretary of state, Jena Griswold, is warning anyone who will listen that the fate of free and fair elections in the United States hangs in the balance in this November's midterm contests. In many of the most competitive races for offices with authority over US elections, Republicans nominated candidates who have embraced or echoed Donald Trump's myth of a stolen election in 2020. Griswold, who chairs the Democratic Association of Secretaries of State (Dass) and is running for re-election, is urging Americans to pay attention to the once-sleepy down-ballot contests for secretary of state – lest they lose their democracy." • The Democrats are, naturally, pouring money into these crucial races. Oh, wait…

TX: "Beto O'Rourke postpones events after being hospitalized" [Politico]. "Beto O'Rourke, Texas' Democratic candidate for governor, will 'postpone events' after being hospitalized with a bacterial infection, he wrote Sunday on Twitter. 'While my symptoms have improved, I will be resting at home in El Paso in accordance with the doctors' recommendations,' O'Rourke said. He has been discharged from the hospital, campaign communications director Chris Evans said Sunday. The former member of Congress was hospitalized at Methodist Hospital in San Antonio after feeling sick on Friday, he wrote. He was diagnosed with a bacterial infection and received care including IV antibiotics, according to the tweet."

* * *
2024
"Janet Yellen was skeptical of President Biden's student-loan forgiveness plan and Jill Biden expressed reservations, while Kamala Harris was a huge backer of debt cancellation: NYT" [The Hill]. • If Harris thinks she's going to ride that $10,00 anywhere, she's mistaken. (Story hook: An "administration official" says Harris "instructed her staff" to write a memo and hand it to Biden. Strong stuff!)
Republican Funhouse
"The Republican Party Is Having an Identity Crisis" [Bloomberg]. "This is a defining moment for Republicans who were counting on a strong midterm showing to launch themselves back into the White House in 2024. But the party's identity crisis is evident in the uneven performances of Senate candidates in battleground states like Pennsylvania, Georgia, Arizona and Ohio, among others, that jeopardizes its prospects for a congressional majority. 'You've got a lot of factions within the party,' Robert Blizzard, a Republican strategist, said in an interview. 'It looks convoluted. Are we the Trump party? Are we at the point where we're DeSantis' party?'" • The Republican base has always been willing to have Republican electeds lose.

"Defendants targeted in DeSantis' voter fraud crackdown were told they could vote" [Politico]. " Several people who were arrested last week as part of Gov. Ron DeSantis' voter fraud crackdown were notified by official government entities they were eligible to vote, according to court documents and interviews. The defendants told authorities they had no intention of committing voter fraud, according to affidavits, and in some cases were baffled by their arrests because counties had sent them voter registration cards and approved them to vote. The defendants were vilified by the governor during a high profile press conference last week, at which DeSantis announced the arrest of 20 people — convicted murderers and sex offenders — who allegedly cast votes in the 2020 election when they weren't eligible to. The defendants, because of their convictions, weren't permitted to vote."

"Iowa Election Deniers' New Theory And Plan To Canvass For 'Phantom Voters'" [Iowa Starting Line]. "The new front in the Donald Trump-led effort to deny the results of the 2020 election has officially come to Iowa. That's thanks in part to a recent high-profile visit to the state by Dr. Douglas Frank, a former math teacher from Ohio who now travels the country on a crusade to "prove" the election was stolen and rally disillusioned Trump voters to his cause. He spoke to a Trump-inspired Iowa grassroots group called "Iowa Canvassing" late last month at the Heartland Acres Event Center in Independence. During a 3-hour presentation, he galvanized the crowd of close to 100 attendees in their mission to uncover widespread voter fraud in the state. Frank also wanted to teach them how to check the results for themselves—through persuasion to the point of annoyance, and even by suing your county auditor if necessary…. "You need to be able to explain it to your friends," Frank told the crowd. "I need you to see why and how—and then you'll be part of it." Nothing wrong with checking things out for yourself, of course. But through the course of checking out Frank, it appears his broader goal is to undermine faith in America's elections system through vague accusations and scary-looking graphs that he assigns all-encompassing conspiracy theories to."
Democrats en Déshabillé
I have moved my standing remarks on the Democrat Party ("the Democrat Party is a rotting corpse that can't bury itself") to a separate, back-dated post, to which I will periodically add material, summarizing the addition here in a "live" Water Cooler. (Hopefully, some Bourdieu.) It turns out that defining the Democrat Party is, in fact, a hard problem. I do think the paragraph that follows is on point all the way back to 2016, if not before:

The Democrat Party is the political expression of the class power of PMC, their base (lucidly explained by Thomas Frank in Listen, Liberal!). ; if the Democrat Party did not exist, the PMC would have to invent it. . ("PMC" modulo "class expatriates," of course.) Second, all the working parts of the Party reinforce each other. Leave aside characterizing the relationships between elements of the Party (ka-ching, but not entirely) those elements comprise a network — a Flex Net? An iron octagon? — of funders, vendors, apparatchiks, electeds, NGOs, and miscellaneous mercenaries, with assets in the press and the intelligence community.

Note, of course, that the class power of the PMC both expresses and is limited by other classes; oligarchs and American gentry (see 'industrial model' of Ferguson, Jorgensen, and Jie) and the working class spring to mind. Suck up, kick down.
* * *
More like this, please:
This is why my answer to "but what about the Republicans" was always "fuck 'em."

And the Republicans never beat me. Not once. https://t.co/Q35iz20p4z

— Lee 🖖 Carter (@carterforva) August 28, 2022
In general, liberal Democrats are far too worried about what Republicans might do. They need to worry about what they can do, or rather what they could do but aren't.
Realignment and Legitimacy
Something to look forward to:

😨 43% of Americans think a U.S. civil war is likely within the next decade. The number goes up to 54% for those who identify as "Strong Republicans".

Only 11% of Americans believe it's not likely at all.

Source: https://t.co/Xc7jvNdXsr pic.twitter.com/tuo1C4t1nQ

— Arnaud Bertrand (@RnaudBertrand) August 30, 2022

Speculating freely: I can see something akin to Mussolini's March on Rome, which began with labor unrest. If cops started breaking heads to bust unions, liberal Democrats either wouldn't know what to do or would support them. And if the cops then decided to organize…
#COVID19
• From Naomi Wu, a measured take on Corsi-Rosenthal boxes: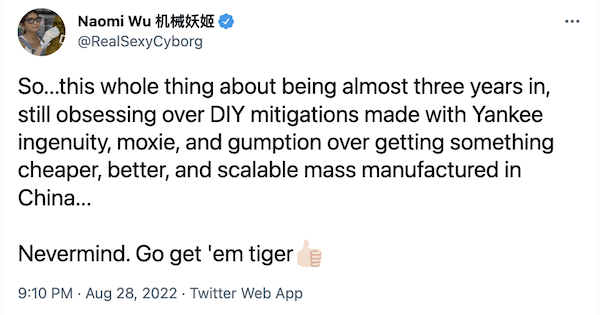 And: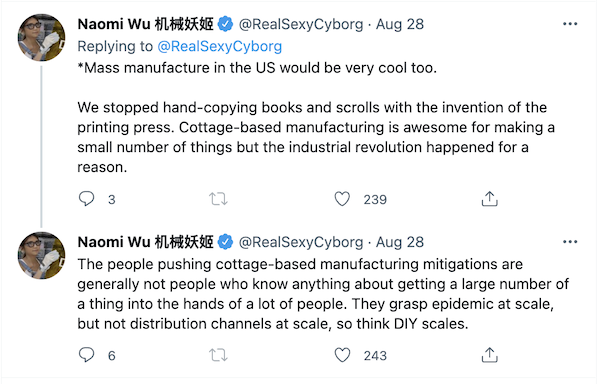 Of course, Wu is right (although I suppose the real question in the United States is not why Corsi and Rosenthal haven't gone into the manufacturing business, but why frauds and hucksters are already selling ionizers into school systems). However, I view the relationships forged by making and placing Corsi-Rosenthal boxes as important in and of themselves; many people coming together to provide a solution of benefit to others. We don't see enough of that. (That is, my interest is not "How you can breathe virus-free air for under a $100!", because that falls into the personal risk assessment frame. Rather, I like it when groups build several Corsi-Rosenthal boxes as a project, to protect an institution. That's really an act of collective defiance, since the action implies that (1) Covid has not gone away, (2) Covid is airborne, and (3) we need to protect others as well as ourselves. All controversial propositions in Biden's America!)
* * *
• Maskstravaganza: Clear masks:
Clear mask seekers: found another N95 window respirator (it's NIOSH certified!) https://t.co/kT4TGigBz4

— Amanda Hu (@amandalhu) August 26, 2022
Do any readers have experience with this kind of mask? I see the utility for e.g. lipreading, but frankly it feels like some sort of category error.
• Maskstravaganza: Techniques, explanations, studies to counteract the influence of trolls. Long thread:
1. Let's start by going back to a basic principle: the more your mask leaks, the less effective it is against aerosol transmission. This is why a new Swiss study found respirators (eg N95) masks to be superior to surgical masks in preventing infection for health care workers. pic.twitter.com/DRnFl20Jet

— Bill Comeau 🇨🇦🇺🇦 (@Billius27) August 16, 2022
• Maskstravaganza: Lousy paradigm and question-begging:
Growing peer pressure to go maskless in indoor spaces. I deal with it by likening it to driving on a speed-trap stretch of road & having a car zoom up behind me. While speeding is that driver's prerogative (& risk), I know my best move is to let them pass, not speeding up myself.

— Bob Wachter (@Bob_Wachter) August 26, 2022
Going maskless with somebody who isn't masked isn't like pulling up behind them. It's like cutting them off and then jamming on the brakes. Has Wachter had multiple bouts of Covid, or what?
* * *
• "Like many":
last full day of the conference, I woke with a mild itchy throat that lasted only a few minutes. Nasal swab was negative for antigen. Thought the itchy throat was from talking too much the day before (not used to talking much)

In retrospect this was probably symptom day 1

— Michael Lin, MD PhD 🧬 (@michaelzlin) August 14, 2022
Never thought of the PMC conference circuit as a death cult, but here we are….
• More on ISME18, the microbiologist conference that was a superspreading event:
And #NeverForget #ISME18 pic.twitter.com/nlPmACAbA2

— Adrian Malong (@apmalong) August 28, 2022
And:
After avoiding it for so long, I finally got COVID following #ISME18 (which was an awesome conference scientifically). Foggy brain and other symptoms so far… Btw, would be nice to somehow estimate the proportion of infected people following the conference. pic.twitter.com/ymKUaqqcoz

— Cecile Gubry-Rangin (@micecoevo) August 24, 2022
Yes, it would be great if we had contact tracing after conferences. But if we did that, well….
* * *
If you missed it, here's a post on my queasiness with CDC numbers, especially case count, which I (still) consider most important, despite what Walensky's psychos at CDC who invented "community levels" think. But these are the numbers we have.
* * *
Case Count
Case count for the United States: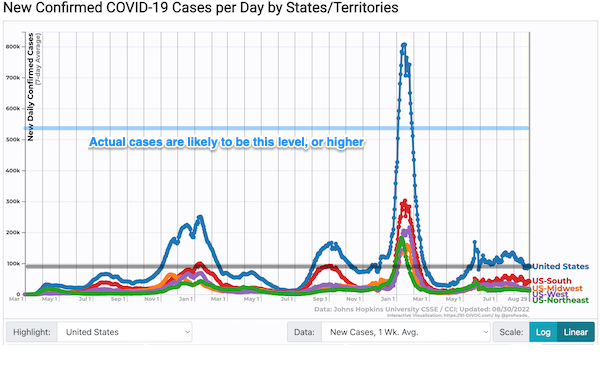 Cases are undercounted, one source saying by a factor of six, Gottlieb thinking we only pick up one in seven or eight.) Hence, I take the nominal case count and multiply it by six to approximate the real level of cases, and draw the DNC-blue "Biden Line" at that point. The previous count was ~84,200. Today, it's ~84,200 and 88,700 * 6 = a Biden line at 532,200 per day. (Remember these data points are weekly averages, so daily fluctuations are smoothed out.) The black "Fauci Line" is a counter to triumphalism, since it compares current levels to past crises. If you look at the Fauci line, you will see that despite the bleating and yammering about Covid being "over," we have only just recently reached the (nominal) case level of November 1, 2021, and we are very far from that of July 1, 2021. And the real level is much worse.
Regional case count for four weeks: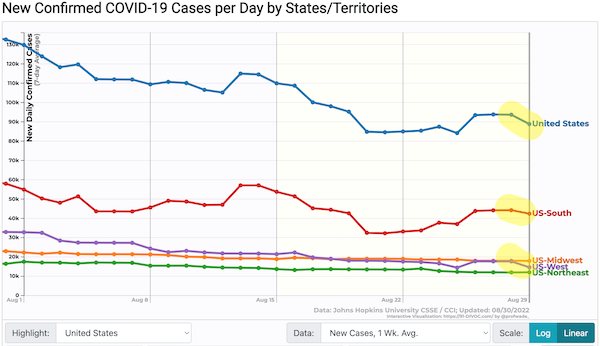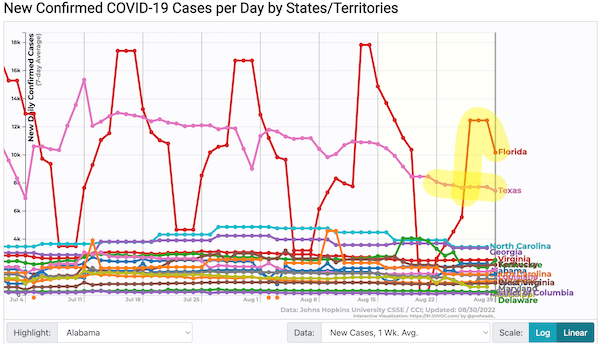 Florida Man as stable as ever.
The South (minus Texas and Florida):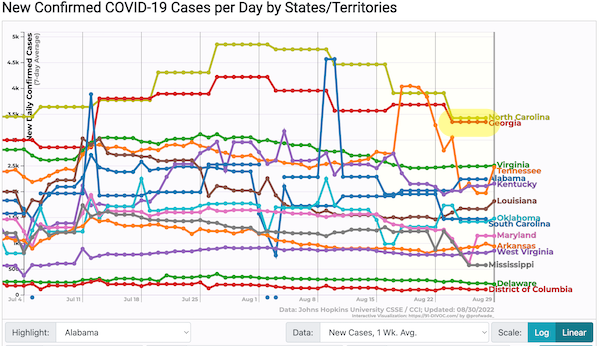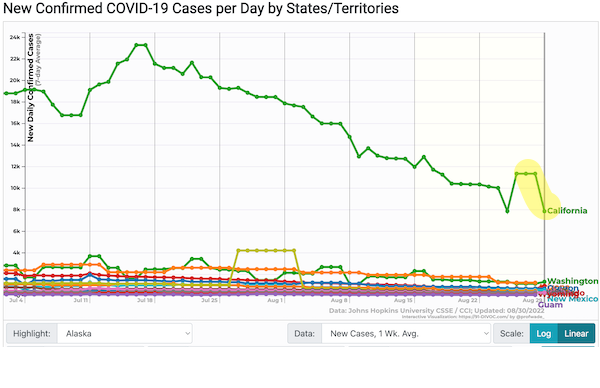 I'm still not sure I like the current big drop, with anecdotes about big outbreaks at LAX and Google.
Wastewater
Wastewater data (CDC), August 23: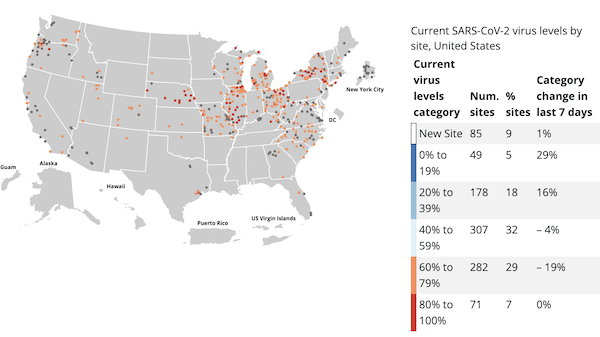 Very unhappy with the grey dots in California, or virtually no dots in Texas and Florida. We have no check on case numbers in critical states.
For grins, August 20: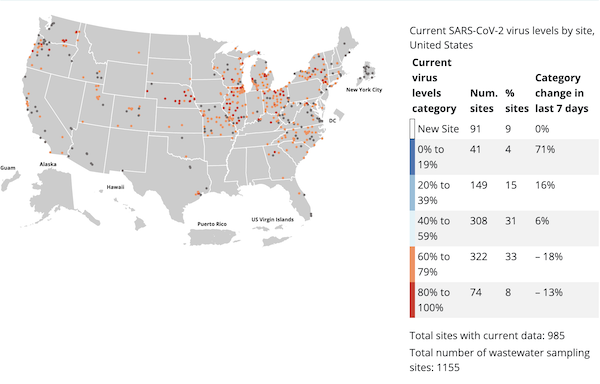 What I'm really worried about is an increase in grey dots ("no recent data"). because that would mean the effort is being shut down or defunded.
Positivity
From the Walgreen's test positivity tracker, August 30: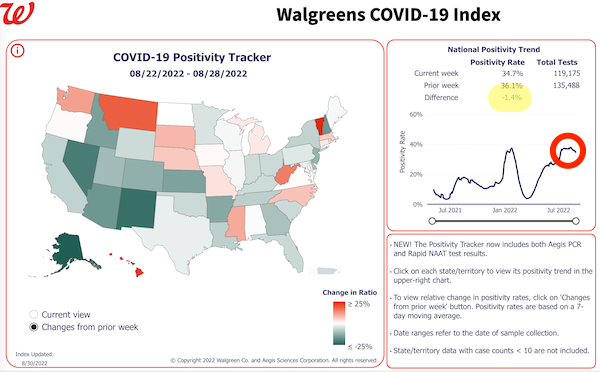 -1.4%. The curve inside the red circle is actually encouraging.
Transmission
NOTE: I shall most certainly not be using the CDC's new "Community Level" metric. Because CDC has combined a leading indicator (cases) with a lagging one (hospitalization) their new metric is a poor warning sign of a surge, and a poor way to assess personal risk. In addition, Covid is a disease you don't want to get. Even if you are not hospitalized, you can suffer from Long Covid, vascular issues, and neurological issues. For these reasons, case counts — known to be underestimated, due to home test kits — deserve to stand alone as a number to be tracked, no matter how much the political operatives in CDC leadership would like to obfuscate it. That the "green map" (which Topol calls a "capitulation" and a "deception") is still up and being taken seriously verges on the criminal. Use the community transmission immediately below.
Here is CDC's interactive map by county set to community transmission. (This is the map CDC wants only hospitals to look at, not you.)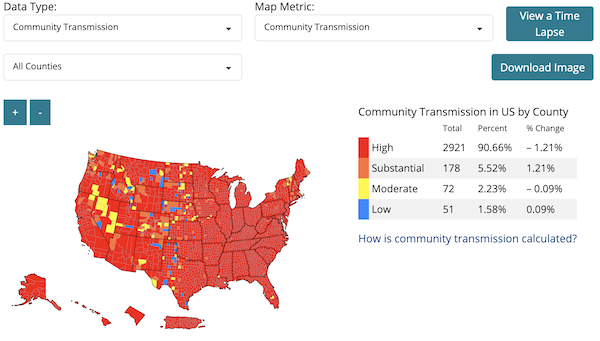 This is actually improving. More yellow in the Plains states and the Mountain states.
NOT UPDATED Rapid Riser data, by county (CDC), August 26: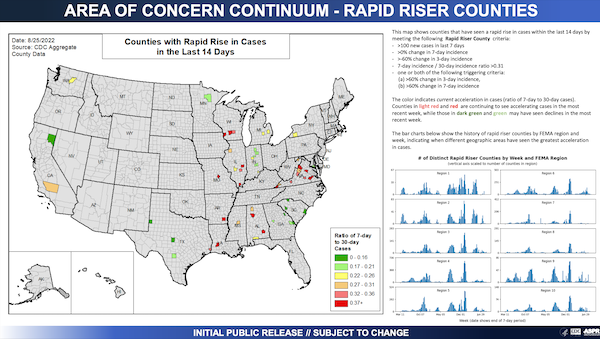 I suppose that if case counts are indeed level, it's likely there would be few rapid risers.
Previous Rapid Riser data: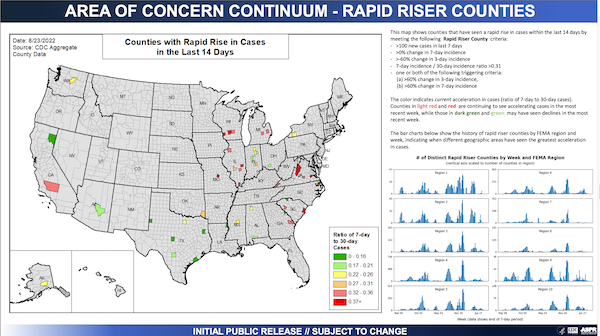 NOT UPDATED Hospitalization data, by state (CDC), August 26: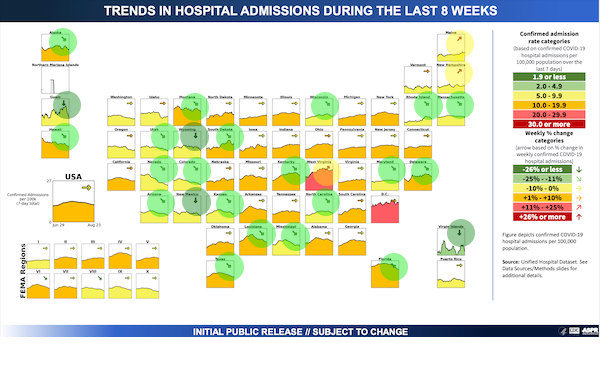 Lots of green, which should make the hospital-centric goons at the Centers for Disease happy.
NOTE: Rapid Riser and Hospitalization data are updated Wednesdays and Fridays.
Variants
Lambert here: It's beyond frustrating how slow the variant data is. I looked for more charts: California doesn't to a BA.4/BA.5 breakdown. New York does but it, too, is on a molasses-like two-week cycle. Does nobody in the public health establishment get a promotion for tracking variants? Are there no grants? Is there a single lab that does this work, and everybody gets the results from them? Additional sources from readers welcome [grinds teeth, bangs head on desk].
NOT UPDATED Variant data, national (Walgreens), August 13: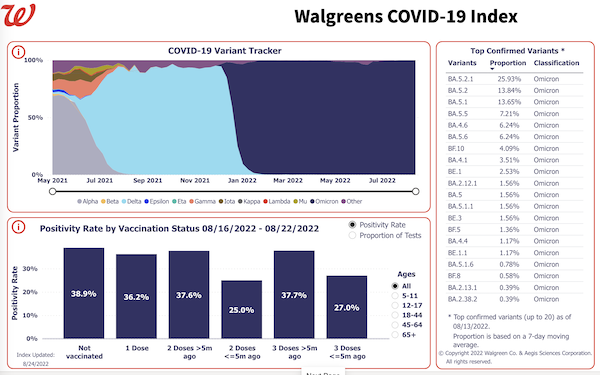 No sign of BA2.75 at Walgreens, despite its success in India and presence in Bay Area wastewater.
NOT UPDATED Variant data, national (CDC), August 6 (Nowcast off):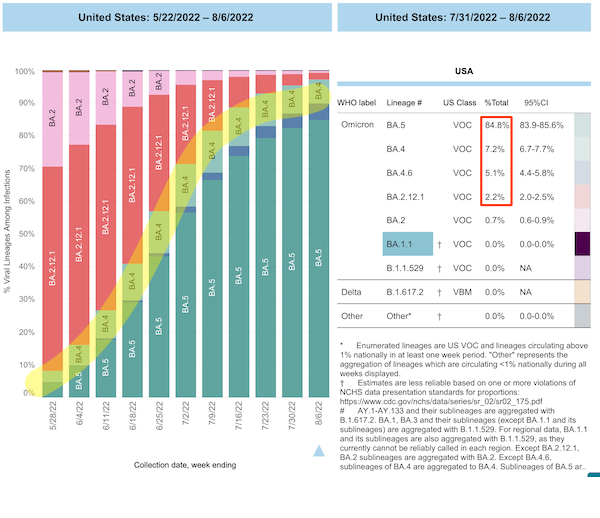 No sign of BA2.75 as yet.
Deaths
Death rate (Our World in Data):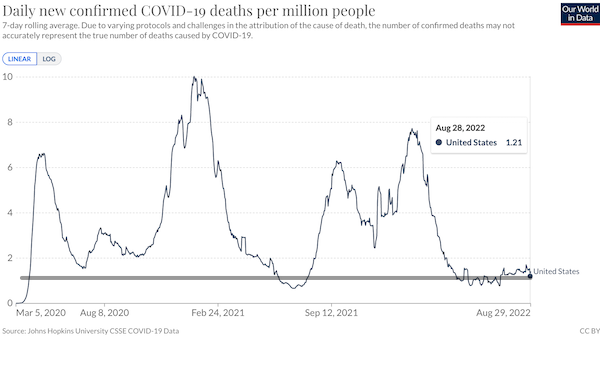 Total: 1,069,499 – 1,068,111 = 1388 (1388 * 365 = 506620, artificially high because of my three-day weekend; today's LivingWith™* number (quite a bit higher than the minimizers would like, thought they can talk themselves into anything. Fluctuates quite a bit, but even the low numbers are bad). I have added an anti-triumphalist black Fauci Line. It's nice that for deaths I have a simple, daily chart that just keeps chugging along, unlike everything else CDC and the White House are screwing up or letting go dark, good job.
Stats Watch
Employment Situation: "United States Job Openings" [Trading Economics]. "The number of job openings in the US rose by 199,000 from a month earlier to 11.2 million in July of 2022, while markets had expected it to drop to 10.45 million. It was the first increase in job openings after three consecutive months of slight declines, reflecting persistent tightness in the labor market amid worker shortages." • Musical interlude.
Housing: "United States Case Shiller Home Price Index YoY" [Trading Economics]. "The S&P CoreLogic Case-Shiller 20-city home price index in the US increased 18.6% year-on-year in June of 2022, the least in six months and well below forecasts of 19.5%. "The mortgage financing has become more expensive as the Federal Reserve ratchets up interest rates, a process that continued as our June data were gathered. As the macroeconomic environment continues to be challenging, home prices may well continue to decelerate", according to S&P Dow Jones & CoreLogic."
* * *
* * *
Today's Fear & Greed Index: 50 Neutral (previous close: 53 Neutral) [CNN]. One week ago: 57 (Greed). (0 is Extreme Fear; 100 is Extreme Greed). Last updated Aug 30 at 1:21 PM EDT.
Rapture Index: Closes unchanged [Rapture Ready]. Record High, October 10, 2016: 189. Current: 187. (Remember that bringing on the Rapture is good.). They're missing Drought and Food Supply. Ya know, I scan the total list, and I've got to wonder if this is yet another number that's being rigged.
The Gallery
Too meta:
Force of habit, 1960 #magritte #belgianart https://t.co/NJiNr2xWjd pic.twitter.com/XwdzYXX3wY

— Rene Magritte (@artistmagritte) August 28, 2022
Wireframes:
Henri Matisse (1869 -1954)
Self Portrait
1944 pic.twitter.com/EYnsmITQCG

— @_rt* (@literatura_rte) August 27, 2022
Sports Desk
"Why Competitive Chess Is as Vicious as 10 Rounds in a Boxing Ring" [Inside Hook]. "I have competed physically all my life. I've hyperextended knees, and had my nose realigned in high-school wrestling. Boxing gloves and a 300-pound hockey defenseman have bruised my ribs. I broke two fingers on one play, in the end zone at a pick-up flag football game (dropped it!). The aggression of chess pales to none of this. Chess is in-close fighting, elbows and knees, pushing and shoving. It's pulling the guy's jersey over his head and punching. It's a knife fight in a phone booth. You can't hide."
Book Nook
A successful formula:
has it occurred to thomas that he might be the problem pic.twitter.com/eRBoSO5A2H

— Janna (@_janna_g) August 28, 2022
Although maybe I should have filed this under "Zeitgeist Watch."
Gunz
Well-regulated militia:
In this video a man in San Antonio gets out of his car and points a gun at a woman who unintentionally cut him off on the highway.

Texas has more fatal road rage shootings than any other state by significant margin thanks to its lax gun laws. #txlege pic.twitter.com/DaX8B6Hof0

— Shannon Watts (@shannonrwatts) August 26, 2022
Personally, I don't need to adjust my personal risk assessment about driving in Texas. But others might!
Zeitgeist Watch
And then they grew up:
To get the children to eat eggs, I would scribble their names on the eggs, and tell them that the chicken had laid that particular egg just for them, and had insisted that the egg be consumed by the child in question. They dutifully ate those eggs for years.

— Fesshole 🧻 (@fesshole) August 27, 2022
News of the Wired
I have no idea where this is from, but I wish I could do it:
Just enjoy pic.twitter.com/BR4ntab5Ec

— Lacan (@Lacan1903) August 28, 2022
* * *
Contact information for plants: Readers, feel free to contact me at lambert [UNDERSCORE] strether [DOT] corrente [AT] yahoo [DOT] com, to (a) find out how to send me a check if you are allergic to PayPal and (b) to find out how to send me images of plants. Vegetables are fine! Fungi and coral are deemed to be honorary plants! If you want your handle to appear as a credit, please place it at the start of your mail in parentheses: (thus). Otherwise, I will anonymize by using your initials. See the previous Water Cooler (with plant) here. From TH: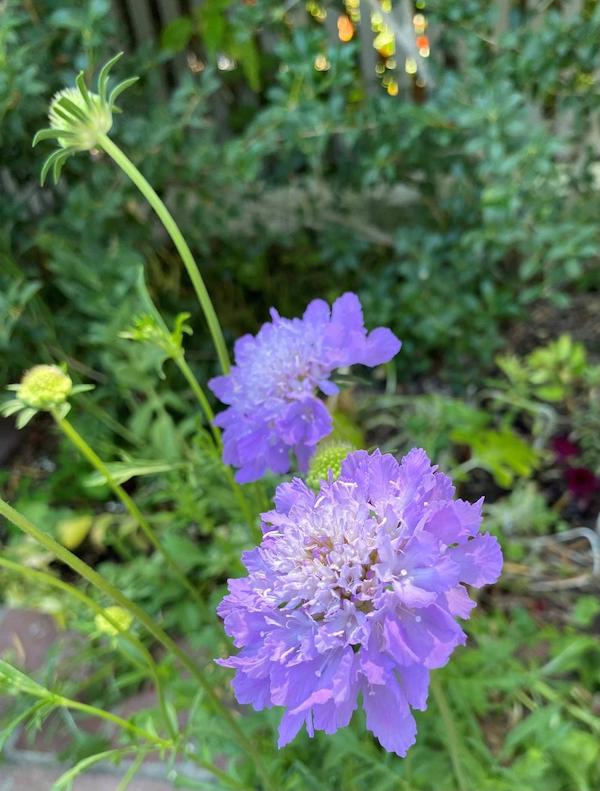 TH writes: "This Scabiosa graces the grounds of the Sherman Library and Gardens in Corona Del Mar (Newport Beach), California. Apparently, it's a member of the honeysuckle family. (Wikipedia claims, and it sounds likely, that 'the common name 'scabious' comes from the herb's traditional usage as a folk medicine to treat scabies, an illness that causes a severe itching sensation')."
* * *
Readers: Water Cooler is a standalone entity not covered by the annual NC fundraiser. So if you see a link you especially like, or an item you wouldn't see anywhere else, please do not hesitate to express your appreciation in tangible form. Remember, a tip jar is for tipping! Regular positive feedback both makes me feel good and lets me know I'm on the right track with coverage. When I get no donations for five or ten days I get worried. More tangibly, a constant trickle of donations helps me with expenses, and I factor in that trickle when setting fundraising goals:
Here is the screen that will appear, which I have helpfully annotated: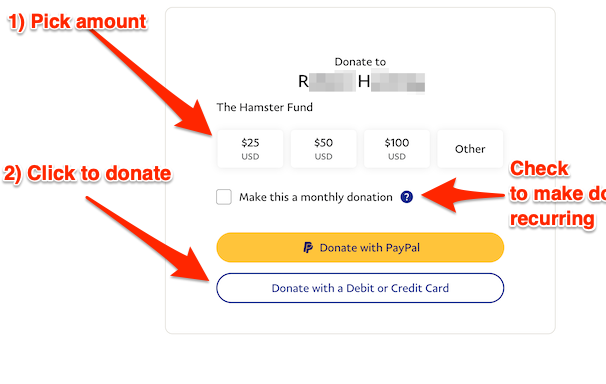 If you hate PayPal, you can email me at lambert [UNDERSCORE] strether [DOT] corrente [AT] yahoo [DOT] com, and I will give you directions on how to send a check. Thank you!