Yves here. I neglected to disentangle a key issue in yesterday's downbeat discussion of Europe's grim energy future. The bottom line was that without an increase in Russian gas, which seems very unlikely absent a regime change so that the EU and Russia repair their economic relations, the EU would have less energy than it needed to meet usual current demand levels. Yes, if the weather is mild and there is a lot of belt tightening, the EU might scrape through this winter, but the deficits will continue and become more constrictive. And the odds even in a favorable scenario for the winter favor "belt tightening" being involuntary, as in to some degree the result of business failures.
However, this real economy shortfall, which could be anywhere from manageably bad to terrible depending on weather and user action, is made much worse in pricing/market terms due to the UK and EU having adopted market-based spot pricing formulas. Due to having too many things to do and not enough time, I will confess to not having yet mastered this topic, but the Richard Murphy post below unpacks the UK scheme.
Now this ought to be good news, in that it means that regulatory reform could render a potentially disastrous situation down to being merely pretty bad, and importantly, prevent a lot of business failures.
However, I am not certain if action could be taken quickly enough to alleviate damage this winter. First, you'd need to have a worked-out replacement pricing scheme. Second, until things got impossibly bad, you would have "industry consultation,' which takes time. Third, and this is a place where the expert commentariat could help, I am highly confident there are a lot of systems involved, both in the wholesale pricing/buying and then in generating consumer bills. We know from bank IT that implementing a new routine across the entire customer base is fraught and even on a crunch basis would take months….six? More?
As we stressed yesterday, merely imposing price caps does not solve the problem of likely and actual shortfalls. High prices, as terrible as they are, do serve as a rationing mechanism. Absent that, what will be the rationing mechanism? Blackouts?
Any input on the legal, regulatory and systems aspects of implementing a change in electricity pricing mechanisms would be very much appreciated. I suspect this is one of those Maine "You can't get there from here" situations, at least in the time frame needed. But I would be delighted to be wrong.
By Richard Murphy, a chartered accountant and a political economist. He has been described by the Guardian newspaper as an "anti-poverty campaigner and tax expert". He is Professor of Practice in International Political Economy at City University, London and Director of Tax Research UK. He is a non-executive director of Cambridge Econometrics. He is a member of the Progressive Economy Forum. Originally published at Tax Research UK
I posted this thread to Twitter this morning:
---
There is much talk happening on how to solve the so-called cost-of-living crisis. Most of it fails to recognise that the problem is much bigger than that: the whole economy is in meltdown. None seems to address the cost of energy itself. A thread on the last point….
No one now doubts that the UK has an economic crisis on an unprecedented scale. My estimates suggest 60% of households are going to struggle to pay their energy and other bills this winter whilst public services and hundreds of thousands of companies might fail.
The focus of most comment so far has been in households. Don't get me wrong. Their inability to pay matters, enormously. But hospitals, schools, care homes and businesses are also facing impossible bills.
I have set out a comprehensive plan to address this in a report called 'Surviving 2023'. It might cost at least £144 billion to get through this winter, which only quantitative easing can provide. Let's not pretend otherwise.
However, there is a dimension to this which is not discussed at all, which is changing the way in which domestic energy is priced in the UK. The rules are set by Ofgem, the government regulator. These prices are set to make matters as bad as possible for everyone but energy companies.
What follows is a little technical. I have checked the facts with energy expert Mike Parr, to whom I am grateful, whilst accepting that all remaining errors are mine alone, having said which I think all that follows is true.
It's important to remember that the goal of energy regulation in the UK is to preserve the privatised energy 'market', whatever else is claimed. In essence, everything it does is meant to ensure that at least some of the companies engaged in this 'market' do not fail.
The way it sets energy prices reflects this. There are lots of ways to generate electricity in the UK. Renewables, nuclear, coal, hydro and gas all play a part. Most are used, except coal, which is now only in emergency use.
The cost of generating electricity using these various methods varies greatly. For example, using gas at current spot market prices costs about £611 per megawatt hour (MWh) right now. Other sources cost about £60/MWh for nuclear, £50/MWh hydro and in the range £50 to £140/MWh for on and offshore wind and PV. Those are big differences.
The electricity we actually get delivered to our houses is from a mix of all these sources. It is total nonsense, for example, that anyone supplies pure renewable electricity. All electricity from all generating sources is mixed together when it goes down the wires to our houses.
Bizarrely, however, that's not how the price is set. The wholesale price of electricity in the UK is set on what is called a 'marginal costing' basis. This is much beloved of economists but is working against the interests of all consumers of fuel right now.
What it means is that the wholesale energy price is set so that the most expensive producer can make a profit from the sales they make into the wholesale energy market.
So, since gas-produced electricity is the most expensive to produce right now (and is likely to be so for a long time to come) its cost of manufacture plus a fair profit margin sets the wholesale price for all electricity right now, however it is generated.
What that means is that those producing electricity from gas can still make a profit and so stay in business at present. But what it also means is that the nuclear, hydro and renewables producers are being paid the price that the gas generators get.
This makes no sense at all. For example, there is no 'marginal cost of production' for wind and solar power: the wind and sun are free. In those cases a marginal costing is simply the wrong one to use.
That is also true of nuclear power, where the cost of production is based on the capital cost of the plant spread over its useful life. Again, a marginal costing basis for pricing makes no sense when the amount of variable input into the nuclear process is tiny.
The result is obvious: the profit in the nuclear and renewable producing companies, who usually make more than half of UK electricity, increase dramatically, and wholly unnecessarily when a marginal costing price setting model is sued to suit gas generators of electricity.
I should, however, add a twist. Many renewable energy producers are already subject to contracts that essentially fix their prices, with the government already taking the risk on price variation. See https://www.lowcarboncontracts.uk/.
Where these contracts exist, and where fixed price contracts guaranteed by the government exist with nuclear producers, the current excess electricity profits arising because prices are based on the cost of gas production already flow to the government, a little-known fact.
There is also a pricing problem in the gas market. The UK produces about half its gas needs, the rest it has to buy internationally. We can't control that international price.
But the energy regulation system lets UK-produced gas be sold at the international price for onward supply to UK consumers, again massively increasing the profits of UK gas-producing companies wholly unnecessarily, and solely because of the pricing model used.
The talk is that a windfall tax could correct for this. That, however, is to ignore the fact that much of the problems that we face has been created by dire regulation, and changing that regulation is also within the scope of government.
Suppose that regulation was changed. Instead of all producers, whether of gas or electricity, being paid the price of the highest cost supplier in their market they were instead paid their own fair marginal cost of production, including a reasonable profit margin.
Then presume that the energy regulator priced the onward supply of wholesale gas and electricity to the energy distribution companies on the basis of the actual cost to produce (including fair profit) of the gas and electricity actually sold into the market each day.
I stress, that for much of the renewables sector and for nuclear this will not be hard to do because of the nature of the government price guarantees that are already in place.
For gas, simply mix internationally priced gas with UK-produced gas at its fair price of production. That's all that is required.
This would, though, require a change in the law. There would be yelling, screaming and shouting from some energy companies despite what I have noted and legal threats galore. These will need to be ignored for one straightforward reason.
That's because customers can no longer afford UK energy prices all UK focussed energy companies are technically bust. There is no market let for the energy they might produce, whether gas or electricity, at the prices currently being asked for it, at least without state aid.
In that case the state can intervene – to save these companies. I am sure a lawyer, somewhere, will see a chance to bring a legal action to dispute that, but the reality is that their chance of success might well be low.
If in doubt, the UK needs to declare this a national emergency with existing laws suspended since, as a matter of fact, it is a national emergency. And if we could do this sort of thing for Covid we could certainly do it now.
What would the impact be? Obviously, it's not precisely possible to say, but broadly speaking the price of gas might reduce by 40% whilst the price of electricity could fall by maybe 65%.
I stress these are estimates and that this move would not solve all the energy problem overnight: the remaining prices are still problematic and massive reforms to the market would still be required. But we would win three things.
The first would be instant reductions in energy costs. Households and businesses, let alone many lives, might be saved as a result.
Second, inflation would be reduced, although not eliminated. Massive pressure would be taken out of the UK economy.
Third, the pressure for state interventions to save households, pubic services and businesses would reduce – although by no means entirely go away.
Those are three massive wins that almost no other reform that could so simply be put in place could deliver.
So why won't this happen? First, because no one in politics seems to know about this. Second, because politics (of most sorts right now) is terrified of upsetting 'the markets', even if those markets crush consumers.
Third, as a result politicians who lack the courage to hold the positions to which they have been elected will not do what is required to protect us from harm.
A decade ago I wrote a book called 'The Courageous State'. It was all about the need for politicians who believed in the power of the state to deliver good for the benefit of the people that they might govern.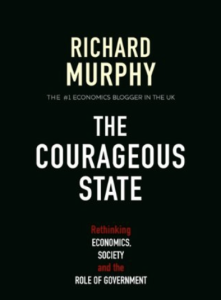 The sad fact is that we don't have such politicians right now. If we did they would be taking action to change energy price regulation right now to protect us all from the harm that those regulations are causing.
We need courageous politicians right now who might be willing to act in the public interest to change the rules of the energy price game to save us all from harm. I can live in hope that this might still happen. I am not holding my breath.