By Lambert Strether of Corrente
This is Naked Capitalism fundraising week. 362 donors have already invested in our efforts to combat corruption and predatory conduct, particularly in the financial realm. Please join us and participate via our donation page, which shows how to give via check, credit card, debit card, or PayPal. Read about why we're doing this fundraiser, what we've accomplished in the last year,, and our current goal, supporting the commentariat.
Bird Song of the Day
Sage Thrasher, Sublette, Wyoming, United States. 35 minutes!
* * *
Politics
"But what is government itself, but the greatest of all reflections on human nature?" –James Madison, Federalist 51
"Here's food for thought, had Ahab time to think; but Ahab never thinks; he only feels, feels, feels" –Herman Melville, Moby Dick
"You can't really dust for vomit." Nigel Tufnel, This is Spinal Tap
Biden Administration
2022
* * *

GA: "Democrats Fret as Stacey Abrams Struggles in Georgia Governor's Race" [New York Times]. "Georgia Democrats have grown increasingly pessimistic about Stacey Abrams's chances of ousting Gov. Brian Kemp from office, pointing to her struggles to rally key parts of her party's coalition and her inability to appeal to a slice of moderate Republican voters who can decide the state's elections. Public and private polls have consistently shown her trailing Mr. Kemp, a Republican seeking a second term. And, in a particularly worrying sign for Ms. Abrams, polls also show she is drawing less support than the other high-profile Democrat on the ballot, Senator Raphael Warnock, who is seeking a first full term. The gap between the two Democrats, which is within the margin of error in some recent surveys and as wide as 10 points in others, highlights the extent of her struggles. Though she is beloved by Democratic voters, she has lost some ground with Black men, who provided crucial backing in her narrow loss to Mr. Kemp in 2018. And while Mr. Warnock draws some support from Republican moderates, Ms. Abrams — who has been vilified more by the G.O.P. than any other statewide figure — has shown little sign of peeling off significant numbers of disaffected Republicans. Ms. Abrams's standing — consistently trailing Mr. Kemp in polls by around five percentage points — has alarmed Democrats who have celebrated her as the master strategist behind Georgia's Democratic shift."• I don't know why anybody's worried about Abrams. She can get any job Neera Tanden will give her.

PA: Fetterman out and about:

I am so deeply honored to march alongside @steelworkers + @joshshapiroPA in the Pittsburgh Labor Day Parade today!

The Union Way of Life is sacred, and I will ALWAYS stand with you in solidarity. pic.twitter.com/Qnp9j13maM

— John Fetterman (@JohnFetterman) September 5, 2022

PA: Ouch

Yet another issue where Oz and I disagree https://t.co/g2Veh2R5Cr

— John Fetterman (@JohnFetterman) September 6, 2022

I think the difficulty with the Oz campaign tactics is that you use them when you want to introduce your opponent to the voters yourself, before they get a chance to. But Fetterman has already introduced himself to PA voters, exhaustively. Meanwhile, Fetterman, by successfully and amusingly casting Oz as a New Jersey interloper, has already introduced Oz.

PA: "Pittsburgh newspaper: Oz has raised 'legitimate concerns' about Fetterman's health" [The Hill]. "The editorial states Fetterman's campaign has acknowledged lingering struggles with speech but asserts that he will fully recover and is taking the necessary steps to do so in speech therapy. It states that a live debate is the best way to determine if Fetterman is up to the job of senator. The editorial board endorsed former President Trump for reelection in 2020, its first time endorsing a Republican for president since 1972. Trump endorsed Oz's campaign in the spring. The board said the legitimate point about Fetterman's health does not excuse the tactics that Oz's campaign has pursued in deciding that Oz will benefit from 'dragging the race deeper and deeper into the muck.'"
Realignment and Legitimacy
"Elected officials, police chiefs on leaked Oath Keepers list" [Associated Press]. "The names of hundreds of U.S. law enforcement officers, elected officials and military members appear on the leaked membership rolls of a far-right extremist group that's accused of playing a key role in the Jan. 6, 2021, insurrection [riot] at the U.S. Capitol, according to a report released Wednesday. The Anti-Defamation League Center on Extremism pored over more than 38,000 names on leaked Oath Keepers membership lists and identified more than 370 people it believes currently work in law enforcement agencies — including as police chiefs and sheriffs — and more than 100 people who are currently members of the military. It also identified more than 80 people who were running for or served in public office as of early August. The membership information was compiled into a database published by the transparency collective Distributed Denial of Secrets. The data raises fresh concerns about the presence of extremists in law enforcement and the military who are tasked with enforcing laws and protecting the U.S. It's especially problematic for public servants to be associated with extremists at a time when lies about the 2020 election are fueling threats of violence against lawmakers and institutions." • It would be interesting to run a diff on the 38,000 Oath Keepers list and the list of contacts in Jeffrey Epstein's little black book + the flight logs, and look for the overlap. My guess? No overlap at all. Funny what's "extreme" and what isn't. Fomenting a war with a nuclear power isn't "extreme." The slaughter of 500,000 or so people in a pandemic isn't extreme. And so forth.
Democrats en Déshabillé
I have moved my standing remarks on the Democrat Party ("the Democrat Party is a rotting corpse that can't bury itself") to a separate, back-dated post, to which I will periodically add material, summarizing the addition here in a "live" Water Cooler. (Hopefully, some Bourdieu.) It turns out that defining the Democrat Party is, in fact, a hard problem. I do think the paragraph that follows is on point all the way back to 2016, if not before:

The Democrat Party is the political expression of the class power of PMC, their base (lucidly explained by Thomas Frank in Listen, Liberal!). ; if the Democrat Party did not exist, the PMC would have to invent it. . ("PMC" modulo "class expatriates," of course.) Second, all the working parts of the Party reinforce each other. Leave aside characterizing the relationships between elements of the Party (ka-ching, but not entirely) those elements comprise a network — a Flex Net? An iron octagon? — of funders, vendors, apparatchiks, electeds, NGOs, and miscellaneous mercenaries, with assets in the press and the intelligence community.

Note, of course, that the class power of the PMC both expresses and is limited by other classes; oligarchs and American gentry (see 'industrial model' of Ferguson, Jorgensen, and Jie) and the working class spring to mind. Suck up, kick down.
#COVID19
• "U.S. Plans Shift to Annual Covid Shots as New Boosters Roll Out" [Wall Street Journal]. I have helpfully underlined the qualifiers in Ashish Jha's craven statement to that effect: "',' said White House coronavirus coordinator Ashish Jha, 'for of Americans, we are where a single annual Covid shot a high degree of protection all year.'" • Gloriosky, it's almost all underlined, isn't it? Commentary:
I don't see any evidence for how an annual Covid shot will provide durable protection (current ones wane after 4-6 months) without better vaccines, such as variant-proof, improved nanoparticles, and nasalhttps://t.co/uytgskKKN9 pic.twitter.com/knjhSjNELL

— Eric Topol (@EricTopol) September 6, 2022
I agree with Topol. I think this is the White House throwing up its hands in despair, shedding all responsibility for Covid, and moving to a commercialized + "personal risk assessment" model. And that's the generous interpretation. More:
A simple message: if you have been vaccinated against COVID in the past, get a new COVID shot this fall, just like you would get an annual flu shot. https://t.co/cKGtSjF2Fu

— Ronald Klain (@WHCOS) September 6, 2022
Klain tweets out a paywalled quote from Wall Street's journal? Really? The White House can't even write up a press release?
"White House Covid Adviser: 'God Gave Us Two Arms' for Covid and Flu Vaccines" [National Review]. ""I really believe this is why God gave us two arms, one for the flu shot and the other one for the COVID shot," said White House Covid response coordinator Dr. Ashish Jha at a Tuesday briefing while pitching the public on new, Omicron-specific vaccine boosters." • This is, I think, the single stupidest statement I have ever heard on Covid. And I have heard a lot of very stupid statements. (I'm running through various reworkings of Jha's trope in my mind, and frankly none of them are fit for a family blog.)
* * *
• China approved a COVID-19 vaccine mist that can be inhaled: the first needle-free booster option" [Business Insider]. "Regulators in China approved a COVID-19 vaccine mist for use as a booster dose, making it the first alternative to injectable vaccines used during the pandemic. The inhaled vaccine contains the same ingredients as the jabs used in China, but a nebulizer machine turns it from liquid into an aerosol spray. The single-dose CanSino shot is about 92% effective at preventing severe disease due to COVID-19, and about 58% effective at preventing illness entirely, according to data reported by the World Health Organization. Clinical trials of the mist as a booster (following a single injected dose of the vaccine) showed it was about as effective as the two-dose vaccine that's widely used in Asia and abroad. The nasal mist may bolster protection in the lining of the nose and upper airways, where the virus typically enters the body, according to the press release." • Hopefully this rollout will help China with its unvaccinated elders problem (leading to fewer lockdowns).
• "Scientists urged the Biden administration to launch an 'Operation Warp Speed' to develop inhaled COVID vaccines. China beat the U.S. to the punch" [Fortune]. "'Intramuscular shots alone…do not provide tissue-level mucosal immunity,' [Topol and Iwasaki] wrote. 'The only path to achieve this will be via nasal or orally administered vaccines.' Topol and Iwasaki said there were 12 nasal spray vaccines in clinical development globally, but it appeared unlikely that one would hit the U.S. market soon. The U.S. Food and Drug Administration has approved only one nasal spray vaccine—for the flu—and has never approved an inhaled vaccine. U.S. President Joe Biden's administration has signaled that it's open to new vaccine delivery methods. '[We are supporting] innovations like nasal sprays and skin patches, instead of needles, to administer vaccines in a more comfortable and accessible way so that everyone in America and around the world can readily benefit from them,' Alondra Nelson, the White House's deputy director for science and society, said in July at a summit on the future of COVID-19 vaccines." • I think Nelson is on the side of the angels. I have yet to see that Nelson has any clout with the Biden administration on Covid policy whatever. Inhaled vaccines that induce mucosal immunity also present the possibility (hamster study) of being sterilizing. They thus threaten two ginormous monopolies: Big Pharma, which wants vaccines with sterilizing immunity about as much as Gillette wants a self-sharpening razor, and hospitals, which have the infrastucture needed for intramuscular injection (and hence the revenues derived from it).
* * *
• "Updated COVID-19 booster shots are now available. Here's what you need to know" [PBS]. • Here's what you really need to know. Topol has a chart that will be helpful in your "personal risk assessment":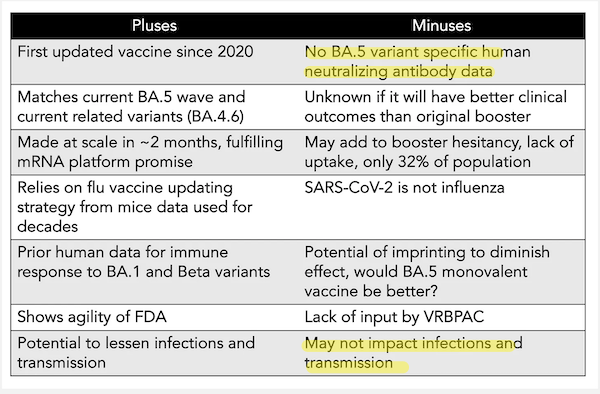 I seem to remember a time — long, long ago, perhaps — when the public health establishment didn't plan "shots in arms" by the millions based on mouse studies. No doubt the powers that be are working to accustom us to this. After mice, AI, I would think.
* * *
• Maskstravaganza: One professor's approach to masking in class:
My goal is that every student is sage in my class. If even ONE student feels unsafe, it is not acceptable…SARS-CoV-2 is still a RG3 human pathogen that can make people very sick. Even those with ADHD have a higher risk, therefore…2/2

— Sphagnum Moss (@moss_sphagnum) September 6, 2022
It's interesting to see the successor ideology's "safe place" narrative repurposed. And:
I expect you to wear a mask in my #science class to reduce the risk of viruses suspended in aerosols. I also have this CO2 monitor to assess risk & you may take a mask break ANYTIME by going outside. Then the students who were NOT wearing a mask responded…3/4

— Sphagnum Moss (@moss_sphagnum) September 6, 2022
I think the notion of a "mask break" is very clever.
* * *
If you missed it, here's a post on my queasiness with CDC numbers, especially case count, which I (still) consider most important, despite what Walensky's psychos at CDC who invented "community levels" think. But these are the numbers we have.
* * *
Case Count
Case count for the United States: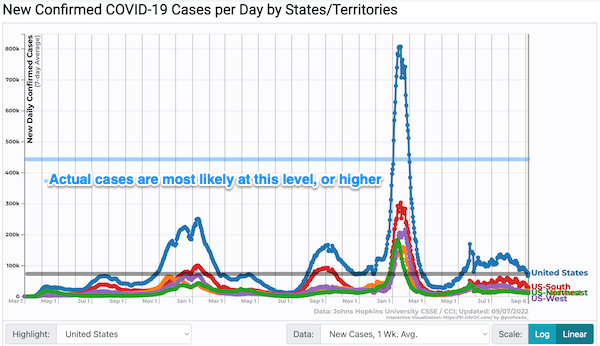 Cases are undercounted, one source saying by a factor of six, Gottlieb thinking we only pick up one in seven or eight.) Hence, I take the nominal case count and multiply it by six to approximate the real level of cases, and draw the DNC-blue "Biden Line" at that point. The previous count was ~65,850. Today, it's ~74,000 and 74,000 * 6 = a Biden line at 444,000 per day. (Remember these data points are weekly averages, so daily fluctuations are smoothed out.) The black "Fauci Line" is a counter to triumphalism, since it compares current levels to past crises. If you look at the Fauci line, you will see that despite the bleating and yammering about Covid being "over," we have only just recently reached the (nominal) case level of November 1, 2021, and we are very far from that of July 1, 2021. And the real level is much worse.
Lambert here: The fall in case count looks impressive enough. What the Fauci Line shows, however, is that we have at last achieved the level of the initial peak, when New York was storing the bodies in refrigerator trucks. So the endzone celebrations are, to my mind, premature. Not that anyone will throw a flag. Of course, the real story is in the charts for California and the South. See below.
Regional case count for four weeks: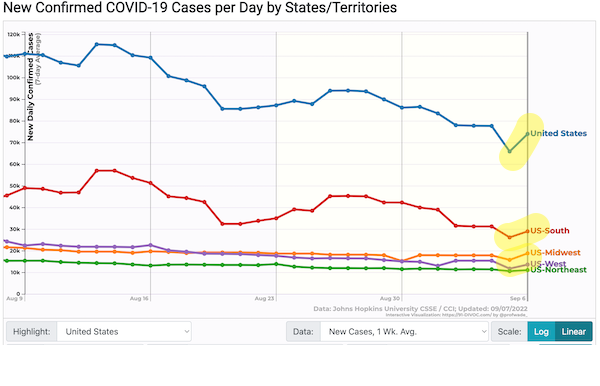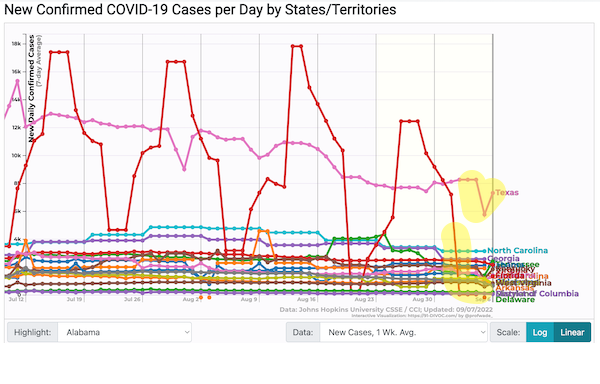 The South (minus Texas and Florida):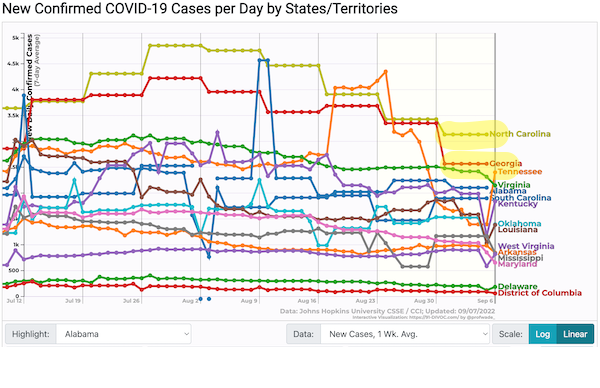 Doing pretty well!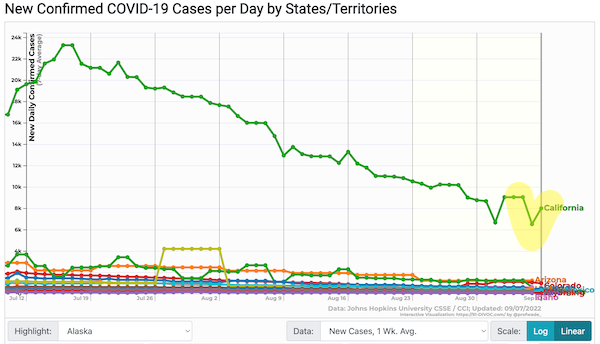 Wastewater
Wastewater data (CDC), September 1: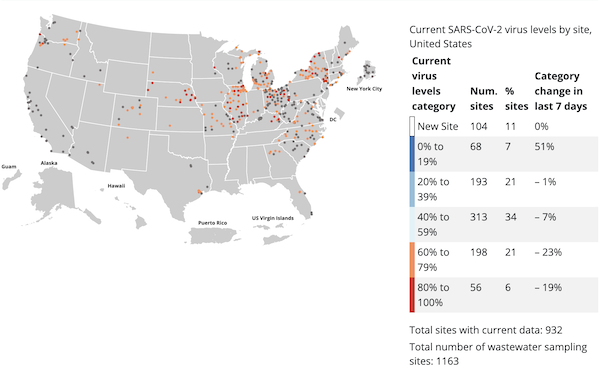 For grins, August 30: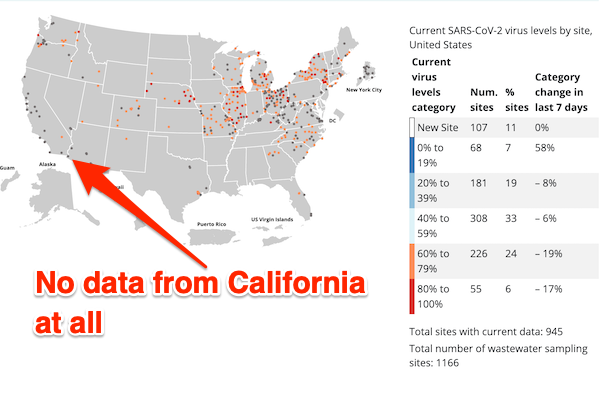 Positivity
From the Walgreen's test positivity tracker, September 7: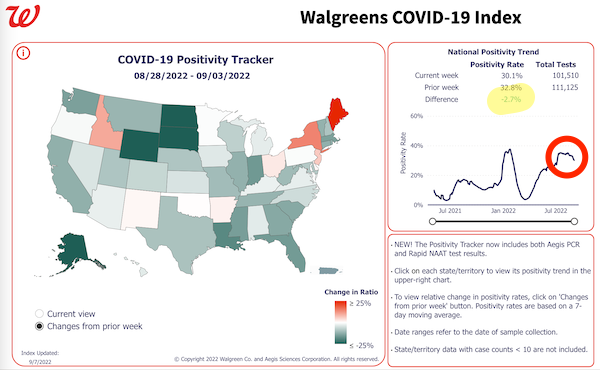 -2.7%. The continuing downward trend inside the red circle is actually encouraging.
Transmission
NOTE: I shall most certainly not be using the CDC's new "Community Level" metric. Because CDC has combined a leading indicator (cases) with a lagging one (hospitalization) their new metric is a poor warning sign of a surge, and a poor way to assess personal risk. In addition, Covid is a disease you don't want to get. Even if you are not hospitalized, you can suffer from Long Covid, vascular issues, and neurological issues. For these reasons, case counts — known to be underestimated, due to home test kits — deserve to stand alone as a number to be tracked, no matter how much the political operatives in CDC leadership would like to obfuscate it. That the "green map" (which Topol calls a "capitulation" and a "deception") is still up and being taken seriously verges on the criminal. Use the community transmission immediately below.
Here is CDC's interactive map by county set to community transmission. (This is the map CDC wants only hospitals to look at, not you.)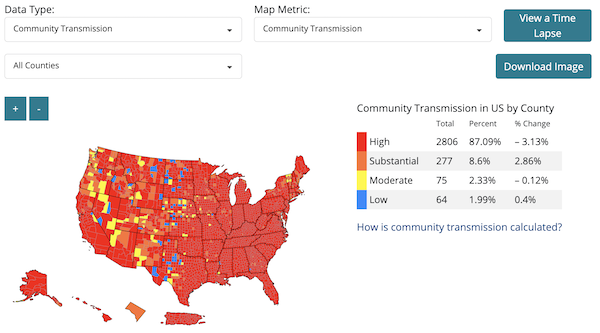 This is actually still improving. More yellow in the Plains states and the Mountain states.
Rapid Riser data, by county (CDC), September 6: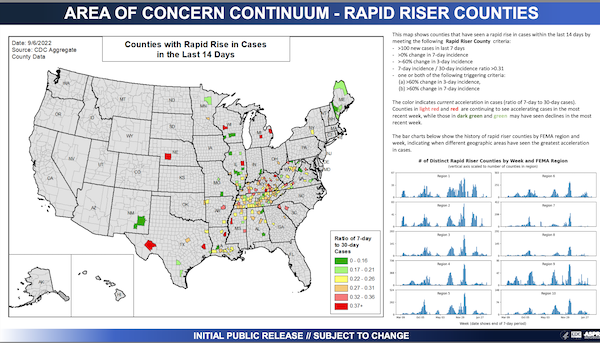 I suppose that if case counts are indeed level, it's likely there would be few rapid risers.
Previous Rapid Riser data: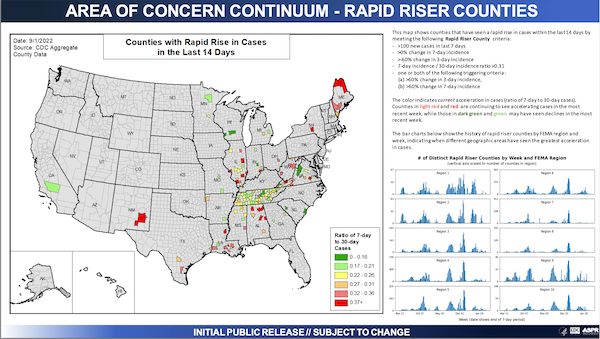 Hospitalization data, by state (CDC), September 6: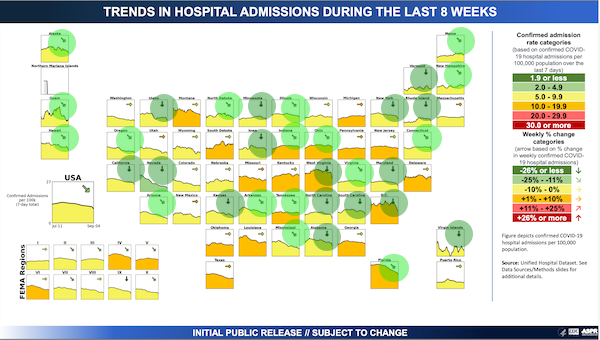 First time in a long time I've seen only green. I do wonder if there's a Labor Day effect, though; not just on the data side, but people thinking "I'm not gonna miss the family barbecue for a little ol' cough." So let's see if this persists.
NOTE: Rapid Riser and Hospitalization data are updated Wednesdays and Fridays.
Variants
Lambert here: It's beyond frustrating how slow the variant data is. I looked for more charts: California doesn't to a BA.4/BA.5 breakdown. New York does but it, too, is on a molasses-like two-week cycle. Does nobody in the public health establishment get a promotion for tracking variants? Are there no grants? Is there a single lab that does this work, and everybody gets the results from them? Additional sources from readers welcome [grinds teeth, bangs head on desk].
Lambert here: The last real — i.e., not modeled — data from CDC is August 6. That's such a ginormous derelection I don't even know what to say. Basic disrespect for honest, hardworking Americans trying to make their "personal risk assessments." How on earth are people supposed to do that without variant data? Do the morons at CDC think BA.5 is going to be the last?
Variant data, national (Walgreens), August 27: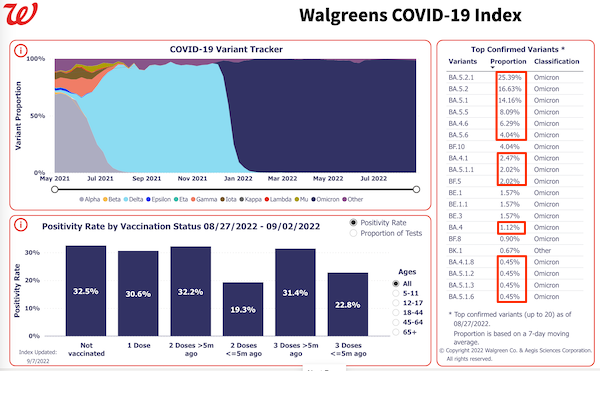 Still no sign of BA2.75 at Walgreens, despite its success in India and presence in Bay Area wastewater.
NOT UPDATED Variant data, national (CDC), August 13 (Nowcast off):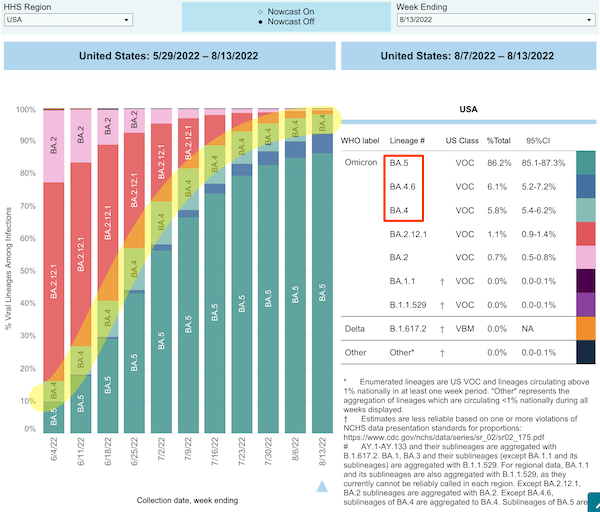 Still no sign of BA2.75.
Deaths
Death rate (Our World in Data):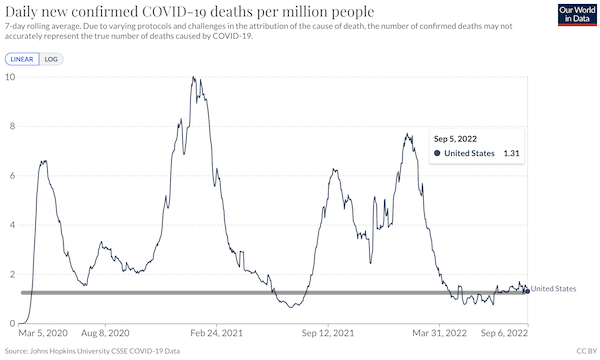 Total: 1,073,295 – 1,072,978 = 317 (317 * 365 = 115,705, which is today's LivingWith™* number (quite a bit higher than the minimizers would like, thought they can talk themselves into anything. Fluctuates quite a bit, but even the low numbers are bad). I have added an anti-triumphalist black Fauci Line. It's nice that for deaths I have a simple, daily chart that just keeps chugging along, unlike everything else CDC and the White House are screwing up or letting go dark, good job.
Stats Watch
There are no official stats of interest today.
* * *
Tech: "Moderna accuses BioNTech/Pfizer of copying mRNA technology" [Financial Times]. "'We are filing these lawsuits to protect the innovative mRNA technology platform that we pioneered, invested billions of dollars in creating, and patented during the decade preceding the Covid-19 pandemic,' said Stéphane Bancel, Moderna's chief executive. He said Moderna is continuing to use its mRNA platform to develop medicines to prevent HIV, influenza and other disease but would consider licensing its technology to rivals on commercially reasonable terms. Pfizer said it remained confident in its intellectual property supporting the Comirnaty jab." • Two scorpions in a bottle….
* * *
Today's Fear & Greed Index: 40 Fear (previous close: 40 Fear) [CNN]. One week ago: 48 (Neutral). (0 is Extreme Fear; 100 is Extreme Greed). Last updated Sep 7 at 1:38 PM EDT.
Zeitgeist Watch
"Up With The Carceral State" [Rod Dreher, The American Conservative]. "I'm in Baton Rouge this month, settling my affairs before moving to Budapest." • Oh.
Class Warfare
"The Pandemic Made the "Viral Underclass" Impossible to Ignore" [The New Republic]. A review of Thrasher's book, The Viral Underclass. "Stigma functions to place the responsibility and blame for the virus solely on the individual; in this way, it obscures what makes people vulnerable to a virus in the first place. Thrasher locates the manufacture of stigma in media and political messaging… "The boundaries for who is and isn't in" the viral underclass, Thrasher adds, are not 'fixed over time.' Sean Strub, who coined the phrase viral underclass, is for instance 'a well-off white man and the mayor of his town,' but also a person whose HIV-positive status 'made him more susceptible to criminal prosecution.' This evocation of shifting membership could be understood as a call for solidarity with the viral underclass, as encouragement to see how you may be already part of it or could be. With this acceptance of our interconnectedness, Thrasher offers, 'our hierarchies might melt away.'" • I have a copy of Thrasher's book, and perhaps I'll review it. But I'm more interested in the viral overclass, but I'm not sure this book will help me. From the TNR review, which may not be a reliable guide, Thrasher has written a book about an underclass without a clear concept of class. For example, where are the essential workers?
News of the Wired
"The Curious Hole in My Head" [New York Times]. The deck: "Born without my left temporal lobe, a brain region thought to be critical for language, I've been a research subject for much of my life." More: "'The brain has incredible neuroplasticity,' said Hope Kean, a graduate student in Dr. Fedorenko's lab who is running the Interesting Brain study as part of her dissertation. It seems that networks in the brain arrange in a particular way, but if you lose crucial brain regions as a baby — when the brain is still very plastic — these networks can reroute, Ms. Kean said."
* * *
Contact information for plants: Readers, feel free to contact me at lambert [UNDERSCORE] strether [DOT] corrente [AT] yahoo [DOT] com, to (a) find out how to send me a check if you are allergic to PayPal and (b) to find out how to send me images of plants. Vegetables are fine! Fungi and coral are deemed to be honorary plants! If you want your handle to appear as a credit, please place it at the start of your mail in parentheses: (thus). Otherwise, I will anonymize by using your initials. See the previous Water Cooler (with plant) here. From TH: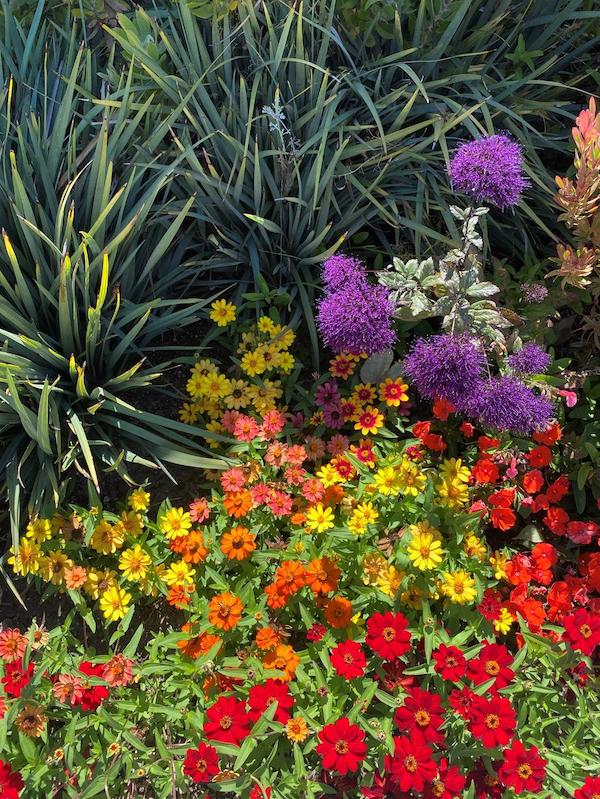 TH writes: "These flowers are near the entrance of the Sherman Library & Gardens in Newport Beach, California. Nice way to advertise the lovely gardens beyond the gate, right?"
Carla writes: "The marshmallows are blooming at Shaker Nature Center in NE Ohio. Marshmallow root was traditionally used to give marshmallow candies their characteristic sponginess. It is used to treat many illnesses & conditions around the world. August 2022."