By Lambert Strether of Corrente
Bird Song of the Day
Warbling Vireo. Loney Meadow, Nevada, California, United States. Nevada, California?
* * *
Politics
"But what is government itself, but the greatest of all reflections on human nature?" –James Madison, Federalist 51
"Here's food for thought, had Ahab time to think; but Ahab never thinks; he only feels, feels, feels" –Herman Melville, Moby Dick
"The logic of the insult and the logic of scientific classification represent the two extreme poles of what a classification may be in the social world." –Pierre Bourdieu, Classification Struggles
Biden Administration
"Immigrant advocates feel abandoned as they stare at Biden's first-term checklist" [Politico]. • Sure, sure, NGOs gotta NGO. Nevertheless….
2022
* * *

Festival of Fetterman:

I think we would do well to remember a column by Greenwald: "Your Top Priority is The Emotional Comfort of the Most Powerful Elites, Which You Fulfill by Never Criticizing Them." It's clear that, party loyalties aside, many of the press resented being put in the position of covering (ick) a recovering stroke victim:

There is no amount of empathy for and understanding about Fetterman's health and recovery that changes the fact that this is absolutely painful to watch.

— Olivia Nuzzi (@Olivianuzzi) October 26, 2022

Yes, heaven forfend that reporters — reporters, I'm tellin' ya — should ever be forced to watch anything painful. For shame!

FWIW — virtually nothing without polling data and in any case the news flow is totally polluted by desperate partisans — (1) the election depends on how much social capital Fetterman built up criss-crossing "every county" in the state. PA is a gritty state; plenty have suffered as Fetterman has, and have recovered. Plenty have gone in to work not feeling their best. But enough? And (2): A very good test of internal Democrat polling will be if Obama gets on the same stage as Fetterman. (I don't think this is a good idea, but the party establishment does.) Obama never does anything that he thinks will put him in a bad light, and he moves away from trouble like a cat away from an overturned vase. And again–

"Fetterman's painful debate" [Axios]. Poor babies! Pain: "Multiple sources wondered why Fetterman agreed to debate when he clearly wasn't ready. Fetterman struggled at times to respond to the moderators' questions, even with the assistance of a closed captioning device. It's hard to see how Fetterman's debate performance alleviated the concerns of the skeptics." • Probably would have been worse if he hadn't.

"Top political debate coach says Fetterman's performance against Oz shows he is 'not ready to serve" [FOX News]. • This is just dumb. I don't have the list of Senators who have recovered from strokes while in office to hand, but it's not short. Heck, Massachusetts Republicans returned Charles Sumner when he couldn't even serve after slaveowner Preston Brooks caned him. Way too much aghastitude on this. In any case, I'd vote for Fetterman over a puppy-killing charlatan like Oz if Fetterman were still strapped to a gurney.

"'It was tough': Fetterman supporters voice concern that debate performance will sway undecided voters" [CNN]. "In conversations with CNN, multiple Fetterman voters said that, while his performance made them anxious about his prospects with swing voters, they still planned to cast a ballot for him. In fact, none of the voters who entered the night planning to vote for the Democrat said they were planning to change their vote. 'It was tough," said Karin Tatela, an educator from Chester County who was at the May event Fetterman had to cancel last minute because of his stroke. 'I told my friend, I said, 'I don't really want to watch, it is kind of like looking at a car accident. You want to look, but you don't want to look.'' Tatela, however, said she still plans to vote for Fetterman. 'I cannot vote for that,' she said, talking a long pause to stop herself from attacking Oz. 'I would never vote for Oz. I don't care if they had to wheel Fetterman into the Senate in a hospital bed. But I think we could be in a little bit of trouble here.' She is not alone." …. [Ryan Boyer, the first Black leader of the Philadelphia Building & Construction Trades Council] told CNN that the union's political arm, in a meeting immediately after the debate, had a 'brutally honest' call and discussion about the candidates' performances. 'To a person, I mean, listen, it was hard to watch, but . We asked the question, 'Did you understand what he was saying?' And that's the most important thing. 'Did you understand his feelings?'And yes, it came off," Boyer said." • Interesting.

Greenwald's commentary:

(Now that that above @vanguard_pod broadcast is over, the part to watch begins at 1:12:00. I really recommended it. Again, these two are leftists who love Fetterman. But watch what intellectually honest people do versus partisan hacks):https://t.co/eoHepDXCNX

— Glenn Greenwald (@ggreenwald) October 26, 2022

"Fetterman campaign says it raised $1 million in 3 hours after rough Pennsylvania Senate debate with Oz" [CNBC]. "Pennsylvania Lt. Gov. John Fetterman's campaign said Wednesday it raised more than $1 million in just three hours following the Democratic Senate candidate's debate with his Republican rival, Dr. Mehmet Oz. The 'sunprecedented' haul demonstrates "deep grassroots enthusiasm" for Fetterman, his campaign said." • Depends on whether the money is in-state or not. Amy McGrath raised a boatload of money too, and look what happened to her.

Federalism in action:

Holy shit: Oz says his abortion position: should be between "a woman, her doctor, and local political leaders" #PASenDebate pic.twitter.com/UDiJvDYHYo

— Pat Dennis (@patdennis) October 26, 2022

Note this clip is from American Bridge. This, like the fundraising totals above, tells me that the liberal Democrat apparatus — no doubt out of desperation — is now backing Fetterman full force. But pushing a string? We'll see.

* * *

PA: "How Rep. Matt Cartwright, A Progressive Democrat, Survives In Trump Country" [HuffPo]. "Cartwright is even a member of the Congressional Progressive Caucus in good standing. He is a co-sponsor of 'Medicare for All' legislation, and an outspoken critic of Big Pharma and Wall Street's influence in Washington. To progressive activists like Alex Lawson, executive director of Social Security Works, a group pushing to expand Social Security benefits, Cartwright's success is an example that, contrary to what some special interests and pundits say, economic populism sells in tough districts. 'Cartwright is the type of member in a tight district who understands that people want very commonsense things like lower drug prices, increased Social Security benefits — things that people agree on,' Lawson told HuffPost. 'It's so basic that it's hard to understand that it's rare in D.C.'" • Universal concrete material benefits….

TX: "Lina Hidalg\o, a rising Democratic star, faces a tough reelection race to lead Harris County" [Texas Tribune]. • Being a Democrat "rising star" is a lot like being on the cover of Sports Illustrated; some careers never recover. Stacey Abrams and Beto O'Rourke were both rising stars.

WA: "Democrats scramble to avert shock Senate loss in Washington state" [Politico]. "Democrats are adding millions in television spending to boost Sen. Patty Murray, a sign that the party is employing a take-no-chances approach even in solidly blue Washington state. The 30-year veteran of the Senate is facing a challenge from Republican Tiffany Smiley, a political newcomer whose campaign has seized on quality-of-life issues, from urban crime and homelessness to inflation, to tarnish Murray. In recent public polling, Smiley has closed a sizable gap since this summer, when Murray led by 18 percentage points in an 18-candidate, all-party primary. A Seattle Times poll released last week showed Murray slipping slightly, from 51 percent in a July survey to 49 percent now, with Smiley's support increasing from 33 percent this summer to 41 percent now. The poll also finds that Smiley has improved with independents in the state, capturing 50 percent of their support to Murray's 34 percent. The national political environment currently favors Republicans in the midterms, and the fact that Democrats are spending to shore up an incumbent in a solidly blue state is not a good sign for them.

* * *

"Graphic misrepresents House GOP agenda" [Associated Press]. "CLAIM: An image shows the House Republicans' "Commitment to America" plan, including raising the eligibility age for Medicare from 65 to 75 and making retirees with pensions, 401(k)s or disabled veterans' benefits ineligible for Social Security payments. AP'S ASSESSMENT: False. The image shows policies that don't match the language in House Republicans' actual plan. While Republicans lawmakers have suggested raising the age for Medicare, the Commitment to America does not give a specific age, and there is no evidence of lawmakers proposing other policies as worded in the graphic. THE FACTS: With the midterm elections just weeks away, social media users are sharing a misleading graphic claiming to outline House Republicans' policy plan." • You'd think Democrats would have compiled such an outstanding record that they wouldn't have to resort to distorting Republican proposals, which are sure to be awful anyhow (at least domestically).

Meanwhile, out in flyover (San Antonio):

Funny I once kinda planned this trip around upcoming elections. In 4 days so far I've heard absolutely nobody talk about them. Or about politics at all.

Idea we're a country torn apart by politics is only true for about 1/3 of people. Most everyone else is just trying to get by

— Chris Arnade 🐢 🐈‍⬛ (@Chris_arnade) October 26, 2022
Democrats en Déshabillé
Patient readers, it seems that people are actually reading the back-dated post! But I have not updated it, and there are many updates. So I will have to do that. –lambert

I have moved my standing remarks on the Democrat Party ("the Democrat Party is a rotting corpse that can't bury itself") to a separate, back-dated post, to which I will periodically add material, summarizing the addition here in a "live" Water Cooler. (Hopefully, some Bourdieu.) It turns out that defining the Democrat Party is, in fact, a hard problem. I do think the paragraph that follows is on point all the way back to 2016, if not before:

The Democrat Party is the political expression of the class power of PMC, their base (lucidly explained by Thomas Frank in Listen, Liberal!). ; if the Democrat Party did not exist, the PMC would have to invent it. . ("PMC" modulo "class expatriates," of course.) Second, all the working parts of the Party reinforce each other. Leave aside characterizing the relationships between elements of the Party (ka-ching, but not entirely) those elements comprise a network — a Flex Net? An iron octagon? — of funders, vendors, apparatchiks, electeds, NGOs, and miscellaneous mercenaries, with assets in the press and the intelligence community.

Note, of course, that the class power of the PMC both expresses and is limited by other classes; oligarchs and American gentry (see 'industrial model' of Ferguson, Jorgensen, and Jie) and the working class spring to mind. Suck up, kick down.

* * *
Realignment and Legitimacy
Elevator pitch: "Groundhog Day, but 1938":

Foreign policy is one of those topics that is off-limits to substantive debate in the United States particularly when the underlying issue is important. Any hint of debate ends with one side pummeling the other with World War II analogies until it's over.

— Murtaza Hussain (@MazMHussain) October 26, 2022

Identity politics at home merges with supporting fascists abroad:

Everyone should read this @RepRaskin statement because it's basically a manifesto declaring Progressive Holy War against Russia by way of Ukraine. I honestly think they'd be OK getting incinerated in a nuclear holocaust if it meant staying true to this ideological "struggle" pic.twitter.com/YltXrA2IT0

— Michael Tracey (@mtracey) October 25, 2022

"They're Nazis!" "Yes, but they're women Nazis!"

"Pro-Trump conspiracy theorists hound election officials out of office" [Reuters]. "Businessman Robert Beadles claimed he had found evidence of widespread voter fraud in the 2020 election. Then he went on the attack, targeting a 48-year-old woman who runs elections in Nevada's Washoe County. 'Now, let's talk about treason. That's right, treason,' Beadles told a Feb. 22 county commissioners' meeting in Washoe, the second-largest county in this election battleground state. The Republican activist falsely accused the registrar of voters, Deanna Spikula, of counting fraudulent votes and told commissioners to 'either fire her or lock her up.' After the meeting, Spikula's office was flooded with hostile and harassing calls from people convinced she was part of a conspiracy to rig the election against former U.S. President Donald Trump. On March 2, a caller threatened to bring 100 people to the county building to 'put this to bed today.' Spikula, under severe stress, stopped coming into the office. A post on Beadles' website said she was 'rumored to be in rehab.\ That was false, she said; she was at home, working on a state elections manual. By late June, fearing for her family's safety, she'd had enough and submitted her resignation. Beadles' campaign in Washoe is part of a wave of efforts by pro-Trump activists to gain control of voting administration by replacing county government leaders with election conspiracy theorists. Some are spending big money. In Nevada, Beadles has poured hundreds of thousands of dollars into campaigns targeting opponents of Trump's false rigged-election claims and backing Republicans who believe them. The goal: to profoundly change how U.S. elections are run. . Trump allies have also targeted the ballot drop boxes and mail-in voting that Democrats embraced in the 2020 election." • What was done to Spikula by Beadles is wrong. At the same time, the demand for hand-counting (and presumably hand-marking) is right. And I would sure like to see the "experts" who say the "gold standard" (sorry) for ballot counting is more prone to fraud than software black boxes (looking at you, Iowa Democrats). The Democrats. of course, could have done the right thing and gotten out front on this long ago, and of course they didn't.
#COVID19
• "Biden Covid officials scramble to plan for Omicron subvariant threat" [Politico]. From October 17, still germane: "The emergence of the "BQs," as health officials have referred to the variants internally, represents a fresh threat to Biden's broader pandemic strategy, which has increasingly hinged on shielding vulnerable populations while encouraging a return to normalcy for most other Americans." That is, one notes, the strategy advocated by the Great Barrington cabal; otherwise, it's "Let 'er rip!" Query: If you are a member of a "vulnerable population," do you feel "protected"? Thought not. More: "But . '*. It should start to have an influence on how dominant it is going to be as we get into the late fall and early winter,' Fauci said, referring specifically to the BQ 1.1 variant. 'It's a little bit of a black box, depending upon prior vaccinations, prior exposures and what region of the country you're in.'" • And by the time you know, it's too late, you eugenicist freak [bangs head on desk]. And Politico, you too: Even as the treatments fail, nothing, nothing about anything but vax.
* * *
• This thread is a good example of what I mean by exceptional (like IM Doc; as opposed to hegemonic) PMC:
Within days of that, it was upon us. Folks with a new cough. Blood oxygen levels horrifyingly low. Blood pressure oddly high. Labs that made no sense. Then the CT scans came in. Ground glass opacities. The telltale gray fluff all across the lungs. Unlike anything we'd seen. 2/18

— McNadoMD (@McNado1) October 24, 2022
And:
Every time somebody unexpectedly had a cardiac arrest, we had to decide if we could save them, and would we die trying. Thousands of nurses and staff did. Scores of doctors as well. I got COVID pulling someone back from the brink. The risk was constant. 12/18

— McNadoMD (@McNado1) October 24, 2022
* * *
• A good thread on how even the reasonable well-read and good intentioned don't know enough to protect themselves and others:
My sister was a close contact of a person who tested positive. Here's all the ways I know our public health system is failing us: 1/

— Gun Owner For Gun Control (@ignorantprophet) May 5, 2022
Concluding:
Where's the omicron-specific booster? Where's the agile policy response that triggers mandates when and where surges happen? Where's the clear risk communication? Where's the accurate messaging? Why the fuck do I have to dig for all of that on twitter? 10/

— Gun Owner For Gun Control (@ignorantprophet) May 5, 2022
* * *
• Ammo against the RCT goons:
"Why is this study not being done?"

Because it would be psychopathic. pic.twitter.com/6RPW71F1q0

— Dr David Berger, aBsuRdiSTe cROnickLeR (@YouAreLobbyLud) October 26, 2022
* * *
• "Correcting misperceptions of exponential coronavirus growth increases support for social distancing" [PNAS]. From 2020, still germane: "ne of the most effective ways to prevent the illness is social distancing. At the same time, a sizeable portion of the public fails to see the necessity of such measures. We identify one root cause for this: People mistakenly perceive the coronavirus to grow in a linear manner, underestimating its actual potential for exponential growth. We show that correcting this perceptual error significantly increases support for social distancing. This research shows the importance of statistical literacy among the general public for increasing support to fight the coronavirus using the most effective method currently available." • Another (assuming good faith) miserable failure in scientific communication by the public health establishment.
* * *
Transmission
Here is CDC's interactive map by county set to community transmission. (This is the map CDC wants only hospitals to look at, not you.)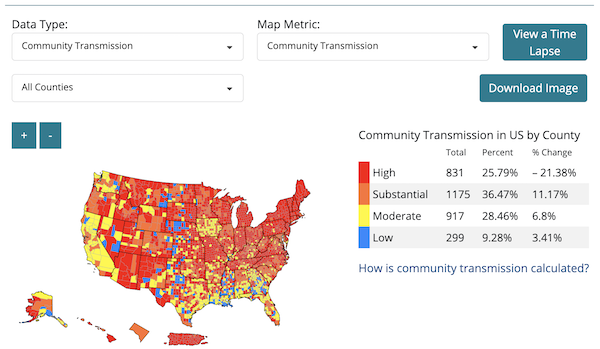 Lambert here: I have to say, I'm seeing more and more yellow and more blue, which continues to please. But is the pandemic "over"? Well….
Positivity
From the Walgreen's test positivity tracker, October 24: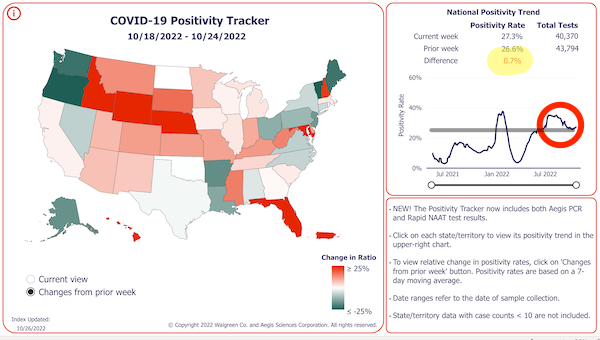 0.7%. Faster increase.
Readers, please click through on this, if you have a minute. Since Walgreens did the right thing, let's give this project some stats.
Variants
Lambert here: It's beyond frustrating how slow the variant data is. Does nobody in the public health establishment get a promotion for tracking variants? Are there no grants? Is there a single lab that does this work, and everybody gets the results from them? Additional sources from readers welcome [grinds teeth, bangs head on desk].
Variant data, national (Walgreens), October 7: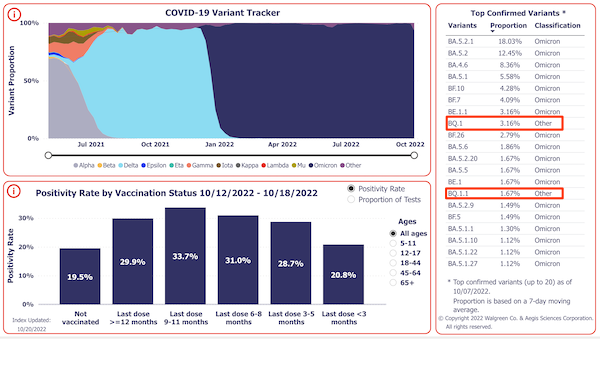 Lambert here: BQ.1*, out of nowhere. So awesome.
Variant data, national (CDC), October 1 (Nowcast off):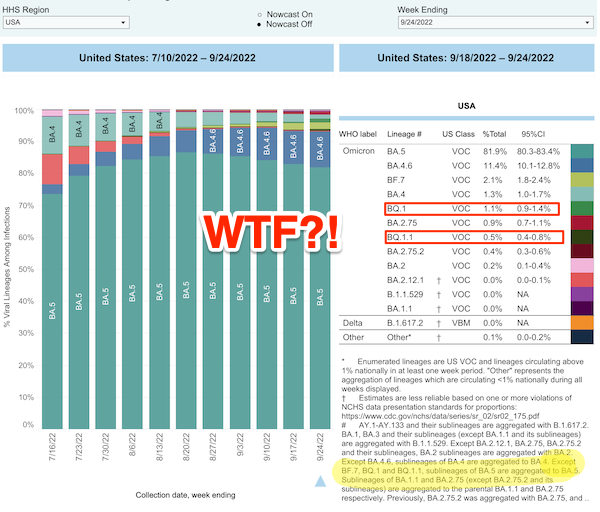 Deaths
Death rate (Our World in Data):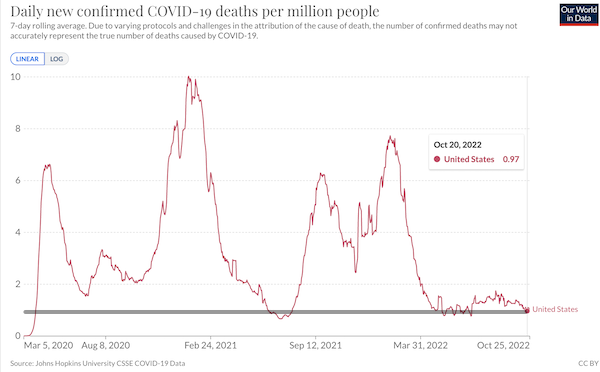 Total: 1,093,338 – 1,093,153 = 185 (185 * 365 = 67,525, which is today's LivingWith™ number (quite a bit higher than the minimizers would like, though they can talk themselves into anything. If the LivingWith™ metric keeps chugging along like this, I may just have to decide this is what the powers-that-be consider "mission accomplished" for this particular tranche of death and disease.
It's nice that for deaths I have a simple, daily chart that just keeps chugging along, unlike everything else CDC and the White House are screwing up or letting go dark, good job.
Stats Watch
There are no official stats of interest today.
* * *
Energy: "Exxon's Exodus: Employees Have Finally Had Enough of Its Toxic Culture" [Bloomberg]. "Shortly after Exxon Mobil Corp. lost its battle with an activist investor last year, an executive named Bill Keillor decided to give his department a morale boost…. So Keillor, whose title is global IT vice president, and his leadership team organized an awards ceremony to take place at Exxon's Houston campus. They posted an invite on Yammer, an internal social network, with Keillor's face cropped onto a tuxedo. With many employees still working remotely, most tuned in via Zoom. Keillor started by thanking everyone for their hard work over the past year, presented awards to three top-performing teams, and then opened the floor to questions. It was at this point things started to unravel, according to four people present who spoke on condition of anonymity. The software developers, data analysts, and technicians who run Exxon's vast computing network, which helps the company manage everything from drilling wells to pipeline flows, were in no mood to celebrate. Emboldened by the virtual format, they began firing off tough questions. They wanted to know if there would be more layoffs, whether remote working would continue after the pandemic, and whether Exxon was willing to raise pay to the level of major tech companies. To an outside observer, the scene might have appeared like a slightly tense version of your average corporate town hall. But within Exxon, famous for its top-down, buttoned-up, authoritarian culture, where employees rarely challenge their superiors, and certainly not in an open forum, the moment had the strong whiff of rebellion. As Keillor bristled, other managers stepped in to take some questions, deflecting attention from the boss. But eventually, Keillor had had enough and snapped. If you want to be a 'hotshot' and triple your pay working for Amazon, then go right ahead, the people recall him saying. 'Good luck to you.' Rather than be humbled by the scolding, staffers began circulating memes mocking the event in private chat groups, which rapidly spread across the company."
Tech: "Scientists rename human genes to stop Microsoft Excel from misreading them as dates" [The Verge]. "Excel is a behemoth in the spreadsheet world and is regularly used by scientists to track their work and even conduct clinical trials. But its default settings were designed with more mundane applications in mind, so when a user inputs a gene's alphanumeric symbol into a spreadsheet, like MARCH1 — short for 'Membrane Associated Ring-CH-Type Finger 1' — Excel converts that into a date: 1-Mar. This is extremely frustrating, even dangerous, corrupting data that scientists have to sort through by hand to restore. It's also surprisingly widespread and affects even peer-reviewed scientific work. One study from 2016 examined genetic data shared alongside 3,597 published papers and found that roughly one-fifth had been affected by Excel errors." • Thanks, Bill.
Tech: Binary thinking:
The premise was simple: You upload a picture of yourself and other users can vote on your hotness, attaching a hard number to human interaction. Fast forward two decades and likes/upvotes/followers dictate our personalities, incentivizing all sorts of nightmare behavior.

— Jason Pargin, author of John Dies at the End, etc (@JohnDiesattheEn) October 21, 2022
* * *
Today's Fear & Greed Index: 56 Greed (previous close: 52 Neutral) [CNN]. One week ago: 34 (Fear). (0 is Extreme Fear; 100 is Extreme Greed). Last updated Oct 25 at 1:37 PM EDT. A swing to greed? Weird. Honestly, if it means Mr. Market thinks there won't be a nuclear war, I'm a happy camper. But still…
Groves of Academe
Comp 101:
I asked if they had ever read a STEM report before that had sections like this where a study was conducted then reported on. All of the students, ALL of them, said they hadn't ever seen anything like this before in high school.

— Dr. Literature Lady (@Literature_Lady) October 24, 2022
And:
Profs will be told to fix this. We will be held accountable & reprimanded for our abysmal grades. We will be once again pressured to either lower our standards (despite HLC accredidation goals) to pass students or risk bad performance reviews. BUT HOW AM I SUPPOSED TO FIX THIS?!

— Dr. Literature Lady (@Literature_Lady) October 24, 2022
I'm not sure it's the pandemic. Anyhow, it's obvious why our political class would want China to drop Zero Covid. and it's not just to keep our supply chains unkinked.
Our Famously Free Press
Yup:
The Final End, 1992 #ruscha #popart https://t.co/DIlmO5eUwf pic.twitter.com/OcmupvEJME

— Ed Ruscha (@ArtistRuscha) October 26, 2022
The Gallery
"Remembering Peter Schjeldahl, a Consummate Critic" [The New Yorker]. Schjeldahl: "Critical attention to him may rise and fall. For anyone undertaking to pay it, though, there can be no ups or downs in Mondrian's importance, relative to other artists past, present, and to come. There is only a steady state of inexhaustible meaning, beggaring comparison and defying definition. Even the critically consummate Janssen, with his magnum opus of a biography, can merely dance around, and not penetrate, the adamantine conundrum of the Dutch magus's dead stops in lived time." • Mondrian:
Composición con amarillo, rojo, negro, azul y gris, por Piet Mondrian, 1920, óleo sobre lienzo,

La abstracción geométrica#Neoplasticismo #DeStijl pic.twitter.com/MpZwtwPhXU

— Manuel Ruiz-Adame (@ManuelRuizAdame) October 15, 2022
Really? Here's some real art, also Dutch by origin if not in fortune:
A Coign of Vantage by Lawrence Alma-Tadema https://t.co/WfVSLFbu77 pic.twitter.com/w76tB4c6vi

— Cory Doctorow (@doctorow) October 26, 2022
Good to see Alma-Tadema returning from undeserved obscurity!
Zeitgeist Watch
Trace it out:
The Minotaur in his Labyrinth

Roman mosaic

Conímbriga, Portugal

3rd century CEhttps://t.co/4g70Lqh44C pic.twitter.com/fzKSTVay4n

— Cory Doctorow (@doctorow) October 26, 2022
The Allman Brothers were optimists, too:
Class Warfare
"The MTA Says Immigrant Subway Cleaners are Not Entitled to Prevailing Wages" [Documented]. "When Jose Luis Dominguez describes his time working as a subway cleaner for NV Maintenance Services, it's difficult for him not to get angry. One incident sticks out in his mind in particular; his supervisors found out he was driving his co-workers to work every morning. After warning him not to do that, the company arbitrarily ruled that co-workers were not allowed to arrive to work together. 'We weren't allowed to talk to each other. We weren't allowed to be friends. We weren't allowed to use our phones,' he said. 'At the end, things started to get even worse when we weren't allowed to ride together to work.' To make matters worse, workers were required to arrive a half hour early before their shift and would be sent home if they weren't early, Dominguez and his co-worker Hemer Perez said. They were not paid for that time. They also claim that paychecks often had hours missing and overtime pay was not calculated. Workers were also not paid the prevailing wage of at least $28 an hour plus benefits, instead only being paid $20. Under New York State Labor Law, all contractors and subcontractors must pay their employees the prevailing rate of wage and benefits to all workers under a public works contract. When Dominguez and Perez began speaking up about their conditions they were fired. NV Maintenance Services is one of nearly two dozen cleaning companies that were contracted by the MTA to disinfect subway cars during the height of the pandemic."
News of the Wired
"Why men's trousers so rarely fit" [Financial Times]. I don't have trousers. I have pants. That said, I can't disagree with the conclusion: "We should all spend a little more money on our trousers." • Clothes that fit well and last a long time are worth the extra. Too bad it's so hard to find them!
Apparently, this was a real product:
"What made you get into finance?"

ngl pic.twitter.com/xVt57ahBmT

— 88888 ACCOUNT (@88888sAccount) October 25, 2022
Maybe Justine Haupt could add a lighter to her Rotary Unsmartphone™?
* * *
Contact information for plants: Readers, feel free to contact me at lambert [UNDERSCORE] strether [DOT] corrente [AT] yahoo [DOT] com, to (a) find out how to send me a check if you are allergic to PayPal and (b) to find out how to send me images of plants. Vegetables are fine! Fungi and coral are deemed to be honorary plants! If you want your handle to appear as a credit, please place it at the start of your mail in parentheses: (thus). Otherwise, I will anonymize by using your initials. See the previous Water Cooler (with plant) here. From Angie Neer: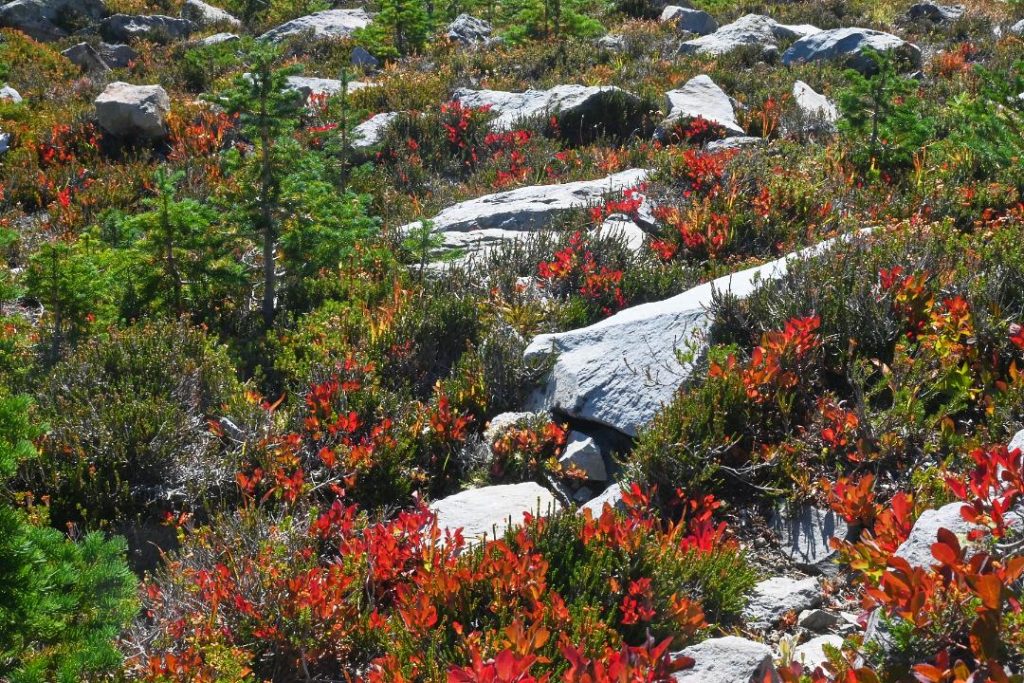 Angie Neer write: "Cheers Lambert. Your appeal for plant photos motivated me to start filtering through ones I've shot in a recent burst of hiking. This one is from the tundra of Mount Rainier National Park just a few days ago, at an altitude around 7000 feet. Up there, all the plants grow very slowly, and tend to stay close to the ground, except for a few evergreen trees here and there. Fall colors tend to be muted, and beautiful in their subtlety, but in this case, backlighting from morning sun accentuated the colors (in real life too, not just in the camera)." Brings back strong memories of the Rockies. Lovely!
* * *
Readers: Water Cooler is a standalone entity not covered by the annual NC fundraiser. So if you see a link you especially like, or an item you wouldn't see anywhere else, please do not hesitate to express your appreciation in tangible form. Remember, a tip jar is for tipping! Regular positive feedback both makes me feel good and lets me know I'm on the right track with coverage. When I get no donations for five or ten days I get worried. More tangibly, a constant trickle of donations helps me with expenses, and I factor in that trickle when setting fundraising goals:
Here is the screen that will appear, which I have helpfully annotated: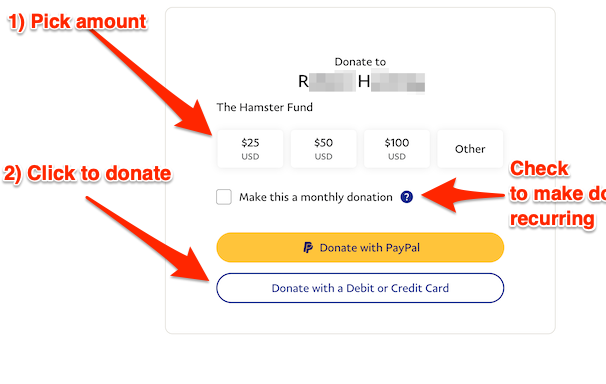 If you hate PayPal, you can email me at lambert [UNDERSCORE] strether [DOT] corrente [AT] yahoo [DOT] com, and I will give you directions on how to send a check. Thank you!