Frustrated with their inability to sink the Russian economy as sanctions blowback continues to bite the so-called collective West, the US and EU have been trying to find new ways to impose costs on Russia. The latest is in the scraping-the-bottom-of-the-barrel eight round of EU sanctions on Russia, of sanctioning a third country that tries selling a product to the EU that has Russian steel in it. Except there could be some method in this seeming madness. It may be another measure to punish Türkiye, which in the eyes of the US and the other NATO members, has gotten altogether too cozy with Russia.
Since your humble blogger is not a steel expert, any reader input very much appreciated.
As much as the US/NATO countries fulminated about how other countries should not do business with nasty Russia and have saber-rattled about imposing secondary sanctions, so far they've gotten a lot of mileage without trying secondary sanctions, which risk being ignored, or in the case of China, retaliation. Bank sanctions, sanctions on Russian tankers, and self sanctioning has had plenty of impact on commerce, but not in the way the West intended in terms of who is bearing the big costs. For instance, African countries have made clear that sanctions on financial institution have made it hard for them to buy fertilizer, yet the US takes the position that they haven't sanctions Russian fertilizer, so they have nothing to do with the other impediments to buying it (much the less the resulting increase in hunger).
As The Diplomat explained in March:
Secondary sanctions are highly controversial. Unlike primary sanctions, which prohibit companies and individuals in the sanctioning country from engaging with their counterparts in the sanctioned country, secondary sanctions have extraterritoriality and presuppose that the third nation has adopted a neutral position. As a result, secondary sanctions are often interpreted as U.S. overreach.
China, India, the Saudis, Türkiye, and the Global South have for the most part ignored US pressure to stop doing business with Russia, particularly purchases of energy. Notice on this supposedly top-priority initiative, the G-7 is not attempting to impose secondary sanctions. The US has repeatedly tried arm-twisting countries to follow the G-7 oil cap scheme, which is still scheduled to go into effect, despite the most likely result being a spike in oil prices and a fracturing of the oil market. It will soon be a misnomer to call many important Russian raw materials "commodities" if markets for them become balkanized.
So what to make of the generally-ignored steel sanctions in the eighth EU package? Two factors to keep in mind: steel has generally been in global oversupply. European steel is set to be very uncompetitive as a result of high energy costs. Thus just the way the EU cutting itself off from Russia energy will lead to de-industrialization, blocking access to Russian energy-intensive products will only make matters worse.
Politico depicted the steel sanctions as leaky:
Ukrainian officials are demanding that the EU crack down on sanctions loopholes. A gaping one still allows Europeans to trade steel worth billions that enriches some of Russian President Vladimir Putin's closest allies….

There are more than 3,500 different types of steel products used in manufacturing, construction and the car industry. The EU banned Russian finished steel products, but Russian semi-finished steel products, known as "semis," are not on the sanctions list…

A handful of European companies, in particular those in the "re-rolling business" rely heavily on Russian imports.

These days, European companies are buying Russian steel semis about 30 percent cheaper than the same product made in the EU, according to the industry player, in large part because of energy prices skyrocketing within the bloc since Russia invaded Ukraine.
Even the normally detail-oriented Hellenic News did not mention the secondary sanctions but found other problems:
The European Council has adopted its eighth sanctions package against Russia for its invasion of Ukraine, which expands its ban on the import of Russian steel products to include semi-finished steel, the European Commission said in an Oct. 6 statement….

The EU previously banned imports of finished steel from Russia as part of sanctions imposed in March, while some semi-finished and raw material suppliers had also been previously hit by sanctions imposed on specific companies and individuals…

However, nine large companies, including European steel rerollers and traders, sent a joint letter to the EC Sept. 27 underlining the risk "of sanctioning input materials for the rerolling business model in Europe."

According to the letter, any import ban on semi-finished steel products, such as slabs, billets, and blooms from Russia would have consequences for the industry, such as unemployment and price spikes, as there were no other real options for substituting the supply with alternative producers.
However, Twitterati caught the secondary sanctions:
EU's eighth sanctions package includes a so-called "melt and pour" clause which will prohibit imports of finished steel products from third countries made with the use of Russian substrate in a year. The decision will close the loopholes of the previous package regarding steel.

— Metal Expert (@MetalExpert) October 9, 2022
I cannot stress this enough. This is BIG. Essentially, under Russian sanctions, the EU is banning imports of certain steel and iron products from ANY COUNTRY, if they are made from Russian steel and iron.

These are secondary sanctions, in a way. Extraterritorial.

/31

— Tomasz Wlostowski (@TomWlost) October 7, 2022
But who imports steel from Russia and exports things that might contain steel to Europe? Looks like this is aimed at Türkiye. This is dated but one assumes Türkiye remains a significant export market for Russian steel: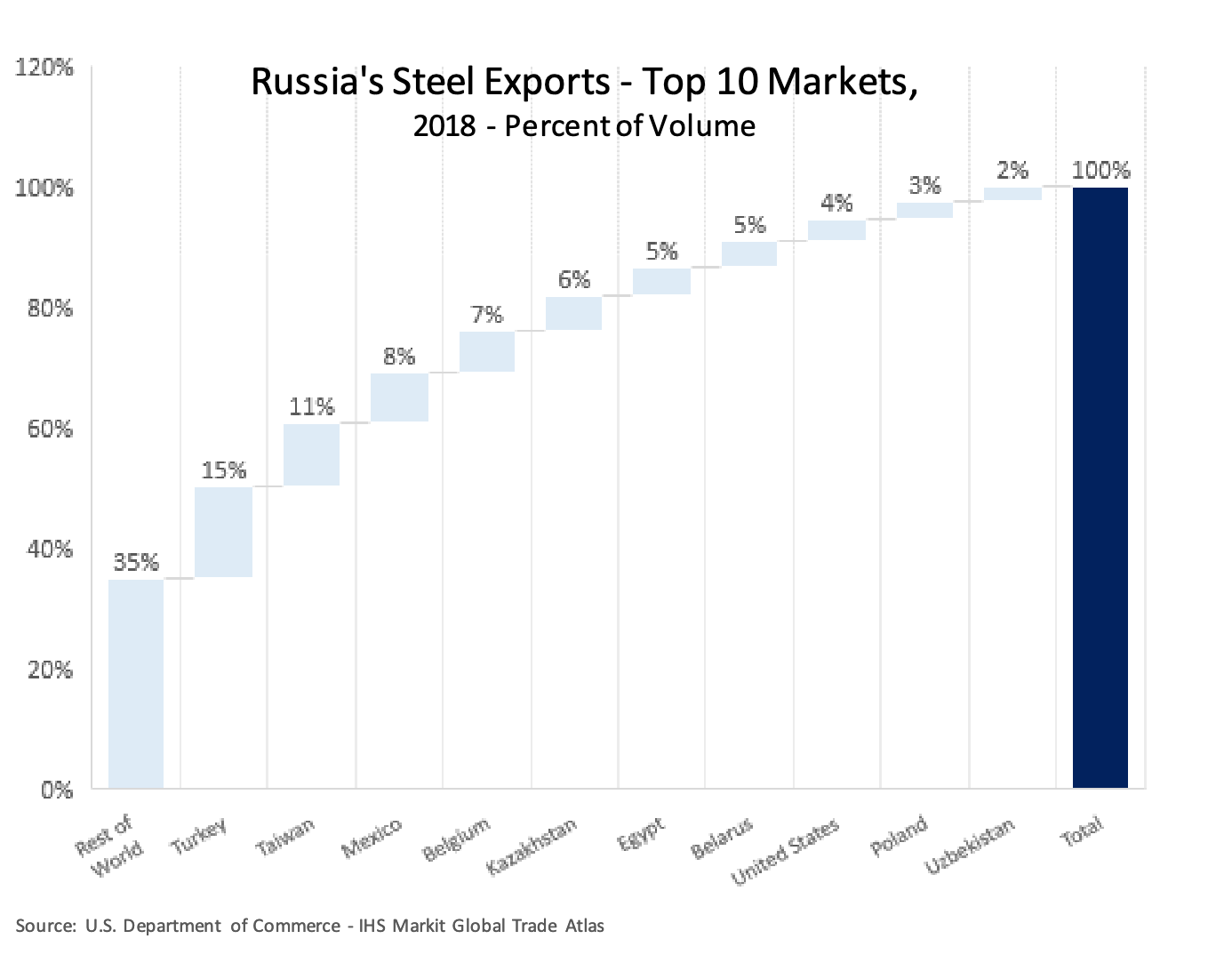 2020 data shows that Türkiye's leading exports to the EU sure look like they'd have a fair bit of steel in them:
The EU's imports from Turkey were worth €62.6 billion and were led by machinery and transport equipment (€24.1 billion, 38.5%), clothing (€8.3 billion, 13.3%), and agriculture and raw materials (€5.3 billion, 8.5%).
Recall that the US and EU are furious that NATO member Türkiye signed a big economic deal with Russia and is also agreed to buy a second batch of the Russian S-400 anti-aircraft system. The US threatened to sanction Türkiye banks and kick them off SWIFT if they adopted Russia's Mir card and they all backed off. Nevertheless, Russia and Türkiye are looking at other arrangements, albeit likely more combersome.
Former British civil servant David thinks this scheme is fraught:
The obvious issues are how the fact that the steel is of Russian origin would be known/policed in practice (are all steel products coming into the EU going to be tested? Are they going to disassemble washing machines?) and whether they even have the right to do this under WTO rules. This effectively makes other nations into agents of the EU in enforcing sanctions. How are the Chinese going to like this?
Keep your eyes out as to if and when other shoes drop. Türkiye has never gotten much respect from Europe despite its geopolitical importance. Ironically, one big reason Türkiye might continue to accept this abuse is that it will want NATO and the EU as a counterweight to Russia if Russia takes Odessa.