By Lambert Strether of Corrente
Bird Song of the Day
Red Siskin, location unrecorded. Call, song. With crowing rooster, and I swear somebody chopping wood.
* * *
Politics
"But what is government itself, but the greatest of all reflections on human nature?" –James Madison, Federalist 51
"Here's food for thought, had Ahab time to think; but Ahab never thinks; he only feels, feels, feels" –Herman Melville, Moby Dick
"So many of the social reactions that strike us as psychological are in fact a rational management of symbolic capital." –Pierre Bourdieu, Classification Struggles
Capitol Seizure
"Do Violent Protests Affect Expressions of Party Identity? Evidence from the Capitol Insurrection" [American Political Science Review]. "Using day-level panel data from a large sample of US social media users to track changes in the identities expressed in their Twitter biographies, we show that the Capitol insurrection caused a large-scale decrease in outward expressions of identification with the Republican Party and Donald Trump, with no indication of reidentification in the weeks that followed. This finding suggests that there are limits to party loyalty: a violent attack on democratic institutions sets boundaries on partisanship, even among avowed partisans. Furthermore, the finding that political violence can deflect copartisans carries the potential positive democratic implication that those who encourage or associate themselves with such violence pay a political cost." • I'm not sure that numbers (within reasonable limits) matter here so much as "energy" (for want of a better word). See Benjamin Studebaker yesterday on resentment.
"Oath Keepers member: Capitol riot was historic, spontaneous" [The Hill]. "A Florida man who stormed the U.S. Capitol with other members of the far-right Oath Keepers testified Monday that he believed they were participating in a historic "Bastille-type event" reminiscent of the French Revolution. Graydon Young, a government witness at the seditious conspiracy trial of Oath Keepers founder Stewart Rhodes and four associates, said he saw parallels between the mob that attacked the Capitol on Jan. 6, 2021, and the French people who 'stood up and resisted kings and tyrants' more than two centuries ago…. Young said he came to Washington to fight against 'the corrupt elements of the government' that were preparing to certify President Joe Biden's 2020 electoral victory. 'I guess I was acting like a traitor,' he added…. Defense attorney James Lee Bright, one of Rhodes' attorneys, pressed Young to point to any evidence of a criminal conspiracy or "explicit plan" for Oath Keepers to attack the Capitol. 'It was implicit to me at the time,' Young said. 'I did not explicitly say, 'Let's commit a crime,' but I thought it was implicit.' 'It was spontaneous,' Bright said. 'It was,' Young said." • Hmm.
Abortion
"Supreme Court's Alito says abortion draft leak made justices 'targets'" [Reuters]. "In blunt terms, Alito also commented on the man who was charged with attempted murder after being arrested near the Maryland home of conservative Justice Brett Kavanaugh in June. Alito said the leak of his draft opinion made the conservative justices who at the time were thought to back overturning Roe v. Wade 'targets for assassination because it gave people a rational reason to think they could prevent that from happening by killing one of us.'" • They never did find the leaker, did they? Must make for a collegial atmosphere in chambers.
Biden Administration
"'We're not against profits,' White House presidential coordinator says after Biden's tax threats on energy companies" [CNBC]. • Glad that's clarified.
2022
* * *

"Ballot paper shortage could cause problems onElection Day" [ABC]. "A paper supply crunch is testing the preparedness of U.S. election officials and exposing a key vulnerability in America's democratic process as midterm voting gets underway. The 2022 election cycle will use an estimated 30 million pounds of paper, according to industry experts. Soaring demand and a shortage of manufacturers during the pandemic have pinched national stockpiles, leaving little room for error. 'We're all just collectively crossing our fingers and hoping that the supply chain works just fine,' said Ricky Hatch, county clerk and election administrator for Weber County, Utah." • "Our democracy" can't even make sure there are ballots? And speaking of ballots–

Creepy indeed–

Alarm: Creepy letters going out to early voters in Tarrant County from local "Stop the Steal" activists. #txgov pic.twitter.com/k4L3XRntHZ

— Bud Kennedy / #ReadLocal (@BudKennedy) November 1, 2022

What next? Home visits? Armed home visits?

* * *

"Control of the Senate is coming down to this hidden dynamic" [Ron Brownstein, CNN]. "Control of the US Senate will be decided next week in cross-pressured states where most voters disapprove of President Joe Biden's performance but also express unfavorable views about their state's Republican Senate nominee…. In this stormy sea, the biggest lifeline still available for Democrats is the large number of voters in those battleground states who view the Republican Senate candidates as extreme, unqualified, or both. Recent public polls by CNN and other media organizations have found that more voters hold unfavorable than favorable views of virtually all the GOP nominees in the key states – including Blake Masters in Arizona, Herschel Walker in Georgia, Adam Laxalt in Nevada, Don Bolduc in New Hampshire, J.D. Vance in Ohio, Mehmet Oz in Pennsylvania and Sen. Ron Johnson in Wisconsin. Negative assessments of the Democratic candidates in those states have been rising as well, as they face a barrage of Republican attack ads, often tying them to Biden. Even so, in most (though not all) cases, voters hold a relatively more favorable view of the Democratic candidate than the Republican, polls show. The fulcrum in the campaign's final days may be whether the last remaining voters are moved more by these personal doubts about the GOP contenders or by their policy objections to Biden's performance at a time when polls show that most Americans disapprove of how he has handled crime, the border, and above all the economy and inflation. The recent CNN polls in several key Senate races show that a large, and potentially decisive, slice of voters both disapprove of Biden's performance and view the GOP nominee unfavorably: 9% in Wisconsin, 11% in Nevada, 13% in Pennsylvania and 15% in Arizona, according to detailed results provided by the CNN polling unit. 'The real question comes down to that group of independents in the middle, and who votes at the end,' says Paul Maslin, a long-time Democratic pollster. 'Is it people saying, 'I hate inflation, crime is wrecking this big city I live in,' or people saying, 'I'm sorry but Herschel Walker is a clown, Mehmet Oz is a clown. … Blake Masters is a joke,' and they go back to [the Democrats]? I don't know. I honestly don't know.'" • So nobody knows anything….

* * *

NY: "How Bad Is It for New York Democrats?" [Ross Barkan, Political Currents]. "Beyond Zeldin [v. Hochul], there's a Democrat-run state legislature that will, barring true catastrophe for the Democrats, stay in their control. What will likely fall, however, are the supermajorities—the veto-proof margins in the State Senate and Assembly that, in theory, lent the legislature a great amount of leverage. Enough Republicans are poised to win to erase the Senate supermajority and take away, more surprisingly, the huge margin Assembly Democrats have always enjoyed." • A good, very on-the-ground piece.

NY: "Stefanik eyes leadership role as Castelli seeks upset as a moderate" [Syracuse.com (bob)]. "U.S. Rep. Elise Stefanik is on the precipice of becoming one of the nation's most powerful federal lawmakers. She first has to overcome a challenge for her seat by Matt Castelli, a former CIA intelligence officer and self-described moderate Democrat. Then, Stefanik has to hope election predictions hold true, which would mean that Republicans gain control of the House of Representatives in the Nov. 8 election." • Lord, another CIA Democrat. I'm so old I remember when that was a story. Now it's, er, a norm.
2024
"Youngkin Vows Virginia Won't Follow The CDC's 'COVID Vaccine Mandate.' But That Mandate Doesn't Exist" [DCist]. "Virginia Gov. Glenn Youngkin announced on Thursday that he wants to eliminate COVID-19 vaccine mandates. 'COVID-19 mandates should be in our rear view mirror,' the Republican governor tweeted. 'The decision to vaccinate a child against COVID-19 is for Virginia parents to make about what's best for them and their family. We will not adhere to these @CDCgov mandates. In Virginia, parents matter.' But the Centers for Disease Control and Prevention have never mandated any COVID-19 vaccines for adults or children. While the CDC's advisory committee on vaccines did approve adding COVID-19 vaccines to the recommended schedule of immunizations for both children and adults this week, that list is only a recommendation for states.. The CDC recommends vaccines; state health agencies choose whether to mandate them. On Friday, following the advisory committee's vote, Speaker of the Virginia House of Delegates Todd Gilbert issued a statement clarifying the process for vaccine mandates in schools, and indicating he would not move to add the COVID shot to Virginia's list of mandatory vaccines. 'Under state law, the only way to create a mandate would either be through rule-making by the Board of Health, which would not happen until 2024, or through an action of the General Assembly, which will not happen while I am Speaker,' he wrote. The Virginia Department of Health did not provide answers to questions about which public schools require vaccines or the process by which an immunization is added to the list of those required for children attending public schools in the state by the time of publication." • Nothing wrong with a little red meat, though, right?

"Democrats condemn Virginia Gov. Glenn Youngkin for Pelosi dig following husband's attack" [USA Today]. "At a Virginia campaign rally for GOP congressional candidate Yesli Vega, Youngkin alluded to the Friday home invasion and subsequent attack, which left Paul Pelosi, 82, with a skull fracture and serious injuries to his right arm and hands. 'There's no room for violence anywhere, we're going to send her back to be with him in California,' Youngkin said at the event." Democrat went nuts, as one does, but compare the agility of other Republicans: "Senate Minority Leader Mitch McConnell, R-Ky., said he was 'horrified and disgusted' by reports of the assault, while House Republican Leader Kevin McCarthy reached out to Pelosi 'to check in on Paul and said he's praying for a full recovery and is thankful they caught the assailant,' his office said in a statement." • No attack surface there. Trying to thread red meat through a needle at a campaign rally. Awkward! (Trump probably would have gotten the crowd booing Pelosi, and then damped them down. "Folks—…..")

"Virginia's Governor, a Rising Republican Star, Walks a Fine Line" [New York Times]. "With the earnest pep of a youth pastor, Mr. Youngkin has touted his win as proof of his appeal to a broad electorate, including moderate swing voters in the vote-rich suburbs of Washington and Richmond. But Mr. Holsworth and others challenge that narrative. Suburban voters who traditionally support Republicans turned away from the party during the Trump years, several analysts said, then returned to their old voting habits with Mr. Youngkin on the ballot. But the suburbs remained Democratic turf — more so, in many areas, than they were before the Trump years. Mr. Youngkin lost Loudoun County by double digits, even though it had become a ground zero for parental outrage over the school district's antiracism efforts. He made up for it by racking up huge margins in Virginia's small towns and rural areas, in some places exceeding even Mr. Trump's showing…. Chesterfield was one of the few counties that Mr. Youngkin flipped after his Democratic predecessor, Ralph Northam, won it in 2017, and interviews with a dozen voters here did not suggest that the county was turning against him. Few had strong feelings about Mr. Youngkin's tenure at all." •

"Pence: Post-2020 election meeting with Trump, lawyers 'a new low'" [The Hill]. Pence has a book coming out: "'Loyalty is a Vice President's first duty; but there is a greater one—to God and the Constitution,' reads the description of his book, entitled 'So Help Me God.' Pence writes in the book that his relationship with Trump 'broke down' when the former president 'pressured' Pence to overturn the 2020 election, according to the description. 'The vice president refused to leave the Capitol, and once the riot was quelled, he reconvened Congress to complete the work of a peaceful transfer of power,' the publisher adds, referring to the Jan. 6 attack on the U.S. Capitol."
Democrats en Déshabillé
Patient readers, it seems that people are actually reading the back-dated post! But I have not updated it, and there are many updates. So I will have to do that. –lambert

I have moved my standing remarks on the Democrat Party ("the Democrat Party is a rotting corpse that can't bury itself") to a separate, back-dated post, to which I will periodically add material, summarizing the addition here in a "live" Water Cooler. (Hopefully, some Bourdieu.) It turns out that defining the Democrat Party is, in fact, a hard problem. I do think the paragraph that follows is on point all the way back to 2016, if not before:

The Democrat Party is the political expression of the class power of PMC, their base (lucidly explained by Thomas Frank in Listen, Liberal!). ; if the Democrat Party did not exist, the PMC would have to invent it. . ("PMC" modulo "class expatriates," of course.) Second, all the working parts of the Party reinforce each other. Leave aside characterizing the relationships between elements of the Party (ka-ching, but not entirely) those elements comprise a network — a Flex Net? An iron octagon? — of funders, vendors, apparatchiks, electeds, NGOs, and miscellaneous mercenaries, with assets in the press and the intelligence community.

Note, of course, that the class power of the PMC both expresses and is limited by other classes; oligarchs and American gentry (see 'industrial model' of Ferguson, Jorgensen, and Jie) and the working class spring to mind. Suck up, kick down.

* * *

"Fog of disinformation spreads after Pelosi attack" [Politico]. "Charges filed yesterday against suspected assailant David DePape unearthed more shocking details about the attack on Speaker Nancy Pelosi's husband — including ones that disinformation swirling around the disturbing incident." Oh? Here is the criminal complaint.

"Six new details from Monday's affidavit on the Paul Pelosi attack" [The Hill]. "She noted that there was 'no security present' at the home and that DePape 'was able to break the window to a glass door to gain entry into the home.'"
Realignment and Legitimacy
"Truth Cops" [The Intercept]. This ran in Links this morning, but I want to call your attention to one phrase in one paragraph: "Jen Easterly, Biden's appointed director of CISA, swiftly made it clear that she would continue to shift resources in the agency to combat the spread of dangerous forms of information on social media. 'One could argue we're in the business of critical infrastructure, and , so building that resilience to misinformation and disinformation, I think, is incredibly important," said Easterly, speaking at a conference in November 2021." • If we take Easterly seriously — and why would we not — your critical thinking skills, your mind, your heart are "cognitive infracture," like, say, the electrical grid. And like the electrical grid, cognitive infrastructure will be built out based on ROI, specified and constructed according to standards, maintained, and above all inspected. There's a word for this. I know it'll come to me. I think it starts with an "F"…

"The American people deserve to know how the war in Ukraine will end" [Joshua C. Huminski, The Hill]. From October 25, still germane. "Kyiv has been impressively controlled and successful in its control of the messaging of this information war. The West, at least publicly, has very little insight into Kyiv's aims and intentions, or indeed its losses or battlefield performance beyond that which is conveyed via social media and journalistic accounts. Even raising questions related to these critical factors is tantamount to heresy within the present geopolitical and cultural environment — as if asking the questions themselves is akin to supporting Russia. It is not. It is simply prudent interrogation of geopolitical realities that have significant policy implications." • Huminsk is the director of the Mike Rogers Center for Intelligence & Global Affairs at the Center for the Study of the Presidency & Congress, and a fellow at George Mason University's National Security Institute. In other words, a Republican can pose entirely reasonable questions that a Democrat cannot.

"America's brittle consensus on Ukraine" [Financial Times]. "'Diplomacy' is a taboo word in American politics right now. The speed at which progressive Democrats this week disowned their call for Joe Biden to talk to Russia is testament to that. Only Ukraine can decide when and how this war will end, the lawmakers insisted. The group was clearly shell-shocked by the savagery of condemnation from their own side. Yet they were guilty only of speaking out too soon. Wars end in one of two ways: with the unconditional surrender of one party or in a negotiated settlement. As the world's equal largest nuclear power, Russia's full capitulation is almost unimaginable. That means the west and Ukraine will eventually have to negotiate an end to this war. That moment has not arrived. But it is probably nearer than most people think. Two big factors will weigh on when Biden will try to bring this war to an end. The first is Republicans' probable capture of one or both chambers of Congress in midterm elections in two weeks. Kevin McCarthy, the likely next Speaker of the House of Representatives, has warned that Republicans will not provide a "blank cheque" for Ukraine's self-defence. Fifty-seven House Republicans and 11 senators voted against the $40bn Ukraine aid package earlier this year…. The second is that the US will be entering a recession. Economists are virtually unanimous that America will not escape that fate in 2023. This will pose an acute threat to Biden's — or to another Democratic nominee's — chances of defeating Donald Trump, or a Trump-like Republican, in 2024. Congressional Republicans will be working in tandem with the recession to darken Biden's electoral clouds. As the 2024 reckoning looms, Ukraine's fate will take a back seat to America's." • As it should. Who's writing the checks?
#COVID19
Remember: The elite hate masks and don't want you to wear them, regardless of harms. And it's hard to think of a more elite institution than the Metropolitan Opera*:
In case that embed goes pear-shaped, here's a screen shot: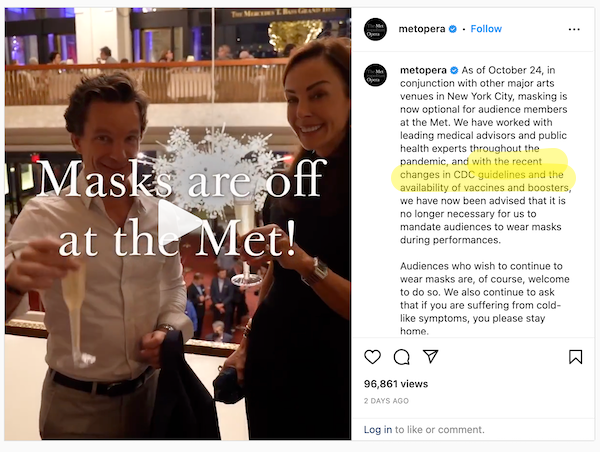 UPDATE Alert reader Jeff W reports that the Met took down their Instagram ad. Fortunately, some kind soul preserved the video on the Twitter, and I really advise you to watch it. But put down your coffee!
Just in case ppl don't have Instagram, here's a copy of this video.

I feel bad for the workers/performers + the traumatized healthcare workers who will have to deal with the severe cases which arise from unmitigated events there.

Businesses should be held liable for damage IMO. pic.twitter.com/liLwpUNwW6

— I WON'T vote 4 Harris/Buttigieg/AOC in 2024 (@flowermusickids) November 1, 2022
UPDATE And our New York readers might consider giving the Met a call:
UPDATE: @MetOpera took down their offensive ableist video celebrating the end of their mask requirement.

Thank you to everyone who called & emailed them!!

Let's keep up pressure & get them to reinstate the mask mandate!

Contact Met 212.362.6000
MetropolitanOpera@metopera.org pic.twitter.com/3VnhITC7FJ

— Mandate Masks NY (@MandateMasksNY) November 1, 2022
Commentary:
In the video:
✅ Two Londoners give full approval because masks are gone in Europe
✅ Local gives full approval too because: freEdoM!!
✅ Another local also approves because she dropped mask wearing and she is still here, yay!

This is minimizer propaganda. Period. pic.twitter.com/gZM25bqfJq

— Ursula 😷🔧🔍 (@QuantitativeArt) November 1, 2022
NOTE * This makes me sad, because I listened to the Met's Saturday matinee broadcasts as a child. All part of growing up PMC, I suppose.
* * *
"CDC Director Walensky Has Covid Rebound After Paxlovid Treatment" [Bloomberg]. "Walensky contracted a mild case of Covid earlier this month and tested negative after taking Pfizer's treatment. On Sunday, she began developing mild symptoms [as they always are] and has again tested positive, the CDC said Monday in a statement. The infectious disease expert [lol] is isolating at home and will continue to work virtually. Many patients, including President Joe Biden and Anthony Fauci, have faced a return of Covid symptoms after taking a full, five-day course of Pfizer's drug. The phenomenon appears far more common than officially reported, and rebounding patients may still spread the disease, doctors said in a September New England Journal of Medicine article." • September? How about April? And there are questions:
A great question. Why don't we have data on rebound? On vaccine breakthrough? On virus evolution/selection post Paxlovid/Mulnupiravir use? On long COVID? Why aren't these studies being done/already done by @NIH @CDCgov or required by @US_FDA to be done & reported by companies?

— Rick Bright (@RickABright) October 31, 2022
* * *
Another massive takedown of the droplet goons:
1/ Is DROPLET transmission ever important for ANY disease?

NO EVIDENCE that it is. If someone wants to argue that droplet transmission IS important, this now applies: "Extraordinary Claims Require Extraordinary Evidence"

[Slide for upcoming talk]https://t.co/q346wDHK7M pic.twitter.com/lCf4UolSuQ

— Prof. Jose-Luis Jimenez (@jljcolorado) October 31, 2022
Will Upton Sinclair please pick up the nearest white courtesy phone?
* * *
"The role of schools in driving SARS-CoV-2 transmission: Not just an open-and-shut case" [Cell Reports Medicine]. "Early in the pandemic, four findings led to the perception of limited potential for in-school spread of SARS-CoV-2: (1) perceived reduced susceptibility of children to SARS-CoV-2 infection, (2) apparent lower infectiousness of children, (3) lack of identified transmission chains in schools, and (4) similar rates of infection between schools and communities. However, there are significant methodological limitations associated with each of these early findings, and the ongoing pandemic has directly provided evidence that contradicts the initial findings. We detail the limitations of the evidence for these perceptions and provide strong evidence that schools can be an important SARS-CoV-2 transmission source (Table 1)." • A takedown of, among others, yesterday's Sociopath of the Day, Emily Oster, whose "work" focused on schools. And speaking of Emily Oster, one of the first to jump on to the Twitter with praise for Oster's "Let's Declare a Pandemic Amnesty" was none other than Great Barrington Declaration psycho eugenicist Jay Bhattacharya. But oh well–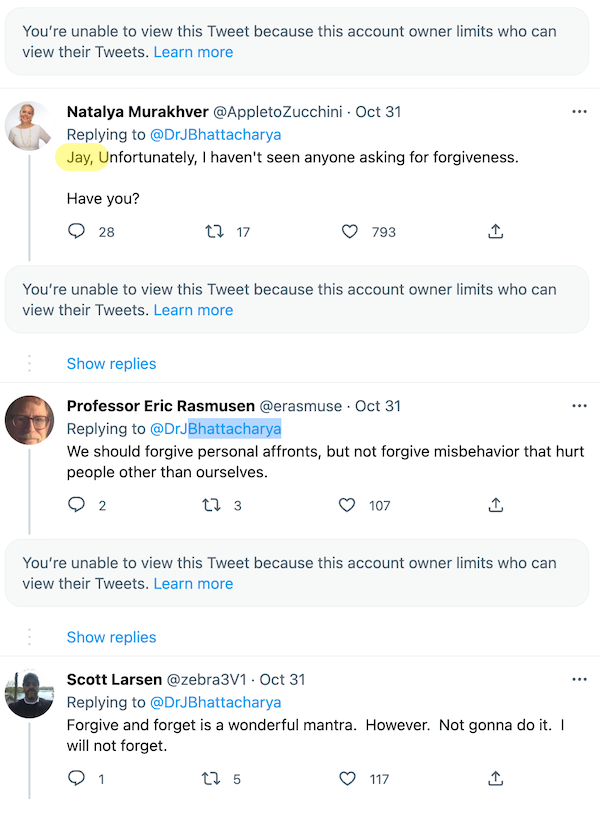 I don't see a lot of aerosol scientists asking to be forgiven. Only people like Oster and Bhattacharya. Why would that be?
* * *
"U.S. workers have gotten way less productive. No one is sure why." [WaPo]. • 'Tis a mystery!
Everything's going according to plan:
Disabled workers. Not a coincidence. #LongCovid is going to screw us over if we allow #COVID to continue to keep spreading. Downplaying COVID is tantamount to sentencing a generation to a multi-organ debilitating disease. #CovidIsNotOver pic.twitter.com/jwOjxT8MSG

— Eric Feigl-Ding (@DrEricDing) October 31, 2022
Obviously, we're going to have to cut disability benefits.
* * *
"COVID-19 infection damages gut microbiome, study shows" [MSN]. n = 100. "A COVID infection can reduce the number of bacterial species in the gut, creating an opportunity for dangerous antibiotic-resistant bacteria to thrive, according to a new study in the journal Nature Communications. 'Our findings suggest that coronavirus infection directly interferes with the healthy balance of microbes in the gut, further endangering patients in the process,' said study co-senior author Ken Cadwell, a microbiologist at NYU Grossman School of Medicine in New York City….. The study is the first to show that COVID-19 alone damages the gut microbiome, researchers said. Before now, doctors had suspected that the use of antibiotics to treat COVID had been damaging gut bacteria. Analysis of nearly 100 men and women hospitalized with COVID in 2020 found that most patients had low gut microbiome diversity. In fact, full quarter had guts dominated by a single type of bacteria, the researchers found."
* * *
Transmission
Here is CDC's interactive map by county set to community transmission. (This is the map CDC wants only hospitals to look at, not you.)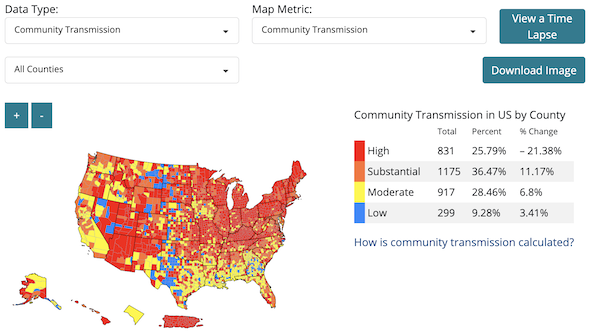 Lambert here: I have to say, I'm seeing more and more yellow and more blue, which continues to please. But is the pandemic "over"? Well….
Positivity
NOT UPDATED From the Walgreen's test positivity tracker, October 26: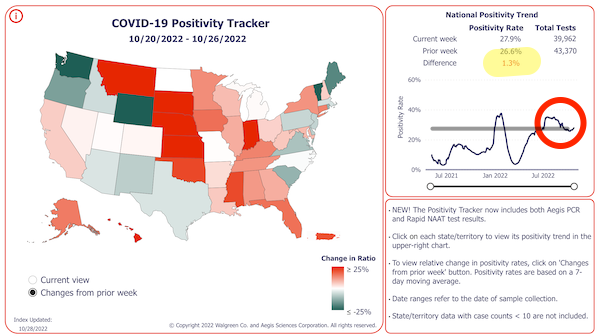 1.3%. Faster increase.
Lambert here: Please, please, please Walgreens. Keep updating regularly!
Wastewater
Lambert here: C'mon, CDC. If you don't keep your site up and running, I can't perform my personal risk assessment.
SITE DOWN Wastewater data (CDC), October 23: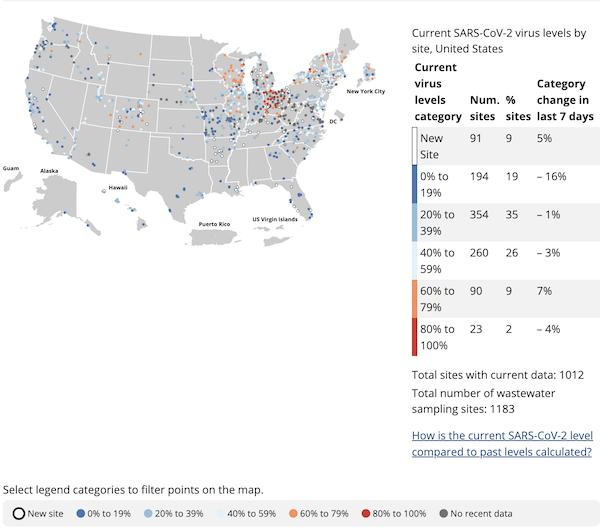 October 23: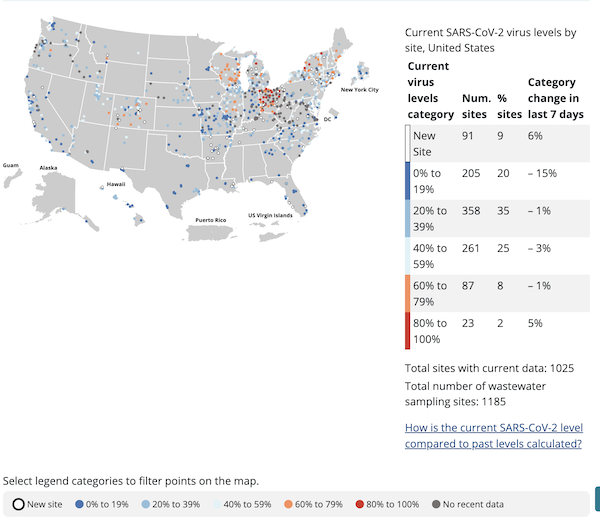 Variants
Lambert here: It's beyond frustrating how slow the variant data is. Does nobody in the public health establishment get a promotion for tracking variants? Are there no grants? Is there a single lab that does this work, and everybody gets the results from them? [grinds teeth, bangs head on desk]. UPDATE Yes. See NC here on Pango. Every Friday, a stately, academid pace utterly incompatible with protecting yourself against a variant exhibiting doubling behavior.
Variant data, national (Walgreens), October 19: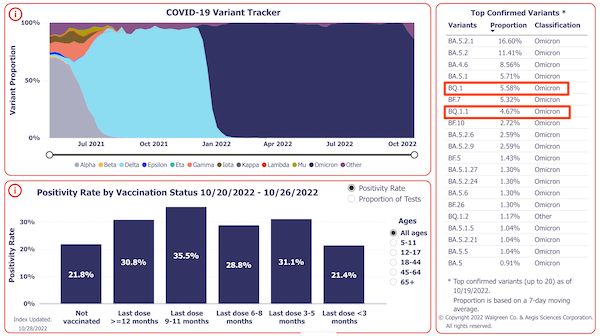 Lambert here: BQ.1*, out of nowhere. So awesome.
Variant data, national (CDC), October 8 (Nowcast off):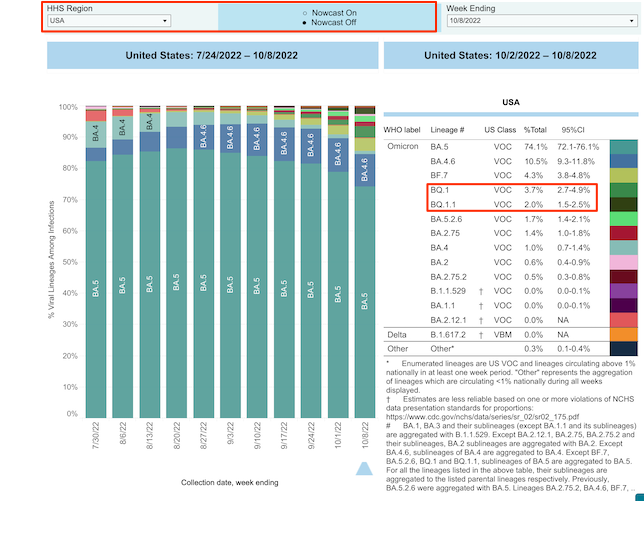 Lambert here: Most of the screenshots of CDC variants running around crop out whether Nowcast (CDC's model) is on or off; see red box at top. The BQ1.* figure of 27% that's running around is CDC's Nowcast projection, three weeks out. (It's telling that CDC would rather build a model than fund faster acquisition of real data.)
Deaths
Death rate (Our World in Data):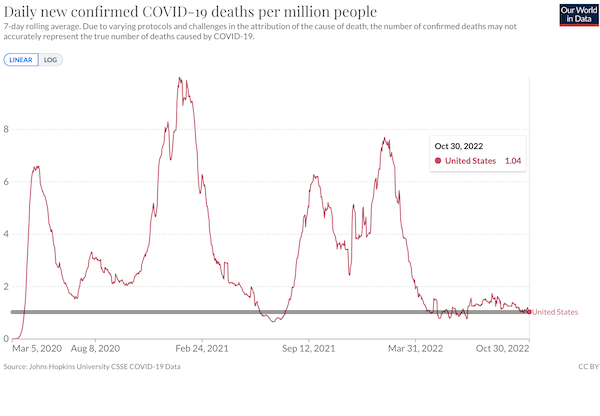 Total: 1,095,315 – 1,095,204 = 111 (111 * 365 = 40,515, which is today's LivingWith™ number (quite a bit higher than the minimizers would like, though they can talk themselves into anything. If the LivingWith™ metric keeps chugging along like this, I may just have to decide this is what the powers-that-be consider "mission accomplished" for this particular tranche of death and disease.
It's nice that for deaths I have a simple, daily chart that just keeps chugging along, unlike everything else CDC and the White House are screwing up or letting go dark, good job.
Stats Watch
Manufacturing: "United States ISM Purchasing Managers Index (PMI)" [Trading Economics]. "The ISM Manufacturing PMI fell to 50.2 in October of 2022 from 50.9 in September, pointing to the slowest growth in factory activity since the contraction in mid-2020. Still, figures came slightly higher than market forecasts of 50." • Powell keeps trying to strangle the economy and it keeps not working. Not saying things are great, but they are clearly more great than Powell would wish them to be.
Logistics: "United States LMI Logistics Managers Index Current" [Trading Economics]. "The Logistics Manager's Index in the US retreated to 57.5 in October of 2022 from 61.4 in September, pointing to the slowest growth in the logistics sector since May of 2020. Transportation metrics continue to be a drag, while inventories remain high, warehouses remain full, and they both remain expensive. While there is some evidence that firms are finally winding down their inventories, the costs associated with holding them remain high, and there's still a lack of available warehousing capacity."
* * *
Today's Fear & Greed Index: 58 Greed (previous close: 58 Greed) [CNN]. One week ago: 52 (Neutral). (0 is Extreme Fear; 100 is Extreme Greed). Last updated Nov 1 at 1:51 PM EDT. I must admit I don't understand Mr. Market at all. OTOH, it's now November, and we haven't had a Crash.
Groves of Academe
"Founders," a phrase from YCombinator, I believe:
The top 25 universities that produce VC backed founders, Stanford, Cal, Harvard, MIT & Penn are the top 5 pic.twitter.com/tRs9ppdu3i

— Josh (@JoshuaOgundu) October 31, 2022
I wonder if anybody was ever done a study of how YCombinator's startup culture netted our for society as a whole. Was it all rent-seeking and dopamine loops? Or were useful social functions performed? Not to be cynical…
Guillotine Watch
"The 20 Richest Tech Billionaires Have Lost Nearly Half a Trillion Dollars This Year" [Wall Street Journal]. That's a damn shame. But too small to be even a good start. "The paper losses for many of the world's biggest tech moguls come after the collective wealth of billionaires grew more during the first two years of the Covid-19 pandemic than between 1987 and 2010, the antipoverty group Oxfam International reported earlier this year. In the early months of the pandemic, Oxfam reported, a new billionaire was created every 30 hours." • So, I guess the optimal way forward is another pandemic? Mars, b*tches!
Class Warfare
"Cash-Rich Consumers Could Mean Higher Interest Rates for Longer" [Wall Street Journal]. "Washington's response to the pandemic left household and business finances in unusually strong shape, with higher savings buffers and lower interest expenses. It could also make the Federal Reserve's job of taming high inflation more difficult." • Just to be clear, our Central [genuflects] bank wants to beat down your wages and take money out of your pocket. This gets a little crude.
"Hundreds Of Resident Doctors Unionizing At Ny'S Montefiore Medical Center" [A More Perfect Union]. "MMC residents who worked through the initial years of the pandemic say another reason for unionizing was the lack of proper resources for care for their patients. Rather than providing basic PPE, the hospital instead gave resident doctors garbage bags and Yankees rain ponchos and told them to make due."
News of the Wired
"The Ventura problem" [Raspberry Pi]. Ventura is the latest MacOS release. "If you plug a Raspberry Pi Pico, or other RP2040-based board, into a Mac running Ventura, the RPI-RP2 "virtual" volume will be mounted as normal. Unfortunately, if you then try to drag-and-drop a UF2 file onto the volume, the process doesn't complete, throwing a kPOSIXErrorENOATTR ("Attribute not found") error." • If you understand what that means, you also understand it's bad. C'mon, Apple. Kicking Raspberry Pi is like kicking a puppy (not to mention that Raspberry Pi is a lot more Jackpot-ready than any Apple machine is).
* * *
Contact information for plants: Readers, feel free to contact me at lambert [UNDERSCORE] strether [DOT] corrente [AT] yahoo [DOT] com, to (a) find out how to send me a check if you are allergic to PayPal and (b) to find out how to send me images of plants. Vegetables are fine! Fungi and coral are deemed to be honorary plants! If you want your handle to appear as a credit, please place it at the start of your mail in parentheses: (thus). Otherwise, I will anonymize by using your initials. See the previous Water Cooler (with plant) here. From Gmail: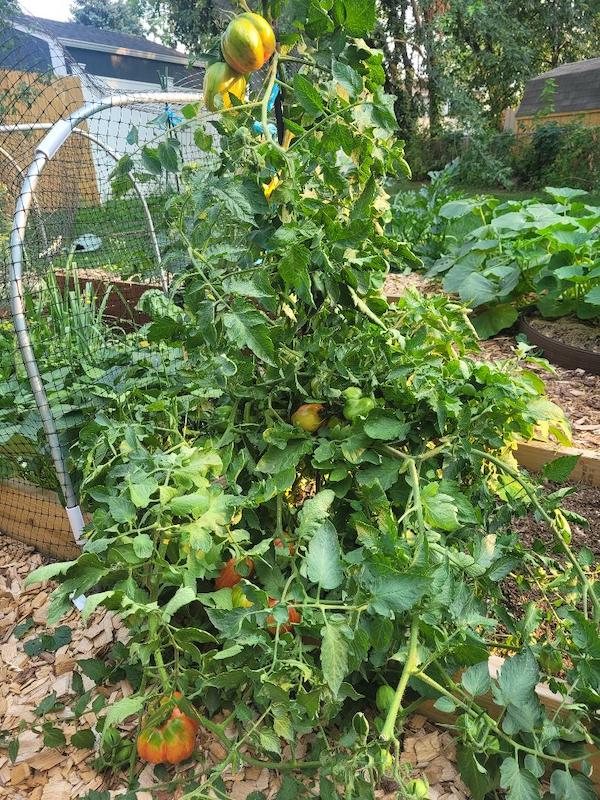 Gmail writes: "A bountiful tomato plant that I will miss as the cold air arrives. Some pumpkin, zucchini, leek, and sweet potato plants in the background as well."
* * *
Readers: Water Cooler is a standalone entity not covered by the annual NC fundraiser. So if you see a link you especially like, or an item you wouldn't see anywhere else, please do not hesitate to express your appreciation in tangible form. Remember, a tip jar is for tipping! Regular positive feedback both makes me feel good and lets me know I'm on the right track with coverage. When I get no donations for five or ten days I get worried. More tangibly, a constant trickle of donations helps me with expenses, and I factor in that trickle when setting fundraising goals:
Here is the screen that will appear, which I have helpfully annotated: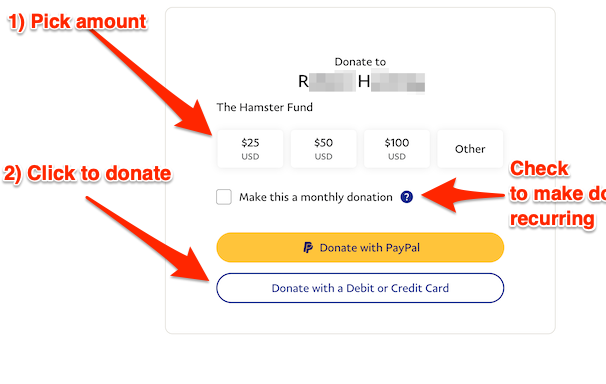 If you hate PayPal, you can email me at lambert [UNDERSCORE] strether [DOT] corrente [AT] yahoo [DOT] com, and I will give you directions on how to send a check. Thank you!