By Lambert Strether of Corrente
Bird Song of the Day
Yellow-throated Nightingale-Thrush, Montecristo–Bosque Nebuloso, Santa Ana, El Salvador. "Dos grabaciones separadas por un segundo de silencio."
* * *
Politics
"But what is government itself, but the greatest of all reflections on human nature?" –James Madison, Federalist 51
"Here's food for thought, had Ahab time to think; but Ahab never thinks; he only feels, feels, feels" –Herman Melville, Moby Dick
"So many of the social reactions that strike us as psychological are in fact a rational management of symbolic capital." –Pierre Bourdieu, Classification Struggles
Biden Administration
"The Hill's 12:30 Report — Pelosi retires from leadership; will stay in Congress" [The Hill]. "In a House floor speech, Speaker Nancy Pelosi (D-Calif.) just announced that she is retiring from Democratic leadership…. She said she plans to continue representing her constituents in San Francisco, Calif. … The Boston Globe's Tal Kopan pointed out, 'A few lawmakers are wiping their eyes.'… Politico's Andrew Desiderio pointed out: 'Looks like Pelosi's daughter Alexandra, a filmmaker, is walking behind her recording her entrance into the Capitol.'

"Nancy Pelosi, Speaker Emeritus?" [Puck]. "Pelosi spent the last 24 hours helping to clear the runway for Hakeem Jeffries, I'm told, while working out ways to make sure that Adam Schiff, one of her pets, is taken care of and is therefore not inclined to challenge Jeffries. Politico reported that he intends to focus on a run for Dianne Feinstein's Senate seat. An orderly succession has always been Pelosi's goal. 'It may seem like she's backbench but it's really putting the throne in a different area,' said a Pelosi insider. 'She'll never get off the throne.' …. Pelosi, who sees the role as vocational, will be there to steer her caucus from behind the scenes and play a role in her own succession in real time. 'Given that she really didn't lose the election and that the majority of her caucus is still obsessively in need of her leadership [authoritarian followers], she's decided to stay,' said the insider. 'Plus she can still raise a shit-ton of money unlike anyone else in that caucus.' She'll also be on hand to help guide Jeffries and his expected lieutenants Katherine Clark and Peter Aguilar into their new roles. There's been concern caucus-wide about how Jeffries might manage 'The Squad,' whom Pelosi has been able to keep in line with a deft touch, whereas Jeffries has a reputation for dunking on the progressive wing when their candidates lose in primaries. 'She'll be a critical pair of training wheels,' the insider said." •Jeffries is 52 years old. He's also part of the New York Delegation, which is in large part responsible for the 2020 debacle, and not just in the House.

* * *

"'YOU will sit': Biden is caught with cheat sheet at G20 informing him when to sit, speak and take a photo" [Daily Mail]. • A photograher got a shot of a page in Biden's three-ring binder at G20:

I don't see any reason to dunk, here. First, good staffwork from Biden's sherpas; I wouldn't want to wander about a summit conference being spontaneous me. Second, Biden apparently has no reading comprehension, or eyesight problems. (That's not to say they don't juice him up, but when they do, the baseline, at least for following a script, seems adequate.)
2022
"What Joe Biden Knows About America" [Franklin Foer, The Atlantic]. "Biden had more faith in the American people than the commentariat or his political adversaries did. He intuited that voters would rise above their economic self-interest to prevent election deniers from seizing power." • Clearly, Democrats won't be fixing our balloting systems anytime soon; exactly like abortion.

* * *

AZ: "Arizona voters reject effort to enact stricter voter ID law" [Associated Press]. "Proposition 309 also would have eliminated the ability of registered voters who do not have a state or federally-issued photo ID with them when they vote in-person to provide other proof of identity to cast a ballot. New tallies from Maricopa County and several smaller counties released on Wednesday showed there was no chance for the measure to pass. It had been too close to call in the eight days since polls closed on Nov. 8 and was the last of 10 measures on the ballot to be called by The Associated Press."

PA:

Philadelphia represented its lowest share of statewide votes since at least 2002 (when I have data).

Its turnout would have been pretty good pre-2016, but the City failed to keep up with increases in the rest of the state. pic.twitter.com/E4Ji0Jii7n

— Sixty-Six Wards (@sixtysixwards) November 14, 2022
2024
"Donald Trump 2024: Why it will be harder for him to run this time" [BBC]. "The speech, which clocked in at more than an hour, was largely a mix of boasts about his presidential record and attacks on the first two years of Joe Biden's presidency. sOn display were some of Mr Trump's continued strengths. He has an unmatched sense of which issues are important to grass-roots conservatives, such as immigration and crime. His unpredictable and inflammatory style can drive news coverage and deny the spotlight to his competitors. He has a base of loyal supporters and can motivate typically unengaged Americans to vote. And after four years in office, many of those supporters hold positions of authority within the Republican Party. But his speech also highlighted some of Mr Trump's key weaknesses." • Worth a read. I know this is the BBC, but at least there's no screaming and carrying on. Most of the US coverage is simply unreadable.

"Donald Trump is running again in 2024. Here's what his second term in the White House could look like" [ABC Australia]. "Trump himself outlined his agenda for a second term in a speech at the America First Policy Institute in late July. He harked back to the convoluted 'deep state' conspiracy theory that roared into the mainstream consciousness during his presidency, of a secretive, elitist — and in extreme versions, reptilian — cabal working to undermine the US government. 'To drain the swamp and root out the deep state, we need to make it much easier to fire rogue bureaucrats who are deliberately undermining democracy, or at a minimum just want to keep their jobs,' Trump said… These 'historic reforms' could take the familiar shape of an executive order doled out in the twilight of Trump's presidency, allowing him to effectively gut the public service. The month before the 2020 election, he signed off on establishing a new category for federal employees that would have stripped away protections and effectively made the positions much easier to terminate. The order would have reassigned thousands of civil servants in policy roles to so-called Schedule F status, paving the way for the administration to purge the public service at will. That didn't come to pass, with Joe Biden reversing the order as soon as he took office. But Trump has already hinted that reimposing Schedule F could be on the cards if he steps back into the Oval Office. Axios reports those closest to Trump are working on plans that go even further than the usual conservative targets such as the Environmental Protection Agency and the Internal Revenue Service. This time, they could set their sights on as many as 50,000 staff from all over, including the Justice Department, FBI, State Department and Pentagon. Trump has even gone so far as to suggest abolishing the Education Department entirely." • Wellie…. No wonder the PMC is so upset with him. He's coming after their meal tickets. Now, I don't want to eliminate civil service protection. The EPA should be beefed up. But abolishing the Education Department? That doesn't strike me as such a bad idea. And certainly cutting 50,000 staff from The Blob can only be a good thing. Note also that Trump, as usual, is of a different scale than the rest of the candidates. Short-bodied vulgarian DeSantis proffers only minor repairs by contrast. Nor do I see this as "National Conservatism" as The Federalist would have it. Donald, Donald. What are we going to do with you?

"Endorsements by Donald Trump" [Ballotpedia]. • You simply cannot trust what the press writes about Trump, not one single thing:

Not "the narrative," eh? How odd. (Now, one could argue that quality matters too, and that Trump's picks were easy wins, or whatever. The fact remains, he picked winners, and by that metric, 2022 was his best year.)

Trump and vaccines:

He also considers Trump's weakness (his death star exhaust port 🫠) is that he was pro vaccine. He even clarifies he's not just talking about opposition to mandates, because Trump was ok on that. He means Trump being pro vaccine is an effective attack line for Republicans.

— Chris Kavanagh (@C_Kavanagh) November 16, 2022

"As Trump blusters, DeSantis builds his case but tells people to 'chill out' with 2024 talk" [CNN]. "Speaking in Lee County on Wednesday, DeSantis called for people asking about his brewing rivalry with Trump to 'chill out a little bit.' He then pivoted immediately to touting his own performance in last week's midterm elections compared to the 'substandard performance' of the GOP in the rest of the country, where Trump's involvement has become the focal point of many Republicans' recriminations. The day before, DeSantis spoke to a group of Republican donors in Orlando, Florida, where he touted his 19-point win in his reelection. DeSantis outlined his electoral strength in the suburbs, his rural turnout effort and his appeal among Latino voters in his victorious reelection effort, according to a person who was in the room. DeSantis didn't bring up Trump, who days before the election had claimed credit for turning Florida into a red state. The group of about 250, which included donors to the Republican Governors Association as well as governors and their spouses, gave DeSantis a standing ovation at the end of his conversation with outgoing Nebraska Gov. Pete Ricketts. The person in the room told CNN that DeSantis walked through in detail where he performed well across the state, including winning traditionally Democratic Miami-Dade and Palm Beach counties." • Clearly, short-bodied vulgarian DeSantis will be very popular with both the Republican apparatchiks and the press (who will be able to keep writing the same stories, i.e. preserve their social capital). However… Doesn't this speech remind you of the sort of speech that Hillary Clinton would have given?
Democrats en Déshabillé
Patient readers, it seems that people are actually reading the back-dated post! But I have not updated it, and there are many updates. So I will have to do that. –lambert

I have moved my standing remarks on the Democrat Party ("the Democrat Party is a rotting corpse that can't bury itself") to a separate, back-dated post, to which I will periodically add material, summarizing the addition here in a "live" Water Cooler. (Hopefully, some Bourdieu.) It turns out that defining the Democrat Party is, in fact, a hard problem. I do think the paragraph that follows is on point all the way back to 2016, if not before:

The Democrat Party is the political expression of the class power of PMC, their base (lucidly explained by Thomas Frank in Listen, Liberal!). ; if the Democrat Party did not exist, the PMC would have to invent it. . ("PMC" modulo "class expatriates," of course.) Second, all the working parts of the Party reinforce each other. Leave aside characterizing the relationships between elements of the Party (ka-ching, but not entirely) those elements comprise a network — a Flex Net? An iron octagon? — of funders, vendors, apparatchiks, electeds, NGOs, and miscellaneous mercenaries, with assets in the press and the intelligence community.

Note, of course, that the class power of the PMC both expresses and is limited by other classes; oligarchs and American gentry (see 'industrial model' of Ferguson, Jorgensen, and Jie) and the working class spring to mind. Suck up, kick down.

* * *

"Investigating the investigators: Dem strategists to launch counterpunch to House GOP" [Politico]. "A group of top Democratic strategists are launching a multi-million-dollar hub to counter an expected investigative onslaught by the likely incoming House GOP majority — digging into President Joe Biden, his administration and his son, on top of potential Cabinet impeachments. The newly relaunched Congressional Integrity Project initiative, details of which were shared first with POLITICO, will include rapid response teams, investigative researchers, pollsters and eventually a paid media campaign to put congressional Republicans 'squarely on the defense,' founder Kyle Herrig said in an interview." • I'm not sure I get this. The Democrats, even in the minority, are legislators. They have a lot of power! And so we need this privatized thing? To do the work electeds will not do? (I looked at Herrig's current vehicle. It doesn't have a funding page. Odd!)

"League Of Legends Player AOC Mocks Crypto Disaster Bro For Being Terrible At Ranked" [Kotaku]. "Bankman-Fried never ranked higher than Bronze II. Dang. Pick a struggle, dude…. Tell me that your gamer heart wasn't at least a little moved when she tweeted "[Venture capitalists] were impressed by Bronze III?" Gamer toxicity is okay when it's being directed at cryptocurrency investors. Bronze III is one of the lower rankings on the League ladder. Only 14.75 percent of players rank at Bronze III or lower….. AOC even has the qualifications to tell the world that Bronze III ain't shit. She last posted about her League ranking on July 13, 2020. 'My small quarantine accomplishment: made it to Silver III,' she tweeted. We don't know what her current rank is, so it's entirely possible that she's risen or fallen since then. But at some point in her League career, she ranked higher than Bankman-Fried ever has. Even if she isn't higher-ranked now, I'm okay with that. I'd rather lawmakers spent more time trying to pass bills than trying to improve their League ranking. If FTX's CEO had spent more time on learning how finance worked, then he might still have a company."
Republican Funhouse
"'National Conservatism' Is A Dead End" [The Federalist]. "Since a civil war is about to break out and destroy the modern Republican Party — fingers crossed — let me tell you what grinds my gears….. 'National conservatism' — granted, still in an amorphous stage — offers a far too narrow agenda for any kind of enduring political consensus. It lacks idealism. It's a movement tethered to the grievances of a shrinking demographic of rural and Rust-Belt workers with high school degrees at the expense of a growing demographic of college-educated suburbanites. The 'New Right' loves to mock 'zombie Reaganism.' Well, the '80s fusionist coalition, which stressed upward meritocratic mobility, free markets, federalism, patriotism, and autonomy from the soul-crushing federal bureaucracy, was by all historical measures more successful than the Buchananism that followed or Rockefellerism that preceded. Zombie Reaganism was a dramatic success not only in 1980 but also in 1994 and again in 2010 and 2014…. Too many conservatives misconstrued Donald Trump's slim 2016 victory as a national realignment. It was a mirage. Trump, a uniquely positioned celebrity candidate, benefitted not only from Obama fatigue but, more than anything else, the cosmic unlikability of Hillary Clinton. Yes, the GOP needed an attitude adjustment, a stiffening of the spine. There is no denying Trump's presidency achieved some positive results (most of them, incidentally, also on the "zombie Reaganism" front with deregulation and the judiciary), and he made inroads with working-class voters and Latinos. But Republicans have now blown three elections catering to largely incoherent NatCon populism…. There is no one reason or person culpable for the right's failures in 2022, but there are certain types of candidates who have been finding success. Ron DeSantis, Brian Kemp, and Glenn Youngkin can call out crony capitalism without sounding like Ralph Nader's comms director. All of them have been highly critical of lawlessness of illegal immigration, but none of them come off like chauvinists. All of them supported heartbeat bills and election integrity laws, and above all, they are competent administrators of government." • Venturing into the fever swamp, here.
Realignment and Legitimacy
If Hayden is representative of hegemonic intelligence community opinion, and I see no reason to think that he isn't, they think they're in a war already:

The fact that the ex-head of the CIA agrees with the argument that half of his fellow Americans are "more nihilistic, dangerous and contemptible" than al-Qaida or ISIS really should be a bigger story than it is right now. pic.twitter.com/GU7QIdJdnh

— Fisted By Foucault Substack (@FistedFoucault) August 20, 2022

And as serious people, they are going to act on their assumptions. In fact, already are.
#COVID19
Lambert here: I can't call a winter surge, though we'll really have to wait for Thanksgiving travel. However, high transmission (CDC), the elevation and continued increase in positivity (Walgreens), and the steady takeover of BQ.1* (CDC; Walgreens) are all a little unsettling (as is the apparent proliferation of variants). Stay safe out there! (As far as Thanksgiving travel goes, lacking CDC's "Rapid Riser" counties feature, the best we can do, I think, is follow the news and look at wastewater. I would order risk from highest to lowest at JFK/LGA (New York), LAX (Los Angeles), ATL, Atlanta, and ORD (Chicago). Since New York — as of this writing, and of course all the data is delayed, making personal risk assessment an effort in delusion, but I digress — is a BQ.1* hotbed, I'd try to use EWR (Newark) not JFK/LGA. My $0.02!
* * *
• "White House's Jha isn't predicting a severe Covid surge this holiday season" [STAT]. "Ashish Jha, the White House Covid-19 coordinator, predicted Tuesday that the United States will not be heading toward another Covid-19 surge driven by holiday gatherings akin to the Omicron wave in 2021. 'We are in a very different place and we will remain in a different place,' said Jha, who noted that roughly 90% of Americans have received at least one Covid-19 vaccine and 'a large chunk of Americans have gotten infected.' Jha, who was speaking at the STAT Summit in Boston, added the caveat that there's always a possibility the virus could significantly mutate – like it did with the Omicron variant – but 'I believe we are in a way better place no matter what Mother Nature throws at us.' Jha also emphasized that the concept of major Covid-19 restrictions are largely off the table at this stage in the pandemic. 'We are now at a point where I believe if you're up to date on your vaccines, you have access to treatments … ,' Jha said. ''" • I love the "restrictions" framing, instead of protections.
* * *
• "COVID Communication Often Failed: How Health Policy Makers Can Do Better" [Scientific American]. "To limit the toll of disinformation in future pandemics, [behavioural economist Varun Gauri at the think tank the Brookings Institution] thinks public-health authorities will need to take a bigger, legislative approach to the problem. "If you've got a good regulatory scheme in place to prevent it, that's really crucial," he says. That could mean, for example, creating transparency laws that require online platforms to inform users of the source of suspect health content, without promoting active censorship of that content." • Surely the most damaging information of all has come from official sources? The article itself leads with the masking debacle, but the denial of airborne transmission, and CDC's constant efforts at minimization (especially the infamous "green map") also played their part. Frankly, the whole piece reads like "jobs for the boys" in pandemic communications: nudge theorists, human-behaviour specialists, social scientists, anthropologists. and psychologists…. From five paragraphs in: "[A]s the mixed messaging around masks shows, honesty is a baseline requirement." It's probably not fair to all the well-meaning nudge theorists out there, but Rochelle Walensky is the proxy for all PMCs doing pandemic messaging, and for her, honesty is not a "baseline requirement" at all. What to do about that?
* * *
• Maskstravaganza: Not a mask in sight:
The Symposium about the Neurological Consequences of COVID-19 is packed! Amazing talks, come check at room 6A #SfN2022 #sfn22 #SARSCoV2 #LongCovid pic.twitter.com/AKRXM0ypCz

— Danielle Beckman (@DaniBeckman) November 12, 2022
Learning about neurological damage from experience, I suppose….
• Maskstravaganza: A play in three acts. Act I:

Act II:

Act III:

The author is a "writer and teacher," so presumbly their "colleagues" are of the same class. I remain gobsmacked at the ease, the rapidity, the virulence, with which non-science, indeed anti-science concepts like "immunity debt" penetrate the PMC. How on earth does this happen? These are adults, with children in their care.
• "Claims of an Immunity Debt in Children Owe Us Evidence" [Office for Science and Society, McGill University]. "At the beginning of the fifth season of the television show Buffy the Vampire Slayer, we the audience are introduced to a character, Dawn, we have never seen before. Intriguingly, every character around her acts as if she has always existed. We know that something is amiss, but her friends and relatives don't. I feel the same way about the concept of an 'immunity debt.' It sprang out of nowhere, but so many people act as if this is an old chestnut in the field of immunology…. A query into PubMed, a search engine for papers published in the life sciences, resulted in 11 hits, all from the past two years. A Twitter user also did a thorough search of digital spaces, coming up with very little. It turns out that that infamous phrase gained life in a position paper from a French team published in the journal Infectious Diseases Now and first published online on May 12, 2021. I will refer to it as the 2021 Cohen paper, as its first author is Professor Robert Cohen…. The 2021 Cohen paper firmly asserts that immunity debt is real and it is caused by the lack of immune stimulation due to pandemic-related measures. There is no equivocation on the part of the authors… until the final page of their paper. All of a sudden, certainty gives way to a weaker position: that those pandemic measures 'may' have led to less training of children's immune systems. In the following paragraph, the word 'hypothesize' is used for the first time in this context. The evidence presented for this immunity debt due to understimulation—advanced first as a certainty, then as a hypothesis—is lacking. But this paper, boldly asserting the existence of an immunity debt in children, opened the floodgates, and soon it was being quoted in other papers and in media reports, and now we are led to believe that our immune system is just like a muscle: stop working it out and it will atrophy. This is the challenge of science communication. Simple analogies stick in people's minds, even when they are wrong. Our immune system is not like a muscle. It does not require constant poking and prodding from a germ to avoid lethargy. And even if it did, children during the pandemic were not kept in sterile bubbles. They were in contact with microorganisms from the food that they ate, the soil that they played with, and the adults in their lives. The idea that Zoom schooling created an aseptic environment is silly on its surface."
* * *
• "It's Really, Really Worth Trying to Avoid Getting COVID Multiple Times" [Self]. "The potential risks of COVID reinfection are very real, regardless of your vaccination status, new research suggests. Having COVID more than once boosts your risk of hospitalization, developing long COVID, or even dying from the virus, according to a large new study published in the journal Nature Medicine. The goal of the research was to determine whether the risk of complications goes up the more you're infected with the virus, according to lead study author Ziyad Al-Aly, MD, assistant professor at the School of Medicine at Washington University in St. Louis. "The answer is absolutely yes," he tells SELF." • Note the source. Too bad there's no magazine called "Self and Others," but that's a separate issue. (NC linked to this study back on November 11.)
* * *
Transmission
Here is CDC's interactive map by county set to community transmission. (This is the map CDC wants only hospitals to look at, not you.)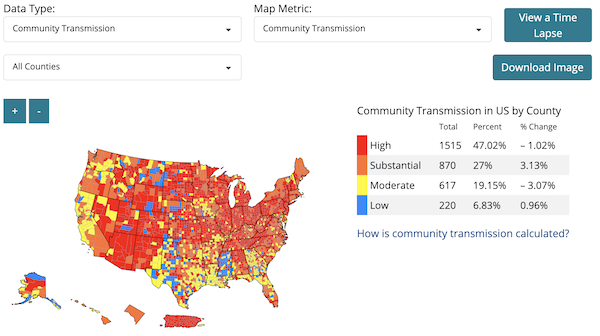 • Readers, you have the right link, but not everyone is so lucky. Just trying to do the right thing before the holidays:

How on earth are people supposed to make a "personal risk assessment" if they can't find tranmission levels in their area? And yes, CDC makes that very, very hard to do:

Positivity
From the Walgreen's test positivity tracker, published November 15: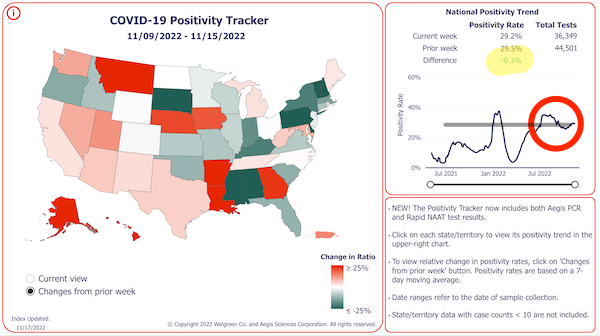 -0.3%. Down.
Wastewater
Wastewater data (CDC), November 13: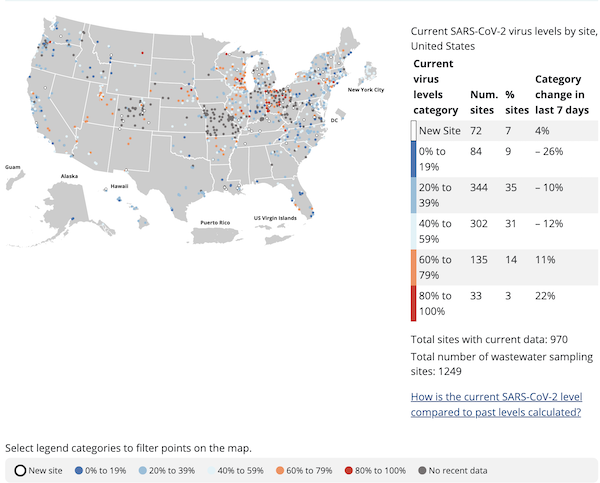 Lambert here: Queens County (JFK/LGA) is no longer orange, i.e., not increasing, so I thought I'd look at Cook (ORD) which isL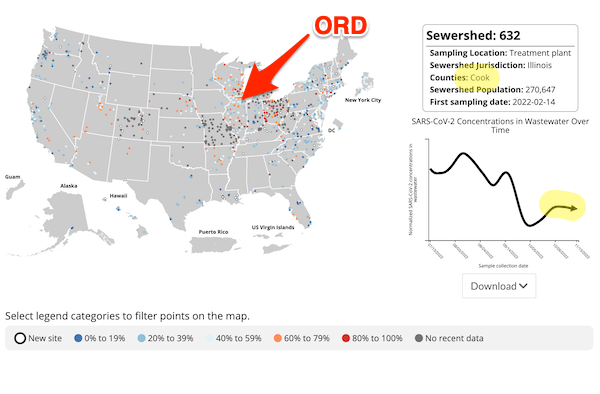 November 12: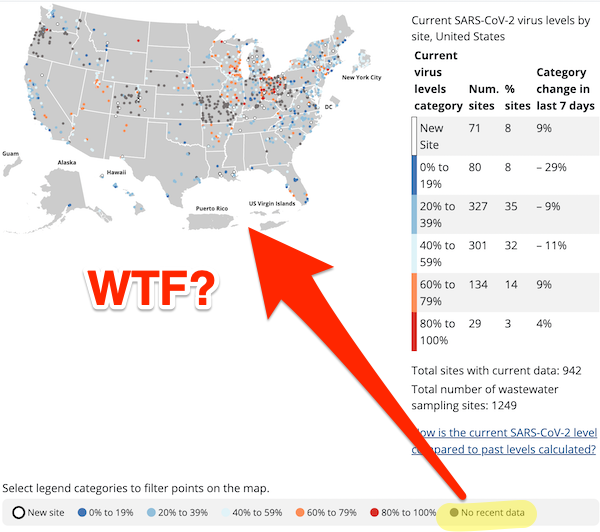 Lambert here: An enormous number of counties have gone dark (grey dot, no data) in West Virginia, Ohio, Indiana, Missouri, Colorado, and Oregon. I don't know whether that's because they've dropped out of the program. or CDC butchered the data, or CDC's contractor, Biobot, had problems. (Biobot's data page includes the following disclaimers: "Not all locations may have submitted recent samples," and "Biobot's scheduled variant data update is delayed." Maybe so.) I poked around to see if there was a reporter somewhere who had CDC as their beat. Apparently not.
Variants
Lambert here: It's beyond frustrating how slow the variant data is. Does nobody in the public health establishment get a promotion for tracking variants? Are there no grants? Is there a single lab that does this work, and everybody gets the results from them? [grinds teeth, bangs head on desk]. UPDATE Yes. See NC here on Pango. Every Friday, a stately, academic pace utterly incompatible with protecting yourself against a variant exhibiting doubling behavior.
NOT UPDATED Variant data, national (Walgreens), October 25: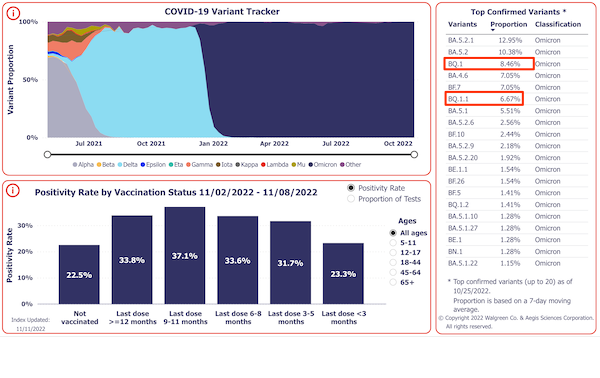 Lambert here: BQ.1* moving along quite briskly.
NOT UPDATED Variant data, national (CDC), October 22 (Nowcast off):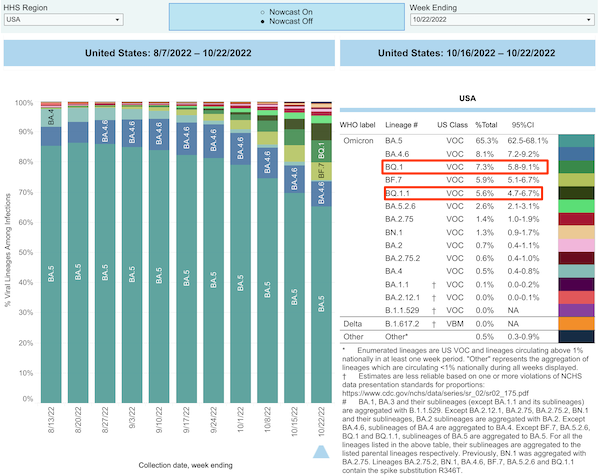 BQ.1* moving along quite briskly. New York/New Jersey (Region 2) numbers are higher: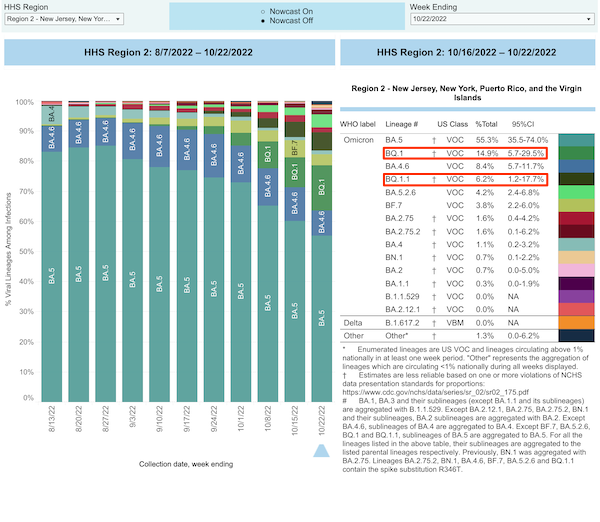 • As a check, since New York is a BQ.1* hotbed, New York hospitalization, updated November 16: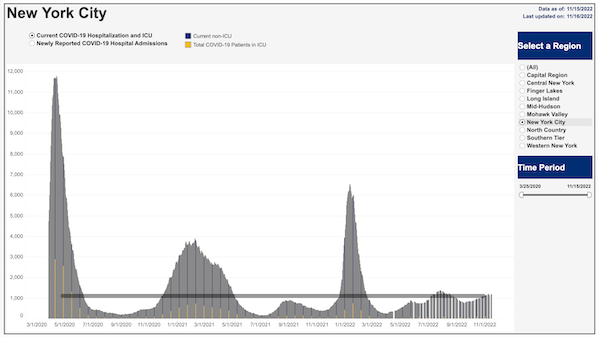 Lambert here: An almost imperceptible increase. Let's wait and see. I have drawn an anti-triumphalist line to indicate that although this surge is not world-class, neither is it neglible.
Deaths
Death rate (Our World in Data):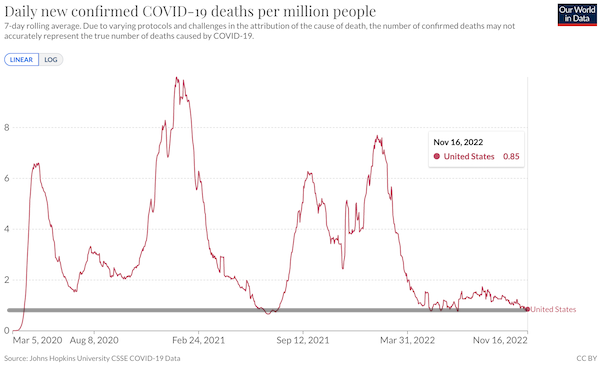 Total: 1,101,370 – 1,100,631 = 739 (739 * 365 = 269,735 deaths per year, today's YouGenicist™ number for "living with" Covid (quite a bit higher than the minimizers would like, though they can talk themselves into anything. If the YouGenicist™ metric keeps chugging along like this, I may just have to decide this is what the powers-that-be consider "mission accomplished" for this particular tranche of death and disease).
It's nice that for deaths I have a simple, daily chart that just keeps chugging along, unlike everything else CDC and the White House are screwing up or letting go dark, good job.
Stats Watch
Employment Situation: "United States Initial Jobless Claims" [Trading Economics]. "The number of Americans filing new claims for unemployment benefits fell by 4,000 to 222,000 on the week ending November 12th, below expectations of 225,000, pointing to a continuously tight job market and adding leeway for the Federal Reserve to tighten policy, despite the surge in layoffs from large tech companies."
Manufacturing: "United States Philadelphia Fed Manufacturing Index" [Trading Economics]. "The Philadelphia Fed Manufacturing Index in the US fell to -19.4 in November of 2022 from -8.7 last month, the lowest since May of 2020 and well below market expectations of -6.2. The general activity index declined further, the new orders index remained negative, and the shipments index remained positive but low. The employment index declined but continued to suggest overall hiring, and the price indexes continued to suggest overall increases."
Manufacturing: "United States Kansas Fed Manufacturing Index" [Trading Economics]. "The Kansas City Fed's Manufacturing Production index was at -10 in November of 2022, the second-lowest figure since May of 2020, solely behind the -22 from the prior month. The slower pace of factory growth in the period was driven by a decline in activity in primary metals, plastics and rubber products, chemicals, furniture, and fabricated metals manufacturing. Most month-over-month indexes decreased, with the current delivery time index reaching its lowest on record."
* * *
Tech: "Elon Musk tells Twitter staff to commit to 'hardcore' culture or leave" [Financial Times]. "Employees have been asked to formally register their desire to be part of the new Twitter through a link in the email. Those who have not done so by 5pm EST on Thursday will receive three months of severance pay, according to the email seen by the Financial Times and first reported by the Washington Post." • Oh the humanity. Of course, if these these engineers had a union (or a guild)….
* * *
Today's Fear & Greed Index: 63 Greed (previous close: 64 Greed) [CNN]. One week ago: 63 (Greed). (0 is Extreme Fear; 100 is Extreme Greed). Last updated Nov 17 at 1:25 PM EST. Falling back to mere greed….
Book Nook
"Cold Comforts" (review) [Book Forum (AL)]. A new biography of Australian novelist Shirley Hazzard. "[The author] quotes friends who recall conversation with Hazzard as a spell, a magic web of erudition and quotation. The poet Edward Hirsch says she was 'the most cultivated person' he had met. Another poet, Michael Collier, recalls a lunch with Hazzard: 'You just felt that you had moved into another landscape.' There were, of course, some who could not be charmed. (According to one of Olubas's sources, Elizabeth Hardwick and Hazzard 'did not get along,' though she doesn't say why; possibly it had something to do with to the static between Steegmuller and Hardwick's friend Mary McCarthy over a piece McCarthy wrote about Madame Bovary.) And it was pointed out occasionally, even by her friends, that Hazzard, who so loved to talk, was not an especially good listener. Annabel Davis-Goff said that conversation with Hazzard was a matter of 'finding a moment when you could interrupt.' Whether that tendency to monologue was due to temperament or was a consequence of having been intellectually stifled in her youth is not clear; probably it was both. In any case it recalls Hazzard's short story 'Harold,' which concerns a quiet boy staying with his mother at an Italian villa much like Solaia. In the story it comes out that the boy writes poems, and someone says what people say in such situations: 'I hope you will read them to us.' To everyone's surprise, the boy immediately goes upstairs to get his papers, and greater surprise still, the room is suddenly transported by his genius. Sharing his work makes the boy 'self-possessed': he gives no mind to the effect he has on the others, and does not look for their approval or commendation. The story is a kind of fantasy about a productive writer ('There are more all the time,' he says of the poems) being entirely sufficient unto himself."
"… in that lair of the Deep Ones we shall dwell amidst wonder and glory for ever":
h/t https://t.co/ki2zVTgzDS pic.twitter.com/8E8bH1fmMx

— jack babylon (@jack_babylon) November 17, 2022
The 420
"Hemp may get cows high, but will their milk do the same to you?" [Nature]. "It remains unclear whether such milk would get human consumers high." • But that's the most important question. A business model for a dairy industry that's in trouble!
Zeitgeist Watch
They were careless people:
More mega-mansions, more private jets, more armed personal security, more yacht moorings, more human trafficking, more art auctions, more of every vice.

— The Legend of Lou (@Mont_Jiang) November 16, 2022
"Dead Ascending a Staircase" [The Baffler]. "The 'Vessel' [is] a dazzling sixteen-story monolith of interlocking stairs at the center of Hudson Yards in western Manhattan…. [But it has] become abundantly clear that the crown jewel of Hudson Yards—what [Related Companies, which co-owns and operates Hudson Yards with Oxford Properties Group] hoped would be 'the new heart of New York'—is, in fact, a $200 million suicide machine. … Related's chairman, Stephen M. Ross, had conceived of the Vessel as a quote-unquote 'public monument,' but he commissioned and funded it himself as a gift to the city of New York. Consider it the billionaire's version of a conciliatory bouquet to taxpayers who subsidized Hudson Yards—the largest nominally private development in the United States—to the tune of $6 billion. But Ross's largesse also exempted the Vessel from the standard vetting processes that other public structures must undergo. Gifts, after all, are to be greeted with thanks, not hearings. When it was formally unveiled with the help of Sesame Street's Big Bird in March 2019, the Vessel drew near-universal mockery and condemnation (including in this magazine) for its utter pointlessness. But mostly, it induced indifference: if some billionaire wants to make tourists climb stairs, then that's their business….. The objections of architecture critic Audrey Wachs stood out among the scoffs and the shrugs. On top of her many acute criticisms, Wachs admonished the Vessel's designers for not having learned from NYU's Bobst library. Only three years prior, its main atrium, similarly nestled between Escherian steps, saw a string of student suicides which forced the university to install floor-to-ceiling barriers. The waist-level handrails at the Vessel were too low, she prophesied in 2016: 'When you build high, folks will jump.' As Wachs's warnings materialized—first in February 2020, again in December, for a third time less than a month later, and a fourth time in July 2021."
Guillotine Watch
You'd think the Times would have made at least one change to its DealBook Summit, but apparently not: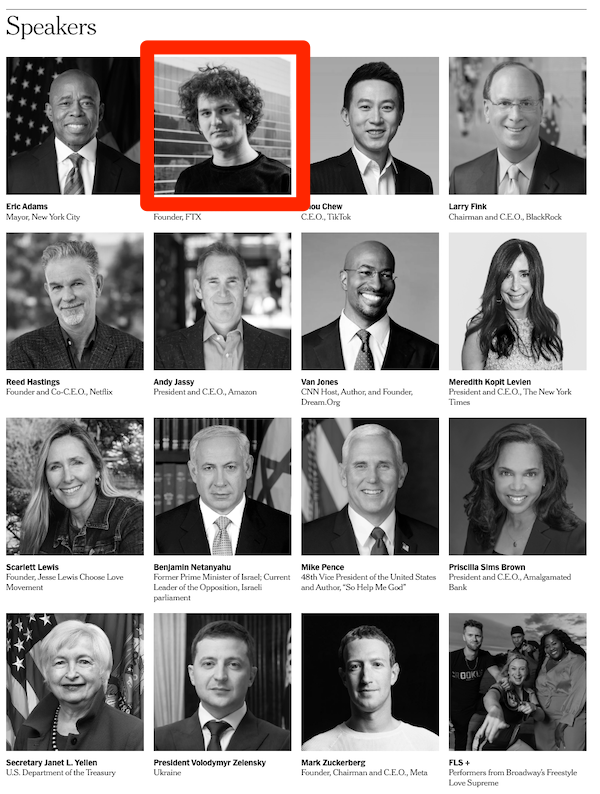 But holy moley, what a horrid roster. Mike Pence — and I can't believe I'm saying this — looks like the only non-grifter in the bunch.
Class Warfare
"On Red Cup Day, thousands of Starbucks workers go on strike" [NPR]. "Members of the Starbucks Workers Union are picketing outside more than a hundred stores across the country on what they say is the group's largest single-day strike. The walkout falls on what's known as Red Cup Day, when the coffee giant hands out limited-edition holiday reusable cups. They're considered collector's items and customers line up at the crack of dawn to get their hands on a decorated cup. It's one of the coffee giant's most profitable days on the calendar. But baristas such as Josie Serrano say it's emblematic of one of the union's fundamental requests: a call for better staffing. 'It's honestly one of those days that a lot of … baristas try to … ask for off because it's always always a very insane day,' said Serrano, who works at a store in Long Beach. Calif…. The walkout is intended to get Starbucks to bargain with workers in good faith as the two sides try to hammer out new contracts, Serrano says. According to the union, the company has retaliated against union leaders, and Starbucks lawyers have walked out on bargaining sessions or made last-minute rescheduling requests that make it challenging for members to participate."
The Nanny, no longer a guilty pleasure:
Fran Fine never crossed a picket line pic.twitter.com/r8JHbvkQni

— Dripped Out Trade Unionists (@UnionDrip) November 17, 2022
"Jennifer Aniston Has Nothing to Hide" [Allure]. I'm being very kind and putting this here, not under Guillotine Watch. Final paragraph: "' feel like I'm coming through a period that was challenging and coming back into the light,' she says. 'I have had to do personal work that was long overdue, parts of me that hadn't healed from the time I was a little kid. I'm a very independent person. Intimacy has always been a little here,' she extends her hand an arm's length in front of her. 'I've realized you will always be working on stuff. I am a constant work in progress. Thank God. How uninteresting would life be if we all achieved enlightenment and that was it?'" • Who among us? Clearly, celebrity is very bad for people. Also, why do "dog people" think its OK for their pets to lick people? Or jump on them?
News of the Wired
Promoted into my timeline:
A deep understanding of social networks can be used to create an artificial tipping point, changing population behavior by fostering behavioral cascades –> @NAChristakis experimentally tests this proposition.

Register for #NODES2022! https://t.co/xqKYmbz8Wh pic.twitter.com/6VMTIezlXC

— Neo4j (@neo4j) October 6, 2022
This sounds bad….
* * *
Contact information for plants: Readers, feel free to contact me at lambert [UNDERSCORE] strether [DOT] corrente [AT] yahoo [DOT] com, to (a) find out how to send me a check if you are allergic to PayPal and (b) to find out how to send me images of plants. Vegetables are fine! Fungi and coral are deemed to be honorary plants! If you want your handle to appear as a credit, please place it at the start of your mail in parentheses: (thus). Otherwise, I will anonymize by using your initials. See the previous Water Cooler (with plant) here. From CL: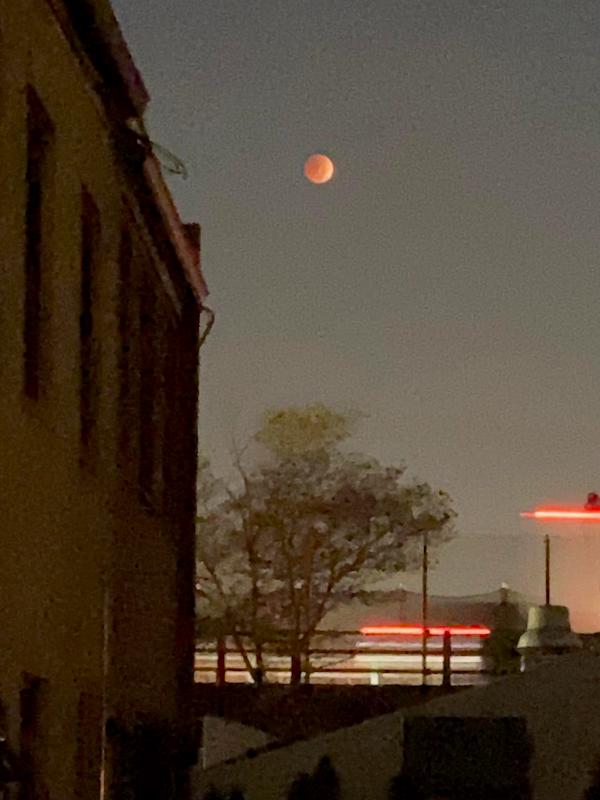 CL writes: "Truck blood moon and tree over the Brooklyn-Queens Expressway." I'm not sure the resolution is all it could be, so let's just go ahead and call it pointillist. Also, I stan for light trails (as a consequence of liking very long exposures).
* * *
Readers: Water Cooler is a standalone entity not covered by the annual NC fundraiser. So if you see a link you especially like, or an item you wouldn't see anywhere else, please do not hesitate to express your appreciation in tangible form. Remember, a tip jar is for tipping! Regular positive feedback both makes me feel good and lets me know I'm on the right track with coverage. When I get no donations for five or ten days I get worried. More tangibly, a constant trickle of donations helps me with expenses, and I factor in that trickle when setting fundraising goals:
Here is the screen that will appear, which I have helpfully annotated: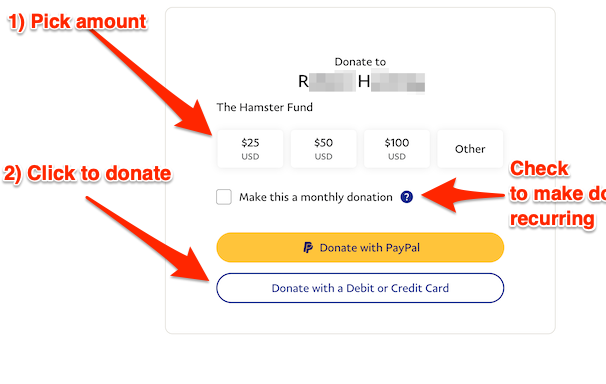 If you hate PayPal, you can email me at lambert [UNDERSCORE] strether [DOT] corrente [AT] yahoo [DOT] com, and I will give you directions on how to send a check. Thank you!