By Lambert Strether of Corrente
Bird Song of the Day
Olivaceous Siskin, 17 km WSW Rioja, above El Consuelo – LSU/ AMNH, San Martín, Peru.
* * *
Politics
"But what is government itself, but the greatest of all reflections on human nature?" –James Madison, Federalist 51
"Here's food for thought, had Ahab time to think; but Ahab never thinks; he only feels, feels, feels" –Herman Melville, Moby Dick
"So many of the social reactions that strike us as psychological are in fact a rational management of symbolic capital." –Pierre Bourdieu, Classification Struggles
Biden Administration
"Manchin Wants Deal on Debt, Social Security, Medicare and Medicaid" [Bloomberg]. "West Virginia Senator Joe Manchin said Thursday that Congress needs to deal with the nation's 'crippling debt' by making changes to shore up Social Security, Medicare, Medicaid and other programs he said are 'going bankrupt.'" • Like a bad penny….

"Biden Pentagon official joins TikTok amid review of the Chinese app" [Washington Examiner]. "A former Biden Pentagon official who claimed Twitter's censorship of Hunter Biden laptop stories proved they were false while working on the Biden campaign has joined TikTok as a communications director. Jamal Brown, who served as the Defense Department's deputy press secretary from February 2021 to February 2022, has joined TikTok to run its policy communications in the Americas, reportedly with a main focus on the United States, as the Biden administration conducts a national security review of the Chinese government-linked video app and as Republicans urge President Joe Biden to ban it. Brown was also national press secretary for Joe Biden from April 2019 to November 2020, during which he worked to downplay allegations related to Hunter Biden's overseas business dealings in China and praised Twitter's censorship of the New York Post's stories on the laptop hard drive in October 2020." • Oh.
2022
* * *

Polls, polls, polls:

#NEW @maristpoll Senate Polls:#PASen:
Fetterman (D) 50% (+6)
Oz (R) 44%
.#AZSen:
Kelly (D-inc) 49% (+4)
Masters (R) 45%
.#GASen:
Warnock (D-inc) 49% (+4)
Walker (R) 45%

— Political Polls (@Politics_Polls) November 4, 2022

"Republicans Are Just A Normal Polling Error Away From A Landslide — Or Wiping Out" [FiveThirtyEight]. "With just five days until Election Day, Republicans are in good shape in the FiveThirtyEight forecast. If each party were to win every race they are currently favored to win, Republicans would have 51 Senate seats and Democrats would have 49, according to our Deluxe forecast as of Wednesday at 3 p.m. Eastern.1 And if the same thing happened in the House, Republicans would win 225 seats and Democrats would win 210. But those gains would be modest by the standards of midterm elections. In other words, according to the FiveThirtyEight forecast, this likely won't be a 'red-wave' election like 2010 (when Republicans picked up 63 House seats) or 2014 (when Republicans picked up nine Senate seats). Instead, it's looking like more of a 'red ripple.' But that doesn't mean a red wave is impossible…. our research has found that you can't predict the direction of polling error in advance. Historically, polls have been equally likely to underestimate Republicans or Democrats. So it's also possible that pollsters have fixed the problems that plagued them in 2016 and 2020 — maybe even overcorrected for them — and that the current polls are too good for the GOP. In other words, a wide range of scenarios is possible in this election: everything from a Republican landslide to a world where Democrats hold the House and gain seats in the Senate." And: "So what would the election results look like if Democrats did 5.4 points better than the FiveThirtyEight forecast currently predicts in every Senate race and 6.3 points better in every House race? In this scenario, it would be Democrats who win 54 Senate seats — the ones in which they are currently favored plus Georgia, Nevada, North Carolina, Ohio and Wisconsin." • Off by 5.4 or 6.3 points? That's a lot. It could also be where we are!

"The contrarian case for Democratic optimism" [Axios]. "Conventional wisdom isn't always correct. Every election carries surprises — it was just two years ago that Republicans defied expectations to gain seats in the House — and there are at least a few bright spots to consider before Democrats commit themselves to the political wilderness." Five reasons for optimism: "The Senate remains very much in play"; "Governor's races are a surprise bright spot"; "The growing gender gap"; "The bogeyman is still there"; "Polling is never perfect."

"A Nonpartisan Generic Ballot Aggregator" [Split Ticket]. "It's increasingly well accepted at this point that Democrats are on track to have a fairly bad year, at least in terms of the national popular vote. Their president's approval rating is at 44%, the out-party shows serious enthusiasm, and inflation is at 8%. None of these things generally point to a remotely competitive race for Congress, and many of the partisan pollsters currently releasing public polls suggest that Republicans appear on track for a comfortable victory come November. But when you sit down and look at the polling numbers from nonpartisan pollsters, they tell a very different story." Chart:

"As of the morning of October 30th, there are two pictures being painted. The first, by nonpartisan public pollsters, is encapsulated in the graph above. It suggests that the November elections are essentially a dead heat, and that if they were held today, the generic ballot would be a virtual tie. The second is by partisan pollsters, and it suggests a more Republican picture; in fact, the average of partisan-affiliated pollsters (Trafalgar, Data For Progress, Navigator Research, Rasmussen Reports, Insider Advantage, and Echelon Insights) over the last week suggests an R+3 year. These are extremely different forecasts, and there are conflicting signals on who to trust." • Yep!

* * *

"The Memo: Biden's plea for democracy struggles to get traction" [The Hill]. "[F]rom an electoral standpoint, Biden's argument looks likely to get lost in the crosswinds of economic distress and political polarization. Put simply, the voters who agree with Biden were probably going to vote for his party anyway. And, even for many Americans who believe democracy is in real peril, anxiety about inflation and the economy can feel more urgent." And: "A NewsNation-Decision Desk HQ poll this week found roughly a quarter of voters believe that 10 percent or more of mail-in ballots are fraudulent. Independent studies indicate the real figure is closer to 1 in 50,000."

"Biden Warns Americans That Ability To Even Pretend U.S. A Democracy At Stake" [The Onion]. "'Today, our country teeters on a grim precipice, and if we aren't careful, it will become completely impossible to embrace the charade that we are in any way a functioning democracy,' said Biden, describing how the upcoming midterm election could be the nation's last chance to delude itself into believing its political system was actually built on the will of its people."

"'Back to normal': Republicans benefit in first 'post-pandemic' election" [Financial Times]. "'Covid-19 is declining as an issue for the American public,' said Chris Jackson, senior vice-president at Ipsos. 'People have gone back to normal, but they are not giving the Democrats credit for that — they want to know what both parties are going to do for them next.' Top of the list of voters' worries going into Tuesday's vote is inflation, multiple polls have shown, which is running at 8.2 per cent. Earlier this week, Fed chair Jay Powell indicated the US central bank's fight with soaring prices is far from over, warning interest rates will peak at higher levels than previously expected. While high prices have also been exacerbated by the war in Ukraine, economists say the problem stems from the pandemic. A study by Adam Shapiro, an economist at the Federal Reserve Bank of San Francisco, shows nearly three-quarters of core inflation can be traced back to the supply chain and demand disruptions caused by the virus. Claudia Sahm, the founder of Sahm Consulting and a former Federal Reserve economist, said: 'China has just locked down the city where Foxconn makes iPhones — we are still seeing the effects of the pandemic play into supply chains. I have no idea why we are not talking more about Covid.' When voters do link issues such as inflation to the pandemic, it can work against Democrats. For instance, some blame the stimulus bill passed in the early days of the Biden administration, which helped boost demand just as the economy was recovering. Rich Thau, a moderator of the Swing Voter Project who has been conducting regular focus groups during the campaign, said: 'Voters say the pandemic has fuelled inflation mostly through the money that was shovelled out the door by the federal government.'" • [bangs head on desk]

"The 30 Prosecutor and Sheriff Races that Will Shape Criminal Justice Next Week" [BOLTS]. "But the elections that will affect policing and the court system most immediately are the local races for sheriff and prosecutor. These powerful officials decide who to prosecute and how severely, what sentences to seek, whether to team up with federal immigration enforcement, and other major policy questions over which they have vast discretion." To pick an example at random: "Marion County [Indianapolis, IN] is one of many places this year where police unions have clashed with local prosecutors who pushed some amount of reform. The local Fraternal Order of Police overwhelmingly approved a vote of 'no confidence' against Democratic incumbent Ryan Mears over the summer and endorsed Republican challenger Cyndi Carrasco to replace him." • Since when do cops get to stage votes of "no confidence" against elected officials? Who's running the city, here? A worthwhile read. Check if your city is on the list!

* * *

PA: "Oprah Winfrey endorses Fetterman over Oz in Pennsylvania Senate race" [CNN]. "Television icon Oprah Winfrey announced on Thursday night that she prefers Democratic Senate nominee John Fetterman over Oz in the midterm election contest. 'If I lived in Pennsylvania, I would've already cast my vote for John Fetterman, for many reasons,' WInfrey said during a conversation she hosted on voting."

* * *
2024
"Donald Trump teases Iowa crowd: 'I will very, very, very probably' run for president" [USA Today]. "'Get ready,' former Republican President Donald Trump teased a crowd in Sioux City Thursday as he hinted, once again, at a looming presidential run in 2024. 'That's all I'm telling you,' he said, pausing to let the crowd chant his name. 'Very soon. Get ready.' Trump has continued to hint at a new presidential run, though he hasn't made any official declarations. 'In order to make our country successful, and safe and glorious, I will very, very, very probably do it again okay,' he said. 'Very, very, very probably.'" • Loss of national sovereignty under TPP axed, no ground wars (especially with nuclear powers), Operation Warp Speed producing vaccines in record time, actual reduction of poverty under the CARES Act. What's not to like? (Well, a lot, but what's not to like that nets out negative over Biden? Particularly when you note that Biden squandered the time "the former buy" bought him with vaccines, and actually killed more people?)

"Exclusive: DOJ mulling potential special counsel if Trump runs in 2024" [CNN]. "As Donald Trump inches closer to launching another presidential run after the midterm election, Justice Department officials have discussed whether a Trump candidacy would create the need for a special counsel to oversee two sprawling federal investigations related to the former president, sources familiar with the matter tell CNN. The Justice Department is also staffing up its investigations with experienced prosecutors so it's , including the potential unprecedented move of indicting a former president. Top aides to Trump have been eyeing the third week of November as an ideal launch point for his campaign, with two sources telling CNN on Friday morning that the team has specifically discussed November 14. In the weeks leading up to the election, the Justice Department has observed the traditional quiet period of not making any overt moves that may have political consequences. But behind the scenes, investigators have remained busy, using aggressive grand jury subpoenas and secret court battles to compel testimony from witnesses in both the investigation into Trump's efforts to overturn the 2020 election and his alleged mishandling of national security documents kept at his Palm Beach home." • Ah, "the traditional quiet period" by the totally not politicized Justice Department. It would be quite a spectacle, Trump running from a jail cell. Especially if he won.

"OnPolitics: What the 2022 midterms will mean for the 2024 election" [USA Today]. "Notably, many of the states that are part of the former president's final 2022 campaign swing are ones that would be pivotal in a 2024 run, including Iowa, Florida, Pennsylvania and Ohio."
Democrats en Déshabillé
Patient readers, it seems that people are actually reading the back-dated post! But I have not updated it, and there are many updates. So I will have to do that. –lambert

I have moved my standing remarks on the Democrat Party ("the Democrat Party is a rotting corpse that can't bury itself") to a separate, back-dated post, to which I will periodically add material, summarizing the addition here in a "live" Water Cooler. (Hopefully, some Bourdieu.) It turns out that defining the Democrat Party is, in fact, a hard problem. I do think the paragraph that follows is on point all the way back to 2016, if not before:

The Democrat Party is the political expression of the class power of PMC, their base (lucidly explained by Thomas Frank in Listen, Liberal!). ; if the Democrat Party did not exist, the PMC would have to invent it. . ("PMC" modulo "class expatriates," of course.) Second, all the working parts of the Party reinforce each other. Leave aside characterizing the relationships between elements of the Party (ka-ching, but not entirely) those elements comprise a network — a Flex Net? An iron octagon? — of funders, vendors, apparatchiks, electeds, NGOs, and miscellaneous mercenaries, with assets in the press and the intelligence community.

Note, of course, that the class power of the PMC both expresses and is limited by other classes; oligarchs and American gentry (see 'industrial model' of Ferguson, Jorgensen, and Jie) and the working class spring to mind. Suck up, kick down.

* * *

"Democratic Consultants Cash in on AIPAC Spending — Even as It Tries to Hand the House to Republicans" [The Intercept]. "Four major Democratic firms worked with a Super PAC that is now spending $1 million to defeat one of their party's congressional candidates. The Super PAC for the country's largest pro-Israel group, the American Israel Public Affairs Committee, or AIPAC, put close to $3 million into the Democratic primary in Pennsylvania's 12th Congressional District — spending that turned into contracts for two of the Democratic consultants to go after a progressive in their own party, state Rep. Summer Lee. Lee, however, prevailed and now the PAC, United Democracy Project, is spending more than $1 million against her in the general election, backing her Republican opponent Mike Doyle." • But wait. What about "our democracy"? What about "fascism"?

"How a secret meeting put Hakeem Jeffries on track to replace Pelosi" [Politico]. "If the [Jim Clyburn] does clear the way for his younger colleague [Hakeem Jeffries], however, the 58-member [Congressional Black Caucus] would overwhelmingly rally to Jeffries, paving the way for him to become the first African-American to serve as a congressional leader. 'He brings old-school political acumen with an ability to relate to younger people,' Rep. Emanuel Cleaver of Missouri, another member of the CBC, said of Jeffries, while taking care to note he was not going to formally declare his preference until after the election. Privately, a number of Democratic lawmakers said Jeffries is their best option as leader because he's the rare member who's proficient at both the outside and inside game, skilled enough to carry the party's message on television but also attuned to his colleague's needs and wants…. Few Democrats more fully grasp the power of the party's diversity than Clyburn, the man whose eleventh-hour endorsement helped revive President Biden's campaign in the first primary state with a large share of Black voters." • It's really awesome that the Black Misleadership Class would finally dominate the Democrat Party completely. (To be fair, there are other options: Adam Schiff, for example.) So as far as deep-sixing Pelosi? Be careful what you wish for.

"Drinking Enemies: Two Cocktail Parties that Reveal the Schism in the Millennial Left" [Politico]. "As the Inclusive Populists tell it, the Democratic Party started to go awry during the Obama years. His was a style and a rhetoric that let all Americans see themselves in the story he would tell about the country; allowed voters to place themselves in the grand sweep of the nation's progress from the revolution, through waves of immigration, westward expansion and social justice movements, culminating in his election as a path-breaking president. All of which left room open for someone who could put together a coherent story for people looking for someone to explain why, if all that inspiring stuff was true, everything seemed to be falling apart in the country, as inequality increased, housing, medical care and the cost of living skyrocketed, and ever larger swaths of the country were left behind in the global economy. Inconveniently for every Democrat in America right now, the person who did figure it out wasn't a populist like Bernie Sanders or Elizabeth Warren. It was Donald Trump. And in a way, the whole fight between the popularists and the inclusives is about how to grab the microphone and that argument — their argument — back from the elderly white nationalist celebrity who took it over." • Well, the obvious first step is to censor the "elderly white nationalist celebrity"'s supporters, and then to put him in jail. I tried to read the whole thing, I really did….
Republican Funhouse
"Hawley aims to reshape Senate GOP with Vance and Masters" [Politico]. "Josh Hawley doesn't just want to flip the Senate by electing fellow Republicans Blake Masters and J.D. Vance. He wants to bend the entire GOP conference with a bloc of like-minded senators. The Missouri senator, who helped convince both candidates to run, will go to Arizona on Friday for Masters, Ohio for Vance on Saturday and then finish the campaign on Monday in Missouri for GOP candidate Eric Schmitt. The senator who led objections to President Joe Biden's election win foresees a Senate GOP that is more confrontational toward large corporations and tech companies and less focused on Ukraine aid, and he's convinced Vance and Masters have proven they'll be allies in that endeavor."
Realignment and Legitimacy
I don't think anybody's looking good here:

This might be so, but @greatdismal accurately predicted Twitter's emergent personality in "Idoru" back in 1996: https://t.co/ZEJ9nwg6xO pic.twitter.com/KYTefcPC60

— Charlie Stross (@cstross) November 3, 2022

Obviously, Musk's claim that Twitter is a "cybernetic super-intelligence" is risible, even with the qualifier "can be thought of." But I think Strosser's riposte quoting Gibson's is wrong as to facts and context: Wrong on facts, because Twitter has many quiet and even not-so-quiet neighborhoods that are nothing like Gibson's "baby hippo." For example, I find it hard to believe that the aerosol scientists/Corsi-Rosenthal box activists would have emerged without Twitter, and these are both very kind and helpful communities. As to context: I think that when Gibson wrote of the "double-wide on the outskirts of Topeka," he's presenting an early example of the sort of (class-based) disdain — nay, hatred — that later produced Hillary Clinton's notorious "deplorables" remark. When Gibson famously said, "The future is already here – it's just not evenly distributed," he was more correct than he knew: Here the future is the inability of the PMC to live with classes of people inferior to themselves, or to believe they should be allowed to vote in "Presidential elections". Since Gibson saw this tendency in the first Clinton administration, that's a very good call. I've never liked the "baby hippo" passage, stylistically brilliant though it is, and now that Strosser cites to it, I like it even less.

Radicalisation. a thread:

On October 30th, a man threw petrol bombs at an immigration centre in Dover, injuring two. Minutes later he killed himself.

Three days on, the attack has been largely forgotten.

But it's worth taking a closer look at what he posted online, and what it says about radicalisation: pic.twitter.com/jGs8hboTWq

— Rajan Basra (@rajanbasra) November 3, 2022

If everything that happened to this guy is true — like his son dying — his whole life has been an avalanche of suffering*. And yet, the last pebble to roll down the hill — "rhetoric" — is what our symbol manipulators seize on. We need to adjust is cognitive infrastructure! NOTE * Suffering does not enoble. It's just suffering.
#COVID19
• New York hospitalization (via Lou Anton):
Not reassuring. Let's wait and see (and I sure wish I had a breakdown by borough).
* * *
• More on the GPS lawsuit against ionizer whistleblower Marwa Zaatari linked to yesterday. Alert reader DG asks me to signal boost the following:
However, there isn't yet a federal SLAPP act, so [Zaatari] will want to ask the state lawyer and the federal false claims act lawyer how to handle that delicate part of the matter. IANAL, but I suspect it is important that she make her federal false claims act claim as part of her response and counterclaims. This will let her lawyer choose which federal circuit to rain legal death upon this vile corporate scum. First she should get a white shoe law firm that regularly handles federal false claim act cases. @popehat should know a few off hand. I am willing to bet that the vast majority of their recent revenue bloom has been from sales to schools using federal grant money. She'll be able to sue qui tam and get a nice reward from the recovered funds. They will go bankrupt. Second, check whether she lives in a state with a SLAPP law and have it thrown out on that.
Readers, thoughts?
* * *
• "Two early US programs successfully traced COVID case contacts" [Center for Infectious Disease Research and Policy]. "A pair of new studies describe how two US jurisdictions quickly mobilized teams of contact tracers to identify and isolate people exposed to SARS-CoV-2, with a massive New York City effort finding 1.4 contacts per case and a college student-led Central Pennsylvania initiative that may have led to fewer symptomatic household infections." • Since these efforts were successful, we naturally made no effort to scale them, and abandoned contact tracing entirely.
* * *
• Another jurisdiction besides Belgium gets indoor air quality right:
The Hong Kong air quality regulations are here:https://t.co/UvrmPAwt2q

Based on the recommendations here:https://t.co/HvfMGLwF1m

Hong Kong really got this one right and every other city should look at how it was implemented when doing their own air quality interventions. pic.twitter.com/vh2nMVa3C5

— Naomi Wu 机械妖姬 (@RealSexyCyborg) June 12, 2022
* * *
• Another minimizer trope shot down, what a shame:
Also, "immunity debt" isn't a thing. It was invented for this pandemic. Not mentioned in the scientific literature before 2021.https://t.co/Vb9S9gfsQu

— T. Ryan Gregory (@TRyanGregory) November 4, 2022
* * *
Transmission
Here is CDC's interactive map by county set to community transmission. (This is the map CDC wants only hospitals to look at, not you.)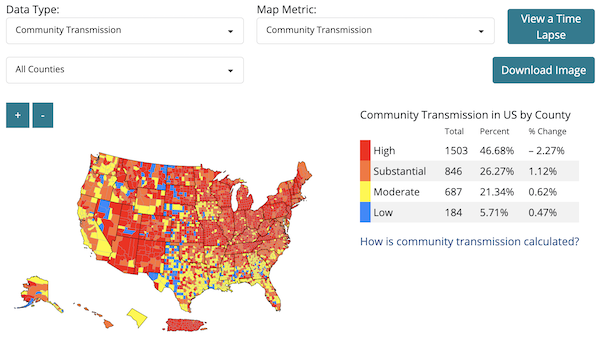 Positivity
From the Walgreen's test positivity tracker, November 3: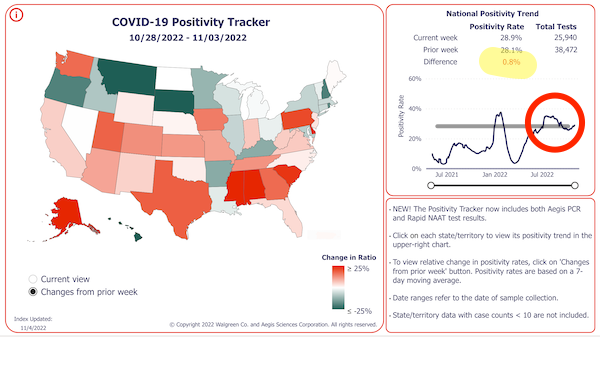 0.8%. Increase.
Wastewater
Wastewater data (CDC), October 31: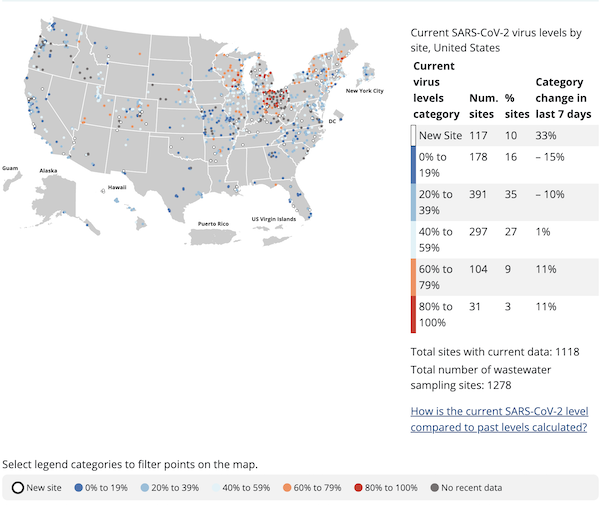 October 30: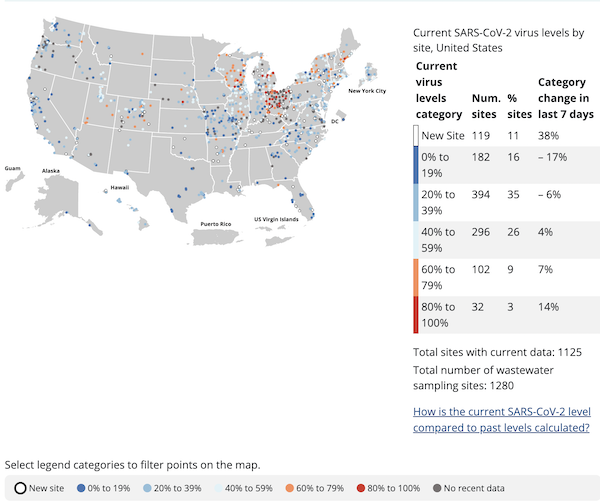 Variants
Lambert here: It's beyond frustrating how slow the variant data is. Does nobody in the public health establishment get a promotion for tracking variants? Are there no grants? Is there a single lab that does this work, and everybody gets the results from them? [grinds teeth, bangs head on desk]. UPDATE Yes. See NC here on Pango. Every Friday, a stately, academic pace utterly incompatible with protecting yourself against a variant exhibiting doubling behavior.
UPDATED Variant data, national (Walgreens), October 24: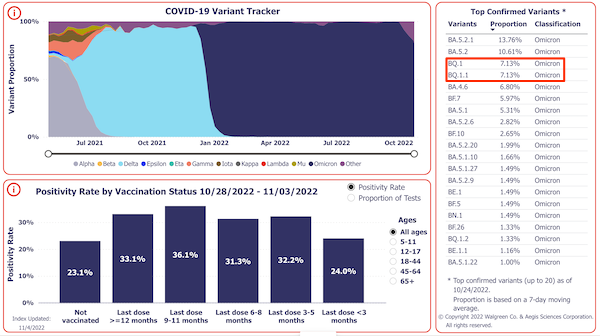 Lambert here: BQ.1* moving along quite briskly.
• "Pandemic daily update, 3 November 2022″ [Eric Topol, Ground Truths]. "Today's update is upbeat. The main concerning new variant in the United States now is BQ.1.1 (and its descendants such as BQ.1.1.10) which has shown a marked growth advantage here in recent weeks and we'll get another update from CDC tomorrow. Along with XBB (<1% in the US) it has an extreme level of immune evasiveness. So we now turn to France, where BQ.1.1 has become dominant, accounting for >50% of new cases. There is no sign that it is having a clinical impact with cases and Covid hospital admissions heading down." • Yes, but that's France.
NOT UPDATED Variant data, national (CDC), October 8 (Nowcast off):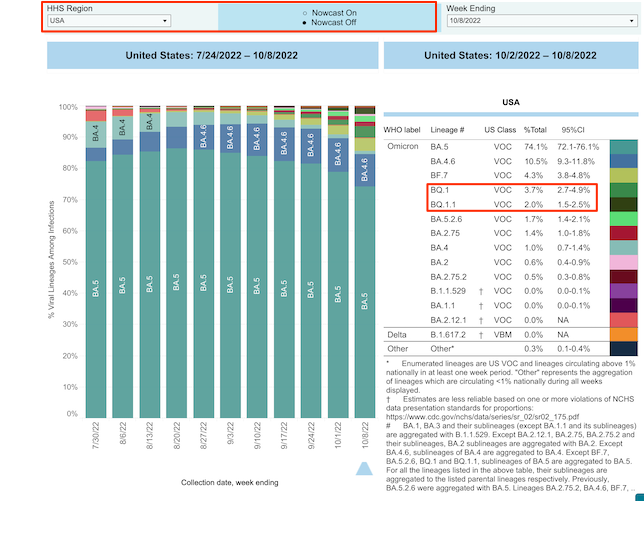 Lambert here: Updated every Friday, perhaps, but not as of this writing.
Lambert here: Most of the screenshots of CDC variants running around crop out whether Nowcast (CDC's model) is on or off; see red box at top. The BQ1.* figure of 27% that's running around is CDC's Nowcast projection, three weeks out. (It's telling that CDC would rather build a model than fund faster acquisition of real data.)
Deaths
Death rate (Our World in Data):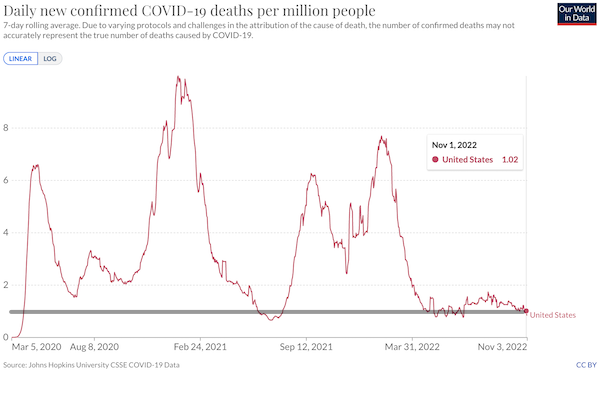 Total: 1,097,881 – 1,096,717 = 1164 (1164 * 365 = 424,860, which is today's LivingWith™ number (quite a bit higher than the minimizers would like, though they can talk themselves into anything. If the LivingWith™ metric keeps chugging along like this, I may just have to decide this is what the powers-that-be consider "mission accomplished" for this particular tranche of death and disease.
It's nice that for deaths I have a simple, daily chart that just keeps chugging along, unlike everything else CDC and the White House are screwing up or letting go dark, good job.
Stats Watch
Employment Situation: "United States Unemployment Rate" [Trading Economics]. "The unemployment rate in the US increased by 0.2 percentage point to 3.7 percent in October 2022, up from September's 29-month low of 3.5 percent and slightly above market expectations of 3.6 percent. The jobless rate has been in a narrow range of 3.5 percent to 3.7 percent since March, suggesting that the labor market is already very tight, which, in turn, is likely to contribute significantly to inflationary pressure in the world's largest economy for some time to come." • The beatings will continue….
* * *
The Bezzle: "Musk's California Hyperloop Prototype Will Become a Parking Lot" [Gizmodo]. "The Hyperloop's inaugural tunnel, a prototype built in Hawthorne, California, has been torn down and will be replaced with parking spots for SpaceX employees…. [A]s of last week, there is no longer a trace of the tunnel in Hawthorne, with local city council confirming that the land would serve as parking spots for SpaceX employees."
* * *
Today's Fear & Greed Index: 56 Greed (previous close: 54 Neutral) [CNN]. One week ago: 60 (Greed). (0 is Extreme Fear; 100 is Extreme Greed). Last updated Nov 4 at 2:03 PM EDT.
The Gallery
Certainly looks like a cat drawing itself up:
The White Cat, 1894 #bonnard #japonism https://t.co/zQPs7uKsCZ pic.twitter.com/G69JdZxHyw

— Pierre Bonnard (@pierre_bonnard) November 3, 2022
Class Warfare
"What Hunter-Gatherers Can Teach Us About the Frustrations of Modern Work" [The New Yorker]. "a look back to the deep history of human work seems well suited to the goal of better understanding structural issues currently afflicting the knowledge sector. Those frustrated Apple employees aren't just arguing about their commutes; they're at the vanguard of a movement that's leveraging the disruptions of the pandemic to question so many more of the arbitrary assumptions that have come to define the modern workplace. Why do we follow a factory-style work schedule, or feel forced to perform busyness, or spend more time in meetings talking about projects rather than actually completing them?" • Odd there's no focus on "essential worker," but then this is the New Yorker…
News of the Wired
"Web inventor Tim Berners-Lee wants us to 'ignore' Web3: 'Web3 is not the web at all'" [CNBC]. "The creator of the web isn't sold on crypto visionaries' plan for its future and says we should 'ignore' it. Tim Berners-Lee, the British computer scientist credited with inventing the World Wide Web in 1989, said Friday that he doesn't view blockchain as a viable solution for building the next iteration of the internet." • TBL is correct. At the same time, I subscribed to his own project, Solid, some time ago, and haven't heard a peep from them.
* * *
Contact information for plants: Readers, feel free to contact me at lambert [UNDERSCORE] strether [DOT] corrente [AT] yahoo [DOT] com, to (a) find out how to send me a check if you are allergic to PayPal and (b) to find out how to send me images of plants. Vegetables are fine! Fungi and coral are deemed to be honorary plants! If you want your handle to appear as a credit, please place it at the start of your mail in parentheses: (thus). Otherwise, I will anonymize by using your initials. See the previous Water Cooler (with plant) here. From Re Silc: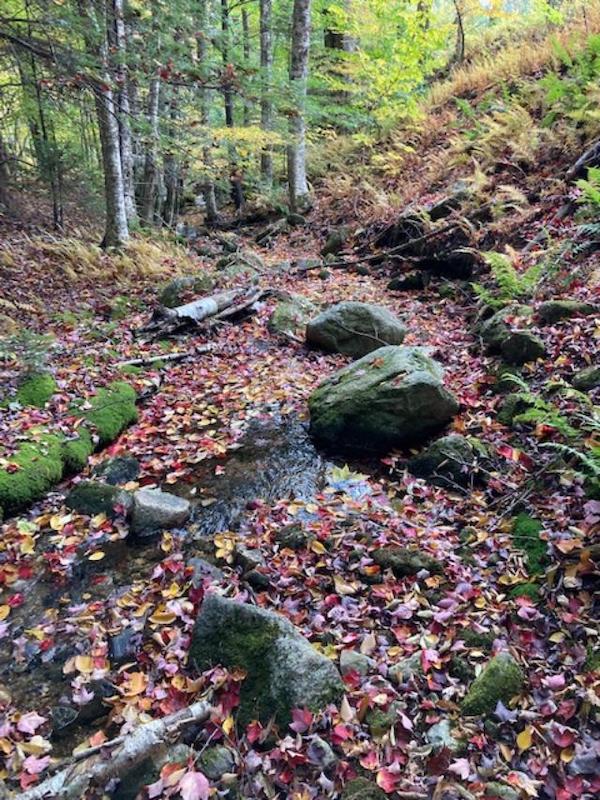 Re Silc writes: "Vermont glitter (from Stamford, Vermont)."
* * *
Readers: Water Cooler is a standalone entity not covered by the annual NC fundraiser. So if you see a link you especially like, or an item you wouldn't see anywhere else, please do not hesitate to express your appreciation in tangible form. Remember, a tip jar is for tipping! Regular positive feedback both makes me feel good and lets me know I'm on the right track with coverage. When I get no donations for five or ten days I get worried. More tangibly, a constant trickle of donations helps me with expenses, and I factor in that trickle when setting fundraising goals:
Here is the screen that will appear, which I have helpfully annotated: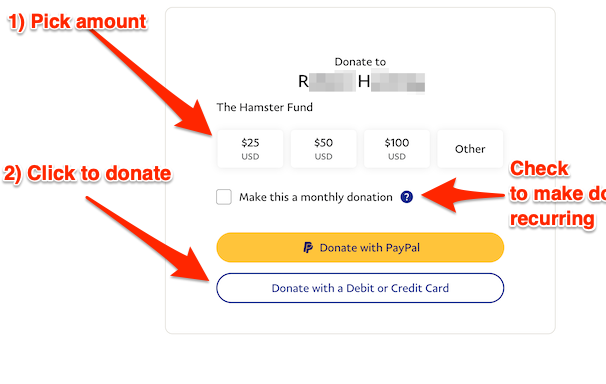 If you hate PayPal, you can email me at lambert [UNDERSCORE] strether [DOT] corrente [AT] yahoo [DOT] com, and I will give you directions on how to send a check. Thank you!