We've been saying for some time that both the Russian Ministry of Defense and the Western press have been saying peculiarly little about Russia's ongoing attacks against the Ukraine electrical grid and other supposed dual military/civilian use infrastructure.
But sometimes things get too obvious not to notice. Russia's attacks all over Ukraine yesterday local afternoon time, which included the heretofore spared Odessa, fell in that category. The initial reason was the scale and scope of the bombing, but the focus quickly shifted to accusations that a missile hit on a truck in Poland was Russia's doing; as we'll explain shortly, Biden has said it's unlikely, plus the photos show the weapon to be a S300 anti-aircraft missile, which is used by Ukraine.
The media widely reported that these were the biggest infrastructure attacks so far, deploying nearly 100 missiles. The included a hit on the building that houses the headquarters of Ukraine's army, the first time Russia has targeted a decision center. This image is from Military Summary, with the orange plane thingies signifying targets (find the one in the Odessa region if you are unsure). If readers know of an easier-to-read map, please advise and I can add it or swap it out: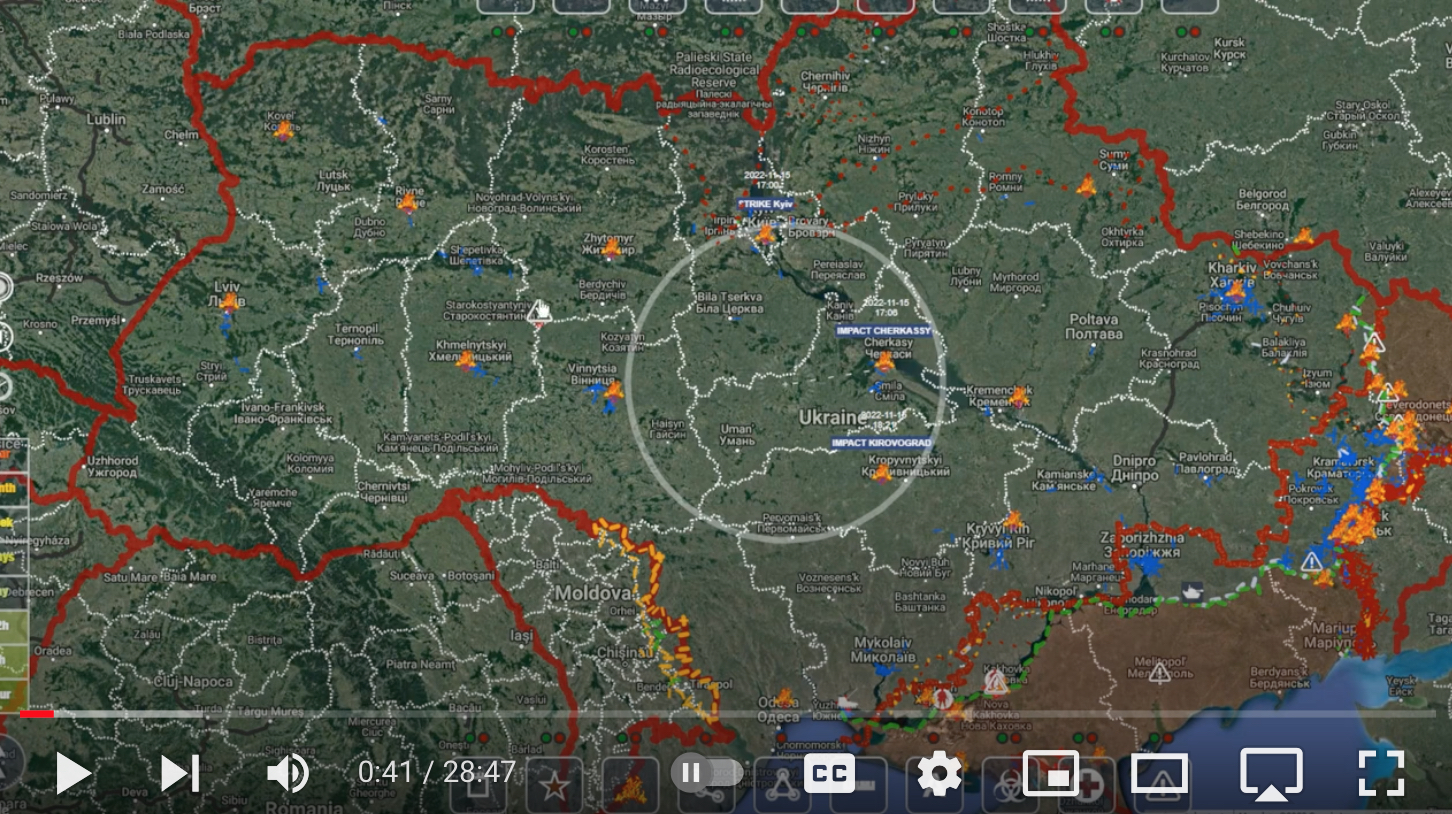 Generally speaking, since they started on October 10, most have gotten barely a mention despite the fact that Russia appears to act roughly twice a week; for instance, Russia launched a barrage mid last week.1
However, the media has sat up and paid notice to the big strikes, typically a barrage of cruise missiles and accompanying drones, with the drones sometimes launched the following day. Those took place first shortly after the Kerch Bridge bombing and then the strikes on Sevastopol. The second barrage was bigger than the first and the one yesterday, the largest and most extensive yet.
Note also that the hits yesterday, unlike the earlier big rounds were not retaliatory. Yet these "massive" strikes have been getting bigger over time. Rybar's early take on the last round:
Rybar's team continues to analyze the consequences of systemic fire damage to Ukrainian energy system facilities.

In Kyiv, they said that today's raid was the largest such attack since the beginning of the NWO. According to Ukrainian resources, cruise missiles and kamikaze drones damaged 15 critical infrastructure facilities.

We have repeatedly written that strikes have a cumulative effect, when each subsequent raid leads to more and more serious consequences for the Ukrainian energy system. This is what today's events have demonstrated:

▪️Arrivals at the Zmievskaya TPP in the Chuguevsky district temporarily completely de-energized the entire Kharkiv region.

▪️Attacks on objects in Kiev led to massive overloads in the power grid and the operation of emergency automatic frequency unloading, which was clearly visible in the frames with pulsating power on and power outages.

▪️Repeated strikes on substation Zhytomyr 330 led to a power outage in this regional center and areas around it.

▪️Voltage fluctuations and temporary power outages were recorded in the western regions of Ukraine after regular attacks on the Lvov-Yuzhnaya 330 substation in Lviv and the Kovel 330 substation in the Volyn regions.

🔻For the first time, Moldova also experienced the consequences of Russian missile strikes : paradoxically, they were the result of the policy of the authorities themselves in Chisinau.

➖Restrictions on gas supplies to Transnistria led to a decrease in the generation of the Moldavskaya GRES, which, with its capacity, stabilized the situation in the south of the Odessa region and fed energy-deficient Moldova.

➖Due to a decrease in capacity and increased consumption by Ukraine, aggravated by a possible strike on the Artsyz 330 substation , automatic protection worked at the GRES. The station switched to work for its own needs, which provoked a shutdown of consumers in Moldova and Transnistria.

➖Also, a section of the 750 kV transit high-voltage line on the territory of Romania was disconnected, which may indirectly indicate possible short circuits from the 750 kV outdoor switchgear of the South Ukrainian NPP.

🔻The lack of objective data from most of the impact sites did not allow us to accurately determine which specific elements of the energy objects became the target of each attack.

However, thick black plumes could be seen in the photos and videos from the arrival areas. This indirectly indicates that, with a high probability, the strikes were again inflicted on power and automatic transformers, and not on general plant control points (OCP).

❗️Their safety once again will allow Ukrainian power engineers to assemble emergency schemes and eliminate damaged equipment in a relatively short time. Yes, this will cause even more severe restrictions, but the electricity supply to consumers will be restored.
Rybar seems disappointed that Ukraine will be able to regroup from much of this damage. What they miss is the cumulative impact. The system was estimated to have lost 40% of effective capacity due to the destruction of difficult to impossible to replace transformers plus long distance lines and line junctions making it hard to load balance and to move power to areas of the grid not in close proximity to a generating facility. As reader Greg pointed out, even a 60% level combined with the >10% increase in demand could move the system into a catastrophic collapse, an that was before the barrage yesterday:
I believe the Helmer post mentioned it a little, but there's a fairly complicated engineering discussion to be had about how degraded capacity plays out. It's not about gradually reducing the grid by subtracting percentages, it's about keeping it continually stressed below the point at which load balancing becomes impossible. The destruction of the central balancing facility in Kiev during the attacks immediately after the Crimea bridge bombing is part of this.

So what we're likely to see is that the continued degradation of the grid keeps it around 60% generation capacity, because the nukes provide a big chunk of generation. But the ability to supply that 60% generation to consumers is going to collapse because the fluctuating frequencies around the grid combined with the inability to step supply down to local needs will cause destructive load imbalances at the remaining facilities.

It seems likely that the onset of truly cold weather will trigger this load-imbalance collapse, because of the increase in demand (although caveated that a large amount of heating in Ukraine is provided by the power plants, so winter energy increases aren't as big as in more electrically-dependent countries).

We've seen at least one report already of a facility that wasn't targeted by Russians catching fire, indicating load problems.
So is Russia now moving to making ever larger degradations of Ukraine's infrastructure on a periodic basis, whether or not there is a provocation? Perhaps Russian officials will state otherwise, but this volley seems unlikely to have been executed in connection with the Kherson withdrawal…particularly since the Russian left Ukraine holding a deflated balloon.2 Per Ukrainian News:
Before fleeing, Russian occupiers in the south of Ukraine blew up an energy facility that provided power to the de-occupied territory and a large part of the Mykolayiv Region and shot the batteries.

Volodymyr Kudrytskyi, the chairman of the board of Ukrenergo, said this on Facebook.

"Two auto transformers, each weighing 250 tons, were blown up. The relay protection hall, compressor, battery – which, according to the terrorists, did not make explosions, were additionally shot and crushed."…

As the Ukrainian News agency earlier reported, in Kherson, the occupiers blew up the CHP plant, regional power plant, and water canal. The city was left without electricity and water.
Needless to say, the timing of this move should dispatch any fantasies that the US and Russia, to the extent that they have been communicating, were engaged in anything more than pro-forma restatements of existing positions:
CIA Burns calls SVR Naryshkin to meet in Ankara today ahead of Putin speech to G20 to repeat what's been said weeks ago about prisoners, nuclears, and Zelensky. Naryshkin tells Burns it's snowing in Kiev. https://t.co/sEf1YhtXra pic.twitter.com/DprYjg4Ngh

— Dances_with_Bears (@bears_with) November 14, 2022
Russia would not escalate, particularly during the G20, if there were any thawing. Indeed, if there had been anything that could have been dimly thought of as discussions about Ukraine, you can be sure that the party on the Western side would be complainingly loudly about Russia acting in bad faith.
So back to the big picture. As John Helmer described long-form on October 10 (ironically the day Russia launched massive strikes in retaliation for the Kerch Bridge attack), Russia's had been quietly targeting the electrical grid for some time. Some of the salvos did get noticed, such as when Russia destroyed the transformers serving the train system, which meant Ukraine would be able to use only its comparatively small number of diesel trains to support supply lines. But look at the under-the-radar damage:
According to Ukrainian sources, about 1,700 cities, towns and villages, with about 1 million consumers, were without power in mid-March; the most seriously affected were the regions of Sumy, Chernigov, Nikolaev and Donetsk. . On May 3, Ukrainian and western media reported a missile strike against power plants in the western Galicia region capital of Lvov; sub-stations supplying electricity to the railway system in the region were also hit. The biggest of the Russian attacks on Ukrainian electricity plants was reported in the western press, again quoting Kiev sources, on September 11-12. Power plants in Kharkov, Sumy, Poltava and Dnipropetrovsk regions were stopped.
Russia can prostrate Ukraine solely via keeping up these attacks. Of course, that will happen to cause a humanitarian and refugee crisis. As Helmer pointed out, and we underscored, Russia has spared the train lines that connect the major cities in the West to the border, no doubt to facilitate flight.
And the striking failure of the Western press to say all that much about rapidly deteriorating conditions in Kiev seems to suggest European ambivalence about having to take in and support millions of departing Ukrainians.
The destruction of the grid may also be a fallback in eventually dictating terms regarding Western Ukraine. We had earlier thought controlling the Black Sea coast would be essential in reducing Ukraine to a weak and essentially captive state. But if Russia makes the cities of Western Ukraine unpalatable to all but the Ukrainian analogue to preppers, in so doing has also torpedoed what is left of its economy….and also is the only country with the electrical equipment to rebuild in a not hugely protracted time frame…what happens then?
In the meantime, US and EU leaders are in a lather over the question of whether a shell that hit a truck in Poland and killed two was fired by Russia. Despite the ongoing efforts of Poland to stir that pot, it seems pretty certain not. Russia indignantly said it hit all of its targets and none were near Poland. Images of the missile show it to be from the S300, a Soviet air defense system used by Ukraine. And if a Russian cruise missile had gone astray, there would have been a much bigger impact.
Nevertheless, NATO ambassadors are set to meet and they may still use the Ukraine misfire as an excuse to Do Something. Yet they appear to be continuing to underplay the way Russia is taking Ukraine apart piece by piece…perhaps because they have no way to stop it.
____
1 Ukraine also announced air defense alerts all over the country Sunday before down and during the day. Ukrainska Pravda claimed it was because a Mig that could have been carrying a Kinzhal took off from Belarus, along with a fighter jet. The number of alerts seems disproportionate to those triggers, but Ukraine has not said there were small scale attacks, say via drones.
2 From reader Karl in comments:
RE: Russia blew some transformers at the [Karkhovka] hydroelectric station

As with this hydro plant, Russia has targeted transmission equipment (e.g. substations) rather than generators. If Ukraine doesn't have spare transformers and other long-lead-time items to replace those that Russia has destroyed, it's grid will be inoperable for a long time.

Transformers of the requisite size for this 360 MW plant are typically very long lead time items (sometimes years). U.S. based firms used to make them but now only a few firms in the world do so in this concentrated industry, mostly in Germany, Japan and China. Due to their complexity, transformers are typically ordered well in advance of the end of their useful life, and the queues can be long. A large utility will typically have spares available for contingencies, but sometimes the right spare isn't always available. In the U.S., transformer failure is such a big deal to system operation and reliability that utilities have cooperative agreements to provide their spares when another utility's transformer has "blown" if a spare isn't available in-house. My guess is that most spares that meet Russian specs (different from European) are located in Russia. Bummer.