Mumbai Embraces Its Booming Flamingo Population Hakai
Aliens haven't contacted Earth because there's no sign of intelligence here, new answer to the Fermi paradox suggests Live Sciences. Alternatively….
Peering back to before the cosmic dawn: astronomers unveil first results from the JWST Physics World
Too Much Gloom and Doom? Willem Buiter, Project Syndicate
The Roll-Up Economy: The Business of Consolidating Industries with Serial Acquisitions American Economic Liberties
Climate
Money and the Climate Crisis (symposium) Phenomenal World

Keystone Pipeline open again, but leaky section in Kansas still shut down ABC
#COVID19
House Subcommittee Report Details Pandemic Failures, Lessons Learned MedPage. Clyburn was chair. I might as well just leave my yellow waders on permanently. To be fair, both administrations get the back of the hand from the report, but not enough. Not nearly enough.

* * *

SARS-CoV-2 infection and persistence in the human body and brain at autopsy Nature (Mary). From the Abstract: "[W]e detected persistent SARS-CoV-2 RNA in multiple anatomic sites, including throughout the brain, as late as 230 days following symptom onset in one case. Despite extensive distribution of SARS-CoV-2 RNA throughout the body, we observed little evidence of inflammation or direct viral cytopathology outside the respiratory tract. Our data indicate that in some patients SARS-CoV-2 can cause systemic infection and persist in the body for months."

A Covid-19 Milestone Attained — A Correlate of Protection for Vaccines NEJM. "The rapid identification of a correlate of protection (CoP) for Covid-19 vaccines — on the basis of several harmonized randomized phase 3 trials using common validated assays — constitutes an important success in vaccinology. A CoP is an immune marker that can be used to reliably predict a vaccine's level of efficacy in preventing a clinically relevant outcome…. Once established, a CoP can be used as the primary end point for provisional or full approval of a vaccine for a specific use, if a clinical immunobridging study confirms that high enough levels of the CoP are achieved…. we should acknowledge that neutralizing antibodies are the current CoP for vaccine efficacy, which merits use for near-term decisions about vaccines." Worth reading in full, since this view is not universal.

* * *

Lockdowns put us at the mercy of disease Telegraph. Moar GBD. Commentary:

We learned what drives contagion just by mapping all the deaths
But we'll wish we'd lived a little, as we draw our final breaths
Why look before we leap? Let's simply shut our eyes and jump!
And enjoy a glass of water from the Broad Street Pump!

— Dr Cat Sittingstill (@CatSittingstill) February 20, 2022
Ebola vaccines produced lasting antibodies during trial: Studies Al Jazeera
China?
* * *
Myanmar
Myanmar and the International Criminal Court (PDF) Special Advisory Council for Myanmar
Syraqistan
Without a leader or clear alternative to the regime, Iran's protests risk 'fizzling out' France24. "Symbols fuel the revolt." Hmm.

Qatar's arms imports soared in the decade after FIFA awarded it the 2022 World Cup Open Secrets

The Night Raids Pro Publlica
European Disunion
Pandora Papers: Dominique Strauss-Kahn under investigation by French authorities Le Monde
Hiding in plain sight (review) Times Literary Supplement. The deck: "How Josephine Baker became a spy for the Allies."
Dear Old Blighty
Largest nursing strike in NHS history starts BBC

Verging on parody!

Just out of handover. There are several patients here who have slipped on ice and fractured limbs. I am refusing to treat them on the grounds they didn't taken enough personal responsibility for themselves.

— THE SECRET TORY 🇬🇧 (@secrettory12) December 15, 2022
New Not-So-Cold War
Russia launches new deadly strikes across Ukraine BBC. Handy map:

🇷🇺🚀💥🇺🇦Map with the arrivals in Ukraine today so far pic.twitter.com/YDCUev72HY

— AZ 🛰🌏🌍🌎 (@AZgeopolitics) December 16, 2022

Though I'm not entirely sure where AZ Geopolitics is located. I suppose Azerbaijan could be said to be in the "Eastern Roman Empire"….

Ukraine – What Its Military Leadership Says Moon of Alabama. Sounds like a veiled plea for strikes to the east of the Urals, to me. We need some out-of-trench thinking, here.

The Russian Army Is Preparing for a Fresh Attack Foreign Policy

* * *

Putin's Long War Carnegie Endowment for International Peace

How Putin's technocrats saved the economy to fight a war they opposed FT

U.S. cable warns of major barriers to tracking Ukraine aid Politico
Biden Administration
Elizabeth Warren unveils bipartisan bill to crack down on crypto money laundering CNN
Supply Chain
Union Pacific railroad shipping embargoes raise complaints Freight Waves

Trucker Bathroom Access Act introduced by bipartisan Representatives Back the Truck Up
The Bezzle
Crypto Bros Want Your 401(k) The Lever
Tech
What is nuclear fusion? The science – and a new milestone – explained World Economic Forum. Yes, but can we put nuclear fusion on the blockchain?

10 Ways AI Was Used for Good This Year Scientific American. I'll write the headline: "Our Fusion-Powered AI Future." Those seem to be the current elite brainworms, along with eugenics, of course, but nobody talks about that.

Can an AI Chatbot Replace the Washington Blob? The Upheaval
Healthcare
I've Been Plagued by Medical Debt for Years. Here's What Happened When I Tried to Pay a $2 Medical Bill. Slate
World Cup
The Qatar FIFA World Cup 2022 and camel pageant championships increase risk of MERS-CoV transmission and global spread The Lancet. So far as I can tell, everything said here about MERS-CoV goes double for SARS-CoV-2, which is far more contagious. GM comments:

The Middle East countries have been for a decade so far very good and containing all MERS outbreaks.

It helps that it is not very transmissible, likely because of the tropism shift it undergoes in humans — apparently the Dpp4 receptor that it uses has a flipped distribution in camels vs. humans, with it being in the URT in camels, and in the lower lung in humans. Which is why it is a cold for camels, but it is deadly for humans, but also why it does not transmit efficiently.

Do we really want to test that though?

But what do we have now?

The whole world converging into huge maskless crowds in tiny Qatar.

Good luck running contact tracing or any kind of containment operation in that kind of situation.

Perfect storm….

Kingsley Coman is third French player to fall ill ahead of World Cup final UPI. Presumably they'd be in moon suits if the unnamed the illness was MERS, and the whole team would be isolated, and if anything went wrong, the entire venue would be sealed off, and who wants that, so….
Can community gardens bring rural and urban farmers together after disasters? Q&A with Sprout NOLA's Terence Jackson Southerly
Class Warfare
Strike Looming for Macy's Employees in San Francisco Amid the Holiday Rush NBC. Good. Maybe whoever turns on the Xmas music will be on the picket line instead.

Labor's Lost Michael Lind, The Tablet

Where do we touch down? (review) London Review of Books. Bruno Latour. More goddamned books to read.
Once You See the Truth About Cars, You Can't Unsee It NYT
Antidote du jour (via):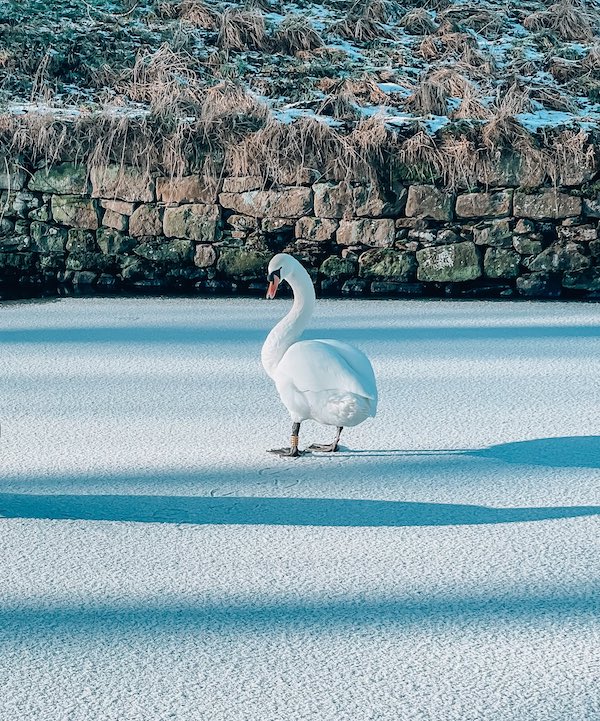 Bonus antidote:
A bit of duck chatter down at the pond today
Cold but sunny though and nice for a walk pic.twitter.com/VOkWRZwhC5

— David Oxtaby (@Disc_light) December 15, 2022
See yesterday's Links and Antidote du Jour here.