By Lambert Strether of Corrente.
Bird Song of the Day
I thought of jackdaws because of Konrad Lorenz's wonderful King Solomon's Ring, which I read when I was quite young (and unaware of Lorenz's views on "social decline").
Daurian Jackdaw, Bei Zha Forest Reserve Nangqian Qinghai, Qinghai, China. "Rain." A lot going on here, including other birds and a barking dog. The clopping sound reminds me a horse's hooves, but now I think it's just raindrops beating on… What? The mike?
* * *
Politics
"But what is government itself, but the greatest of all reflections on human nature?" –James Madison, Federalist 51
"Here's food for thought, had Ahab time to think; but Ahab never thinks; he only feels, feels, feels." –Herman Melville, Moby Dick
"So many of the social reactions that strike us as psychological are in fact a rational management of symbolic capital." –Pierre Bourdieu, Classification Struggles
Biden Administration
"U.S. alerted Russia to Biden's Ukraine visit for "deconfliction purposes," White House says" [CBS]. • So I guess the air raid sirens were part of the photo op? It would seem so:

CNN's Alex Marquardt:

"I've been here for the past five days. I have not heard any explosions. I have not heard any air sirens, until about half an hour ago, right when President Biden was in the center of Kiev." pic.twitter.com/Sg21krb3d9

— Citizen Free Press (@CitizenFreePres) February 20, 2023

And speaking of photo ops:

Meanwhile, Dad's pupils are the size of dinner plates because of what they juiced him up with. Hence the sunglasses. So father and son share a bond.

* * *

Why is the Surgeon General of the United States using his public office to shill for a private company?

While the job of the Nation's Doctor is to "provide Americans with the best scientific information available on how to improve their health and reduce their risk of illness and injury," Murthy behaves as if his real job is to get Americans to just chill.

— Martha Lincoln (@heavyredaction) February 21, 2023

Well, money, of course. So I guess I don't mean "why." I mean "how?"
2024
"Buttigieg unveils freight rail reforms in wake of East Palestine derailment" [The Hill]. • Nothing about Precision Scheduled Railroading. Or empowering unions. I'm shocked.
Republican Funhouse
"Exclusive: McCarthy gives Tucker Carlson access to trove of Jan. 6 riot tape" [Axios]. "House Speaker Kevin McCarthy has given Fox News' Tucker Carlson exclusive access to 41,000 hours of Capitol surveillance footage from the Jan. 6 riot, McCarthy sources tell me. Carlson TV producers were on Capitol Hill last week to begin digging through the trove, which includes multiple camera angles from all over Capitol grounds. Excerpts will begin airing in the coming weeks. Carlson has repeatedly questioned official accounts of 1/6 [the idea!!!] , downplaying the insurrection as 'vandalism.'" Was anybody actually charged with insurrection, a Federal crime? Did I not get the memo? More: "Now his shows — 'Tucker Carlson Tonight' on Fox News, and "Tucker Carlson Today" and "Tucker Carlson Originals" on the streaming service Fox Nation — have a massive trove of raw material. Carlson told me: '[T]here was never any legitimate reason for this footage to remain secret.' 'If there was ever a question that's in the public's interest to know, it's what actually happened on January 6. . It's impossible for me to understand why any honest person would be bothered by that." • There's no "by definition." Digital evidence is not evidence. Here is a chart on the 1/6 charges:

I don't see "insurrection."
Democrats en Déshabillé
Patient readers, it seems that people are actually reading the back-dated post! But I have not updated it, and there are many updates. So I will have to do that. –lambert

I have moved my standing remarks on the Democrat Party ("the Democrat Party is a rotting corpse that can't bury itself") to a separate, back-dated post, to which I will periodically add material, summarizing the addition here in a "live" Water Cooler. (Hopefully, some Bourdieu.) It turns out that defining the Democrat Party is, in fact, a hard problem. I do think the paragraph that follows is on point all the way back to 2016, if not before:

The Democrat Party is the political expression of the class power of PMC, their base (lucidly explained by Thomas Frank in Listen, Liberal!). ; if the Democrat Party did not exist, the PMC would have to invent it. . ("PMC" modulo "class expatriates," of course.) Second, all the working parts of the Party reinforce each other. Leave aside characterizing the relationships between elements of the Party (ka-ching, but not entirely) those elements comprise a network — a Flex Net? An iron octagon? — of funders, vendors, apparatchiks, electeds, NGOs, and miscellaneous mercenaries, with assets in the press and the intelligence community.

Note, of course, that the class power of the PMC both expresses and is limited by other classes; oligarchs and American gentry (see 'industrial model' of Ferguson, Jorgensen, and Jie) and the working class spring to mind. Suck up, kick down.

* * *

"Sanders targets drug companies over COVID-19 vaccine price hikes, high prescription costs" [CBS]. • Cancer surgeon goes into the bandaid business. It's pathetic.

"Blueing Kansas" [The American Conservative]. "The left believes that mass voter registration campaigns increase election turnout and that high turnout leads to Democratic victories. The trick is getting millions of disengaged eligible voters on the voter rolls in key states, a feat requiring an army of activists and an ocean of money. The left has both. The top 24 leftist voter registration nonprofits spent an estimated $434 million in 2020 alone, much of which came from foundations of 'progressive' mega donors sharing the last name 'foundation.'… But that's just the tip of the iceberg. The left excels at operating in the shadows, employing sophisticated talking points and mobilization strategies to deceive voters into believing these causes are grassroots. The truth is that it's the same tired, cynical politics Americans are sick to death of." • I think these guys have the NGOs confused with the left. Are they really that dumb?
#COVID19
Looks like "leveling off to a high plateau" across the board. (I still think "Something Awful" is coming, however. I mean, besides what we already know about.) Stay safe out there!
• Readers, since the national data systems in the United States are being vandalized, let's start collecting links to state data, too. If readers would send me links (see Plant below) to their favorite State and local dashboards/wastewater sites, that would be great. Canadians, too! Or leave a link in Comments.
Resources, United States (National): Transmission (CDC); Wastewater (CDC, Biobot); Variants (CDC; Walgreens); "Iowa COVID-19 Tracker" (in IA, but national data).
Resources, United States (Local): CA (dashboard); CO (wastewater); CT (dashboard); IL (wastewater); IN (dashboard); MA (wastewater); MD (dashboard); ME (dashboard); MI (wastewater; wastewater); MT (dashboard); NC (dashboard); NH (wastewater); NY (dashboard); OH (dashboard); SC (dashboard); TX (dashboard); VA (dashboard); VT (dashboard); WA (dashboard; dashboard); WI (wastewater).
Resources, Canada (Provincial): ON (wastewater); QC (les eaux usées); BC, Vancouver (wastewater).
Hat tips to helpful readers: Art_DogCT, CanCyn, ChiGal, Gumbo, hop2it, JB, Joe, John, JM (2), JW, Michael King, LaRuse, mrsyk, otisyves, Petal (5), RK, nRL, RM, Rod. (Readers, I am not putting your handle next to your contribution because I hope and expect the list will be long, and I want it to be easy to scan. (If you leave your link in comments, I use your handle. If you send it to me via email, I use your initials (in the absence of a handle.)
• More like this, please! Total: 1 6 11 18 20/50 (40%). Can anyone find RI? Also, we should list states that do not have Covid resources, so others do not look fruitlessly. Thank you!
* * *
Look for the Helpers
I should do this more often:

Pulling up to the grocery store, I see an older couple in surgical masks. I happen to have two new 9210 Aura N95s in my car, thanked them for masking, and gave them the two masks and shared the importance of fit.

"Thank you, we couldn't find better masks than these blue ones."

— Joaquín Beltrán (@joaquinlife) February 21, 2023

Although I do advocate for sprays, and show them to people.

* * *

"Covid Meetups" [COVID MEETUPS (JM)]. "A free service to find individuals, families and local businesses/services who take COVID precautions in your area." • I played around with it some. It seems to be Facebook-driven, sadly, but you can use the Directory without logging in. I get rational hits from the U.S., but not from London, UK, FWIW.
Covid Is Airborne
Many people seem to have real problems grokking the idea of multiple layers of protection:

2/ For the size of the dean's suite & level of ventilation, this single CR box reduces our inhalation dose of respiratory and other aerosol particles by roughly 50% on high setting. That's good, but not nearly the dose reduction achieved by wearing a well-fit N95 mask.

— Richard Corsi, PhD, PE (Texas) (@CorsIAQ) February 19, 2023

Maybe this one thing doesn't have to be — can't be — the whole answer? Where does this mentality come from? (Any New Englander knows you layer up in the winter, and not all days demand the same number or type of layers. But surely principle is general?)

Far UV unboxing:

Lafayette, we are here

35 ACHe unboxing – get stuffed, COVID

(We actually DO have "the tools" if the idiots in charge would focus on the right ones) pic.twitter.com/7pevN8V7P3

— Bryan Kirschner (@bryan_kirschner) February 20, 2023

But:

$900 USD each, was no hassle orderingthem, although 6-8 week lead time

— Bryan Kirschner (@bryan_kirschner) February 21, 2023

That's a long wait and a lot of money.
Variants
Variant soup:

#COVID19 #VariantDashboard – #UnitedStates

TOP lineages (#15DAYTRENDS):

60.7% XBB.1.5
9.3% BQ.1.1
6.9% XBB.1
1.3% BQ.1
1.3% BQ.1.1.32
1.0% CH.1.1
0.9% BQ.1.1.13
0.9% BQ.1.1.4
0.8% XBB.1.5.1

Tracker: https://t.co/C4MNBUx4a2
Updated: 02/20/2023

1/n pic.twitter.com/wqOa8mjHed

— Raj Rajnarayanan (@RajlabN) February 21, 2023
Sequelae
"Long COVID rates fall by half nationwide, New England rates among lowest" [Connecticut Public Radio]. "The number of people reporting long COVID symptoms fell by roughly half from last summer to 1 in 10, according to new data from the Centers for Disease Control and Prevention's (CDC) Household Pulse Survey, analyzed by Kaiser Family Foundation (KFF)…. Researchers could not pinpoint whether long COVID rates were definitively linked to the variant, vaccination and boosters or fewer external pandemic pressures – social isolation and loneliness. Venkatesh theorized that it's most likely a combination… 'It's positive findings that the percentages are decreasing,' [Dr. Ulysses Wu, an infectious disease expert at Hartford Hospital] said. 'But we still want to prevent people from getting COVID. And the best way to help with your long COVID is to not get COVID to begin with.' Wu expects long COVID rates to increase if COVID rates start to climb."

"Long Covid Is a Disability. Here's How to Ask for Workplace Accommodations." [Wall Street Journal]. "Many people with long Covid are legally entitled to accommodations at work to help them do their jobs. Still, some are finding it hard to ask for help…. [T]he onus is usually on workers to make the case for support. But coming clean on the limitations posed by long Covid is difficult for many…. In 2021, the federal government clarified that long Covid could be considered a disability under the Americans with Disabilities Act (ADA). Long-Covid symptoms and severity can vary greatly. People with long Covid frequently experience extraordinary levels of fatigue, which can be worsened by exertion, cognitive impairment, nervous-system dysfunction, as well as vascular, respiratory and immune-system issues. Between 7.7 million and 23 million Americans have long Covid, according to a November report by the U.S. Department of Health and Human Services. In cases where the conditions limit at least one major life activity, the necessary accommodations might be temporary or permanent, depending on each worker's case."
Elite Malfeasance
What an act of civic vandalism:

March 10th, 2023 is the day that JH shuts down their comprehensive COVID case & death collection infrastructure — an infrastructure that reaches all the way down to the county level in the US

There is nothing else remotely like it

I designated March 10, 2023 as "Blind Day" pic.twitter.com/YOaTbEXsAg

— Gregory Travis. Make schools #DavosSafe (@greg_travis) February 21, 2023

It seems that elites don't really want to return to the 1890s:

The trivialisation and normalisation of infection. For most of its history public health saw infection as a bad thing. During Covid flu and colds have been used by minimisers to suggest that widespread infection is a legitimate and existing public health strategy. Let's see. /1 pic.twitter.com/Uo2oER5puN

— Henry Madison 🦠x0 (@RageSheen) February 20, 2023

More like the 1490s.
* * *
Case Data
BioBot wastewater data from February 21: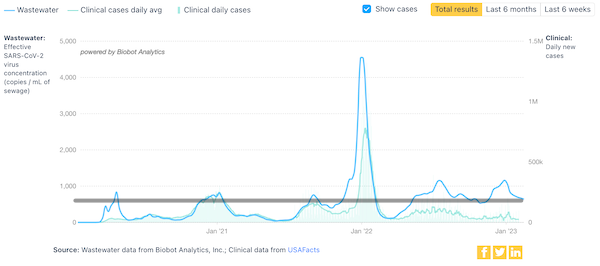 For now, I'm going to use this national wastewater data as the best proxy for case data (ignoring the clinical case data portion of this chart, which in my view "goes bad" after March 2022, for reasons as yet unexplained). At least we can spot trends, and compare current levels to equivalent past levels.
Positivity
From the Walgreen's test positivity tracker, published February 21: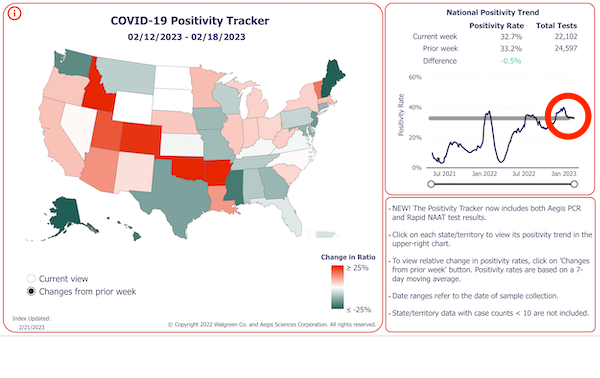 -0.5%. Still on the high plateau, equal to previous peaks.
Deaths
Death rate (Our World in Data):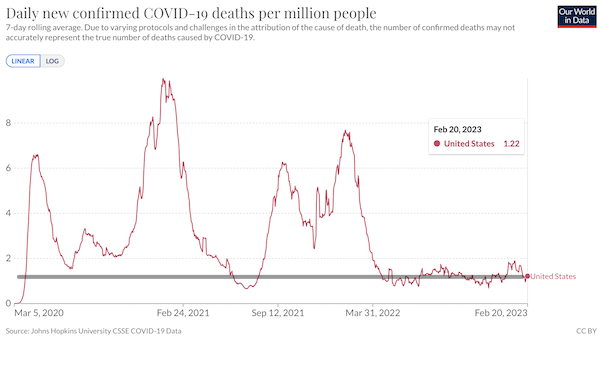 Total: 1,142,704 – 1,142,595 = 109 (109 * 365 = 39,785 deaths per year, today's YouGenicist™ number for "living with" Covid (quite a bit higher than the minimizers would like, though they can talk themselves into anything. If the YouGenicist™ metric keeps chugging along like this, I may just have to decide this is what the powers-that-be consider "mission accomplished" for this particular tranche of death and disease). Well, the total wasn't 192 again. Not that I feel better about it.
It's nice that for deaths I have a simple, daily chart that just keeps chugging along, unlike everything else CDC and the White House are screwing up or letting go dark, good job. (Though CDC may be jiggering the numbers soon. Lower, naturally.)
Lambert here: Lowest level in awhile. Although we've seen this before.
• I confess I have not mastered the excess deaths statistics. Then again, the chart above starts at zero. And it's not at zero now, is it? Take Germany for example:
Jaw dropping 52% excess death rate in Germany in late December, the highest for any period since the start of the pandemic. 10-30% consistently through 2022. We will soon discover mass covid infection and stable societies cannot coexist. pic.twitter.com/n64VfKrdJb

— Nate Bear (@NateB_Panic) February 21, 2023
And so:
It feels like a recipe for some kind of psychic break at a population level

— Nate Bear (@NateB_Panic) February 21, 2023
Well, perhaps not the population level. Some are quite satisfied, making good money, building their bunker, etc.
• And mortality rates. Take the UK for example:
The difference in the COVID mortality rate is much narrower than earlier in the pandemic. This is likely to be a result of unvaccinated people acquiring some immunity from prior infections.

Chart 2 – deaths involving COVID. pic.twitter.com/skYOAH1lXb

— COVID-19 Actuaries Response Group (@COVID19actuary) February 21, 2023
Stats Watch
There are no official statistics of interest today.
* * *
The Bezzle: "Chatbots trigger next misinformation nightmare" [Axios]. "New generative AI tools like OpenAI's ChatGPT, Microsoft's BingGPT and Google's Bard that have stoked a tech-industry frenzy are also capable of releasing a vast flood of online misinformation." You say that like it's a bad thing. More: "Generative AI programs like ChatGPT don't have a clear sense of the boundary between fact and fiction. They're also prone to making things up as they try to satisfy human users' inquiries…. At Microsoft, user feedback is considered a key component to making ChatGPT work better…. 'The challenge for an end user is that they may not know which answer is correct, and which one is completely inaccurate,' Chirag Shah, a professor at the Information School at the University of Washington, told Axios." • If indeed there is one correct answer. Most of the important questions in life are not answerable (What is love? What is consciousness? Why do we sleep? Why do we die?).
Tech: Syntax vs. semantics:
In 1997, Walmart tried to enter the German market, and became a case study in failure.

My favourite story from this period was that staff were trained to be friendly to customers, which freaked out some shoppers, but made others think staff were hitting on them.

— Nic Houghton (@40PercentGerman) February 21, 2023
* * *
Today's Fear & Greed Index: 64 Greed (previous close: 67 Greed) [CNN]. One week ago: 72 (Greed). (0 is Extreme Fear; 100 is Extreme Greed). Last updated Feb 21 at 12:36 PM ET.
Feral Hog Watch
I just purchased Neal Stephenson's latest doorstop of a book, Termination Shock, because in the first few passages the Queen of the Netherlands, who's piloting her private plane, is diverted from Houston to Waco because the air is a too hot, and crashes into a sounder of feral hogs who are crossing the ACT runway as she's landing. I rejected the alternative, Kim Stanley Robinson's The Ministry of The Future, even if it does mention MMT, because when I opened it and read a few random paragraphs, the central bankers were good guys doing the right thing. I have a big pile of books to review, and Stephenson's is one of them. Maybe he regained his Snow Crash touch?
The Gallery
Little cubes except in wallpaper, in 1902:
The Terrasse Children with Black Dog, 1902 #pierrebonnard #bonnard https://t.co/gX1zAqAJkZ pic.twitter.com/t4VUa80hHY

— Pierre Bonnard (@pierre_bonnard) February 21, 2023
Cloisonnism, but not in Tahiti.
Healthcare
"Third patient free of HIV after receiving virus-resistant cells" [Nature]. "A 53-year-old man in Germany has become at least the third person with HIV to be declared cleared of the virus after a procedure that replaced his bone marrow cells with HIV-resistant stem cells from a donor. For years, antiretroviral therapy (ART) has been given to people with HIV with the aim of lowering the virus to almost undetectable levels and preventing it from being transmitted to other people. But the immune system keeps the virus locked up in reservoirs in the body, and if an individual stops taking ART the virus can begin replicating and spreading. A true cure would eliminate this reservoir, and this is what seems to have happened for the latest patient, whose name has not been released. The man, who is being referred to as the 'Düsseldorf patient', stopped taking ART in 2018 and has remained HIV-free since. The stem-cell technique involved was first used to treat Timothy Ray Brown, often referred to as the Berlin patient. In 2007, he had a bone marrow transplant, in which those cells were destroyed and replaced with stem cells from a healthy donor, to treat acute myeloid leukaemia. The team treating Brown selected a donor with a genetic mutation called CCR5Δ32/Δ32, which prevents the CCR5 cell-surface protein from being expressed on the cell surface. HIV uses that protein to enter immune cells, so the mutation makes the cells effectively resistant to the virus. After the procedure, Brown was able to stop taking ART and remained HIV-free until his death in 2020. In 2019, researchers revealed that the same procedure seemed to have cured the London patient, Adam Castillejo. And, in 2022, scientists announced that they thought a New York patient who had remained HIV-free for 14 months might also be cured, although researchers cautioned that it was too early to be certain." • Bone marrow transplants aren't for everyone….
Our Famously Free Press
"The Supreme Court could change the liability game for internet firms. Here's how" [Yahoo Finance]. "A 1996 law that's credited and criticized for legally immunizing interactive websites — like YouTube (GOOG) (GOOGL), Facebook, Instagram (META), and Twitter — that moderate, and refrain from moderating, posts made by third parties, is about to face a challenge before the U.S. Supreme Court. The bottom line: the case, depending on the outcome, could overhaul the risks of recommending online social content. On Tuesday, the high court is scheduled to hear arguments in Gonzalez v. Google, which questions conflicting appellate court interpretations of Section 230 of the 1996 Communications Decency Act. The law, often cited as containing the '26 words that created the internet,' supported rapid proliferation of interactive websites by shielding them from legal responsibility for harms third party content may cause. In Gonzalez, family members and the estate of Nohemi Gonzalez, a 23-year-old U.S. citizen killed in a December 2015 ISIS shooting at Paris' La Belle Equipe bistro, argue that Google should be held at least partially liable for her death. That's because, they allege, the company's YouTube service knowingly permitted and recommended, via algorithms, inflammatory ISIS-created videos that allegedly played a key role in recruiting the attackers." • I think outlawing recommendation algorithms would be swell. Then my timeline would be only from accounts I subscribe to, in reverse chronological order, like God intended (and how it was in the blogosphere). Somehow, however, I doubt that the Court will come to such a rational decision when there are so many other opportunities to make new law.
Class Warfare
"LABOR ACTION TRACKER 2022" [ILR Worker Institute]. "We have created a comprehensive database of strikes across the United States because official data sources only record a small fraction of this activity. Since funding cuts by the Reagan administration in the early-1980s, the Bureau of Labor Statistics (BLS) excludes work stoppages of less than 1,000 workers from its database. As this report demonstrates, only recording very large work stoppages excludes the vast majority of strike activity and leaves practitioners, policymakers, and scholars misinformed about the true level of workplace conflict. Strikes remain an important source of labor activism and, at least in comparison to 2021, have increased in salience. In this report, we follow the lead of the BLS and document work stoppages, which include both strikes and lockouts." • Handy, interactive map: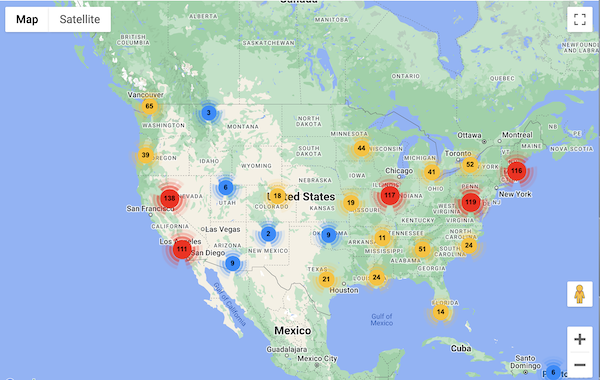 "The answer to the East Palestine disaster: Railroad workers' control over safety and working conditions" [WSWS]. "Railroaders have been warning about the conditions that resulted in the derailment for years. They include the impact of Precision Scheduled Railroading and similar attendance schemes, endless cost-cutting by the railroads, a massive reduction in the size of the nationwide workforce, and a relaxation of inspection and maintenance. These have made the trains ticking time bombs. We all knew that something like this was bound to happen. In fact, it happens every day, where on average there are three derailments in the United States…. The disaster is a direct consequence of Congress' ban on our striking. The conditions on the railroads have been decaying for years. We wanted to fight for better and safer conditions, adequate staffing and maintenance. But the government decided that the profit interests of the railroads are more sacred than our democratic right to strike and even the right of the public to a safe and healthy environment." • Certainly odd that that Lever News and a chorus of liberals immediately focused on technical solutions….
"America's afternoon afterthought" [Vox]. After-school care. "A national survey of providers conducted by Edge Research at the end of 2021 found half of respondents were 'extremely concerned' about hiring staff and staffing shortages. Another national survey led in the summer of 2022 by the EdWeek Research Center found similar results: Recruiting and retaining staff were by far the top challenges school principals and after-school leaders reported. Many say during the Covid-19 pandemic and hasn't returned." • Maybe the "pool" "evaporated" because the workers died. Or got long Covid. Or decided that they didn't want to work in an environment saturated with lethal pathogens. Or — one hopes — went on to make more money at better jobs (sad to say. Hey, maybe we could use prison labor. Or ex-military. Maybe cops who got fired?
From The Black Swan, apparently:
"I disagree with the followers of Marx and those of Adam Smith: the reason free markets work is because they allow people to be lucky, thanks to aggressive trial and error, not by giving rewards or "incentives" for skill." – Nassim Taleb

— Nassim Nicholas Taleb's Wisdom (@TalebWisdom) February 19, 2023
I don't think Marx sees class as driven by psychological factors, and that at the society level, so-called "luck" is a function of one's class position — i.e., the resources one has to recognize and take advantage of luck — seems like an unexceptionable proposition. However, this quote does throw a sidelight on disaster capitalism.
"Think Ambitiously on Behalf of the Poor" [Peste]. "When I finished medical school, I decided I wanted to dedicate myself to supporting the poor in my country. I chose to stay in Sierra Leone, and I am grateful that I did, because in 2014, I was able to work closely with Dr. Paul Farmer during the Ebola outbreak. And throughout our time working together, I learned so much from him. I partnered with PIH because I believed in their mission: to provide a preferential option for the poor in health care. We spent years slowly growing our work and providing more access to care for the poorest people in Kono. Paul taught me early in our relationship to think ambitiously on behalf of the poor people I was serving. …. Paul once told me that not being ambitious means not considering the poor. He adds that if you ask the poor and vulnerable about what kind of healthcare they want, they will all say they want the best health care possible for anyone in the world. It is the same I would want for my family. Therefore, high quality healthcare should be available for all in the world, regardless of where you live or how much money you have."
News of the Wired
"How to Start Your Blog in 2023" [Yury Molodtsov]. " Having your own platform enables flexibility and portability, so your content can be kept online practically forever. There are many options out there, ranging from WordPress and Ghost to static blogs to managed online platforms and Micro.blog. How do you choose between them?" • For some, the blogosphere never went away. Maybe it will revive again?
"DYEP? (Do You Even Philosophy?" [SENTENTIAE ANTIQUAE]. Seneca, Moral Epistle 15.2-3: "The mind is sick without philosophy. The body too, even if it possesses great strength, remains no different from the strength of a man in rage or madness. So, care for the health of the first especially, and then the second, which will not be hard for you, if you want to be well."
* * *
Contact information for plants: Readers, feel free to contact me at lambert [UNDERSCORE] strether [DOT] corrente [AT] yahoo [DOT] com, to (a) find out how to send me a check if you are allergic to PayPal and (b) to find out how to send me images of plants. Vegetables are fine! Fungi and coral are deemed to be honorary plants! If you want your handle to appear as a credit, please place it at the start of your mail in parentheses: (thus). Otherwise, I will anonymize by using your initials. See the previous Water Cooler (with plant) here. From ChiGal: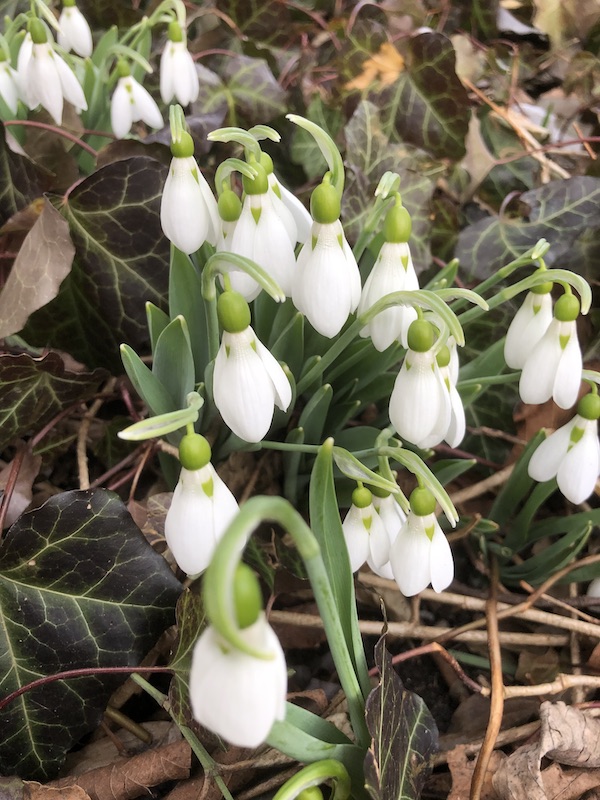 ChiGal writes: "Yay, snow drops!" Life is skittles, and life is beer…
Adding, I hope this hasn't happened to any readers:
Squirrels cleaned me out. No country for tulips. pic.twitter.com/lX5gy8thJn

— Mark Price (@price_laborecon) February 21, 2023
* * *
Readers: Water Cooler is a standalone entity not covered by the annual NC fundraiser. So if you see a link you especially like, or an item you wouldn't see anywhere else, please do not hesitate to express your appreciation in tangible form. Remember, a tip jar is for tipping! Regular positive feedback both makes me feel good and lets me know I'm on the right track with coverage. When I get no donations for five or ten days I get worried. More tangibly, a constant trickle of donations helps me with expenses, and I factor in that trickle when setting fundraising goals:
Here is the screen that will appear, which I have helpfully annotated: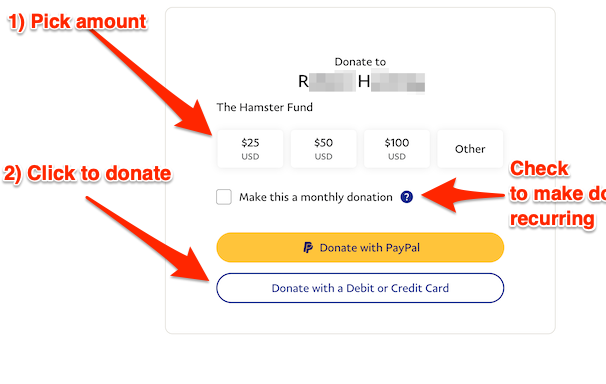 If you hate PayPal, you can email me at lambert [UNDERSCORE] strether [DOT] corrente [AT] yahoo [DOT] com, and I will give you directions on how to send a check. Thank you!