By Lambert Strether of Corrente.
Bird Song of the Day
Wood Thrush, Parc du Sanctuaire, Drummond, Quebec, Canada. "Grive des bois, chant: "a-a-iola tzzziiii, a-a-ioli tzzziiii, a-a-iola tzzziiii."
* * *
Politics
"So many of the social reactions that strike us as psychological are in fact a rational management of symbolic capital." –Pierre Bourdieu, Classification Struggles
Biden Administration
"Biden uses first veto to defend rule on ESG investing" [Reuters]. " U.S. President Joe Biden on Monday rejected a Republican proposal to prevent pension fund managers from basing investment decisions on factors like climate change, in the first veto of his presidency. 'I just signed this veto because the legislation passed by the Congress would put at risk the retirement savings of individuals across the country,' Biden said in a video posted on Twitter…. The bill cleared Congress on March 1, when the Senate voted 50-46 to adopt a measure to overturn a Labor Department rule making it easier for fund managers to consider environmental, social and corporate governance, or ESG, issues for investments and shareholder rights decisions, such as through proxy voting." • I assume Biden is lying, but how, exactly? (If Biden really cared about "the retirement savings of individuals" he'd be going after private equity. But n-o-o-o-o!)
2024
Trump arrest hysteria. Personally, I hope they do. Arresting Trump would bring welcome clarity to the situation.

"Trump indictment could land as early as Monday, sending law enforcement scrambling" [Politico]. The deck: "A grand jury is expected to charge Trump late Monday or Wednesday, according to three people involved in the deliberations." • Why not Tuesday? Because that's the day Trump picked?

"Source: Lawyer invited to testify before Trump grand jury" [Associated Press]. "A lawyer who previously advised Michael Cohen, the key government witness in the hush money payment investigation into Donald Trump, has been invited to appear Monday before a Manhattan grand jury that is considering potential charges against the former president, according to a person familiar with the matter. Robert Costello had advised Cohen before the two had a falling out, and is prepared to offer testimony to the grand jury attacking the credibility of Cohen's statements, according to the person, who insisted on anonymity to discuss secret legal proceedings. Costello had contacted a lawyer for Trump saying that he had information that contradicted Cohen's current statements and that could be exculpatory for Trump, the person said. The lawyer brought it to the attention of the district attorney's office, which last week subpoenaed Costello's law firm for records and invited him to provide testimony on Monday afternoon. The Manhattan district attorney's office declined to comment on Sunday. Prosecutors have not said when they expect to conclude their work or when or if Trump might be charged. The former president claimed in a post on Saturday that he would be arrested on Tuesday, though people close to him later said that he had been given no updates from prosecutors." • I love it that Trump ignited the firestorm himself. Trump is the world's greatest troll, easily.

"'America's Got Trump': Get Ready for a Truly Made-for-TV Prosecution" [Jonathon Turley]. "Although it may be politically popular, the case is legally pathetic. Bragg is struggling to twist state laws to effectively prosecute a federal case long ago rejected by the Justice Department against Trump over his payment of "hush money" to former stripper Stormy Daniels. In 2018 (yes, that is how long this theory has been around), I wrote how difficult such a federal case would be under existing election laws. Now, six years later, the same theory may be shoehorned into a state claim. It is extremely difficult to show that paying money to cover up an embarrassing affair was done for election purposes as opposed to an array of obvious other reasons, from protecting a celebrity's reputation to preserving a marriage. That was demonstrated by the failed federal prosecution of former presidential candidate John Edwards on a much stronger charge of using campaign funds to cover up an affair. In this case, Trump reportedly paid Daniels $130,000 in the fall of 2016 to cut off or at least reduce any public scandal. The U.S. Attorney's office for the Southern District of New York had no love lost for Trump, pursuing him and his associates in myriad investigations, but it ultimately rejected a prosecution based on the election law violations. It was not alone: The Federal Election Commission chair also expressed doubts about the theory. Prosecutors working under Bragg's predecessor, Cyrus Vance Jr., also reportedly rejected the viability of using a New York law to effectively charge a federal offense. More importantly, Bragg himself previously expressed doubts about the case, effectively shutting it down soon after he took office." •

"Manhattan DA Bragg privately warns of intimidation after Trump calls for protest" [Politico]. "Manhattan District Attorney Alvin Bragg offered a private retort to Donald Trump's message Saturday urging supporters to protest his expected indictment, telling office employees in an email that 'we do not tolerate attempts to intimidate our office or threaten the rule of law in New York,' according to a copy obtained by POLITICO…. Bragg's office appears poised to bring criminal charges against Trump in connection with a hush-money payment made to a porn actress, Stormy Daniels, at the height of the 2016 presidential campaign. A flurry of activity related to the grand jury investigation into the hush-money issue, including recent testimony by Michael Cohen, Trump's former lawyer who arranged the payment to Daniels, has signaled an indictment is likely to happen soon."

"McCarthy discourages protests amid looming Trump indictment: 'We want calmness'" [FOX]. McCarthy: "I don't think people should protest this stuff… Nobody should harm one another…And this is why you should really make law equal because if that was the case, nothing would happen. If was this to happen, we want calmness out there." • We'll see. Personally, I don't think it makes sense for the protesters to make themselves the story. And no selfies!

"Before His Death, I Asked the Manhattan D.A. What His Greatest Fear Was. He Answered: 'Trump.'" [New York Times]. The DA: the legendary Robert M. Morgenthau. One the one hand: "The D.A. had a blind spot when it came to Mr. Trump, one he would recognize years later. In his final years, Mr. Morgenthau witnessed a new blood lust — demonization of immigrants and people of color, the rise of white supremacy — and was taken aback. One morning in the spring before his death, I asked Mr. Morgenthau what his greatest fear was, and he did not hesitate to answer: 'Trump.'" That's the quote? That's it? On the other: "In more than a decade of digging, I never found a case in which Mr. Morgenthau took a dive or closed an eye. Could he have found criminal wrongdoing in the Trump Organization? Cyrus Vance, the Manhattan D.A. from 2010 to 2022, spent more than three years and untold millions in taxpayer money trying and came up short." And the conclusion: "Should Mr. Bragg indict the former president, the spirit of the office's longest occupant [Morgenthau] will not howl with fury. Yes, Mr. Morgenthau once introduced Mr. Trump, in another call to the dais, as a 'great New Yorker who has made this a great city,' but I'll bet Mr. Morgenthau will rest just fine, knowing that what he cared most about, the integrity of the office, is alive and well." • So, Morgenthau would approve indicting Trump because Trump is a Bad Guy? Because that seems to be the moral of this story (and the operational definition of "integrity"). The whole piece is worth a read for the backstory.

* * *

"Chicago, Atlanta, NYC: Biden faces early test on convention site" [Crain's Chicago Business]. " Even before he announces a run for a second term, President Joe Biden faces one of the most consequential decisions of his nascent campaign: Which city will host the 2024 Democratic National Convention. Each of the three finalists — Atlanta, Chicago and New York — would send a different message about the kind of campaign Biden intends to run. 'It's a close political call,' said David Axelrod who worked as a top strategist for former President Barack Obama. 'They are not just looking for a great convention town. They are looking for a town that is also going to offer them the most political benefit.' Chicago has strong labor support and a billionaire governor committed to backing Democrats. New York would put the convention on its largest possible metaphorical stage. And Atlanta — the only finalist in a battleground state —- offers a backdrop of civil rights movement history that could appeal to Black voters. It's high-stakes choice: The wrong venue could alienate key parts of Biden's base, put the party in a financial hole or foment protests that could mar Democrats' image. Biden's decision, which is expected as soon as this month, also could provide a platform for the next generation of Democratic leaders: Illinois Governor J.B. Pritzker, Georgia Senator Raphael Warnock or New York Mayor Eric Adams. • Well, at least Pritzker and Adams don't owe me six hundred bucks. There is that.
Democrats en Déshabillé
Patient readers, it seems that people are actually reading the back-dated post! But I have not updated it, and there are many updates. So I will have to do that. –lambert

I have moved my standing remarks on the Democrat Party ("the Democrat Party is a rotting corpse that can't bury itself") to a separate, back-dated post, to which I will periodically add material, summarizing the addition here in a "live" Water Cooler. (Hopefully, some Bourdieu.) It turns out that defining the Democrat Party is, in fact, a hard problem. I do think the paragraph that follows is on point all the way back to 2016, if not before:

The Democrat Party is the political expression of the class power of PMC, their base (lucidly explained by Thomas Frank in Listen, Liberal!). ; if the Democrat Party did not exist, the PMC would have to invent it. . ("PMC" modulo "class expatriates," of course.) Second, all the working parts of the Party reinforce each other. Leave aside characterizing the relationships between elements of the Party (ka-ching, but not entirely) those elements comprise a network — a Flex Net? An iron octagon? — of funders, vendors, apparatchiks, electeds, NGOs, and miscellaneous mercenaries, with assets in the press and the intelligence community.

Note, of course, that the class power of the PMC both expresses and is limited by other classes; oligarchs and American gentry (see 'industrial model' of Ferguson, Jorgensen, and Jie) and the working class spring to mind. Suck up, kick down.

* * *

IL: "Chicago's longtime chief labor negotiator sizes up Paul Vallas, Brandon Johnson" [Chicago Sun-Times]. "The April 4 mayoral runoff between Paul Vallas and Brandon Johnson has been portrayed as the candidate of the Fraternal Order of Police versus the candidate of the Chicago Teachers Union. Jim Franczek, the city's chief labor negotiator, doesn't see it that way — and he's in a unique position to know. Franczek called Vallas the 'clear choice' and Johnson and his ties to the CTU a grave concern. If not for Vallas, Franczek claims, the contract would never have included all of the 'core police accountability provisions' demanded by City Council members and the consent decree outlining terms of federal court oversight of the Chicago Police Department. Those provisions include ending the 40-year ban on the investigation of anonymous complaints about police misconduct; no longer allowing officers to change their stories after reviewing bodycam video of an incident; eliminating a requirement that disciplinary records older than five years be destroyed; and lifting the ban on rewarding police officers who report wrongdoing by fellow cops. 'In the world of labor relations and the world of police accountability, these [reforms] were pretty big deals. And frankly, nobody but Paul Vallas could have done that. It was Paul's considerable powers of persuasion and the ability to be able to bring people together that resulted in that agreement,' Franczek said." • Hmm. "Disaster capitalism came to New Orleans in full force in the wake of Katrina, possibly more powerful than a hurricane, in the person of Paul Vallas and his education policy, the Recovery School District."
#COVID19
"I am in earnest — I will not equivocate — I will not excuse — I will not retreat a single inch — AND I WILL BE HEARD." –William Lloyd Garrison
Resources, United States (National): Transmission (CDC); Wastewater (CDC, Biobot; includes many counties); Variants (CDC; Walgreens); "Iowa COVID-19 Tracker" (in IA, but national data).
Lambert here: Will alert reader square coats please resend? I have checked my mail and see nothing from you. Thanks!
• Readers, thanks for the push. We are now up to 43/50 states (86%). I have helpfully added "______" to the states still missing data. We should list states that do not have Covid resources, or have stopped updating their sites, so others do not look fruitlessly. Could those of you in states not listed help out by either with dashboard/wastewater links, or ruling your state out definitively? Thank you!
Resources, United States (Local): AK (dashboard); AL (dashboard); AR (dashboard); AZ (dashboard); CA (dashboard; Marin); CO (dashboard; wastewater); CT (dashboard); DE (dashboard); FL (wastewater); GA (wastewater); HI (dashboard); IA (wastewater reports); ID (dashboard, Boise; dashboard, wastewater, Central Idaho; wastewater, Coeur d'Alene; dashboard, Spokane County); IL (wastewater); IN (dashboard); KS (______); KY (______); LA (dashboard); MA (wastewater); MD (dashboard); ME (dashboard); MI (wastewater; wastewater); MN (dashboard); MO (______); MS (______); MT (dashboard); NC (dashboard); ND (______); NE (______); NH (wastewater); NJ (dashboard); NM (dashboard); NV (______); NY (dashboard); OH (dashboard); OK (dashboard); OR (dashboard); PA (dashboard); RI (dashboard); SC (dashboard); SD (dashboard); TN (dashboard); TX (dashboard); UT (wastewater); VA (dashboard); VT (dashboard); WA (dashboard; dashboard); WI (wastewater); WV (wastewater); WY (wastewater).
Resources, Canada (National): Wastewater (Government of Canada).
Resources, Canada (Provincial): ON (wastewater); QC (les eaux usées); BC, Vancouver (wastewater).
Hat tips to helpful readers: Art_DogCT, B24S, CanCyn, ChiGal, Chuck L, Festoonic, FM, FreeMarketApologist (1) , Gumbo, hop2it, JB, JEHR, JF, JL Joe, John, JM (6), JW, LL, Michael King, KF, LaRuse, mrsyk, MT, otisyves, Petal (5), RK (2), RL, RM, Rod, square coats (7), tennesseewaltzer, Utah, Bob White (3). (Readers, if you leave your link in comments, I credit you by your handle. If you send it to me via email, I use your initials (in the absence of a handle. I am not putting your handle next to your contribution because I hope and expect the list will be long, and I want it to be easy for readers to scan.)
• More like this, please! Total: 1 6 11 18 20 22 26 27 28 38 39 43/50 (86% of US states).
* * *
Look for the Helpers
Filing this here, because "The Area Under the Curve" is a useful concept:

1/ "Open letter to Federal, State and Territory Australian health leaders on the removal of mask wearing in clinical areas"

The time to set a target of ZERO TRANSMISSION OF RESPIRATORY VIRUSES IN HEALTHCARE is now.

Please read and share. 👇https://t.co/WhKVfS2yYw pic.twitter.com/v3fAqQZBUA

— Dr David Berger, aBsuRdiSTe cROnickLeR (@YouAreLobbyLud) March 18, 2023

As readers know, I'm not strong on arithmetic. Is this a fair representation of "under the curve" for the US?

It feels wierd to me to convert what looks like a graph to an area chart, but…

* * *

"Introducing: The Covid Underground" [Covid Underground]. The deck: "Welcome to The Covid Underground, a newsletter for the Covid-free movement and all of those who continue to avoid infection." More: "True health is the ability to change. About 10-30% of the U.S. population has changed their lives in the light of the freeing revelations of 2020, and we keep changing. We are dynamically, creatively faithful to what was— briefly— plain to all: normal is a dangerous illusion." • Worth a read.

"Covid Meetups" [COVID MEETUPS (JM)]. "A free service to find individuals, families and local businesses/services who take COVID precautions in your area." • I played around with it some. It seems to be Facebook-driven, sadly, but you can use the Directory without logging in. I get rational hits from the U.S., but not from London, UK, FWIW.

Finding like-minded people on (sorry) Facebook:

Thought I'd add this here in case anyone is interested. Places to find people who "Still Covid" in your area & online: https://t.co/T4ND4XbrpF & https://t.co/sP5wq4fAw5 You can also search on FB "Still Coviding ____" & see if there's a specific group on your area.

— Adriel Rose (@adriel_rose) March 1, 2023
Covid Is Airborne
Maskstravaganza
"NY Department of Health announces new COVID guidelines for nursing home visitors" [Rochester First]. "The Friendly Home Nursing Care and Rehabilitation also released a statement: 'Today, the New York State Department of Health (DOH) announced that, effective immediately, nursing homes are no longer required to verify that visitors have a negative COVID-19 test upon entry or to conduct active COVID-19 screening. The Friendly Home welcomes this news as we continue to move forward from the pandemic. In compliance with the new DOH regulations and after review of the guidelines by the Home's Medical Director, the Friendly Home is no longer requiring COVID testing or screening for visitors. Because our top priority is always the safety and well-being of our residents and staff, the Friendly Home is strongly encouraging visitors to defer non-urgent visits . Further, COVID tests will remain available at the Friendly Home for anyone who wishes to take a test before visiting.'" • The Friendly Home is a friendly death trap because Covid spreads asymptomatically.
Treatment
Good news from Enovid/SaNOtize:

The good news – there seems to be no systemic involvement. "Some people are concerned about methemoglobinemia as a rare but possible side effect. Could you address that?
Are there any drug interactions with Enovid?", I asked. See there response email and trial citation below. pic.twitter.com/IlWVWW3OgD

— Sophia 🇺🇦 💪🏼😷 ♦️ (@Sophiepedia) March 17, 2023

Good that they actually answered questions!
Sequelae
"US airplane near misses keep coming. Now officials are talking about averting 'catastrophic' incidents" [CNN]. The other day, we saw that incident in TX where the air traffic controller had to talk the pilot of a private plane down…. "Since the start of the year, there have been a concerning number of high-profile 'near misses' as planes involved in airport landing or taking off procedures came perilously close to potential disaster…. The litany of incidents that have clocked up less than three months into 2023 have prompted such concern that this week the US Federal Aviation Administration convened a 'Safety Summit.'…. The FAA, which is also investigating the recent spate of incidents, says it has not found a common cause. It seems like stories like this are becoming increasingly common. Or are they?" • Commentary:

1/ "what we're finding is that pilots, ground crews and controllers alike seem to be experiencing this uptick. Some have described it as a kind of rust."

Anyone know a factor affecting everyone in the last 3 years that can impair cognitive function?https://t.co/lbHw2gjilg

— Dr David Berger, aBsuRdiSTe cROnickLeR (@YouAreLobbyLud) March 18, 2023

'Tis a mystery! But with Mayo Pete on the job, I'm sure we'll get to the bottom of it!

And can any aviation-adjacent readers confirm?

The public doesn't want to know what current and former aircraft flight and ground crew have been discussing for well over a year in private DMs.

— sansnom (@86thistimeline) March 18, 2023

Anecdotes that suggest the same mysterious cause that's making pilots to go all random is also happening with drivers:

Also seen this morning. Two drivers in a row turning left from a stop sign into the wrong lane where there could've been a car there, also waiting at a stop sign. That car could've been me but thankfully I stopped to let them do their thing w my jaw dropped.

— Steph (@ObservingAngel) March 18, 2023

I'm not a driver. Can any readers provide similar anecdotes?

"Can the Lingering Effects of a Mild Case of Covid-19 Change Your Brain?" [American Academy of Neurology]. "– People with long COVID who experience anxiety and depression months after a mild case of COVID-19 may have brain changes that affect the function and structure of the brain, according to a preliminary study released today, February 20, 2023, that will be presented at the American Academy of Neurology's 75th Annual Meeting being held in person in Boston and live online from April 22-27, 2023." More:

The study involved 254 people with an average age of 41 who had a mild COVID-19 infection an average of three months earlier. Participants completed tests to assess symptoms of depression and anxiety. A total of 102 people had symptoms of both anxiety and depression and 152 people had no symptoms.

Participants also had brain scans. Researchers looked at damage to the brain's gray matter to determine if there was brain shrinkage. They also compared the brain scans of the people with COVID-19 with the scans of 148 people who did not have a COVID-19 infection.

The people with COVID-19 and anxiety and depression had shrinkage in the limbic area of the brain, which plays a role in memory and emotional processing, while the people who had COVID-19 without anxiety and depression and the people without COVID-19 had no brain shrinkage.

Researchers also looked at brain function and changes in connectivity—how the brain communicates—between areas of the brain. Using a special type of software to analyze brain networks with resting-state brain activity, they looked at 84 people from the asymptomatic group, 70 people from the anxiety and depression group, and 90 people who did not have COVID-19.

Researchers found that the group with both symptoms of anxiety and depression had in each of the 12 networks that were tested, while the group without symptoms showed changes in only five networks.

"Our results suggest in how the brain communicates as well as its structure, mainly in people with anxiety and depression with long COVID syndrome, which affects so many people," Yasuda added. "The magnitude of these changes suggests that they could lead to , so we need to be exploring holistic treatments even for people mildly affected by COVID-19."

A limitation of the study was that symptoms of anxiety and depression were self-reported, so people may have misjudged or misreported symptoms.<>/p>

Now do repeated infections.

"She couldn't recognize her dad after COVID, study says. 'Something was off with faces'" [Lexington Herald-Leader]. "Imagine the familiar face of a family member or friend is suddenly unrecognizable the next time you see them. That's what happened to a 28-year-old woman, who works as a part-time portrait artist drawing faces, after her COVID-19 infection, according to a new study published in the journal Cortex. A few months after getting COVID-19, the woman, identified as Annie, couldn't recognize her father's face when she met with family in June 2020 for the first time since getting sick, the study involving Dartmouth College researchers says. 'My dad's voice came out of a stranger's face,' Annie explained to the researchers. Annie's new struggle to recognize faces — a neurological condition known as prosopagnosia, or 'face blindness' — emerged seven weeks after her COVID-19 infection began in March 2020, according to the study…. Annie also began having trouble navigating familiar surroundings after catching COVID-19, the study notes. This includes her troubles navigating the sections of grocery store she frequents or finding her car in a parking lot, the study notes." • Faces, parking lots… Or cockpit instruments? Runways?

* * *

"Immunodysfunction: A Cause of Stealth COVID-19 Illness and Death" [Infection Control Today]. A round-up on immune dysregulation: "Finally, there is abundant laboratory evidence of immunodysfunction after COVID-19. Anthony Leonardi, PhD, MS, Johns Hopkins Bloomberg School of Public Health and Rui B. Proenca, PhD, Department of Biology, Johns Hopkins University, first described aberrant T cell differentiation and lymphopenia in severe COVID-19. The authors stated: 'These facets depict SARS-Cov-2 as a lympho-manipulative pathogen; it distorts T cell function, numbers, and death, and creates a dysfunctional immune response." SARS-CoV-2 can infect lymphocytes through ACE2-independent receptor (LFA-1) and cause a "marked lymphopenia in severe patients.' A study published in Nature Immunology reported laboratory data and findings that documented immune dysfunction for up to 8 months (the longest time period studied) in individuals with long COVID. These individuals were described as having 'highly activated innate immune cells and lacked naïve T and B cells.' P. Chattopadhyay, PhD, et al have reported an impairment in the B-cell maturation process and an absent subset of naïve T-cells in COVID-19-recovered patients, which is present in healthy individuals. Jacob K. Files, MD, et al also found that "'data suggest a prolonged period of immune dysregulation after SARS-CoV-2 infection' and that 'many of these changes were found to increase over time in nonhospitalized longitudinal samples, suggesting a prolonged period of immune dysregulation after SARS-CoV-2 infection.' Cong-Ying Song, PhD, et al described immune dysfunction following COVID-19 and found that this '…dysfunction plays critical roles in disease progression.' Along with heart disease, immune dysfunction and severe infections are becoming another cause of stealth COVID-19 deaths. ." • I'm used to thinking of IC as a citadel of reaction, so this realism is refreshing.
Elite Malfeasance
"The Checkup With Dr. Wen: Three questions that remain after three years of covid" [Leana Wen, WaPo]. WaPo didn't paywall this, so they really want you to read it. "One crucial area of inquiry is what happens with repeat infections, which will almost certainly become more common with covid exposure going forward. We might come to expect some frequency of post-covid symptoms, and the resulting disability, as a 'new normal.' In that case, health resources must shift from avoiding the coronavirus to reducing and treating its worst consequences — including long covid." • How soon until Wen comes out against improved ventilation? And just to be clear on those "repeat infections":

Playing Russian roulette with our lives;https://t.co/UsrjAFcVn5

— Gregg Mallitt 🇭🇲 👨‍🦽🌏🚁🛩🦜🦘 (@fungus_54) March 18, 2023

Significant that Leonardi says this:

They're now trying to raise retirement age while life expectancy is falling…

It's almost like they saw the elderly as the virus and the virus as the cure

— Anthony J Leonardi, PhD, MS (@fitterhappierAJ) March 18, 2023

I'm not the only one thinking this way….

Even Leana Wen admits Covid is not seasonal:

The WHO's Michael Ryan says we're coming to the point where the virus "is not disrupting our society" despite the fact that record numbers of people are out of the workforce due to long-term sickness in the US, Australia, Canada, UK and EU and central banks are spooked pic.twitter.com/pA8Xm0QBni

— Nate Bear (@NateB_Panic) March 18, 2023

(Ryan is the guy stuffed Tedros back in his box when Tedros said Covid was airborne. On camera!)

"The CDC's Vaccine 'Misinformation' List" [The Reactionary]. "We have obtained just a sampling of the CDC's 'Weekly Social Listening Report,' distributed by the National Center for Immunization and Respiratory Diseases (NCIRD), a division of the CDC whose focus of late has been awarding billions of dollars in funding to further COVID-19 vaccines for children…. The CDC put together this research by targeting specific keywords and hashtags and to report back on how those trended." I have no sympathy accounts that pushed those hashtags. However: "More problematic, and more concerning for those who oppose government censorship, was the fact that the CDC was targeting true content as part of the broader social media "misinformation" trends. On TikTok, for example, the account MuumboJumbo had legitimate questions about who was spreading COVID-19. As we have known for quite some time, vaccination does not prevent transmission. Yet here was the CDC, stating this TikTok user 'promoted COVID-19 vaccine hesitancy by saying there's no way to know who is spreading COVID-19, vaccinated or unvaccinated.'" • Incidentally, for those really concerned about misinformation, the public health establishment, with its noble lies about masks and its fierce and continuing resistance to aerosol transmission is a more powerful disinformer than any Twitter account.
* * *
Looks like "leveling off to a high plateau" across the board. (I still think "Something Awful" is coming, however. I mean, besides what we already know about.) Stay safe out there!
Case Data
NOT UPDATED BioBot wastewater data from March 16: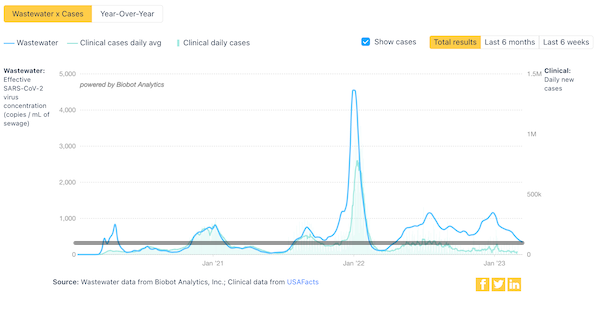 For now, I'm going to use this national wastewater data as the best proxy for case data (ignoring the clinical case data portion of this chart, which in my view "goes bad" after March 2022, for reasons as yet unexplained). At least we can spot trends, and compare current levels to equivalent past levels.
Covid Emergency Room Visits
SITE DOWN From CDC NCIRD Surveillance, from March 11: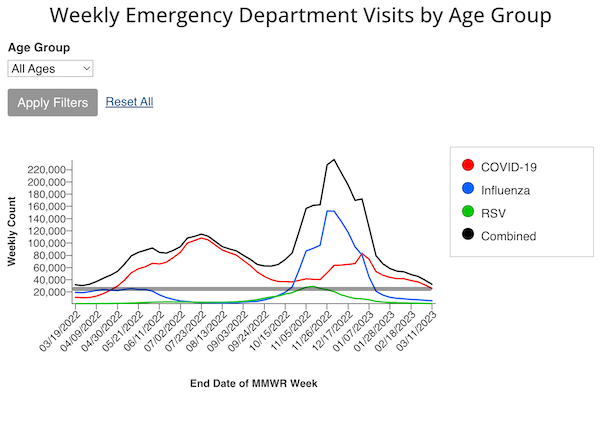 NOTE "Charts and data provided by CDC, updates Wednesday by 8am. For the past year, using a rolling 52-week period." So not the entire pandemic, FFS (the implicit message here being that Covid is "just like the flu," which is why the seasonal "rolling 52-week period" is appropriate for bothMR SUBLIMINAL I hate these people so much. Anyhow, I added a grey "Fauci line" just to show that Covid wasn't "over" when they started saying it was, and it's not over now.
Positivity
From the Walgreen's test positivity tracker, published March 20: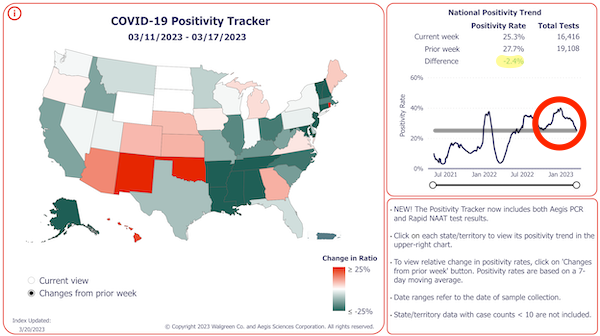 -2.4%. Still high, but at last a distinct downturn.
Deaths
Death rate (Our World in Data):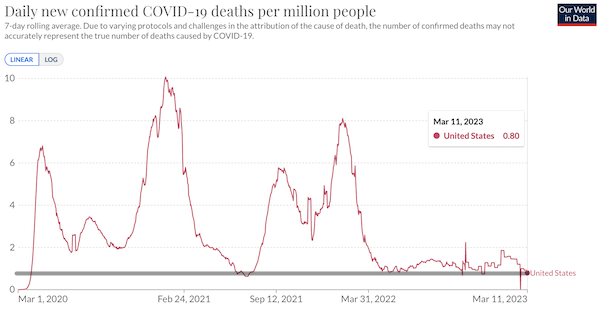 Total: 1,151,642 – 1,150,567 = 1075 (1075 * 365 = 392,375 deaths per year, today's YouGenicist™ number for "living with" Covid (quite a bit higher than the minimizers would like, though they can talk themselves into anything. If the YouGenicist™ metric keeps chugging along like this, I may just have to decide this is what the powers-that-be consider "mission accomplished" for this particular tranche of death and disease).
Excess Deaths
NOT UPDATED (but updating). Excess deaths (The Economist), published March 7: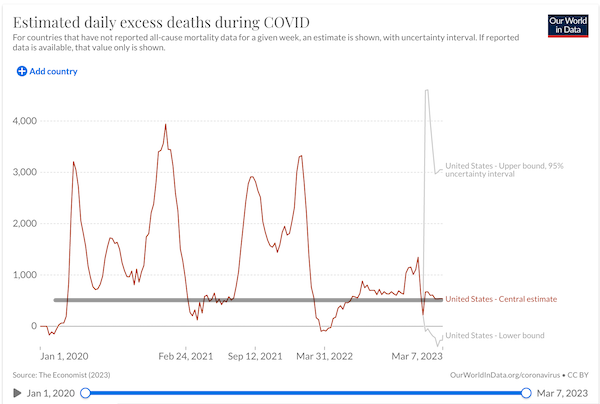 Lambert here: Based on a machine-learnning model. Again, we see a high plateau. I"m not sure how often this updates, and if it doesn't, I'll remove it. (The CDC has an excess estimate too, but since it ran forever with a massive typo in the Legend, I figured nobody was really looking at it, so I got rid it.
Stats Watch
There are no official statistics of interest today.
* * *
Banks: "Chartbook #202 What went wrong at Credit Suisse? The Swiss roots of the debacle." [Adam Tooze]. "As Straumann points out in his NZZ interview, the Credit Suisse debacle is best seen as the latest phase in the crisis-ridden effort by Zurich's liberal Protestant elite (Freisinn) to build corporate champions of global scale on the basis of the incestuous networked politics of Switzerland. The world got to know Swiss chocolate giants, pharmaceutical, insurance and banking giants but behind them stood tight local networks. At home this elites political wing was the FDP party, one of the perpetual parties of power in Switzerland's conservative democracy…. It is the hubris of this network of influence, seeking to combine a domestic Swiss universal bank, a global wealth management operation and a US-style investment banking arm, which ultimately led Credit Suisse into its current dire straits. It is also those connections however that ensured that it would never be allowed to fail…. What are stake here are not simply matters of global financial stability, or general principles of competition policy, but the 21st century rearrangement, under the sign of globalization, of elite networks in a small and confined society that traces their roots back to the 19th century. "
Tech: "Google stacks its legal team with former DOJ employees as it faces antitrust cases" [CNBC]. "Google's parent company, Alphabet, has stacked its legal team with former Department of Justice employees as it fights two separate antitrust lawsuits from the agency, public profiles show. Former DOJ employees make up both its in-house team and members of outside counsel firms it employs. The company has hired three former DOJ officials into regulatory roles since May 2022, and one before that in 2021, according to public information including social media profiles. Google also uses four different outside counsel firms loaded with nearly 20 former DOJ officials, many of whom worked in the antitrust division at various times. Such hiring for its internal regulatory team is a reflection of the intense scrutiny Google is facing from governments around the world. It can be a signal that a company anticipates dealing with regulatory challenges in years to come, even if it doesn't know exactly what form it'll take yet, according to two former government officials. 'When companies find themselves under intense scrutiny from regulatory authorities, antitrust law or otherwise, they make moves like this,' said Bill Kovacic, a former Federal Trade Commission chair who now teaches antitrust law at George Washington University."
Tech: "Culture War Bullshit Stole Your Broadband" [Cory Doctorow]. "Apologists for America's internet-of-garbage will tell you that all of this can't be avoided. America is too big, its rural communities are too spread out, its infrastructure is too old. Bullshit. Hundreds of American small towns have built their own fiber networks, mostly in deep red counties in deep red states. Far from living in Stalinist broadband hellscapes, these rural Americans whose broadband comes from their local government are the only people in America who are happy with their broadband. There is no place too rural for public broadband: the poorest county in Appalachia pulled fiber to every home, including the ones beyond narrow mountain passes (they used a mule called Ol Bub to make those runs!), and experienced an economic miracle. As good as American cities and towns are at providing fiber, the private sector is very bad at it…. As bad as the private sector is at providing broadband, it is absolutely brilliant at corrupting the political process. Cities that so much as ponder providing decent broadband are beset by 'grassroots; activists who are spittin' mad at the idea of having reliable, low-cost internet. More often than not, these are really astroturf groups, fake activists in the employ of big cable and telephone companies. The whole bestiary of shadowy conservative billionaires get in on this — even the Kochs. Increasingly, though, conservative turkeys are being convinced to vote for Christmas, demanding their inalienable right to be fleeced by monopolists. How do you convince conservatives to vote against decent internet at a decent price? The same way you convince conservatives to do anything: You tell them it's woke." • Sigh.
* * *
Today's Fear & Greed Index: 27 Fear (previous close: 24 Extreme Fear) [CNN]. One week ago: 23 (Fear). (0 is Extreme Fear; 100 is Extreme Greed). Last updated Mar 20 at 12:28 PM ET.
Rapture Index: Closes down one on Anti-Semitism. "The lack of activity has downgraded this category" [Rapture Ready]. Record High, October 10, 2016: 189. Current: 185. (Remember that bringing on the Rapture is good.) NOTE on #42 Plagues: "The coronavirus pandemic has maxed out this category." More honest than most!
Healthcare
"Match Day":
LOSER: Emergency Medicine programs.

It's been discussed all week, but this year, there were more unfilled EM spots than there have been in the previous 15 years combined.

Only 82% of EM positions filled. That's the lowest of all specialties except radiation oncology (81%). pic.twitter.com/xXb7vBF7hS

— Bryan Carmody (@jbcarmody) March 17, 2023
What a strange ritual. It reminds me of the NFL draft. Is that fair? Anyhow, all the best to our new doctors!
Our Famously Free Press
Fooled me:
Why do we even need poor people? pic.twitter.com/6CRbyZHAXc

— The Atlarntic (@TheAtlarntic) March 18, 2023
Ha ha, only serious. See discussion of AGI.
Zeitgeist Watch
"Futurists predict a point where humans and machines become one. But will we see it coming?" [The Conversation]. "The internet and smartphones were other examples. But unlike those technologies, many philosophers and scientists think AI could one day reach (or even go beyond) human-style 'thinking' This possibility, coupled with our increasing dependence on AI, is at the root of a concept in futurism called 'technological singularity.' This term has been around for a while, having been popularised by the US science fiction writer Vernor Vinge a few decades ago. Today, the 'singularity' refers to a hypothetical point in time at which the development of artificial general intelligence (AGI) – that is, AI with human-level abilities – becomes so advanced that it will irreversibly change human civilisation. It would mark the dawn of our inseparability from machines. From that moment on, we won't be able to live without them without ceasing to function as human beings…. Recently OpenAI (the company that developed ChatGPT) released a blog post reaffirming its commitment to achieving AGI. Others will doubtless follow." • It has occurred to me that all the stupid that sloshed into and then out of crypto and Web 3.0 had to slosh somewhere, and that somewhere was AI. However, I find it very hard to believe it's a coincidence that AI (and robots) are getting such play now that capital, through its policy of mass infection without mitigation, has slaughtered and sickened enough workers to affect the labor markets. (Note that I don't believe that robots and AI can actually replace human workers in the general case; they call science fiction fiction for a reason. But we live on the stupidest timeline, and our capitalist elites are stupid too, so they may believe that AI can, just like they believe in mainstream macro, American exceptionalism, rugged individualism, their own innate superioritym and all sorts of other stupid ideas.
Class Warfare
This guy should have part ownership of the building he built:
1980's construction worker Albert Stalk didn't mess about.. 😮 WOW pic.twitter.com/lAJEZQNdki

— Wow Terrifying (@WowTerrifying) March 17, 2023
News of the Wired
Network effects:
This is the Mississippi Water Basin. There's something weird. Can you see it? It touches the Great Lakes! How is that possible? Does water flow from the Great Lakes down the Mississippi? No! Then? pic.twitter.com/gR7CvO1fJJ

— Tomas Pueyo (@tomaspueyo) March 18, 2023
I'll say one thing for this account: They know how to put a thread together!
"The United States Frequency Allocation Chart" [Beautiful Public Data]. "Somewhere above you right now, a plane is broadcasting its location, speed and bearing on 1090 MHz. A geostationary weather satellite 22 thousand miles from Earth is transmitting detailed weather maps on 1694.1 MHz. A car driving by your home is transmitting a signal with the pressure readout of one of its tires at 315MHz. A GPS satellite flying overhead at 8,000 miles per hour is pinging a signal to your phone at 1575.42 MHz. A data buoy bobbing in the Atlantic ocean transmits sea temperature, wave height and wind speed readings to a NOAA satellite at 401 MHz. On top of all that, every single mobile device and WiFi router near you blasts out everyones internet traffic through the air rover radio waves. How the hell are all of these signals getting to the right place, intact without stepping all over each other? The answer is a very carefully regulated radio spectrum….. The Frequency Allocation Chart uses 33 color coded categories to visualize the information from the Table of Frequency Allocations in a crazy quilt of blocks spread from 9 kHz (Very Low Frequency) all the way to 300 GHz (Extremely High Frequency)." • This is a wall chart so it's a little smushed: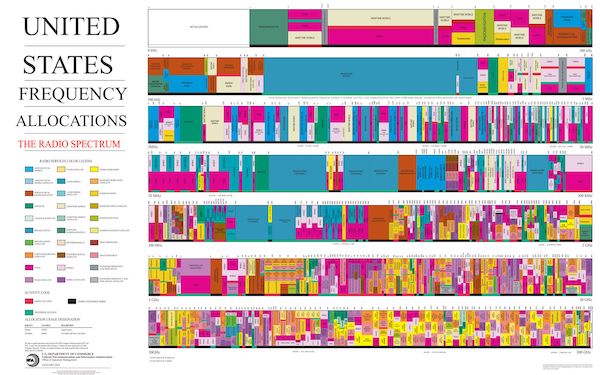 * * *
Contact information for plants: Readers, feel free to contact me at lambert [UNDERSCORE] strether [DOT] corrente [AT] yahoo [DOT] com, to (a) find out how to send me a check if you are allergic to PayPal and (b) to find out how to send me images of plants. Vegetables are fine! Fungi and coral are deemed to be honorary plants! If you want your handle to appear as a credit, please place it at the start of your mail in parentheses: (thus). Otherwise, I will anonymize by using your initials. See the previous Water Cooler (with plant) here. From Kim S: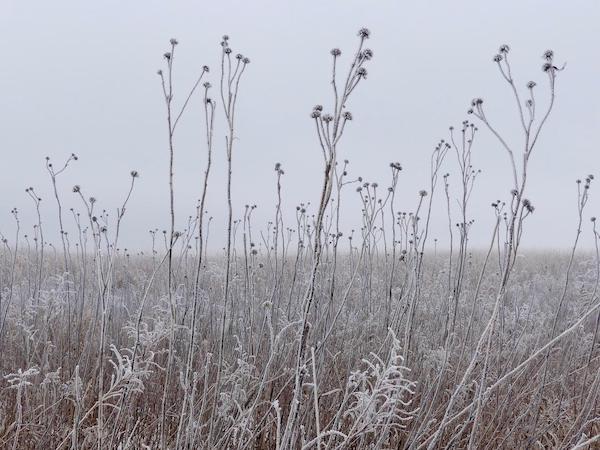 TF writes: "Minnesota field. I like it!" It's lovely!
* * *
Readers: Water Cooler is a standalone entity not covered by the annual NC fundraiser. So if you see a link you especially like, or an item you wouldn't see anywhere else, please do not hesitate to express your appreciation in tangible form. Remember, a tip jar is for tipping! Regular positive feedback both makes me feel good and lets me know I'm on the right track with coverage. When I get no donations for five or ten days I get worried. More tangibly, a constant trickle of donations helps me with expenses, and I factor in that trickle when setting fundraising goals:
Here is the screen that will appear, which I have helpfully annotated: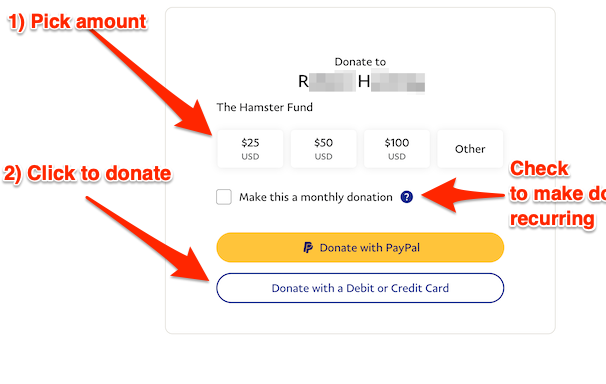 If you hate PayPal, you can email me at lambert [UNDERSCORE] strether [DOT] corrente [AT] yahoo [DOT] com, and I will give you directions on how to send a check. Thank you!