By Lambert Strether of Corrente.
Bird Song of the Day
House Wren (Northern), HUNTSVILLE; SNOW BASIN REC. AREA, Utah, United States. This is an "LMS Catalog" recording. From 1961!! I really like the fact that there's an enormous archive going back that long. Historical continuity!
* * *
Politics
"So many of the social reactions that strike us as psychological are in fact a rational management of symbolic capital." –Pierre Bourdieu, Classification Struggles
Biden Administration
"Biden admin led massive 'speech censorship operation,' former state AG will testify" [FOX]. " The Biden administration has led 'the largest speech censorship operation in recent history' by working with social media companies to suppress and censor information later acknowledged as truthful," former Missouri attorney general Eric Schmitt will tell the House Weaponization Committee Thursday. Schmitt, now a Republican senator from Missouri, is expected to testify alongside Louisiana Attorney General Jeff Landry and former Missouri deputy attorney general for special litigation, D. John Sauer…. The three witnesses will discuss the findings of their federal government censorship lawsuit, Louisiana and Missouri v. Biden et al—which they filed in May 2022 and which they describe as 'the most important free speech lawsuit of this generation.' … The lawsuit is currently in discovery, and Thursday's hearing is expected to feature witness testimony that will detail evidence collected to show the Biden administration has 'coerced social media companies to censor disfavored speech.'…. Missouri and Louisiana also deposed an FBI agent about the Hunter Biden laptop story, which revealed that the FBI 'deliberately planted false information about 'hack-and-leak' operations in advance of the Hunter Biden laptop story in order to deceive social media platforms into censoring the Hunter Biden laptop story.'"
2024
"Why Glenn Youngkin Would Be Crazy Not to Run for President" [Politico]. "The reality is that Youngkin is less an updated version of Mitt Romney than he is of someone who actually became president, George W. Bush. Apparently by chance rather than design, what Youngkin articulates is something very much like 'compassionate conservatism,' the credo that got Bush elected in 2000 and then went into retreat as he became a war president after 9/11 and the Iraq War. That is reflected in Youngkin's prominent advocacy of improved state mental health services — 'Nobody has been spared this crisis" — and a state partnership with the impoverished and predominantly Black city of Petersburg, just south of the capital. Like Bush early in his national career, Youngkin combines the background of a wealthy elite with an affable jockish sensibility — Youngkin played Division I basketball at Rice — that helps with populist messaging. As with Bush, his political persona is intertwined with a plainly sincere if showy religiosity. 'Can I say grace real quick?' he asked during a recent interview."

"Trump: Desantis's Attitude Toward Russia Makes Peace Negotiations 'Impossible'" [Breitbart]. "DeSantis told the British commentator that Russia is 'basically a gas station with a bunch of nuclear weapons'… Trump said this kind of approach 'is exactly the kind of simple-minded thinking that has produced decades of failed diplomacy and ultimately war.' He added that the stance belittles Russia and shows a lack of respect for the nation's culture and history… He also referenced additional comments from DeSantis's Morgan interview, in which he dubbed Putin a 'war criminal' who should be 'held accountable' for the Ukraine invasion. 'This kind of neo-con rhetoric mocking Russia's nuclear weapons, along with implying that Putin must be tried and presumably executed as a war criminal, only increases the chances of deadly nuclear escalation,' Trump said. DeSantis's position on Russia and Putin displays a 'lack of depth, a lack of seriousness, and a lack of sophistication on the subtleties and complexities of foreign policy,' in the 45th president's view. Trump declared that Americans 'need a statesman and peacemaker in the White House' and that he is the lone candidate who could prevent a third world war." • Sure, A/B testing. But….

"Playbook PM: Trump's indictment limbo drags on to late April" [Politico]. "The sword of Damocles that is the possible criminal indictment of DONALD TRUMP could dangle over American politics for yet another month: Our colleague Erica Orden scooped from NYC that the grand jury looking into the STORMY DANIELS hush money probe is expected to take a break for the next several weeks." • Heck. I thought they had him this time for sure!

"DeSantis' board says Disney stripped them of power" [Associated Press]. "Board members picked by Florida Gov. Ron DeSantis to oversee the governance of Walt Disney World said Wednesday that their Disney-controlled predecessors pulled a fast one on them by passing restrictive covenants that strip the new board of many of its powers. The current supervisors of the Central Florida Tourism Oversight District said at a meeting that their predecessors last month signed a development agreement with the company that gave Disney maximum developmental power over the theme park resort's 27,000 acres in central Florida. The five supervisors were appointed by the Republican governor to the board after the Florida Legislature overhauled Disney's government in retaliation for the entertainment giant publicly opposing so-called 'Don't Say Gay' legislation that bars instruction on sexual orientation and gender identity in kindergarten through third grade, as well as lessons deemed not age-appropriate. In taking on Disney, DeSantis furthered his reputation as a culture warrior willing to battle perceived political enemies and wield the power of state government to accomplish political goals, a strategy that is expected to continue ahead of his potential White House run." • "Pulled a fast one"? On a Yale man like DeSantis?

"Voters Can't Even Name Many Democratic Presidential Prospects" [New York Magazine]. "This collective amnesia only matters if Biden doesn't run. But it tells you that the political capital a lot of people spend on preparing themselves for a presidential candidacy winds up getting wasted. Democrats better hope Biden serves out the rest of his current term and runs for a second. Otherwise, Democratic candidates will need to start all over introducing themselves to the voting members of their party. Right now, a lot of them are basically nonentities." • Monmouth:

Monmouth asked Dems who they want to run if Biden doesn't — but didn't offer names.

The results:

Don't know 51%
Harris 13%
Buttigieg 6%
Sanders 6%
Warren 4%
Newsom 3%
Everyone else 1%https://t.co/FmX7ZZ3LPk

— Aaron Blake (@AaronBlake) March 27, 2023
Democrats en Déshabillé
Patient readers, it seems that people are actually reading the back-dated post! But I have not updated it, and there are many updates. So I will have to do that. –lambert

I have moved my standing remarks on the Democrat Party ("the Democrat Party is a rotting corpse that can't bury itself") to a separate, back-dated post, to which I will periodically add material, summarizing the addition here in a "live" Water Cooler. (Hopefully, some Bourdieu.) It turns out that defining the Democrat Party is, in fact, a hard problem. I do think the paragraph that follows is on point all the way back to 2016, if not before:

The Democrat Party is the political expression of the class power of PMC, their base (lucidly explained by Thomas Frank in Listen, Liberal!). ; if the Democrat Party did not exist, the PMC would have to invent it. . ("PMC" modulo "class expatriates," of course.) Second, all the working parts of the Party reinforce each other. Leave aside characterizing the relationships between elements of the Party (ka-ching, but not entirely) those elements comprise a network — a Flex Net? An iron octagon? — of funders, vendors, apparatchiks, electeds, NGOs, and miscellaneous mercenaries, with assets in the press and the intelligence community.

Note, of course, that the class power of the PMC both expresses and is limited by other classes; oligarchs and American gentry (see 'industrial model' of Ferguson, Jorgensen, and Jie) and the working class spring to mind. Suck up, kick down.

* * *

Theatre (1):

Holy shit. Rep. Jamaal Bowman is directly calling out Republican members of Congress as they walk out of the Capitol building right now. We need to confront & expose every one of them. Make them answer. This is leadership and truly amazing. pic.twitter.com/WESOZQ2KyZ

— Victor Shi (@Victorshi2020) March 29, 2023

Theatre (2):

There are only two ways to do this:

1) A grandfather clause that keeps millions of weapons in the wrong hands
2) A confiscation that will kick off a hot conflict immediately

So which way are you proposing, dumbass? https://t.co/al4RGCyReq

— Lee 🖖 Carter (@carterforva) March 29, 2023

* * *

IL: "Chicago Mayoral Candidates Scramble For Latino Votes" [HuffPo]. "A series of Latino elected officials, nonprofit leaders and educators lined up to speak on Friday evening at a packed "Vamos con Vallas" rally in support of Paul Vallas, the more conservative of the two remaining candidates for mayor of Chicago. The remarks of Iris Martinez, the first-ever Latina clerk of the Cook County Circuit Court, and the aunt of a young woman who was murdered in Chicago, embodied the mood at an event where support for law enforcement and charter schools were second only to frustration with the city's nascent activist left. 'This notion about racism ― please everybody!' Martinez said, apparently referring to suggestions by Vallas's rival Brandon Johnson that Vallas has trafficked in racist tropes. 'Let's talk about the real issues that are plaguing Chicago today ― and that is crime.' 'I don't see how we can actually address crime if we are defunding the police. I stand with the men and women in blue,' she added, prompting cheers from a crowd that contained many Latino law enforcement officers. Surveys have consistently shown Vallas, who is white, leading Johnson, who is Black, with Latino voters. But unlike Black voters with whom Johnson has a decisive lead, and white voters with whom Vallas is dominant, Latino voters are still relatively split, and seen as up for grabs by either candidate."

PA: "Fetterman set to return to Senate week of April 17" [The Hill]. "Sen. John Fetterman (D-Pa.) is set to return to the Senate the week of April 17, two Democratic sources told The Hill. A source close to Fetterman confirmed he will return once the Senate comes back from its upcoming two-week recess. The Pennsylvania progressive has been absent from the Senate since mid-February after checking himself into Walter Reed Medical Military Hospital with clinical depression…. Despite his recovery, Fetterman still struggles with auditory processing issues stemming from the stroke, using closed captioning in order to communicate with lawmakers and aides."

WI: "What to Watch for in the Wisconsin Supreme Court race" [Sabato's Crystal Ball]. "Next week, Badger State voters will head to the polls to weigh in on what has been billed as the most important judicial election of the year. If Democratic-aligned Judge Janet Protasiewicz prevails, liberals will assume a 4-3 majority on the state's highest court. If voters send Daniel Kelly, a former justice who is effectively the GOP nominee in the contest, back to the body, conservatives will retain control…. Throughout this survey, we've emphasized Democratic softness in the Milwaukee metro in past state Supreme Court races, as it has typically manifested to at least some degree. But it's possible that this year's contest is so nationalized that a more 'presidential' coalition takes form, with Protasiewicz making considerable gains in urban areas while doing worse than expected in the west and north — this would essentially be the opposite of Neubauer's result…. With that, we'll end on something that we can be fairly certain of: next week's race will be a high turnout affair, at least for a judicial race."
Realignment and Legitimacy
"Fox lawsuit highlights effects of conspiracies on Dominion" [Associated Press]. "'The evidence will show that Dominion was a valuable, rapidly growing business that was executing on its plan to expand prior to the time that Fox began spreading and endorsing baseless lies about Dominion voting machines," Stephanie Walstrom, a Dominion spokeswoman, said in a statement. The company's challenges haven't ended, as conspiracies about the last presidential election have permeated much of the Republican Party. Trump allies continue to travel the country meeting with community groups and holding forums to promote election conspiracies. The conspiracies have been cited by some county officials, who say they are responding to constituent concerns, as justification for refusing to certify election results and have fed attempts to decertify or ban voting equipment. 'People aren't acting rationally,' said Lawrence Norden, an election security expert with the Brennan Center for Justice, which has advocated for more voter access and funding for election offices. 'They are canceling contracts at great expense to their taxpayers." Not included in the Dominion expert's report are more recent actions, including in Shasta County, California, where the board of supervisors terminated its contract with Dominion early. At a meeting in January, the board cited a loss in public confidence in the machines, which are used in the county to tabulate paper ballots marked by hand. In 2020, Trump won Shasta County with 65% of the vote." • It's entirely "rational" to remove digital intermediaries from the voting process, whether marking ballots or counting them. For this election, we do seem to have a case of "A Business That Should Not Exist Unjustly Accused," sadly.

Cop-loving liberals have a long history:

One of the key justifications for that was the threat of communism/socialism and the way it sought to undermine the world of property. But we can further qualify this: 2/ pic.twitter.com/YiPAYDLpTf

— Pavlos Roufos (@PRoufos) March 29, 2023
#COVID19
"I am in earnest — I will not equivocate — I will not excuse — I will not retreat a single inch — AND I WILL BE HEARD." –William Lloyd Garrison
Resources, United States (National): Transmission (CDC); Wastewater (CDC, Biobot; includes many counties); Variants (CDC; Walgreens); "Iowa COVID-19 Tracker" (in IA, but national data).
Lambert here: Readers, thanks for the collective effort. We are now up to 50/50 states (100%). This is really great! (It occurs to me that there are uses to which this data might be put, beyond helping people with "personal risk assessments" appropriate to their state. For example, thinking pessimistically, we might maintain the list and see which states go dark and when. We might also tabulate the properties of each site and look for differences and commonalities, for example the use of GIS (an exercise in Federalism). I do not that CA remains a little sketchy; it feels a little odd that there's no statewide site, but I've never been able to find one. Also, my working assumption was that each state would have one site. That's turned out not to be true; see e.g. ID. Trivially, it means I need to punctuate this list properly. Less trivially, there may be more local sites that should be added. NY city in NY state springs to mind, but I'm sure there are others. FL also springs to mind as a special case, because DeSantis will most probably be a Presidental candidate, and IIRC there was some foofra about their state dashboard. Thanks again!
Resources, United States (Local): AK (dashboard); AL (dashboard); AR (dashboard); AZ (dashboard); CA (dashboard; Marin); CO (dashboard; wastewater); CT (dashboard); DE (dashboard); FL (wastewater); GA (wastewater); HI (dashboard); IA (wastewater reports); ID (dashboard, Boise; dashboard, wastewater, Central Idaho; wastewater, Coeur d'Alene; dashboard, Spokane County); IL (wastewater); IN (dashboard); KS (dashboard; wastewater, Lawrence); KY (dashboard, Louisville); LA (dashboard); MA (wastewater); MD (dashboard); ME (dashboard); MI (wastewater; wastewater); MN (dashboard); MO (wastewater); MS (dashboard); MT (dashboard); NC (dashboard); ND (dashboard; wastewater); NE (dashboard); NH (wastewater); NJ (dashboard); NM (dashboard); NV (dashboard; wastewater, Southern NV); NY (dashboard); OH (dashboard); OK (dashboard); OR (dashboard); PA (dashboard); RI (dashboard); SC (dashboard); SD (dashboard); TN (dashboard); TX (dashboard); UT (wastewater); VA (dashboard); VT (dashboard); WA (dashboard; dashboard); WI (wastewater); WV (wastewater); WY (wastewater).
Resources, Canada (National): Wastewater (Government of Canada).
Resources, Canada (Provincial): ON (wastewater); QC (les eaux usées); BC, Vancouver (wastewater).
Hat tips to helpful readers: Art_DogCT, B24S, CanCyn, ChiGal, Chuck L, Festoonic, FM, FreeMarketApologist (4), Gumbo, hop2it, JB, JEHR, JF, JL Joe, John, JM (9), JW, KatieBird, LL, Michael King, KF, LaRuse, mrsyk, MT, otisyves, Petal (5), RK (2), RL, RM, Rod, square coats (11), tennesseewaltzer, Utah, Bob White (3). (Readers, if you leave your link in comments, I credit you by your handle. If you send it to me via email, I use your initials (in the absence of a handle. I am not putting your handle next to your contribution because I hope and expect the list will be long, and I want it to be easy for readers to scan.)
• More like this, please! Total: 1 6 11 18 20 22 26 27 28 38 39 43 47 50/50 (94% of US states).
* * *
Look for the Helpers
A "Long Covid Choir" is especially touching because the Skagit Valley choir was one of the earliest epidemiological studies that showed #CovidIsAirborne:

This evening we rehearsed a bit more of @JoForbesLE 'The Mountains shall bring peace' for #singfortheking Coronation of King Charles III. Of course I got myself a Crown as well..👸👌@long_covid @CrossEyedPiano @ClaireHastie1 #coronation #longcovidchoir #singing #choir #connect pic.twitter.com/AkSqTNYWhE

— Long Covid Choir (@LongCovidChoir) March 29, 2023

I assume the Hall is properly ventilated! For starters….

* * *

"Introducing: The Covid Underground" [Covid Underground]. The deck: "Welcome to The Covid Underground, a newsletter for the Covid-free movement and all of those who continue to avoid infection." More: "True health is the ability to change. About 10-30% of the U.S. population has changed their lives in the light of the freeing revelations of 2020, and we keep changing. We are dynamically, creatively faithful to what was— briefly— plain to all: normal is a dangerous illusion." • Worth a read.

"Covid Meetups" [COVID MEETUPS (JM)]. "A free service to find individuals, families and local businesses/services who take COVID precautions in your area." • I played around with it some. It seems to be Facebook-driven, sadly, but you can use the Directory without logging in. I get rational hits from the U.S., but not from London, UK, FWIW.

Finding like-minded people on (sorry) Facebook:

Thought I'd add this here in case anyone is interested. Places to find people who "Still Covid" in your area & online: https://t.co/T4ND4XbrpF & https://t.co/sP5wq4fAw5 You can also search on FB "Still Coviding ____" & see if there's a specific group on your area.

— Adriel Rose (@adriel_rose) March 1, 2023
Covid Is Airborne
"Intro to Ventilation" [Joey Fox, It's Airborne]. What the title says! And very thorough. This table caught my eye:

Efficiency vs. effectiveness:

That sounds great, right? Maybe. Maybe not. In fact, a device that is 100% efficient (captures all particles that move though it) may be highly ineffective. What? How can this be? 3/

— Richard Corsi, PhD, PE (Texas) (@CorsIAQ) March 29, 2023

The answer:

In this case, the number or mass of particles entering the device is tiny and the difference in particle concentration (in #/cm3 or micrograms per cubic meter) in indoor air would change immeasurably from before to after activating the air cleaner. 5/

— Richard Corsi, PhD, PE (Texas) (@CorsIAQ) March 29, 2023
Maskstravaganza
"The role of respirators and surgical masks in mitigating the transmission of SARS-CoV-2 in healthcare settings" (PDF) [UK Health Security Agency]. "Whilst the body of evidence has grown since the overview of evidence conducted in 2021, the epidemiological evidence from the coronavirus (COVID-19) pandemic remains limited due to methodological limitations, lack of precision and differences between studies. The evidence, albeit of low or very low certainty and of mixed findings, suggests that N95 respirators may offer a degree of increased protection against coronavirus infections in healthcare workers compared to surgical masks." And: "The overview of evidence also reported that mechanistical evidence from laboratory studies showed that N95 respirators had higher filtration efficiency than surgical masks, but that there was a need for more research in , including from well-designed and powered intervention studies, to assess the effectiveness of N95 respirators (or equivalent) versus surgical masks in healthcare settings." • (Last I checked, Bangladesh was part of the real world, but whatever.) So, the problem is not engineering — testable, and a solved problem — but the persistent refusal of hospitals to purchase high quality masks, train personnel in their use, and make masking universal? Really a chicken and egg problem here. Hospital administrators have only described the world, but the point is to change it….

Cleveland Clinic patients and supporters please note:

Cleveland Clinic is considering dropping masks in their many facilities. This would put thousands in danger and certainly lead to HAI disability and deaths. Please ask Cleveland Clinic CEO to care enough 🤦🏼 about patients to keep them safe.https://t.co/kELo6gEvul).

— Cat Herding Science Nerd 🔬 (@catladyactivist) March 29, 2023
Treatment
"Transmissible SARS-CoV-2 variants with resistance to clinical protease inhibitors" [Science]. "Vaccines and drugs have helped reduce disease severity and blunt the spread of severe acute respiratory syndrome coronavirus 2 (SARS-CoV-2). However, ongoing virus transmission, continuous evolution, and increasing selective pressures have the potential to yield viral variants capable of resisting these interventions…. [P]hylogenetic analyses indicate that several of these resistant variants have pre-existed the introduction of these drugs into the human population and are capable of spreading. These results encourage the monitoring of resistance variants and the development of additional protease inhibitors and other antiviral drugs with different mechanisms of action and resistance profiles for combinatorial therapy."
* * *
Looks like "leveling off to a high plateau" across the board. (I still think "Something Awful" is coming, however. I mean, besides what we already know about.) Stay safe out there!
Case Data
NOT UPDATED BioBot wastewater data from March 27: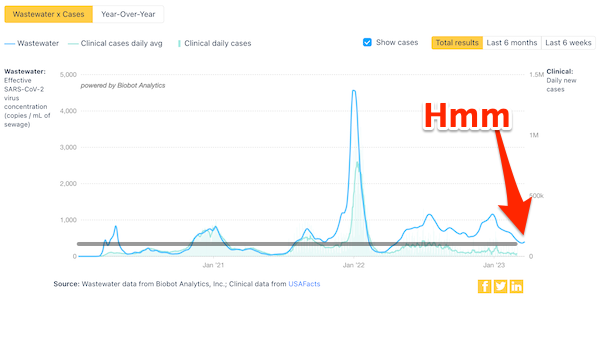 Lambert here: The decline seems to have bottomed out? Disappointing, with positivity and deaths still going down. However, note that if we look at "the area under the curve," more people have died after Biden declared that "Covid is over" than before.
For now, I'm going to use this national wastewater data as the best proxy for case data (ignoring the clinical case data portion of this chart, which in my view "goes bad" after March 2022, for reasons as yet unexplained). At least we can spot trends, and compare current levels to equivalent past levels.
Covid Emergency Room Visits
From CDC NCIRD Surveillance, from March 25: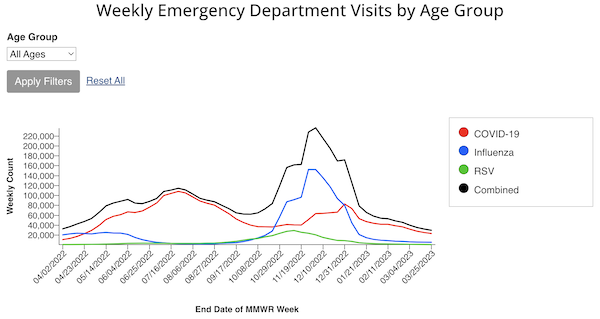 NOTE "Charts and data provided by CDC, updates Wednesday by 8am. For the past year, using a rolling 52-week period." So not the entire pandemic, FFS (the implicit message here being that Covid is "just like the flu," which is why the seasonal "rolling 52-week period" is appropriate for bothMR SUBLIMINAL I hate these people so much. Anyhow, I added a grey "Fauci line" just to show that Covid wasn't "over" when they started saying it was, and it's not over now. Notice also that this chart shows, at least for its time period, that Covid is not seasonal, even though CDC is trying to get us to believe that it is, presumably so they can piggyback on the existing institutional apparatus for injections.
Positivity
From the Walgreen's test positivity tracker, published March 30: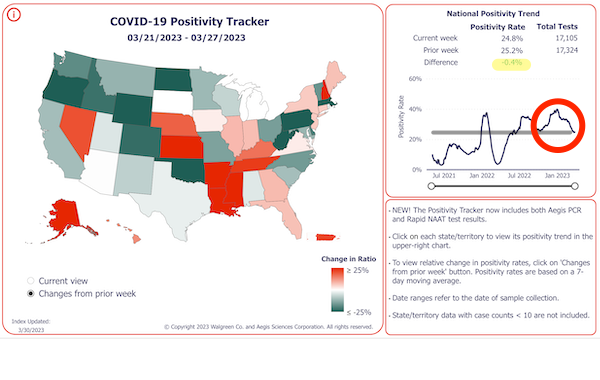 -0.4%. Still high, but we've now reached a point lower than the low point of the last valley.
Deaths
Death rate (Our World in Data):
Total: 1,154,353 – 1,153,972 = 381 (381 * 365 = 139,065 deaths per year, today's YouGenicist™ number for "living with" Covid (quite a bit higher than the minimizers would like, though they can talk themselves into anything. If the YouGenicist™ metric keeps chugging along like this, I may just have to decide this is what the powers-that-be consider "mission accomplished" for this particular tranche of death and disease).
Excess Deaths
NOT UPDATED Excess deaths (The Economist), published March 28: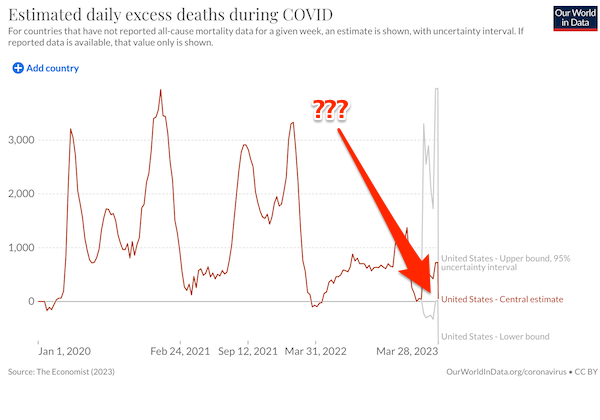 Lambert here: Based on a machine-learning model. Looks like a data issue, to me. I"m not sure how often this updates, and if it doesn't, I'll remove it. (The CDC has an excess estimate too, but since it ran forever with a massive typo in the Legend, I figured nobody was really looking at it, so I got rid it.
Stats Watch
Employment Situation: "United States Initial Jobless Claims" [Trading Economics]. "The number of Americans filing for unemployment benefits rose by 7,000 from the previous week to 198,000 on the week ending March 25th, slightly above expectations of 196,000. While surpassing expectations, the result remained at a low level by historical standards and continued to point to a stubbornly tight labor market, in line with the hot payroll figures for February and the Federal Reserve's outlook of low unemployment. The tight job market forces employers to raise wages to attract and keep staff, magnifying inflationary pressure on the American economy and adding leeway for the central bank to continue tightening monetary policy." • 'Til the pips squeak!
* * *
Banks: "Go West, young banker!" [Insider]. "[B]ecause the [Silicon Valley] bankers in question here saw themselves as innovating the way startups get funded, their bleating for government aid actually comes from a whole other wellspring. They were pioneers on the frontier of tech and finance, and as such they acted the way pioneers always do. After declaring themselves ungovernable — mavericks too free-spirited to be shackled to polite society — they headed into the wilderness to live off nothing but their rugged individualism. Then they got massacred and came running back to Fort Washington, demanding that the people in charge expand the boundaries of the camp outward to protect their precarious settlements. This cycle of bold sowing and whiny reaping is how the West was won."
Tech: "Can Mastodon seize the moment from Twitter?" (interview) [Eugen Rochko, The Verge]. Rochko is CEO of Mastodon. You were ready for the moment in November of 2022 — the product was there, the servers were there, the ecosystem and the community was there. It's very important to be ready for the moment, but you couldn't have possibly known it was coming. So what made you stay focused? ROCHKO: "[T]he writing was on the wall for me back in 2016, that something was going to happen sooner or later…. social media websites come and go. They die. Even if they stay around, like MySpace did, nobody's talking about MySpace like it's a relevant thing anymore. There are plenty more that have literally disappeared, like App.net, Google Plus, Friendster, or whatever. It is a graveyard, and I never believed that Twitter would be completely immune to that. You can see that for all seven years I've worked on this with a preparation for this sort of thing, just without knowing exactly when it would happen or what to do. It has been a long process of figuring out the right features, the right designs, and the right messaging, how to do this and how to do that, so I will not claim that I had all the details figured out from the start. It was a long process to figure stuff out." • Well, I hope so, given that my tiny personal account just got banned on Twitter. (I can read, but not post). I recall lI got banned the first time when I made it to 500 users; this time, I made it to 300, so I feel like I passed some sort of threshold. It's not the biggest thing in the world, but it does sting, and I can see how somebody whose income depended on Twitter would feel a little sketchy right now. All I did was post photographs for a hundred hits or so, and fight about Covid! So, anybody know a good Mastodon server for photography? (Instagram won't let me in, because I have an existing Facebook account that I haven't used for years and can't get into, and in any case, Facebook.)
Tech: "OpenAI faces complaint to FTC that seeks investigation and suspension of ChatGPT releases" [CNBC]. "OpenAI is facing a new complaint to the Federal Trade Commission that urges the agency to investigate the group and suspend its commercial deployment of large language models, including its latest iteration of the popular tool ChatGPT. The complaint, made public by the nonprofit research group Center for AI and Digital Policy on Thursday, accuses OpenAI of violating Section 5 of the FTC Act, which prohibits unfair and deceptive business practices, and the agency's guidance for AI products. CAIDP calls GPT-4 'biased, deceptive, and a risk to privacy and public safety.' The group says the large language model fails to meet the agency's standards for AI to be 'transparent, explainable, fair, and empirically sound while fostering accountability.' The group wants the FTC to require OpenAI establish a way to independently assess GPT products before they're deployed in the future. It also wants the FTC to create a public incident reporting system for GPT-4 similar to its systems for reporting consumer fraud. It also wants the agency to take on a rulemaking initiative to create standards for generative AI products. CAIDP's president, Marc Rotenberg, signed onto a widely circulated open letter released Wednesday that called for a pause of at least six months on 'the training of AI systems more powerful than GPT-4.'"
Tech: "Regular Old Intelligence is Sufficient–Even Lovely" [Bill McKibben, The Crucial Years]. "Ezra Klein, has done some of the most dedicated reporting on the topic since he moved to the Bay Area a few years ago, talking with many of the people creating this new technology. He has two key findings, I think: one is that the people building these systems have only a limited sense of what's actually happening inside the black box—the bot is doing endless calculations instantaneously, but not in a way even their inventors can actually follow. And second, the people inventing them think they are potentially incredibly dangerous: ten percent of them, in fact, think they might extinguish the human species. They don't know exactly how, but think Sorcerer's Apprentice (or google 'paper clip maximizer.') Taken together, those two things give rise to an obvious question, one Klein has asked: 'If you think calamity so possible, why do this at all?' Different people have different things to say, but after a few pushes, I find they often answer from something that sounds like the A.I.'s perspective. Many — not all, but enough that I feel comfortable in this characterization — feel that they have a responsibility to usher this new form of intelligence into the world.' That is, it seems to me, a dumb answer from smart people—the answer not of people who have thought hard about ethics or even outcomes, but the answer that would be supplied by a kind of cultist. (Probably the kind with stock options). Still, it does go, fairly neatly, with the default modern assumption that if we can do something we should do it, which is what I want to talk about. The question that I think very few have bothered to answer is, why?" • Profit?
* * *
Today's Fear & Greed Index: 43 Fear (previous close: 40 Fear) [CNN]. One week ago: 32 (Fear). (0 is Extreme Fear; 100 is Extreme Greed). Last updated Mar 30 at 1:40 PM ET
Our Famously Free Press
"Texas Observer will continue publishing after staff crowdfunds more than $300,000" [Texas Tribune]. "Three days after voting to cease publication and lay off its journalists, the nonprofit publisher of the Texas Observer said on Wednesday that it would change course and keep the 68-year-old liberal magazine going, following an emergency appeal that crowdsourced more than $300,000. 'Today, upon receiving significant financial pledges over the past few days, the Texas Observer board gathered to vote to reconsider previous board actions,' Laura Hernandez Holmes, the president of the board of the Texas Democracy Foundation, which publishes the magazine, said in a statement. 'The vote to rescind layoffs was unanimous, and the board is eager to move the publication to its next phase.' She praised the donors who had stepped forward and expressed 'gratitude to the Observer's staff for stepping up and working hard to keep the publication alive.'" • The Defector has been very successful as a co-op. I wonder if that option is available to the staff of the Observer?
Healthcare
"Study: Antibiotics don't reduce risk of death from viral respiratory infections" [Center for Infectious Disease Research and Policy]. "Prescribing antibiotics for hospital patients with viral respiratory infections does not appear to have any protective effect, according to a study to be presented at next month's European Congress of Clinical Microbiology and Infectious Diseases (ECCMID). In fact, the study by researchers in Norway found that patients with viral respiratory infections who received antibiotics at any point during their hospitalization were more than twice as likely to die as those who didn't receive antibiotics. The authors of the observational study say the findings provide further evidence in support of more judicious antibiotic use in patients hospitalized with viral respiratory infections…. Early studies during conducted during the pandemic found that as many as 70% of COVID-19 patients in some countries received antibiotics, in part because of the lack of other treatments but also because of concerns about bacterial co-infections. Yet those studies, and subsequent research, show that fewer than 10% of COVID-19 patients have bacterial co-infections."
Class Warfare
"Occupational Disease and Women: From the Radium Girls to Garment Workers" [Kim Kelly, Teen Vogue]. "All occupational diseases start somewhere. Sometimes they have a well-known history and treatment, as with certain cancers, tuberculosis, and more common stress-related ailments and fractures. Coal miners develop pneumoconiosis, also known as black lung. Meatpacking and poultry-plant workers get repetitive stress injuries. … No matter what an occupational disease is called, the reality has always been uglier. Sometimes capitalism extracts its pound of flesh metaphorically, and sometimes more literally, but it's always the workers who pay the price. Throughout history, women have faced particular occupational diseases, with a spectrum evolving across time as our employment options have expanded. This is not an especially rosy part of Women's History Month, but it's important to remember what these workers were forced to endure in the name of profit — and how some organized to fight back so that future generations would not suffer the same way they did…. As historic and contemporary examples show, the best protection workers have from occupational diseases is the power of their voices and the collective strength that comes from organizing. If your job is making you sick, you owe it to yourself and your coworkers to speak up. Every worker deserves a safe workplace that is free from contaminants, hazards, and disease. If government agencies aren't prepared to take action to keep us safe, we'll have to do it ourselves."
News of the Wired
"Kindness Can Have Unexpectedly Positive Consequences" [Scientific American]. "Scientists who study happiness know that being kind to others can improve well-being. Acts as simple as buying a cup of coffee for someone can boost a person's mood, for example. Everyday life affords many opportunities for such actions, yet people do not always take advantage of them. In studies published online in the Journal of Experimental Psychology: General, Nicholas Epley, a behavioral scientist at the University of Chicago Booth School of Business, and I examined a possible explanation: people who perform random acts of kindness underestimate how much recipients value their behavior…. Across our investigations, several robust patterns emerged. For one, both performers and recipients of the acts of kindness were in more positive moods than normal after these exchanges. For another, it was clear that performers undervalued their impact: recipients felt significantly better than the kind actors expected. The recipients also reliably rated these acts as "bigger" than the people performing them did…. When we asked one set of participants to estimate how much someone would like getting a cupcake simply for participating in a study, for example, their predictions were well calibrated with recipients' reactions. But when people received cupcakes through a random act of kindness, the cupcake givers underestimated how positive their recipients would feel. Recipients of these unexpected actions tend to focus more on warmth than performers do. Missing the importance of warmth may stand in the way of being kinder in daily life. People know that cupcakes can make folks feel good, to be sure, but it turns out that cupcakes given in kindness can make them feel surprisingly good. If people undervalue this effect, they might not bother to carry out these warm, prosocial behaviors."
* * *
Contact information for plants: Readers, feel free to contact me at lambert [UNDERSCORE] strether [DOT] corrente [AT] yahoo [DOT] com, to (a) find out how to send me a check if you are allergic to PayPal and (b) to find out how to send me images of plants. Vegetables are fine! Fungi and coral are deemed to be honorary plants! If you want your handle to appear as a credit, please place it at the start of your mail in parentheses: (thus). Otherwise, I will anonymize by using your initials. See the previous Water Cooler (with plant) here. From RM: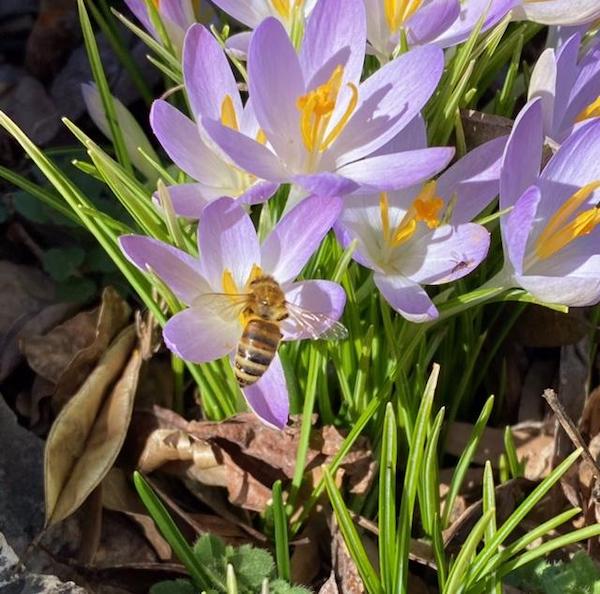 RM writes: "My daughter in Missouri just sent me this and was thrilled as usual to announce 'soon spring will be here.'"
* * *
Readers: Water Cooler is a standalone entity not covered by the annual NC fundraiser. So if you see a link you especially like, or an item you wouldn't see anywhere else, please do not hesitate to express your appreciation in tangible form. Remember, a tip jar is for tipping! Regular positive feedback both makes me feel good and lets me know I'm on the right track with coverage. When I get no donations for five or ten days I get worried. More tangibly, a constant trickle of donations helps me with expenses, and I factor in that trickle when setting fundraising goals:
Here is the screen that will appear, which I have helpfully annotated: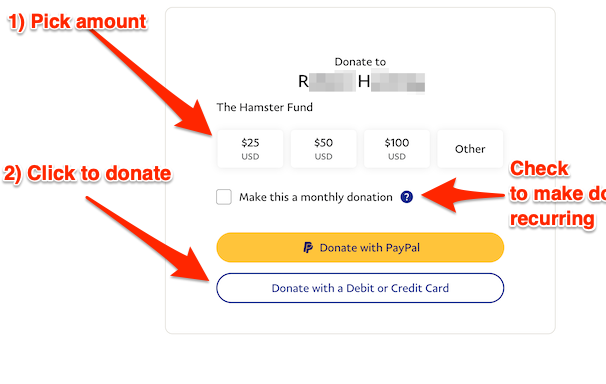 If you hate PayPal, you can email me at lambert [UNDERSCORE] strether [DOT] corrente [AT] yahoo [DOT] com, and I will give you directions on how to send a check. Thank you!