By Lambert Strether of Corrente.
Patient readers, I am more than a little behind the eight-ball today, because my tiny little inoffensive — except to somebody! — Twitter account was permanently banned. As you know, I, whale-like, ingest enormous amounts of "krill" from the newsflow, and Twitter remains, even under Elon Musk's gentle ministrations, the second-best source for that, after the late-lamented blogosphere (at least with accounts curated as carefully as I curated them). I have a back-up system of RSS feeds, but RSS is neither as efficient to read or as serendipitous. In short, my workflow is really [family-blogged] up, and so I will take a bit longer than usual to cover what I feel I need to cover. Having examined the alternatives to Twitter, I think the best alternative for me is to set up a new account under a new name with a burner and a clean device (both of which I have). Sigh. –lambert UPDATE Finished. Sorry for the day. I should be able to return to regularly scheduled programming on Monday.
Bird Song of the Day
House Wren (Northern), Loyalton; Jones Valley, California, United States. "Song."
* * *
Politics
"So many of the social reactions that strike us as psychological are in fact a rational management of symbolic capital." –Pierre Bourdieu, Classification Struggles
Biden Administration
"Biden's budget boosts funds for future pandemics, but cuts them for current ones" [STAT]. "The Biden administration has rightly talked a lot about pandemic preparedness. And to its credit, the latest White House budget proposes new funding to stop future disease threats. In the introduction to the global affairs budget, the State Department celebrates how this money will help make the world better prepared. But there's a catch. A hundred pages later, alongside increased funding for future pandemics, you'll see it actually suggests cutting funding from three of the biggest, longstanding pandemics we're already facing. U.S. programs for global tuberculosis, malaria, and HIV/AIDS all get scaled back, including by nearly 10% for TB. This is a false choice, and a wrong one. All the evidence shows we don't need to choose between stopping the current pandemics and preparing for the next one. The same systems can do both, if they have the funding." • Exactly as the fools at CDC think we can turn the mask knobs up to 11 and then turn them back down again, instead of doing what it takes to make masking a social norm.

"Justice Department, EPA sue Norfolk Southern for toxic East Palestine train derailment" [FOX]. "The U.S. Department of Justice and the Environmental Protection Agency (EPA) have filed a lawsuit against Norfolk Southern Corporation and Norfolk Southern Railway Company (Norfolk Southern) for the toxic train wreck in East Palestine, Ohio last month…. DOJ's complaint seeks to hold Norfolk Southern liable for the unlawful discharge of pollutants, oil, and hazardous substances under the Clean Water Act, and past and future costs of the cleanup and damage of the event under the Comprehensive Environmental Response, Compensation, and Liability Act (CERCLA)."
2024
"Manhattan's DA wanted a Friday Trump arrest. Trump's team said no." [Politico]. "The Manhattan district attorney's office asked for Donald Trump to surrender on Friday following a grand jury's vote to indict the former president. But lawyers for Trump rebuffed the request saying that the Secret Service, which provides security detail for the former president, needed more time to prepare. The exchange, which was relayed to POLITICO by a law-enforcement source and confirmed by Joe Tacopina, a lawyer for the former president, underscores the extremely delicate, unprecedented nature of the indictment." • I think the key question is whether Trump can bring his own camera crew. (If not, I'm picturing Trump using a cellphone to video himself, selfie-like, presumably with live commentary. Trump can influence with the best of 'em!)

"Tucker Carlson: Trump indictment 'greater assault' on democracy than Jan. 6" [The Hill]. Carlson: "If you believe in our system and you want it to continue, you have to raise your hand and say stop, because this is too great an assault on our system, much greater than anything we saw on January 6th, that's for certain. This is transparently political, it's meant to take him out of the presidential race. That's not allowed."

"Trump's 2024 Republican presidential rivals jump to his defense after indictment" [NBC]. The deck: "Ron DeSantis, Nikki Haley, Mike Pence and Tim Scott attacked the Manhattan DA and were quick to assert that the indictment was about politics and not potential criminal activity." • Since the indictment hasn't been unsealed, we really don't know anything. Which is driving me nuts. But Trump certainly has sucked all the oxygen out of the race, hasn't he? It's GENIUS!

"DeSantis says Florida won't help extradite Trump to NYC after indictment" [New York Post]. DeSantis: "The Soros-backed Manhattan District Attorney has consistently bent the law to downgrade felonies and to excuse criminal misconduct. Yet, now he is stretching the law to target a political opponent. Florida will not assist in an extradition request given the questionable circumstances at issue with this Soros-backed Manhattan prosecutor and his political agenda."

"Youngkin stands with Trump amid indictment charges" [ABC]. Youngkin: "It is beyond belief that District Attorney Alvin Bragg has indicted a former President and current presidential candidate for pure political gain. Arresting a presidential candidate on a manufactured basis should not happen in America."

"Trump's indictment is a first for U.S., but not for other democracies" [NBC]. Olmert (Israel), Netanyahu (Israel), Berlusconi (Italy), Chirac (France), Sarkozy (France), Park Geun-hye (South Korea), Chen Shui-bian (Taiwan), Thaksin (Thailand), Muhyiddin, Najib (Malaysia). "So American exceptionalism — until now. The other thing that makes Trump's indictment not so shocking is the list of his former associates who have gone to jail or faced charges. Former campaign chair Paul Manafort (whom Trump pardoned). Former legal fixer Michael Cohen (who likely will play a starring role in this Trump case). The Trump Organization's Allen Weisselberg. Roger Stone (whom Trump also pardoned). Steve Bannon (the recipient of another Trump pardon)."

"Trump's indictment rests on this bizarre legal theory and has three major flaws" [FOX]. This caught my eye: "Regardless, the prosecution of Trump is likely barred by the statute of limitations. The misdemeanor is two years, while the felony is five years. Neither can be tolled or paused under a strict reading of New York law. Trump may have been outside of the state's jurisdiction during much of the past seven years, but his whereabouts were well known, and he maintained his residency in New York while president, visiting it regularly. Hence, it is unlikely that the two statutes of limitations can extend beyond their expiration."

"The Big Problem With the Trump Indictment" [Salon]. "Thursday's indictment shows that Bragg has already convinced a grand jury that probable cause exists to believe Trump committed an offense related to this scheme. Winning at trial will be much harder, requiring the district attorney to prove each element of the crime to a jury beyond a reasonable doubt. That would likely include proving Trump's intent to contravene campaign finance law. Succeeding here will require Bragg to put Cohen on the stand and persuade a jury that he is more credible than the former president. That's a tall order, and not just because Cohen is a disgraced felon. Despite existing evidence of Trump's extensive involvement in the Daniels scheme, we have not yet seen a smoking gun that proves his fraudulent intent (1) to falsify records in furtherance of (2) helping his campaign. It is notable, though, that the former parent company of the National Enquirer, American Media Inc., signed a non-prosecution agreement with the Department of Justice in 2018 in which it admitted that its role in the payoff scheme was "to ensure that a woman did not publicize damaging allegations about that candidate before the 2016 presidential election and thereby influence that election." The former CEO of AMI, Pecker, testified before the grand jury and will likely prove a critical witness in any jury trial. Still, Bragg will likely need to prove both the falsifying records to help his campaign elements to secure a conviction, putting immense pressure on Cohen's credibility. He'll also need to refute Trump's defense (already previewed on Truth Social) that Cohen (1) told him the payoff was legal and (2) he relied on this advice in good faith. Again, the resolution of this dispute may well hang on the jury's determination of credibility between the two men." • Don't liberal Democrats know that a DA can get a grand jury to indict a ham sandwich? Or did they know, and have they forgotten amidst all the excitement?

"The SPAC tied to Trump's Truth Social surges 11% after the former president is formally indicted" [Business Insider]. "Shares of Digital World Acquisition, the SPAC that plans to merge with Donald Trump's Truth Social media company, surged as much as 11% on Friday after the former president was indicted by a Manhattan grand jury. The surge in the stock could be driven by the idea that while the indictment is bad news for Trump, it could be good news for business, helping drive activity and engagement on a service that looks a lot like Twitter." • It's an ill wind….
Democrats en Déshabillé
Patient readers, it seems that people are actually reading the back-dated post! But I have not updated it, and there are many updates. So I will have to do that. –lambert

I have moved my standing remarks on the Democrat Party ("the Democrat Party is a rotting corpse that can't bury itself") to a separate, back-dated post, to which I will periodically add material, summarizing the addition here in a "live" Water Cooler. (Hopefully, some Bourdieu.) It turns out that defining the Democrat Party is, in fact, a hard problem. I do think the paragraph that follows is on point all the way back to 2016, if not before:

The Democrat Party is the political expression of the class power of PMC, their base (lucidly explained by Thomas Frank in Listen, Liberal!). ; if the Democrat Party did not exist, the PMC would have to invent it. . ("PMC" modulo "class expatriates," of course.) Second, all the working parts of the Party reinforce each other. Leave aside characterizing the relationships between elements of the Party (ka-ching, but not entirely) those elements comprise a network — a Flex Net? An iron octagon? — of funders, vendors, apparatchiks, electeds, NGOs, and miscellaneous mercenaries, with assets in the press and the intelligence community.

Note, of course, that the class power of the PMC both expresses and is limited by other classes; oligarchs and American gentry (see 'industrial model' of Ferguson, Jorgensen, and Jie) and the working class spring to mind. Suck up, kick down.

* * *

WI: "Protasiewicz, Democrats crushing Kelly, Republicans in direct donations, losing independent spending slightly as race for Wisconsin Supreme Court reaches final days" [Wisconsin Law Journal].

Milwaukee County Judge Janet Protasiewicz, the left-wing candidate, reported raising more than $13 million so far in 2023, including more than $12 million in the last six weeks alone. Her right-wing opponent, former Justice Daniel Kelly, reported raising just $2 million in the last six weeks, and a total of about $2.3 million in 2023. That money is getting spent mainly on advertisements for TV, radio, print and the web. On the independent spending side, the right is winning, though with a much smaller margin. Organizations like Super Political Action Committees, also known as Super PACs, which are banned from coordinating with the campaigns but can raise and spend unlimited amounts, have spent $12.3 million supporting Kelly or opposing Protasiewicz, while groups supporting Protasiewicz or opposing Kelly have spent about $10.2 million, according to estimates from the Wisconsin Democracy Campaign…. In what has become a regular occurrence, extremely wealthy people from inside and outside the state are also dumping huge sums of cash into the state's political parties, the bulk of it to the Wisconsin Democratic Party."

WI: "Janet Protasiewicz has campaigned on Democratic issues. If she wins, the Wisconsin Supreme Court could weigh in on them" [Wisconsin Public Radio]. "Protasiewicz, a circuit court judge from Milwaukee County, has run a Supreme Court campaign on a scale never before seen nationally, let alone in Wisconsin. Her campaign fundraising has shattered records, funding an ad blitz that's hard to avoid, both on TV and online. Her message has also been openly political. While other judicial candidates might hint at or even hide their personal beliefs, Protasiewicz has shared them for the world to see. She's spoken unambiguously about her support for abortion rights and her dislike for the state's Republican-drawn legislative maps." • And there's a lot to dislike about those maps. Putting your boot on your opponent's throat is one thing. Actually slitting it is quite another. As so often, the Republicans are both more serious about their electoral politics than Democrats, but also over-reach. (There are other forms of politics than electoral, and in those forms, liberal Democrats often over-reach.)
Realignment and Legitimacy
"Nashville shooter Audrey Hale's manifesto to be released after FBI review: official" [New York Post]. "Nashville school shooter Audrey Hale's manifesto is set to be released to the public after the FBI and its highly skilled team of criminal profilers analyze its contents, a Nashville City Council member revealed to The Post. The official, a Nashville City Council member, "told The Post that Hale had 'looked at' two other schools, both public, before deciding 'the security was too great to do what she wanted to do.'" • The Post story does not erase that Hale attended the school — and shot both the school's head and their child, both atypical and not likely to be random — but the City Council member seems determined to. Odd. Also, how did the FBI get involved? Was Hale on the Twitter?

"Nashville school shooter was 'obsessive' about former middle school basketball team" [The Tennessean]. • A sad story. "America is like high school" in so many ways…
#COVID19
"I am in earnest — I will not equivocate — I will not excuse — I will not retreat a single inch — AND I WILL BE HEARD." –William Lloyd Garrison
Resources, United States (National): Transmission (CDC); Wastewater (CDC, Biobot; includes many counties); Variants (CDC; Walgreens); "Iowa COVID-19 Tracker" (in IA, but national data).
Lambert here: Readers, thanks for the collective effort. We are now up to 50/50 states (100%). This is really great! (It occurs to me that there are uses to which this data might be put, beyond helping people with "personal risk assessments" appropriate to their state. For example, thinking pessimistically, we might maintain the list and see which states go dark and when. We might also tabulate the properties of each site and look for differences and commonalities, for example the use of GIS (an exercise in Federalism). I do not that CA remains a little sketchy; it feels a little odd that there's no statewide site, but I've never been able to find one. Also, my working assumption was that each state would have one site. That's turned out not to be true; see e.g. ID. Trivially, it means I need to punctuate this list properly. Less trivially, there may be more local sites that should be added. NY city in NY state springs to mind, but I'm sure there are others. FL also springs to mind as a special case, because DeSantis will most probably be a Presidental candidate, and IIRC there was some foofra about their state dashboard. Thanks again!
Resources, United States (Local): AK (dashboard); AL (dashboard); AR (dashboard); AZ (dashboard); CA (dashboard; Marin); CO (dashboard; wastewater); CT (dashboard); DE (dashboard); FL (wastewater); GA (wastewater); HI (dashboard); IA (wastewater reports); ID (dashboard, Boise; dashboard, wastewater, Central Idaho; wastewater, Coeur d'Alene; dashboard, Spokane County); IL (wastewater); IN (dashboard); KS (dashboard; wastewater, Lawrence); KY (dashboard, Louisville); LA (dashboard); MA (wastewater); MD (dashboard); ME (dashboard); MI (wastewater; wastewater); MN (dashboard); MO (wastewater); MS (dashboard); MT (dashboard); NC (dashboard); ND (dashboard; wastewater); NE (dashboard); NH (wastewater); NJ (dashboard); NM (dashboard); NV (dashboard; wastewater, Southern NV); NY (dashboard); OH (dashboard); OK (dashboard); OR (dashboard); PA (dashboard); RI (dashboard); SC (dashboard); SD (dashboard); TN (dashboard); TX (dashboard); UT (wastewater); VA (dashboard); VT (dashboard); WA (dashboard; dashboard); WI (wastewater); WV (wastewater); WY (wastewater).
Resources, Canada (National): Wastewater (Government of Canada).
Resources, Canada (Provincial): ON (wastewater); QC (les eaux usées); BC, Vancouver (wastewater).
Hat tips to helpful readers: Art_DogCT, B24S, CanCyn, ChiGal, Chuck L, Festoonic, FM, FreeMarketApologist (4), Gumbo, hop2it, JB, JEHR, JF, JL Joe, John, JM (9), JW, KatieBird, LL, Michael King, KF, LaRuse, mrsyk, MT, otisyves, Petal (5), RK (2), RL, RM, Rod, square coats (11), tennesseewaltzer, Utah, Bob White (3). (Readers, if you leave your link in comments, I credit you by your handle. If you send it to me via email, I use your initials (in the absence of a handle. I am not putting your handle next to your contribution because I hope and expect the list will be long, and I want it to be easy for readers to scan.)
• More like this, please! Total: 1 6 11 18 20 22 26 27 28 38 39 43 47 50/50 (94% of US states).
* * *
Look for the Helpers
"You Have Long Covid and You Don't Know What to Do, Let Me Help" [AutoStraddle]. "We received a question from an A+ member, which, because the A+ Advice box is normally behind the privacy of a paywall, we did not publish here. The member asked for resources in dealing with Long Covid, including symptoms their doctor is dismissing as unrelated. Because there is an overwhelming amount of information out there, the letter writer asked for resources on step-by-step instructions for managing Long Covid symptoms, especially info that has been vetted and won't cause more harm than good." This tip caught my eye; one of the properties of Long Covid is dysautonomia: "The official way to test for [Postural Tachycardia Syndrome (POTS)], which is the main type of Dysautonomia, is a tilt table test, but you can replicate that in your own home with what's called a "poor man's tilt table test." Get a pulse oximeter for your finger, which you can find at most drug stores for like ten bucks. Lie down and put your finger in it. Once your pulse is steady, sit up, and then stand up. If your pulse jumps 30 beats per minute, or more, you have POTS. Record that on your phone, more than once, so you can show it to whatever doctor you decide to see. They might not even require a tilt table test if you have the video." • Seems reasonable enough, though fortunately I haven't had to try it. Readers?

* * *

"Introducing: The Covid Underground" [Covid Underground]. The deck: "Welcome to The Covid Underground, a newsletter for the Covid-free movement and all of those who continue to avoid infection." More: "True health is the ability to change. About 10-30% of the U.S. population has changed their lives in the light of the freeing revelations of 2020, and we keep changing. We are dynamically, creatively faithful to what was— briefly— plain to all: normal is a dangerous illusion." • Worth a read.

"Covid Meetups" [COVID MEETUPS (JM)]. "A free service to find individuals, families and local businesses/services who take COVID precautions in your area." • I played around with it some. It seems to be Facebook-driven, sadly, but you can use the Directory without logging in. I get rational hits from the U.S., but not from London, UK, FWIW.

Finding like-minded people on (sorry) Facebook:

Thought I'd add this here in case anyone is interested. Places to find people who "Still Covid" in your area & online: https://t.co/T4ND4XbrpF & https://t.co/sP5wq4fAw5 You can also search on FB "Still Coviding ____" & see if there's a specific group on your area.

— Adriel Rose (@adriel_rose) March 1, 2023
Covid Is Airborne
This handy chart is screaming out to be an app:

The paper I referred to on @IndependentSage just now is Zoe Peng's study to quantify risk of covid transmission in different environments. Great work from @jljcolorado + team (I sketched the 'qualitative' table – they did the hard work putting numbers in).https://t.co/svCeAavKSn pic.twitter.com/frFW7IXCYf

— Trisha Greenhalgh (@trishgreenhalgh) March 31, 2023
Maskstravaganza
"Rise in Covid cases: Tamil Nadu makes masks mandatory in govt hospitals" [Times of India]. "Experts have said the rate of transmission of infection and cross infection is higher in hospitals. 'We have made it mandatory for doctors, nurses, technicians, administrative staff, patients and attenders to wear masks at all times in both inpatient and outpatient wards of all primary, secondary and tertiary hospitals,' health minister Ma Subramanian on Friday said…. 'There is an increase in Covid cases across the country. Although there are no large clusters, hospitalisations or death, we are seeing a steady increase in fresh cases,' the minister said." • The time to start masking is not after exponential spread has already gotten rolling!
Treatment
Here is a paper I am really looking forward to:

@trishgreenhalgh arguing that patient voices and GP hunches proved to be much more valuable than large quant research projects in identifying predictors of covid severity#BJGPRC pic.twitter.com/T6eHxvyhGK

— Luke Allen (@drlukeallen) March 31, 2023

Especially if Greenhalgh's research leads to more funding for GPs.

"Study finds evidence of resistance to COVID-19 drugs" [medicalXpress]. "This study—conducted by the Midwest Antiviral Drug Discovery (AViDD) Center—shows that drug-resistant variants have appeared multiple times independently in different parts of the world, with regional clusters providing evidence for person-to-person transmission. In addition to showing resistance to the protease inhibitor nirmatrelvir, the active component of Paxlovid, the study found that a different set of mutations currently in circulation can transfer resistance to ensitrelvir (Xocova), a protease inhibitor now approved in Japan. This new research shows that simple single amino acid changes in SARS-CoV-2 main protease could severely undermine efficacy of these antiviral drugs. According to Reuben Harris, Ph.D., co-director of the Midwest AViDD Center, 'Although our study demonstrates the existence of natural circulating SARS-CoV-2 variants with resistance to two different drugs, the good news is that their resistance profiles are distinct. This means that if one of these drugs fails due to emergence of resistance in viral variants, the other drug may still work."" • Until it doesn't. I have never seen a study that non-pharmaceutical interventions cause resistance to develop. Of course, if you want to keep your product pipeline pumping, that's a negative….
Sequelae
"Does COVID-19 damage the brain?" [Harvard Health Publishing, Harvard Medical School]. From "Ask the Doctor": "We now know that, unfortunately, COVID can damage the brain in many ways. When people first become sick from the virus, they may develop encephalitis — inflammation of the brain — causing confusion, difficulty concentrating, and memory problems. COVID also can trigger the onset of new psychological disorders such as severe depression or anxiety. It can even cause people to become psychotic — to see and hear things that aren't there and to believe things that aren't true. It often damages the brain's autonomic nervous system, leading to abnormalities in heart rate and blood pressure. In addition, the virus that causes COVID can infect and injure the linings of blood vessels and make blood clot more easily. These two things can lead to strokes and heart attacks, even in young people. A perfectly healthy 30-year-old son of a friend of mine experienced multiple strokes when he got COVID. COVID-related strokes can cause permanent difficulty in speaking or understanding speech, weakness on one side of the body, and other symptoms. Even if people escape brain damage during the initial attack of COVID-19, they remain at considerably greater risk of various brain conditions, including strokes, depression, anxiety, and psychosis for the next several years. People who were initially severely ill with COVID are at much greater risk for cognitive decline after they recover. Even people who were less severely ill remain at a somewhat greater risk. A large study of MRI scans taken before and then again after people got COVID showed that COVID can actually shrink the brain somewhat. Finally, the lingering symptoms of fatigue, pain, and difficulty thinking that can last for several years after COVID — called long COVID or post-acute COVID syndrome — may well be caused by ongoing low-grade brain inflammation caused by the virus. Fortunately, most people who get COVID don't suffer damage to the brain. But some do, and even people who initially get just mild COVID symptoms are vulnerable. So COVID's potential to damage the brain is just one more reason to do everything we can to avoid getting this disease." • March 1, 2023.

The best brain fog is the brain fog you don't know you have:

…. every single one of their messages has multiple typos and disjointed sentences, when they're normally very precise…

— tern (@1goodtern) March 31, 2023

Reminds me of the idea that the virus in its initial states has analgesic properties so people don't feel sick. So they go out and spread it….

Another example:

So the electrician came. He told me he had Covid 3 times and had brain fog. All power off to install new switches. Only it wasn't all off. When I pointed this out he said "oh. Good thing you checked" So remember this when dealing with people in the bold bright (stupid) future 🤪

— GDW1888 (@gdw1888) July 22, 2022

And:

He is self employed and I have known him for a long time. I am more worried about him than that mistake made at my place. This is how people have accidents and die or get disabled. Covid is not over and people need to be aware of how brain fog can really cause issues.

— GDW1888 (@gdw1888) July 22, 2022
Elite Malfeasance
"Some people wave away concerns about the long-term effects of COVID-19 by saying, 'if it was really bad, the government would take steps to protect people.'" [John Snow Project]. "The John Snow Project has set out some of the growing body of evidence that suggests COVID-19 is having serious adverse long-term impacts on human health. This evidence is, however, being subjected to the same 'doubt as product' approach that was successfully deployed by the tobacco lobby to slow the introduction of public health measures to protect people from the harms of smoking, and the underlying economic incentive is similar to the rationale of the cigarette companies. While attendees at the World Economic Forum in Davos had to be vaccinated, wear masks, undergo regular COVID-19 tests, and used advanced air ventilation, filtration and treatment to reduce their risk of infection, the costs of such protocols to protect the general public are widely viewed as prohibitively expensive. Instead, those who would like to see clean air and protective measures implemented everywhere, from hospitals to schools, are presented as fearmongers, who are recklessly advocating investment in public health without precisely quantifying the benefit, and doubt is cast over the validity of any evidence that suggests COVID-19 may cause long-term or serious harm. We've seen this approach before, with merchants of doubt peddling uncertainty in order to undermine solid scientific evidence and dissipate the political impetus for action." • Capitalists have form.

"Hollywood to End COVID-19 Safety Agreement That Enabled Pandemic-Era Return to Work" [Hollywood Reporter]. "'For the past three years, workers throughout the entertainment community have benefited from our robust protections exceeding the practices of many other industries,' a coalition of unions including the Directors Guild of America and SAG-AFTRA said in a statement. 'With the public health emergency now ending and the expiration of the COVID-19 Safety Agreement, individual employers continue to be responsible for ensuring safe workplaces for their employees, but must seek separate agreement with the applicable joint unions before implementing any COVID safety protocols.'" • Not unions, necessarily. Union leadership.

Bonnie Henry, sociopath, is still at it:

Dr. Henry, March 30, 2023: "But what we have seen is a decrease in the number of people with Long Covid."

In no universe could this statement accurately reflect reality. Covid is still everywhere. The idea that #LongCovid numbers are decreasing is pure fiction. pic.twitter.com/K0FAvqZFjZ

— Tom Jackman (@frozen) March 31, 2023
* * *
Looks like "leveling off to a high plateau" across the board. (I still think "Something Awful" is coming, however. I mean, besides what we already know about.) Stay safe out there!
Case Data
NOT UPDATED BioBot wastewater data from March 27: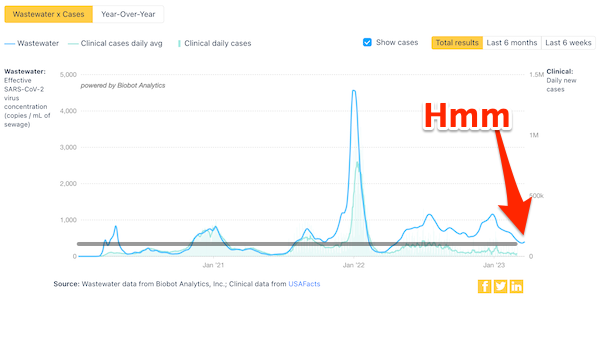 Lambert here: The decline seems to have bottomed out? Disappointing, with positivity and deaths still going down. However, note that if we look at "the area under the curve," more people have died after Biden declared that "Covid is over" than before.
For now, I'm going to use this national wastewater data as the best proxy for case data (ignoring the clinical case data portion of this chart, which in my view "goes bad" after March 2022, for reasons as yet unexplained). At least we can spot trends, and compare current levels to equivalent past levels.
Covid Emergency Room Visits
From CDC NCIRD Surveillance, from March 25: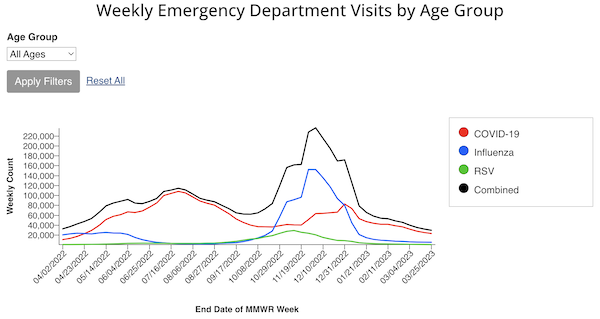 NOTE "Charts and data provided by CDC, updates Wednesday by 8am. For the past year, using a rolling 52-week period." So not the entire pandemic, FFS (the implicit message here being that Covid is "just like the flu," which is why the seasonal "rolling 52-week period" is appropriate for bothMR SUBLIMINAL I hate these people so much. Anyhow, I added a grey "Fauci line" just to show that Covid wasn't "over" when they started saying it was, and it's not over now. Notice also that this chart shows, at least for its time period, that Covid is not seasonal, even though CDC is trying to get us to believe that it is, presumably so they can piggyback on the existing institutional apparatus for injections.
Positivity
From the Walgreen's test positivity tracker, published March 31: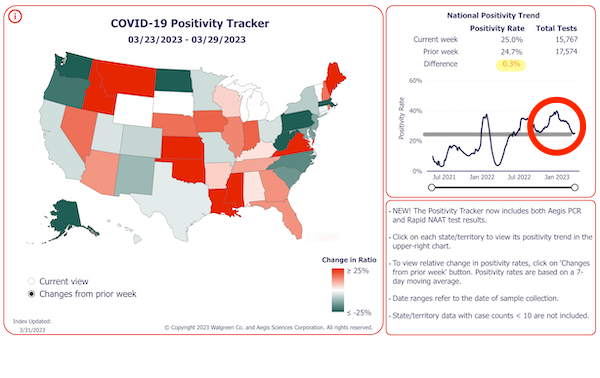 0.3%. At the low point of the last valley, but the first increase in awhile (along with slight increases in both cases as measured by wastewater, and deaths, albeit different lagged).
Deaths
Death rate (Our World in Data):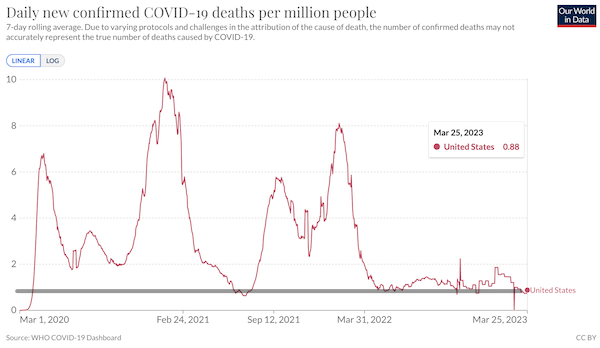 Total: 1,154,894 – 1,154,353 = 541 (541 * 365 = 197,465 deaths per year, today's YouGenicist™ number for "living with" Covid (quite a bit higher than the minimizers would like, though they can talk themselves into anything. If the YouGenicist™ metric keeps chugging along like this, I may just have to decide this is what the powers-that-be consider "mission accomplished" for this particular tranche of death and disease).
Excess Deaths
NOT UPDATED Excess deaths (The Economist), published March 28: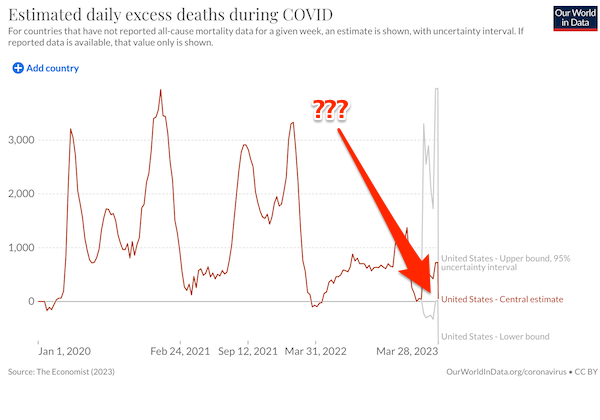 Lambert here: Based on a machine-learning model. Looks like a data issue, to me. I"m not sure how often this updates, and if it doesn't, I'll remove it. (The CDC has an excess estimate too, but since it ran forever with a massive typo in the Legend, I figured nobody was really looking at it, so I got rid it.
Stats Watch
Manufacturing: "United States Chicago PMI" [Trading Economics]. "The Chicago Business Barometer, also known as the Chicago PMI, increased for the first time this year to 43.80 points in March of 2023 from 43.60 points in February, beating forecasts of 43.4. However, the reading still pointed to a seventh straight month of contraction in business activity."
* * *
Tech: "People Are Creating Records of Fake Historical Events Using AI" [Vice]. "In another post, a user named FinewithIX, whose real name is Jordan Rhone, posted a collage of four AI-generated images that depicted 'Staging the Moon Landing, 1969.' The images mimicked the grainier, film quality of photos taken in the late 60s and showed the behind-the-scenes of people filming and photographing a fake moon landing. Users immediately responded to the image with concerns about how Midjourney and other text-to-image generators can now be weaponized by conspiracy theorists to spread false historical information. 'Yet another example of how MJ will fuel conspiracy theories. What a time to be alive!' user charismactivist commented on the post." • Weaponized history from CTers is trivial put beside weaponized history from the ruling class.
Tech: "Why the AI industry could stand to slow down a little" [The Verge]. "The founder of open-source intelligence site Bellingcat was banned from Midjourney after using it to create and distribute some eerily plausible images of Donald Trump getting arrested." • Life's little ironies. As I just said: "Weaponized history from CTers is trivial put beside weaponized history from the ruling class."
Tech: "Microsoft Now Claims GPT-4 Shows 'Sparks' of General Intelligence" [Vice]. The deck: "The eyebrow-raising claim from Microsoft—which is banking on GPT putting it ahead of Google—contrasts with the model's clear limitations." Once again:
Tech: "Belgian woman blames ChatGPT-like chatbot ELIZA for her husband's suicide" [Interesting Engineering]. "The widow of a Belgian man who recently killed himself alleges that an (artificial intelligence) AI chatbot forced her husband to commit suicide. The father of two reportedly had daily exchanges with 'ELIZA,' a chatbot built by a US start-up utilizing GPT-J technology, an open-source substitute for OpenAI's GPT-3, according to a report by Belgian newspaper La Libre on Tuesday. 'Without these conversations with the chatbot ELIZA, my husband would still be here,' she told La Libre…. As per the report, the man killed himself six weeks after speaking with ELIZA. … The person had extreme eco-anxiety that developed two years ago and sought comfort from ELIZA, a chatbot powered by EleutherAI's GPT-J open-source artificial intelligence language model, according to the family…. The chatbot's Silicon Valley-based founder told La Libre that his team is "working to improve the safety of the AI…. This wouldn't be the first, though; previously, many users have complained about Microsoft's new ChatGPT-powered Bing AI's "unhinged" responses." • Not, then, I'm guessing, one of those "sparks"?
* * *
Today's Fear & Greed Index: 48 Neutral (previous close: 44 Fear) [CNN]. One week ago: 37 (Fear). (0 is Extreme Fear; 100 is Extreme Greed). Last updated Mar 31 at 2:12 PM ET. Mr. Market: "Banking crisis? What banking crisis?"
Healthcare
"Texas judge strikes down major Obamacare provision protecting preventive care" [STAT]. "A federal judge Thursday reversed a major Obamacare provision requiring plans to cover preventive care ranging from cancer and chronic disease screenings to pregnancy care and certain drugs. The ruling could deal a massive blow to President Joe Biden's moonshot goal of slashing cancer rates through early screenings . It also leaves the door open for insurers to refuse coverage of statins, drugs preventing HIV transmission known as PrEP, and a vast range of health screenings recommended by federal officials. It could also eventually threaten the Biden administration's efforts to lower maternal and infant mortality rates and bolster reproductive rights in the wake of Roe's overturn. Judge Reed O'Connor of the U.S. District Court for the Northern District of Texas said the Affordable Care Act requirement for insurers to cover care and products recommended by the U.S. Preventive Services Task Force is unconstitutional because members of that panel — 16 volunteers, typically doctors and scientists — were not appointed by the president and approved by the Senate, violating the U.S. Constitution's appointments clause." • Article II, Section 2, Clause 2: "[The President] shall have Power, by and with the Advice and Consent of the Senate, to make Treaties, provided two thirds of the Senators present concur; and he shall nominate, and by and with the Advice and Consent of the Senate, shall appoint Ambassadors, other public Ministers and Consuls, Judges of the supreme Court, and all other Officers of the United States, whose Appointments are not herein otherwise provided for, and which shall be established by Law: but the Congress may by Law vest the Appointment of such inferior Officers, as they think proper, in the President alone, in the Courts of Law, or in the Heads of Departments." Not sure of the implications of this for the Administrative State. Probably bad.
Class Warfare
"Low Jobless Claims Show Labor Market Shrugs Off Economy's Clouds" [Wall Street Journal]. "Worker filings for unemployment benefits rose last week but were still historically low, showing that the broader labor market remains robust despite large companies announcing layoffs… The level of claims fluctuated earlier this month, but broadly remains low. The four-week average of weekly claims, which smooths out volatility in the weekly numbers, ticked up by 2,000 to 198,250. Weekly claims have remained near the 2019 prepandemic average of about 220,000 for several months." • Dang.
"Why are Americans dying so young?" [Financial Times]. "That the US has a poor record on life expectancy is nothing new. For the best part of a decade, American lives have grown progressively shorter relative to peer countries. But beneath the surface, several striking details demand our attention and an urgent effort to reverse the trend. American life expectancy compares extremely unfavourably with the UK. The English seaside town of Blackpool has been synonymous with deep-rooted social decline for much of the past decade. It has England's lowest life expectancy, highest rates of relationship breakdown and some of the highest rates of antidepressant prescribing. But as of 2019, that health-adjusted life expectancy of 65 (the number of years someone can be expected to live without a disability) was the same as the average for the entire US. People born in the very poorest pockets of Blackpool are expected to live fully five years more than the poorest in the US. This would be damning enough, but we've not yet accounted for the fact that the richest Americans are so much richer than their British counterparts. Once we do, Britain pulls clear at every income level. Someone with a net household income of about £65,000 or $100,000 will live to an average age of 85 in England, but only 80 in the US." • Handy chart: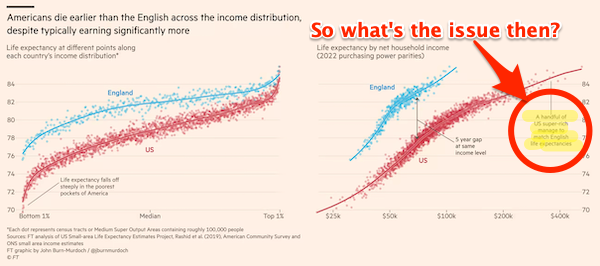 News of the Wired
"The Museum of Failure Celebrates Some of the World's Biggest Flops" [Smithsonian]. "By spotlighting more than 150 commercial ideas that didn't pan out for various reasons, the exhibition "aims to stimulate discussion about accepting and learning from failure," per its Instagram page. A few notable examples: New Coke, Bic for Her pens, Limeade-flavored Oreo cookies, Colgate lasagna, Crystal Pepsi and a gyrating 'hula chair' for exercise." • "Limeade-flavored Oreos"? What next? Girl Scout Thin Mints®, "Now With Added Gravel"? How did a project like that ever get greenlighted? Maybe we need a Museum of Bad Memos, too…
"The Origins of Human Empathy May Go All The Way Back to The Ocean" [Science Alert]. "Previous studies on zebrafish (Danio rerio) provided insights into their transmission of alarm responses, presented as erratic and freezing behavior in individuals, and the elevation of cortisol levels in nearby observers. Based on these findings, it could be concluded that the biology of experiencing stress after witnessing fear responses in another is similar enough in all vertebrates to have evolved in a shared ancestor. In its simplest form, the release of oxytocin could also simply trigger a mirroring of behaviors in the fish. Seeing distress in a fellow swimmer may just create the same internal response in their peers, for example. To see if this was what was happening, the researchers showed individual fish video clips of others in distress or neutral states before placing them together, along with some other fish, after a short amount of time had passed. Interestingly, the observer preferred to cuddle up to the individuals they'd previously seen distressed than to the neutral-acting fish, suggesting something more had to be going on. Just how deeply we might read into the experiment is hard to say. It's easy for us to see our own behaviors in the fish – we've had millions of years of evolution setting our empathy systems to hyperdrive, after all. It's tempting to think the biochemical machinery responsible for our own social behaviors are built on foundations very similar to the mechanisms of fear contagion in fish." • I'm working on my cortisol levels by eating walnuts.
"Have Any Animals Evolved to Adapt to Human Activity?" [Smithsonian]. • Cats, obviously:
Yesterday, I had to say goodbye to a friend. pic.twitter.com/E3sbk5LTKb

— Will 🦥 Menaker (@willmenaker) March 29, 2023
* * *
Contact information for plants: Readers, feel free to contact me at lambert [UNDERSCORE] strether [DOT] corrente [AT] yahoo [DOT] com, to (a) find out how to send me a check if you are allergic to PayPal and (b) to find out how to send me images of plants. Vegetables are fine! Fungi and coral are deemed to be honorary plants! If you want your handle to appear as a credit, please place it at the start of your mail in parentheses: (thus). Otherwise, I will anonymize by using your initials. See the previous Water Cooler (with plant) here. From AA: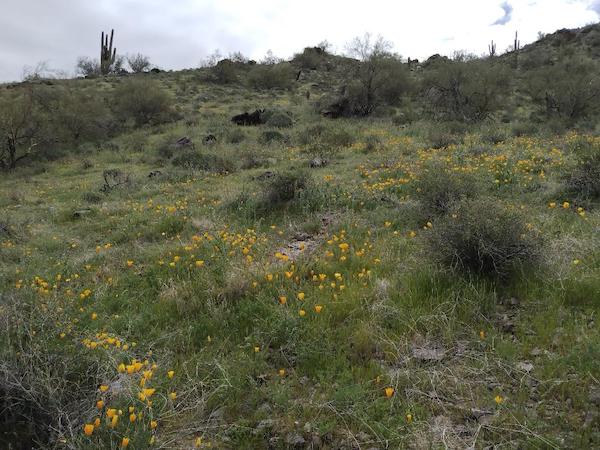 AA writes: "Springtime in central Arizona."
* * *
Readers: Water Cooler is a standalone entity not covered by the annual NC fundraiser. So if you see a link you especially like, or an item you wouldn't see anywhere else, please do not hesitate to express your appreciation in tangible form. Remember, a tip jar is for tipping! Regular positive feedback both makes me feel good and lets me know I'm on the right track with coverage. When I get no donations for five or ten days I get worried. More tangibly, a constant trickle of donations helps me with expenses, and I factor in that trickle when setting fundraising goals:
Here is the screen that will appear, which I have helpfully annotated: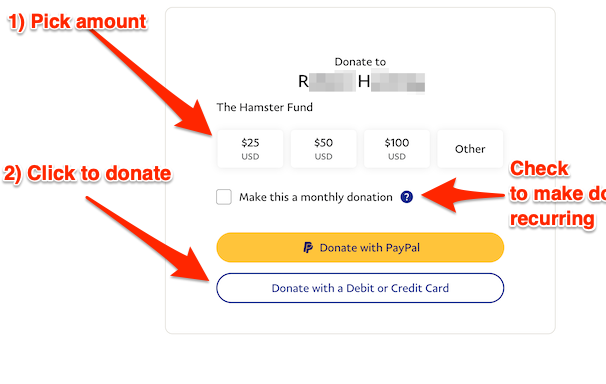 If you hate PayPal, you can email me at lambert [UNDERSCORE] strether [DOT] corrente [AT] yahoo [DOT] com, and I will give you directions on how to send a check. Thank you!