By Lambert Strether of Corrente.
Bird Song of the Day
Eastern Towhee, 31 May 1955, Point Pelee; West Side, Ontario, Canada. "Song." Note the date (!).
* * *
Politics
"So many of the social reactions that strike us as psychological are in fact a rational management of symbolic capital." –Pierre Bourdieu, Classification Struggles
2024
"Don't Forget the Field" [Amy Walter, Cook Political Report]. "Trump is taking up all the oxygen anyway. No candidate can break through that noise. Instead, now's the time for Haley, Scott and others to take trips to the early states without being under the white-hot glare of 200 million TV cameras. Test out the stump speech. Get one-on-one time with the power players in Iowa, New Hampshire and South Carolina. Build some buzz with grassroots leaders and influencers. Meanwhile, let DeSantis take all the incoming heat from the national media and Trump's social media account. Let Trump rail against the Manhattan District Attorney. The more damaged DeSantis and Trump look, the more likely that donors and voters will be looking for a fresh and unblemished alternative. That's the theory at least. And this is how then-Sen. John Edwards went from asterisk to 2004 contender. While early frontrunners Howard Dean and Dick Gephardt engaged in a knock-down, drag-out battle at the Iowa caucuses that year, Edwards was able to run above the fray, as a young, optimistic and approachable alternative…. As such, it makes zero sense for these lower-tier candidates to start a fight with Trump at this point. With the exception of Pence, the rest of these candidates are relatively unknown. They need to tell their story. They need to build a narrative. They can't afford to be known as the candidate who was first to punch Trump….
Democrats en Déshabillé
Patient readers, it seems that people are actually reading the back-dated post! But I have not updated it, and there are many updates. So I will have to do that. –lambert

I have moved my standing remarks on the Democrat Party ("the Democrat Party is a rotting corpse that can't bury itself") to a separate, back-dated post, to which I will periodically add material, summarizing the addition here in a "live" Water Cooler. (Hopefully, some Bourdieu.) It turns out that defining the Democrat Party is, in fact, a hard problem. I do think the paragraph that follows is on point all the way back to 2016, if not before:

The Democrat Party is the political expression of the class power of PMC, their base (lucidly explained by Thomas Frank in Listen, Liberal!). ; if the Democrat Party did not exist, the PMC would have to invent it. . ("PMC" modulo "class expatriates," of course.) Second, all the working parts of the Party reinforce each other. Leave aside characterizing the relationships between elements of the Party (ka-ching, but not entirely) those elements comprise a network — a Flex Net? An iron octagon? — of funders, vendors, apparatchiks, electeds, NGOs, and miscellaneous mercenaries, with assets in the press and the intelligence community.

Note, of course, that the class power of the PMC both expresses and is limited by other classes; oligarchs and American gentry (see 'industrial model' of Ferguson, Jorgensen, and Jie) and the working class spring to mind. Suck up, kick down.

* * *

CA: "Could California decide control of Congress? A Democratic super PAC plans to spend $35 million in the state" [Los Angeles Times]. "Democrats consider California pivotal to the party's efforts to regain control of the U.S. House of Representatives in 2024, with a super PAC tied to former House Speaker Nancy Pelosi pledging Tuesday to spend $35 million on competitive congressional races in the state. nThat's roughly triple what the group spent in the 2022 midterm campaigns in California, when Democrats underperformed in heavily blue states like California while fending off an expected Republican red wave in congressional races across the nation."

CA: "Democrats Will Seek A 'Temporary' Replacement For Feinstein In Senate Judiciary Committee" [Forbes]. "Senate Democrats will seek a temporary replacement for Sen. Dianne Feinstein (D-Calif.) on the Senate Judiciary Committee, following a request made by the 89-year-old lawmaker whose absence from the Senate while she recovers from a bout of shingles has led to calls for her resignation from members of her own party. Acknowledging her return to Washington has been delayed due to her illness, Feinstein said Wednesday she has asked Senate Majority Leader Chuck Schumer to 'allow another Democratic senator to temporarily serve' in the Judiciary Committee until she's able to return. The California lawmaker said she plans to return as soon as her medical team tells her 'it's safe for me to travel,' and in the meantime, she will continue to work from her home in San Francisco. Earlier on Wednesday, Rep. Ro Khanna (D-Calif.) became the first major Democrat to publicly urge Feinstein to resign, owing to her poor health. In a tweet, Khanna said: 'It's time for [Sen. Feinstein] to resign. We need to put the country ahead of personal loyalty. While she has had a lifetime of public service, it is obvious she can no longer fulfill her duties. Not speaking out undermines our credibility as elected representatives of the people.'" • Not the only thing that does that…
Our Famously Free Press
Good question on the "OG" story:

If you get access to a person who saw all 300 leaked docs. How is the first story not going through all this exclusive intel and publishing all of it instead of a witch hunt to find the guy who leaked it all https://t.co/iFil6QKuGV

— Saagar Enjeti (@esaagar) April 13, 2023

"Who or What Is 'Moon of Alabama'? And Why Is He Trying to Lynch Evan Gershkovich?" [Going Deep with Russ Baker]. • The ignorance.
Realignment and Legitimacy
"Dramatic realignment swings working-class districts toward GOP" [Axios]. "Nine of the top 10 wealthiest congressional districts are represented by Democrats, while Republicans now represent most of the poorer half of the country, according to median income data provided by Rep. Marcy Kaptur's (D-Ohio) office. The last several decades have ushered in a dramatic political realignment, as the GOP has broadened its appeal to a more diverse working class and Democrats have become the party of wealthier, more-educated voters. 'Republicans were the party of the country club, and they're increasingly the party of country,' lobbyist and political analyst Bruce Mehlman told Axios. 'We have seen an inversion of Democrat and Republican shares of the highest- and lowest-income districts — and the highest and lowest college degree-holding districts,' Cook Political Report's Dave Wasserman told Axios. 64% of congressional districts with median incomes below the national median are now represented by Republicans — a shift in historical party demographics, the data shows." • Handy chart:

"The "Powell Memo" and the Supreme Court: A counteroffensive against the many" [Liberation School]. "In hindsight, the private memorandum Lewis F. Powell Jr. sent to the U.S. Chamber of Commerce on August 23, 1971—known as the 'Powell Memo'—in many ways represents the inaugural moment in this counteroffensive. Titled, 'Attack on American Free Enterprise System,' the Memo clearly expressed the sharpness of the class struggle at that time and encapsulated the capitalist class' fear that they were losing the battles of ideas and the world. It undoubtedly laid the groundwork for some key components of U.S. imperialism's new offensive against the global revolutionary upsurge that characterized the immediate post-World War II environment, an offensive that is still with us today. Understanding the background, context, and content of the Memo helps us get a sense of the right-wing counteroffensive against domestic people's movements. Powell eventually entered the Supreme Court and helped usher in a wave of reactionary rulings against the people and for corporate profits. Thus, while the exact impacts of the Memo are hard to ascertain, they eventually made their way into the law books, attacking affirmative action and establishing a theory of corporate speech and 'personhood.' More immediately, after the Memo's circulation, the Chamber of Commerce 'expanded its base from around 60,000 firms in 1972 to over a quarter of a million ten years later,' spending almost $1 billion annually to promote their interests." • A billion was real money back then. Yves has a chapter on the Powell Memo in Econned.

"Opinion: It's Unloving to Quickly Restore Fallen Pastors" [The Roys Report]. "Reflecting on fallen Hillsong NYC pastor Carl Lentz, I wrote: 'As for Carl and Laura Lentz, I'm not a betting woman, and I can't speak to their personal lives or transformation off the screen and the stage. But I've seen enough to wager that Carl will announce a return to church ministry within six months, and that he and/or Laura will announce a book detailing their experience within a year.' Then, on March 28, 2023 — six months to the day — Religion News Service reported that Lentz would be joining the staff of Transformation, a nondenominational megachurch in Tulsa, Oklahoma, led by pastor Michael Todd. Maybe I need to spend a weekend in Atlantic City. Gambling jokes aside (I have been to Las Vegas once, with my parents; we spent a lot of time birdwatching in the desert), it brings me no joy to see disgraced pastors return to church ministry, when church ministry was the context that likely spurred their downfall in the first place… Redemption is not the same as restoration to church leadership. Personal transformation is different from public responsibility. And it's not loving to quickly bring a fellow Christian back to the spotlight, when it's the spotlight that quickened their fall from grace in the first place." • I love that throwaway line about birdwatching in Vegas.
#COVID19
"I am in earnest — I will not equivocate — I will not excuse — I will not retreat a single inch — AND I WILL BE HEARD." –William Lloyd Garrison
Resources, United States (National): Transmission (CDC); Wastewater (CDC, Biobot; includes many counties); Variants (CDC; Walgreens); "Iowa COVID-19 Tracker" (in IA, but national data).
Lambert here: Readers, thanks for the collective effort. We are now up to 50/50 states (100%). This is really great! (It occurs to me that there are uses to which this data might be put, beyond helping people with "personal risk assessments" appropriate to their state. For example, thinking pessimistically, we might maintain the list and see which states go dark and when. We might also tabulate the properties of each site and look for differences and commonalities, for example the use of GIS (an exercise in Federalism). I do not that CA remains a little sketchy; it feels a little odd that there's no statewide site, but I've never been able to find one. Also, my working assumption was that each state would have one site. That's turned out not to be true; see e.g. ID. Trivially, it means I need to punctuate this list properly. Less trivially, there may be more local sites that should be added. NY city in NY state springs to mind, but I'm sure there are others. FL also springs to mind as a special case, because DeSantis will most probably be a Presidental candidate, and IIRC there was some foofra about their state dashboard. Thanks again!
Resources, United States (Local): AK (dashboard); AL (dashboard); AR (dashboard); AZ (dashboard); CA (dashboard; Marin); CO (dashboard; wastewater); CT (dashboard); DE (dashboard); FL (wastewater); GA (wastewater); HI (dashboard); IA (wastewater reports); ID (dashboard, Boise; dashboard, wastewater, Central Idaho; wastewater, Coeur d'Alene; dashboard, Spokane County); IL (wastewater); IN (dashboard); KS (dashboard; wastewater, Lawrence); KY (dashboard, Louisville); LA (dashboard); MA (wastewater); MD (dashboard); ME (dashboard); MI (wastewater; wastewater); MN (dashboard); MO (wastewater); MS (dashboard); MT (dashboard); NC (dashboard); ND (dashboard; wastewater); NE (dashboard); NH (wastewater); NJ (dashboard); NM (dashboard); NV (dashboard; wastewater, Southern NV); NY (dashboard); OH (dashboard); OK (dashboard); OR (dashboard); PA (dashboard); RI (dashboard); SC (dashboard); SD (dashboard); TN (dashboard); TX (dashboard); UT (wastewater); VA (dashboard); VT (dashboard); WA (dashboard; dashboard); WI (wastewater); WV (wastewater); WY (wastewater).
Resources, Canada (National): Wastewater (Government of Canada).
Resources, Canada (Provincial): ON (wastewater); QC (les eaux usées); BC, Vancouver (wastewater).
Hat tips to helpful readers: Art_DogCT, B24S, CanCyn, ChiGal, Chuck L, Festoonic, FM, FreeMarketApologist (4), Gumbo, hop2it, JB, JEHR, JF, JL Joe, John, JM (9), JW, KatieBird, LL, Michael King, KF, LaRuse, mrsyk, MT, otisyves, Petal (5), RK (2), RL, RM, Rod, square coats (11), tennesseewaltzer, Utah, Bob White (3).
* * *
Look for the Helpers
Covid Is Airborne
Maskstravaganza
Plot twist:

Tonight a man came up at the racket sport I play and exclaimed:
– You wear a mask!
Me(preparing for mockery): Yeees?
Him: I should really wear mine here too, the pandemic isn't over and I wear it at supermarkets still. How are you finding it?

Never judge either way❤️

— Wicmar (@WicMar) April 11, 2023
Sequelae
"High risk of autoimmune diseases after COVID-19" [Nature]. "…. SARS-CoV-2 infection leads to dysregulated immune responses…. Two studies that use large cohorts now highlight that SARS-CoV-2 infection is linked to a substantially increased risk of developing a diverse spectrum of new-onset autoimmune diseases… Chang et al. used the TriNetX network, which maintains the largest global COVID-19 dataset, and identified a study population of over 5.9 million adults from 48 global health care organizations…. The incidence of autoimmune conditions at 6 months follow-up was significantly higher in the COVID-19 cohort than in the non-COVID-19 group…. A similar study by Tesch et. al.3, which has not yet been peer-reviewed, evaluated a cohort of 640,701 vaccination-naive individuals with PCR-confirmed COVID-19 during 2020 for the risk of autoimmune conditions. The researchers identified a 42.6% higher likelihood of acquiring an autoimmune condition 3–15 months after infection compared with a non-COVID-19 cohort of 1,560,357 individuals matched for age, sex and whether they had a preexisting autoimmune disease." • I don't think you have to buy into everything Leonardi says, including his precise mechanism, to buy into immune dysregulation generally — which I do — but there's no question Leonardi made an early and and courageous call.

"Enhanced inhibition of MHC-I expression by SARS-CoV-2 Omicron subvariants" [PNAS]. "Numerous pathogenic viruses have developed strategies to evade host CD8+ T cell-mediated clearance. Here, we demonstrated that SARS-CoV-2 encodes multiple viral factors that can modulate major histocompatibility complex class I (MHC-I) expression in the host cells. We found that MHC-I upregulation was strongly suppressed during SARS-CoV-2, but not influenza virus infection, in vivo. Notably, the Omicron subvariants showed an enhanced ability to suppress MHC-I compared to the original strain and the earlier SARS-CoV-2 variants of concern (VOCs). We identified a mutation in the E protein shared by the Omicron subvariants that further suppressed MHC-I expression. Our results point to the inherently strong ability of SARS-CoV-2 to hinder MHC-I expression and demonstrated that ."

"Diabetes risk rises after COVID, massive study finds" [Nature]. Sadly, paywalled. "Even mild SARS-CoV-2 infections can amplify a person's chance of developing diabetes, especially for those already susceptible to the disease."

"Physicians agree long COVID is a problem, but they may not be ready to spot it and help" [Medical Economics]. "Half of doctors [in a Morning Consult poll] said long COVID is somewhat of a problem, while 28% called it a significant problem in the United States. Just 2% said it was not a problem at all – the same amount as those said they didn't know or had no opinion, according to the December 2022 findings published last month. 'Despite attempts by a small number of physicians to downplay the ongoing threat of COVID-19, these findings show that nearly all physicians recognize the threat of Long COVID, with only 2% saying it's not a problem at all,' de Beaumont Foundation President and CEO Brian C. Castrucci, DrPH, [who commissioned the poll,] said in a statement. 'And physicians and other Americans agree that we need more funding for Long COVID research.' That doesn't necessarily mean the physicians are ready to aid patients. In the results, 7% of physicians are 'very confident' diagnosing long COVID and just 4% said they are 'very confident' treating it."
Policy
"How AIDS Activists Used 'Die-Ins' to Demand Attention to the Growing Epidemic" [History]. From 2021, still germane. "Founded in 1987, ACT UP ultimately organized thousands of protests, with die-ins becoming a signature tactic. And while AIDS activists weren't the first to simulate death to call attention to lethal threats, the action became a powerful tool to show that, because the epidemic was being stigmatized and ignored, bodies were piling up. In ACT UP's case, 'they forced social and cultural institutions to take responsibility for the AIDS deaths by having to physically move the protesters' bodies,' says Matt Brim, professor of queer studies at City University of New York." • Die-ins at hospitals that abandoned masking would work for me.

"The Extra Deaths" [Open Mind]. A thoughtful piece. The final three paragraphs:

Part of the problem may be a crisis in public health policy and thinking itself. "Our existing public health leaders are primarily clinical thinkers, lab scientists, medical doctors," points out Eric Reinhart, an anthropologist of law and public health and a physician at Northwestern University. "They don't look at society as a whole or tend to examine the structurally determined factors—that is, the policy choices—that render us vulnerable to disease." That may be why CDC Director Rochelle Walensky guided America to the "you do you" phase of the pandemic, in which those at higher risk were advised to have a private conversation with their doctor [as if] on how to manage their lives.

Reinhart says . In fact, we have been in a public health crisis for decades, he says. "Tens of thousands die every year because they can't afford access to health care. Is that a crisis? We have a massive population that's unhoused. Is that a crisis? We have a fatal overdose epidemic that is 20 times the global average. Isn't that an emergency and a crisis?"

The mismanagement of public health messaging around the Covid-19 crisis has left us with lasting damage and a profound loss of trust in those whom we normally trust to guide us. Many now associate the pandemic with blunt-tool mandates that seemed to align public health with loss of freedom. There is a new wave of anti-vaccine sentiment. Those who are trying to look at our "excess excess" mortality straight on are at odds with those who want the entire nation to "make peace" with the virus right now. Individuals suffering from long Covid and ruined lives feel left behind, or ashamed, as do those who are immune-compromised. Masks—even when necessary for those at high risk—have been compared to diapers, and Walensky herself has called them a "scarlet letter." No wonder #DiedSuddenly is a popular hashtag. Something deeper is dying and we know it.

"The invisibility of Long Covid has an even longer history" [Varsity]. "It turns out that for centuries, patients have survived epidemics only to have their lives changed by the seemingly endless nature of their symptoms. In the late 1800s, doctors noted 'altered cognition' (what we might now call 'brain fog', a common symptom of Long Covid) in survivors of the 1889 and 1892 Russian flu pandemics. Similarly, smallpox and polio are now known to cause long-lasting conditions in the months, years, and decades following initial infection. Recently, the scale of post-polio syndrome has become clear – thirty years after infection, up to 85% of survivors, including those who had a relatively mild original case, may develop muscle weakness and pain. Long Covid is far from the first post-viral condition to emerge en masse in the wake of a pandemic. The marks of epidemic-triggered post-viral conditions can be seen throughout history; but these patients are often forgotten as soon as the acute phase is over. Even the 1918 'Spanish Flu' pandemic, to which COVID-19 is most often compared in the media, provoked post-viral conditions in survivors. Historian Laura Spinney describes the scale of the issue as significantly impacting economies, just as Long Covid has begun to do today: in Tanzania, 'Long Flu' triggered "the worst famine in a century" as fatigue prevented workers from planting the fields. The 'Spanish Flu' infected one in three people on Earth, and left up to 100 million dead – and yet was largely written out of collective memory, along with those who suffered from 'Long Flu'."

"How the Horrific 1918 Flu Spread Across America" [Smithsonian]. From 2017, still germane: "What proved even more deadly was the government policy toward the truth. When the United States entered the war, Woodrow Wilson demanded that 'the spirit of ruthless brutality…enter into the very fibre of national life.' So he created the Committee on Public Information, which was inspired by an adviser who wrote, 'Truth and falsehood are arbitrary terms….The force of an idea lies in its inspirational value. It matters very little if it is true or false.' At Wilson's urging, Congress passed the Sedition Act, making it punishable with 20 years in prison to 'utter, print, write or publish any disloyal, profane, scurrilous, or abusive language about the form of government of the United State…or to urge, incite, or advocate any curtailment of production in this country of any thing or things…necessary or essential to the prosecution of the war.' Government posters and advertisements urged people to report to the Justice Department anyone 'who spreads pessimistic stories…cries for peace, or belittles our effort to win the war. Against this background, while influenza bled into American life, public health officials, determined to keep morale up, began to lie….. Across the country, public officials were lying. U.S. Surgeon General Rupert Blue said, 'There is no cause for alarm if precautions are observed.' New York City's public health director declared 'other bronchial diseases and not the so-called Spanish influenza…[caused] the illness of the majority of persons who were reported ill with influenza.' The Los Angeles public health chief said, 'If ordinary precautions are observed there is no cause for alarm.'" • Woodrow Wilson was a bad man and a bad President, albeit a "Progressive."
Elite Malfeasance
"Three Years Later, Covid-19 Is Still a Health Threat. Journalism Needs to Reflect That" [Nieman Reports]. "The New York Times is not alone. Outlets like The New Yorker, The Washington Post, and NPR, to name just a few, have amplified voices and arguments that helped create a narrative that not only pathologizes those who remain cautious about the disease, but also fails to adequately convey the risks associated with Covid such that many people are unwittingly taking on potentially lifelong risks. In the process, we've failed at our field's core tenets — to hold power to account and to follow the evidence. Our failures here could last a generation. As reporters, it's our responsibility to accurately represent the needs of diverse perspectives and avoid an ableist bias that diminishes the real and lasting health concerns not only of those who are keenly at risk but those who are cautious about repeatedly catching a virus that scientists are still grappling to understand…. "People were testing regularly at their workplaces, in schools and complying with that," Eiryn Griest Schwartzman, executive director of COVID Safe Campus, a coalition of academics and advocates pushing for improved mitigation efforts and disability inclusion in higher education, told me. "And then suddenly, the narrative shifted where that became something that's 'unfavorable' even though polls still show that masking and other precautions like that are still popular and understood in shared public spaces, like transit and healthcare. There's still public support, but it's not being reported on in that way. More often it's being reported on as something that support is fading, or unfeasible or not politically viable when it absolutely is. But those narratives are self-perpetuating, and they feed into policy.'" • More social conformity? Driven by the Hague-worthy pundits listed here (for starters)?

Happy 75th birthday World Health Organization BMJ. Still up:

FACT: #COVID19 is NOT airborne.

The #coronavirus is mainly transmitted through droplets generated when an infected person coughs, sneezes or speaks.

To protect yourself:
-keep 1m distance from others
-disinfect surfaces frequently
-wash/rub your 👐
-avoid touching your 👀👃👄 pic.twitter.com/fpkcpHAJx7

— World Health Organization (WHO) (@WHO) March 28, 2020

As I keep saying, the deadliest sources of "disinformation" have been trusted, authoritative NGOs or State entities, like WHO and CDC.
* * *
Looks like "leveling off to a high plateau" across the board. (I still think "Something Awful" is coming, however. I mean, besides what we already know about.) Stay safe out there!
Lambert here: Only one update (deaths) and that one is bad data. Yikes.
Case Data
NOT UPDATED BioBot wastewater data from April 10: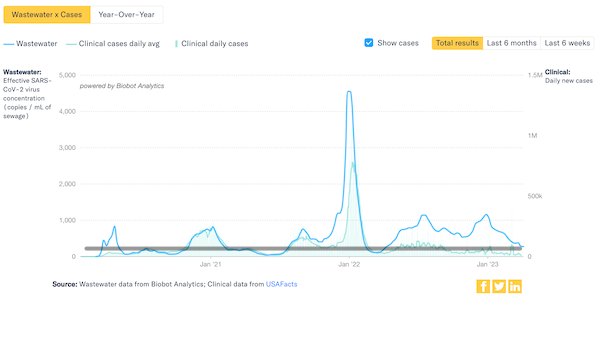 For now, I'm going to use this national wastewater data as the best proxy for case data (ignoring the clinical case data portion of this chart, which in my view "goes bad" after March 2022, for reasons as yet unexplained). At least we can spot trends, and compare current levels to equivalent past levels.
• Surging in Asia?
Doubled the scale of the y-axis yet again in under a week to be able to capture the current surge in India. pic.twitter.com/c3g1wuFVeU

— Michael Olesen 💉😷🇺🇸🇺🇦 (@maolesen) April 13, 2023
The account doesn't put all his charts in one thread, for some reason, but he has several more besides India:
Early on in Vietnam, but I think all of SE Asia is going to follow the pattern of India. pic.twitter.com/zw8pK7XtWw

— Michael Olesen 💉😷🇺🇸🇺🇦 (@maolesen) April 13, 2023
Something to watch.
Covid Emergency Room Visits
NOT UPDATED From CDC NCIRD Surveillance, from April 8: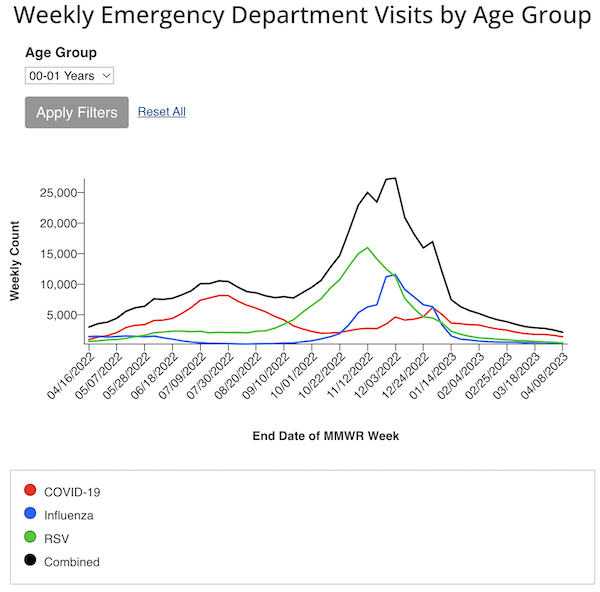 NOTE "Charts and data provided by CDC, updates Wednesday by 8am. For the past year, using a rolling 52-week period." So not the entire pandemic, FFS (the implicit message here being that Covid is "just like the flu," which is why the seasonal "rolling 52-week period" is appropriate for bothMR SUBLIMINAL I hate these people so much. Anyhow, I added a grey "Fauci line" just to show that Covid wasn't "over" when they started saying it was, and it's not over now. Notice also that this chart shows, at least for its time period, that Covid is not seasonal, even though CDC is trying to get us to believe that it is, presumably so they can piggyback on the existing institutional apparatus for injections.
Positivity
*** STILL *** NOT UPDATED From the Walgreen's test positivity tracker, published April 11: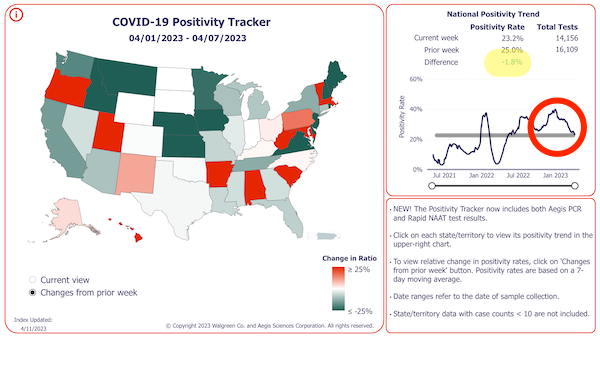 -1.8%. Below the low point of the previous valley.
Lambert here: Walgreens always updates. If they're shutting it down, I'll be disappointed…
Deaths
Death rate (Our World in Data):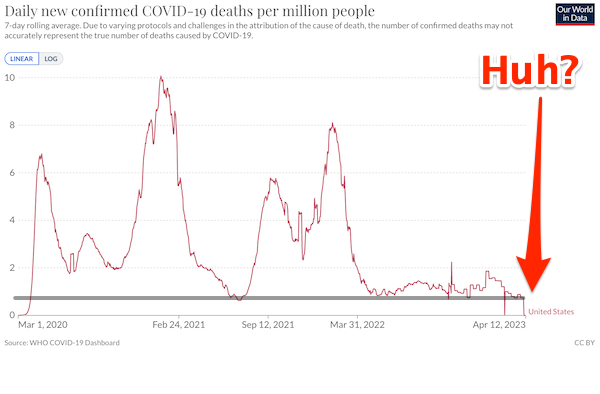 Total: 1,157,462 – 1,157,194 = 268 (268 * 365 = 97,820 deaths per year, today's YouGenicist™ number for "living with" Covid (quite a bit higher than the minimizers would like, though they can talk themselves into anything. If the YouGenicist™ metric keeps chugging along like this, I may just have to decide this is what the powers-that-be consider "mission accomplished" for this particular tranche of death and disease).
Excess Deaths
NOT UPDATED Excess deaths (The Economist), published April 2: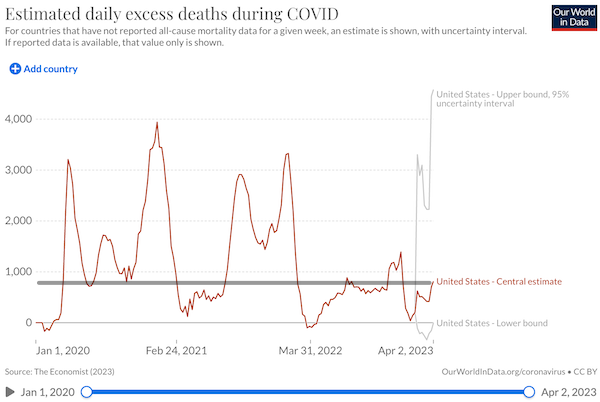 Lambert here: Big jump from the last reading in the "Central Estimate."
Lambert here: Based on a machine-learning model. Looks like a data issue, to me. I"m not sure how often this updates, and if it doesn't, I'll remove it. (The CDC has an excess estimate too, but since it ran forever with a massive typo in the Legend, I figured nobody was really looking at it, so I got rid it.
• "COVID-19 a leading cause of death in children and young people in the US" [Imperial College London]. "Analysis of US health data highlights COVID-19 was a leading cause of death in children and young people, ranking 8th overall. COVID-19 was the underlying cause of death for more than 940,000 people in the US, including over 1,300 deaths among children and young people aged 0–19 years. These are the findings of a new study, led by researchers at the University of Oxford, and including researchers from the Department of Mathematics and MRC Centre for Global Infectious Disease Analysis at Imperial College London, which published in the journal JAMA Network Open." •
Stats Watch
"United States Initial Jobless Claims" [Trading Economics]. "The number of Americans filing for unemployment benefits rose by 11 thousand to 239 thousand in the week ending April 8th, overshooting market expectations of 232 thousand. It was the first increase in unemployment claims in three weeks, in line with a batch of data for March that pointed to the softening of the US labor market to strengthen current bets that the Federal Reserve could cut rates multiple times this year."
* * *
Finance: "More Junk-Rated Companies Are Facing Credit Downgrades and Defaults" [Wall Street Journal]. "While highly rated companies are proving largely resilient during the postpandemic economic turbulence, businesses with lower credit ratings and floating-rate debt are increasingly struggling with steep increases to debt-servicing costs and a possible recession as the Federal Reserve continues interest-rate hikes. What's more, still-steep inflation and softer demand are also expected to erode some companies' profit margins, the ratings firms said. The higher borrowing costs for risky credit are resulting in more rating downgrades and an acceleration of defaults. Default rates for low-rated U.S. companies will likely hit 5.4% in February 2024, up from 2.5% in February 2023 and higher than the long-term average of 4.7%, ratings firm Moody's Investors Service said in a report last month. A recession as well as an increase in unemployment and wider credit spreads, or the difference in corporate bonds compared with that of safe Treasurys, could cause defaults to rise further, Moody's said. 'What triggers a default is becoming more relevant in 2023, because everything is kind of worsening,' said Christina Padgett, head of the leveraged finance practice at Moody's."
Banking: "Deposit Crisis Sets Up a Tough First Quarter for All but the Biggest Banks" [Wall Street Journal]. "A deposit run that felled Silicon Valley Bank and Signature Bank has hurt small banks much more than big ones, draining low-cost funding that has fueled their profitability in recent years." • Hurt small banks more than big ones? Huh. Imagine that.
Banking: "J.P. Morgan flagged large Epstein withdrawals before his 2008 conviction, lawsuit alleges" [MarketWatch]. "J.P. Morgan Chase & Co. was reportedly aware that the late disgraced financier Jeffrey Epstein was paying underage girls to be brought to his home, years before he was convicted in 2008, according to a lawsuit filing released on Wednesday…. The new filing alleged that the J.P. Morgan Rapid Response Team had internally raised the alarm in 2006 that Epstein was 'routinely' making withdrawals, from $40,000 to $80,000 several times per month, totaling over $750,000 per year. Banks must file suspicious activity reports on large transactions. The lawsuit alleges that the bank failed to do so. The filing says that senior executive and head of asset and wealth management Mary Erdoes admitted in a deposition that the bank was 'aware by 2006 that Epstein was accused of paying cash to have underage girls and young women brought to his home.'…. The filing also said Epstein's interest in young girls was so notorious at the bank that senior executives would joke about it." • These are not nice people, even if they do smile a lot.
Tech: "This startup wants to train art-generating AI strictly on licensed images" [TechCrunch]. • So this is a new thing? That means all previously strip-mined Generative AI datasets were premised on the theft of intellectual property. Nice! Of course, this is Silicon Valley, so we expect nothing less. More to the point, some appreciable portion of all the market value of current AI firms should be clawed back ASAP, whether by lawsuits or confiscatory taxation.
* * *
Today's Fear & Greed Index: 65 Greed (previous close: 62 Greed) [CNN]. One week ago: 58 (Greed). (0 is Extreme Fear; 100 is Extreme Greed). Last updated Apr 13 at 1:15 PM ET.
Gunz
"The stunning reach of America's gun violence epidemic" [Politico]. "Almost everyone surveyed — 84 percent — reported taking some kind of precaution to protect themselves and their families. That ranges from buying a gun for self defense to practicing shooting to avoiding crowded places — like music festivals or clubs — avoiding public transport, changing (or at least thinking about changing) what school their kids go to, or avoiding religious services, celebrations, or cultural events." That is, Covid is not the only reason Americans are practicing social distancing. And: "Fully 44 percent of parents with kids under age 18 said there's a gun in their house — and a third of that group said the guns were stored loaded, or stored in an unlocked location. Close to two-thirds — 61 percent — said the guns are stored together with ammunition." • No reason a death cult can't hide in plain sight, normalized.
Our Famously Free Press
"MSNBC's Mehdi Hasan Gets Basic Facts Wrong on DHS Content Moderation Partnership" [Lee Fang]. MSNBC pundit Mehdi Hasan, in a series of tweets over the last five days, has repeatedly claimed that Matt Taibbi "deliberately & under oath misrepresented" the facts when he testified to Congress last month. Hasan linked to a video of Taibbi's testimony, in which the Racket News journalist noted that 'Twitter executives did not distinguish between [the Department of Homeland Security] or [the Cybersecurity and Infrastructure Security Agency] and this group [the Election Integrity Partnership]' and that emails show and EIP worked in concert with CISA to flag content for moderation. Hasan claimed this is a lie, that Taibbi conflated a private nonprofit with a government agency during his testimony, and that EIP only worked with the Center for Internet Security, or CIS, a private sector organization with a similar acronym, not CISA. It's a serious charge and federal crime to make false statements to Congress, one punishable with prison time." I'm getting a little tired of liberal Democrats trying to throw their political opponents in jail. More: "[T]he record shows that CISA, the government agency, was involved in the very formation of EIP and was one of the most important government partners to the group in its bid to influence content moderation decisions at firms such as Facebook and Twitter. EIP's own leaders have said as much, and there is endless documentation – from publicly available websites, to discovery from litigation, and from the 'Twitter Files' – that all confirm this relationship and CISA's role in assisting EIP. In other words, Hasan is wrong and presents a deeply distorted view of the mechanics of this process. Taibbi's testimony, especially the video excerpted by Hasan, is accurate." • MSNBC can sure pick 'em. I wonder if anybody ever found out who hacked the copy of Reid's blog in the Wayback Machine, the one where she noted (this is one of the milder remarks) Harriet Miers' "lesbian haircut"? (Yes, it was beyond absurd for Bush to nominate Miers, but Reid was attack-dogging on that?)
Zeitgeist Watch
"A woman with tuberculosis took a bus to a casino while an officer with a warrant for her arrest let her go" [NBC]. "A Washington state woman who has been diagnosed with tuberculosis and refused numerous orders to isolate was spotted boarding a bus to a casino by an officer who had been tailing her and had a warrant for her arrest, according to a court filing obtained Wednesday. Instead of arresting the woman, identified only as V.N. in documents filed in Pierce County Superior Court, the officer let her go and a local judge found her in contempt…. It isn't clear which casino V.N. went to or why the officer, who wasn't identified in the filing, didn't take her into custody." • "Because freedom" would be my guess.
Class Warfare
"Make the Golf Course a Public Sex Forest!" (excerpt) [The New Inquiry]. The intro should be cut by 80%, and the excerpt greatly expanded. From the intro: "The editors and contributors of Make the Golf Course a Public Sex Forest, excerpted below, understand the centrality of erotics to the creation of a better tomorrow; and they know where to start." I'm not so sure about that. Couldn't gun ownership, at least in its more outré manifestations, come under the heading of erotics? From the excerpt: "I hate golf. The word sounds like a fist." • Also, beavers.
News of the Wired
But how do you amend it:
No wonder lawyers need those rolly bags https://t.co/hICNvJapGg

— David Fisman (@DFisman) April 13, 2023
* * *
Contact information for plants: Readers, feel free to contact me at lambert [UNDERSCORE] strether [DOT] corrente [AT] yahoo [DOT] com, to (a) find out how to send me a check if you are allergic to PayPal and (b) to find out how to send me images of plants. Vegetables are fine! Fungi and coral are deemed to be honorary plants! If you want your handle to appear as a credit, please place it at the start of your mail in parentheses: (thus). Otherwise, I will anonymize by using your initials. See the previous Water Cooler (with plant) here. From TW: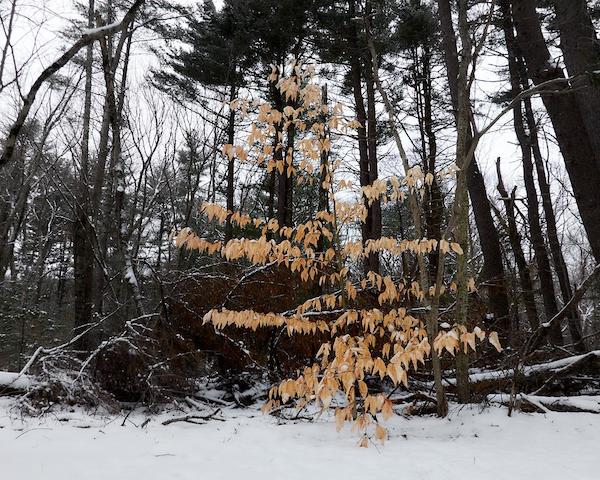 TW: "I shared one of these late last year and people liked it. Here's another from a different park and forest and with snow. This time it's Cat Rock Park in Weston, MA."
* * *
Readers: Water Cooler is a standalone entity not covered by the annual NC fundraiser. So if you see a link you especially like, or an item you wouldn't see anywhere else, please do not hesitate to express your appreciation in tangible form. Remember, a tip jar is for tipping! Regular positive feedback both makes me feel good and lets me know I'm on the right track with coverage. When I get no donations for five or ten days I get worried. More tangibly, a constant trickle of donations helps me with expenses, and I factor in that trickle when setting fundraising goals:
Here is the screen that will appear, which I have helpfully annotated: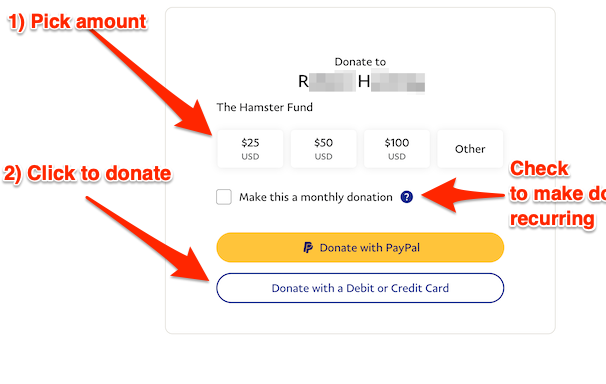 If you hate PayPal, you can email me at lambert [UNDERSCORE] strether [DOT] corrente [AT] yahoo [DOT] com, and I will give you directions on how to send a check. Thank you!