By Lambert Strether of Corrente.
Patient readers, 🌡️ we are at 255 donors. 255 donors / goal of 375 = 68.0%. Thank you! The Tip Jar is at the bottom of the screen! Here are a few more kind words from readers:
NM: "I read Water Cooler everyday, definitely look forward to it around 2 PM which coincides with my usual work coffee break. Will plan on sending some plant antidotes this year too. Thanks so much Lambert!"

DaLM: "Thanks much for the Covid coverage. Also especially enjoy the art posts and plantidotes."

Zephyrum: "Lambert, the Water Cooler is amazing. Love it. Just sent a federal Grant via PayPal."

Festoonic: "When I 'look for the helpers,' this is where I look first. I honestly can't imagine life during the dissolution of so much I've always known and loved without the clarity, compassion, and great good humor that NC — and Lambert and the Water Cooler — in particular provide."
There's still time to click here!
Bird Song of the Day
Eastern Bluebird (Eastern), Adamstown; Mt. Ephriam Road, Frederick, Maryland, United States. "Sony TCD-D10 ProII HPF on, -20 dB pad on. Some distant traffic and some stomach noises [(!!)]."
* * *
Politics
"So many of the social reactions that strike us as psychological are in fact a rational management of symbolic capital." –Pierre Bourdieu, Classification Struggles
2024
"Bragg's case against Trump hits a wall of skepticism — even from Trump's critics" [Politico]. "Alvin Bragg's case against Donald Trump is running into a wall of skepticism — including from left-leaning legal experts, liberal pundits and some of Trump's Republican detractors who have otherwise been eager to see him held accountable. A day after the Manhattan district attorney unveiled the history-making charging documents against the former president, some of Bragg's natural allies were left scratching their heads and Trump world appeared emboldened by the uncertainties in the case. The post-arraignment hangover was fueled by burning questions about the prosecution's legal theories that Bragg has, for now, left largely unanswered. The concerns were exacerbated by the noticeable absence of support — and in some cases pointed skepticism about the case — from many of Trump's critics in the legal community and Congress….. Legal experts who had awaited Bragg's charging documents to resolve some of the lingering mysteries about the case remained confounded by some aspects of the prosecution." And: 'Trump sought to highlight the fissures between his political adversaries and Bragg during his remarks at Mar-a-Lago late Tuesday, but he also appeared to damage his own cause with a fusillade aimed at [Judge Juan] Merchan — just hours after the judge warned Trump's lawyers that their client should not made any statements that 'incite violate or create civil unrest.'" • Oh. Commentary:

"Trump's next court date pushes up against 2024 primaries" [The Hill]. "The judge overseeing former President Trump's criminal case in New York City has set the next in-person hearing for Dec. 4, roughly two months before the official start of the 2024 Republican presidential primary calendar… The Iowa Republican caucuses will be held on Feb. 5, 2024, marking the start of the GOP primary season. That underscores how Trump's legal troubles could shadow him into the period when voters are picking a candidate to nominate for president." • I don't think that's what the date underscores….

"Donald Trump awarded legal fees in Stormy Daniels defamation lawsuit" [BBC]. "The former porn star at the heart of Donald Trump's historic indictment in New York has been ordered to pay him more than $121,000 (£96,965) towards legal fees in an unrelated case. Stormy Daniels, alleged to have had an affair with Mr Trump in 2006, lost her defamation case over a 2018 tweet written by the former US president. An appeals court judge in California dismissed Ms Daniels' case, and awarded Mr Trump a payment for legal fees. Mr Trump has denied the affair. The civil defamation lawsuit brought by Ms Daniels was entirely separate from the 34 charges filed against Mr Trump in Manhattan on Tuesday."

"Bragg's timeline of Trump election-influence allegations doesn't add up: Ex-federal prosecutor" [FOX]. Warning: I haven't verified this against the indictment: "Andrew McCarthy, a former assistant U.S. attorney in New York… told "Jesse Watters Primetime" that Bragg claimed Trump's alleged wrongdoing deceived voters in the 2016 election. The problem, he said, was that the related indictment counts occurred months after Trump was elected president. 'I kind of don't understand why this hasn't been more of a thing, but what Bragg is alleging is that Trump took a series of actions to defraud the voting public in connection with the 2016 election. The indictment then goes forward with all these counts that begin on Feb. 14, 2017, and continue until Dec. 5 of 2017. That's all months after the 2016 election.' McCarthy riffed that if in Bragg's 'fantasy world' the payments to Daniels, née Stephanie Clifford, were to be considered campaign related, federal disclosures wouldn't be required until several months after the election. 'So even if you take it the way that he pleads it, how could this conceivably have affected the 2016 election?'"

"McConnell lets an indicted Trump twist in the wind" [The Hill]. "Senate Republican Leader Mitch McConnell (Ky.) and his top deputies stayed silent Tuesday as former President Trump pleaded not guilty to 34 felony counts, signaling how far they have diverged from their former ally…. McConnell, who hasn't spoken to Trump since December of 2020, didn't make any statement in response to the former president's arrest Tuesday. He didn't say anything when news of Trump's indictment broke Thursday, either."
Republican Funhouse
"Youngkin uses national profile to raise big money for Virginia races" [Times-Dispatch]. "Youngkin, the former co-CEO of The Carlyle Group, is parlaying his skills in the high-finance world of corporate hedge funds to raise money for state and national political races, including, potentially, his own. Youngkin has raised $2.75 million this year, as the first-term governor looks to make a big statement in the first quarter of a pivotal election year to determine control of the General Assembly for the final two years of his term. The fundraising also could leave an impression about his viability as a potential candidate for the presidency or vice presidency next year."
Democrats en Déshabillé
Patient readers, it seems that people are actually reading the back-dated post! But I have not updated it, and there are many updates. So I will have to do that. –lambert

I have moved my standing remarks on the Democrat Party ("the Democrat Party is a rotting corpse that can't bury itself") to a separate, back-dated post, to which I will periodically add material, summarizing the addition here in a "live" Water Cooler. (Hopefully, some Bourdieu.) It turns out that defining the Democrat Party is, in fact, a hard problem. I do think the paragraph that follows is on point all the way back to 2016, if not before:

The Democrat Party is the political expression of the class power of PMC, their base (lucidly explained by Thomas Frank in Listen, Liberal!). ; if the Democrat Party did not exist, the PMC would have to invent it. . ("PMC" modulo "class expatriates," of course.) Second, all the working parts of the Party reinforce each other. Leave aside characterizing the relationships between elements of the Party (ka-ching, but not entirely) those elements comprise a network — a Flex Net? An iron octagon? — of funders, vendors, apparatchiks, electeds, NGOs, and miscellaneous mercenaries, with assets in the press and the intelligence community.

Note, of course, that the class power of the PMC both expresses and is limited by other classes; oligarchs and American gentry (see 'industrial model' of Ferguson, Jorgensen, and Jie) and the working class spring to mind. Suck up, kick down.

* * *

IL: "Progressive Brandon Johnson wins Chicago mayor's race" [Politico]. "Brandon Johnson, a county commissioner and former teachers' union organizer, was elected mayor of Chicago on Tuesday…. With all but a handful of precincts reporting — but a sizable number of mail ballots left to count — Johnson led Vallas, 51 percent to 49 percent…. Johnson's victory signals a shift to the left from the already progressive governance of Mayor Lori Lightfoot's administration…. Johnson and Vallas also were embraced by powerful unions, which helped fuel their base but also raised concerns among moderate Democrats about how they would lead. Vallas was endorsed by the Chicago Fraternal Order of Police, and Johnson was backed by the Chicago Teachers Union, for which he also worked." • Hmm.

IL: "Brandon Johnson, Progressive Union Organizer, Elected Mayor Of Chicago" [HuffPost]. "Overcoming a major fundraising gap, accusations that he would "defund" the police and public polling that predicted his defeat, progressive Brandon Johnson, a Cook County commissioner and organizer for the Chicago Teachers Union, won a hotly contested race for mayor of Chicago, the nation's third-largest city. Johnson, who is a Black leftist and former schoolteacher, defeated former CEO of Chicago Public Schools Paul Vallas, a white technocrat at the conservative edge of the contemporary Democratic coalition. Johnson's victory in one of the starkest ideological proxy battles in the annals of recent municipal politics is a historic achievement for the activist left that is likely to have ripple effects across the county. Its significance for intra-Democratic Party politics is rivaled perhaps only by Rep. Alexandria Ocasio-Cortez's surprise ouster of then-Rep. Joe Crowley in 2018." • So, nothing to worry about then!

IL: "Brandon Johnson Wins Runoff Election, Becoming The Next Mayor Of Chicago" [Essence]. "During his campaign, Johnson called for massively expanded social programs, new taxes, and improved public safety by way of mental health treatment and youth employment programs, versus his opponent Vallas, whose messaging aligned with being tough on crime and expanding the city's police force. At one point in an early poll for the election, numbers showed that only 3 percent of voters supported Johnson's campaign. Overcoming enormous odds, Johnson advanced to the runoff election, and despite the fact that early on Vallas was leading, as the night went on, the tide shifted in favor of Johnson."

IL: "MAP: Here's How Your Neighborhood Voted In the 2023 Chicago Mayoral Election" [Block Club Chicago]. • Here it is:

WI: "Liberals take over Wisconsin Supreme Court — with major implications for abortion" [Politico]. "Protasiewicz, a liberal judge from Milwaukee County, won her race, 56.9% to 43.1%, when the Associated Press called the race at 9:53 pm. She defeated conservative former state Supreme Court Justice Dan Kelly. The court is technically nonpartisan, but now has a 4-3 liberal majority through at least 2025…. The race was the most expensive state judicial race in American history. As of late last week, over $45 million has been spent on the contest… The election will have wide-sweeping effects on the state, including, in the nearest-term, access to abortion in Wisconsin…. Protasiewicz's win also makes Democrats much more likely to bring challenges to the state's congressional and legislative lines. Republicans have near-supermajorities in both legislative chambers and a 6-2 split of the congressional delegation in a state that routinely votes close to 50-50 on a statewide level. Similarly to her comments about values on abortion, Protasiewicz has said that it is clear the maps in the state are unfair. 'Wisconsin has probably the most gerrymandered maps in the entire country,' she said in an interview with POLITICO in February. 'I anticipate that it's possible that some type of litigation in regard to fair maps could come before the Supreme Court.'" •

WI: "Dan Kelly calls Wisconsin Supreme Court winner Janet Protasiewicz a 'serial liar' as he lashes out in his concession speech" [Journal Sentinel]. "Former Wisconsin Supreme Court Justice Dan Kelly lost his race against Milwaukee County Judge Janet Protasiewicz by at least 10 percentage points Tuesday but refused to call his opponent to concede, instead choosing to lash out against her in a concession speech to supporters. 'I wish that in a circumstance like this, I would be able to concede to a worthy opponent,' he said at an event held at the Heidel House Hotel in Green Lake. 'But I do not have a worthy opponent to which I can concede.'" • Classy!

WI: "Janet Protasiewicz May Be Impeached by GOP After Wisconsin Election Win" [Newsweek]. "Republican state senate candidate Dan Knodl suggested last week that he would be open to impeaching Protasiewicz if he were to win his own race. This would give the GOP a two-thirds majority in the Wisconsin senate. Knodl made those remarks before the elections took place…. Madalyn O'Neill, reporter with Wisconsin's Fox 6, reported on Twitter later on Wednesday morning: "With 100% of votes now in, it appears Knodl beat Habush Sinykin by about 1,300 votes."
Realignment and Legitimacy
"America on Trial Separation" [Amy Walter, The Cook Political Report]. "A few weeks ago, GOP Rep. Marjorie Taylor Greene did what she does best: create controversy and draw outsized attention to herself. America, she tweeted, needs "a national divorce. We need to separate by red states and blue states and shrink the federal government." Of course, we know that 1) Greene represents a state that once literally seceded from the union, and 2) that state no longer fits neatly into a red or blue category. Not surprisingly, most Americans aren't into the idea of another civil war, or a partitioning of the country. A YouGov poll taken soon after Green's comments, found 63% disagreed with the idea of a 'national divorce,' while 23% agreed. But what if we don't need a divorce because we are already separated? 'A national divorce may not be possible,' writes Michael Podhorzer, a progressive analyst,strategist and former AFL-CIO political director. 'But we're already sleeping in separate bedrooms and seeing other people.' Over the last 30 years, we've seen a steady and dramatic increase in Americans who live in overwhelmingly red or blue counties." • Handy chart:

And: "At the same time, the importance of swing or independent voters has become more crucial than ever. As we saw in 2020, Trump got more votes than he did in 2016, but that still didn't get him close enough to win. Why? Because he lost independent voters."
#COVID19
"I am in earnest — I will not equivocate — I will not excuse — I will not retreat a single inch — AND I WILL BE HEARD." –William Lloyd Garrison
Resources, United States (National): Transmission (CDC); Wastewater (CDC, Biobot; includes many counties); Variants (CDC; Walgreens); "Iowa COVID-19 Tracker" (in IA, but national data).
Lambert here: Readers, thanks for the collective effort. We are now up to 50/50 states (100%). This is really great! (It occurs to me that there are uses to which this data might be put, beyond helping people with "personal risk assessments" appropriate to their state. For example, thinking pessimistically, we might maintain the list and see which states go dark and when. We might also tabulate the properties of each site and look for differences and commonalities, for example the use of GIS (an exercise in Federalism). I do not that CA remains a little sketchy; it feels a little odd that there's no statewide site, but I've never been able to find one. Also, my working assumption was that each state would have one site. That's turned out not to be true; see e.g. ID. Trivially, it means I need to punctuate this list properly. Less trivially, there may be more local sites that should be added. NY city in NY state springs to mind, but I'm sure there are others. FL also springs to mind as a special case, because DeSantis will most probably be a Presidental candidate, and IIRC there was some foofra about their state dashboard. Thanks again!
Resources, United States (Local): AK (dashboard); AL (dashboard); AR (dashboard); AZ (dashboard); CA (dashboard; Marin); CO (dashboard; wastewater); CT (dashboard); DE (dashboard); FL (wastewater); GA (wastewater); HI (dashboard); IA (wastewater reports); ID (dashboard, Boise; dashboard, wastewater, Central Idaho; wastewater, Coeur d'Alene; dashboard, Spokane County); IL (wastewater); IN (dashboard); KS (dashboard; wastewater, Lawrence); KY (dashboard, Louisville); LA (dashboard); MA (wastewater); MD (dashboard); ME (dashboard); MI (wastewater; wastewater); MN (dashboard); MO (wastewater); MS (dashboard); MT (dashboard); NC (dashboard); ND (dashboard; wastewater); NE (dashboard); NH (wastewater); NJ (dashboard); NM (dashboard); NV (dashboard; wastewater, Southern NV); NY (dashboard); OH (dashboard); OK (dashboard); OR (dashboard); PA (dashboard); RI (dashboard); SC (dashboard); SD (dashboard); TN (dashboard); TX (dashboard); UT (wastewater); VA (dashboard); VT (dashboard); WA (dashboard; dashboard); WI (wastewater); WV (wastewater); WY (wastewater).
Resources, Canada (National): Wastewater (Government of Canada).
Resources, Canada (Provincial): ON (wastewater); QC (les eaux usées); BC, Vancouver (wastewater).
Hat tips to helpful readers: Art_DogCT, B24S, CanCyn, ChiGal, Chuck L, Festoonic, FM, FreeMarketApologist (4), Gumbo, hop2it, JB, JEHR, JF, JL Joe, John, JM (9), JW, KatieBird, LL, Michael King, KF, LaRuse, mrsyk, MT, otisyves, Petal (5), RK (2), RL, RM, Rod, square coats (11), tennesseewaltzer, Utah, Bob White (3). (Readers, if you leave your link in comments, I credit you by your handle. If you send it to me via email, I use your initials (in the absence of a handle. I am not putting your handle next to your contribution because I hope and expect the list will be long, and I want it to be easy for readers to scan.)
• More like this, please! Total: 1 6 11 18 20 22 26 27 28 38 39 43 47 50/50 (94% of US states).
* * *
Look for the Helpers
Couldn't be more clear:

Wearers of masks belong to a community of rational souls, collectively shining a light into the darkness of the pandemic. Together we are taking a stand against Covid-19. Although we are outnumbered by those who have surrendered to the virus, we represent the only way forward.

— Michael Collins Morton (@MCM54321) April 5, 2023

But how to turn a "community" into a political force…

* * *

"Introducing: The Covid Underground" [Covid Underground]. The deck: "Welcome to The Covid Underground, a newsletter for the Covid-free movement and all of those who continue to avoid infection." More: "True health is the ability to change. About 10-30% of the U.S. population has changed their lives in the light of the freeing revelations of 2020, and we keep changing. We are dynamically, creatively faithful to what was— briefly— plain to all: normal is a dangerous illusion." • Worth a read.

"Covid Meetups" [COVID MEETUPS (JM)]. "A free service to find individuals, families and local businesses/services who take COVID precautions in your area." • I played around with it some. It seems to be Facebook-driven, sadly, but you can use the Directory without logging in. I get rational hits from the U.S., but not from London, UK, FWIW.

Finding like-minded people on (sorry) Facebook:

Thought I'd add this here in case anyone is interested. Places to find people who "Still Covid" in your area & online: https://t.co/T4ND4XbrpF & https://t.co/sP5wq4fAw5 You can also search on FB "Still Coviding ____" & see if there's a specific group on your area.

— Adriel Rose (@adriel_rose) March 1, 2023
Maskstravaganza
Where are the lawsuits?

A physician refused my reasonable accommodation request today and canceled my appointment.

The request? That they wear a KN95 or N95 during the appointment, since I'm immunocompromised and would be maskless for a good portion of it.

— Laura Casey (@LauraAnneCasey) April 4, 2023

"Luck is the residue of design." –Branch Rickey (and not John Milton, so far as I can tell):

DON'T be fooled by the "you are going to get it anyway" talk, this is a neg test 10 days after 1st flight(which was full)& 3 days after last flight. W/ proper masks which was never removed inside plane or airport & a co2 monitor, we safely traveled & STILL covid free!! pic.twitter.com/nxnt2OMDWk

— Kristen (@yarnbeez) April 5, 2023

To these sensible protections I would add nasal and oral sprays.
Sequelae
"The Effects of SARS-CoV-2 Infection on the Cognitive Functioning of Patients with Pre-Existing Dementia" [IOS Press]. n = 14. From the Abstract: "Fourteen COVID-19 survivors with pre-existing dementia (four with Alzheimer's disease, five with vascular dementia, three with Parkinson's disease dementia, and two with the behavioral variant of frontotemporal dementia) were recruited. All these patients had detailed cognitive and neuroimaging evaluations within three months before suffering from COVID-19 and one year later." From the Discussion: "The most noteworthy observation was that all 14 (i.e.,100%) patients, one year after SARS-CoV-2 infection, had fatigue, depression, objective attention/concentration difficulties, executive dysfunctions, slowed information processing speed, and sub-cortical type memory impairments, irrespective of their previous cognitive status. Patients with a previous deficit in those domains scored poorer in post-COVID-19 assessment than in other domains. Fluency deteriorated significantly following COVID-19. Slowly progressive dementias like Alzheimer's disease and vascular dementia, which usually have a fluctuating course, showed relatively unusual significant, relentless, and rapid progression in terms of deterioration of total ACE-III score at one year post-COVID-19. The spectrum of cognitive domain involvement followed a specific pattern, which indicates underlying disruption of frontal sub-cortical networks/connections."

"A social and medical examination of Long COVID as a "mass disabling event": Part 2″ [WSWS]. Part 1. "There are four theories for the possible causes of Long COVID: microclots in blood, immune dysfunction, the persistence of the virus over a long period and dysbiosis of the gut microbiome (disruption to the gut's normal micro-organisms). Studies are in their very early stages, and other factors will most likely emerge in the future after further research." • Why just one? Why not all four?
Science Is Popping
"SARS-CoV-2 restructures host chromatin architecture" [Nature]. From the Abstract: "These findings show that SARS-CoV-2 acutely rewires host chromatin, facilitating future studies of the long-term epigenomic impacts of its infection." And from the body: "COVID-19 patients with severe symptoms often show two immuno-pathological features: a delayed or weakened innate immune response (that is, interferon gene expression) and an exacerbated production of pro-inflammatory cytokines (for example, IL6)25. Our 3D genome/epigenome maps provided an opportunity to understand the deregulation of these genes." • Perhaps an epigeneticist (?) in the readership can explain the difference between immunue deregulation and immune dysregulation, if any.

"MaineHealth to lead Long COVID study" [WABI]. " MaineHealth will be among those nationwide studying the cause of Long COVID. The MaineHealth Institute for Research announced Tuesday an $802,000 award from the National Institutes of Health. The team will examine whether the virus that causes COVID remains hidden in the tissue of those with Long COVID, further stressing their immune systems. NIH is leading a nationwide study to understand, prevent and find treatments for Long COVID. Symptoms include fatigue, brain fog, shortness of breath and sleep problems. The study is expected to take one year." • In January: Nirav D. Shah, Director of the Maine Center for Disease Control and Prevention (Maine CDC), is now Principal Deputy Director at the U.S. Centers for Disease Control and Prevention (U.S. CDC). By all accounts, Shah did a good job. Maybe he can make CDC better, instead of CDC making him worse.
* * *
Looks like "leveling off to a high plateau" across the board. (I still think "Something Awful" is coming, however. I mean, besides what we already know about.) Stay safe out there!
Case Data
BioBot wastewater data from April 3: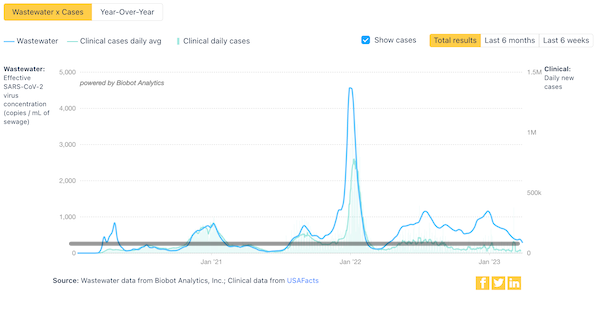 Lambert here: The decline did not bottom out; my pessism was happily unwarranted. However, note that if we look at "the area under the curve," more people have died after Biden declared that "Covid is over" than before. And this will continue.
For now, I'm going to use this national wastewater data as the best proxy for case data (ignoring the clinical case data portion of this chart, which in my view "goes bad" after March 2022, for reasons as yet unexplained). At least we can spot trends, and compare current levels to equivalent past levels.
Covid Emergency Room Visits
From CDC NCIRD Surveillance, from April 1: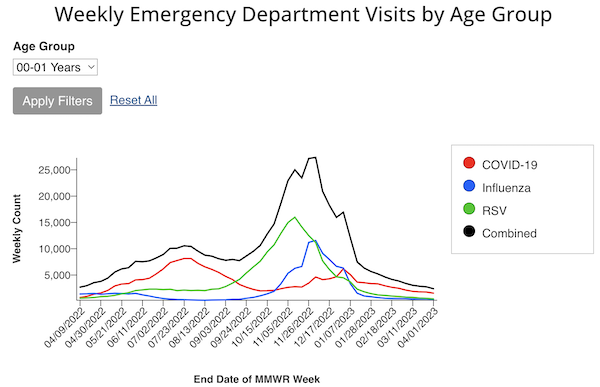 NOTE "Charts and data provided by CDC, updates Wednesday by 8am. For the past year, using a rolling 52-week period." So not the entire pandemic, FFS (the implicit message here being that Covid is "just like the flu," which is why the seasonal "rolling 52-week period" is appropriate for bothMR SUBLIMINAL I hate these people so much. Anyhow, I added a grey "Fauci line" just to show that Covid wasn't "over" when they started saying it was, and it's not over now. Notice also that this chart shows, at least for its time period, that Covid is not seasonal, even though CDC is trying to get us to believe that it is, presumably so they can piggyback on the existing institutional apparatus for injections.
Positivity
From the Walgreen's test positivity tracker, published April 5: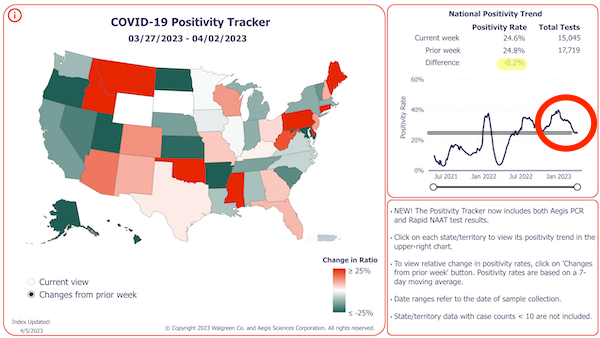 -0.2%. At the low point of the last valley, but the first increases in awhile.
Deaths
Death rate (Our World in Data):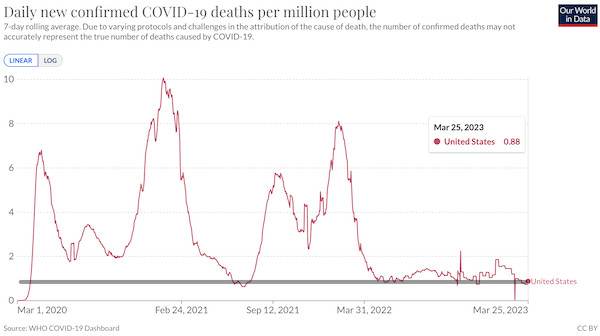 Total: 1,155,668 – 1,155,356 = 462 (462 * 365 = 168,630 deaths per year, today's YouGenicist™ number for "living with" Covid (quite a bit higher than the minimizers would like, though they can talk themselves into anything. If the YouGenicist™ metric keeps chugging along like this, I may just have to decide this is what the powers-that-be consider "mission accomplished" for this particular tranche of death and disease).
Excess Deaths
NOT UPDATED Excess deaths (The Economist), published March 28: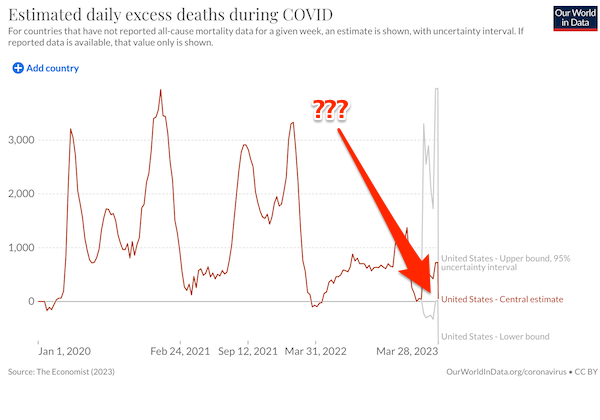 Lambert here: Based on a machine-learning model. Looks like a data issue, to me. I"m not sure how often this updates, and if it doesn't, I'll remove it. (The CDC has an excess estimate too, but since it ran forever with a massive typo in the Legend, I figured nobody was really looking at it, so I got rid it.
Stats Watch
Employment Situation: "United States ADP Employment Change" [Trading Economics]. "Private businesses in the US created 145K jobs in March of 2023, below an upwardly revised 261K in February and forecasts of 200K, in a sign the labour market is slowing as consumer demand ebbs and the cost of borrowing goes up."=
* * *
Today's Fear & Greed Index: 51 Neutral (previous close: 50 Neutral) [CNN]. One week ago: 40 (Fear). (0 is Extreme Fear; 100 is Extreme Greed). Last updated Apr 5 at 1:57 PM ET.
Groves of Academe
"Resolution: SA R31: Mandating Content Warnings for Traumatic Content in the Classroom" [Student Assembly, Cornell University]. Rejected by the President. The Abstract: "Urging university officials to require instructors who present graphic traumatic content that may trigger the onset of symptoms of Post-Traumatic Stress Disorder (PTSD) to provide advance notice to students and refrain from penalizing students who opt out of exposure to such content." And: "Be it further resolved, Student Assembly implores all instructors to provide content warnings on the syllabus for any traumatic content that may be discussed, : sexual assault, domestic violence, self-harm, suicide, child abuse, racial hate crimes, transphobic violence, homophobic harassment, xenophobia." • "Including but not limited to." Who decides? Nothing about class, naturally.
"Resolution: SA R31: Mandating Content Warnings for Traumatic Content in the Classroom" [Office of the Assemblies, Cornell University]. "Such a policy would violate our faculty's fundamental right to determine what and how to teach, preventing them from adding, throughout the semester, any content that any student might find upsetting. It would have a chilling effect on faculty, who would naturally fear censure lest they bring a discussion spontaneously into new and challenging territory, or fail to accurately anticipate students' reaction to a topic or idea. And it would unacceptably limit our students' ability to speak, question, and explore, lest a classroom conversation veer into an area determined "off-limits" unless warned against weeks or months earlier. Moreover, we cannot require that "students who chose to opt-out of exposure to triggering content will not be penalized, contingent on their responsibility to make up any missed content." Learning to engage with difficult and challenging ideas is a core part of a university education: essential to our students' intellectual growth, and to their future ability to lead and thrive in a diverse society. As such, permitting our students to opt out of all such encounters, across any course or topic, would have a deleterious impact both on the education of the individual student, and on the academic distinction of a Cornell degree." • Nobly said (by the administrators who systematically hollowed out the professariat and replaced them with ill-paid non-tenure track adjuncts).
News of the Wired
"GRID WORLD" [Alexander Miller]. "When I was a kid, my dad gave me a piece of paper with a grid printed on it. … My dad showed me how we could use the labeled rows and columns of the grid to address places of interest in our imagined islands: buried treasure was at square "B-4", the entrance of the cave was at square "C-2″. We listed out the landmarks next to the map, creating a coordinate-based index. The grid plus index elevated my child-like imaginary treasure island into the grown-up world of official maps and systems, and thereby transformed it into a real, visitable place. An obsession was born. I was intoxicated by graph paper." • This is great. Also, the author is a HyperCard fan. Too bad HyperCard was never Internet-enabled. The world might have been a different and better place.
* * *
Contact information for plants: Readers, feel free to contact me at lambert [UNDERSCORE] strether [DOT] corrente [AT] yahoo [DOT] com, to (a) find out how to send me a check if you are allergic to PayPal and (b) to find out how to send me images of plants. Vegetables are fine! Fungi and coral are deemed to be honorary plants! If you want your handle to appear as a credit, please place it at the start of your mail in parentheses: (thus). Otherwise, I will anonymize by using your initials. See the previous Water Cooler (with plant) here. From RM: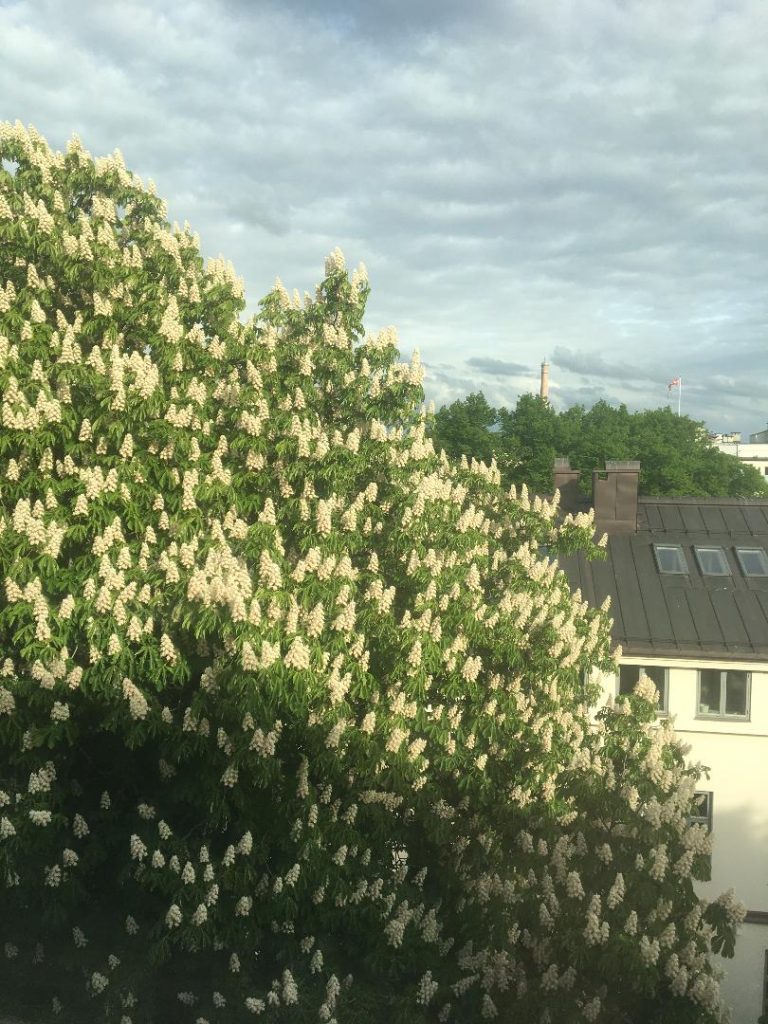 RM writes: "View out the third story window of the ABnB in Oslo, Norway."
* * *
Readers: Water Cooler is a standalone entity not covered by the annual NC fundraiser. So if you see a link you especially like, or an item you wouldn't see anywhere else, please do not hesitate to express your appreciation in tangible form. Remember, a tip jar is for tipping! Regular positive feedback both makes me feel good and lets me know I'm on the right track with coverage. When I get no donations for five or ten days I get worried. More tangibly, a constant trickle of donations helps me with expenses, and I factor in that trickle when setting fundraising goals:
Here is the screen that will appear, which I have helpfully annotated: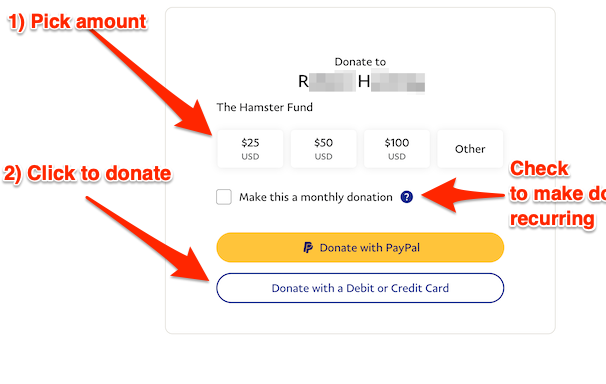 If you hate PayPal, you can email me at lambert [UNDERSCORE] strether [DOT] corrente [AT] yahoo [DOT] com, and I will give you directions on how to send a check. Thank you!