By Conor Gallagher
Nearly century-old protections for child labor are eroding across the country as violations of child labor laws rise, and state lawmakers, pushed by big business, move to weaken the standards that protect children in the workplace.
While the violations increase, so have the media stories in recent months, but none dig into the question of why there is a nationwide push to get children to work now.
The Washington Post reveals how the system is predictably brutal:
Child labor law violations going up and up in the US

But families — not the companies that hire children — often face the most severe forms of punishment & see their lives destroyed

Must read from @LaurenKGurley @mariasacchetti https://t.co/521TShfe3B pic.twitter.com/cpVckU0AwU

— Jeff Stein (@JStein_WaPo) March 5, 2023
The New York Times has run two recent long pieces on child immigrant labor – one in February and the other on April 17 –  noting that "this labor force has been slowly growing for almost a decade, but it has exploded since 2021, while the systems meant to protect children have broken down."
Oddly enough, it only mentioned the pandemic in passing – a total of five times, always citing it as the reason the children left home for work in the US. Nothing about labor shortages in certain industries and nothing about employers' efforts to keep wages down.
The Times seems to believe the growth in child labor is just some sort of accident:
The growth of migrant child labor in the United States over the past several years is a result of a chain of willful ignorance. Companies ignore the young faces in their back rooms and on their factory floors.
But the evidence shows it is anything but willful ignorance; business is actively seeking to weaken child labor laws and employ children.
Who Is Pushing the Recent Wave of Legislation?
In March Arkansas eliminated the state requirement to verify that children are at least 16 before they receive a job. Many more states are considering similar legislation. From The Guardian: 
In Ohio, lawmakers are considering a bill that would let 14- and 15-year-old children work year-round until 9pm each day. The bill has bipartisan support and includes a resolution that would ask the federal government to change its child labor laws.

In Iowa, legislative proposals would allow children at least 15 years old to sell alcohol and children at least 14 years old to work specific jobs in meatpacking plants. The Iowa bill would also protect companies from liability if a child got sick or injured or died while at work.

Lawmakers in Minnesota, which is led by a Democratic governor, Tim Walz, have filed a bill that would permit children aged 16 and 17 to work construction jobs.
It's not just in the US, either. To the north, Canada is also turning to child labor:
"16yo can have summer jobs!" Come on. We are talking about trends and increasing instances of children working industrial and formerly unionized jobs that were pushed to the private market https://t.co/lKa98Lr0ub

— Amanda Hu (@amandalhu) March 4, 2023
According to the Economic Policy Institute, the "attempts to weaken state-level child labor standards are part of a coordinated campaign backed by industry groups intent on eventually diluting federal standards that cover the whole country." Some of the other supporters are Americans for Prosperity; Home Builders Association of Iowa; Iowa National Federation of Independent Business (NFIB); Iowa Farm Equipment Dealers Association; Iowa Association of Business and Industry (ABI); and the Iowa Hotel and Lodging Association, and the National Restaurant Association.
The bill originated in a child labor "working group" at the Iowa Workforce Development Board, overseen by Gov. Kim Reynolds.

Most board members are corporate CEOs and lobbyists. Meeting notes show discussion of this bill as early as last November. https://t.co/pzjRmF0r5b pic.twitter.com/gNiLcfomfN

— More Perfect Union (@MorePerfectUS) April 3, 2023
They're pushing such laws because they want more low-cost labor. Take the example of Nebraska. Lawmakers there introduced a bill to pay two groups of young workers below the state's current minimum wage. More:
 In 2022, Nebraska voters approved a ballot measure to increase the minimum wage to $15 by 2026, starting with an increase from $9 to $10.50 in January 2023 (Mast, Woods, and Sherer 2022). In direct opposition to this change, the bill proposes that 14- to 17-year-olds be paid only $9, with a gradual increase to $10 by 2026. The bill also proposes paying "training wages" to 18- and 19-year-olds of $9.25 an hour, increasing to $10 by 2026 and then remaining at 75% of the minimum wage thereafter. In defense of his proposal to pay young workers a subminimum wage, State Senator Tom Briese (R-Albion) stated that "we shouldn't be making it harder for employers to hire young folks"
The Business Model Requires Cheap, Exploitable Labor 
According to research from the University of California, Davis, by the end of last year there were close to 2 million fewer working-age immigrants in the United States than there would have been if pre-pandemic immigration continued unchanged. From CNN:
In March 2020, President Trump invoked Title 42 – a law enacted during the pandemic to prevent the spread of Covid – that has kept migrants and would-be asylum seekers out of the country.

But the decrease in legal immigration over the last two years has hurt American businesses. Especially in industries that require lower skilled labor: construction, agriculture, and hospitality.

The lack of available workers has pushed wages higher.

The biggest impact comes to industries like construction, agriculture, and especially hospitality – which are reliant on immigrant workers. Those types of industries had higher rates of unfilled jobs last year – adding to existing labor shortages, according to UC Davis research. There are currently 10.3 million open jobs in the US – 377,000 in construction and 1.6 million in hospitality.
As we see above, those same industries are the ones now pushing to weaken child labor laws.
Congress could be increasing penalties for child labor violations, upping funding for agencies that enforce labor standards, eliminating occupational carve-outs that allow for weaker standards in agricultural employment, passing the Protecting the Right to Organize (PRO) Act, and implementing immigration reforms that curb the exploitation of unauthorized immigrants and unaccompanied migrant youth.
Instead it is now working to pass "The Essential Workers for Economic Advancement Act," which would create a new visa program for workers in industries like hospitality.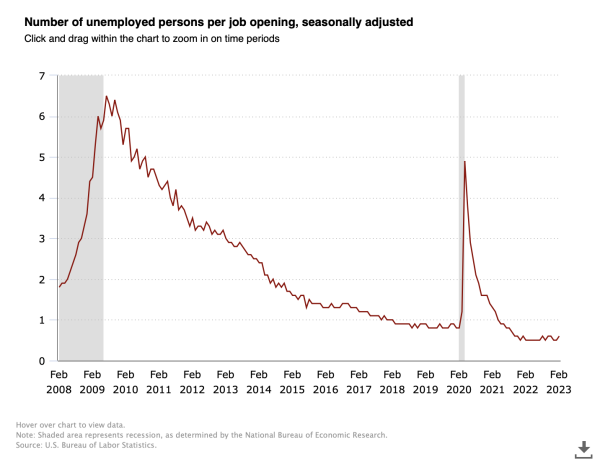 The graph above highlights the issue, but unless the Fed can effectively destroy the economy, there's a big reason it's not expected to rebound anytime soon.
What Else About That Labor Shortage?
Last September the National Bureau of Economic Research released numbers that showed that on top of the (at that time)  quarter-million people of working age who died from coronavirus, at least twice that number across all ages have permanently disappeared from the workforce.
More recently the Brookings Institution estimates that "the labor force is about 900,000 people smaller than one would have expected, primarily because of deaths related to COVID-19 and reduced immigration."
And that doesn't even take into account Long Covid, which up to 30 percent of Americans develop after infection. A recent study by the New York State Insurance Fund found that roughly 18 percent of people with Long Covid didn't return to work for more than a year.
Brookings added that, "Moreover, even if immigration fully rebounds that effect will likely be persistent because some of the people who died from COVID-19 would have been expected to remain in the labor force for decades to come." Brookings concludes:
Ultimately, the amount of goods and services the U.S. produces will likely have to adjust to align with a smaller labor force. However, such challenges with regard to the size of the labor force would be mitigated if policies and other structural changes increased participation rates.
Well, one policy to mitigate such challenges would be to get more children working. That too will have long term effects. The Economic Policy Institute notes that the "youth labor force participation declines over the past 20 years reflect that a steadily growing share of young people are choosing to complete high school and obtain additional education in order to increase their long-term employability and earnings."
But there are now unexplained drops in public schools enrollment. From K-12 Dive:
More than 240,000 students have unaccounted absences — or are missing from public school rolls — according to an analysis of publicly available enrollment data in 21 states by The Associated Press, Stanford University's Big Local News project and Stanford education professor Thomas Dee.

The research dug into the public school enrollment drop brought on by the pandemic between 2019-20 and 2021-22, looking to see where those students went. While the increasing homeschooling population and decreasing size of the school-aged population contributed to roughly a quarter of the decline, the analysis found more than a third of the "missing" students are left unexplained — even when considering the small increase in private school enrollment.
Maybe the kids had to get to work to start paying off their school lunch debt.