Dear patient readers,
Many of you are getting an icky popup about cookie preferences. We are in the process of getting that squashed. Lambert found a kludge for iOS:
Victory is mine! On iOS Safari.

I installed ProScript, which is free:

https://apps.apple.com/sa/app/pro-script/id1275541103

and added a blocking rule:

https://haltinggold.com/

To get it to work, you must turn it on in Safari settings, under Content Blocking Extensions; that's what I had not yet done in my comment above.

Of course, the ad people should fix this but this may help diagnose and at least there's a workaround.
Again, apologies. I am super pissed on your and my behalf.
* * *
A Japanese Island Where the Wild Things Are New York Times (furzy)
T. rex skeleton sells for more than $6m BBC Kevin W: "Indiana Jones – 'It belongs in a museum!'"
But: Bone to pick: Is the dinosaur fossil investment craze over? DW (resilc)
Early crop plants were more easily 'tamed' EurekaAlert (Anthony L)
New Zealand feral cat hunting competition for children prompts backlash Guardian (furzy) :-(
Redneck Rice Tractor Drag Racing in Thailand YouTube (resilc)
The Rules of the Games in Tudor England Lapham's Quarterly. Anthony L: "The games we played."
'Radical by Nature' Review: Alfred Russel Wallace's Evolution Wall Street Journal. Anthony L: "Lovely chap."
Climate/Environment
China?
Are the Chinese nice? Gilbert Doctorow. I do not think Putin is nice or driven by religion as much as Doctorow posits. I think Putin pragmatically recognizes it is better to have friends and allies than enemies, and behaving in a polite manner (and being a good listener, a Putin trademark) increases the odds of eliciting friendly responses which can hopefully condition that sort of behavior. This amounts to making diplomatic skills a high priority among all senior officials (or at least most; Medvedev and Zarakhova are house bad guys). By contrast, the West has become so overconfident and lazy that we seldom bother considering what our counterparties might want.

Sleepwalking into war, illustrated. This is both absolutely terrifying and utterly depressing. https://t.co/VrP84AEbgY

— Arnaud Bertrand (@RnaudBertrand) April 18, 2023

China Brings Peace To Yemen, Syria And … Palestine? Moon of Alabama (Kevin W)

Macron 'working on secret plan' with China to end Ukraine war Telegraph. Working on a plan and getting a deal done are two different things.
European Disunion
From Politico's morning EU newsletter:
FROM HERO TO WEIRDO: EU leaders barely hid their relief when Luiz Inácio Lula da Silva defeated Jair Bolsonaro — aka the "Tropical Trump" — last year in Brazil's presidential election, vowing to protect human rights, democratic institutions and the Amazon rainforest.

Reality bites: Now, EU foreign affairs officials are concerned about Lula's increasingly hostile rhetoric on Ukraine, parroting Russian talking points and urging Europe and the U.S. to stop helping Ukrainians defend themselves against Vladimir Putin's illegal and brutal invasion.

Leaked: Europe's Lula worries. Hopes were high in Brussels and other EU capitals that this year would provide a window of opportunity to strike a historic trade and cooperation deal with South America's Mercosur trading bloc — granting Brazil, Argentina, Uruguay and Paraguay much-needed investment and reciprocal access to EU markets while allowing the EU to diversify away from China. But now, the EU is "concerned about Brazil's position on Russia's war on Ukraine and Brazil's lack of delivery on climate [and] environment," reads a confidential briefing that EU foreign affairs ministers will discuss at their summit next week.
Old Blighty
UK inflation remains in double digits as food prices keep rising Financial Times

Sheikh Jassim confident of Manchester United deal amid new minority interest Guardian. Resilc: "Name change to Private Equity United?"

The implosion of the Scottish National party Financial Times
New Not-So-Cold War
High stakes for Ukraine as clampdown on corruption comes under scrutiny Guardian (resilc). Petty, no class behavior. This story was clearly triggered by the latest Seymour Hersh report, Trading with the Enemy, yet no mention whatsoever.

Lieven inside Ukraine: some real breaks, and insights Responsible Statecraft (resilc)

US warns Russia not to touch American nuclear technology at Ukrainian nuclear plant CNN. ZOMG, the US keeps doubling down on embarrassing behavior.
L'affaire Leaker
Age of new Psy Ops | Who is behind the US intelligence leaks? Scott Ritter Show, YouTube. With Larry Johnson. I am a wee bit annoyed. Johnson has reversed himself on his earlier (strong) claim that CIA top secret docs could not be had on DoD servers at military bases. Johnson was not relying only on his own experience but on that of people with more recent and presumed through their networks current knowledge. Someone contacted him and said the JWICS network (more on that soon) as of late could now be accessed at secure facilities (called SCIFs) operated by the DoD, for the benefit of CIA personnel working at those facilities. The issue is not Johnson having to walk back something he said but that he said it in an over-confident manner, so that people like me stuck our necks out based on the belief that his scuttlebutt was solid.

Having said that, the story about Teixeira still really does not add up. National Guardsmen who have not been called to active duty work only one weekend a month. It's hard to see how he could have anything more than a bare minimum grasp of the systems. Cape Cod is a backwater, so it isn't as if there would be regular meetings/presentations with big dogs there, particularly on weekends. Ritter and Johnson point out that unusual use of the systems, like a lot of poking around and/or printing, would be noticed fast.

Last week, I asked a contact who has done a lot of classified IT forensic/analytical work for the DoD and a three-letter agency for his take. His reply:

I have to admit, I have not been following this story beyond the headlines. From the little that I have gathered, the pilfered documents are in the highest sensitivity levels. It is hard to understand how this 21 AF Guard member would even know where to look for them, let alone have access to them. I have avoided wasting my time because with stakes as high as theses documents have, I would have good reason to doubt any "fact" out in the public domain. There are a number of valid reasons (and other dubious too) to engulf the narratives with smoke. Therefore, I follow stories like these more for the reactions than the story itself.

To have access to classified materials, a person needs a clearance AND need to know. Also, JWICS is only the network that connects together TS systems, repositories, computers, and printers. These documents are not the kind that would be available to just anyone with a JWICS account. He would need to request and be granted access to the repositories based on his need to know.

The most interesting thing that jumped out at me was that they were photos of the documents. This would mean that he either smuggled the docs out or smuggled a camera in (and back out). EVERY printed classified document is recorded, logged, and inventoried. You can't even destroy a classified print out without going through specific procedures. If he smuggled them out, procedures should catch that they were missing. He would have to had brought them outside the SCIF (maybe for lunch) and brought them right back so they were not missing. That is very overtly criminal.

Taking photos inside is even more crazy. Because of security protocols, SCIFs have almost no electronic devices in them. Radio frequency scans are run regularly. Bringing a cell phone (even in airplane mode) into a SCIF would be as detectable as trying to find a blaring boom box in a library.

Leaked Document Reveals the US Spying on the UN Secretary-General Antiwar
Syraqistan
China Offers To Facilitate Israel-Palestinian Peace Talks Associated Press. I'd love to have been a fly on the wall when Anthony Blinken got the news.

The missile strikes that killed Israel's deterrence The Cradle (Chuck L)
NATO crimes in Yugoslavia: Kosovo Liberation Army leader Hashim Thaçi on trial for war crimes Defend Democracy
Imperial Collapse Watch
Mexican president accuses Pentagon of spying; vows to restrict military information Reuters. Resilc: "Si se puede. Will see usa usa special force in Mexico within 5 years."

While reserves aren't a true forward-looking measure of dominance, for those who do care apparently the erosion of dollar reserves last year was 10x the average annual pace of decline over the past twenty years. Definite acceleration. pic.twitter.com/gqKWXDzWDo

— Philip Pilkington (@philippilk) April 18, 2023

However, one expert who has no vested interest on this topic thought the authors of the paper were ignoring confounders: "Rapid rate changes of great size will move stuff around. Haven't see big swings like the one we've had in a long while." Even though the geopolitical types have focused on the effort of various countries to avoid using the dollar in trade transactions, a 2011 Bank of Settlements paper pointed out that in 2010, the total amount of financial flows into the US was at least 60 times the current account deficit, counting only securities transactions. I don't have anything more current, but a protracted period of super low interest rates would favor leveraged speculation and hence investment/financial markets activity over real economy activity.
2024
DeSantis Meets With Republicans on Capitol Hill, to a Lukewarm Response New York Times (furzy)

Ron DeSantis Donor Meltdown Revealed in Private Chats Rolling Stone (furzy). They want him to be Trump, just not as much. Irrespective of what you think of DeSantis, not hard to see why it's difficult to deliver on a requirement like that.
Democrats en déshabillé
Democrats forced to play Feinstein waiting game after GOP puts up roadblock The Hill

GOP senators dig in against Feinstein committee swap Axios (resilc). The Dems acting unhappy and perplexed is a bit rich.
Abortion
Safe havens? As some nations restrict access, a look at Europe's abortion limits France24 (furzy)
L'affaire Jeffrey Epstein
JPMorgan Chase CEO Jamie Dimon to be deposed in Epstein suit ABC (Kevin W). Judge Jed Rakoff in charge!
Police State Watch
S charges 4 Americans, 3 Russians in election discord case Associated Press. Not Again (hoisted from comments):

Now you can be arrested for not agreeing that America is the greatest country in the world? Indicted for "sowing discord" ? WTF I assume all you people on here on NC are next on the list.
Gunz
Misfire: Williamson Adds New Disinformation on the History Behind the Second Amendment Jonathan Turley

How these Republicans intend to solve mass shooting problem BBC (resilc)
Our No Longer Free Press
Lee Fang vs. Mehdi Hasan, Round 2 Matt Taibbi

Fox News and Dominion reach last-minute $787 million settlement The Hill. Just so you know, this settlement does not necessarily mean that Fox judged it was at high risk of losing the case. The legal standard for what rises to being defamation is pretty high and since this case was settled, no new legal precedent was set. But it does say that Fox thought it was at high risk of being seriously damaged….and Fox was set to sustain damage with discovery and questioning of Fox executives and stars in court and that alone can be motivating. For instance, yours truly got a very big settlement when a one-time client behaved in an egregiously bad faith manner. The legal case was pretty weak but I would clearly get past summary judgement and the discovery process would enable me to depose top clients of theirs and expose their dishonesty. And this number suggests a lot of reputational exposure, given some experts saw the size of Dominion's demand for damages as well above what could be justified even accepting the premise that Fox had behaved very badly.

Oklahoma county leaders caught on audio talking about killing reporters and complaining they can no longer lynch Black people NBC (resilc)
Woke Watch
Trans Kids Are Losing Critical Healthcare, and Their Parents Are Panicking Vice. Resilc: "Join the crowd, EVERYONE is losing healthcare of some sort…..USA USA."

Disneyland launches 'Pride Nite' amid Bob Iger's ongoing war with Ron DeSantis in Florida Daily Mail
Sens. Warren, Reed urge Treasury's OFR use 'all its tools' after SVB failure Yahoo Finance (resilc). Always fighting the last war.
Depositors pull nearly $60bn from three US banks as Apple raises pressure The Local
US Republican lawmakers slam SEC chair on 'rushed' rulemaking Reuters (Kevin W). The generic version of this headline is "US Republican lawmakers slam SEC [for getting out of bed]".
Speaker Kevin McCarthy Heads Down Wrong Path on Debt Limit Bloomberg
Public pessimism on the economy hits a new high, CNBC survey shows CNBC (resilc)
Guillotine Watch
Elizabeth Holmes is asking a judge to reverse her 'unjust' conviction or reduce her 11-year sentence one week before she's set to report to prison Business Insider
Class Warfare
Clarence Thomas Can Do No Wrong New York Times (resilc)

300 Years of 'Too Big to Jail' New York Review of Books (Paul R)

Scoopers at Ben & Jerry's in Burlington Seek to Unionize Seven Days Vermont (resilc)

Feudalism by Design: On Quinn Slobodian's "Crack-Up Capitalism" Los Angeles Review of Book

Democratic majority on Postal Board of Governors is not firing Trump appointee Louis DeJoy, bringing misery to postal customers. Standards disintegrating. 1st class letter from CT to DC took 30 days. Priority mail containing tax returns? Lost. Overnight express? 2 days or more…

— Ralph Nader (@RalphNader) April 17, 2023
Antidote du jour. Tracie H: "Catnip tea?"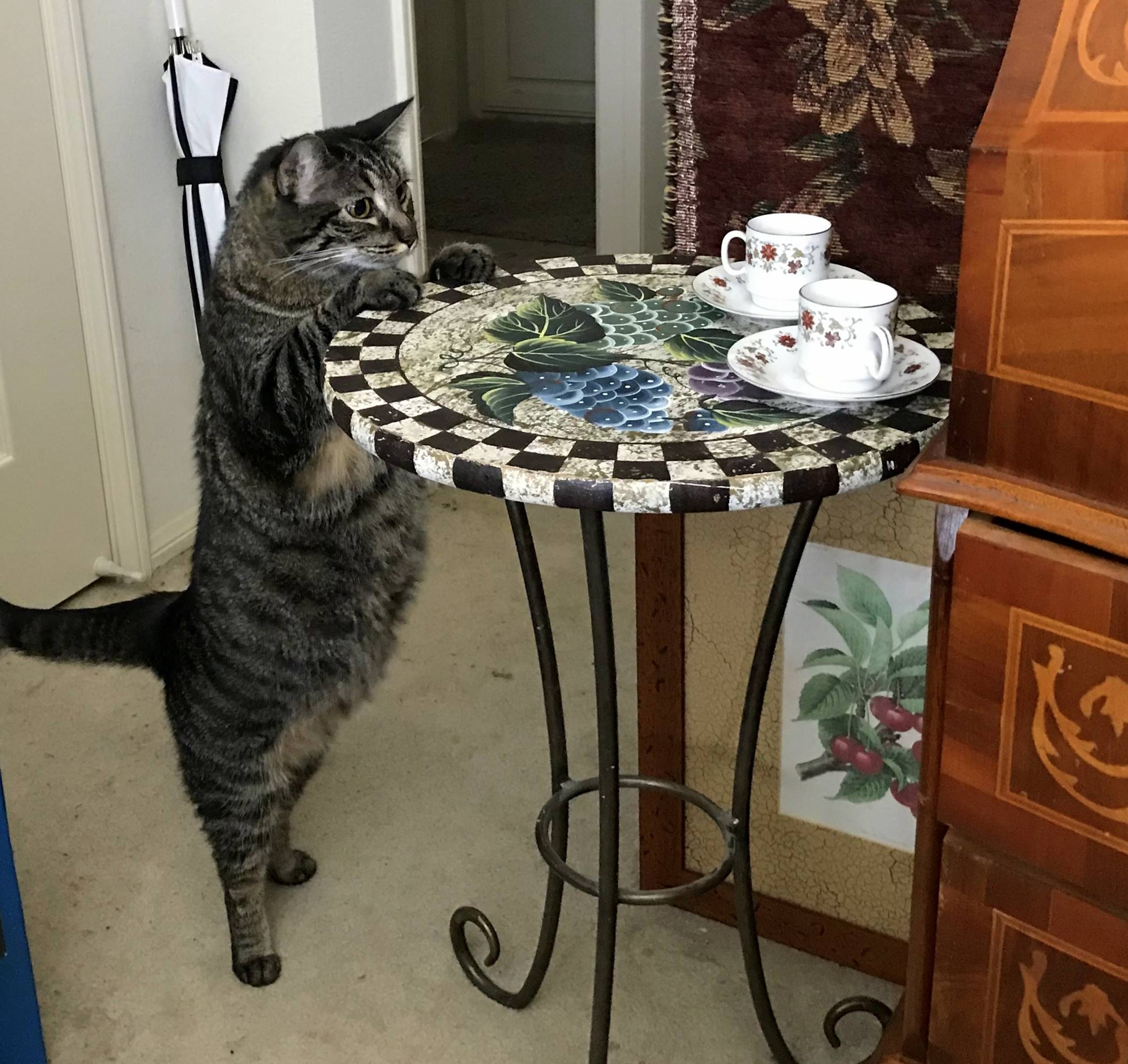 And a bonus (Chuck L):
Helping this trapped baby camel get back safely to her mom.
A True Hero!! 🙏
We need more people like him in this world. 🐪❤🐫 pic.twitter.com/iKWpDk4xYD

— Nature is Amazing ☘️ (@AMAZlNGNATURE) April 18, 2023
A second bonus (Chuck L):
Tuesday the cheetah and her emotional support tortoise Penzi pic.twitter.com/9Smh1vmubV

— Animals Being Bros (@AnimalBeingBro5) April 18, 2023
See yesterday's Links and Antidote du Jour here.