Yves here. Both my parents were born just before the Depression. I therefore had their deep disapproval of waste, particularly of food, drilled into me. For instance, when I lived in New York City, I would sometimes go to E.A.T., a fancy grocer run by a member of the famed Zabars clan who'd had a falling out and launched his own brand. I'd usually shop right before closing to snag some coffee beans for the AM (that store was always so empty even at peak time yet replete with fantastic meats, a wide range of cheeses, and fish that the only explanation I could come up with was that it was actually in the money laundering business).
In any event, I found it distressing to see the staff with huge bags of bread that they were throwing out. They said it was surplus to what the food pantries for the homeless would take.
That sort of thing happens all over the US with perishables, many of which are still quite fresh.
So yes, there's potentially a lot of low-hanging fruit (pun intended) in the food waste arena. But when I got my MBA, in my decision theory course, I learned to calculate the cost of overage and underage (as in having too many or too few goods relative to customer orders). It's not hard to see that with food, merchants judge the cost of underage to be high, not just in terms of the loss of the sale of that item, but potentially the entire grocery cart that would have gone with it and future customer visits.
If we can't even tackle that, it's going to be even harder to get people in advanced economies to eat less meat, absent making it more expensive. But taxing is out….and will scarcity come soon enough?
By Daniel J. O'Brien, a policy analyst at Energy Innovation and Devan Crane, a program associate at Aspen Global Change Institute. Originally published at Yale Climate Connections
While recent federal bills have advanced climate solutions through the lenses of infrastructure, electricity production, and transportation, policymakers are now turning their attention to another major source of planet-heating emissions: the food system. In its March 2023 report on U.S. biotechnology and biomanufacturing innovation, the White House emphasized a coming focus on climate-centric agriculture. In February, a group of House representatives launched a task force to ensure that the 2023 farm bill contains strong climate provisions.
Why This New Focus on the Food System?
In 2018, the Intergovernmental Panel on Climate Change, or IPCC, — a body of experts created to inform governments about scientists' state of knowledge on climate change — laid out a report detailing the consequences of global warming of more than 1.5 degrees Celsius (2.7 degrees Fahrenheit) above pre-industrial levels. Above this threshold, Earth's climate would change in dangerous ways, including frequent heat waves, rising sea levels that flood coastal cities, and biodiversity failures that could disrupt entire ecosystems. Per the IPCC's 2023 report, we have already hit 1.0°C of warming.
Absent any revolutionary changes in dietary patterns or agricultural production practices, global food production and consumption is projected to contribute an additional 0.7 to 0.9°C of warming, sending us crashing through the looming 1.5°C ceiling
Historically, changing food production and consumption practices has been slowly growing in importance in climate policy decision-making. With up to 0.5°C of mitigation potential, the food system presents governments, corporations, and individuals with the next great opportunity for impactful climate action.
Where Do Food-Related Emissions Come From?
From farming and transportation to packaging and consumption, food-system-related emissions contribute to climate change in numerous ways. Identifying where those emissions come from will allow us to cut the footprint of the food system in the coming decades.
According to the United Nations, nearly two-thirds of food emissions stem from land use and land-use changes. Trees and grasslands naturally absorb and store carbon dioxide as they grow. But across the world, forests are torn down at an annual rate of 10 million hectares — an area the size of South Korea — in large part for agricultural expansion. As these trees are cleared, they release stored carbon into the air, nullifying the climate storage impact they would have had over their lifetimes. Similarly poor management practices of pastures, grasslands, and croplands reduce lifetime soil carbon sequestration potentials.
Another major contributor to food-system pollution is food loss and waste. Food loss occurs largely before food reaches the consumer due to poor supply-chain management or lack of technology or markets to avoid spoilage during transportation. Food waste, by contrast, is the result of end-consumer behavior—and, on its own, causes 8 to 10% of all human-caused heat-trapping pollution. High-income countries predominantly struggle with food waste issues, while low-income countries grapple more with food loss.
When food is wasted, so too is all the energy used in its production and transport. Further, food waste sent to landfills breaks down, releasing significant amounts of methane, a heat-trapping gas with 25 times the warming potency of carbon dioxide.
Food loss and waste are particularly problematic when it comes to produce. For example, for every carton of cherries consumed, farmers need to produce three cartons. That's because for every unit eaten, one is wasted by consumers and another is lost between the farm and retail stages.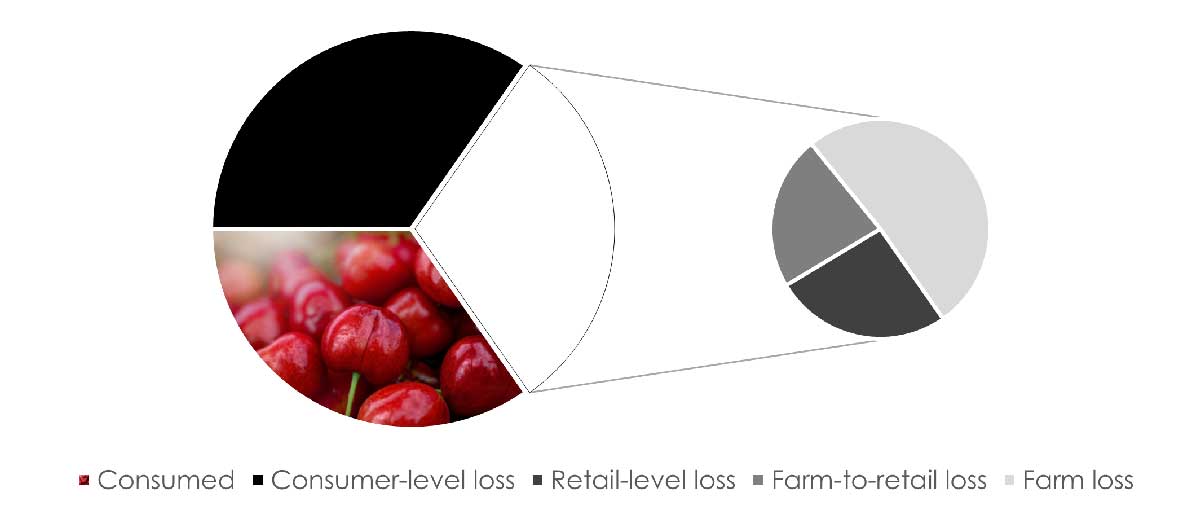 According to a recent study, several factors contribute to consumers' wasteful behaviors. For instance, some people are put off by imperfections in food appearance. Misunderstandings around "best-by" vs. "use-by" dates further exacerbate waste issues. Understanding these drivers of consumer waste can help inform targeted policies and educational campaigns.
At-home food waste is inherently more tangible to consumers — like when you forget that bag of now-slimy spinach in the refrigerator or scrape leftovers into the trash can — and therefore serves as a ripe opportunity to build awareness. But helping people understand earlier life-cycle loss can also help them develop more mindful habits. Educating consumers on how food is lost during harvesting, farm-to-retail transportation, or when surplus is left on store shelves can encourage them to buy locally sourced food, only buy what they need, and reduce wasteful practices.
Dietary Shifts Needed to Change How We Use Land
Another recent study that mapped out potential pathways to a net-zero-emissions food system found that virtually all paths to net-zero relied on consumers pivoting to a more plant-forward diet. Specifically, to reach net-zero, we must reduce livestock products by 10 to 25%.
Raising livestock for consumption is an emissions-heavy process. Some heat-trapping gases come from tilling soils and applying fertilizers, but the biggest source is land-use change. Almost 40% percent of all habitable land across the globe is now used for meat and dairy production. If demand for animal products were reduced, this area could be reforested with trees or restored to diverse grasslands that absorb carbon dioxide as they grow.
The potential to reduce demand for animal protein has also grown in the last decade with the development of technologies to produce affordable meat alternatives that closely resemble animal-based meat in appearance and taste. Based on plants or microorganisms, these proteins' production release significantly less emissions than traditional, commercial-scale livestock cultivation. According to the World Economic Forum, investment in plant-based protein offers the highest heat-trapping pollution savings per dollar of invested capital of any sector but remains significantly under-invested. This burgeoning industry offers a major opportunity for smart policymaking and investing.
Beyond Individual Decisions
Though consumer decisions can reduce food-system emissions, well-designed policies at all levels can facilitate both consumer- and pre-consumer-level change.
Stores can adopt circular economy practices, redirecting food from landfills by donating still-good food for human and animal consumption and routing inedible foods to composting, bioproducts, and sewage and wastewater treatment facilities. These actions will cut down on food loss and waste and have created many new services for consumers. Many people can now access composting/biofuel services, donate to food banks, or subscribe to a farm share for "ugly" fruits and vegetables that do not meet grocery stores' visual standards.
At the supply-chain level, energy-efficiency improvements can be made both on the farm and along the downstream food chain. Smart irrigation techniques can reduce agricultural water and energy waste. Changes to industrial operations, like switching off not-in-use machinery and improving process heat equipment's insulation, can add up to 20 to 30% energy-use savings.
For their part, governments have distinct agency over the future of our food systems. Leaders are in a position to incentivize afforestation and reforestation as consumer diets pivot to less land-intensive products, enact regulations that support lower-emissions foods, and shift farm subsidies toward plant-based proteins.
Due to a growing global population, food demand is expected to rise by as much as 50 to 110% over the coming decades. Nonetheless, emerging research suggests that we can abate more than 55% of anticipated warming from global food consumption by reducing food loss and waste, shifting diets, and adopting production practices that prevent heat-trapping pollution. By confronting food system challenges, we can keep our planet from warming and have our cherry pie too.