By Lambert Strether of Corrente.
Bird Song of the Day
Hermit Thrush, Pierson Park, Larimer, Colorado, United States.
* * *
Politics
"So many of the social reactions that strike us as psychological are in fact a rational management of symbolic capital." –Pierre Bourdieu, Classification Struggles
2024
"Ex-CIA chief spills on how he got spies to write false Hunter Biden laptop letter to 'help Biden'" [New York Post]. "Joe Biden's presidential campaign prompted former acting CIA Director Mike Morell to 'help Biden' by organizing 50 colleagues to sign a letter in October 2020 falsely claiming that damning emails from Hunter Biden's laptop published by The Post were Russian disinformation. In private sworn testimony, Morell told the House Judiciary Committee that Antony Blinken, now secretary of state, was the senior campaign official who reached out to him 'on or before' Oct. 17, 2020, three days after The Post published an email from the laptop suggesting Hunter had introduced his Ukrainian business partner to his father, then-Vice President Biden. Morell, identified as a potential CIA director under Biden, said he organized the letter to 'help Vice President Biden … because I wanted him to win the election.' Until Blinken's call, Morell told House investigators, he had no intention of writing any statement exonerating Biden. But he agreed that the conversation with Blinken 'triggered … that intent' in him." • That's fair. Blinken triggers me, too. (Ukrainian irredentist Blinken, associated with a long train of policy disasters, was Biden's national security advisor during the campaign.)

"Why It Matters That Trump Is Leading The 2024 Primary Field In Endorsements" [FIveThirtyEight]. "Since the modern primary era began in 1972, there have been 17 Democratic or Republican primary fights that did not feature an incumbent president. The candidate with the most endorsement points3 on the day before the Iowa caucuses won 11. That's a better track record than polls have at the same point in the election: Since 1972, the leader in national polls4 on the day before Iowa has won the nomination just 10 out of 17 times." • Interesting.

"Robert F. Kennedy Jr. warns against 'system of socialism for the rich' as 2024 campaign launches" [FOX]. • Both Williamson and Kennedy are taking this line. But President Wakefield? No thanks.
Republican Funhouse
"GOP leaders scrambling to unite skeptical Republicans behind debt limit bill" [The Hill]. "House Republican conservatives and moderates alike are grumbling about the newly unveiled debt limit bill, leaving GOP leaders — who have just four votes to spare in the slim majority — rushing to shore up support as the House left Washington on Thursday for the long weekend…. 'I want the anticipation,' McCarthy said. 'I want you to see as the clock goes up. I want you to write stories like, I'm teetering, whether I could win or not, and the whole world hangs in the balance. And then I want to write a story after it passes: Would the president sit down and negotiate?'"
Democrats en Déshabillé
Patient readers, it seems that people are actually reading the back-dated post! But I have not updated it, and there are many updates. So I will have to do that. –lambert

I have moved my standing remarks on the Democrat Party ("the Democrat Party is a rotting corpse that can't bury itself") to a separate, back-dated post, to which I will periodically add material, summarizing the addition here in a "live" Water Cooler. (Hopefully, some Bourdieu.) It turns out that defining the Democrat Party is, in fact, a hard problem. I do think the paragraph that follows is on point all the way back to 2016, if not before:

The Democrat Party is the political expression of the class power of PMC, their base (lucidly explained by Thomas Frank in Listen, Liberal!). ; if the Democrat Party did not exist, the PMC would have to invent it. . ("PMC" modulo "class expatriates," of course.) Second, all the working parts of the Party reinforce each other. Leave aside characterizing the relationships between elements of the Party (ka-ching, but not entirely) those elements comprise a network — a Flex Net? An iron octagon? — of funders, vendors, apparatchiks, electeds, NGOs, and miscellaneous mercenaries, with assets in the press and the intelligence community.

Note, of course, that the class power of the PMC both expresses and is limited by other classes; oligarchs and American gentry (see 'industrial model' of Ferguson, Jorgensen, and Jie) and the working class spring to mind. Suck up, kick down.

* * *

No:

I guess the "Send us more money so we can hire a decent designer" pitch was considered and rejected. On the bright side, at last I know why the negative white space between red and blue in the Democrats' stupid logo is placed where it is. Pretty sexist if you ask me.
Realignment and Legitimacy
"Full audio released of Oklahoma sheriff discussing killing journalists" [The Oklahoman]. "A southeast Oklahoma newspaper has released the full audio recording it captured of county officials talking about killing journalists and lynching Black people. The McCurtain Gazette reported that the new audio includes more talk of harming journalists, as well as discussion of intimidating the local prosecutor. The Gazette published a summary in its Thursday edition, which hit newsstands Wednesday night. The newspaper does not have a web edition. The entire recording, which was captured March 6, lasts three hours and 37 minutes, the newspaper said. The Gazette said it is publishing the full audio to be transparent and to show the importance of public records." • That's quite a long meeting. I was looking for the musical, but here we are:

Good job, guys. Anyhow:

"They've gone about as fur as they can go."

Did the Top 40 list exist in the late Nineteenth Century? I don't think so. Nevertheless:

Populism learned its craft in popular music. The Top 40 was one of the earliest populist inventions, where music was ranked entirely on popularity. To this day you can't have a sensible discussion about the quality of music, without hearing 'it's all subjective'. /1 pic.twitter.com/11dI6bEmR9

— Henry Madison 🦠x0 (@RageSheen) April 20, 2023

So I think, historically, this tweet is intriguing but wrong. But intriguing!

"Axios Finish Line: Normal America" [Axios]. "After two speeches I gave this week, several audience members told me they struggled to understand why they felt like strangers in their own land. They described feeling like a normal person: They work hard, volunteer, and hang out at neighborhood parties, not on Twitter. But they also felt trapped in the abnormal, toxic political and media world surrounding them. New Gallup polling suggests they're hardly alone in feeling estranged. Turns out, 49% now call themselves independents — the same amount as self-described Republicans and Democrats combined." • Opportunity!
#COVID19
"I am in earnest — I will not equivocate — I will not excuse — I will not retreat a single inch — AND I WILL BE HEARD." –William Lloyd Garrison
Resources, United States (National): Transmission (CDC); Wastewater (CDC, Biobot; includes many counties); Variants (CDC; Walgreens); "Iowa COVID-19 Tracker" (in IA, but national data).
Lambert here: Readers, thanks for the collective effort. We are now up to 50/50 states (100%). This is really great! (It occurs to me that there are uses to which this data might be put, beyond helping people with "personal risk assessments" appropriate to their state. For example, thinking pessimistically, we might maintain the list and see which states go dark and when. We might also tabulate the properties of each site and look for differences and commonalities, for example the use of GIS (an exercise in Federalism). I do not that CA remains a little sketchy; it feels a little odd that there's no statewide site, but I've never been able to find one. Also, my working assumption was that each state would have one site. That's turned out not to be true; see e.g. ID. Trivially, it means I need to punctuate this list properly. Less trivially, there may be more local sites that should be added. NY city in NY state springs to mind, but I'm sure there are others. FL also springs to mind as a special case, because DeSantis will most probably be a Presidental candidate, and IIRC there was some foofra about their state dashboard. Thanks again!
Resources, United States (Local): AK (dashboard); AL (dashboard); AR (dashboard); AZ (dashboard); CA (dashboard; Marin); CO (dashboard; wastewater); CT (dashboard); DE (dashboard); FL (wastewater); GA (wastewater); HI (dashboard); IA (wastewater reports); ID (dashboard, Boise; dashboard, wastewater, Central Idaho; wastewater, Coeur d'Alene; dashboard, Spokane County); IL (wastewater); IN (dashboard); KS (dashboard; wastewater, Lawrence); KY (dashboard, Louisville); LA (dashboard); MA (wastewater); MD (dashboard); ME (dashboard); MI (wastewater; wastewater); MN (dashboard); MO (wastewater); MS (dashboard); MT (dashboard); NC (dashboard); ND (dashboard; wastewater); NE (dashboard); NH (wastewater); NJ (dashboard); NM (dashboard); NV (dashboard; wastewater, Southern NV); NY (dashboard); OH (dashboard); OK (dashboard); OR (dashboard); PA (dashboard); RI (dashboard); SC (dashboard); SD (dashboard); TN (dashboard); TX (dashboard); UT (wastewater); VA (dashboard); VT (dashboard); WA (dashboard; dashboard); WI (wastewater); WV (wastewater); WY (wastewater).
Resources, Canada (National): Wastewater (Government of Canada).
Resources, Canada (Provincial): ON (wastewater); QC (les eaux usées); BC, Vancouver (wastewater).
Hat tips to helpful readers: Art_DogCT, B24S, CanCyn, ChiGal, Chuck L, Festoonic, FM, FreeMarketApologist (4), Gumbo, hop2it, JB, JEHR, JF, JL Joe, John, JM (9), JW, KatieBird, LL, Michael King, KF, LaRuse, mrsyk, MT, otisyves, Petal (5), RK (2), RL, RM, Rod, square coats (11), tennesseewaltzer, Utah, Bob White (3).
* * *
Look for the Helpers
Another world is possible (1):

We're fortunate to have built a COVID safe community still trying to avoid infections. My toddler is in a 10 kiddo, all masked, outdoors sports class weekly. Enough demand there's a waitlist & multiple days. Kids experiencing carefree, pure joy without risking longterm health 😷 https://t.co/9z5EIN5QwS pic.twitter.com/fJmIwMDlmx

— CaliforniaCodes (@CaliforniaCodes) April 21, 2023

Another world is possible (2):

I hear depressing stories like Ruth's all the time…

📍Air filters in classrooms, but not switched on.

📍CO2 monitors hidden away in a drawer and never looked at.

📍Windows kept firmly shut.

We need to empower our children to take charge and show the adults how it's done. https://t.co/I5DCexKFMq pic.twitter.com/ir1d9gqvaZ

— Cat in the Hat 🐈‍⬛ 🎩 🇬🇧 (@CC14_CC14) April 20, 2023

Let the children make the classroom safe!
Maskstravaganza
Masks work:

Because #COVIDisAirborne, two rules formed the backbone of my protection:

(1) Wear a well-fit N95.
(2) Don't not wear a well-fit N95.

#1 is relatively easy. #2 can be hard, and my guess is this is where most people catch COVID, whether in day-to-day life or traveling. 2/

— Eric Kennedy (@ericbkennedy) July 5, 2022

The whole thread has lots of good hints, but I think the central lesson is develop a good protocol and stick to it (for example, I think I'm more lax than Kennedy on his second rule, but I'm also very disciplined with nasal an oral sprays (gotta buy mouthwash. I've always hated mouthwash because of the shaming ads on TV when I was growing up).

But, at the very least, it's 100% possible to avoid getting COVID doing things that AREN'T worth is (e.g., standing in a jet bridge, riding an Uber, or listening to a lecture) and save up those risks for when it is (e.g., spending an unmasked weekend with someone you love). 12/

— Eric Kennedy (@ericbkennedy) July 5, 2022

Someone who knows more about probability than I do can clarify whether it's possible to "save up" risk. I don't think so.
Treatment
"Intranasal Xylitol for the Treatment of COVID-19 in the Outpatient Setting: A Pilot Study" [Cureus]. From 2022, still germane. N = 50. From the Abstract: "It is well known that acute COVID-19 infection can present with a variety of symptoms, including fever, cough, rhinitis, loss of taste, and the cardinal sign of loss of smell (anosmia). Recently, nasal irrigations with saline and other agents have shown promise for the treatment of COVID-19. Xylitol has been shown to display virucidal effects against SARS-CoV-2. … Results demonstrate that both xylitol and saline were equally effective in decreasing the time of symptom resolution and preventing hospitalizations, yet, persistent anosmia was only seen in the SAL group. Intranasal xylitol might play a pivotal role in preventing persistent olfactory abnormalities in post-COVID-19 patients." • Xylitol is a sugar-free sweetener available at retail. Here are some brands. At this point I should mention that I am totally not a medical professional, but this seems like a low-cost, low-risk intervention. Unfortunately, no mechanism is suggested. Can qualified readers comment?
Policy
Eugenics (1):

"This is eugenics…"

My friend @tamarataggart doesn't mince words in her response to British Columbia's decision to lift mask mandates in hospitals and long-term care facilities.
🔥🔥🔥

Watch it TONIGHT at 9pm!
This is VANCOLOUR@CHEK_News 📺
(right after Steele & Vance!) pic.twitter.com/GKs8hO1DdG

— Mo Amir (@vancolour) April 21, 2023

FInally, somebody said it in the mainstream. (It strikes me that the conflicts over Covid in Canada — home of corrupt eugenicist Bonnie Henry — are far more open and brutal than they are in the US, like hockey vs. football. I mean, American football is brutal, but Canadian hockey spawned the phrase "bloody Chiclets." Can anybody conversant with politics in both great North American Republics confirm?)

Eugenics (2):

Today my therapist asked me to explain why I believe (her word) I'm a target of eugenics. So I did. And then there was such a long silence I had to ask her if she was ok. And then we ran out of time, so I have to wait a week to find out if she thinks I'm bonkers or not.

— Put an effing mask on! (@PoliticalAdrift) April 20, 2023

I hope the therapist's silence means they were rethinking some things….

* * *

Punch:

HARM REDUCTION: Concerns me that we didn't take a more holistic nuanced view of the pandemic- considering the ill effects of social isolation on human beings (a fact that has been known since dawn of mankind)- when making recommendations https://t.co/6wGfmEtcs6

— Monica Gandhi MD, MPH (@MonicaGandhi9) April 21, 2023

Counterpunch:

I wish I didn't have so many of these real IRL examples to share 🫠

— chantzy (@chantz_y) April 20, 2023

Oof. However, I think we can all agree that Ghandi has a lovely smile!
Elite Malfeasance
"Infectious particles of the SARS-CoV-2 virus isolated from hospital air" [News Medical Life Sciences]. "Quebec scientists have succeeded in isolating infectious particles of the SARS-CoV-2 virus from air samples collected from hospital rooms of COVID-19 patients and kept frozen for more than a year, a new study shows… Published in Clinical Microbiology and Infection, the study provides insight into a scientific field that has been little explored [(!!!)] since the beginning of the pandemic: airborne transmission of the virus causing COVID-19…. Audray Fortin, a researcher on Nathalie Grandvaux's team and the first author of the study, developed a unique cell culture method to amplify traces of viruses collected by Caroline Duchaine, a Canadian bioaerosol specialist, and her team. That was another scientific feat, requiring samplers-;a series of collection devices placed inside the rooms of patients with COVID-19-;that were used to maintain the virus infectivity and protect it during storage. Using the aerosol samples from one patient's room, the team of scientists was able to identify the presence of replicating virus particles. 'Thanks to our method, it is yet possible to retrospectively evaluate the presence of infectious SARS-CoV-2 in samples collected during the different waves of the pandemic,' said Nathalie Grandvaux. 'This data will help us better understand the importance of airborne transmission of the virus and implement adapted preventive strategies.'" • Of course, you know what the response of the Hospital Infection Control Community will be: Dig in, keep unmasking, ignore the science, smear the scientists and, if need be, get the Brownnote Institute to gin up more fake studies for them, hopefully from the Cochrane Institute.

* * *

"Hospitals dropping mask mandates tell patients to stay home if they feel unwell" [The Beaverton]. "'I don't think it's really that big a deal,' said administrator Helen Howe, wringing a dirty mop into a bucket and then using the bucket to refill the hospital's water cooler. 'Any other workplace, if you're sick you don't come in. Why should patients be different just because some of us went to school to learn how to cure them?' Miss Howe wasn't the only representative of the hospital to feel the request was reasonable. 'It's just basic respect,' said surgeon Dr Eleanor Watts, digging around in the abdomen of an unconscious six-year-old for the ketchup packet that came with her order of french fries. 'I wouldn't show up to your newsroom with a cold, people shouldn't show up at this place of business with life-and-death medical needs?'"

"COVID-19 outbreak hits large Bay Area hospital, prompting new mask rules" [San Francisco Chronicle (MR)]. Hospital Infection Control whacks a few more of the unfit: "Physicians and staff at one of the Bay Area's largest hospitals are required to mask up again following a sizable COVID-19 outbreak. Kaiser Permanente Santa Rosa Medical Center has reinstated a temporary mask mandate after more than a dozen hospital workers and patients at the medical center tested positive for the coronavirus this week, officials confirmed. Kaiser officials issued a written statement stating that doctors and staff must wear masks while providing direct care to patients in the Santa Rosa hospital and emergency department. There are approximately 3,500 health care workers at the facility. Visitors are also required to wear face coverings inside the hospital." • Now, what kind of masks? Baggy Blues? N95s? And please, not "face coverings." First, gaiters are face coverings, and they're ineffective. Second, masks are not "face coverings" because — follow me closely — the eyes are part of the face, and not even Darth Vader masks cover them. I so hate that locution. "Face coverings" stinks of mindless administrators make up jargon, besides being disinformative.

Hospital Infection Control whacks a few more of the unfit:

How it started…how it's going.

At least 36 people infected at this BC hospital and extended care facility not even 2 weeks after ditching masks.

Can someone please explain to me how this isn't negligent? pic.twitter.com/q5t5xPcIkp

— Noha Aboelata, MD (@NohaAboelataMD) April 21, 2023
* * *
Looks like "leveling off to a high plateau" across the board. (I still think "Something Awful" is coming, however. I mean, besides what we already know about.) Stay safe out there!
Lambert here: I'm getting the feeling that the "something awful" might be a sawtooth pattern — variant after variant — that averages out to a permanently high plateau (with, of course, deeper knowledge of the sequelae "we" have already decided to accept or, rather, to profit from). That will be the operational definition of "living with Covid." More as I think on this. In addition, I recurated my Twitter feed for my new account, and it may be I'm creating a echo chamber. That said, it seems to me that the knobs on Covid had gone up to 13, partly because science is popping, which demands more gaslighting, and partly because that "Covid is over" bubble maintenance is, I believe, more pundit-intensive than our betters believed it would be.
Lambert here: On "something awful," see the WEF's "Global Risks Report 2023" under Class Warfare. Elites think Covid is going fine, just fine.
Case Data
BioBot wastewater data from April 20: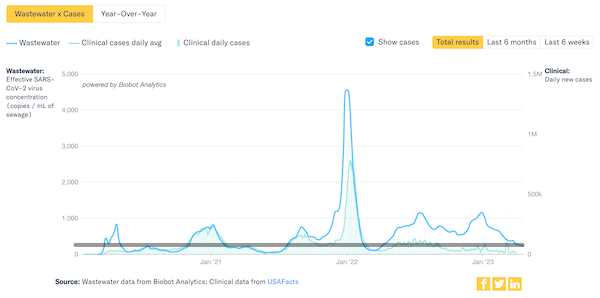 For now, I'm going to use this national wastewater data as the best proxy for case data (ignoring the clinical case data portion of this chart, which in my view "goes bad" after March 2022, for reasons as yet unexplained). At least we can spot trends, and compare current levels to equivalent past levels.
Variants
From CDC, April 22, 2023. Here we go again: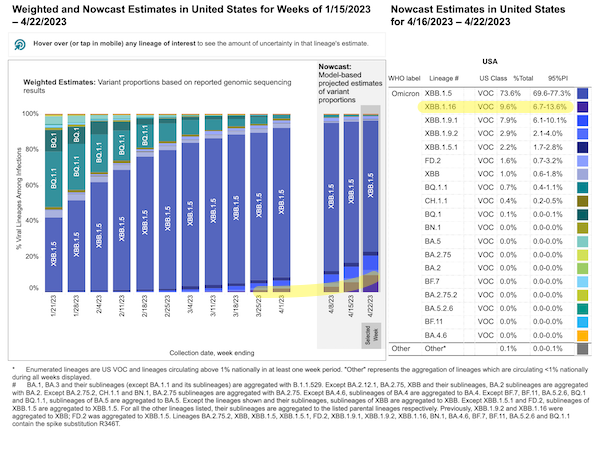 Lambert here: Looks like XBB.1.16 is rolling right along. Though XBB 1.9.1 is in the race as well.
Lambert here: CDC has redesigned its chart to combine actual data with NowCast model projections (which readers will recall I refused to use, because CDC's models have a wretched track record. Worse, the press always quoted the projections, not the model). Because the new chart design makes it clear what's data and what's projection (though that "weighted estimate" gives me pause) I'm using it.
Covid Emergency Room Visits
NOT UPDATED From CDC NCIRD Surveillance, from April 15: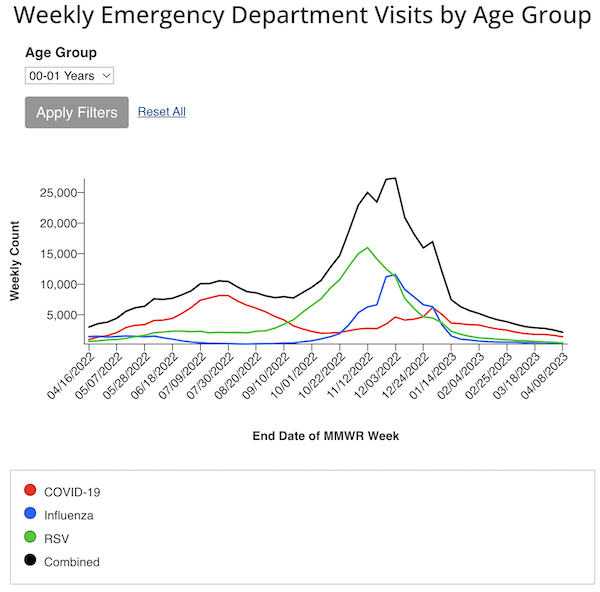 NOTE "Charts and data provided by CDC, updates Wednesday by 8am. For the past year, using a rolling 52-week period." So not the entire pandemic, FFS (the implicit message here being that Covid is "just like the flu," which is why the seasonal "rolling 52-week period" is appropriate for bothMR SUBLIMINAL I hate these people so much. Anyhow, I added a grey "Fauci line" just to show that Covid wasn't "over" when they started saying it was, and it's not over now. Notice also that this chart shows, at least for its time period, that Covid is not seasonal, even though CDC is trying to get us to believe that it is, presumably so they can piggyback on the existing institutional apparatus for injections.
Positivity
A kind reader discovered that Walgreens had reduced its frequency to once a week. No updates in more than a week, however.
Deaths
Death rate (Our World in Data):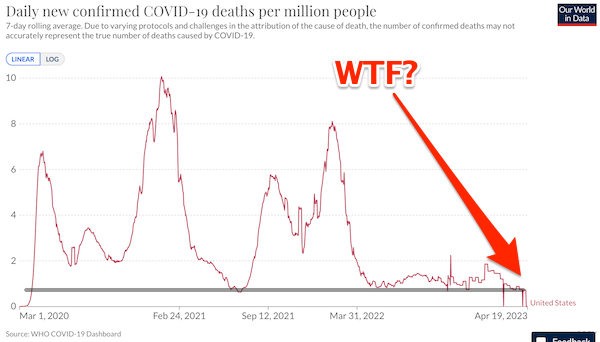 Total: 1,158,842 – 1,158,684 – 1,158,347 = 158 (158 * 365 = 57,670 deaths per year, today's YouGenicist™ number for "living with" Covid (quite a bit higher than the minimizers would like, though they can talk themselves into anything. If the YouGenicist™ metric keeps chugging along like this, I may just have to decide this is what the powers-that-be consider "mission accomplished" for this particular tranche of death and disease).
Lambert here: WHO turned off the feed? Odd that Walgreen's positivity shut down on April 11, and the WHO death count on April 12. Was there a memo I didn't get?
Excess Deaths
NOT UPDATED Excess deaths (The Economist), published April 2: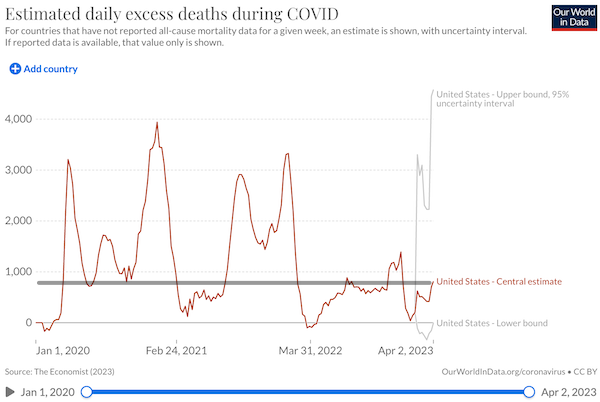 Lambert here: Based on a machine-learning model. I"m not sure how often this updates, and if it doesn't, I'll remove it. (The CDC has an excess estimate too, but since it ran forever with a massive typo in the Legend, I figured nobody was really looking at it, so I got rid it. )
Stats Watch
* * *
The Bezzle:
the 'grandma exploit' is undoubtedly my favorite chatbot jailbreak to date. source here: https://t.co/A1ftDkKt2J pic.twitter.com/CYDzjhUO01

— James Vincent (@jjvincent) April 19, 2023
But who, exactly, is breaking out of jail? Or what…
Tech: "Your Share of the $725 Million Facebook Settlement Will Be Tiny" [Wall Street Journal]. "In December, Meta Platforms Inc. greed to pay $725 million to settle a class-action lawsuit accusing the social-media company of allowing data firm Cambridge Analytica and other third parties to access private information about millions of users. Cambridge Analytica was a top vendor for former President Donald Trump's 2016 campaign. This week, people can start signing up to get their cut of the settlement. You need to have been a Facebook user in the U.S. at some point between May 2007 and December 2022 to qualify. Eligible users can submit a claim online or by mail by following the instructions on the Facebook User Privacy Settlement website. Legal settlements like these can mean big bucks for lawyers and some participants. But as in past cases, after administrative costs, payouts and other fees are taken out, most Facebook users will get a tiny fraction of the millions…. A similar situation happened when Equifax Inc. agreed in 2019 to pay as much as $700 million in a settlement. A breach had exposed the personal data of nearly 150 million Americans. Many users expecting to receive $125 reported receiving less than $25 by the time the funds were dished out—more than two years later." • Deadline August 25.
Tech: "Jack Dorsey-backed Twitter alternative Bluesky hits Android" [TechCrunch]. "Looking to leave the Twitter ecosystem? Bluesky, the Twitter alternative backed by Twitter co-founder and CEO Jack Dorsey, has now rolled out to Android users. The app, which promises a future of decentralized social networking and choose-your-own algorithms, initially launched to iOS users in late February and remains in a closed beta. The exclusivity is driving demand for the newer social network to some extent, but so is having Dorsey's name attached. For many, Bluesky represents the hope of a Twitter do-over — where the core concepts around short-form posts and a shared timeline remain, but the problems around moderation and centralized control are addressed." It would be enough for me if Bluesky didn't hate its users, as many feel pre-Musk Twitter did. More: "Bluesky aims to give users algorithmic choice, letting them eventually choose from a marketplace of algorithms that let them control what they see on their own feed, instead of having it controlled by some central authority. At launch, however, Bluesky remains a pared-down version of Twitter without many of the features that make the social network what it is today, including basic tools for tracking likes or bookmarks, editing tweets, quote-tweeting, DM's, using hashtags and more. It's also building in decentralization with its own protocol — the AT Protocol — instead of contributing to the existing work around ActivityPub, the protocol powering the open source Twitter alternative Mastodon and a range of other decentralized apps in the wider 'Fediverse' — the name for these interconnected servers running open software used for web publishing." • Dorsey has always seemed like one of the less sociopathic billionaires to me, so perhaps the do-over concept is on point. Algorithmic choice is a good idea. I'm not sure if devising a separate protocol was a good idea (though it does create a market for tools to map one protocol to the other). I'm on the wait list, of course. We shall see!
The Media: "BuzzFeed News to be shuttered in corporate cost cutting move" [Associated Press]. "Pulitzer Prize winning digital media outlet BuzzFeed News is being shut down as part of a cost-cutting drive by its corporate parent that's shedding about 15% of its entire staff, adding to layoffs made earlier this year. In a memo sent to staff, Buzzfeed Inc. co-founder and CEO Jonah Peretti said Thursday that in addition to the news division, layoffs would take place in its business, content, tech and administrative teams. BuzzFeed is also considering making job cuts in international markets. BuzzFeed has about 1,200 total employees, according to a recent regulatory filing, meaning about 180 people will be losing their jobs in the latest cuts. Peretti said in his memo that he 'made the decision to overinvest' in the news division, but failed to recognize early enough that the financial support needed to sustain operations was not there."
* * *
Today's Fear & Greed Index: 64 Greed (previous close: 63 Greed) [CNN]. One week ago: 65 (Greed). (0 is Extreme Fear; 100 is Extreme Greed). Last updated Apr 21 at 12:55 PM ET.
MMT
"New bipartisan bill would let the U.S. Mint alter the metal content of coins to save money" [CNBC]. • I don't have time, but somebody should look into whether this legislation messes with the verbiage that allows the Platinum Coin to be minted (#MintTheCoin).
The 420
"Part party, part call to action: A look at pot holiday 4/20" [Associated Press]. "Activists this week urged Biden to remove cannabis from the Controlled Substances Act and to take steps to undo the harm the drug war caused communities of color, such as by directing agencies to stop using state marijuana convictions to deny federal benefits or to trigger deportation." • And let everybody in jail for marijuana — after all, they built the market — out of jail, and scrub their records. This isn't hard. Surely "it's better to ask for forgiveness than permission" doesn't apply only to tech bros?
The Gallery
Repellent Valley:
Was at an art festival over the weekend & couldn't figure out what effect of AI art will have on all the painters and other artists selling their work. Also, as I walked through Piedmont Park I asked Bing for a painting of the Atlanta Dogwood Festival in the style of a WPA mural. pic.twitter.com/5WbtoehAC9

— Carlos Mucha (@mucha_carlos) April 17, 2023
Class Warfare
"Global Risks Report 2023" (PDF) [World Economic Forum]. • What global capital thinks about risk: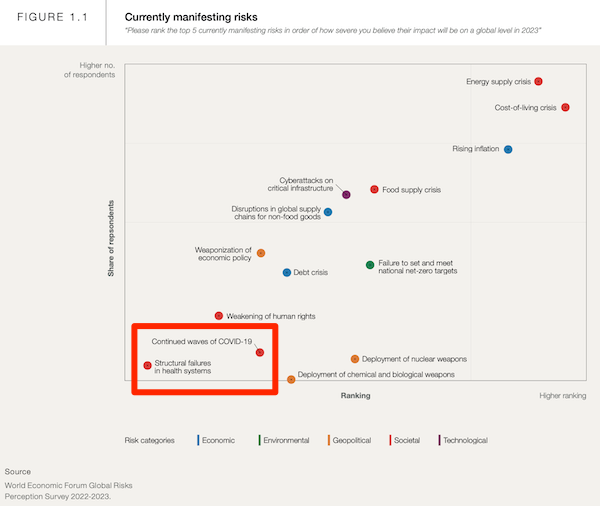 "Everything's going according to plan." Periodically I play this tune (hat tip, Mark Ames) because it's so on point:
News of the Wired
"Arcade Game Typography" [Daring Fireball]. "Exhaustively researched by author Toshi Omagari (a celebrated typeface designer at Monotype UK) Arcade Game Typography gathers together 250 pixel typefaces, all carefully chosen, extracted, redrawn and categorised by style, and each with an accompanying commentary by Omagari. The title also features 4 illustrated essays on videogame typography theory and practice, documenting the unique advantages and challenges presented to designers of these bold, playful and often quirky alphabets." • From the book: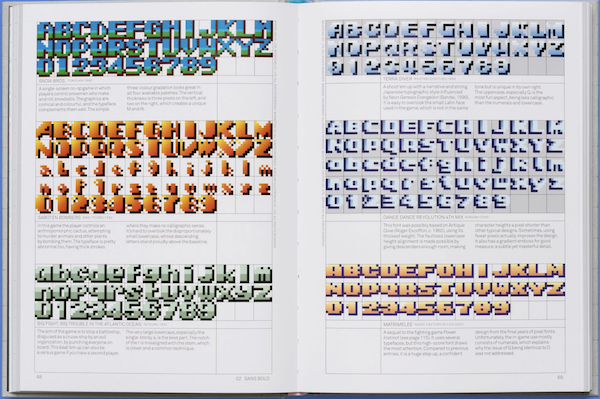 I never even entered an arcade. But I'm sure these typefaces bring back memories for some readers!
English not as a first language, but the First of Languages:
In 1977, Jorge Luis Borges, one of the most influential 20th c. Spanish-language writers, told William F. Buckley (whose first language was Spanish) his reasons for feeling, age 78, that English was 'far finer' than his native tongue. Right or wrong, I love his savor for language pic.twitter.com/foOzTu6mYR

— Benjamin Carlson (@bfcarlson) April 10, 2023
* * *
Contact information for plants: Readers, feel free to contact me at lambert [UNDERSCORE] strether [DOT] corrente [AT] yahoo [DOT] com, to (a) find out how to send me a check if you are allergic to PayPal and (b) to find out how to send me images of plants. Vegetables are fine! Fungi and coral are deemed to be honorary plants! If you want your handle to appear as a credit, please place it at the start of your mail in parentheses: (thus). Otherwise, I will anonymize by using your initials. See the previous Water Cooler (with plant) here. From AM: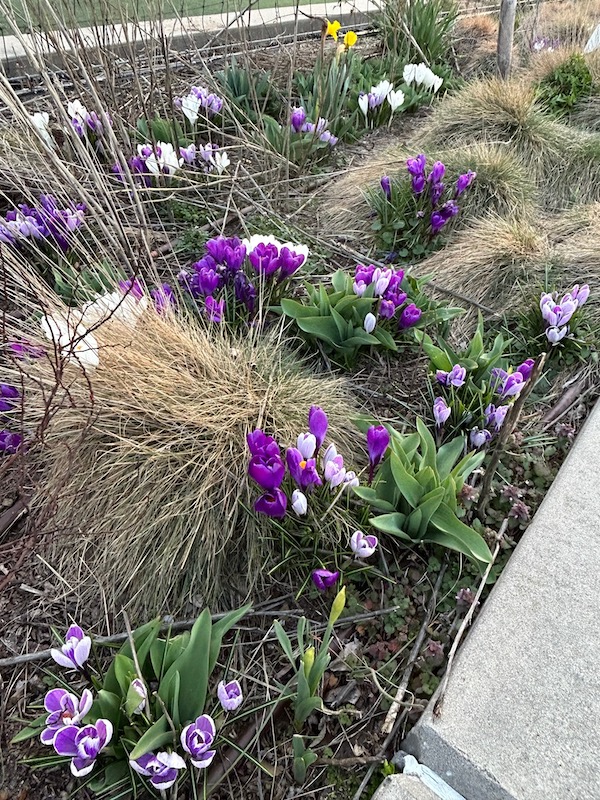 AM writes: "Crocuses next to the playing field on Pier 25, in TriBeCa at about 7:00 pm on March 21. Still light out. It was a bit difficult to cut out the astroturf and side walk but keep the flowers in the frame."
Readers, I am still in need of plant photos. Any of you out digging in the garden yet?
* * *
Readers: Water Cooler is a standalone entity not covered by the annual NC fundraiser. So if you see a link you especially like, or an item you wouldn't see anywhere else, please do not hesitate to express your appreciation in tangible form. Remember, a tip jar is for tipping! Regular positive feedback both makes me feel good and lets me know I'm on the right track with coverage. When I get no donations for five or ten days I get worried. More tangibly, a constant trickle of donations helps me with expenses, and I factor in that trickle when setting fundraising goals:
Here is the screen that will appear, which I have helpfully annotated: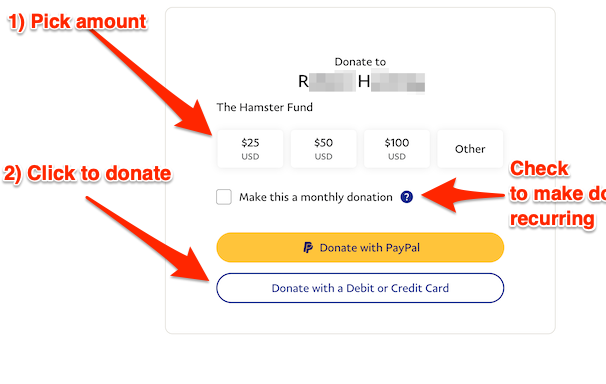 If you hate PayPal, you can email me at lambert [UNDERSCORE] strether [DOT] corrente [AT] yahoo [DOT] com, and I will give you directions on how to send a check. Thank you!