By Lambert Strether of Corrente.
Bird Song of the Day
Corn Bunting, Essonne, Essonne, Île-de-France, France. A chorus.
* * *
Politics
"So many of the social reactions that strike us as psychological are in fact a rational management of symbolic capital." –Pierre Bourdieu, Classification Struggles
Spook Country
"Durham report on Trump-Russia investigation: What led to it and what happens next" [Associated Press]. "It didn't take long for Republicans in Congress to react. Rep. Jim Jordan, who chairs the House Judiciary Committee, said he had invited Durham to testify on Capitol Hill next week. Trump, too, sought to seize on the report, claiming anew in a post on his Truth Social platform that the Durham report had found "the crime of the century" and calling the Russia investigation the 'Democrat Hoax.' Though the FBI says it's already taken some steps to address the problems cited in the report, Durham did say it's possible more reform could be needed. One idea, he said, would be to provide additional scrutiny of politically sensitive investigations by identifying an official who would be responsible for challenging the steps taken in a probe. He said his team had considered but did not ultimately recommend steps that would curtail the FBI's investigative authorities, including its use of tools under the Foreign Intelligence Surveillance Act to eavesdrop on suspected spies or terrorists." • Coverage seems more than a little thin, so far.

"Report on Matters Related to Intelligence Activities and Investigations Arising Out ofthe 2016 Presidential Campaigns" (PDF) [Special Counsel John H. Durham]. I haven't had time for even a quick scan, but I did catch this from the Executive Summary, which I haven't seen elsewhere. "Crossfire Hurricane" is the FBI's Trump investigation:

So, a double standard for Clinton vs. Trump. Odd!

Taibbi comments:

The entire Trump-Russia investigation was appalling bullshit from day one.

— Matt Taibbi (@mtaibbi) May 15, 2023

And:

Ex-CIA head John Brennan, re Mueller report: "They found no conspiracy."

Brennan on MSNBC: "I suspected there was more than there actually was."

Years of Trump-Russia hysteria, based on suspicion only. It was Mickey Mouse intelligence: "A dream is a wish your heart makes." pic.twitter.com/1rI8YBsD8M

— Matt Taibbi (@mtaibbi) May 15, 2023

"Durham Report Condemns the FBI's Russia Probe — But Don't Expect It to Make a Difference" [Jonathan Turley, The Messenger]. "In the 305-page report released Monday, special counsel John Durham concluded that the Trump-Russia investigation was launched without a required minimal level of evidence and shattered a host of departmental standards. Let that sink in: The Justice Department — as well as the media that covered it — effectively shut down a duly elected presidency, based on what turned out to be a politically engineered hoax. That would make anyone angry. Really angry. Trump-level angry. The fact is, in this instance, Donald Trump was correct when he said he was the target of a political hitjob funded by the Clinton campaign and maintained by virtually every media outlet. There is a word for that: disinformation." • Making the Disinformation Industrial Complex the world's largest case of projection….
2024
I guess it's time for the Countdown Clock!

* * *

"IRS removes 'entire investigative team' in Hunter Biden probe, whistleblower claims retaliation: report" [FOX]. "The IRS has removed the 'entire investigative team' from its multi-year tax fraud investigation of Hunter Biden, and a whistleblower who raised concerns about the handling of the case is claiming the move was 'clearly retaliatory,' according to a Monday report. Per The New York Post, the whistleblower's attorneys told Congress that the removal was on the order of the Department of Justice."
Democrats en Déshabillé
Patient readers, it seems that people are actually reading the back-dated post! But I have not updated it, and there are many updates. So I will have to do that. –lambert

I have moved my standing remarks on the Democrat Party ("the Democrat Party is a rotting corpse that can't bury itself") to a separate, back-dated post, to which I will periodically add material, summarizing the addition here in a "live" Water Cooler. (Hopefully, some Bourdieu.) It turns out that defining the Democrat Party is, in fact, a hard problem. I do think the paragraph that follows is on point all the way back to 2016, if not before:

The Democrat Party is the political expression of the class power of PMC, their base (lucidly explained by Thomas Frank in Listen, Liberal!). ; if the Democrat Party did not exist, the PMC would have to invent it. . ("PMC" modulo "class expatriates," of course.) Second, all the working parts of the Party reinforce each other. Leave aside characterizing the relationships between elements of the Party (ka-ching, but not entirely) those elements comprise a network — a Flex Net? An iron octagon? — of funders, vendors, apparatchiks, electeds, NGOs, and miscellaneous mercenaries, with assets in the press and the intelligence community.

Note, of course, that the class power of the PMC both expresses and is limited by other classes; oligarchs and American gentry (see 'industrial model' of Ferguson, Jorgensen, and Jie) and the working class spring to mind. Suck up, kick down.

* * *
#COVID19
"I am in earnest — I will not equivocate — I will not excuse — I will not retreat a single inch — AND I WILL BE HEARD." –William Lloyd Garrison
Resources, United States (National): Transmission (CDC); Wastewater (CDC, Biobot; includes many counties); Variants (CDC; Walgreens); "Iowa COVID-19 Tracker" (in IA, but national data).
Lambert here: Readers, thanks for the collective effort. We are now up to 50/50 states (100%). This is really great! (It occurs to me that there are uses to which this data might be put, beyond helping people with "personal risk assessments" appropriate to their state. For example, thinking pessimistically, we might maintain the list and see which states go dark and when. We might also tabulate the properties of each site and look for differences and commonalities, for example the use of GIS (an exercise in Federalism). I do not that CA remains a little sketchy; it feels a little odd that there's no statewide site, but I've never been able to find one. Also, my working assumption was that each state would have one site. That's turned out not to be true; see e.g. ID. Trivially, it means I need to punctuate this list properly. Less trivially, there may be more local sites that should be added. NY city in NY state springs to mind, but I'm sure there are others. FL also springs to mind as a special case, because DeSantis will most probably be a Presidental candidate, and IIRC there was some foofra about their state dashboard. Thanks again!
Resources, United States (Local): AK (dashboard); AL (dashboard); AR (dashboard); AZ (dashboard); CA (dashboard; Marin); CO (dashboard; wastewater); CT (dashboard); DE (dashboard); FL (wastewater); GA (wastewater); HI (dashboard); IA (wastewater reports); ID (dashboard, Boise; dashboard, wastewater, Central Idaho; wastewater, Coeur d'Alene; dashboard, Spokane County); IL (wastewater); IN (dashboard); KS (dashboard; wastewater, Lawrence); KY (dashboard, Louisville); LA (dashboard); MA (wastewater); MD (dashboard); ME (dashboard); MI (wastewater; wastewater); MN (dashboard); MO (wastewater); MS (dashboard); MT (dashboard); NC (dashboard); ND (dashboard; wastewater); NE (dashboard); NH (wastewater); NJ (dashboard); NM (dashboard); NV (dashboard; wastewater, Southern NV); NY (dashboard); OH (dashboard); OK (dashboard); OR (dashboard); PA (dashboard); RI (dashboard); SC (dashboard); SD (dashboard); TN (dashboard); TX (dashboard); UT (wastewater); VA (dashboard); VT (dashboard); WA (dashboard; dashboard); WI (wastewater); WV (wastewater); WY (wastewater).
Resources, Canada (National): Wastewater (Government of Canada).
Resources, Canada (Provincial): ON (wastewater); QC (les eaux usées); BC, Vancouver (wastewater).
Hat tips to helpful readers: Art_DogCT, B24S, CanCyn, ChiGal, Chuck L, Festoonic, FM, FreeMarketApologist (4), Gumbo, hop2it, JB, JEHR, JF, JL Joe, John, JM (9), JustAnotherVolunteer, JW, KatieBird, LL, Michael King, KF, LaRuse, mrsyk, MT, MT_Wild, otisyves, Petal (5), RK (2), RL, RM, Rod, square coats (11), tennesseewaltzer, Utah, Bob White (3).
Stay safe out there!
* * *
Look for the Helpers
Template of a letter demanding universal masking:

Letter: Hospital safety

Attached and in thread: A letter that might be adapted for practitioners, hospitals or care facilities. OK to send it to multiple addresses at the same facility. This includes Mass General and Brigham Hospitals through the patient portal or directly.

1/ https://t.co/X5HUsJGxjp pic.twitter.com/aeTndKCTAH

— Yaneer Bar-Yam @yaneerbaryam@forall.social (@yaneerbaryam) May 15, 2023

I originally wrote "requesting," but yes, "demanding."
Vaccines
"Timing matters for COVID vaccine effectiveness" (locked) [Nature]. The deck: "Younger and older people gained greater protection if they had their jabs in the middle of the day." • If the journals are going to lock down Covid content, our timeline is going to get even stupider.
Maskstravaganza
"For Patient Safety, It Is Not Time to Take Off Masks in Health Care Settings" (opinion) [Annals of Internal Medicine]. "Laboratory studies have done what clinical research has not and demonstrated that surgical masks—and to a greater extent, filtering facepiece respirators—are effective in limiting the spread of aerosols and droplets from individuals infected with influenza, coronaviruses, and other respiratory viruses. Although not 100% effective, they substantially reduce quantities of virus expelled during coughing or talking, thereby mitigating risk. Real-world experience shows the effectiveness of mask wearing in clinical settings. Thanks largely to universal masking and use of other personal protective equipment, health care personnel have been at far greater risk for acquiring COVID-19 from community than occupational exposures…. We are struck by the broad efficacy of masks for source control and protection during the pandemic and find this to be one of the major lessons learned with enduring value as a patient safety measure in health care. A striking finding was the remarkable reduction in the health care–associated transmission of virtually all respiratory viruses, not simply SARS-CoV-2, in our institutions and others. Although not all of our colleagues agree with our approach [Shenoy], a survey of hospital epidemiologists across the country suggests that, as recently as the fall and winter of 2022, about 97% of surveyed hospital epidemiologists were not eager to eliminate masks in their facilities. Perhaps that has shifted in the past 4 months, but the support of many infection prevention experts for using masks for broad prevention of respiratory virus transmission, and not simply SARS-CoV-2, suggests that many others share this view. In our to return to the appearance and of normalcy, and as institutions decide which mitigation strategies to discontinue, we strongly advocate not discarding this important lesson learned for the sake of our patients' safety." • The same venue that published MGH Infection Control Unit director Shenoy's vile screed. Really shoving the knife in there with "sentiment," "enthusiasm", and "feeling," all of which imply that anti-mask policies are not science-based.

"Masks back in Giro d'Italia as COVID-19 hits the race" [Reuters]. "Giro d'Italia followers coming into contact with riders will be required to wear masks in the wake of COVID-19 cases that hit the race and forced overall leader Remco Evenepoel to abandon the 'Corsa Rosa', race director Mauro Vegni said on Monday. Belgian Evenepoel pulled out of the race on Sunday, shortly after regaining the overall lead with a tight victory in the time trial after Colombian Rigoberto Uran and Italian Filippo Ganna were also ruled out with the virus. ',' Vegni told Italian sports daily La Gazetta dello Sport on the Giro's first rest day." • Oh.

Fashion:

Here's a thread of my favourite colourful respirator options for respie bestie hot girl summer and for just looking cool (Disclaimer: some are earloops, we know the discourse. I use double-sided tape to improve seal.) 🧵 https://t.co/X7Suoi7Pcm

— Amanda Hu (@amandalhu) May 15, 2023

Social determinants of masking:

I'm dogsitting in my old neighborhood in Palo Alto — where it's mostly 4-10 million dollar homes — and I'm noticing that the more I'm around the rich and the White, the more I feel out of place masking. Across town among the apartment buildings, I see more people masking. https://t.co/JgWijO60XM

— Dr Rebecca Richardson (@mavisclare) May 15, 2023
Testing and Tracking
Transmission
"How much COVID is in my community? It's getting harder to tell" [Los Angeles Time]. "On Thursday, the CDC's COVID Data Tracker ended reporting of aggregate cases and removed test positivity data. The old tracker listed weekly COVID-19 deaths; the new version reports on the percentage of COVID-associated deaths among all reported deaths, based on provisional death certificate data, to indicate the COVID death trend. The tracker's lead data point was the number of people newly admitted to the hospital with a lab-confirmed coronavirus infection over the prior week…. While coronavirus-positive hospitalization metrics are vital in illustrating what, if any, pressure COVID-19 is exerting on hospitals, some experts note they provide only a limited look at transmission." Dr. Mario Ramirez, an emergency medicine physician and managing director at Opportunity Labs, a nonprofit research and consulting firm: "And so what I worry about is that by the time that data makes its way back, it's usually two, three, four weeks old — particularly because hospitalization is a lagging indicator and certainly death is, as well. We will be several weeks behind an increase in cases if that's what's happening." • So "personal risk assessment" was a giant rug-pull, wasn't it?
Policy
"The government giving up on COVID protections means throwing immunocompromised people to the wolves" [Salon]. "The medical model focuses on preventing and treating individual conditions in individual bodies, rather than correcting systemic factors that affect people at the community level. It's a reductive approach that ignores the social determinants and forms of discrimination that shape health outcomes. It's concerned with correcting deviations from a normal defined by the absence of disease and disability…. The Biden administration has employed the medical model's good health, good morals paradigm to rationalize abandoning vulnerable Americans to disability and death from COVID-19. Biden's policies are designed to get everyone back to work, but they also appeal to well and non-disabled people's fear of a medicalized "abnormal". According to Biden and the CDC, people who have bad health outcomes from COVID-19 have made bad individual choices- they are unvaccinated , politically undesirable, or have "comorbidities." The problem with this narrative is that individual good fortune is not necessarily the result of good behavior. Individualism — even when it's billed as morality — cannot protect people from an airborne, ever-mutating virus. This can only be done through public health policy that protects the collective, with the needs of its most vulnerable as its foundation…. [The erasure of sick and disabled people from the public sphere] in turn normalizes the continued abuses of sick and disabled people. We are ignored by public health policy and denied critical care, but our suffering is unseen, confined to private homes and medical-industrial complex "care" facilities. Keeping our unnecessary deaths out of sight and out of mind is an American tradition. In fact, it is the foundation of eugenics in the United States." • Well worth a read.

"The covid public health emergency is ending: it now joins the ordinary emergency that is American health" [BMJ]. "It's worth noting that during covid, the US also accessed our better selves. The country made sweeping changes to daily life to prevent the collapse of the healthcare system. Free covid testing, vaccines, and treatment made healthcare affordable and accessible, even if only narrowly and temporarily. The uninsurance rate in the US fell to a historic low of 8%, thanks to the expansion of Medicaid enrollment. Policymakers transformed the country's tattered, piecemeal social safety net into a system of robust social protections. These experiences might have inspired Americans to think differently for the future. We could embrace a 'new normal' that includes Medicaid expansion and paid leave—recognising that these policies are essential not only for managing covid-19 but also for improving health more broadly. We could shore up our safety net hospitals and make bold investments in growing the health workforce in rural and underserved communities. We could make permanent pandemic innovations such as expanded Supplemental Nutrition Assistance Program (SNAP) benefits, the Child Tax Credit, and eviction prevention programs that protected Americans' health and our economy. We could invest in the kinds of infrastructure that would make our schools, workplaces, and public spaces safer now, as well as better prepared for future pandemics. If the end of the public health emergency does not feel as full of celebratory closure as it should, it may be because many of our 'emergency' responses felt like simple decency: covid called for a society that safeguards health. But the starting point should be to cure the country's larger affliction—its ethos of giving up."

"Now More Than Ever, We Need to Fight, Not Despair" [Gregg Gonsalves, The Nation]. "If we give in to despair, we allow the people in power, the ones who want us dispirited and defeated, to declare victory—and at that point, whatever chance we have of creating a better world is snuffed out. That is surrender…. You see, our leaders gave up a long time ago. The incentives in American political life are too strong for them to really give a damn. They've got other, more important, things on their minds…. Astra Taylor, at the end of her book Democracy May Not Exist, but We'll Miss It When It's Gone, suggests that instead of embracing the cruel optimism of a better world waiting at the end of the road, we've got to realize that democracy is always in the making, and that it is not a 'predictable or stable enterprise.' She suggests, 'instead of founding fathers let us be perennial midwives, helping always to deliver democracy anew.' Speak. Organize. Fight. This is so much better than despair." • Keep some masks to hand out, as some NC readers do.
Elite Maleficence
Yet another superspreading event, this time at the American Association of Immunologists. The PMC are so, so committed to the bit:

Attendees enjoy the IMMUNOLOGY2023 Gala! #AAI2023 pic.twitter.com/AeFfDkBXWe

— AAI (@ImmunologyAAI) May 15, 2023

Apparently, whoever organized the "Gala" at Immunology2023 — sums it up, doesn't it — didn't read AAI's policy:

What they cannot say: "Covid is airborne." Since that gives an obvious rationale for masking, and no other rationale is given, it's no wonder nobody paid attention.

More Covid hypoxia damaging higher brain function?

Something really strange is going on. I've gone to hundreds of medical conferences over the past 30 years. We didn't have goofy superspreader dance raves.

Why now?

— Barry Hunt – #DavosSafe (@BarryHunt008) May 15, 2023

An M.D. shares his views:

There's something so phenomenally wrong about this. pic.twitter.com/hTaf34M9EI

— tern (@1goodtern) May 16, 2023

From the Juvenescemce Medical Spa: "[MASON TODD TREBONY, M.D. FAAC] currently teaches and trains other medical practitioners in the practice of medicine and aesthetics, including: Botox and Dermal Filler training, PRP (Platelet-rich Plasma) training, weight loss, sclerotherapy, and facial aesthetics. Dr. Trebony enjoys life as a singer-songwriter, worship leader, UGA Bulldogs fan and alumnus, husband, and father of two beautiful daughters." • Nice guy!

Harsh, but fair:

CDC Releases "Most Accurate Map Yet" Of All Current Covid Cases Marked In Different Shades Of Purest White. pic.twitter.com/WEF6n1BEQG

— The Vertlartnic (@TheVertlartnic) May 16, 2023
* * *
Lambert here: I'm getting the feeling that the "Something Awful" might be a sawtooth pattern — variant after variant — that averages out to a permanently high plateau. Lots of exceptionally nasty sequelae, most likely deriving from immune dysregulation (says this layperson).
Case Data
From BioBot wastewater data from May 15: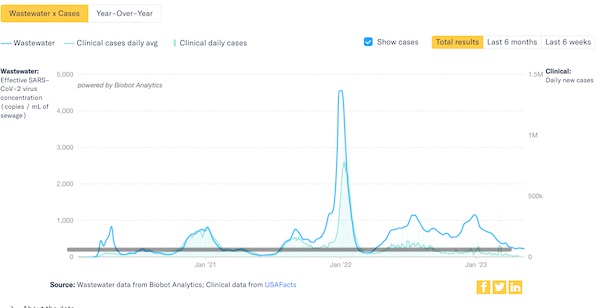 Lambert here: Unless the United States is completely, er, exceptional, we should be seeing an increase here soon. UPDATE Still on the high plateau. Are we are the point in the global pandemic where national experiences really diverge?
For now, I'm going to use this national wastewater data as the best proxy for case data (ignoring the clinical case data portion of this chart, which in my view "goes bad" after March 2022, for reasons as yet unexplained). At least we can spot trends, and compare current levels to equivalent past levels.
Variants
NOT UPDATED From CDC, May 13, 2023: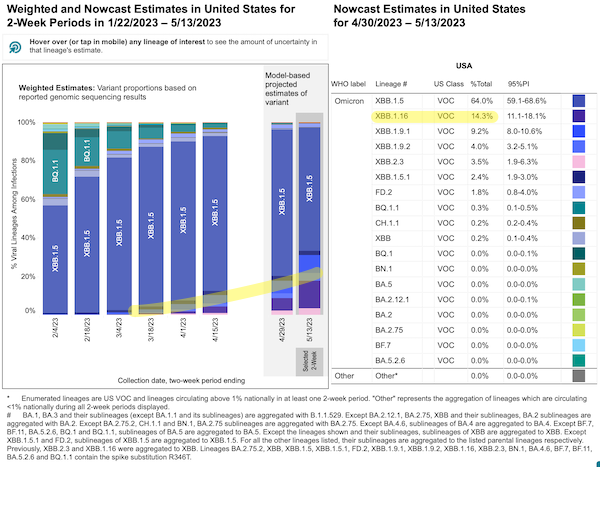 Lambert here: Looks like XBB.1.16 is rolling right along. Though XBB 1.9.1 is in the race as well.
Covid Emergency Room Visits
NOT UPDATED From CDC NCIRD Surveillance, from May 6: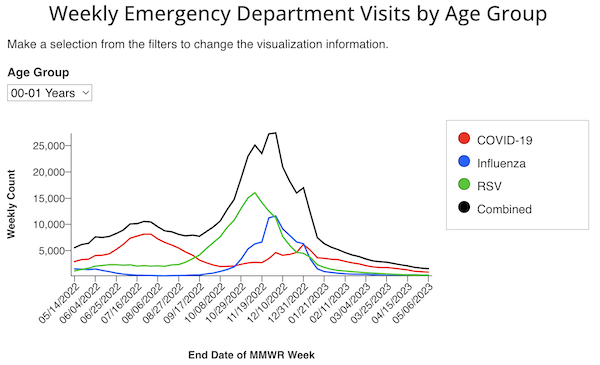 NOTE "Charts and data provided by CDC, updates Wednesday by 8am. For the past year, using a rolling 52-week period." So not the entire pandemic, FFS (the implicit message here being that Covid is "just like the flu," which is why the seasonal "rolling 52-week period" is appropriate for bothMR SUBLIMINAL I hate these people so much. Notice also that this chart shows, at least for its time period, that Covid is not seasonal, even though CDC is trying to get us to believe that it is, presumably so they can piggyback on the existing institutional apparatus for injections.
Positivity
From Walgreens, May 15: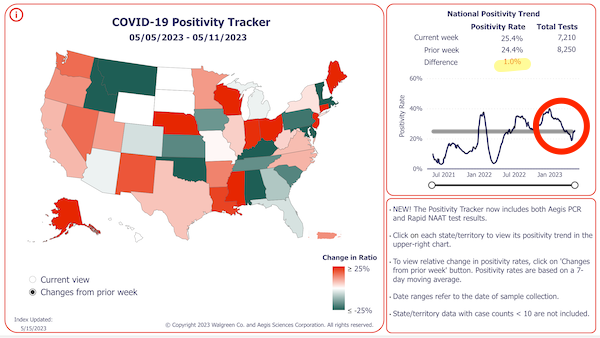 Up 1%. Frequency down to once a week?
Deaths
NOT UPDATED Death rate (Our World in Data), from May 7: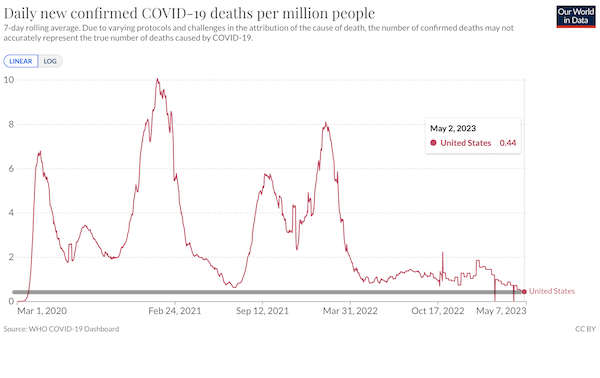 Lambert here: So this data feed, er, came alive again.
Total: 1,163,026 – 1,162,701 = 325 (325 * 365 = 118,625 deaths per year, today's YouGenicist™ number for "living with" Covid (quite a bit higher than the minimizers would like, though they can talk themselves into anything. If the YouGenicist™ metric keeps chugging along like this, I may just have to decide this is what the powers-that-be consider "mission accomplished" for this particular tranche of death and disease).
Lambert here: Still low.
Excess Deaths
NOT UPDATED Excess deaths (The Economist), published May 9: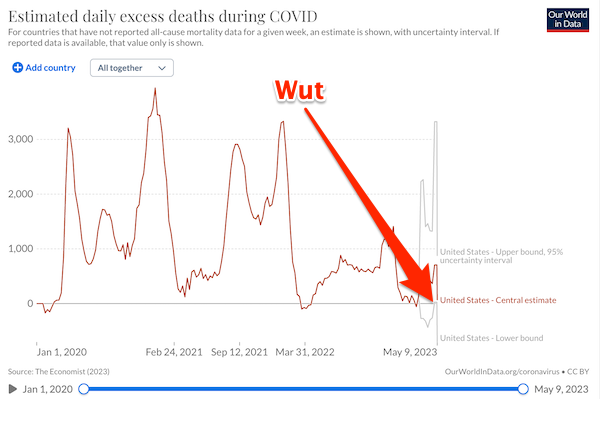 Lambert here: Based on a machine-learning model. (The CDC has an excess estimate too, but since it ran forever with a massive typo in the Legend, I figured nobody was really looking at it, so I got rid it. )
Stats Watch
Manufacturing: "United States Industrial Production" [Trading Economics]. "Industrial production in the United States increased 0.2% year-on-year in April of 2023, following a downwardly revised 0.1% rise in March. The mining sector surged 5.6% while a decline was seen for manufacturing (-0.9%) and utilities (-0.4%)."
Capacity: "United States Capacity Utilization" [Trading Economics]. "Capacity utilization rate in the United States increased to a five-month high of 79.7% in April of 2023 from 79.4% in March, matching market forecasts."
* * *
Insurance: "Living longer, healthier lives" [Swiss Re]. Coming soon: Swiss Re Institute's publication "The Future of Life Expectancy – Forecasting Long-Term Mortality Improvement Trends for Insurance"• Well, that should be interesting. Readers, will any of you who follow the insurance industry alert us when this comes out? I don't want to miss it. Thank you!
* * *
Today's Fear & Greed Index: 57 Greed (previous close: 59 Greed) [CNN]. One week ago: 58 (Greed). (0 is Extreme Fear; 100 is Extreme Greed). Last updated May 16 at 1:36 PM ET.
Class Warfare
"American worker productivity is declining at the fastest rate in 75 years—and it could see CEOs go to war against WFH" [Fortune]. "The U.S. has now had five consecutive quarters of year-over-year declines in productivity, according to research from EY-Parthenon, using data from the federal Bureau of Labor Statistics. That has never happened before, in data going back to 1948…. CEOs such as JPMorgan's Jamie Dimon and Salesforce's Marc Benioff have argued that in-person workers are simply doing more work, better than their remote colleagues. Dimon says long-term remote work just doesn't work for most employees; while Benioff says workers in the office consistently perform better. Both the bank and the tech giant have waffled on return-to-office mandates, but both have yielded to a hybrid plan—at least for now. Daco, however, highlighted another factor, which he says economists often underestimate, is that, over the past 18 months, the churn of labor has been 'tremendous.' He points to recent BLS and JOLTS reports, which have found that the number of job openings, hire rates and quit rates have all reached record highs. 'That tells you it's been very difficult for employers to, essentially, train their employees and bring them up to par with the productivity levels that would have been deemed normal pre-pandemic," he says. When the pandemic hit, it brought a combination of early retirement, a mass exit from the workforce, and an avalanche of job-switchers, a phenomenon alternately called 'the great resignation' and 'the labor shortage.' Taken together, it created a dearth of productivity." • Hmm.
News of the Wired
"Widely used chemical strongly linked to Parkinson's disease" [Science]. "A groundbreaking epidemiological study has produced the most compelling evidence yet that exposure to the chemical solvent trichloroethylene (TCE)—common in soil and groundwater—increases the risk of developing Parkinson's disease. The movement disorder afflicts about 1 million Americans, and is likely the fastest growing neurodegenerative disease in the world; its global prevalence has doubled in the past 25 years. The report, published today in JAMA Neurology, involved examining the medical records of tens of thousands of Marine Corps and Navy veterans who trained at Marine Corps Base Camp Lejeune in North Carolina from 1975 to 1985. Those exposed there to water heavily contaminated with TCE had a 70% higher risk of developing Parkinson's disease decades later compared with similar veterans who trained elsewhere. The Camp Lejeune contingent also had higher rates of symptoms such as erectile dysfunction and loss of smell that are early harbingers of Parkinson's, which causes tremors; problems with moving, speaking, and balance; and in many cases dementia. Swallowing difficulties often lead to death from pneumonia."
* * *
Contact information for plants: Readers, feel free to contact me at lambert [UNDERSCORE] strether [DOT] corrente [AT] yahoo [DOT] com, to (a) find out how to send me a check if you are allergic to PayPal and (b) to find out how to send me images of plants. Vegetables are fine! Fungi and coral are deemed to be honorary plants! If you want your handle to appear as a credit, please place it at the start of your mail in parentheses: (thus). Otherwise, I will anonymize by using your initials. See the previous Water Cooler (with plant) here. From doug: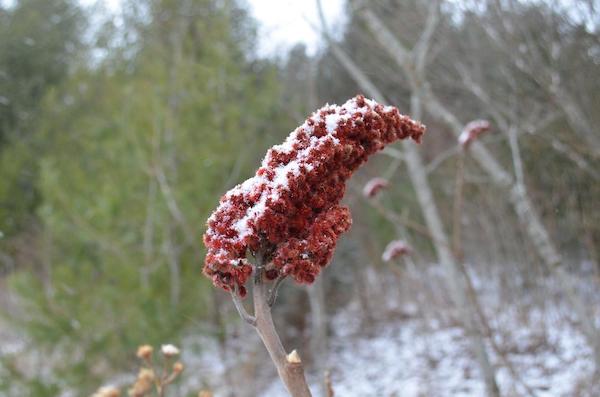 doug writes: "Sumac in snow.
You asked what we were digging in the garden. We have Daikon radish, Danvers half Long carrots, and Music garlic. All were planted in the fall. We recently asked two neighbor sisters (4 and 6) to come pull a carrot and radish out of the ground. We have done this several times with different children and it is always fun.
It was fun. The next day we heard the bunny at the girls' school got the carrots and the children learned to their surprise, the bunny ate the greens first. Then this weekend we see their Mom, buying carrots at the farmers market. So that bunny has had a diet upgrade, which I am glad to have had a small hand in."
* * *
Readers: Water Cooler is a standalone entity not covered by the annual NC fundraiser. So if you see a link you especially like, or an item you wouldn't see anywhere else, please do not hesitate to express your appreciation in tangible form. Remember, a tip jar is for tipping! Regular positive feedback both makes me feel good and lets me know I'm on the right track with coverage. When I get no donations for five or ten days I get worried. More tangibly, a constant trickle of donations helps me with expenses, and I factor in that trickle when setting fundraising goals:
Here is the screen that will appear, which I have helpfully annotated: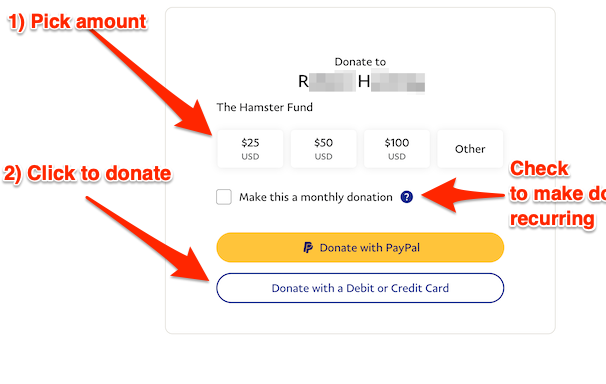 If you hate PayPal, you can email me at lambert [UNDERSCORE] strether [DOT] corrente [AT] yahoo [DOT] com, and I will give you directions on how to send a check. Thank you!