By Lambert Strether of Corrente.
Bird Song of the Day
Meadow Bunting, Ilistay River, Primorsky Krai, Russia. "A bird continuously calling."
* * *
Politics
"So many of the social reactions that strike us as psychological are in fact a rational management of symbolic capital." –Pierre Bourdieu, Classification Struggles
Biden Administration
"Freedom Caucus says 'no further discussion' on debt ceiling until Senate passes House GOP bill" [The Hill]. "The House Freedom Caucus is calling for 'no further discussion' on legislation to raise the debt ceiling until the Senate passes the bill House Republicans approved last month that would pair an increase in the borrowing limit with steep spending cuts. Senate Majority Leader Chuck Schumer (D-N.Y.) has called the bill 'dead on arrival.' The hard-liner conservative caucus said it adopted its official position on Thursday as debt limit negotiations continued behind closed doors between representatives for Speaker Kevin McCarthy (R-Calif.) and the White House."

"1 big thing: Biden faces bubbling progressive rebellion" [Axios]. "A group of 11 Senate Democrats, led by Sen. Bernie Sanders (I-Vt.), sent Biden a letter today urging him to "prepare to exercise your authority under the 14th Amendment" to raise the debt ceiling, Axios' Andrew Solender reports…. "[N]obody should assume, including the White House, that House Democrats or the Progressive Caucus or anyone else is gonna go along with something that's negotiated without us at the table," Jayapal warned…. Like any compromise, a deal will ultimately have to be made in the middle." • Some rebellion!

"Let's Clear The Air On COVID" [Alondra Nelson, WhiteHouse.gov]. From March 23, 2022. Say, whatever happened to this?
2024
I guess it's time for the Countdown Clock!

* * *

"Pete Buttigieg Loves God, Beer, and His Electric Mustang" (interview) [Wired]. "As Secretary Buttigieg and I talked in his underfurnished corner office one afternoon in early spring, I slowly became aware that his cabinet job requires only a modest portion of his cognitive powers. Other mental facilities, no kidding, are apportioned to the Iliad, Puritan historiography, and Knausgaard's Spring—though not in the original Norwegian (slacker). Fortunately, he was willing to devote yet another apse in his cathedral mind to making his ideas about three mighty themes—neoliberalism, masculinity, and Christianity—intelligible to me." • Well, I don't like Buttigieg much either. But Buttigieg does, in fact, give a much better interview than this expert filleting.

What a shame the Democrats never codified Roe into law:

That's about as clear as it gets. Donald Trump and MAGA Republicans are responsible for killing Roe v. Wade. And if you vote for them, they'll go even further. pic.twitter.com/IsPEy8pm7M

— Joe Biden (@JoeBiden) May 17, 2023
Republican Funhouse
"Who Is Leonard Leo's Mysterious Dark Money King?" [The New Republic]. "A Chicago billionaire had gifted anti-abortion Supreme Court fixer Leonard Leo the largest known tranche of dark money in U.S. history: $1.6 billion. The sum is staggering; it will finance at least a generation of extreme right-wing political proselytizing. And almost no one—except for the conservative cabal that bagged the whale—had heard of him. The gift from nonagenarian electronics magnate Barre Seid (pronounced Barry Side) is effective altruism in reverse: a fire hose of cash aimed at destroying American liberal culture through lawsuits and support for politicians challenging gay rights, unions, environmental protection, voting rights, and public education. The money will last a good long while. Philanthropic recipients usually follow a 5 percent rule: They try not to spend more than 5 percent of the endowment per year. Seid's pile is so large that it could return an average $136 million a year, or north of $230 million on a good year, to influence U.S. law and policy. Without ever having to touch the nut. For a sense of how enormous that is, consider this. The Heritage Foundation and its affiliates spent about $86 million in 2021. Heritage is a huge, and hugely influential, conservative think tank. Leo could create two Heritage Foundations and one more sizable organization on the side—all, again, without having to dip into the principal at all." • Well worth a read for the deployment of social capital.
Democrats en Déshabillé
Patient readers, it seems that people are actually reading the back-dated post! But I have not updated it, and there are many updates. So I will have to do that. –lambert

I have moved my standing remarks on the Democrat Party ("the Democrat Party is a rotting corpse that can't bury itself") to a separate, back-dated post, to which I will periodically add material, summarizing the addition here in a "live" Water Cooler. (Hopefully, some Bourdieu.) It turns out that defining the Democrat Party is, in fact, a hard problem. I do think the paragraph that follows is on point all the way back to 2016, if not before:

The Democrat Party is the political expression of the class power of PMC, their base (lucidly explained by Thomas Frank in Listen, Liberal!). ; if the Democrat Party did not exist, the PMC would have to invent it. . ("PMC" modulo "class expatriates," of course.) Second, all the working parts of the Party reinforce each other. Leave aside characterizing the relationships between elements of the Party (ka-ching, but not entirely) those elements comprise a network — a Flex Net? An iron octagon? — of funders, vendors, apparatchiks, electeds, NGOs, and miscellaneous mercenaries, with assets in the press and the intelligence community.

Note, of course, that the class power of the PMC both expresses and is limited by other classes; oligarchs and American gentry (see 'industrial model' of Ferguson, Jorgensen, and Jie) and the working class spring to mind. Suck up, kick down.

* * *

"Tensions flare in 'weaponization' panel hearing with sidelined FBI agents" [The Hill]. "The hearing accompanied the Thursday release of an interim staff report from the panel's Republicans that detailed what it says are abuses by the FBI, as described by what Republicans say are dozens of whistleblowers….. Democrats had already preemptively countered the GOP's "weaponization" investigation, writing in a 300-page report in March that some of the GOP witnesses were connected to committee Republicans through people with deep ties to former President Trump. Rep. Dan Goldman (D-N.Y.) reiterated and established at the hearing that two of the witnesses had received donations from Kash Patel, a former top Department of Defense official who is a surrogate for Trump's 2024 presidential campaign."

"The McCarthyism Reboot" [Matt Taibbi, Racket News]. • Taibbi's take on the hearing above. That Democrats are doing this — gleefully, and even egged on by their base — is deeply disorienting to me. They don't really seem to have hit bottom, either.

* * *

"Feinstein Suffered More Complications From Illness Than Were Publicly Disclosed" [New York Times]. "When she arrived at the Capitol last week after a more than two-month absence recovering from shingles, Senator Dianne Feinstein, Democrat of California, 89, appeared shockingly diminished. Using a wheelchair, with the left side of her face frozen and one eye nearly shut, she seemed disoriented as an aide steered her through the marble corridors of the Senate, complaining audibly that something was stuck in her eye. Ms. Feinstein's frail appearance was a result of several complications after she was hospitalized for shingles in February, some of which she has not publicly disclosed. The shingles spread to her face and neck, causing vision and balance impairments and facial paralysis known as Ramsay Hunt syndrome. The virus also brought on a previously unreported case of encephalitis, a rare but potentially debilitating complication of shingles that a spokesman confirmed on Thursday after The New York Times first revealed it, saying that the condition had 'resolved itself' in March. Characterized by swelling of the brain, post-shingles encephalitis can leave patients with lasting memory or language problems, sleep disorders, bouts of confusion, mood disorders, headaches and difficulties walking. Older patients tend to have the most trouble recovering. And even before this latest illness, Ms. Feinstein had already suffered substantial memory issues that had raised questions about her mental capacity. The grim tableau of her re-emergence on Capitol Hill laid bare a bleak reality known to virtually everyone who has come into contact with her in recent days: She was far from ready to return to work when she did, and she is now struggling to function in a job that demands long days, near-constant engagement on an array of crucial policy issues and high-stakes decision-making." • Now do Joe Biden. Commentary:

Politico is reporting that a member of the Pelosi family is helping prop up Feinstein because doing so would help Adam Schiff's chances of replacing her over Barbara Lee. pic.twitter.com/msI84BxLoz

— jordan (@JordanUhl) May 18, 2023

Maybe Nancy Corrine Prowda and Jill Biden could set up a consulting form for Gerontocratic Management?

Complete collapse of "the left," part one million:

So basically anti-masking leftists – including those who choose not to stand up for #keepmasksinhealthcare & other worker safety campaigns – support healthcare for all, but not health for all.

Or what am I missing?

— Eleanor Steinhagen (@ElleSteinhagen) May 18, 2023
Obama Legacy
"A bliss in proof and proved, a very woe; Before, a joy proposed; behind, a dream":

Where were you during these Obama-era moments? See how these and other defining events influence us today in a new episode of the CNN Original Series #2010sCNN, airing Sunday at 9 p.m. ET/PT pic.twitter.com/YwUSMSDarT

— CNN (@CNN) May 18, 2023
Realignment and Legitimacy
"About Those Evil Communists…" (podcast) [The Audit]. "To discuss the persistent misrepresentations and misunderstandings surrounding communism and socialism, they are joined by guest Professor Richard Wolff, a Marxist economist and co-founder of the nonprofit Democracy at Work. Wolff highlights the influence of Marxist ideas on various Christian socialist movements throughout history, and the conversation covers issues like the economics of colonialism, systemic racism, toxic masculinity, and China. Overall, this episode emphasizes the importance of nuanced discussions, critical thinking, and understanding the complexities of different ideologies to foster a more informed and constructive dialogue." • Scriptwriters Josh and Dave, of "West Wing Brain" fame, are now at Lever News, which speaks well of Lever News. This one of a series examining Prager "University"'s "curriculum."

"California Officials Investigating Loss of 30-Ton Shipment of Explosive Chemicals" [KQED]. • Well, er…
#COVID19
"I am in earnest — I will not equivocate — I will not excuse — I will not retreat a single inch — AND I WILL BE HEARD." –William Lloyd Garrison
Resources, United States (National): Transmission (CDC); Wastewater (CDC, Biobot; includes many counties); Variants (CDC; Walgreens); "Iowa COVID-19 Tracker" (in IA, but national data).
Lambert here: Readers, thanks for the collective effort. We are now up to 50/50 states (100%). This is really great! (It occurs to me that there are uses to which this data might be put, beyond helping people with "personal risk assessments" appropriate to their state. For example, thinking pessimistically, we might maintain the list and see which states go dark and when. We might also tabulate the properties of each site and look for differences and commonalities, for example the use of GIS (an exercise in Federalism). I do not that CA remains a little sketchy; it feels a little odd that there's no statewide site, but I've never been able to find one. Also, my working assumption was that each state would have one site. That's turned out not to be true; see e.g. ID. Trivially, it means I need to punctuate this list properly. Less trivially, there may be more local sites that should be added. NY city in NY state springs to mind, but I'm sure there are others. FL also springs to mind as a special case, because DeSantis will most probably be a Presidental candidate, and IIRC there was some foofra about their state dashboard. Thanks again!
Resources, United States (Local): AK (dashboard); AL (dashboard); AR (dashboard); AZ (dashboard); CA (dashboard; Marin); CO (dashboard; wastewater); CT (dashboard); DE (dashboard); FL (wastewater); GA (wastewater); HI (dashboard); IA (wastewater reports); ID (dashboard, Boise; dashboard, wastewater, Central Idaho; wastewater, Coeur d'Alene; dashboard, Spokane County); IL (wastewater); IN (dashboard); KS (dashboard; wastewater, Lawrence); KY (dashboard, Louisville); LA (dashboard); MA (wastewater); MD (dashboard); ME (dashboard); MI (wastewater; wastewater); MN (dashboard); MO (wastewater); MS (dashboard); MT (dashboard); NC (dashboard); ND (dashboard; wastewater); NE (dashboard); NH (wastewater); NJ (dashboard); NM (dashboard); NV (dashboard; wastewater, Southern NV); NY (dashboard); OH (dashboard); OK (dashboard); OR (dashboard); PA (dashboard); RI (dashboard); SC (dashboard); SD (dashboard); TN (dashboard); TX (dashboard); UT (wastewater); VA (dashboard); VT (dashboard); WA (dashboard; dashboard); WI (wastewater); WV (wastewater); WY (wastewater).
Resources, Canada (National): Wastewater (Government of Canada).
Resources, Canada (Provincial): ON (wastewater); QC (les eaux usées); BC, Vancouver (wastewater).
Hat tips to helpful readers: Art_DogCT, B24S, CanCyn, ChiGal, Chuck L, Festoonic, FM, FreeMarketApologist (4), Gumbo, hop2it, JB, JEHR, JF, JL Joe, John, JM (9), JustAnotherVolunteer, JW, KatieBird, LL, Michael King, KF, LaRuse, mrsyk, MT, MT_Wild, otisyves, Petal (5), RK (2), RL, RM, Rod, square coats (11), tennesseewaltzer, Utah, Bob White (3).
Stay safe out there!
* * *
Look for the Helpers
"Utah launches clean air initiative by providing air purifiers in every classroom" [Cache Valley Daily]. " In an historic and far-reaching clean air initiative, the Utah Department of Health and Human Services (DHHS) and Utah Physicians for a Healthy Environment (UPHE) have partnered to . The funding for the program comes from a one-time federal grant (the federal Epidemiology Laboratory Capacity Reopening Schools Grant) and will end in July. More than 60% of Utah schools and child care centers have taken advantage of the program so far, with other classrooms encouraged to join the program before the funding ends on July 31, 2023. The initiative aims to improve air filtration, which affects student performance, makes classrooms safer, reduces absenteeism, and improves the overall health of children, students, and teachers. The groups say indoor air pollution can increase the severity and transmissibility of infectious diseases, making air purifiers in schools essential. The health and comfort of students and teachers contribute to learning and productivity in the classroom, which in turn affects performance and achievement. The program offers schools and individual classrooms the opportunity to participate without any additional costs beyond signing up for the program. Estimates indicate that the air purifier would require a filter replacement about once a year, costing anywhere from $60 to $400 depending on the unit purchased. Schools can receive up to six free replacement filters with their order." • Finally, some good news! (Of course, much depends on the purifiers chosen, maintenance, etc. Nevertheless!)

How to submit comments to ASHRAE on their new ventilations standards:

Here's my thread on how to actually submit the comment to #ASHRAE. It's extremely easy if you know how, but I was running into a lot of dead ends and broken links previously.https://t.co/4WerXysxEy

— Mike Hoerger, PhD MSCR MBA (@michael_hoerger) May 17, 2023

Templates for filing complaints against state Attorneys General on Hospital Infection Control maleficence, and with hospitals for masking as an accommodation:

2. Request care in a "universally masked facility" as Reasonable Accommodations, esp. if you or someone you care for is high-risk for COVID according to CDC: https://t.co/TJI7EQo572

Universal masking is necessary to safe care.
DEMAND IT.

Template here: https://t.co/dK6cgzXn2O pic.twitter.com/eLNKNqFnUv

— Massachusetts Coalition for Health Equity (@MAHealthEquity) May 18, 2023

Personally, I think infection with Covid as such should be meet the bar for accommodation, given that the effects of reinfection are cumulative. Assuming for the same of the argument that 94% of the American population has been infected with Covid at least once, that's a lot of accommodation. Cut that figure in half. It's still a lot, enough to make universal masking the norm, not the exception.
Covid Is Airborne
A new Corsi-Rosenthal use case and design (1). The "air curtain":

More important than optimal placement of the #corsirosenthalbox is at least to have one 🧵.

Here is the air curtain producing, 4 inch #corsirosenthalbox above the door, perfect for apartments, hotel rooms, and dorm rooms. pic.twitter.com/pvHa8x280M

— Lazarus Long (@LazarusLong13) October 14, 2022

I find the constant, grassroots, DIY innovation in Corsi-Rosenthal boxes very encouraging. A second example–

A new Corsi-Rosenthal use case and design (1). The windows:

With the horrible air quality from #ABWildfire I've put some MERV13 rated furnace filters in my windows so we can get clean, cool air in the house. It filters pollution out of the air as it blows into the house. Filtrete1900's are MERV13. #yeg #yyc pic.twitter.com/9ws1YfR0Hh

— Marie (@miquelony) May 16, 2023

Excellent long thread on how covid is airborne in hospitals, with many examples:

SARS-CoV-2 RNA and virus in the air. 🧵

Shall we do some time travelling and see what we find?

Let's go!

— Jonathan Mesiano-Crookston 🌬️🔅#COV1DisAirborne (@jmcrookston) May 19, 2023

Useful when you're putting together your letters to the Attorney General and the Infection Control Unit of your hospital.
Maskstravaganza
"SARS-CoV-2 transmission with and without mask wearing or air cleaners in schools in Switzerland: A modeling study of epidemiological, environmental, and molecular data" [PLOS One]. "Molecular detection of airborne and human SARS-CoV-2 indicated sustained transmission in schools. Mask mandates were associated with greater reductions in aerosol concentrations than air cleaners and with lower transmission." • Good job, forcing kids back into death traps. Now let's build on our success and move on to hospitals!

I took apart MGH Infection Control Unit Director Erica Shenoy's anti-masking screed here — a screed that was shortly embodied in MGH policy — focusing especially on footnotes 5, 6, and 7. Here is a thread that demolishes those footnotes even more thoroughly than I did:

Shenoy et al urge abandoning universal masking on the grounds masks have little benefit & some harm. Yesterday I showed they're wrong about benefits. Today I show they're wrong about harms. Their strongest evidence favors masks. The rest has little relation to their ambitions. 🧵 pic.twitter.com/1DrAgzcpzZ

— Loretta Torrago (@Loretta_Torrago) April 22, 2023

There are many more mask-wearers than minimizing ghouls would like you to believe:

— COVID Advocacy Initiative and Mandate Masks US (@mandatemasksus) May 18, 2023

If shaming works, use it. ACT-UP is the precedent:

Change was created slowly and w much difficulty thanks to ACT UPs tactics which most often aimed to make ppl in power upset and uncomfortable but also took aim at our communities and individual actions. They also distributed condoms as harm reduction as we are doing w masks

— Julia Marie (@julia_doubleday) May 18, 2023

No data = universal masking, since how else do we protect ourselves from transmission?

the CDC dropping all covid surveillance means we have to demand a permanent mask mandate. there is no longer any room for a temporary mandate that is conditional on the amount of covid spread. it has to be permanent now.

— ABBY (@AbbyMachines) May 17, 2023
Celebrity Watch
The Giro d'Italia tour, where riders keep dropping out because they're given Covid:

On the Giro d'Italia Tour and covid, a few threads of mine are available on Twitter https://t.co/feOgaaNJ0m

— Dr Elisa Perego (@elisaperego78) May 14, 2023

Celebrity sighting (1):

This is a photo of Leonardo DiCaprio tonight. Not 3 years ago. pic.twitter.com/CEQ35rk2pL

— Bobby Burack (@burackbobby_) May 13, 2023

Celebrity sighting (2):

Lea Michele Has COVID, Will Sit Out a Week of 'Funny Girl' Broadway Performances

The actress previously tested positive for COVID back in September shortly after she debuted in the Funny Girl role, missing several shows https://t.co/fZDms78qat

— Jess (@MeetJess) May 17, 2023
Transmission
Keep looking, pal:

Looking for a hybrid-immunity paper showing how many lives infection saved

— Justin Lee (@DailyJLee) May 17, 2023
Science Is Popping
"In-Person Schooling and Youth Suicide: Evidence from School Calendars and Pandemic School Closures" [NBER]. From 2022, still germane. From the Abstract: "Teen suicides plummeted in March 2020, when the COVID-19 pandemic began in the U.S. and remained low throughout the summer before rising in Fall 2020 when many K-12 schools returned to in-person instruction. Third, using county-level variation in school reopenings in Fall 2020 and Spring 2021—proxied by anonymized SafeGraph smartphone data on elementary and secondary school foot traffic—we find that returning from online to in-person schooling was associated with a 12-to-18 percent increase teen suicides."
Policy
But what about Freedom?

In an era predating mandatory infant car seats, this unconventional method was considered a secure and cozy way for babies to travel in vehicles. Positioned in the rear, close to the engine, it provided warmth, while the gentle vibrations emanating from the engine acted as a… pic.twitter.com/ifK7wrYHeQ

— Historic Vids (@historyinmemes) May 17, 2023
Elite Maleficence
The targets of our elite's depopulation efforts aren't dumb, and they know what's being done to them:

Poll from March 2023: At least somewhat concerned they will get COVID-19 and require hospitalization

White 22%
Black 46%
Hispanic 44%
Asian 41%

Upper income 19%
Middle income 26%
Lower income 42%

Insured 28%
Uninsured 40% pic.twitter.com/huwdT16lcR

— Dr. Lucky Tran (@luckytran) May 17, 2023
* * *
Lambert here: I'm getting the feeling that the "Something Awful" might be a sawtooth pattern — variant after variant — that averages out to a permanently high plateau. Lots of exceptionally nasty sequelae, most likely deriving from immune dysregulation (says this layperson).
Case Data
From BioBot wastewater data from May 18: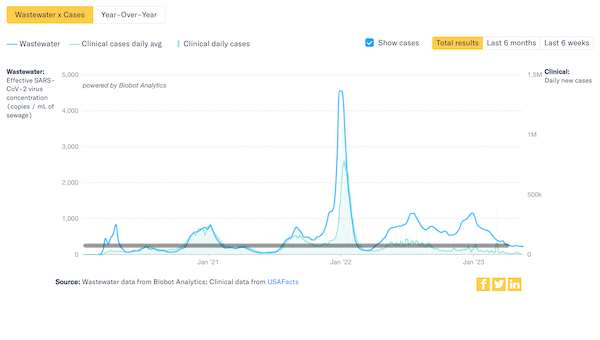 Lambert here: Unless the United States is completely, er, exceptional, we should be seeing an increase here soon. UPDATE Still on the high plateau. Are we are the point in the global pandemic where national experiences really diverge?
For now, I'm going to use this national wastewater data as the best proxy for case data (ignoring the clinical case data portion of this chart, which in my view "goes bad" after March 2022, for reasons as yet unexplained). At least we can spot trends, and compare current levels to equivalent past levels.
Variants
NOT UPDATED From CDC, May 13, 2023: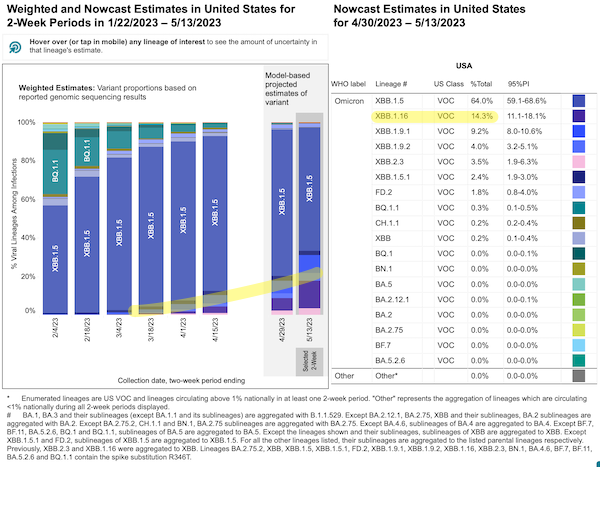 Lambert here: Looks like XBB.1.16 is rolling right along. Though XBB 1.9.1 is in the race as well.
Covid Emergency Room Visits
NOT UPDATED From CDC NCIRD Surveillance, from May 13: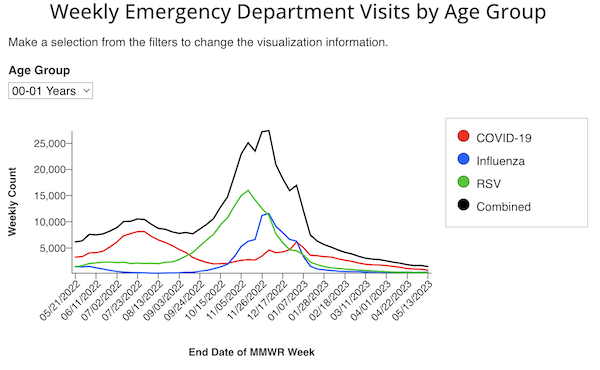 NOTE "Charts and data provided by CDC, updates Wednesday by 8am. For the past year, using a rolling 52-week period." So not the entire pandemic, FFS (the implicit message here being that Covid is "just like the flu," which is why the seasonal "rolling 52-week period" is appropriate for bothMR SUBLIMINAL I hate these people so much. Notice also that this chart shows, at least for its time period, that Covid is not seasonal, even though CDC is trying to get us to believe that it is, presumably so they can piggyback on the existing institutional apparatus for injections.
Positivity
NOT UPDATED From Walgreens, May 15: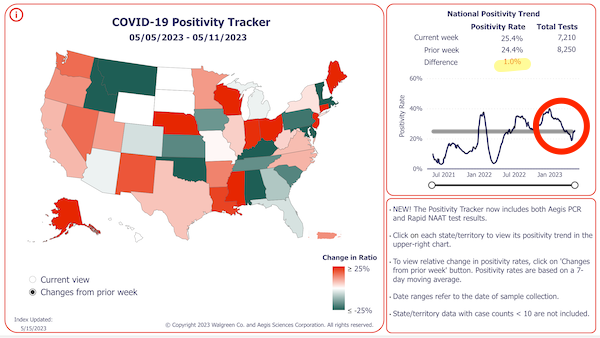 Up 1%. Frequency down to once a week?
Deaths
Death rate (Our World in Data), from May 14: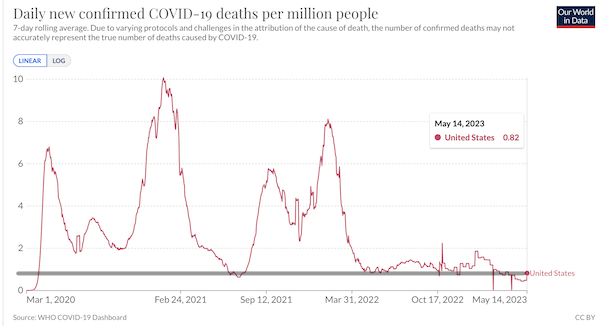 Lambert here: Quite a little jump (I assume data-related, this is WHO).
Total: 1,163,871 – 1,163,294 = 577 (577 * 365 = 210,605 deaths per year, today's YouGenicist™ number for "living with" Covid (quite a bit higher than the minimizers would like, though they can talk themselves into anything. If the YouGenicist™ metric keeps chugging along like this, I may just have to decide this is what the powers-that-be consider "mission accomplished" for this particular tranche of death and disease).
Excess Deaths
NOT UPDATED Excess deaths (The Economist), published May 9: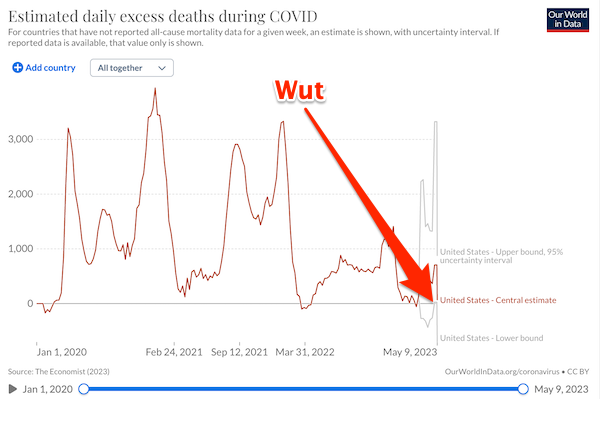 Lambert here: Based on a machine-learning model. (The CDC has an excess estimate too, but since it ran forever with a massive typo in the Legend, I figured nobody was really looking at it, so I got rid it. )
Stats Watch
There are no official statistics of interest today.
* * *
Housing: "Out-of-state banks own nearly all of Bangor's vacant homes" [Bangor Daily News]. "Out-of-state banks or investment holdings own 56 of the 70 total vacant residential properties in Bangor, according to Jeff Wallace, Bangor's code enforcement director. The remaining 14 vacant properties are owned by individuals…. Maintenance completed on those properties is typically "minimal at best" and often requires prodding from the city's code enforcement department to get necessary upkeep completed, Wallace said. Large out-of-state companies owning properties also makes it difficult for the city's code enforcement officers to find the right person to send violation notices to."
The Dollar:
Bloomberg, citing SWIFT data, writes that the share of the dollar in international payments is gradually increasing, with the exception of 2020 when international trade fell sharply due to the coronavirus. pic.twitter.com/yg3HLh0EDu

— Spriter (@Spriter99880) May 18, 2023
* * *
Today's Fear & Greed Index: 66 Greed (previous close: 66 Neutral) [CNN]. One week ago: 58 (Greed). (0 is Extreme Fear; 100 is Extreme Greed). Last updated May 19 at 1:49 PM ET.
Zeitgeist Watch
"This Is Why You Can't Wait Until Later" [Ryan Holiday]. "At 6:45pm on Wednesday, April 23rd, 2014, I got an email from my friend Seth Roberts, the pioneering and peerless scientist. I opened it, saw that it was to be the first of a long awaited column called "Personal Science" for the Observer, where I was then an editor. I assumed it was good–Seth's work always was–so I marked it as unread and told myself it could wait until Monday. On that Saturday, less than 72 hours later, Seth collapsed of a fatal heart attack while hiking in Berkeley. It would have been so easy for me to reply and and tell him how happy I was with what he had written. … I had left him on hold and now he was dead. Of course, I was familiar with the Stoic concept of Memento Mori. In Meditations, Marcus Aurelius writes 'You could leave life right now. Let that determine what you do and say and think.' … This is the one thing all fools have in common, Seneca wrote. 'They are always getting ready to live.' They are always thinking that they have plenty of time. They are always saying that they'll be able to get to it later. They think that opportunities, that other people, that life can be deferred to the future. They cannot. These things exist, as Tolstoy wrote, only in the present. Procrastination is egotistical. It is entitlement, embodied."
One can only assume this comes from the boardrooms down:
Adidas has launched a new women's swimwear range for the brands 'Pride Collection' featuring male models wearing sports bras and women's swimsuits.

Here is a video advertising their new women's collection 👙⬇️💬 pic.twitter.com/3tKgNbwDKP

— Oli London (@OliLondonTV) May 17, 2023
Guillotine Watch
"Peter Thiel Is Latest Billionaire Said to Have Met With Jeffrey Epstein' [New York Times]. "Even after his 2008 conviction in Florida on a charge of soliciting prostitution from a teenage girl, Mr. Epstein continued to hobnob with top finance executives and investors, scientists, professors, politicians and celebrities." • This is the key and very obvious point. It must have been entirely clear to Epstein's milieu what he was and what he was up to. So why did they continue to associate with him? Presumably, the quest for capital, economic and but also social. but also because, in their view, his transgression wasn't really a transgression. After all, what's money for if not to have a bit of fun?
Class Warfare
Not knowing what they said, they said it:
Nominal wage growth of 4–5% in the euro area and 3–4% in the US are compatible with bringing inflation down to within reach of 2% by end-2024, provided that import price growth slows and profit margins stabilise or slightly shrink #BISBulletin https://t.co/14Avbd59iQ pic.twitter.com/pecas6andx

— Bank for International Settlements (@BIS_org) May 19, 2023
"Prices increase because firms raise them."
"Microsoft exec tells employees to improve its stock performance in lieu of raises" [The Verge]. "Even as Microsoft continues to pour more money into artificial intelligence and its $68.7 billion acquisition of Activision Blizzard, CEO Satya Nadella told workers last week that it won't offer raises for salaried employees this year, citing "macroeconomic uncertainties." He also stated that he, along with the other members of the senior leadership team, won't get raises or performance-based bonuses, either. Microsoft also announced layoffs affecting 10,000 employees earlier this year." • Elon really took one for the team at Twitter.
News of the Wired
"Shakespeare Was Shakespeare" [Slate]. "And this is why trutherism is so pernicious. While doubting Shakespeare's authorship isn't nearly as dangerous as climate change denial, or anti-vax beliefs, or questioning Obama's citizenship, the rhetoric and strategies of all of these forms of trutherism are quite similar: Question the qualifications of the authorities. State some assertions we can all agree with, like 'We don't know much about the life of Shakespeare,' or 'Some people who have been vaccinated against COVID-19 die from the disease.' Ask an escalating series of questions about the consensus view, shifting ground whenever you would lose the point being debated. Deploy shaky evidence that requires tendentious interpretation. Claim that evidence that disproves your theory in fact supports it. Needle those in power who refuse to engage with you. Use the contempt with which your position is treated as evidence that you must be on to something. Whenever possible, fall back on saying you're just asking questions. Trutherism abuses the liberal public sphere by using the values of liberal discourse—rational hearing of evidence, open-mindedness, fair-minded skepticism about one's own certainties, etc.—against it. Once the opposition tires of this treatment and refuses to engage in debate any longer, the truther can then declare victory, and paint the opposition as religious fanatics who are closed-minded and scared of facing the truth." • And then, of course, there's RussiaGate….
"Humanity's First Recorded Kiss Was Earlier Than We Thought" [Smithsonian]. "Cuneiform writing appeared around 3200 B.C.E. and for several hundred years seems limited to humdrum administrative texts. After a while, perhaps inevitably, the subject of amorous relations found its way into the Mesopotamian record—and with them the first references to kissing some 4,500 years ago." But sadly: "Despite kissing's long history, it is far from ubiquitous today. A 2015 study of 168 cultures around the globe found that romantic kissing was popular in only about half those groups. And where kissing is common, some people pay a price for the experience. Diseases including herpes simplex virus 1 (HSV-1), Epstein-Barr virus, human parvovirus and the common cold can be spread by saliva, so kissing can propagate them throughout a population. One study suggests that tens of millions or even 1 billion bacteria can be exchanged during deep kissing. Medical records show that Mesopotamians didn't believe that kissing played a role in spreading infectious disease, Arbøll reports in the paper. But it may well have been happening. It's hard to diagnose disease by translating ancient descriptions in cuneiform text. Still, the Mesopotamian mouth disease known as bu'sanu may have been herpes, the authors note. At least some figures in the ancient world did seem to suspect that the practice had health impacts. In Rome, Emperor Tiberius tried to ban kissing at state functions, likely because it was thought to be spreading herpes. (His efforts were unsuccessful.) Last year, Houldcroft and colleagues used ancient DNA to sequence genomes of the herpes virus and chart its evolution. They suggested that what's now the dominant strain, HSV-1, was born 5,000 years ago, during Bronze Age migrations from Eurasia to Europe, and boosted by the rapid rise of a new cultural practice spread among those mixing populations—deep kissing."
* * *
Contact information for plants: Readers, feel free to contact me at lambert [UNDERSCORE] strether [DOT] corrente [AT] yahoo [DOT] com, to (a) find out how to send me a check if you are allergic to PayPal and (b) to find out how to send me images of plants. Vegetables are fine! Fungi and coral are deemed to be honorary plants! If you want your handle to appear as a credit, please place it at the start of your mail in parentheses: (thus). Otherwise, I will anonymize by using your initials. See the previous Water Cooler (with plant) here. From NS: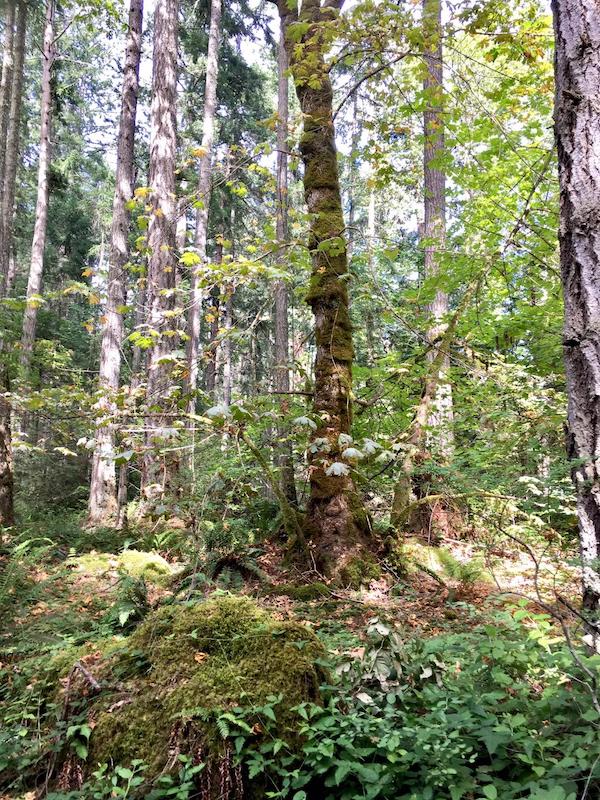 NS writes: "Trees from the Island."
* * *
Readers: Water Cooler is a standalone entity not covered by the annual NC fundraiser. So if you see a link you especially like, or an item you wouldn't see anywhere else, please do not hesitate to express your appreciation in tangible form. Remember, a tip jar is for tipping! Regular positive feedback both makes me feel good and lets me know I'm on the right track with coverage. When I get no donations for five or ten days I get worried. More tangibly, a constant trickle of donations helps me with expenses, and I factor in that trickle when setting fundraising goals:
Here is the screen that will appear, which I have helpfully annotated: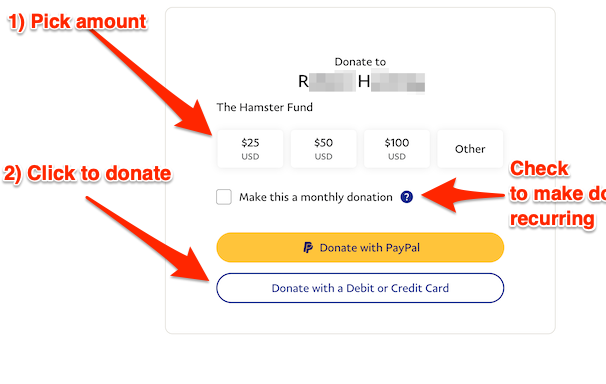 If you hate PayPal, you can email me at lambert [UNDERSCORE] strether [DOT] corrente [AT] yahoo [DOT] com, and I will give you directions on how to send a check. Thank you!